Napoleon and Weber are two household names in the grilling industry, thanks to the wide range of quality products each brand offers. However, because of their products' sheer number and diversity, it becomes challenging for a person to choose between the grills of the same brand with unending model lists. 
For this reason, we have reviewed the two brands' select, comparable models to help you find the right grill for your needs. In addition, we have also carried out head-to-head comparisons of the two trusted, legitimate grill manufacturers to discuss their relative strengths and weaknesses across different grill categories. 
Read on to get rid of your indecision and arrive at a confident buying decision. However, before we go, let's look at the brand histories of Napoleon and Weber.
Napoleon Grills – A Short History
Napoleon is the largest private grill, fireplace, and gas furnace manufacturer in North America. It originated as a subsidiary of Wolf Steel Ltd., a Barrie, Ontario-based Canadian company, in 1995. 
Wolf Steel Ltd. was founded by Wolfgang Schroeter and his wife and co-founder Ingrid in 1976. After initially dealing in steel railings, Schroeter soon began experimenting with wood-burning stoves in his garage. 
Soon he invented the world's first cast-iron frame stove with a glass door to allow the user to watch and behold the fire inside the stove. The invention proved to be a huge market success, with multitudes of units sold across Canada and America.
In 2010, the company started producing charcoal grills to cater to the European market's demands. Afterward, the company successfully expanded its reach in other countries too, such as Chile and Mexico. Currently, Napoleon enjoys multiple patented inventions for fireplaces, grills, and heating and cooling products, but wood stoves and grills primarily.
Napoleon has multiple awards to its credit. For example, it was recognized as Canada's best-managed company by Deloitte in 2013, an honor it has kept for the past seven years.
Napoleon came up with many high-end products in recent years. Indeed, Napoleon is the only grill manufacturer that directly competes with Weber and, in some areas, gives Weber a run for its money. Napoleon products are generally tough, durable, and seamlessly built. 
The brand incorporates state-of-the-art technology in its products and includes many innovative features to keep its loyal fan base intact. One thing that Napoleon exclusively gives attention to is customer support.
Due to the reasons mentioned above, sometimes Napoleon products are priced way higher than competing Weber products. Long story short, you always get value for money if you buy from Napoleon.
Weber-Stephen Grills- A Short History
Weber's history dates to almost 70 years ago when brick fireplace barbecues were very popular among Americans. One day in 1950, a fellow named George Stephen decided to build himself a brick fireplace. 
As he finished it, he invited his friends over for dinner. The dinner, however, proved to be a disaster as the steaks went up in flames. But the incident got him thinking about a better way to barbecue.
Soon, using his craftsmanship, George Stephen created the world's first Weber kettle grill by taking one of those metallic half-spheres, putting legs under it, punching holes in the bottom for airflow, and using a metal dome as a lid to the grill.
Since its first kettle grill arrived in 1952, Weber has never looked back and has gradually become a market behemoth. The brand deals in gas, electric, and charcoal grills for smokers. Weber products are known for their durability, versatile cooking options, and distinguishing features that you rarely expect from other manufacturers.
Weber's market insight makes parts availability easy, regardless of your location. Weber is also famous for its excellent support and long, comprehensive warranties. Last but not least, Weber is still evolving and incorporating bleeding-edge features in its grills to offer a seamless experience.
Napoleon Vs Weber: Product Reviews and Feature Comparison
Here are in-depth reviews and comparisons of several chosen, comparable Napoleon and Weber models across various categories and price points. We have taken extraordinary care to hand-pick critically acclaimed, highly-rated products from the two brands. Here are our top picks from both Napoleon and Weber.
Napoleon Vs Weber: Entry-level Grills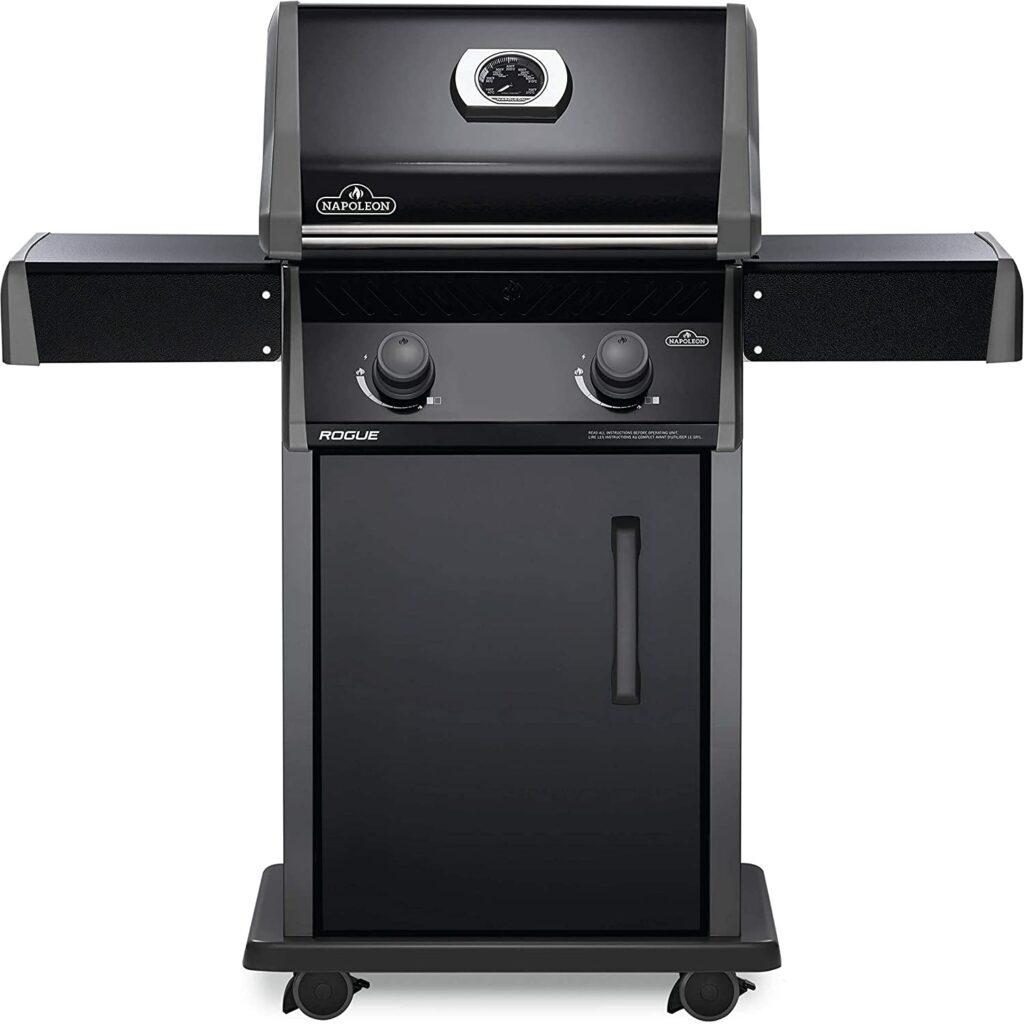 Design
A 2-burner entry-level grill from Napoleon, the Rogue 365 measures 47.5 x 25 x 48 inches and weighs 112.1 pounds. The exterior is black with a 2-piece lid and two folding side tables. 
The grill has tool hooks on each table for hanging spoons, spatulas, and other grilling tools. The grill comes in an enclosed-cart design with a storage cabinet. 
The cabinet door closes positively with a magnetic catch. The LIFT EASE Roll Top lid is a little heavier than those on Weber grills but still doesn't require much effort to open and close. It also has a built-in temperature gauge.
The lid and door have a fingerprint-, weather-resistant porcelain coat to ensure maximum protection and add to the grill's aesthetic appeal. The control panel and side tables are black powder-coated for the same purpose.
The grill features Napoleon's no-battery JETFIRE ignition system that lights each burner individually by shooting a jet of flame. If a burner accidentally goes out while the wind blows out, it'll reignite automatically, thanks to a crossover lighting system.
The LP tank goes inside the storage cabinet for easy storage and to save space. The grill has four locking caster wheels to allow for some portability. 
Napoleon Rogue 365 is a sturdy, well-built, well-designed grill with excellent heat output. The firebox is made of cast aluminum for maximum durability. The grill has a well-designed grease management system for easy cleanup.
Performance
The Napoleon 365 has cast-iron, porcelain enameled, ICONIC WAVE cooking grids. Such a design makes even heat transfer possible while preventing smaller food items from falling onto the firebox. 
You can reverse the grids for larger sear marks on your steaks. When reversed, the grooved grid rod surface holds meat juices to prevent it from drying out.
The grill has 46 x 51 Sq inches of cooking space (primary), further fortified by a removable, chrome-plated warming rack.
The dual-level, stainless steel sear plates serve the same function as Weber's iconic flavorizer bars. The incredible, two-level setup ensures even, consistent cooking while, at the same time, safeguarding the burner tubes from food juices, fat, and grease drippings.
Pros
Tough and long-lasting
Feels stable and secure once assembled
Cooks evenly
Napoleon provides a whopping 15-year warranty on this grill
Cons
Not easy portability despite having sturdy wheels
The frame material is thin.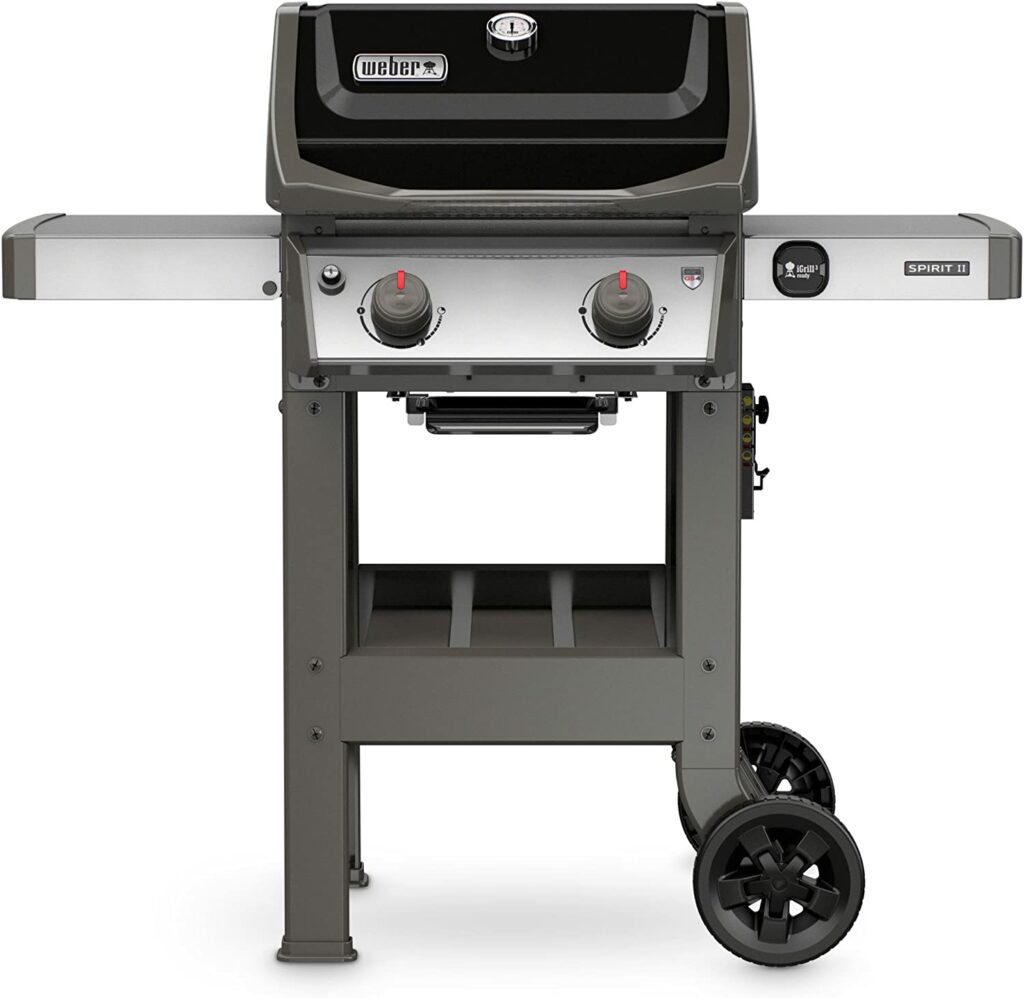 To compete with the 2 burner grill by Napoleon, we've Weber's hot selling grill Spirit II E-210. It won over Napoleon. How?
Let's read the review.
Design
The Spirit II E-210 comes in an open-cart design with item dimensions of 48 x 26 x 57 inches and weighs 103 pounds, slightly lighter than the Rogue 365. It's a 2-burner grill like the Rogue 365 with an individual burner output of 26,500 BTUs per hour. 
The Spirit II E-210 features Weber's GS4 grilling system like other Spirit II models. The grilling system consists of:
Stainless steel burners are known for radiating heat well;
Infinity Ignition that guarantees ignition every single time;
Flavorizer bars to protect the burners and infuse your food with rich smoke;
An efficient grease management system that has been redesigned and moved to the center of the grill to reduce mess;
The flavorizer bars have additional openings to allow the burners to breathe better and let you see the flame. This helpful feature will enable you to ascertain whether the burner is lit.
Most of the grill's exterior is porcelain-enameled cast iron. It has a well-built, beautifully designed lid with a built-in thermometer. The LP tank goes outside just under the right table, another reason you can't fold down the tables. There are three tool hooks integrated into each side table.
The LP cylinder mounts to a spring scale that serves as a fuel gauge. It's a nice feature that reminds you of how much fuel is left in the tank so that you can timely refill it.
The grill is available in four color options. It has a spacious shelf for placing your grilling accessories despite an open cart design. It has two large, all-weather wheels under its right legs for easy mobility. Maneuverability is simple–use the left side table as a handle to raise the side slightly above the ground and move the grill around your backyard.
Performance
The grill's performance and durability are beyond question, as evidenced by its excellent user rating on Amazon. We can't recommend this unit enough–it's a comparatively low-priced grill with exceptional stability and performance.
The model has a primary cooking area of 360 square inches plus a 90-square inch warming rack. There are two side tables, one of which is retractable. The right side table is unfoldable because it makes the grill "iGrill3 compatible". 
The iGrill3 is a wireless food thermometer accessory separately sold by Weber. In fact, there's a small cutout on the right table to fit the wireless thermometer base unit. So you should know from the start that "iGrill3 compatibility" is nothing but a marketing trick played by Weber.
The grill has porcelain-enameled, cast-iron cooking grates. Weber's proprietary flavorizer bars are also here. If you don't know already, these triangular metallic bars protect the burners from fat and meat juices. In addition, they catch sizzling drippings to vaporize them and infuse your food with a rich, smoky flavor.
A heat deflector in the firebox just under the burner tubes accounts for even, consistent cooking. The burners are of high-quality stainless steel. A slide-out grease tray just under the firebox makes cleanup a breeze.
Pros
Includes GS4 grilling system
iGrill3 compatible
Open-cart design with spatial storage
Most of the exterior is porcelain painted for added safety
It has a built-in lid thermometer and fuel gauge.
Weber provides a 10-year warranty on all parts of the grill.
Cons
Infinity Ignition requires a standard AA battery to operate
Napoleon Vs Weber: Mid-Range Grills Comparison
Among the mid-range grills, we've picked Weber's Smart grill and Napoleon's Rogue SE 425. Who wins? The review will decide.
Design
The Napoleon Rogue SE 425 features an overall stainless steel construction except for a few components. For example, the four locking caster wheels and the firebox are made of heavy-duty plastic and cast aluminum, respectively. Hence, the grill is durable. 
The rear rotisserie burner is an excellent feature, but you have to buy the rotisserie kit separately. Nevertheless, you can still use the rear burner without a rotisserie.
We especially liked the SE 425's 7.5mm stainless steel rod grates featuring Napoleon's characteristic WAVE pattern. There are dual-level or staggered heat tents which Napoleon cleverly calls sear plates. 
These plates are similar to Weber's flavorizer bars. Like other Napoleon grills, the Rogue SE 425 sports the Jetfire battery-free ignition system, which is considered a failsafe.
Thanks to the grill's enclosed cart design, the fuel tank tucks under the storage shelf. The roll-top lid has a built-in temperature gauge as well. 
Usually, you shouldn't count on these thermometers as they are highly inaccurate and unreliable. Yet, it's not the case with Napoleon alone.
The Napoleon grill's folding side shelves are foldable to extend storage. It's a nice feature that some Weber grills are lacking. The side shelves come with integrated tool hooks. 
A detachable warming rack is also there. However, you can't use the rotisserie and the warming rack simultaneously.
You'll also get a removable condiment basket with this grill that can be placed on either side of the cart. You can buy an additional one if you want for the opposite side.
The Rogue SE 425 has an excellent grease management system consisting of a slide-out grease tray and a removable drip pan. The drip pan goes inside the storage shelf. So, for the design, the grill is mind-blowing!
Performance
The Rogue SE 425 measures 48.5 x 25 x 55 inches and weighs 146 pounds. It has three main burners with a total heat output of 70,500 BTUs per hour. Besides this, it has 2 additional burners:
One rear infrared burner rotisserie burner for spit roasting many delectable meals;
One infrared sear station burner is integrated into the left side shelf. 
Thus, the grill has 710 square inches of grilling area (with the sear station included).
The most fabulous feature of the grill is its sear station. It's perfect for giving your steaks a brown, caramelized, crispy sear. 
Though this sear station is for producing extremely high temperatures for sizzling, you can also use it to prepare side dishes while your main course cooks on the three main burners. The sear station comes with a hinged cover to protect the zone from elements.
In short, this grill by Napoleon is worth buying.
Pros
Tough, seamless, highly durable stainless steel construction
Easy to clean, highly durable heavy, 7.5mm stainless steel rod grates
Fantastic and versatile cooking experience through a sear station and a rear rotisserie burner
The sear station is integrated into the side shelf, expands the cooking area, and helps easy cooking.
It comes with a 15-year "Bumper to Bumper" warranty.
Cons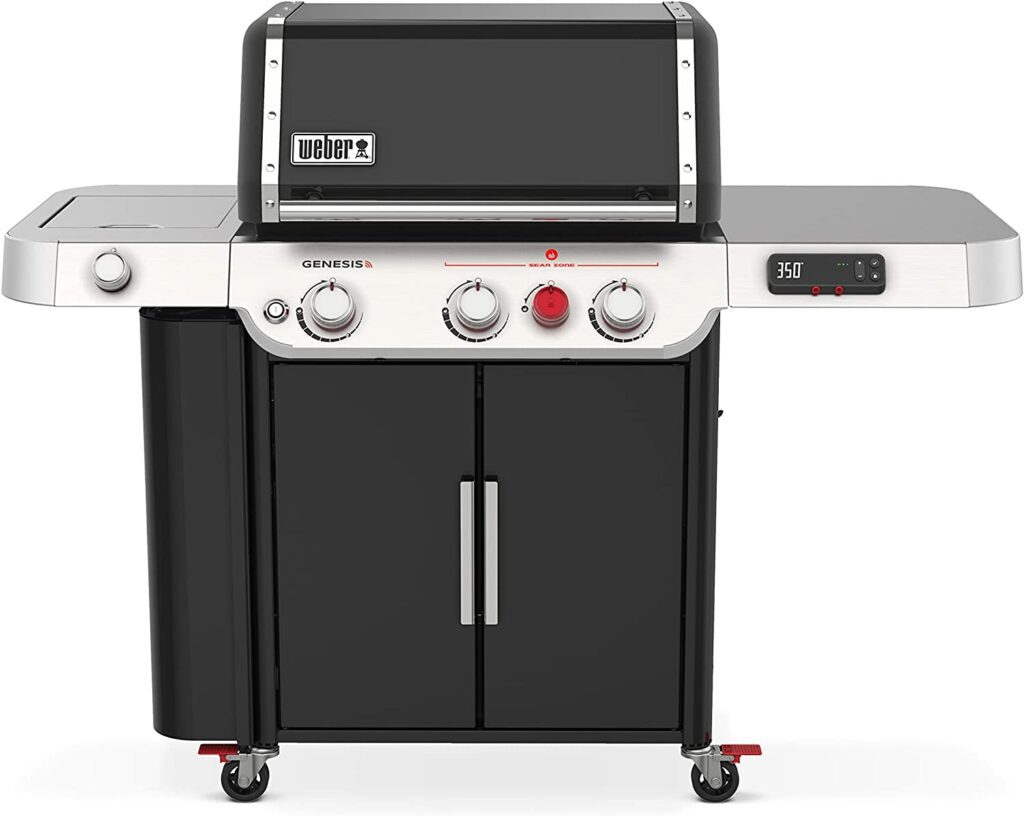 The Smart EX-335 Grill is one of the latest additions to Weber's new Genesis series that incorporates some features of Weber's EX and SX Smart Grills. The grill made its way into Weber's product line in 2021 and underwent a significant redesign in 2022. Let's review how efficient this grill is.
What Makes Weber Smart EX-335 So Unique?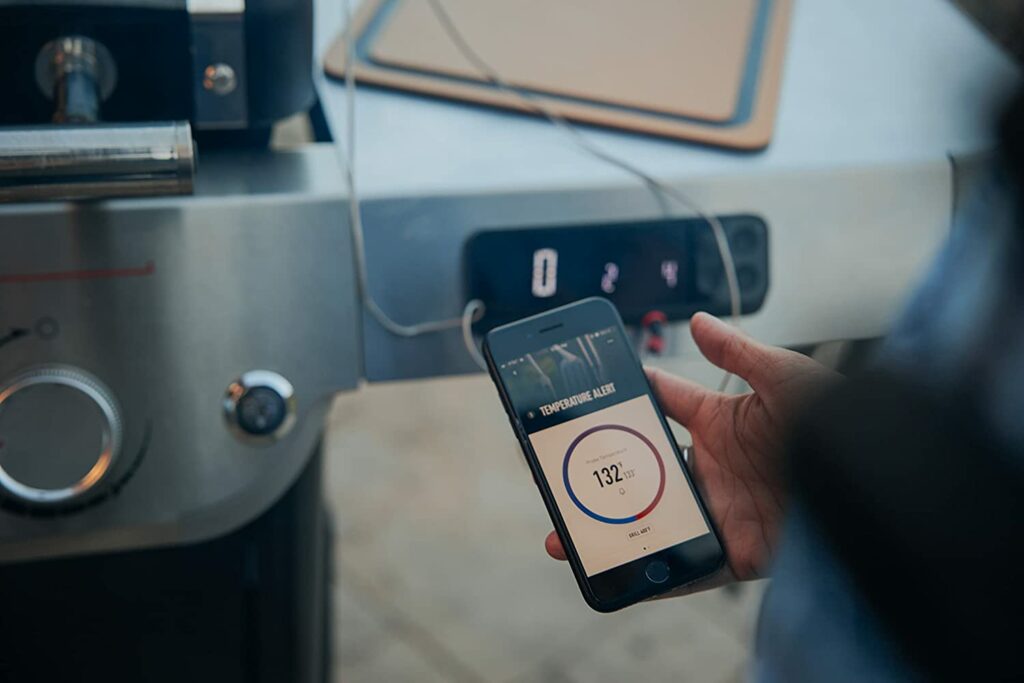 The Weber Smart EX-335 has proven to be a special grill by Weber. It's the Weber Connect system.
The Weber Connect distinguishes this grill from old Genesis and Genesis II grills. Currently, the technology doesn't support controlling the grill's temperature. Instead, it replaces Weber's iGrill3 thermometer by integrating all of its features into the side shelf. 
The Connect Display shows you the grill temperature, internal food temperature from two meat probes, timer, Wi-Fi, Bluetooth connection status, fuel level, and battery level. There are two UP/DOWN buttons, a checkmark button, and an alert button.
You can set the temperature alarm using the UP and DOWN buttons. Resultantly, the Grill will set off an alarm when your food is almost done. 
Alternatively, you can access all of the above on your smartphone via the free Weber Connect App. The app is a treasure of all the flavorful recipes.
You can attach two meat probes to the Weber Connect panel–one is supplied, and the additional one you have to buy. The grill has a side burner integrated into the left side shelf for simmering sauces or sautéing vegetables.
Design
The grill comes in an enclosed-cart design with a porcelain-enameled exterior. The firebox is cast aluminum with porcelain-enameled cast-iron cooking grates. And the burners, flavorizer bars, and heat deflectors are stainless steel.
As for the grease management system, it's very efficient with a slide-out grease tray and removable drip tray.
The 20 lb propane tank attaches to a labeled scale called fuel gauge. Weber's trademark feature gives you a rough idea of the fuel left in the tank.
The Genesis Smart 335 grill has two swivel locking wheels and two swivel wheels for easy mobility. Weber provides a comprehensive warranty:
A 10-year warranty on the cook box and the lid; 
A 10-year warranty on stainless steel burners, cooking grates, and flavorizer bars; 
3-year warranty on Weber Connect components; 
And a 5-year warranty on all the remaining parts.
The rest of the features in this grill are similar to any other Weber Genesis grill except for the knob lights and lid lights that allow nighttime cooks to happen. For these lights to operate, the grill requires an AC outlet or a USB-certified, 10,000mAh power bank (battery pack that can be clipped in under the side table. It also requires a standard AA battery for the Infinity Ignition system to work.
Performance
This premium grill has 3 burners with two side tables, neither of which folds down. Each main burner outputs 39,000 BTUs of power per hour. It has a primary cooking area of 513 square inches. 
Considering the warming rack, the total cooking area amounts to 787 square inches. It's a bit less than the comparable Napoleon models.
And for a reason–Weber Connect innovative technology is housed on the right side shelf, and the left side shelf has a side burner built-in. Let's first look at the two salient features of the grill under review.
Most enticingly, the Genesis Smart EX-335 grill features a sear station between the far-right and middle burner. 
The three burners give rise to extremely high temperatures in no time, creating a high-temperature zone called sear station. And that's not all.
What's more, this sear station is brought about by crafted grates and a frame that turn the grill into a complete outdoor kitchen. You can notice a circular frame that lies underneath the sear station grate. 
This frame allows you to sear, roast, bake, steam, and even stir-fry by replacing the grate with various custom-fit grillware. For example, you can replace the cooking grate with a pizza stone to bake pizza or use a skillet (frying or fry pan) to stir-fry or sauté–the possibilities are endless. You can use custom grillware or buy from Weber (sold separately).
Pros
Embeds Weber Connect smart cooking technology
Impressive, all-inclusive warranty
Strong and durable
Can sear, roast, bake, steam, and stir-fry, making it a complete outdoor kitchen
Cons
Difficult to assemble
Priced higher than the comparable Napoleon models
It can be tricky to use for a non-tech savvy person
Napoleon Vs Weber: Luxury line grills' comparison
To compare the Weber's Smart grill, we've reviewed Napoleon Prestige PRO 500 RSIB gas grill.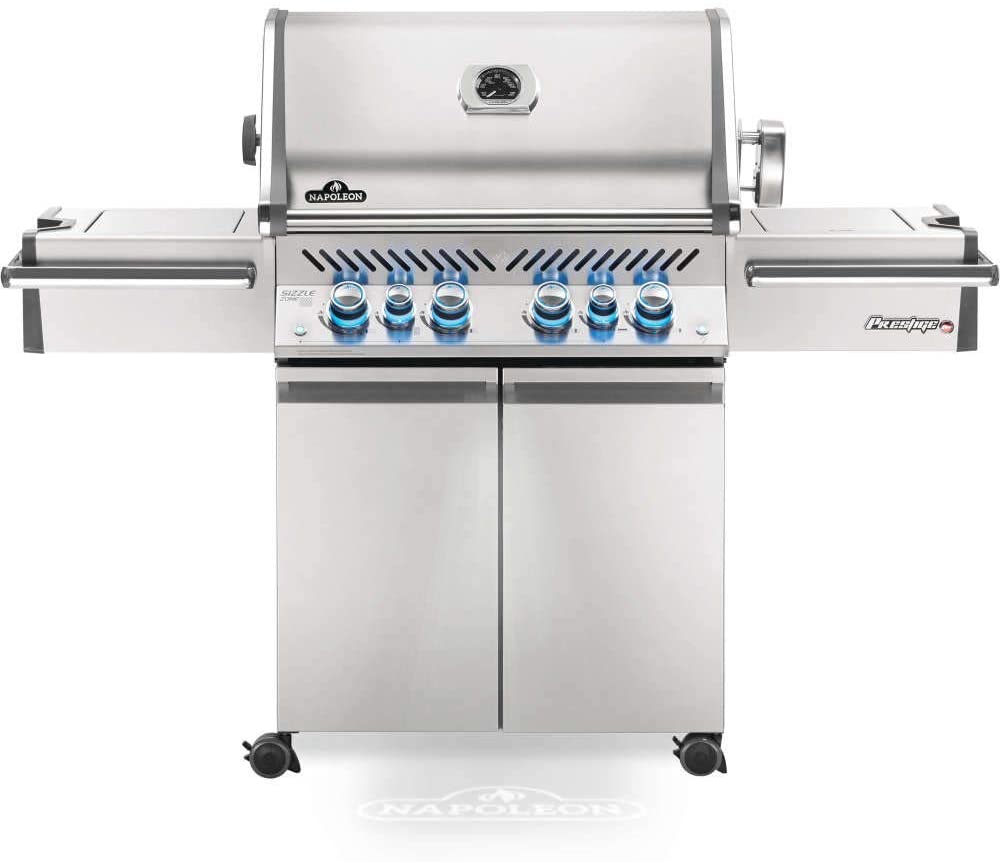 Design
The Prestige PRO 500 is one of Napoleon's best grills so far.
The grill incorporates durable materials to last for decades. Keeping these quality materials in mind, it doesn't surprise that Napoleon offers a lifetime "Bumper to Bumper" warranty on this grill. It's quite a vote of confidence from the brand.
The grill's side table includes a built-in ice bucket and cutting board. It can serve as a drinks station or be used for marinating chicken, turkey, and other stuff. You can also use the lid as a cutting board for easy prep when the lid is in place.
According to Napoleon, their lids use center gravity to lift easily and save space. 
The lid also has an ACCU-PROBE™ temperature gauge built-in, but we don't think it's of much use as it's highly inaccurate and unreliable unless you zero it.
The most valuable feature is that the grill has interior halogen lights that make night-time grilling a breeze. The grill also includes RGB SPECTRUM NIGHT LIGHT control knobs that feature SafetyGlow. 
You can change the glow to any color in the spectrum or set it to cycle. SafetyGlow is a feature that changes any knobs with a lit burner to read so that you don't forget to turn it off after barbequing.
Another aesthetic feature of the Prestige Pro 500 is its proximity lighting display. It reacts to your presence by shining a logo light on the ground.
The model uses Napoleon's Jetfire Ignition system for failsafe, quick start-ups. The cross-lightning brackets automatically light the adjacent burners if a burner accidentally goes out.
Performance.
The grill comes with 17.75 x 28 in of primary cooking area, amounting to 900 in² in total, including the warming rack. It allows you to cook 31 burgers in one go, plenty enough to feed an army. 
The grill incorporates a rear rotisserie burner for high heat searing and slow spit roasting. The rotisserie is included to spin your food right around. The Roll Top lid closes perfectly to provide you with an oven-like experience. 
It has two spacious side tables with hinged covers to use as prep areas when you're not using them otherwise. The left side table incorporates an Infrared Sizzle Zone side burner that you can use to create extremely high temperatures. 
The powerful high-temperature zone helps cook perfect steaks by making caramelized crusts that lock in juices. The side burner can also help prepare side dishes and cook sauces while the main course finishes in the primary grilling area.
The stainless cooking grates and two-level sear plates are of such an exceptional quality that they put Weber to shame.
Sadly, given its weight and size, the grill is hardly movable. However, it has four swivel locking casters that allow little mobility. As for the grill's performance, there's no question about it.
Pros
It's a solidly built model that comes almost pre-assembled.
Grill lights for easy nighttime cooks
Excellent performance of a rear rotisserie and a side infrared burner
Includes an ice bucket and a cutting board integrated into the side shelf
Premium quality, heavy-gauge, stainless steel cooking grates
Cons
Weber Summit E-470 is a competing grill among Weber's high-end grills. It's available in two options: Liquid propane and natural gas grill.
 Does it beat Napoleon or not? Let's see in the review.
Design
Weber's Premium E-470 grill is one of the few gas grills that have the finest and well-engineered rotisserie system. It's the "Tuck-Away Rotisserie System." A rotisserie motor folds down into the left side shelf, and there's a latch to lift it smoothly. The spit and forks have separate storage places in the cart. 
Some of the grill's burners, for example, the side burner, use piezoelectric ignition. Other control knobs use Weber's "Snap-Jet Individual Ignition System." 
A push-button fuel gauge in the control panel displays the remaining fuel levels in five increments. It's a nice and helpful feature.
The grill also has a sear burner located in the middle to create sizzling temperatures for a perfect sear. It also has a bi-metal heat indicator on the hood, but it always seems to be way off. It accurately measures your food's internal temperature.
The E-470 has "Grill Out Handle Lights," a combination of three LED lights to illuminate the cooking surface. The "Handle Lights" unit automatically includes a tilt-sensor to turn on and off. 
You can also turn them on and off manually. The unit is water and heat resistant and can easily be tightened onto and taken off the handle.
The grill requires 6 (AAA, D) batteries to ignite the four main burners and illuminate their knobs (the rest of the igniters are piezoelectric). There are four swivel casters (two of which lock) to render some mobility to this 108.41kg grill.
Performance
The Summit E-470 is one of Weber's top-of-the-line gas grills with a 580-sq in total cooking area. It has four main burners with a total heat output of 48,800 BTUs per hour. 
Additionally, the side burner has 12,000 BTU, a sear burner with 10,600 BTU, and a 10,600-BTU rotisserie burner heat output. It features stainless steel construction with black, porcelain-enameled double cart doors and hood. Let's review the grill in detail.
The E-470 includes two heavy cooking grates of 9mm stainless steel rods. A rectangular smoker box runs along the right side of the firebox from front to back. However, we don't believe the smoker box does anything other than taking up 70 square inches that could otherwise be used for grilling. 
That's because gas grills aim at maintaining airflow to draw in oxygen. It's something that works great for gas grilling but is ineffective for smoking. 
The E-470, too, draws in a lot of air through vents. Likewise, the same vents also let the smoke escape as soon as it's produced, not allowing enough time to infuse into your food. It's probably the single downside of the grill we could discover.
Pros
Sturdy and durable
Includes an efficient rotisserie system that can be tucked away when not in use
Ample cooking space with a side burner
The cooking performance is fantastic.
The grill includes a handle light to illuminate the grilling surface for nighttime cooks.
Cons
Weber provides a 10-year warranty on this model. At this price point, one reasonably expects a lifetime warranty from Weber.
Napoleon Vs Weber: Key Differentiating Points
While Weber and Napoleon are both excellent brands and strive to provide more and more value for money, they have their strengths and weaknesses. Both are famous for crafting stand-alone and built-in gas grills. However, it becomes difficult to precisely ascertain their relative sweet and weak points due to many grills across different categories and price points. For this reason, we have carefully analyzed their comparable products to give you an accurate idea of how the two brands compete against each other regarding features vs. tradeoffs.
Cooking area
The cooking area is the only point most people consider when buying a grill, perhaps because it constitutes most of their grilling needs. In the comparable models, Weber provides more cooking areas than Napoleon grill, especially regarding the primary cooking area. You're not using the warming rack in most cases, so it's best to take it out of the equation.
More cooking area directly translates into more food per grilling session, reducing the need to cook in multiple batches.
Heating
A grill's heating capacity depends on the number of burners, its primary cooking area, and the individual burner output. When it comes to the number of burners, Napoleon's similarly-priced models offer more burners for money. 
The separate burner output, in most cases, is also higher in comparable Napoleon models than in Weber. However, similarly-priced Napoleon grills have slightly less primary cooking space than similar Weber models. But more burners in less space, in turn, results in more heat per unit area.
Affordability
Weber grills feel a bit heavier on the pocket than Napoleon grills with similar quality and features, but this is not always the case. If you're looking for a rule of thumb, it doesn't exist.
However, at the same price, Napoleon's grills are generally more feature-rich than Weber's.
Warranty
When it comes to warranty policies, Napoleon wins hands down from Weber. Napoleon offers more comprehensive, all-inclusive warranties that cover the entirety of the grill.
Napoleon offers a 15-year bumper-to-bumper warranty on their Rogue, Rogue XT, Rogue SE, and Legend Series models. The warranty covers everything from stainless steel burner tubes to minor parts. 
It offers a lifetime bumper-to-bumper warranty on its Prestige and Prestige PRO models. However, the lifetime warranty is limited to the hood, lid, aluminum castings, stainless steel grids, and primary burner tubes. The rest of the parts are covered under a 15-year warranty.
Weber provides a comprehensive, all-inclusive warranty on its Spirit II, Genesis II, and Summit models. The 2022 Genesis, Weber Q, and Spirit models are covered under a 10 to 12 years warranty for the main parts. The remaining parts of these grills are covered under 2 to 5 or 10 years of warranty.
Napoleon's Salient Features
Napoleon tends to focus more on performance and additional features than anything else. Napoleon grills are durable, too, featuring all-inclusive long warranties. Let's take a look at Napoleon's stand-out features.
Ignition system
All Napoleon gas grills feature an advanced, Instant JetFire ignition system that doesn't require batteries to operate. The single-handed ignition system lights each burner individually, providing a worry-free experience.
Napoleon grills have a crossover ignition system, so if a burner accidentally goes off or fails to light, it'll automatically reignite itself, further enhancing safety. A cross-light bracket between the burners lets the flame pass through the lit burner to the adjacent unlit burner.
Grill lights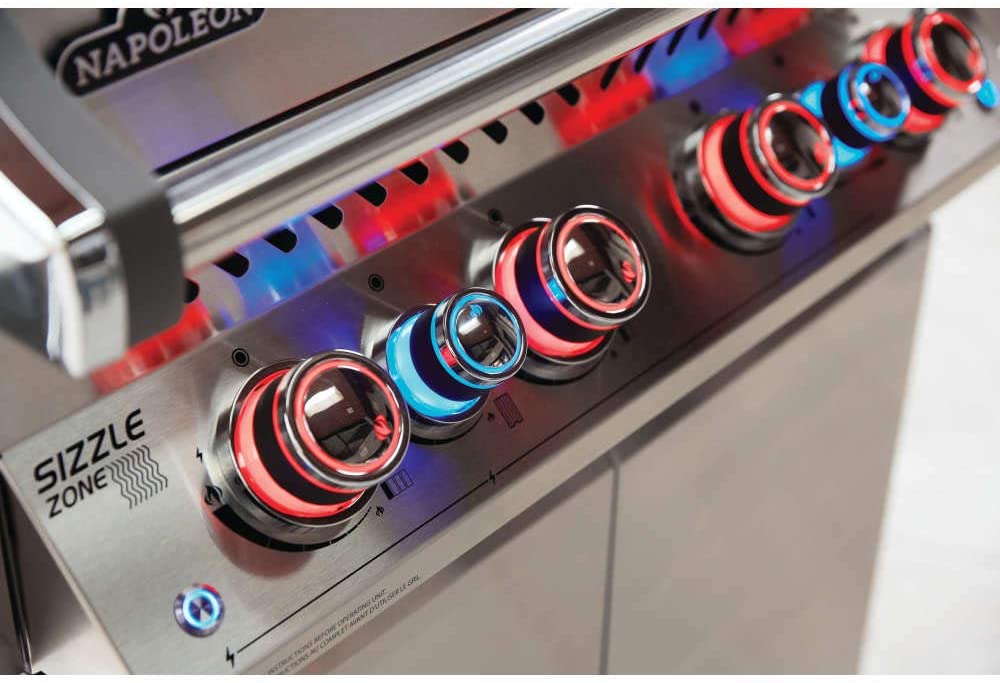 Napoleon's top-of-the-line grills come with various grill lights to add to the grill's aesthetics and make nighttime cooks possible. The Prestige Pro series, for example, detects your presence and shines the Napoleon logo on the ground in front of you as a welcome gesture.
Napoleon's luxury-line grills also include hood and cabinet lights for worry-free nighttime cooking. These LED lights significantly improve the grill's usefulness, especially during darkness.
These grills also include LED Spectrum NIGHT LIGHT control knobs that glow with the color of your preference. You can choose any color from the spectrum or set it to cycle. 
The SafetyGlow feature changes any knobs with a lit burner to red. It's a helpful safety feature that reminds you to turn off your grill before you go.
Burner tubes
Napoleon's burner tubes are made of 16-gauge, premium quality 304 stainless steel, known for durability and retaining shape even after decades of use. They're virtually indestructible.
In addition, all Napoleon burner tubes have dual ports–on the top and sides–to ensure even cooking from front to back and side to side.
Iconic Wave grids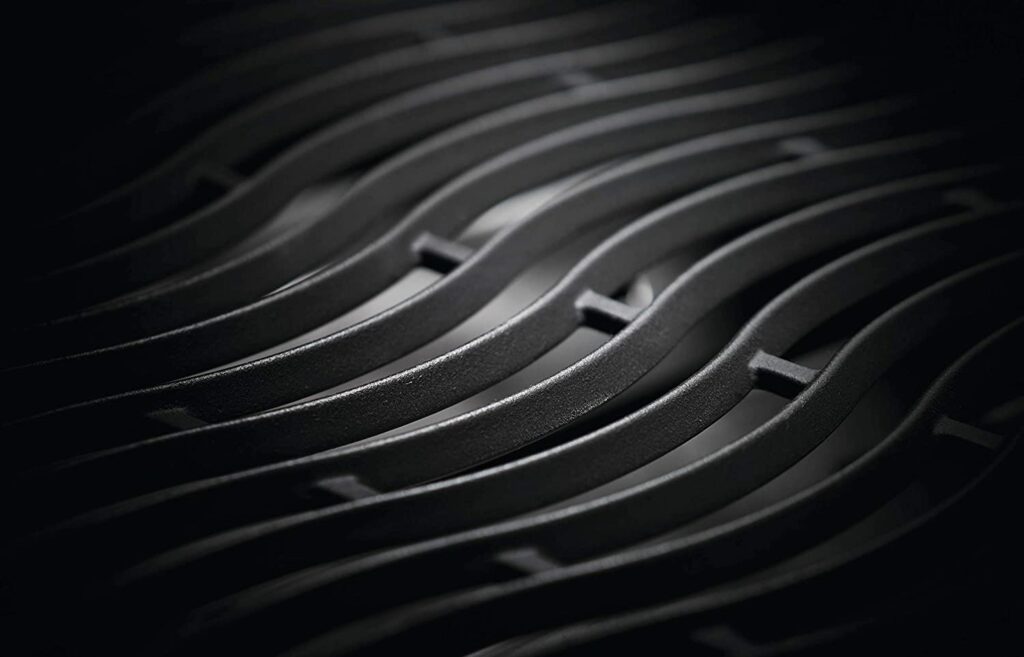 Napoleon grills feature either cast iron or stainless grids with wave-shaped rods. The wave pattern isn't just for looks or producing wavy sear marks, though, as it serves multiple purposes. 
The most appealing benefit of this shape is that it enormously increases the surface area of the primary cooking grid. The wave pattern also prevents smaller chunks of food from falling into the firebox. Plus, the wave shape allows for some heat expansion and contraction, further adding to the durability of Napoleon grills.
Their cast iron cooking grates receive a sturdy porcelain coating that makes cleanup a snap. On the other hand, stainless steel cooking grids don't require much cleaning.
Hood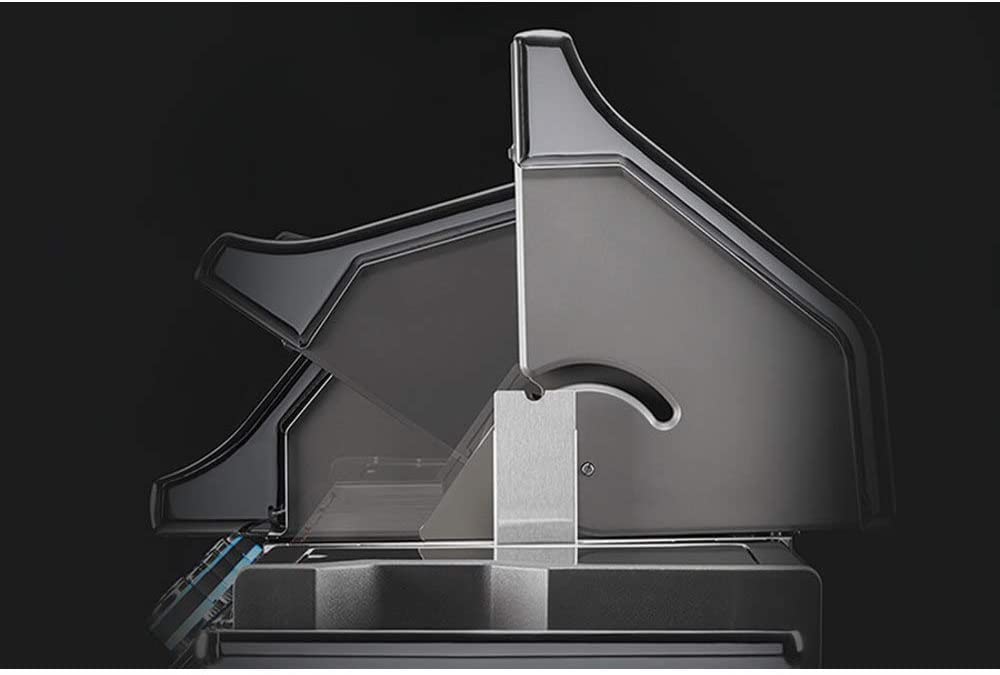 All Napoleon gas grills come with a LIFT EASE™ Roll Top lid, tailored for greater efficiency while ensuring quality simultaneously. These lids are well-designed. 
And while it may seem counter-intuitive, they provide ample space for roasting a whole bird with the lid closed while being space-saving at the same time. 
Since they're pivoted on a central point, they don't open more space. The dome's height is enough to accommodate a lot of food on the main grilling area and warming rack.
The lids feature double insulation for maximum efficiency, reducing cooking times, and saving fuel. While the lids on the Napoleon grills are heavier than those of other brands, they're easy to lift, thanks to an ergonomic design.
Construction
Napoleon's gas grills use food-grade, corrosion-resistant, 430 and 304-grade stainless steel for maximum durability. The firebox is cast aluminum to withstand temperatures of about 900 degrees Fahrenheit. 
As for the carts and exterior, they use galvanized steel (zinc-coated or zinc-bathed steel). The galvanized steel parts in Napoleon grills also receive an additional aluminum coating (both in and out). A thick powder coat paint on the aluminum coating produces a state-of-the-art finish, the same one used on high-end cars.
Sear plates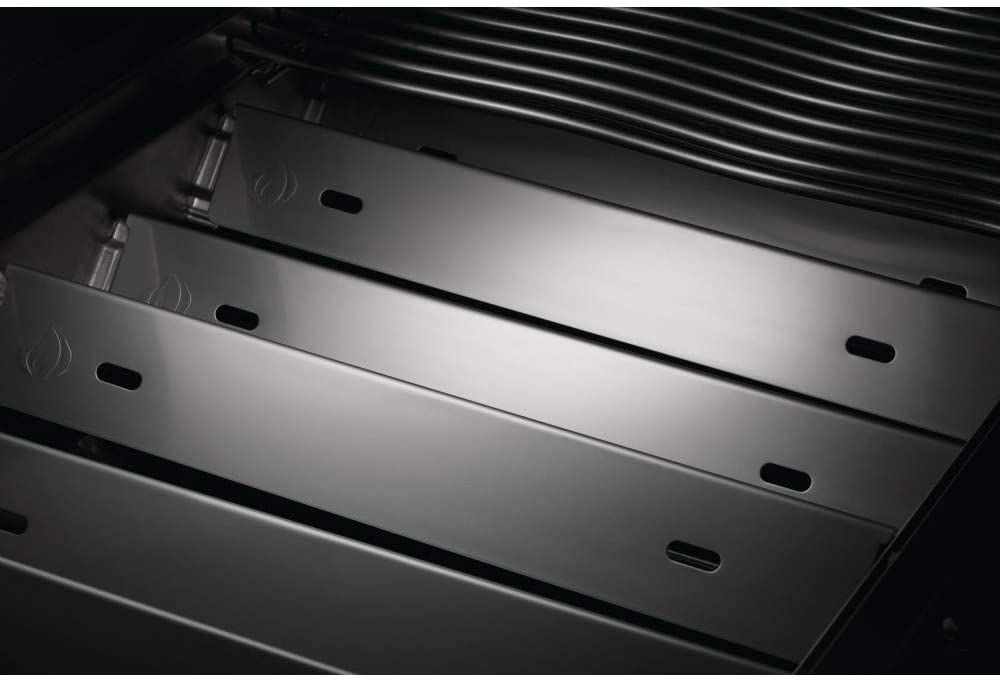 One of the most impressive things about Napoleon grills is 304 stainless steel sear plates. These plates serve two important functions:
(a) vaporizing food drippings to create smoke and steam that bathes your food in the intense grill flavor.
(b) protecting the burners from food drippings and meat juices.
Unlike Weber's flavorizer bars, these sear plates are placed in a staggered configuration. The double-level configuration protects the burners from all sides, reduces flare-ups, and ensures even heating across the entire grilling surface.
Weber's Salient Features
Weber is the market leader in the grilling industry constructing stand-alone and built-in gas grills. It produces some of the finest grills with exceptional heat output, quality construction, and durability. They also use cutting-edge technology to keep ahead in the grilling race. These are some of Weber's iconic, fancy features that make them superior to any other brand in the market.
GS4 Grilling System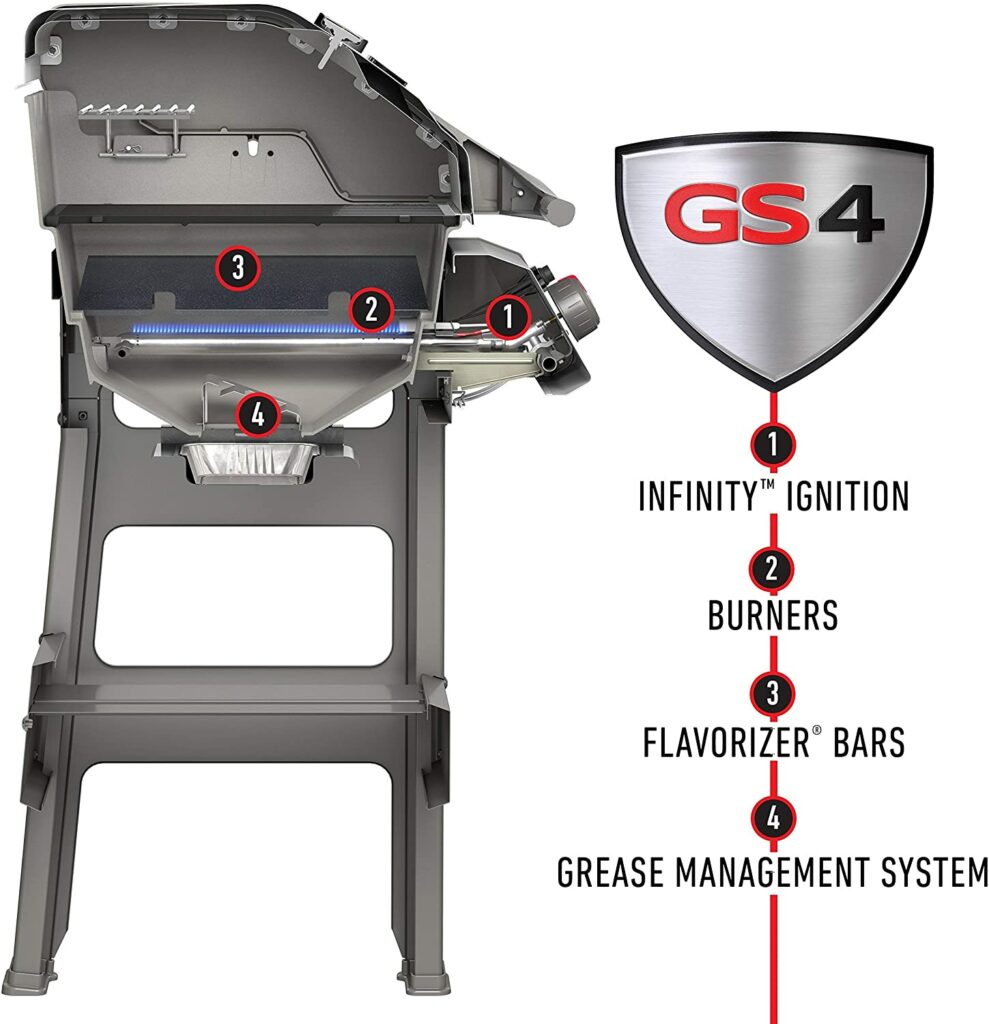 It's the GS4 grilling system that makes Weber gas grills genuinely iconic. The grilling system is present in Weber's Spirit II and Genesis II lineups. However, even when Weber doesn't list the GS4 in its lineup's specifications, such as the Genesis 2022 and Summit grills, the lineup is still somehow using the same or a redesigned, improved grilling system.
The GS4 system consists of four key elements:
Infinity™ Ignition
Stainless Steel Burners
Flavorizer® Bars
Grease Management System
Infinity™ Ignition
Weber's Infinity Ignition promises a Failsafe ignition every single time. However, the ignition system is not battery-free and uses standard AA batteries. But it's weather-resistant and protected from elements, making it long-lasting and reliable.
Stainless Steel Burners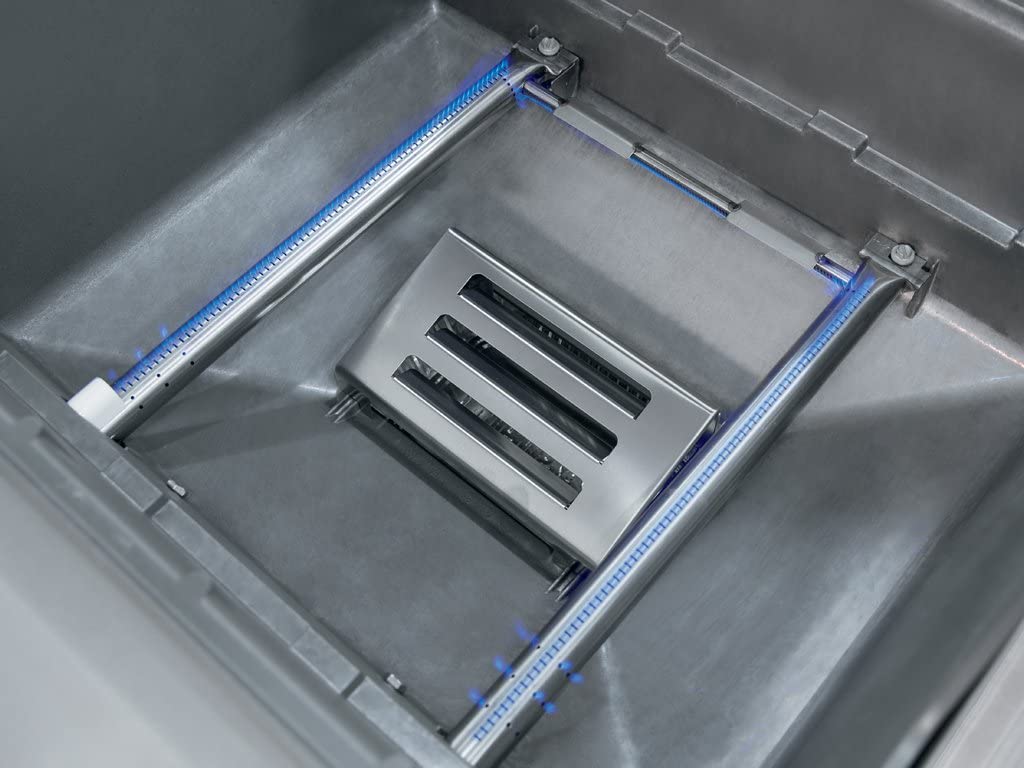 Weber's stainless steel rectangular burners are of superior quality and almost indestructible. These burners have undergone multiple redesigns to ensure an even heat distribution across the entire grilling area. In its trial and error process, Weber has successfully overcome some design flaws that caused flare-ups and uneven gas distribution throughout the burners.
Flavorizer® Bars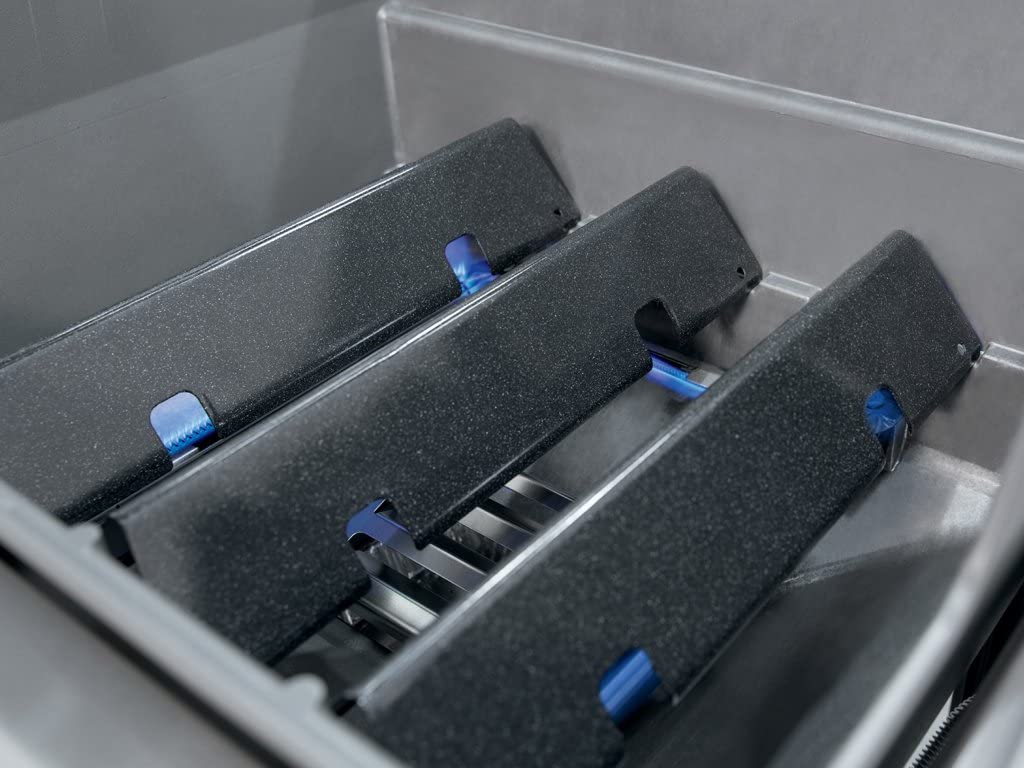 Weber's angled flavorizer bars catch food drippings from the cooking grates to vaporize them, infusing your food with rich and delicious smoke. Simultaneously, they protect the burners from fat and meat juices falling down the grates. 
The flavorizer bars have also been redesigned and now have two semi-circular or half-squircle openings at each side to let the burners breathe better. The openings also allow you to see the flame to ascertain whether a burner is lit or not.
Grease Management System
The last key component of the GS4 grilling system is Weber's efficient grease management system. It consists of a slide-out grease tray placed right underneath the firebox. 
The grease tray sits in the grill's center so that the grease has less distance to travel. There's a drip pan sitting underneath the grease, which you can quickly empty into the dustbin.
Weber Connect
Weber's new Genesis 2022 lineup gets BlueTooth, Wifi, and digital displays for tracking temperature and setting off an alarm on your grill or smartphone when your set temperature or timer is reached.
The company has sold a separate accessory called iGrill meat thermometers for years. Its second-generation Weber Connect Smart Grilling Hub accessory connects to the Weber Connect smartphone app.
Weber Connect Smart Cooking Technology-enabled grills are useful for newer chefs, especially when working with larger steaks. The app contains recipes, grilling guides, detailed instructions on setting temperatures for each stage of grilling, and various notifications, such as when to flip your burger patty's side.
Napoleon Vs Weber: The Verdict
After such a lengthy discussion, all we can say is both brands offer good value for money. Most often, the two brands go head to head with each other, and this kind of competition is pretty healthy as it pushes the two manufacturers to keep evolving and innovating.
To summarize, Weber grills are a great option if you want to be backed by industry-leading customer support. They're easy to use, clean, and maintain, and due to their market dominance, it's pretty easy for anyone living in the US to get replacement parts from an arm's length. Weber grills are durable, too, made to last for decades.
On the other hand, Napoleon grills offer more features than a comparable Weber model. But there are no tradeoffs, honestly. They, too, provide excellent customer service, quality, and durability.
universitygrill.net is a participant in the Amazon Associate program and will earn from qualifying purchases.