Are you thinking of buying the best infrared thermometer for cooking? Do you think that things go well by just guessing the temperature of your pizza stone, steaks, and other cooking items? Of course, not.
Where there is a guess, there is always a doubt. So be confident in your cooking and bring the most accurate and durable infrared thermometer in your cooking essentials. 
Now the question arises, which infrared thermometer to opt for? We recommend you invest in a better option as a single thermometer will serve you for quite a long time.  
Only the best one can give you accurate temperature readings, even if you are at a safe distance from the grill or the oven. 
Here are completely reviewed top 10 infrared thermometers for cooking. Let's now hunt each reviewed product and pick one that you find too good to be true.
Top Infrared Thermometers for Cooking, Baking, and Grilling
After checking more than thirty products, and evaluating real-time users' feedback, we have presented you with the top 10 best infrared thermometers. And all these are par excellence.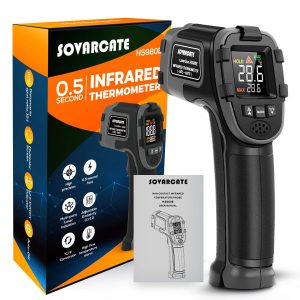 Quick Features
Fast Response Time of 0.5 seconds

High precision of ± 2%

Multi-point Indication

Practical Functions

Adjustable Emissivity and Temperature Alarm

High Versatility
Review
How about getting the most reliable thermometer with warranty and accuracy?
Among all the top-rated infrared thermometer brands, SOVARCATE has rooted its name for years. This Digital IR laser comes with a jet black elegant look and unrivaled features.
With this best infrared thermometer, you can easily adjust emissivity from 0.1 to 1.0.  Furthermore, you'll see red display lights with alarms if the temperature exceeds the limits.
Undeniably, fast response time is as important as all the other features. This temperature gun offers a 0.5 seconds response time which is highly remarkable to allow you to adjust the temperature of your grill quickly. 
Along with this, SOVARCATE has made this temperature gun with a high precision of ± 2%. So you can get accurate measurements of the temperature. 
For a better indication, this IR thermometer gun comes with 12 laser-indicated dots. And this feature is primarily present in the only top-of-the-line thermometers. 
Besides this, a colored backlit LCD screen with a unit switch (°C/°F) and a MAX/ HOLD data function for accurate temperature measurement. Moreover, there is a 30-second automatic shutdown function and a low battery indicator. 
This thermometer can go perfectly for measuring temperature during many tasks like baking, cooking, and freezing, winemaking, car repair. But yes, there is still an exception. Never forget that this thermometer isn't for humans. 
How about the warranty? Without a doubt, you can have a 100% money-back guarantee along with a 2 years warranty, besides lifetime technical support.
On the other hand, there are some points to be improved. First of all, it makes an annoying beeping sound when pulling the trigger. And secondly, the gun isn't durable at all to go for a long time.
Pros
0.1 to 1.0 adjustable emissivity

12 laser indicated dots

A fast response rate of 0.5 seconds
Cons
Not durable

Produce beeping sound when pulling the trigger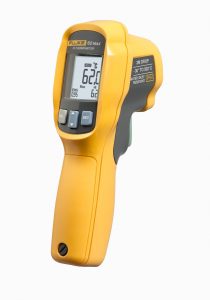 Quick Features
30 to 500 Degrees C Temperature Range

Adjustable Accuracy

10:1 Distance to Spot Ratio

Min/ Max Alarms

Easy to Hold

LCD Display
Review
Fluke 62 Max Infrared Thermometer offers a wide range of features that make it superior to other options. Before stepping towards the section of features, you must know that this thermometer is used for industrial use only to assess the surface's temperature. You can't use it for humans.
This gun can measure between 30 to 500 degrees C and -22 to 932 degrees F. So, you can use it for various temperature assessments between this range. 
Please keep in mind that an adjustable accuracy can make a simple product a superior one. The Fluke 62 Max Infrared Thermometer has an accuracy of ±1.5 degree C. Thus, it'll provide a more precise yet accurate temperature measurement. 
You'll agree that the distance spot ratio ensures your safety. But what's the safety extent offered in this product? It's with a 10:1 distance to spot ratio, which is undoubtedly excellent. 
As these thermometers are used in outdoor areas, they must have good battery timing. And if it can withstand for 10 hours, what's better than this? Surely nothing. 
Umm, you'll say that 10 hours is not that much of a fantastic offer. But it's better than 6 to 8 hours of battery timing as well. 
This thermometer becomes pretty easy to use with a minimum, maximum, average, high, and low alarms. The small size, lightweight, ergonomic design, and easy to hold structure perfectly fits all sized hands. 
The large LCD screen is wow to help you read the data easily. And with this display screen, this thermometer becomes easy to use even at night. 
On the downside, this device isn't durable. So it may stop working after some time. In short, it's not worth spending extra $$$ on this product.  
Pros
Excellent battery timing of 10 hours

±1.5 degree C Adjustable Accuracy

-22 to 932 degrees F wider temperature Range
Cons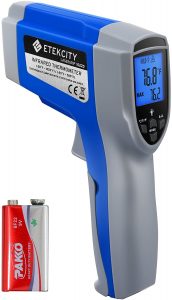 Quick Features
Dual Laser Targeting Technology

Temperature Range

Multifunction

Distance to Spot Ratio and Adjustable Emissivity

Versatile Use 
Review
Do you want to go for a thermometer with the least response time? Indeed, the Etekcity 1022D infrared thermometer is the perfect one as the third best infrared thermometer or cooking. 
The 1022D model possesses an LCD system, back-light LCD screen, and auto-off function. Moreover, the low battery indicator is to alert you when the battery is about to finish. 
With this laser technology, it becomes easy to visualize the area that is measured by the IR thermometer. Thus, you can have higher precision than a single laser. 
Etekcity IR thermometer 1022D works with the temperature range of -50 to 550 degrees C and -58 to 1022 degrees Fahrenheit. Furthermore, with Etekcity 1022D, the distance to spot ratio is 12:1. So, you can stay far from the surface at this distance. Likewise, the emissivity is adjustable to help you improve the measurement accuracy for different surfaces. 
This laser gun comes with no learning curve. By following the simple instructions, you can use it. Not only this, the LCD display with backlit is handy when you're grilling outdoors at night.
Its usage is not just limited to measuring the temperature of cooking devices. In fact, it also works well for appliances like AC, heaters, and also for automotive maintenance. 
But most people face the problem that this device stops working even within a few times of usage. 
Here is an important point to keep in your consideration. This third reviewed infrared thermometer isn't suitable for a high temperature above 150C. When the temperature is higher, the gun starts showing errors. 
Beware, you can't use this temperature gun for humans. That's because it won't give you accurate readings. The readings from this thermometer are for inanimate objects. It's mainly to measure temperature for industrial and kitchen cooking. 
Pros
Auto-off function

Dual Laser-targeting Technology

Also used for maintenance of automobiles
Cons
It doesn't work smoothly.

Can show error for higher temperatures
Quick Features
K-Type Probe

Dual Targeting lasers

20:1 Distance to Spot Ratio (Optical Resolution)

Temperature Range from -40 to 1200 Degrees F
Review
Do you want to have a laser thermometer with a wide temperature range to use in various appliances and cooking devices? Our fourth review is from Klein Tools. 
It's a dual laser infrared thermometer with a higher temperature range from -40 to 1200 degrees F. It doesn't just measure the surface temperatures only. Still, the K-type probe measures the temperature of the air, liquids, and gas as well. In addition, this thermometer has dual targeting lasers, which can help in more accurate reading. 
When it comes to the optical resolution, with Klein Tools' dual-laser thermometer, you get the distance to spot ratio of about 20:1. So, this one is offering you to stay more away from the cooking device. It's why you're on the safer side when using this infrared thermometer. 
Klein tools' have made this infrared thermometer with adjustable emissivity for addressing multiple applications with a single product. And this emissivity ranges from 0.1 to 1.0. 
Are you worried about using it in low ambient lighting conditions? Stop stressing yourself. 
You are getting an inspiring product that gives you a clear display in the dark as well. And it's because of its bright backlit LCD display screen. 
It's the most accurate thermometer but expensive, right? Then what makes it so. Indeed, its versatility has made it premium. Therefore, you can use it to monitor the temperature of kitchen appliances. In reality, it also works well for equipment and many industries that involve preparing materials and manufacturing. 
It doesn't end here. Some points bring it to a low position in the list of best-infrared thermometers. In the first place, this thermometer doesn't always give accurate results. Yes, you heard right. Secondly, it's a little complicated to use and understand. 
Pros
Large Temperature Range

Good Optical Resolution

Dual Targeting Lasers 
Cons
Less Accurate

Complicated to use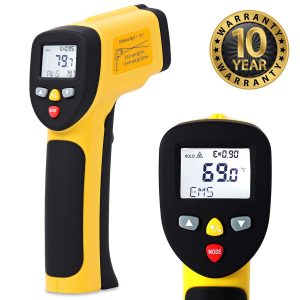 Quick Features
Useful For Multiple Tasks

Adjustable Emissivity for Achieving Accuracy

Useful in Repairing home Appliances and Car Repairs

Large Display with Alarms
Review
This industrial, non-human IRT aims at measuring the temperatures of 58°F and 1202°F (-50°C to 650°C). So, you can easily use it in the kitchen while cooking, baking, or BBQing. You can bring it in use for HVAC, food safety inspections, BBQ, home inspection, cooking, and home appliances inspection.
Your wood-fired ovens and brick ovens are no more challenging to set at a required temperature. The adjustable emissivity can help in providing accuracy in reading results. 
This laser temperature gun is also helpful in repairing home appliances and car repairs. 
You can simply find out the area where cold or hot air is leaking. Moreover, you can also bring it into use for checking the output of A/C units. 
In short, it is pretty easy to find where there is a heat loss and can also measure this loss. Whether it's a catalytic converter, tires, cars cooling system, or brakes, you can quickly check them all. 
Last but not least, this yellow-colored thermometer provides you with a large display screen. You can check the readings even in the dark. Moreover, there are high and low alarms to alert you according to the condition. 
After reading all the features, everyone waits to know about the warranty. And we know you are also waiting for the same thing. Breaking your patience, let us tell you that you'll get 10 years of warranty with this laser temperature gun. 
On the downside, this product doesn't have a durable body. In most cases, the black part starts becoming sticky and unable to be used. Secondly, there is a limited distance range which is not very suitable. 
Pros
Helpful in multiple tasks

Useful in car repairs

Large display screen
Cons
Short-lived body 

Limited distance range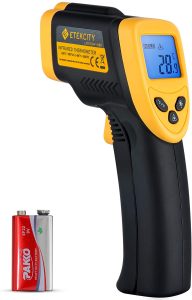 Quick Features
Better Accuracy and Distance to Spot Ratio

High-Temperature Range

Versatile Design

Additional Features
Review
Here comes another best infrared thermometer by Etekcity. It's Etekcity 1080 Non-contact digital thermometer with a high-temperature range. It's 6.4 ounces in weight, so everyone can easily carry and hold it.
Comparing the Etekcity 1080 with the 1022D model, the distance to spot ratio is 12:1. Thus, you can stand at a greater distance from the object you have to measure temperature. If you want to have the best possible accuracy, we'll recommend using a distance of 36 cm. 
In the 1080 model, temperature measurement ranges from -50 to 550 degrees C or -58 to 1022 degrees Fahrenheit. And, it's pretty high for your versatile needs like for cooking, measuring temperatures of refrigerators, A/C, or other such appliances. 
In addition to this, do you want to know more about this gun? Come with us.
Some additional yet essential features make it an essay-to-use thermometer. Most people want to have a large display screen to read the data easily. Yes, this device provides you with this facility. 
Are you worried about the battery life? Problem solved. There is an auto-off function to save battery life. Moreover, if the battery is about to end, you'll receive a low battery alarm. So you won't accidentally face the problem of low battery when out. 
After reading the features, we welcome you to the section on cons. First of all, the battery isn't going to work for more than a year. And when you try to replace it with any other battery from the market, it won't work. So, you'll have to buy a new thermometer at the end. In short, you can't replace its batteries.
Moreover, its accuracy is questionable. The majority of the people didn't find its temperature measurements accurate. 
Pros
Auto-off function

Functional for a variety of appliances

Measures temperature above boiling point or below freezing point
Cons
Replacing the batteries is not easy.

Not much accurate in measurements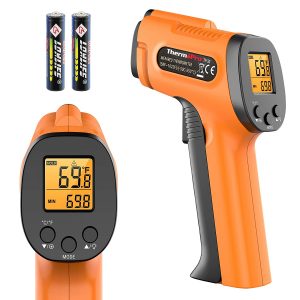 Quick Features
Ultra-Fast Response

Variety of Usage

Highly Accurate Measurements

Easy to Found Batteries
Review
Our sixth best infrared thermometer for cooking is from ThermoPro that has made its name within a short time. No, we won't give a detailed intro to this brand. Without any delay, let's move forward towards the details of this product. 
TP30 requires 2 AAA batteries for its functioning, and these come in the package. In addition to this, there are some other awe-inspiring features too.
TP30 has a 12:1 distance to spot ratio, just like the previous product. One of the main features that catch buyers' attention is its ultra-fast response time. If you are at a greater distance, you'll get readings within the response time of <500Ms. 
In Fahrenheit, this range is -58 to 1022. While it's Celsius, it's -50 to 550 degrees. As it's made using the latest thermopile sensor technology,  you can expect to have the highest accuracy of ±1.5%. Apart from this, you can also adjust the emissivity from 0.1-1.0 according to your requirements. 
On the downside, it doesn't work well below 32 degrees F. You won't find it suitable for cold and hot temperatures. 
The infrared technology of this pyrometer provides a high range of temperature measurements. So you can measure the temperature below freezing point or above the boiling point for home repairs and auto maintenance. 
When it's about ease of usage, the device has nothing remarkable about it. After receiving the package, you'll come to know that the directions of usage are complicated. These are difficult to understand, so you may not be able to use the gun properly. 
This infrared thermometer is powered by two AAA batteries. But if you get the low battery indicator, you can easily replace them with other batteries. 
Pros
Gives accurate measurements

Response time of <500Ms

Easily replaceable batteries
Cons
It doesn't work well below 32 degrees F.

Complicated Usage Directions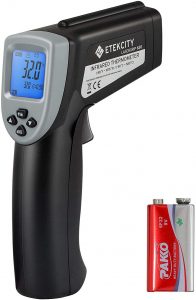 Quick Features
Better Distance to Spot Ratio

Adjustable Emissivity and Accuracy

Dual Laser Pointers

Other Multiple Features

Fastest Response Time
Review
Here's another one from Etekcity with the main difference in the temperature range from the previous two Etekcity products. Not just the temperature range, but it's also better in the distance to spot ratio and accuracy.  
Let us first tell you that the distance to spot ratio that this product offers is 16:1. Similarly, you can regulate it according to the range of 0.1 to 1.0 and get accurate readings with adjustable emissivity. 
Besides this, with dual laser pointers, this gun can measure the temperature from -58 to 1076 degrees F with excellent accuracy. If your oven or the pizza stone falls under this temperature, this best infrared thermometer for cooking can easily detect it. But wait, this product isn't very reliable for its accuracy. 
Do you know how much time it will take to present your results after bringing the infrared thermometer near to your oven? Just 500 milliseconds. Yes, you heard it right; it measures temperatures within 500ms. 
Undoubtedly, the device is valuable with its quick response time and wide temperature range. Yet, because of doubtful accuracy, we can't say that it's' versatile. The reason is, you won't know when the critical measurements for commercial purposes can go wrong.
As it features an auto-off function, so the battery won't go to waste. If it's not in use, it'll automatically turn off within the set time. 
Furthermore, it has a backlit display screen to provide crystal-clear readings even in the dark. The min, max, low, hi alarms are also to make the usage easy.  
Another downside is that the price of this thermometer doesn't match the quality. The quality of the material isn't top-class at all. A single fall can break the body. And the accuracy is also questionable. 
Pros
Dual laser pointers

Quick measurement results

Backlit LCD screen 
Cons
Not much accurate

Body material isn't durable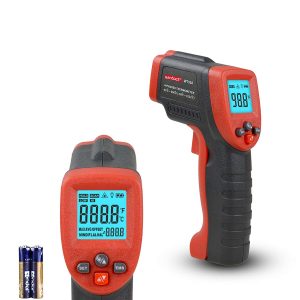 Quick Features
Accuracy And Emissivity

Response Time

Hi and Low-Temperature Alarms

Eye-Catching Body Design

Multifunctionality

Ease of Usage

Versatility
Review
Finally, our second last product is the Wintact non-contact infrared thermometer. This temperature gun we are talking about has the highest accuracy of ± 1.5%. The emissivity is 0.10 to 1.0 that is adjustable. 
Is there anything impressive about the response time? Yes. Here you'll get the response in just 0.5 seconds; that is so amazing. 
You have to set a high and low-temperature threshold value. When your gun detects those temperatures, it will start showing alarms. The LCD screen will display these alarms, and the BiBi audio sound will make it more attention-catching. 
Moreover, BiBi audio sounds and LCD system are additional features that make output easy to read. Apart from your cooking tasks, this the best infrared thermometer for cooking has excellent demand in checking home appliances, the automobile repair industry, and electrical measurement. 
It is also highly suitable for temperature measurement in industries like the iron industry and cold chain transportation industry. This product is available in a combination of red with black color. And the whole design is so comfy to fit in all-sized hands. 
When we talk about the weight, it's just 5.2 ounces. So, is it easy to carry or not? 
Yes, it's pretty easy to carry and use. But ease of usage is also due to its simple-to-understand directions. It's why beginners, intermediates, and experts can use it without spending much effort. 
But at the same time, there must be some improvements. First of all, the directions of usage mentioned on the pack are highly difficult to understand. Secondly, not all beginners can easily use it. That's why it's not for all the experience levels. 
Pros
Easy to read screen

Hi and Low-temperature Alarms

Highly Accurate
Cons
Difficult to understand Directions

Not easy to use for beginners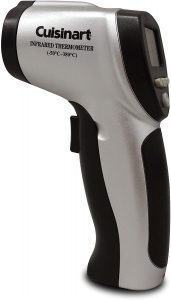 Quick Features
Laser Targeting with High Accuracy

High-Temperature Range

Fast Response Time

Automatic off

Light in Weight

Versatility

Easy to Use
Review
Who isn't aware that Cuisinart is the name of excellence in kitchen tools? This brand has made a highly functional IR digital thermometer named CSG-625. 
This stylish silver and black colored IR gun is highly in demand. Its features make it the best infrared thermometer for cooking among hundreds of other models.
With this infrared thermometer, you're getting a wide temperature range to check multiple appliances in your kitchen and house. This range falls between -58 to 716 Fahrenheit. 
Not just in Fahrenheit, there is the option of changing it in Degrees as well.  Point the gun on the required thing and press the trigger. You'll get the temperature measurements within 500 milliseconds.
Automatic off function is highly important to save your device's battery. When you are not using it, it'll automatically turn off after some time. 
You can use it to measure your oven and refrigerator temperature. All the frozen dessert and ice creams are now easy to make at a specific required temperature. Yes, there is the option of using this device in checking your AC. Isn't it a great IR thermometer with a lot of uses? 
5.6 ounces weight isn't high at all when you are having some super fantastic devices like this. Most of the thermometers are usually large or too small to fit in all-sized hands. But Cuisinart has kept its size standard. 
But is there anything that makes you think twice before buying it? Undoubtedly, nothing is perfect and needs perfection all the time. The same is the case with this product. 
First, it isn't accurate and gives variation with ±4 degrees C/F.  Second,  its quality isn't up to mark. Moreover, the price is a little high as compared to other devices with the same features.    
Pros
Light in weight

Laser-targeting technology

Automatic off feature
Cons
Not solidly built

Expensive according to its features and quality
How to Choose the Best Infrared Thermometer? 
Do you want to pick the best infrared thermometer for cooking? You must know a few points that the best IR thermometer possesses. You can put your hands on a matchless and ideal thermometer by knowing particular factors to consider while buying. 
Have a glance at these points and pay special heed to all of them before preferring any product.
Surface Temperature Checking Range
We all know that a thermometer is definitely used to measure temperatures. And if a thermometer possesses a low-temperature range, indeed, it's of no use. 
An infrared thermometer is not suitable to measure the internal temperature of a pizza oven or a grill. But it is also to measure any cooking surface temperature or that of a freezer or refrigerator. 
In addition to this, you can check the temperature of multiple devices. But for this, you need to have a thermometer with a wide temperature range. 
So, look for an infrared thermometer that has an almost -20 to 1000 degrees F temperature range. And if you find it better than this range, it's fabulous. 
Undoubtedly, emissivity is one of the most crucial points every buyer must know. This name seems complicated. But it keeps a simple meaning in it. 
When a surface comes in contact with heat, its temperature rises; as a response, the surface emits thermal energy. So emissivity is the measure of thermal energy that the surface emits after reaching a specific high temperature. 
Always choose the thermometer having adjustable emissivity capability. Otherwise, the infrared thermometer will have trouble detecting the temperature of polished stainless steel, copper, or aluminum surfaces.  
Accuracy of the Infrared Thermometer
Accuracy is the point you can't put aside. It won't go wrong if we say that infrared thermometers are only meant for accurate temperature measurements.
So, when your thermometer cannot give you accurate results, what else do you expect from it? 
Doubtlessly, a best IR thermometer should have an accuracy of about 2%. For example, if your grill is at a 600-degree reading, you can say the actual temperature ranges between 588 – 612 degrees. 
Definitely, precise and accurate temperature readings are the main requirements of every buyer.
When you notice the previously discussed features in a product, don't forget to consider the response time of the infrared thermometer. It's what ca make your thermometer the best infrared thermometer for cooking.
A quick response time is a valued feature. That's because a fast response time can let you control the temperature at the required time. 
Let's suppose your grill has reached the maximum temperature and demands less heat. But your temperature gun doesn't provide you with the exact temperature at the given time. Can you tell what would happen? 
Yes, it can ruin your food. Not the grill's fault, but it would be more suitable to say that your temperature gun will destroy your cooking items. Even two or three seconds also matter. 
Hence, you are advised to get an IR thermometer with 1.5 seconds response time. It would be better if you could get one with the least response rate. Only then you'll be able to prepare food to your required taste. 
Distance to spot ratio is also considered one of the essential points to know when buying an infrared thermometer. It's the distance from which you are trying to measure the temperature of a particular object. It tells how far you can be from the grill, pizza oven, or pan to take a temperature measurement. 
The infrared thermometer has a higher distance-to-spot ratio. The higher the distance to spot ratio is, the farther you can stay for measuring the temperature. 
Most infrared thermometers are with 4:1, 8:1, 30:1, and 50:1 spot ratios. Here the numbers 4, 8, 30, and 50 represent the distance you can be away from the surface. And the later number shows the area of the object's surface that a  thermometer measures. 
You have to stay away from the hot surfaces and heat steams as far as possible to stay safe. And for this, your IR thermometer gun should have a high distance to spot ratio.
Though there are still many other factors for picking the right infrared thermometer, these are all the main points you have to look for.
FAQs   
Are infrared cooking thermometers accurate for cooking?
Yes, infrared thermometers (IR thermometers) are accurate for cooking. As these laser temperature guns have adjustable emissivity, they can provide you with the most accurate results. 
They are more suitable than stem thermometers. That's because you can use IR temperature guns for measuring the temperature of a wood-fired pizza oven, ice bath, and shallow frying oil. 
Can you use an infrared thermometer on food?
Nothing is wrong with using IRT on food, but it won't give you its internal temp. That's so because these thermometers are basically to check the surface temperature. So, don't mistake them for checking the internal temperature of food.
What is the most accurate infrared thermometer?
Among all the competitors, Infrared Thermometer SOVARCATE Digital IR is the most accurate and the best infrared thermometer for cooking. This infrared thermometer has an accuracy of ±2%, which is a sign of excellence when looking for precise measurements. 
Moreover, Fluke 62 Max Infrared Thermometer has also proved to be the best possible accurate thermometer with the accuracy of ±1.5 degree C. 
What are the disadvantages of using infrared thermometers?
Infrared thermometers have got a drawback. They can only assess the temperature of the surface that they're focused on. However, they aren't good at estimating the inside temperature of your recipes. 
For instance, you want to assess the temperature of a big pot of soup set at low flame. Indeed the cooking process is going on in the bottom. Your laser gun will only tell you the temperature at the liquid's surface, not that higher temperature in the pot's depth. Hence, you can't take the temperature of anything inside a liquid, stew, or other food.
In the same way, while grilling, you cannot take the inside temperature of the meat with an IR thermometer, but from its surface only. In such a case, you'll need a meat probe thermometer. To put it simply, an infrared thermometer is excellent for checking the temperature from the cooking surface and ovens.
In how many ways are infrared thermometers helpful in cooking?
Even though the best infrared thermometer for cooking only measures surface temperature, they are pretty helpful in the kitchen, and you need one. You can use a laser gun to:
Check the temperature of the frying oil.

Measure the temperature of any liquids that you don't want to get too hot, such as milk and melted butter.

Check the temperature of a pizza stone or wood-fired pizza oven

Check the temperature of a pan or barbecue grates

Take the temperature of a grill.
How can I calibrate my infrared thermometer?
Calibrating your infrared thermometer is not an easy task. While searching online, you can find many ways, yet they might not result fruitfully.  Instead, you can only assess the accuracy of your device. 
To check the accuracy, you can do the famous ice test. 
What's the right way to use an infrared thermometer for cooking?
At first glance, infrared thermometers can seem difficult to use because they're different than traditional thermometers. Yet, it's not the case. you can easily use your IRT by following these simple steps:
First, turn on your infrared thermometer by using the switch on/off button.

Second, you have to choose the way you want to measure the temperature, e.g in Celsius or Fahrenheit. It depends on your thermometer too, whether it allows you to switch between these two settings?

Third, hold the thermometer about half a foot ( 6 inches) away from the surface for which you want to record the temperature.

Now press the trigger so that your device may measure the temperature.

Kepp it holding until you see the readings on the LCD. You can repeat the process, two to three times to ensure that you've got the right temperature. Now you can note these results.
Final Thoughts
Having the best infrared thermometer for cooking is the finest idea to have ultimate control over food temperatures. That's why investing a good amount at once is far better than having food ruined on an overheated grill at an extremely high temperature. 
In the final analysis, let us now summarize this topic with a few recommendations. Do you want to go with accuracy? Fluke 62 Max and SOVARCATE digital infrared thermometers are the only options. 
If you are looking for an ultrafast response rate and other features, ThermoPro TP30 Digital Infrared Thermometer Gun is the matchless device. 
Keeping in view the features of all the above-discussed temperature guns, get your hands on the most suitable one. In the end, we are sure you'll find the best infrared thermometer for cooking as a second to none temperature measuring tool for cooking. 
universitygrill.net is a participant in the Amazon Associate program and will earn from qualifying purchases.