Do you need ready to cook, or pre-cooked roast beef for your next family dinner or party? Look no further than Costco! It has a high-quality meat selection and unbeatable prices. It's truly the ultimate destination for all your roast beef needs either raw, pre seasoned/pre marinated or pre-cooked!
However, deciding which roast beef to choose can be overwhelming as Costco has so many options. Don't fret! This article will prepare you with all the information you need. To know about Costco roast beef.
Let's go through Costco roast beef options.
Best Deli Meat at Costco (Beef)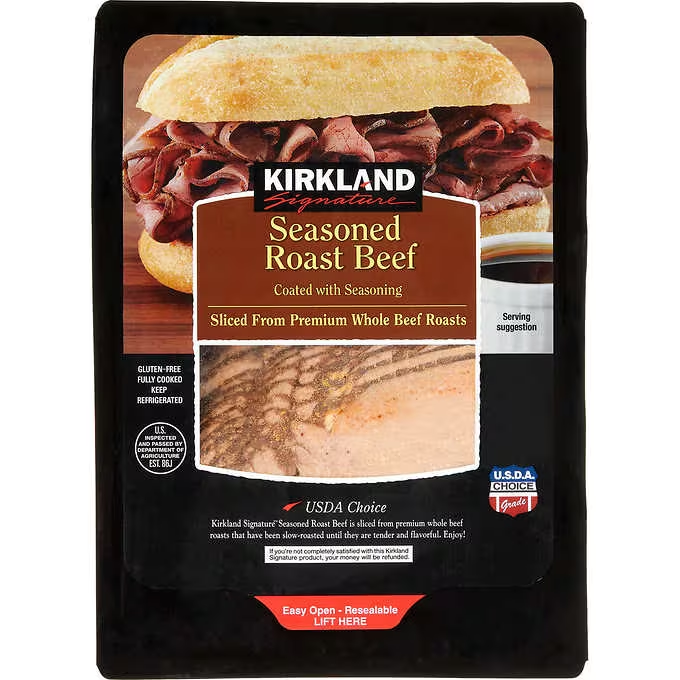 This best beef roast is a Costco's Signature brand that sells roast beef, among other meat options. It comes in a pack of 2 lb. It's perfect for sandwiches or as a main dish with your favorite sides. It's pre-seasoned and pre-sliced.
Imagine how much time and struggle you can save in the kitchen!
The slices are nicely cut. They're perfect for making sandwiches. The beef isn't too salty and doesn't taste overly processed.
Price
Costco sells their Kirkland Signature roast beef for around $17.99. This makes it an affordable beef option.
Pros
It has a delicious taste.
Gluten-free
It's a budget-friendly option compared to other premium cuts of beef.
The seasoning is well-balanced. It does not overpower the beef.
You can use it to make different recipes.
Cons
It's very chewy and hard to bite into.
Rastelli Black Angus Beef Tenderloin Roast Holiday Meal refers to a festive meal that features a high-quality Black Angus beef tenderloin roast from Rastelli's, a purveyor of premium meats and seafood. Rastelli's is known for providing quality products sourced from responsible and sustainable farms. The Black Angus beef tenderloin is a popular choice for holiday meals due to its tenderness, flavor, and overall appeal.
Pros
It's high-quality meat sourced from responsible and sustainable farms.
Rich flavor, making it a popular choice for special occasions.
Itcan be prepared in various ways, such as oven roasting, grilling, or searing and finishing in the oven.
Crowd pleaser: Beef tenderloin is often considered a luxury cut of meat and is likely to impress your guests.
It pairs well with a wide range of side dishes
Cons
Can be expensive compared to other proteins.
Preparing it requires attention to detail and proper technique
Might not be available in all locations or at all times of the year.
Sides are tasteless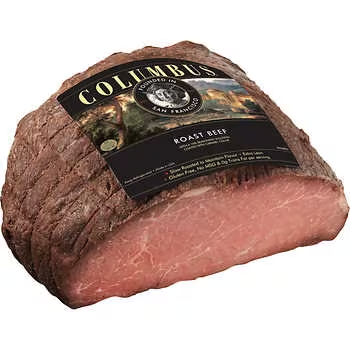 Columbus Roast Beef is another popular roast beef option available at Costco. It's sold in a pack of 6 Ib. It's made with 100% beef. Columbus roast beef is slow-cooked and comes in pre-sliced packs. If you're considering a convenient option for a quick and easy snack, then this roast beef is for you.
Price
This roast beef costs $5.99 per lb. It's lighter on the pocket and fulfilling to eat.
Pros
It has a rich and savory flavor.
The pre-sliced packs make it easy to use for sandwiches or wraps.
Hand-trimmed
It's made with natural flavorings.
It's slow-roasted in its own juice.
Cons
It's expensive compared to other brands of roast beef.
Not everyone prefers pre-sliced beef.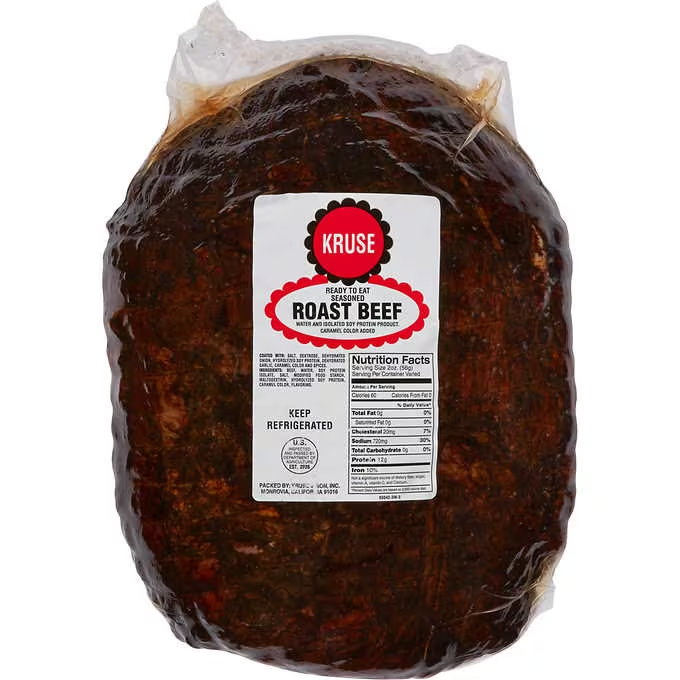 Kruse and Son's Roast Beef is a popular choice for those looking for a pre-seasoned and pre-sliced roast beef option at Costco. It comes in a pack of 8 lb. It can be used to make sandwiches and salads. You can also eat it as a main dish with your favorite sides.
Price
The price for an 8 lb pack of Kruse roast beef is $5.29 per pound, which is great if you're on a budget.
Pros
You can use it to make different dishes.
The seasoning is also well-balanced. It adds flavor to the beef without overpowering it.
It's a budget-friendly option.
Cons
It's hard and chewy–the pre-slicing process results in tougher meat.
The seasoning might not be to everyone's taste.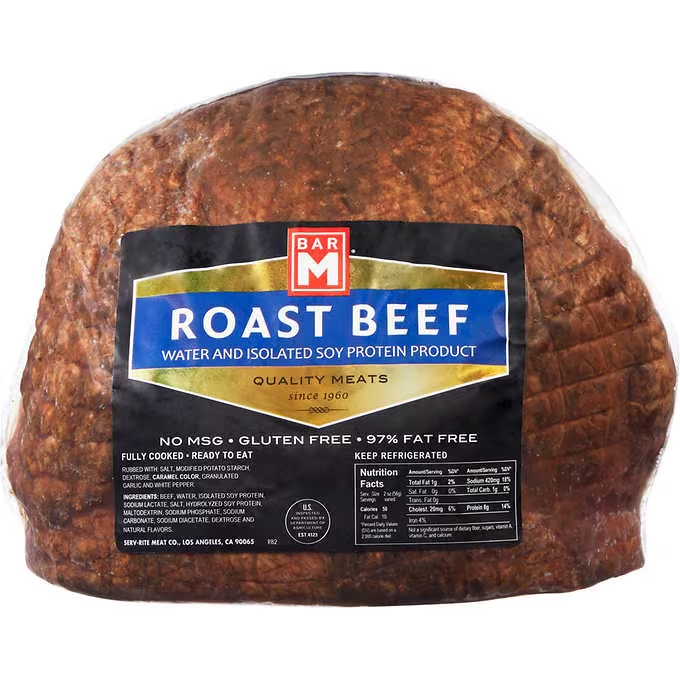 Bar M Roast comes from a famous brand that sells roast beef at Costco. It comes in a pack of 6 lb. This makes it a perfect option for large gatherings or weekly meal prep. It's known for its high-quality beef and slow-cooking process. It's juicy, tender, and has an excellent flavor.
Price
Bar M sells its roast beef at around $5.99 per pound. This makes it an affordable option for roast beef lovers!
Pros
It's great value for money.
Versatile beef item
It's made from high-quality beef.
Excellent source of lean protien
Minimum use of seasonings
Cons
It comes pre-seasoned. The spices and flavors used might not be to everyone's taste.
It has a high salt content.
MSG and gluten free
Best Marinated Roast Beef at Costco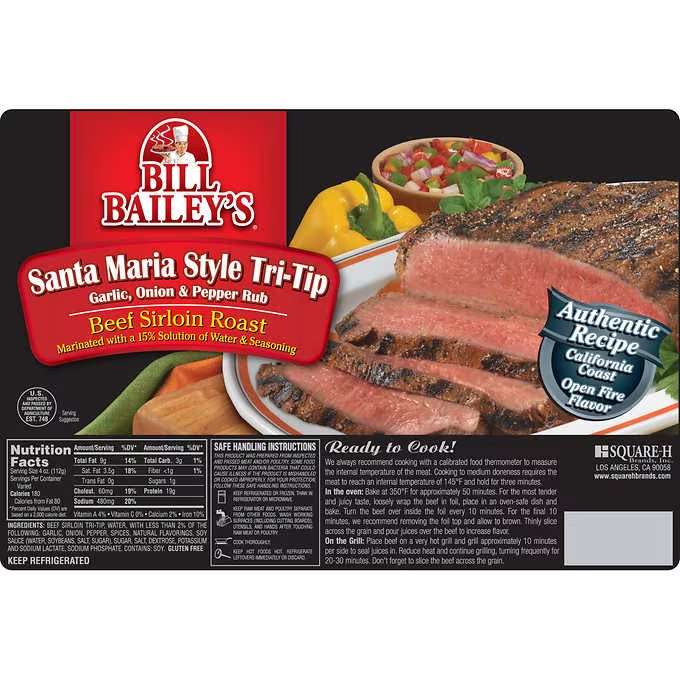 Do you love grilling meat for your meals, but have not time to merinate it?
Tri-Tip Beef Sirloin Roast marinated beef available at Costco is for you. It comes in a 3 lb pack. This beef is perfect for grilling or roasting. It's marinated in a special blend of herbs and spices. It gives the beef a distinct smoky and savory taste.
Price
It costs about $30 for a 3 lb pack. It's more expensive than other kinds of beef at Costco.
Pros
It has a unique flavor.
You can use it for grilling.
It's a great option for a summer BBQ.
Cons
It's not budget-friendly.
It's difficult to eat.
How to Get Best out of Roast Beef from Costco
Costco has different options of roast beef to choose from. That being said, it can be hard to know which item best suits your needs. We have curated a list of helpful tips that you can use when shopping for roast beef from Costco:
Know what you're looking for
We all have preferences. When we know what we like and what we're looking for, choosing the right option becomes clear.
So, ask yourself: What do you look for in a roast beef?
Do you prefer pre-seasoned roast beef?
Are you looking for a specific cut or type of beef?
You can ask yourself these questions to help you in your journey toward finding the right roast beef. This way, you can narrow down your options and not feel overwhelmed.
Have a budget and follow it.
Costco sells its roast beef at different prices, depending on the kind of beef and its cut. Now, it's up to you. Ask yourself how much you're willing to spend on roast beef and buy accordingly. This will not only help you save some coins but will also help you In quick decision-making.
ALWAYS read the labels
The key to buying top-quality roast beef is to read the labels. Always check the labels on the pack. Look for information on the beef's quality and cut. The label will also provide you with nutritional facts and any added ingredients.
Take the weight into consideration.
The roast beef at Costco comes in different weights and sizes. You need to ask yourself how much roast beef you want. You can also ask yourself how much roast beef you're planning on using. It'll help you avoid buying big packs of roast beef.
Another tip is to look at convenience. Larger sizes of roast beef need a longer time. It can also go bad if not properly refrigerated.
Follow the cooking instructions.
It's hard to cook roast beef. Follow the provided cooking instructions for specific kinds of roast. If you want your roast beef to be tender and juicy, always read the cooking instructions and follow them carefully.
Let your roast beef sit after cooking it.
This is because the beef needs some time to redistribute its juices throughout the meat. So, make sure that you give your roast some rest. Then, slice it as usual and enjoy your flavorful and tender roast beef.
Properly store your roast beef.
In case of leftovers, refrigerate them. You can also put them in the freezer so that they can maintain their quality and flavor.
With these steps in mind, you'll be a roast beef shopping expert!
FAQs
How long will my Costco roast beef last?
The simple answer is 5 to 7 days. However, it depends on the shelf life of the roast beef and how you store it. Once you have opened the pack, you have to refrigerate or freeze it. This will help maintain its flavor.
We suggest that you put the beef in an airtight container. Another way to store your roast beef is to wrap it tightly in plastic or aluminum foil.
Conclusion
Costco is the best place for buying roast beef. It offers a wide range of delicious roast beef options. It has all different kinds of brands, cuts, and sizes. Each brand has a unique flavor profile. Whether you're in the mood for a simple sandwich or a big feast, Costco has something for everyone!
So, grab your shopping cart. Get ready to become a roast beef expert with our Costco roast beef guide!
universitygrill.net is a participant in the Amazon Associate program and will earn from qualifying purchases.