Are you a seafood lover and drawn to crab cakes? Indeed, crab meat is a highly prized delicacy for its sweet, delicate flavor. And ready-made crab cakes are an easy way to enjoy this seafood without.
Do you think that you can get good quality crab cakes at Costco?
Yes, you can!
But which brand is the best for taste and quality?
And, if Costco crab cakes are health-safe, e.g., gluten-free?
Please stop thinking and reading this article because we'll review Costco crab cakes and also help you know how you should choose the best crab cakes.
Let's move on.
What are Frozen Crab Cakes?
Frozen crab cakes are premade and frozen crab cakes packaged for later use. They have crab meat as the primary ingredient, bread crumbs or eggs as a binder, and various seasonings like spices, herbs, and mustard to add flavor.
What Makes Good Quality Crab Cakes [Know First]
The quality of crab cakes can be determined keeping the factors listed below in view:
High-quality crab meat
The best crab cakes should have fresh, flavorful lump or jumbo lump crab meat from blue crabs or similar varieties. High-quality crab meat with its large, tender pieces gives crab cakes a pleasing texture.
Crab-to-filler and binder ratio
The biggest problem with store enough or restaurant crab cakes is using too much filler. A high ratio of fillers and binders like breadcrumbs, crackers, or eggs affects the taste of crab cakes. The result is a bad/worst experience.
It's why you should choose crab cakes with a higher ratio of crab meat to filler ingredients like breadcrumbs or crackers.
Balanced seasoning
Crab meat is sweet and delicate in taste. Uncareful use of seasonings can overpower the actual taste of cakes. Usually, the bad quality crab cakes also have an unpleasant taste because the manufacturers use more seasonings to compliment the taste when the meat ratio is less.
If you need good crab cakes, please ensure they have a well-balanced seasoning blend that complements the crab's natural flavors without overpowering them.
But how can you do this?
Ask your friends or other users for feedback about the taste quality of the crab cakes from a particular band.
Allergen and dietary considerations
Before adding any crab cakes to your cart, please carefully read the packaging for dietary considerations like:
Gluten-free or not
Shellfish allergies
Cholesterol and sodium content–pre-made foods are loaded with these elements.
Sustainable food sourcing
It's essential to consider sustainability practices from the producers before buying seafood because it helps to:
protect marine ecosystems
support responsible fishing practices
ensure a future food supply
and provide health benefits for consumers.
Thus, sustainable food sourcing not only takes care of your health but of marine life as well.
By focusing on these factors, you can ensure that you enjoy good quality crab cakes that showcase the natural flavor and texture of the crab meat.
What are Crab Cake Brands at Costco?
At Costco, you can find crab cakes from two brands:
Rastelli Market Fresh Jumbo Lump Crab Cakes are available for $199.99. The whole packaging has 20 crab cakes of 4 oz weight each. Thus, these are 5 lbs total and cost you $40 per lb.
Philips Minis Crab Cakes, which are available in a packaging of 36 crab cakes (18 ounces). You can get them for $19.99 in 2023–these are the cheapest crab cakes at Costco.
The former is more than 2X the price of the latter. Which one should you choose?
You can learn about it in the review section.
Is Costco Crab Cakes Worth Buying in 2023?
Here we'll review the Costco crab cakes so that you can pick the right option for you.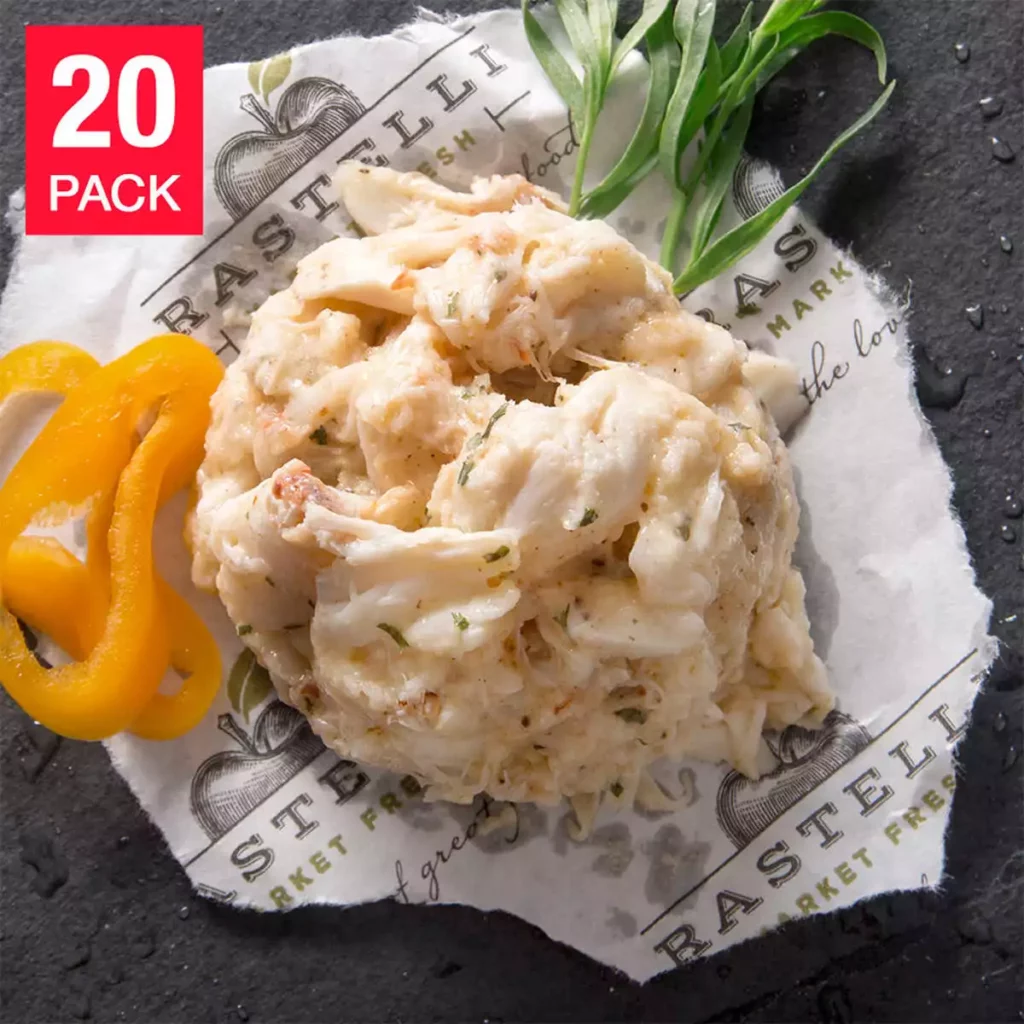 Do you love large chunks of jumbo lump meat in your tasty crab cakes? The Jumbo Lump Crab Cakes by Rastelli Market Fresh are the best crab cakes at Costco.
These crab cakes are available at Costco in 5 lbs packaging–thankfully, it has excellent insulated styrofoam packaging to keep the crab cakes frozen. Each large cake of 4 oz weight is individually sealed.
The Rastelli Crab Cakes are delicious, with no extra grease or fishy smell.
You pay for jumbo lump meat cakes and get them here with 3 lumps placed on the cake top.
Binding large jumbo lump crab pieces in cakes can be difficult; they need more fillers and binders. But Rastelli's crab cakes use less.
For reference, you can see that one crab cake of 4 oz or 113 grams weighs only 4 grams of crabs which is only 3%. It shows that the manufacturers have used a few binders like bread.
In contrast, cheap crab cakes by Phillips have 6 grams of carbs in crab cakes weighing 85 grams which is 7% – they've more fillers.
The only luck you need is to get them fully frozen. There have been some complaints about the thawed or freezer burn cakes. Apart from that, these handmade cakes have a perfect balance of seasoning. They're not salty nor heavily seasoned.
YET
If you're going to compare them with homemade jumbo lump crab cakes, they'll fail the competition.
So, you should get Rastelli Market Fresh Jumbo Lump Crab Cakes if you want to enjoy the restaurant-grade taste at home in a hassle-free manner.
OR
Make jumbo lump crab cakes at home, freeze them, and enjoy them whenever you want–these will be the best crab cakes!
Pros
Delectable taste is better than a restaurant.
Less use of fillers–only 3% of carbs come from fillers.
Excellent packaging
Made from jumbo lump crab meat
Light seasoning
Healthier option because of no use of emulsifiers or stabilizers
Keto Friendly–only 3.5 grams of crabs in a 4 oz serving
Great source of protein–17 grams per serving of 4 oz
Cons
It can be a bit expensive.
It might come defrosted or freezer burnt.
Bland taste and fishy and greasy smell
High sodium– 860 mg in a serving of 113 grams is 36% of the daily intake value.
High in cholesterol– 130 mg per serving of 113 grams which are 43% of the daily value
No information about the crab meat source
Not gluten-free as it has wheat.
It has crustacean shellfish crab.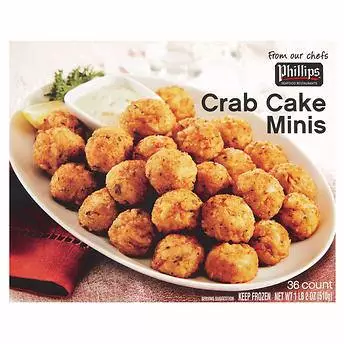 Price is what you pay, and Philips' cheap mini crab cakes are Costco fully justify it. These are
made by a small restaurant chain, "Philips." I don't know why Costco put these crab cakes on their shelves and online stores. The only appreciable thing about these cakes is that they're made of crab (meat and bones). Which crab part do these cakes come from? You don't know–but they are from crabs.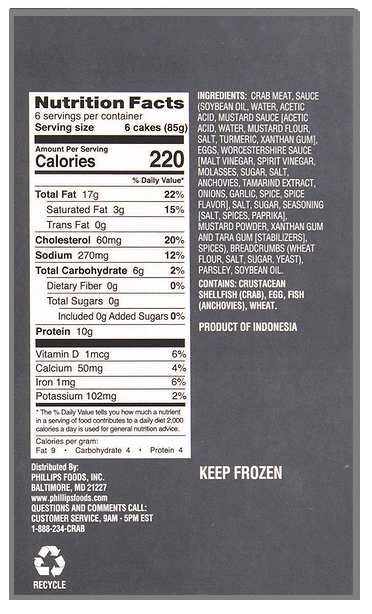 From texture to taste, everything is fainting. They're easy to cook in an air fryer but require more time to swallow. I don't know how often you will have to remind yourself that these are crab cakes you want to eat.
Here are 20% chances that you might praise these crab cakes!
Yes, you might!
It's only, in this case, you've never tasted crab cakes or you taste them along with some sauce.
Why are they so disappointing, do you wonder?
The fillers, my dear!
Half of the price means half or even more is bread in them. Still, I don't think you should waste your money.
Pros
Cheap
Excellent packaging
Made from crab meat
Light seasoning
Low in sodium
Keto Friendly–only 6-gram crabs in a serving of 85 grams
Less sodium–270 mg in a serving of 85 grams
Low in cholesterol– 60 per serving which is 20% of the daily value
Cons
Higher ratio of filler and binders– 7% of carbs are coming from binders like bread etc.
No large crab meat chunks
Bland taste and fishy and greasy smell
It has Xanthan gum as an emulsifier that can be harmful for your digestion.
The packaging had little information about the crab meat source.
Not gluten-free as it has wheat.
It has crustacean shellfish crab.
Use of too many stabilizers Tara gum and Xanthan Gum
Not USA made
You can Better Make Crab Cakes at Home.
Yes, making crab cakes at home is better. You can enjoy more lump crab meat in your patties without exceeding your budget. Plus, these crab cakes will be healthier, being preservatives free.
Here is an easy and delicious crab cake recipe for beginners:
Ingredients
1 lb jumbo lump crabmeat (you can get it at Costco).
1/3 cup breadcrumbs (preferably Panko)
1 cup mayo
1 large egg
1 tablespoon fresh lemon juice
1 tablespoon chopped fresh parsley
2 teaspoon Worcestershire sauce
1 tablespoon yellow mustard
2 teaspoon Old Bay seasoning
Some vegetable oil for oiling the baking sheet
Melted butter for topping the crab cakes prior to baking
Some paprika powder to sprinkle on the crab cakes prior to baking
Lemon wedges for serving
Instructions
In a separate bowl, prepare the binder. Whisk together the mayonnaise, beaten egg, lemon juice, Worcestershire sauce, mustard, and Old Bay seasoning. Leave this bowl in the refrigerator for half an hour.
Make a hole in the crab meat can to squeeze all the excess water.
In a large bowl, gently mix the crabmeat, breadcrumbs, and the refrigerated mixture of the binder.
Gently combine all ingredients with your hands to not break the jumbo lump pieces.
Shape the mixture into equal-sized patties. Place the crab cakes on a plate or tray, cover them with plastic wrap, and refrigerate for at least 30 minutes to help them hold together while baking.
Prepare the baking tray by spraying it with some oil.
Transfer the crab cakes to a sheet and pour 1 tsp of butter and a pinch of paprika on each cake.
Preheat your oven to 450 degrees Fahrenheit.
Bake these crab cakes in the preheated oven for 15 minutes.
Enjoy your best-ever homemade crab cakes.
Note: The mixture should hold together; add more breadcrumbs if it's too wet.
How can you freeze your homemade crab cakes?
Freezing homemade crab cakes is a great way to enjoy healthy, preservative-free crab cakes at home. Following proper instructions, you can freeze crab cakes for up to 3 months.
Instructions
Following your recipe for crab cakes, prepare and form crab cakes.
Wrap each crab cake individually with plastic wrap. Or place them in a single layer in a freezer-safe container with a lid. It'll keep the crab cakes from sticking together and make it easier to thaw any number of crab cakes when you need them.
Label and date the container with the crab cakes so that you can keep track of when they were frozen.
Place the container in the freezer and freeze the crab cakes for up to three months.
When ready to use, remove the crab cakes from the freezer and allow them to thaw in the refrigerator overnight.
Once thawed, you can reheat the crab cakes in a preheated oven at 3e50°F for 10-15 minutes or until they are heated through and crispy.
Following these simple steps, you can freeze your homemade crab cakes without sacrificing their taste and texture.
Final Thoughts
If you're looking to buy crab cakes at Costco, investing in a bit expensive Rastelli market Fresh Jumbo Lump Crab Cakes is better. But, if you've got some time and love cooking in your kitchen, you can make fantastic and most delicious homemade crab cakes under the sun.
So, both options are open to you.
Good Luck
universitygrill.net is a participant in the Amazon Associate program and will earn from qualifying purchases.