Do you love delicious lobster tails? Do you like buying top-quality foods without paying a lot of money? Well, you're at the right place. Costco has got you covered with its lobster tail selection! Their lobster tails are not only delectable, but they're also accessible. 
Costco's lobster tails are the perfect treat for any season! Not only are these lobster tails excellent, but also relatively inexpensive. You can get the same-quality lobster without spending more money. 
So, let's dive into the world of Costco's lobster tails and help you know everything that you must know about Costco Lobster tails before buying them!
1. Costco's Lobster Tails are So Special Being Wild Caught!
The unique thing about lobster tails from Costco is their succulent taste! They're wild-caught. And they're sourced from Maine and Canada's frigid North Atlantic waters. 
These wild-caught lobster tails are shipped frozen. They're in their shells for maximum freshness. This also helps them maintain their flavor. 
The fun thing about lobster tails is that you don't have to wait for a special occasion to eat them. They're so easy to cook that you can enjoy them any day of the week! It's always an excellent choice to have some delicious lobster tails on board, whether it's a hot summer day or a cozy winter night. 
Costco's lobster tails are genuinely a culinary dream. You can make different types of dishes with them. You can cook them in different styles, some of which we'll go into detail. 
Another thing that makes Costco's lobsters unique is that they're humanely sourced. You can use them to make pasta or add them to your rice. They also go well with fresh leafy greens, potatoes, and veggies. 
The possibilities are endless!
2. Lobster Tails are Cheap at Costco, yet Still Expensive!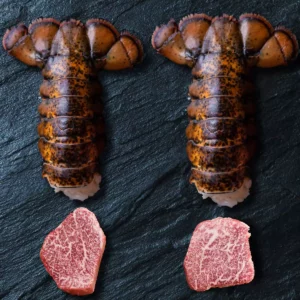 Costco sells its lobster tails in different types and sizes. Some Costco brands sell their lobster tails in more miniature packs, for example, 3 lobster tails per pack. While others sell them in bigger packs: 12 lobster tails per pack. Thus, the price depends on how many lobster tails are in each pack.
Usually, the price for lobster tails is around $200-300 at Costco, depending on the source (warm or cold water) and lobster size. Small lobsters are as inexpensive as $27 per lb. So, if you're looking for good-quality lobster tails, get yours from Costco at these prices: 
3. Costco Lobster Tails are Sourced By Following Sustainable Practices. 
Costco gets its lobster tails from various sources, including Canada, the United States, and Mexico. 
Here are some characteristics of Costco's lobster tails:
Canadian lobster is known for its sweet flavor and firm texture.
Costco sources lobster tails from various U.S. states, including Maine, Massachusetts, and Connecticut. U.S. lobster is known for its high quality and availability.
Costco sources some of its lobster tails from Mexican waters. Mexican lobster is known for its mild flavor and affordability.
Costco claims its suppliers follow sustainability to catch their lobsters from this area.  Costco has been a member of the Global Sustainable Seafood Initiative (GSSI) and has also partnered with organizations like the Marine Stewardship Council (MSC) and Aquaculture Stewardship Council (ASC). These partnerships help ensure that the seafood they offer meets specific sustainability and responsible sourcing criteria.
Moreover, Costco's lobster tails are the best on the market. They're sweet and have succulent white meat that's irresistible!
4. Costco Lobster Tails are Better than Those from Cold Water. 
The location of origin is the main difference between cold water and warm water lobster. North Atlantic Ocean waters are home to cold-water lobsters. On the other hand, warm-water regions, such as the Caribbean and the Gulf of Mexico, are where most warm-water lobsters are found. 
Another factor determining whether a lobster is a warm-water or a cold-water lobster is the temperature it grows. As the names suggest, cold-water lobsters are found in places with cold temperatures. In comparison, warm-water lobsters are sourced from areas where the water temperature is warm.
Cold-water lobsters grow slower than warm-water lobsters. As a result, they have a firm texture and denser meat. They're considered better than warm water lobsters for their superior taste. 
On the contrary, warm-water lobsters grow quickly. They're soft and have less dense meat. They're also mild in flavor as compared to cold-water lobsters. 
5. Getting Lobster Tails at Costco is not Easy.
Yes, lobster tails are extremely popular at Costco. So, getting them can be challenging.
Here are some reasons why getting lobster tails at Costco is not easy:
Lobster tails are a popular item at Costco, and they often sell out quickly, especially during the holidays and on weekends.
Costco lobster tails are a good value, but they're still expensive. A 1-pound package of lobster tails can cost upwards of $40.
Despite these challenges, Costco lobster tails are a delicious and affordable option for a special occasion meal. If you are able to get your hands on them, they are sure to impress your guests.
Here are some tips for getting lobster tails at Costco:
Shop early in the day because Costco warehouses typically restock their lobster tails in the morning.
Check the website because Costco's website shows the availability of lobster tails in your local warehouse.
Costco lobster tails are sold in 1-pound packages. To save yourself from future inconvenience, you can buy them in bulk and keep them frozen at home.
Getting your hands on Costco lobster tails may take a few tries, so please be patient.
6. Costco's Lobster Tails are Healthy.
As a lean source of meat, Costco wild-caught lobster tails are nutritious, and you can have them on Keto as well. They're high in protein and low in fat. This makes them a healthier seafood alternative. Additionally, it is a good source of vitamins and minerals like zinc, selenium, and vitamin B12. 
It might vary depending on your chosen Costco brand and your preferred cooking method. Generally, one serving (about 3-4 ounces) of Costco's lobster tails contains:
100 calories
20-25 grams of protein
60-80 milligrams of cholesterol 
1-2 grams of fat
250-300 milligrams of sodium
However, Costco's lobster tails are high in sodium and cholesterol. Therefore, you should consume them in moderation as part of a balanced diet.
7. It can be Better to Buy Costco Lobster Tails at Costco Physical Store.
The Costco Lobster tails are amazing and make an awesome meal for some special day. They've also earned good buyer feedback online. But it's a bad idea to buy online. The major complaint can be improper packaging. So, you should plan ahead and try to buy them at Costco stores or warehouses only!
8. You can Cook Costco Lobster Tails in Many Ways.
Before preparing any recipe, it's essential to note a few things. First things first, use kitchen scissors to cut the top to the bottom of the tail. Stop about ¼ inch before the tail ends. It'll help to cook the lobster meat evenly. It'll also help prevent the shell from not splitting open during the cooking process. 
After that, use your fingers to open the shell. Do this step carefully to avoid breaking the shell. This way, you can remove debris or any unwanted parts from the lobster before cooking. 
Finally, pull the shell apart at the sides of the lobster. Doing this will reveal the juicy meat inside the lobster without breaking the shell. Now, you can cook your lobster tails as you like. 
Recipe for making the best lobster tails 
Ingredients 
A quarter cup of butter
Two minced garlic cloves
One tablespoon of dill (chopped)
Two tablespoons of fresh parsley (chopped)
One tablespoon lemon (freshly squeezed)
Four lobster tails (vertically cut)
Salt to taste
Pepper to taste
Directions for cooking lobster tails in a frying pan
First, melt some butter in a saucepan on low heat. 
Add garlic, dill, parsley, and lemon juice to the pan. Cook for about 1-2 minutes. Stir constantly to avoid burning.  
Next, take your lobster tails and season them with salt and pepper. Apply flavored butter to each lobster tail for maximum taste. 
Turn your skillet on high heat. Place the tails in the skillet and cook for 1-2 minutes. 
Flip the tails over and keep pouring the butter over them. Cook for 1-2 more minutes.
Flip the tails one last time to make sure they are even cooking. Cook for one minute.
Serve hot, and enjoy your mouth-watering lobster tails!
Directions for cooking Costco's lobster tails on the broiler
Use the following directions to cook broiled lobster tails to perfection:  
Set your lobster tails on a baking pan and preheat your broiler.
Carefully peel the shells of the lobster tails. 
Make a lengthwise cut along the top side of the lobster's shell. Cut a slit from close to the tail to the meaty end. 
Broil the lobster tails until the meat is soft. You'll know the tails are done when the shells are gently browned. 
Brush the tail meat with a mixture of butter, parsley, garlic, and lemon.
Enjoy your broiled lobster tails!
Directions for cooking Costco's lobster tails in the oven
To cook your Costco lobster tails in the oven, follow the instructions given below:
Set the oven to 450°F (232°C). 
Place the lobster tail in the baking pan. 
Add additional sauces to improve the flavor of the tails. 
Bake the lobster tails between 12 to 15 minutes. 
Ensure the lobster's internal temperature is between 140 and 160 degrees Fahrenheit (60-70°C). 
Your delicious lobster tails are ready to be served!
Directions for cooking Costco's lobster tails using an air fryer
Air fryers are the new popular cooking choice for cooking a lot of food. Costco's lobster tails are no exception. To make lobster tails in an Air Fryer, refer to the following instructions:
Set your air fryer to 400°F (204°C) before using. 
Place the lobster tails in the air fryer's basket. 
Cook the tails for about 8 minutes. 
Ensure that the interior temperature reaches 150°F (65°C). 
Your lobster tails are ready to eat!
FAQs
Do I need to thaw frozen lobster tails before cooking?
Yes. To avoid tough meat, you need to thaw frozen lobster tails overnight in the refrigerator. This method will also help to achieve the finest flavor and texture.
Are fresh or frozen lobster tails equally as good?
Frozen lobster tails are just as tasty as fresh ones. Fresh lobster tails have somewhat different textures since they're tender. However, both have essentially the same flavor.
Final Thoughts
Costco has delectable lobster tails. They're more expensive as compared to market rates. However, given that Costco's lobsters are ideal for festivities or any particular day, you might want to place another order there for special occasions.
Not only are they juicy and flavorful, but they're also high in protein and are a healthy meal option. So, if you're having a lavish meal or just want to enjoy some delicious seafood, try Costco's lobster tails!
We promise you won't regret it.
universitygrill.net is a participant in the Amazon Associate program and will earn from qualifying purchases.