Purple Doritos were a limited edition flavor of the popular snack chip. The exact flavor of the purple Doritos is unknown, as it was not specified on the packaging or in any official marketing materials.
The purple color likely created a sense of mystery and excitement around the product. Due to its limited availability, Purple Doritos has become somewhat of a cult classic among fans of the brand.
Still, here are several things you might want to know about purple Doritos and this article covers all these.
Spicy Sweet Chili Doritos come in purple packaging–hence the name Purple Doritos–one of the only two flavors vegan-certified by Peta, the other being Doritos Blaze. However, they were once recalled for containing ingredients not listed on the label, including milk. Frito-Lay responded to the incident by admitting that they accidentally filled some bags of Spicy Sweet Chili Doritos with Nacho Cheese Doritos.
They're not as hot as I had expected, but they're immensely flavorful and not bland at all. In fact, they're a bit spicy and a bit sweet, but they're insanely delicious and leave a good aftertaste. I feel addicted to these.
But the taste is a subjective thing. I have good taste for spicy things and am so used to them that they don't appear as hot. All I can feel is a little stirring up of my taste buds, nothing more. While Purple Doritos taste mildly or moderately spicy to me, they can be challenge-level hot for others. So if you're spice-averse, they're probably not for you.
Besides a sweet taste and a rich, hot aftertaste, there's a nice touch of soy sauce and vinegar (there's no vinegar in the constituents, but malic acid, which also tastes tart and sour. In fact, malic acid releases more prolonged sour notes than vinegar.)
I like these chips' balanced flavor profile and great aftertaste. You should give them a try if you already haven't.
What's in Purple Doritos?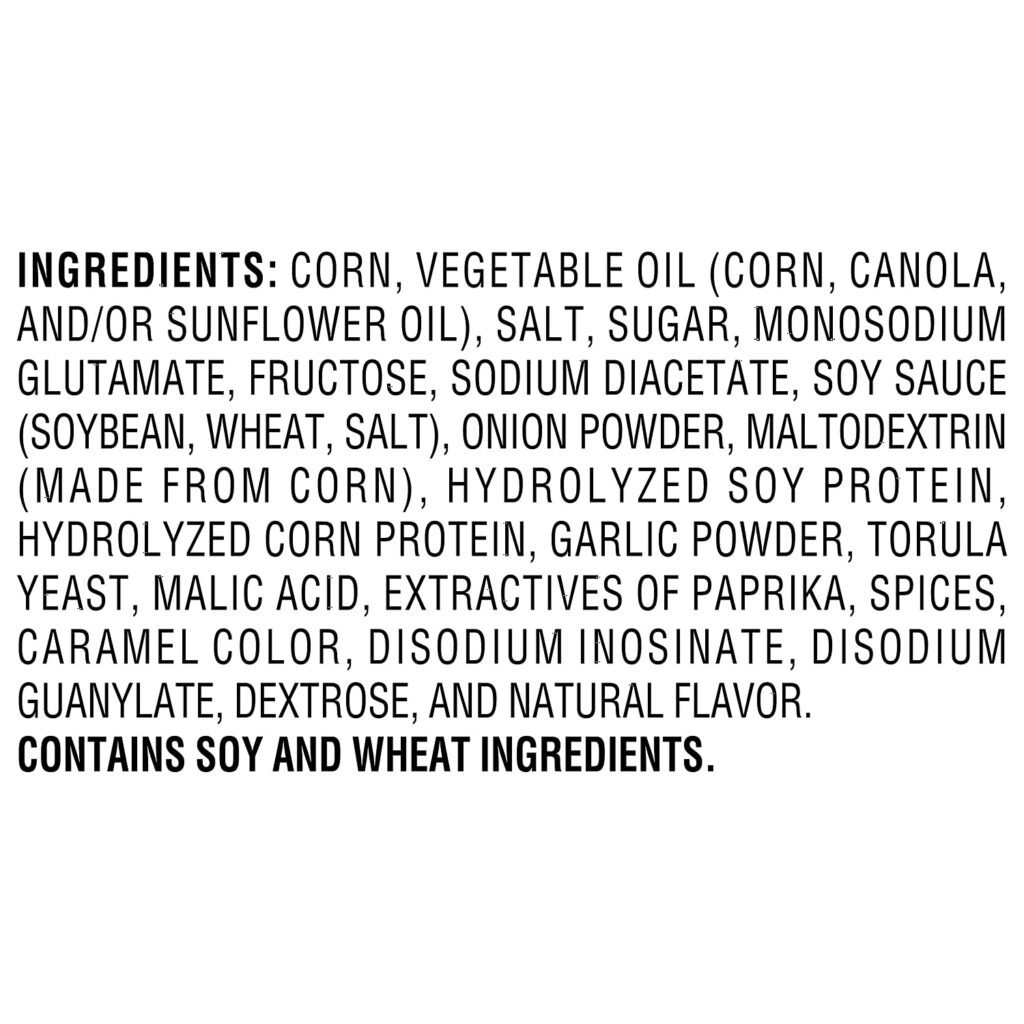 Purple Doriots are primarily made of Corn, Vegetable Oil. While the basic flavoring includes Salt, Sugar, Soy Sauce (Soybean, Wheat, Salt), Onion Powder, Garlic powder, Spices, Extractives of Paprika, and natural flavors. 
When talking about the additives: flavor enhancers, and preservatives, these are typical to almost all ready-made foods, like Monosodium Glutamate, Sodium Diacetate, Maltodextrin, Malic Acid, Disodium Inosinate, Disodium Guanylate, dextrose, etc.
Nutrition Facts of Purple Doritos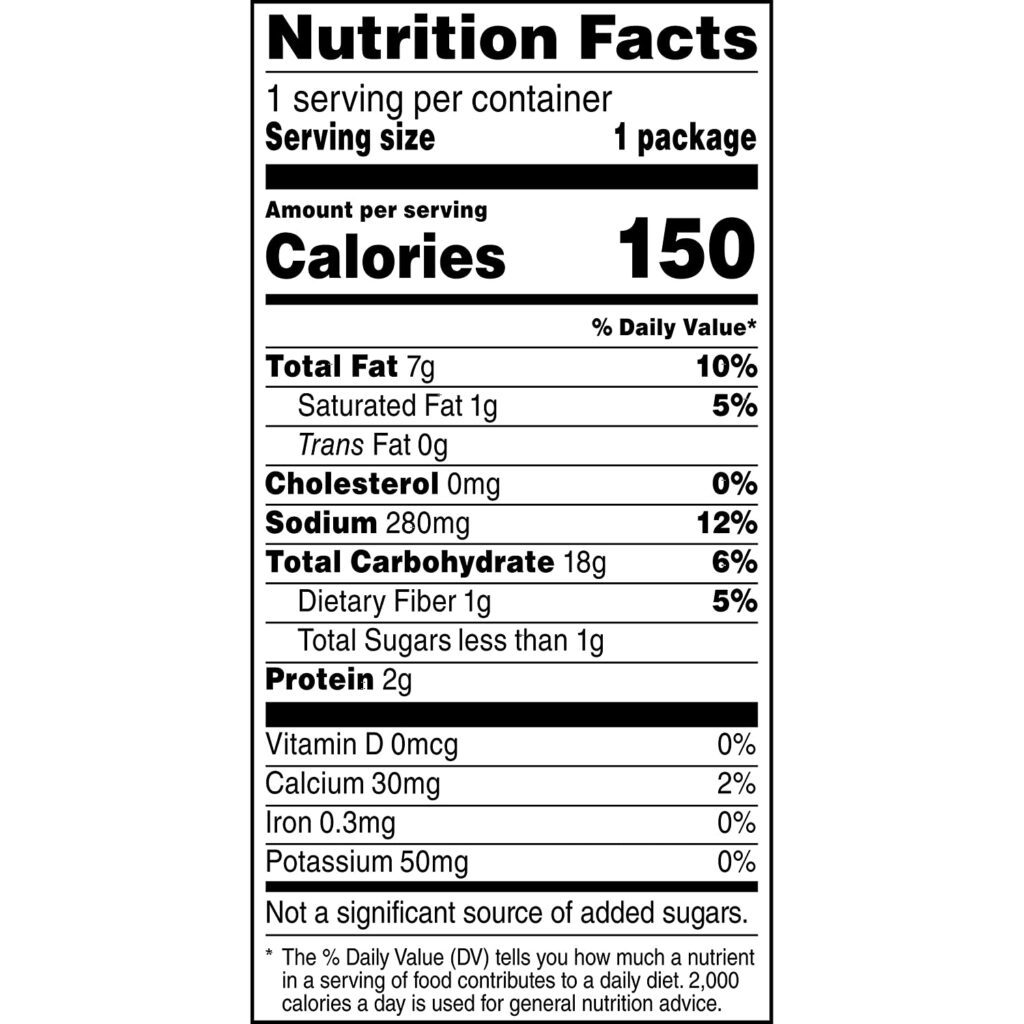 Amount per serving 1 oz (28g/About 12 chips)     
CALORIES 140
Talking about the nutrition facts of purple Doritos, they're not a healthy snack. You get a major amount of fats and carbohydrates from them, with few minerals or vitamins, like
Calcium  2%, Iron  2%, Dietary Fiber 1g  5%, Protein   2g, Vitamin A  2%. On the other hand, the amount of sodium in such a few tortilla chips (12 counts) is also pretty high with 270mg–who cares to eat a single bag of 1 oz!
What flavor is purple Doritos?
They're spicy sweet chili with a hint of sweetness that masks the heat. There are prolonged notes of heat after consuming a lot of them.
Where can you get purple Doritos?
If you live in the USA or Canada, your local grocery store probably has them–a good many of them. You can also find them in supermarkets.
Frito-Lay, the Doritos manufacturer, is a subsidiary of PepsiCo–a multinational company with a presence nearly everywhere. So it doesn't come as a surprise that Doritos are available all around the globe. But if you can't find them locally, your best bet is Amazon.
Which Doritos is the spiciest?
All Doritos flavors are hot as chips are meant to be. But there's no consensus on which is the hottest among the bunch.
We found the Doritos sweet chili heat to be the spiciest of all Doritos flavors, followed by Doritos Spicy Nacho and Doritos Jalapeno & Cheddar.
A now-discontinued Doritos Roulette flavor made headlines in the UK when a school banned them after it caused one pupil to stop breathing. It was ten times hotter than jalapeno peppers, and Doritos boasted that the snack would "leave you close to tears."
Even before they were discontinued, Doritos Roulette was banned in the US, so there's no luck trying to locate them. At 78,000 units on the Scoville Heat Scale, there's little doubt they were the spiciest Doritos ever produced.
When were the purple Doritos released?
Doritos Spicy Sweet Chili was released in April 2008.
How many calories are in a purple Doritos bag?
Purple Doritos come in two sizes: 9.75 OZ. (276.4 g) and 1 OZ. (28.3 g) bags. That said, one ounce of purple Doritos chips constitutes a single serving of 150 calories. One ounce of these translates to 28 grams or approximately 12 pieces of chips.
So, a family-size bag (9.75 OZ.) has approximately 1,462.5 calories. The small, single-serving bag of purple Doritos has about 150 calories.
Why are purple Doritos so good?
Purple Doritos has just the right balance of heat and sweetness. The heat is subtle and perfectly balanced out by sugars. They also have an addictive aftertaste.
So it doesn't come as a surprise that purple Doritos are immensely popular.
How many bags of Purple Doritos can you eat daily?
One serving of purple Doritos packs 150 calories, which is 7.5% of your daily recommended calorie intake. But I doubt anyone into these flavorful, addictive chips sticks to one serving a day or at a time. Most of us would take more than 20% of our recommended calorie intake from this junk food.
You hear it right. Purple Doritos are junk food because they're not very nutritious–if at all.
Remember that not all calories are created equal, even if you stick to your daily recommended calorie intake. The old maxim of "a calorie is a calorie" is misleading. Quality calories are what your body needs instead of mere calories. In a nutshell, calorie source is more important than calorie count.
You should eat purple Doritos once in a blue moon. You can eat a heartful of them on holidays because:
Holiday calories don't count.
Eating these, or any other junk chips daily, is a bad idea. Just stay away.
Can purple Doritos cause acid reflux?
Acid reflux occurs when the stomach content is regurgitated back into the esophagus. This occurs when the lower esophageal sphincter, a muscle at the end of the esophagus, relaxes or stays open when it needs to be closed, allowing stomach acid back into the esophagus. Fatty, fried, and/or spicy foods are some leading causes of acid reflux.
Purple Doritos are fat-rich, fried in commercial-grade vegetable oil, and moderately spicy. When eaten in excess and for a long time, they can give you acid reflux.
Can you eat purple Doritos with acid reflux?
No, you shouldn't. Being fat-rich, fried, and spicy, purple Doritos can be the very cause of acid reflux. Even when they're not the cause, they can aggravate your symptoms.
 Stay away!
Can purple Doritos cause cancer?
Purple Doritos can't directly or solely cause cancer. Yet, despite no evidence supporting such allegations, certain ingredients can be cancer-causing agents.
For example, purple Doritos have Monosodium glutamate (MSG), a flavor enhancer commonly present in many types of food, including processed foods, canned vegetables, soups, and snack foods. There have been speculations that MSG may cause cancer, but scientific research has not found a clear link between MSG and cancer.
The International Agency for Research on Cancer (IARC) has not classified MSG as a carcinogen. Likewise, the U.S. Food and Drug Administration (FDA) considers MSG to be safe when consumed in normal amounts. 
In the same way, some other ingredients, either flavor enhancers, thickeners, or preservatives, like Sodium diacetate, Maltodextrin, and Disodium inosinate (E631), also have no proven link with cancer.
Despite being considered safe, eating any snack like purple Doritos in moderation is advisable. After all, they're full of carbs and calories; and hence can root for several health issues, including obesity and insulin resistance.
Furthermore, if you're sensitive to the additives, you may experience mild symptoms such as headaches, flushing, sweating, and numbness after consuming such foods. If you have any concerns about the safety of such ingredients, you should speak with a healthcare professional for personalized advice based on your health history and dietary needs.
Are purple Doritos halal?
Yes, they're halal–albeit, unlike most Doritos flavors. Indeed, Doritos' spicy sweet chili is one of the only two halal Doritos flavors. They're also vegan with no animal-derived content.
The rest of the Doritos incorporate animal enzymes which may not be halal.
Are the purple Doritos discontinued? OR is this a limited edition?
No, purple Doritos are neither discontinued nor are they limited edition.
You can find them on Doritos' website, Amazon, and nearly everywhere in brick-and-mortar grocery shops, stores, and supermarkets. So they're in continuous production.
Spicy Sweet Chili Doritos have been a regular edition since April 2008, when they were launched. They're one of the most popular Doritos flavors, so it's safe to assume they'll continue production for years to come.
universitygrill.net is a participant in the Amazon Associate program and will earn from qualifying purchases.