Weber is, doubtlessly, the most famous grill manufacturer in the USA, so much so that the name Weber has become synonymous with quality. While it holds true that it knows its stuff and has been continuously innovating, not many people understand that, at Weber, quality is no more the same.
They have been outsourcing various aspects of their manufacturing to other countries like China. Why shouldn't they?
They're the equivalent of Apple, though in a different industry. But it's true that they still produce most of the finest, high-quality grills on the market.
Napoleon is Canada's equivalent of Weber, whose grills are gaining ever-increasing popularity in the USA. It's probably the only true contender for Weber's rival in the country, matching and sometimes outrunning Weber regarding quality and features.
Today, we will compare and contrast two of the most innovative features from these perpetual rivals and industry giants, nay behemoths.
So, what the heck is a Weber Sear Station and Napoleon Sizzle Zone?
If you have tasted a steak at a restaurant or a steakhouse, you know they're finger-lickin'. One of the open secrets of those places is that they use different searing techniques to bring out those marks, texture, and flavor you love.
Regular searing involves heating steaks over high heat and then roasting them low and slow until the desired doneness. Reverse searing is the opposite, involving reaching doneness first on low heat and then searing to caramelize the meat.
But whether it's regular or reverse searing, you need a very high, indirect infrared heat for the best results. For this, they use a combination of oversized burners, large overhead broilers, and huge fans for extremely powerful, indirect heat.
The result is a mouth-watering juicy, insanely delicious steak. Fairly, achieving such a high infrared heat at home is difficult. But what stops you from trying, especially when you have a Weber Spirit or Genesis with a Sear Station or a Napoleon with a Sizzle Zone?
Weber Sear Station
Contrary to the name suggests, a Weber Sear Station isn't a standalone product or a side burner with high heat output. It's a set of three burners placed closely together to create a high heat zone called Sear Station by Weber. More precisely, it's the addition of one extra burner between two main burners.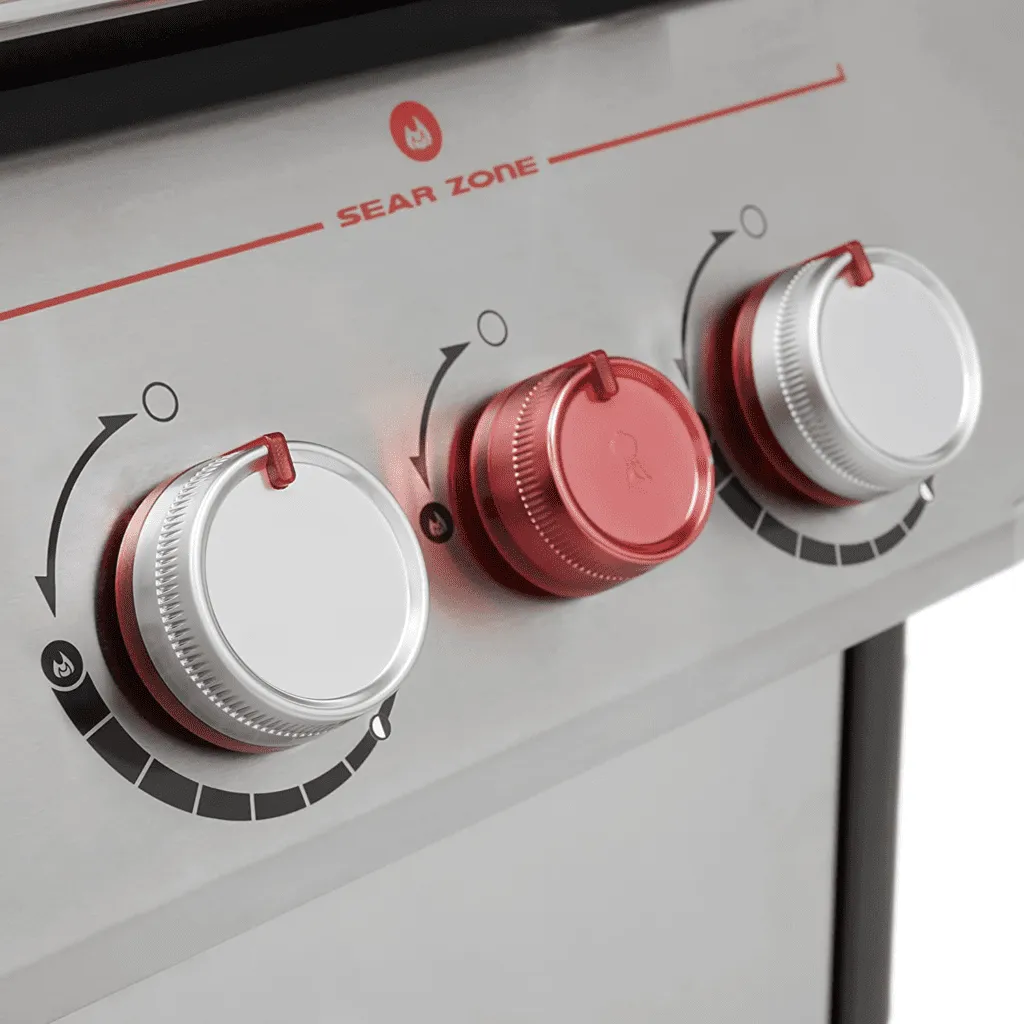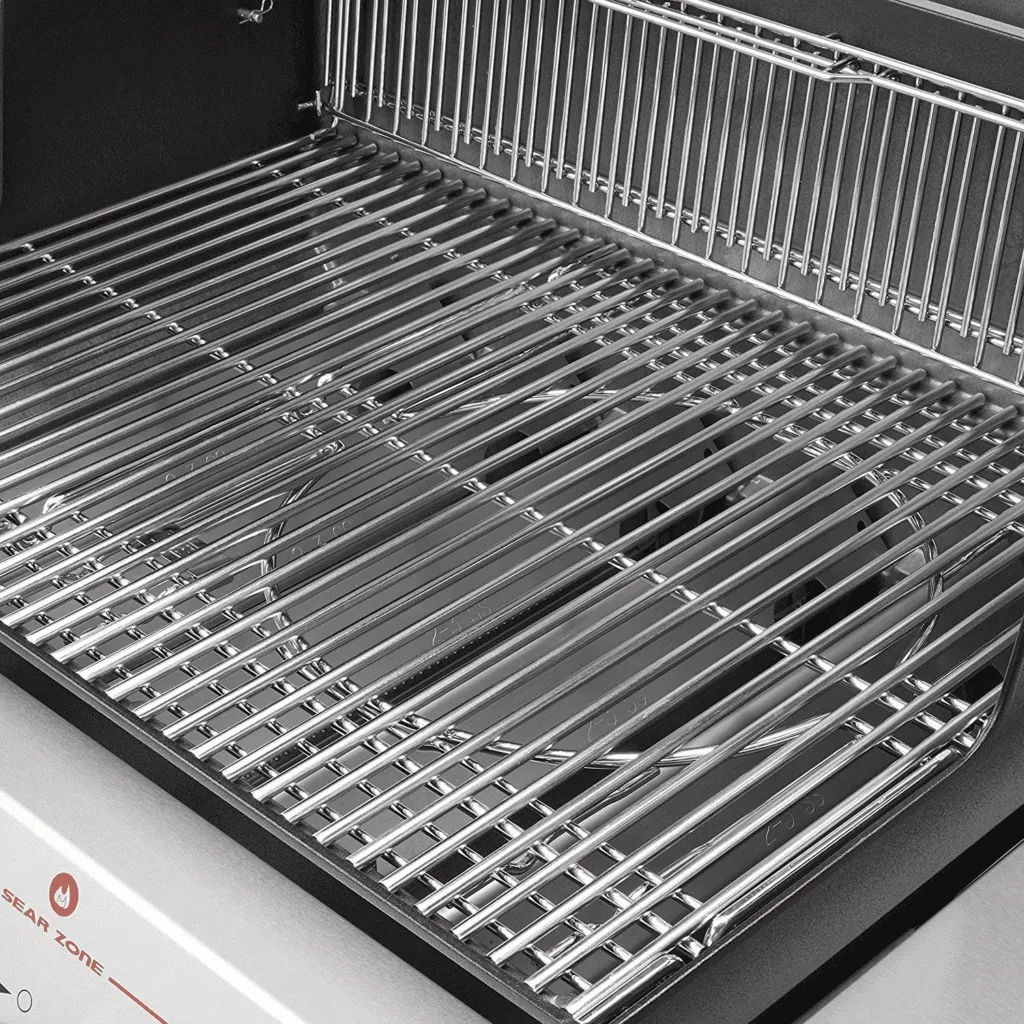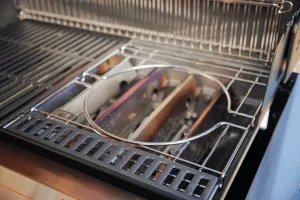 Sear Station can be seen in most Weber gas grills, including Spirit, Genesis, and Summit series. The latter, specifically, ships with a Sear Station.
The Sear Station burner in low-end lineups, such as Spirit, outputs slightly fewer BTUs than the standard or main burners. In high-end series like Genesis and Summit, they're usually of equal power as the main burners. Nonetheless, a single burner's output doesn't count up much here because they're three closely-spaced burners searing whatever you throw at them in unison.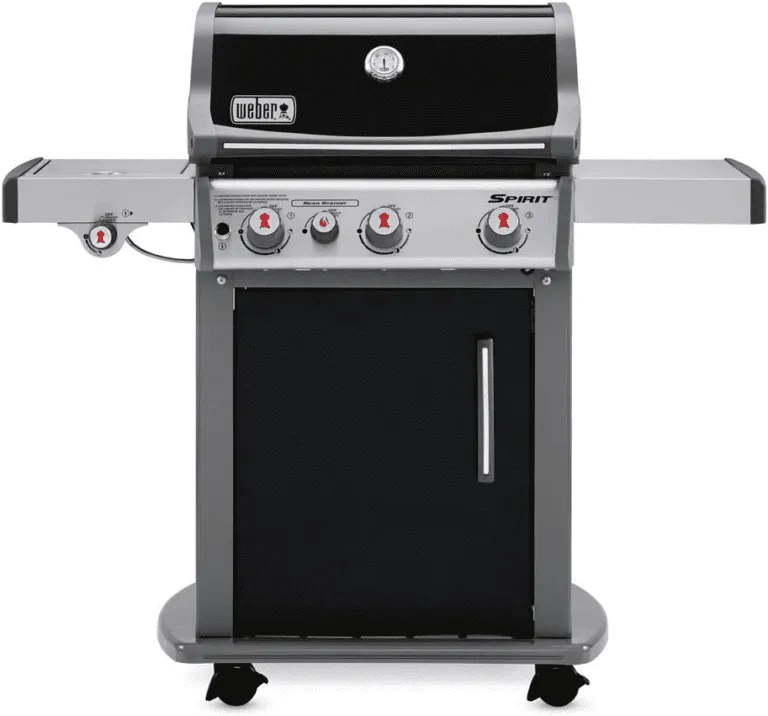 The Sear Station on this grill outputs more than 28,000 BTUs per hour, which is more than enough for high heat searing as the range of 12,000–18,000 BTUs is considered fairly high for regular searing and reverse searing.
For example, the Weber Spirit E330 has three main burners and a sear station burner, outputting 32,000 and 7,500 BTUs per hour, respectively.
The problem is Weber Sear Station is a source of direct heat. Despite flavorizer bars covering the burners and keeping the flames low, a Weber Sear Station is not the equivalent of an infrared burner. The purpose of flavorizer bars is to move grease away from the burners, thereby reducing flare-ups.
They also function to catch drippings and sizzle and smoke them back into the meat. They're not there to create indirect heat. But you certainly get some indirect heat with them compared to without them, in which case your steaks are exposed to open flames.
Weber also offers X-shaped, porcelain-enamelled, cast-iron Sear Grates for Sear Station.
In my opinion, Weber Sear Station is totally worth it. It creates an exceptionally high heat area, which rivals a Steakhouse's.
Napoleon Sizzle Zone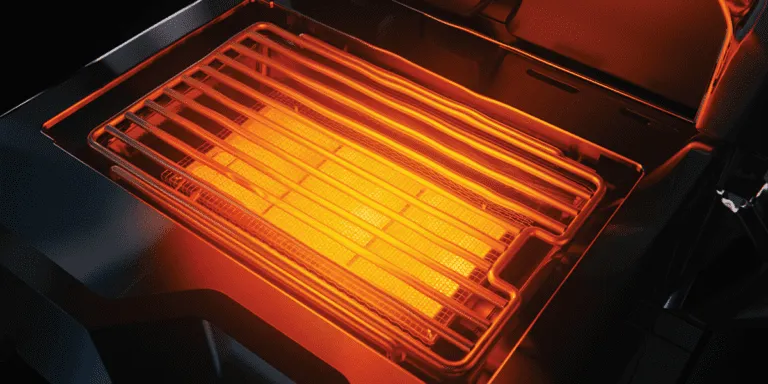 Napoleon Sizzle Zone is a standalone, drop-in, infrared side burner with 10,000 BTU heating power. It's advertised as capable of reaching 1800°F in seconds, which is impressive. Also, it doesn't need sequential preheating spanning 15 or more minutes as the Weber Sear Station does.
One of the stark features of the Sizzle Zone is that it's an infrared burner. It includes a ceramic brick with multitudes of tiny holes and grooves, allowing very little gas to pass through–casting open flames, except nice little flare-ups, out of the equation.
The Sizzle Zone burns in a nice orange glow, which is indirect, infrared heat. This heat is very efficient and cooks your steaks quickly while sealing in moisture. The result is a tender piece of meat with an excellent outward crust.
Most Napoleon gas grills with a sizzle zone ship with a stainless steel sizzle zone grid. The best thing about Napoleon is that you can easily buy a replacement grid or a cast iron one.
Weber Sear Station Vs. Napoleon Sizzle Zone: The Verdict
I won't take much of your time here.
Weber Sear Station, in my opinion, is more powerful than the Napoleon Sizzle Zone as it's a set of three closely spaced burners, delivering far more BTUs than a single burner–regardless of how large and efficient–can manage. However, it's not for novice grillers as it involves a steep learning curve to master. For example, first, you have to preheat the two adjacent main burners for 15 minutes and then turn on the Sear Station burner. You also need to remember the temperature settings of the burners for preheating.
Additionally, Weber Sear Station can dry up your steaks by including regular burners, not the infrared burners you get on the Napoleon Sizzle Zone. So, if you like tender, juicy steaks, don't buy it.
Due to its infrared heating, Napoleon Sizzle Zone blows Weber Sear Station out of the water. It's also more efficient. Additionally, it's a standalone feature and doesn't restrict you from using the rest of the burners.
universitygrill.net is a participant in the Amazon Associate program and will earn from qualifying purchases.