Do you want to know about the best BlueTooth BBQ thermometers because with having one, you don't need to sit or stand around your oven or grill all the time? You also don't need to worry about under or over-cooking of your meat. 
But how can you find the ideal one? Don't worry; we've done this for you. We've found over 20 best wireless meat thermometers, shortlisted them to keep users' feedback in view, and evaluated their performance. 
So, by reading this article, you'll get close to the Bluetooth meat thermometer. Not only this, but we'll also help you decide how you can choose a top-performing wireless thermometer for meat. Here we come…
Best Bluetooth BBQ Thermometers Types
Bluetooth BBQ thermometers are designed to save your time while cooking. The main purpose of a Bluetooth grilling thermometer is to record meat temperature and let you know through alerts when it's done. Most Bluetooth meat thermometers are smart and use complex algorithms to ascertain how long it'll take to cook a certain type of meat. They also take into account how fast the temperature is rising to calculate the finish time. In short, a Bluetooth BBQ thermometer makes cooking hassle-free.
In our list of the best Bluetooth meat thermometers, we've mainly included three types of Bluetooth thermometers:
1. Entirely wireless
These thermometers function as standalone BlueTooth thermometers and don't include strings (wires or cords). There's no base unit. You only need to pair the thermometer with a smartphone app via Bluetooth.
2. Partially wireless
These thermometers have wired probes that need to connect to a base unit. The base unit displays temperature and also transmits Bluetooth signals to a smartphone. Most information about the meat condition is displayed on the app. You can also control the time and temperature reminders through the app.
3. Partially Wireless with Receiver
These thermometers also contain wired probes that connect to a base unit. The base unit works as a transmitter and sends signals to a digital receiver. It's the receiver that displays information about the meat, sends you alarms when your food is ready and allows you to configure each probe through its physical or on-screen buttons.
7 Best Wireless BBQ Thermometers Reviews
In the following, we've enlisted some of the best BlueTooth thermometers for meat. We've tested, analyzed, and reviewed them to save you the trouble. Let's begin with the best wireless thermometer for meat on our list.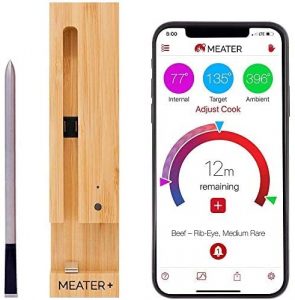 Meater Plus' Best Wireless Bluetooth BBQ Thermometer is an entirely wireless and sleek device. So, it doesn't come as a surprise that it stands at the top of our list of the best Bluetooth bbq thermometers.
It only has a probe, a storage unit, and an app. No cable connects the probe to a base unit. Indeed, it doesn't have a base unit at all. So you can also use it as your best BlueTooth Meat Thermometer for rotisserie grills.
The probe features stainless steel construction and contains a thermometer for measuring internal meat temperature. It features a sleek design with a magnetic back for easy attachment to certain metallic surfaces, such as a refrigerator, grill, or oven. The black end of the probe also contains a thermometer for measuring ambient temperature.
The storage unit also serves as a charging dock. Inside, it contains a battery that you can recharge or replace. Not only this, but the wooden case also acts as a Bluetooth repeater, extending the range of Meater signal to the app up to 165 feet.
As the Meater Plus has two thermometers in a single probe. The one for measuring food's internal temperature can handle up to 212 degrees Fahrenheit. The other that measures the ambient temperature is safe to measure 527 degrees Fahrenheit. It's because the ambient temperature will always be higher than the internal temperature of the meat. 
The safest way to use the probe is to insert it deeper into the meat, almost to the center of the piece. Since the probe is smart, it sends you an alert if the temperature exceeds its maximum capacity.
The Meater Plus is dishwasher safe; however, it's best if you clean it by hand. It's because the probe is water-resistant, according to the manufacturer, not waterproof.
The App
The Meater Plus doesn't contain a base unit to indicate the temperature. So, it relies on its app for this purpose.
The app suggests temperatures for a range of basic food categories that drill down to multiple specific choices. Its suggestions are based on USDA's guidelines as well as Meater's recommended temperatures.
If you're not satisfied with the recommendations, you can adjust the temperature according to your individual preferences. The app shows the meat's internal temperature as well as ambient temperature. It also estimates the remaining cooking time and sends you an alert before the final temperature is reached.
In this aspect, the Meater Plus is superior to any other thermometer on the market. The Meater Plus records how fast the temperature rises, so it lets you know how long it'll continue to rise after the food leaves the heat, preventing overcooking due to carryover. It's a nice feature indeed.
Even more, the app doesn't just stop after you remove the food from the oven or grill. It continues to monitor the resting temperature and tells you when the food is ready to serve.
The app also saves a summary of your cooking experience, including time, date, the doneness of the food, and a graph of both the internal and ambient temperatures. You can save, mark as favorite, or delete the data.
In addition, you can also change the temperature unit from Fahrenheit to Celcius, change alert sounds, and tweak around different notification settings.
As for performance and accuracy, this thermometer is matchless. Meater's customer service is also great. We can't recommend this Bluetooth meat thermometer enough.
Pros
Entirely and truly wireless, no wires.

Compact design

Easy to set up

The app takes into account the carry-over heat and notifies you before the meat is done.
Cons
High price

It only works with the app; there's no display screen because there's no base unit.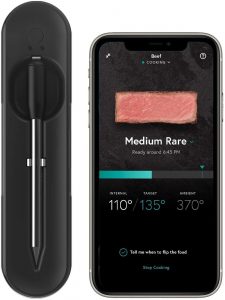 The Yummly Smart Thermometer resembles the Meater Plus in every aspect. It's entirely wireless, doesn't contain strings (wires), can be used on a rotisserie, and has a meat-specific design.
However, it does have a base unit for holding the probe and sending signals to the app when you insert the probe into the meat. The base unit charges the probe as well, but it doesn't have a display screen.
The probe looks like a small, silver-colored pencil with one sharp and the other flat, black end. There are two heat-resistant thermometers in the probe; one in the sharp end for measuring the meat temperature and the other in the flat end for measuring ambient or oven temperature. The probe measures both temperatures and sends its temperature readings to the charging dock, which then transfers this information to the app on your smartphone.
With Yummly, you get two AAA batteries that you need to install in the base unit to get it to work. The charging dock connects to your smartphone via Bluetooth and Wifi.
The charging base has a magnetic back, making it easier for you to hang it on a metal cabinet, oven, or refrigerator before you pick it up and start grilling.
One important thing to note is that the base unit needs to be placed under 5 5-foot distance from the probe. You can attach it to the surface of the grilling device thanks to its magnetic back. Once the base and probe are connected, the charging dock can send signals up to 150 feet away.
Once fully charged, Yummly can provide active thermal monitoring of up to 25 hours.
The app
Yummly was a recipe app until they launched their Smart Meat Thermometer. For this reason, some users find the app complicated to use, and this is what invites complaints from users. You need to create a Yummly account to get started. There are ads on the app, and subscription pushes, so it's better to keep the data connection off once you've set up the device. But how to set up the device in the first place?
When you open the app, click on the bottom right oven-like icon. Doing this opens up a section called "My Connected Kitchen." From this section, select the Yummly thermometer's photo to connect. The app even connects to the Apple Watch.
You can select different recipes from the app, and it'll suggest the optimum temperature. You can either select the recommended temperature or adjust it. Push the metal end of the probe into the meat, select how well you want your meat to be prepared, and turn on the grill. The app starts showing the ambient and meat temperatures in real time.
You have to keep the app live when you're cooking. It's because the battery-saving features of different smartphone devices can kill the app and, in turn, stop the alerts from reaching you.
Yummly thermometer's performance is comparable to the Meater Plus. However, it's less accurate than the Meater Plus.
Pros
Ease of operation.

Modern, clean, and minimalistic design.

It is specifically designed for the meat and does the job very well.
Cons
Slightly overpriced

Registration to the Yummly app is required, which is full of ads.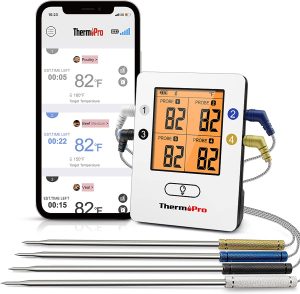 ThermoPro is a household name in the kitchen industry, thanks to its products' accuracy, usability, and durability. The Bluetooth range of the ThermoPro TP25 is what sets it apart from the rest of the Bluetooth meat thermometers on the market. It's uncommon for a wireless thermometer to boast a Bluetooth range of more than 200 feet. However, when it comes to ThermoPro, it's not so uncommon as most of their products feature a 495-foot wireless range. We've tested this product and found that the company's claims hold.
Factors like walls, trees, and other objects can distort the signal and, in turn, limit the range of a device. However, the most important factor in this regard is the Bluetooth chip of the transmitter. After testing the TP25 in a mix of conditions, we found that the Bluetooth chip of this thermometer is better than the other ones on the market.
The physical components of the TP25 comprise the following:
A transmitter with an LCD screen is divided into four equal sections for displaying readings from all four probes.

A USB charging cable.

Two grill clips to hold your wired probes a little above the grill grates to avoid burning.

Four multi-colored probes with probe winders
The main unit or the transmitter has only 3 buttons: one light button on the front that keeps the screen lit for 10 seconds, a Power/Celsius/Fahrenheit button on the back, and a Bluetooth ON/OFF button on the back. Four color-coded probes connect to their respective ports on the unit. Probes can withstand temperatures up to 300 degrees Celsius.
The main unit is powered by a rechargeable lithium-ion battery that can provide service for up to 8 months once it's fully charged. It's a staggering battery backup that you can't expect from other manufacturers.
The App
The ThermoPro BBQ app comes with low- and high-alarm settings for all the probes. You can also change the sound bells of different probes. The app comes preloaded with USDA recommendations for different kinds of meat. You can also bypass the preset temperature settings and manually set them. In addition, you can set a timer as well, instead of temperature.
The app also tells you how long it will take for something to be ready. It considers what you're cooking and uses a complex algorithm to estimate how fast the temperature rises.
The app also records temperature rises and falls in graphical form against each probe in real time. In our opinion, the ThermoPro TP25 is the most stable, durable, and accurate Bluetooth meat thermometer.
Pros
Equipped with four color-coated probes to monitor four different kinds of meat

Highly accurate, 6.2-inch stainless steel probes.

High-end, superior-quality device

The beautiful, feature-rich display unit

Excellent for BBQ smokers and grills
Cons
No wifi capability

It has long probes that are difficult to use on delicate meat.
ThermoPro has won a lot of respect in the industry for the accuracy of its products. ThermoPro TP20 Wireless Meat Thermometer is no different. However, this accuracy comes at a cost. The TP20 has all but an app.
To compensate for the lack of connectivity to a smartphone, the ThermoPro TP20 has a transmitter and receiver. It's the receiver that does the job of an app.
It has physical buttons to configure different settings and a screen to display readings. Four batteries (2 for the transmitter and receiver each) and two probes are included in the box. In addition, you get a shock-, water-, and shock-resistant case to store the receiver, transmitter, and probes.
How to Set up
The setup is as easy as it could be. The receiver has two ports to connect to the wired probes. You can use one probe for measuring meat temperature and the other for ambient temperature. Insert the batteries into both units, power them on, and they automatically connect.
The Features
The ThermoPro Meat Thermometer has been programmed for different kinds of meat and then different tastes for each. For instance, in beef, the receiver has several USDA-recommended presets for different doneness levels, such as rare, medium, well done, etc. However, you can also manually adjust the settings to your desired values.
The receiver and transmitter have large LCD backlit displays, making it effortless to see temperatures in low-light conditions.
The TP20 has two types of alarms:
The lost link alarm will notify you when the connection is lost between the transmitter and receiver. It usually happens when the transmitter is more than 300 feet distant from the receiver.

Alarms for programmed times as well as temperatures. It means that you can set a time or temperature to be notified.
There are some additional features of the receiver that are worthy of mention. For example, it has a splash-proof casing, a pull-out countertop stand, and a belt clip for you to carry it around wherever you go.
The probe is made of wire coated with metal mesh and can withstand temperatures of up to 380°C. It has a "step-down" tip that is slightly thinner than the rest of the probe, making it easier to insert into the meat.
You can also toggle between Fahrenheit and Celsius.
The only feature lacking in this device is the ability to configure it from a smartphone app.  For some people, it's even more convenient to use than other wireless thermometers because you can put your phone to rest for some time. The TP20 has an excellent rating on Amazon, making it one of the most accurate and trustworthy temperature-measuring devices ever.
Pros
Highest user satisfaction 

High cost-performance

Wide variety of preset options

It comes with a decent-looking case to host all components

Effective, intuitive display on the receiver
Cons
It can't pair with a smartphone.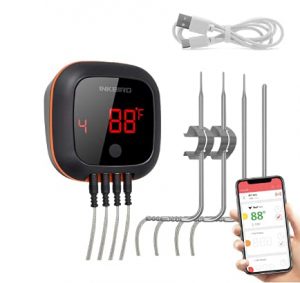 Here comes the bestseller meat thermometer. The first thing that you notice in the Inkbird Bluetooth thermometer is the simplicity of design. Its base unit has only two buttons: a switch on the back for turning on the main unit and a large circle on the screen for toggling the screen orientation. Everything other than this has been moved into the companion app.
The main unit is sleek, lightweight, and made of plastic. It's not waterproof, so be careful while using it in bad weather. It has four probe ports. It has a magnetic back for easy attachment to the grill. The display rotates to match the direction of placement.
Inside the unit resides a rechargeable battery that can last for up to 60 hours. The unit ships with a USB charging cable, two grate clips, and two or four thermometer probes. A setup manual and warranty card are also included. As for the range, the Inkbird base unit sends signals up to 150 feet away.
How to Set up
To set up, press the ON/OFF switch on the back of the device. Install the BBQ Go app on your smartphone, launch it, and pair the device to your smartphone. Insert as many probes as you want to use in the ports located on the device. Thread the probes through the grill clips and insert them into the thickest parts of the meat. To measure ambient temperature, leave one of the probes on the grill. You're all set up.
The App
The BBQ Go app has a clean interface and minimalistic design. It looks like it uses the same code as the ThermoPro BBQ app.
The moment you launch it, it starts scanning for the device. Once configured, it displays the temperature of each probe on the home screen. There are many customization options available for each probe, such as changing the name and color.
Although the app comes with temperature presets for each probe, you can adjust the temperature and set high and low alarms for the meat. The app generates a temperature graph against each probe in real time. It's a good feature because it tells you about the temperature spikes and lows over time. You can also change the language, choose between °F or °C, and turn alarms and vibrations on and off.
The app also keeps a record of when and at what temperature the alarm was triggered. Last but not least, it also notifies you about the battery life of your unit.
Overall, this Inkbird unit is worth the price, considering the features and quality it provides. You can trust this device because of its accuracy between ±1°C / ±2°F.
Pros
Intuitive and straightforward operation.

Eye-catching, streamlined, and sharp design.

Accurate.

A large front button for rotating the display
Cons
It doesn't come with spools or a cord wrap system.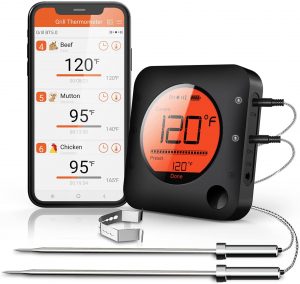 This BFOUR thermometer has won our hearts for its accuracy, quality, and design. Its main unit has a large LCD screen that releases visual fatigue. It displays critical information, such as connection signal, power, current temperature, progress, target temperature, etc. The backlit screen ensures that the information is easily accessible to you, even in the dark. The BFOUR meat thermometer is the winner of the Red Dot Design Award for its exquisite appearance. It has also received RoHS, FCC, and CE certifications.
The BFOUR Bluetooth meat thermometer uses Bluetooth 5.0 technology, which means faster speeds and long range. It can send signals up to 200ft away outdoors. It still manages to connect to a phone 100ft away indoors.
The box contains two probes, two spools for rolling the wires, a grill clip, and a transmitter. Each stainless steel probe has a 43-inch long, heat-resistant wire. With this equipment, you can measure temperatures in the range of 33℉-572℉. The accuracy lies between ±1℃/±1.8℉.
It's also easy to set up and connect. 
The app has 11 preset USDA temperature settings for meat. However, you can also manually adjust the temperature and favorite tastes like rare, medium, well done, etc. You can also set the timer for the countdown. The real-time temperature graphs against each probe give you an overall idea about the state of your food during cooking.
This product can be a nice addition to your kitchen.
Pros
One-button, easy pairing.

Award-winning design.

Quality certified.

±1.8˚F/1˚C temperature accuracy.
Cons
Non rechargeable batteries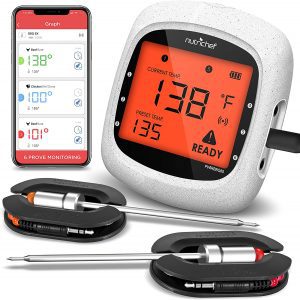 This cooking thermometer from NutriChef is cute. It has a mesmerizing design.
It has stainless steel probes that can withstand temperatures up to 482 degrees F. Its Teflon wires are stainless steel mesh coated and can withstand a temperature of 716 degrees F.
The main unit is sleek, has a nice finish, and features a large LCD backlit screen. The display color is between orange and red and is noticeable even from a distance.
The main unit can throw signals as far as 328 feet away. It's not as much as we've noticed in the ThermoPro models, but it's still far better than many others on the market. The indoor signal range is 100 feet.
To set up, you have to install the Easy BBQ app from the App Store or Google's Play Store and launch it. Attach the two AAA batteries that came in the box to the main unit and power it on. Attach the two probes included in the box to the main unit. Insert the thin ends of the probes into the meat. Pair the smartphone with the device using the app. You are ready to cook.
Navigate the app to select the food you want to grill. The app comes with preset temperatures for each food; however, you can adjust the temperature as you desire. The app will let you know when your food is done.
Overall, it's a well-designed unit. There are two oval spools in the box for rolling the wires. Remember, this product is cute, and you're going to love it.
Pros
Hassle-free operation

Easy and stable Bluetooth pairing

Displays temperature in both Celsius and Fahrenheit

It comes with two oval spools for rewinding cords.
Cons
It can't pair with the Apple Watch.
How Should You Choose Best Wireless BBQ Thermometers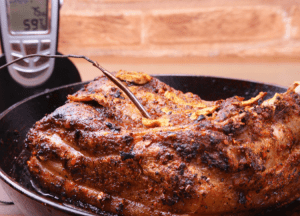 Bluetooth meat thermometers are complicated devices with sophisticated parts. Not every Bluetooth meat thermometer is created equal, as already mentioned. They can be either truly wireless or wired.
Some wired Bluetooth thermometers come without an app and have a receiver that displays all the information and settings related to your probes. For this reason, it's important to know a few things before buying one.
We suggest you consume every bit of information contained in this guide as it'll help you make enlightened decisions. It's how you can base your decisions around the reality principle instead of the pleasure principle.
Probes are the most important component of a Bluetooth meat thermometer as they define accuracy and ease of use. In the case of entirely wireless thermometers, there's a single probe with two sensors. One in the front is a sharp end for measuring meat's internal temperature, and another in the rear for measuring ambient grill temperature. There's only one sensor in the probe in wired Bluetooth thermometers, as they come with multiple color-coated probes.
But what to look for in a probe? The answer is style and size.
The probe should have a fine, pointed front end to insert it easily into the meat. If it comes with a thick, blunt front end, it can squeeze the juice out of meat, resulting in off-flavors. It is a clear outcome that you have ruined the sweetness of your food.
For accuracy, the probe must reach the center of the thickest piece of whatever you're cooking. If you mainly cook thick pieces, you should choose a thermometer with longer probes. If you like to cook delicate pieces, the probe should be a smaller one. If you're grilling thin cuts, it becomes difficult to handle a longer probe.
A probe of 2.5mm in diameter and 5 inches in length is ideal.
The display is an important aspect of the main unit that highlights crucial information. It's always preferable to go for a backlit screen as it allows you to monitor the temperature from a distance and in darkness. The background color of the screen should be aesthetic, eye-catching, and soothing.
It's also important to note whether the unit rotates between different probe temperatures or shows all at once.
Bluetooth range is probably the best indicator of how useful a Bluetooth BBQ thermometer is for you. The range varies between 100-500 feet among different brands.
Meater Plus allows you to use the charging dock as a signal booster, further enhancing the range. In terms of Bluetooth range, we've found that ThermoPro lies on the high end of the spectrum, with a Bluetooth range of 495 feet.
Please note that signals drop as obstacles, such as walls, furniture, and other objects, grow in number.
Accuracy comes second to the wireless range of a Bluetooth BBQ thermometer. However, it doesn't mean that accuracy is any less significant than the range.
Think of a wireless thermometer as a complete package. If a Bluetooth meat thermometer has all the high-end features, it's very unlikely for it to be less accurate. In most instances, the Bluetooth range of a wireless BBQ thermometer also says something about its accuracy.
When it comes to accuracy, the ThermoPro thermometers on our list are clear winners. They also have the highest wireless range compared to other wireless meat thermometers on the market.
Most wireless meat thermometers are designed to tolerate and measure high heat. However, as for the high heat limitations, they also have a limiting low-temperature range. This range becomes a limiting factor when you thaw or brine meat.
Most wireless Bluetooth meat thermometers come with a smartphone app to display notifications and alerts. The app also controls and manages connectivity and probe settings. You should have a look at the app features of a thermometer before you buy one.
The app should record your previous cooking sessions, and there should be a way to store that information, such as cloud or on-device storage. It's best if it shows and saves the temperature of each probe in graphical form. You should also be able to set a timer as well as temperature against each probe.
You should also check whether you can set custom sound bells for alarms. The more customization, the better.
Thermometers may have rechargeable or non-rechargeable batteries. Non-rechargeable batteries are cheap and easy to find. Rechargeable batteries, on the contrary, are priced higher and are difficult to find.
If your wireless thermometer comes with a rechargeable battery, you should first discover how it charges. Also, consider the charger's compatibility, i.e., whether it chargers through a USB cable or another cable. It's good if the unit ships with a USB cable in the box.
Customer reviews and ratings
Customer reviews and ratings on Amazon are indicative of a product's quality. Try to find a unit that has received positive customer reviews and great ratings.
"Price is what you pay; value is what you get."
Price is the trickiest factor when you buy something online. This factor relates more to the science of decision and may seem beyond the scope of this guide. For this reason, we intend to discuss this topic shortly.
When buying a Bluetooth meat thermometer, orient your decisions around the reality principle instead of the pleasure principle. Don't go for a product that boasts a lot of features at a low price. The tradeoff can lie in the form of durability and accuracy. Similarly, there's no reason to buy a product that seems exaggeratedly overpriced.
Most Bluetooth meat thermometers fall in the range of $40 to $100. However, before you consider price, it's important to remind yourself of the factors mentioned above in the list.
Best BBQ Thermometers Bluetooth – FAQs
Which Bluetooth Barbecue thermometer is the best?
The answer to this question depends on several factors. If you're concerned about accuracy more than anything, the Thermopro TP20 Bluetooth Meat Thermometer" and Thermopro TP25 Smart Thermometer" can be perfect for you. Both of the two models have state-of-the-art quality and are industry standards for accuracy.
Yet, If you want to get rid of cords, the Meater Plus Thermometer is the best option for you. You can also buy Yummly for this purpose, but the former should be your first choice.
If you crave aesthetics, quality, and features, the BFOUR meat thermometer is the right option for you. It's feature-rich, majestic, certified, and award-winner for design.
What is a good BlueTooth thermometer for BBQ?
A good wireless smart meat thermometer should be accurate and have an adequate Bluetooth range. In addition, it should be long-lasting. These three qualities are enough to decide whether a bbq meat thermometer is good or bad.
Do Bluetooth BBQ thermometers work?
Yes, but there are certain limitations to their functionality. Walls, people, and other physical obstacles can decrease signal strength and connectivity. While most of them are accurate in the range of ±1°C, it is not always the case. Units from cheap manufacturers are not so accurate. Consequently, they do more harm than good. For example, you can under- or over-cook your food if your Bluetooth grill thermometer is malfunctioning.
For these reasons, it's good to buy one from a reputed manufacturer. We found ThermoPro's Bluetooth meat thermometers to be the most accurate ones.
Are wireless thermometers for BBQ worth it?
Indeed, they're very well worth buying. A wireless BlueTooth meat thermometer can make your life less stressful and happier if you are a professional chef or cook regularly. Not only do they allow you to monitor your food's temperature to prevent over- or under-cooking, but they also allow you to do so remotely. You don't need to hover over your grill or oven the entire time to check the temperature and condition of your food.
What to do if my Bluetooth grilling thermometer is inaccurate?
If you've mistakenly purchased a faulty meat thermometer, you can calibrate it. There's usually no need to replace it until you're terrible at arithmetics. It's because digital meat thermometers can't be adjusted, so you need to do additions or subtractions each time you monitor your temperature.
To calibrate your Bluetooth meat thermometer, put its probe into ice-cold water. Allow it to rest for at least five minutes before you take it out and measure the temperature. It should be zero degrees Celsius. If it's not, note the number of degrees it shows up or low.
Say, for example, it's four degrees Celsius. Now, each time you cook, subtract four degrees whenever you measure the temperature using this thermometer.
What is the most accurate Bluetooth meat thermometer?
Thermopro TP25 Digital Meat Thermometer is the most accurate Bluetooth meat Thermometer. It's what earns it the highest user satisfaction.
What is the best  Bluetooth meat thermometer with the highest Bluetooth range?
Undoubtedly, the wireless thermometers of Themrom Pro, including Thermopro TP20  and Thermopro TP25, feature the highest BlueTooth range of 495 feet.
Can I leave a Bluetooth BBQ thermometer on the grill while it's still cooking?
Yes, this is what a Bluetooth meat thermometer is meant for. However, please don't let the temperature exceed the thermometer's upper-temperature limit. All Bluetooth thermometers have a maximum temperature point they can safely handle, so it's best not to exceed that point.
Instant read thermometers, on the contrary, are designed not to be left in the grill and should be taken immediately out. Bluetooth thermometers are made of heat-resistant materials and can withstand high temperatures.
Why should I buy a Bluetooth grilling thermometer?
Bluetooth meat thermometers are designed to provide a long battery life as the technology consumes less power than Wifi. The difference between the power consumption of the two technologies is significant.
If you're connected to a Wifi network, you can simultaneously pair it with your Bluetooth meat digital thermometer without having to disconnect from your Wifi network and enable mobile data. If you own a Wi-Fi-enabled thermometer, you must disconnect from your previous network to connect to the thermometer.
What is the best Bluetooth thermometer for smoking meats?
[amazon link="B07H8WTFHW" title=" Meater Plus Bluetooth Meat Thermometer" /] is the best thermometer for grills and bbq smokers. Likewise, for a no-app BlueTooth thermometer, [amazon link="B01GE77QT0″ title=" Thermopro TP20 Smart Thermometer" /] is also the best option.
What is the best BlueTooth meat thermometer for the oven?
[amazon link="B01GE77QT0″ title=" Thermopro TP20 Smart Thermometer" /] is the best Bluetooth meat thermometer for ovens.
Final Thoughts
The best BlueTooth meat thermometers are a comfy way of keeping an eye on your meat's temperature in the grill, smoker, or oven so that you may manage your time and accomplish many tasks. 
It'll also help you remain vigilant with your cooking without leaving the cheerful company of your family and friends. From our reviewed best wireless meat thermometers, you can pick any. Let us know which has been your favorite by using the comment section.
universitygrill.net is a participant in the Amazon Associate program and will earn from qualifying purchases.