Do you want to enjoy a delicious dinner with your friends using some of the best Korean BBQ grills? Then, bring your best Korean BBQ grill home and cook your food sitting on the table gossiping with your bosom friends. Why a Korean BBQ at home? Because is an experience where you can have your family and friends together.
It'll not just give you comfort but also save you from smoke clouds that are common when using other grills. Can you use a smokeless grill for Korean BBQ indoor and outdoor? Yes! These Korean grills don't demand to be used only outdoors. Its small size, easy-to-carry body, and low to medium weight, and unique cooking style have been enough to impress you. Yet, you must want to make a confident decision.
If it's the case, this content is purely for you. Our experts have tested more than thirty products to present you with the best 11 of them.  We haven't just presented you with the top-notch Korean BBQ grills options, but the buying guide is also there to help you choose the ideal one. We know you're not an expert, so providing every detail of this topic is our responsibility.  Without taking more time, let's move forward.]
Review of 11 Best Indoor Grills for Korean Grill Barbecuing
Here, we begin with our detailed review of the top Korean bbq grills, pans, and plates.
Our first review is of Iwatani's smokeless Korean BBQ grill that is a tabletop grill. This stylish black grill is made of aluminum or alloy steel.  You must know that as this grill works with butane; thus, it requires a butane canister to kick off the cooking process. 
Are you an expert at buying Korean grills? Okay, then let us know the most crucial point to consider….tap your back if you answered right. It's the size of a cooking or grilling plate.  Aha! There's a 233mm plate. So no worries, you can prepare a complete meal in a single batch for two people. 
With its continuous cooking time of 217 minutes, you can cook your food at 20 to 25 degrees C. But if you want to have an extended cooking time, you need to refill the butane gas tank. In this case, you'll also get the maximum temperature of about 250 degrees C.  
What about its size and weight?  Don't worry; it's just 1 kg in weight. Therefore,  you can easily transport it to your required place. Not just preferable in weight, but the sizing will also catch your attention.
The body is about 303 x 278 x 149 mm.  Iwatani has made it with a piezoelectric ignition system, thus making it easy to use for its customers. 
Yet, you must know, this Korean BBQ grill is only suitable for two people. You can't use it to make food for even small parties and gatherings. Secondly, the heat is too low to grill meat. Even on the highest level, it seems so inadequate. 
Pros
Easy to carry

Smokeless cooking experience

Consistent and even heat

Easy to clean
Cons
Low heat for meaty food

Suitable for only two people
Zojirushi has brought cooking closer to the dining table. EB-CC15 from Zojirushi is a bit different in material from the Korean BBQ grills. This material difference is due to plastic. Yes, it's made with both plastic and aluminum.
The non-stick grill surface is about 12-½ by 9-¼ inches.  But if we talk about the overall size, it's 12-⅝ x 18-¾ x 3 inches. Not just in size and material, it's also different in weight. You'll get this Korean BBQ grill weighing about 7 pounds.  
After covering its size and weight, it's time to discuss other features. Its 1300 Watt heating element can help you adjust the temperature from 176 degrees F to about 410 degrees F.  The cleaning process becomes easy-peasy as it comes with a dishwasher-safe drip tray. Moreover, you can also disassemble the grilling surface from the bottom. 
Cook popular Korean BBQ dishes while spending your time with your family. It's a great way to get closer to your loved ones.  We don't want to change your choice but providing a detailed note along with the cons of the product is our responsibility.
As we mentioned above, it is made of plastic, but which part is made of it?  The base is made of plastic so that it won't serve you for a long time. If it falls from your hands, don't expect to get proper functioning from it.  Besides this, the main problem is, it takes a long time to become appropriately hot. Before picking this one as your first choice to cook Korean BBQ on your table, keep these points in consideration. 
Pros
Offers good temperature range

The grilling space is enough for 4-5

Easy cleaning 

The grilling surface is of sturdy material
Cons
It needs careful handling because of the plastic base

After cooking, you can't carry it until it gets cold.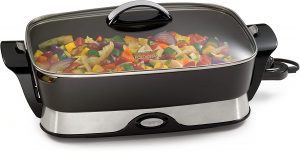 We were looking for the best indoor smokeless Korean bbq grill, and we couldn't help choosing this Presto 06857. Want to know why it has been the highly demanded Korean grill for a long time? After learning all about its features, you'll also consider it a must-have device for grilling.
As the grill material matters a lot, there's a heavy cast aluminum base that possesses a non-stick surface both inside and out.  Let's now talk about the grilling pan dimensions. These are 15.75 x 11.87 x 2.87 inch. Thus, you can use it to make food for four to six people. 
For easy pouring, this best Korean BBQ grill comes with a built-in spout. Moreover, this spout can also be used as a spoon and spatula holder during table serving.  As it's an electric grill, are you curious to know its wattage and volts?
It works at 1500 watts and 120 volts, so it's not that much of a high value if we compare it with other grills.  In addition to this, it can produce a temperature as high as 400 degrees.
It was about the size of the grill pan, but what about the body size and weight? The body measures about 19.81 x 12.25 x 8.06 inches with a total weight of about 8.55 pounds; thus, it's portable. 
Yes, there're some points to be improved by the manufacturer. After some time, the non-stick coating can start to bubble if put in the dishwasher. Most importantly, steam comes out from the pouring spout. Thus it's not suitable for steamed cooking. 
Pros
Light in weight

Get hot in less time

Even heat distribution
Cons
Not dishwasher safe

Non-stick coating can peel off
The next is a stovetop Korean BBQ pan from Iwatani. Iwatani has made its name in the grilling devices industry for a long time. That's why it offers some of the best Korean BBQ grills.
Iwatani Cb-p-y3 comes with a unique design with a swirled pattern on the whole grilling plate. It has a large-sized plate to prepare food for about five members. 
It's the first choice of the majority of people only because they get top-notch quality along with excellent functioning in its grills.  Relax! You won't need to compromise on the quality of the material.
The plate is made using die-cast aluminum along with fluorine processing. And the saucer is made with steel and chafing. Hence, it's durable. 
It also possesses a non-stick surface, so you won't need to season your grill like the other grills. This easy-to-use and easy-to-clean grill come with a pick to lift the plate out without any difficulty. 
The size is about 13.6 x 13.5 x 2.2 inches with a weight of just 2.16 pounds. Hence, it's the lightest Korean BBQ grill reviewed till now. In short, you can put this grill in your cart without wasting your time.
On the downside, we're sorry to say, but the non-stick surface can peel off and lose its color if you forget to check the water in the grill. If aged, it can also smoke badly. 
Pros
Spacious grilling space

Extremely light in weight

Budget choice
Cons
The non-stick surface can lose color
As you'll know in the buying guide, there are three Korean grills. And the stovetop grill is one of them. The next review is of the TeChef stovetop Korean BBQ grill pan. 
The most beautiful thing about this stovetop grill is the Teflon print design. The swirled channel design looks so unique and helps the oil to drain slowly. 
You won't find any Korean BBQ grill better than this one for cooking pork belly. That's because there's an innovative grease draining system.
The five-layer non-stick aluminum plate is excellent for making low-fat diet food. Thus, it gives you a healthy cooking experience controlling your fat, cholesterol, and calories. 
There are some other inspiring features. Te-Chef has made it an oven-safe at up to 450 degrees F and PFOA free.
The size is not very large, but it is also not very small. The product dimensions are 12 x 12 x 2 inches with a weight of 3 pounds. And this pan size is enough to make food for your family of six people in a single batch. 
The weight is impressively low. Hence, no need to fret if you've to transport or carry it from one place to another.  Sad to say that the Teflon coating might peel off if not used carefully. Moreover, the grill plate is too shallow and has low sides. Therefore the oil splash is common.
Pros
Attractive design

Perfect for making low-fat food

Durable material

Lightweight
Cons
Teflon coating can peel off.
Wherever you read the name Elite Gourmet, go for its grills without thinking twice. This 6 pounds black-colored chic Korean electric BBQ grill comes with a 14'' grilling surface. 
With its thermostat, you can control the temperature from 250 to 450 degrees C. This thermostat works at 120V or 1300W.
Not just this, but the grill features a circular heating element. So, the surface will become hot within no time. 
Everyone knows that cleaning a dirty grill is a troublesome task. But all the parts are detachable; you'll enjoy cleaning it effortlessly after enjoying your Korean BBQ. And it's the best Korean BBQ grill to buy in an average price range.
It's also a little higher in weight than the previous Korean BBQ grills. But still, 6 pounds isn't that much of a high value when it comes to getting a top-quality electric Korean BBQ grill. Weight is somewhat related to the dimensions. The body has dimensions of 17.2 x 17 x 4.1 inches. 
The best point is, it's smokeless, so place it indoors or wherever you want to enjoy your dinner.  Some additional features are PFOA-free, removable drip pan, non-stick cooking surface. Moreover, the cooking surface heats up so fast that you can instantly start using it. 
Undoubtedly, it's a fantastic grill, but sometimes, the non-stick coating might peel off. Secondly, it isn't very deep to make soups or other Korean dishes. 
Pros
Adjustable temperature range

Spacious cooking surface

Breezy cleaning because of detachable parts
Cons
Non-stick coating can peel off

Less deep grill pan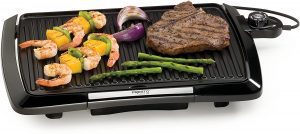 It goes without saying that Presto is a name of excellence for buying grills. Its model 09020 has all the attractive features that you'll love to have as your grilling device. 
This premium grilling pan can make food for four to five people because it has a 16 inches cooking surface. The grill comes with an automatic heat control system to easily adjust the temperature according to the requirements. Here, the maximum temperature is 400 degrees, and that's fine.
Some wrong thoughts have stuck into people's minds that electric grills have a high power consumption. It's wrong. This indoor table grill consumes just 120 volts or 60 Hz. 
There's a proper fat draining system to catch all the fat coming from the juicy meats and other foods. When it's full, you can slide it out and empty it easily.
Let's now move towards the dimensions and weight. This black-colored aluminum grill is 19.75 x 3.38 x 13.06 inches in sizing. Its weight is also going to amaze you. 
Okay, let's break the patience. Its weight is just 5.5 pounds. Please remember that this Korean BBQ grill isn't suitable for steaks, pork belly, and other beef dishes as it starts making smoke. And secondly, the temperature range isn't high. So, have it for veggies, fish, seafood, and burgers.
Pros
Light in weight

Less power consumption
Cons
Even the maximum temperature isn't high

Produces smoke with steaks and beef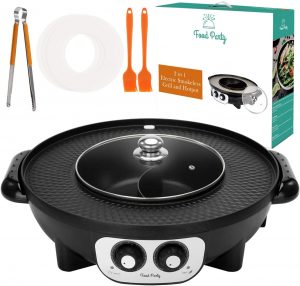 Are you looking for a grill that can be used as both a grilling device and a hot pot? Stop here.
You've caught the right product.  Food Party has gained 10,000 plus happy eaters with this Korean grill. With its fast heating technology, the smokeless grill becomes ready to cook food within a few minutes.
For both grill and hotpot, it works on just 1900W.  Making ribs, wings, mini sliders, and corn chowder and keeping them warm has become easy with this 2 in 1 grill and hotpot.  You must know that there's separate temperature control for the grill and hotpot. And the oil port will hold all the excessive oil to keep your food fat-free.
For cleaning, you can put it in soapy water. But the dishwasher isn't safe for it.  Item dimensions are 16.5 x 16.5 x 4.7 inches, and it's a little heavier in weight than the other grills. The weight is about 8.5 pounds. 
Sadly, for the shortcomings, the outer sides of the grill don't get proper heat to cook the food thoroughly. Still, for the ease of grilling, you won't mind picking it.
Pros
Cooks as well as keep food warm in hotpot

Spatial cooking area.

Easy to clean

Easy to control the temperature
Cons
Uneven heat to the outer sides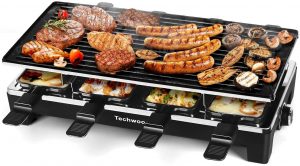 Do you want to have a Korean BBQ grill that has more than one pan? Fortunately, you have stopped at the right product. That's because Techwood Raclette table grill offers you not just a main grill pan but also separate eight cheese pans for making different cheese dishes. 
This Korean BBQ grill is perfect for indoor parties because a large grilling plate measures 19 x 9 inches. It functions professionally with just 120v 60Hz or 1500 watts.
Place sausages, pork belly, steaks, ribs, meat chops at a single time and get everything perfectly cooked. The best electric grill has an adjustable temperature of 392 to 536 degrees F.
Apart from this, the adjustable thermometer is with indicator lights. When buying grills, most of the peeps are worried if the grill is with non-stick coating or not.
But there is no need to worry about this grill as it has a non-stick coating of all the main and the additional pans.  The main grilling plate and all the eight cheese melting trays are removable and dishwasher safe. Thus, they are easy to clean. 
Yes, it's a little higher in weight than the other electric Korean BBQ grills. It weighs about 7.4 pounds with the dimensions of 19.1 x 5.2 x 9.2 inches.  The main problem with this grill is, there's no drip tray. Moreover, the main grilling plate doesn't get hot enough because the temperature range isn't suitable for cooking meat. 
Pros
Convenient to use

Easy to adjust the temperature

Airy cleaning as the grill is dishwasher safe.

The nonstick coating is long-lasting.
Cons
No drip tray

The grilling plate doesn't get enough heat.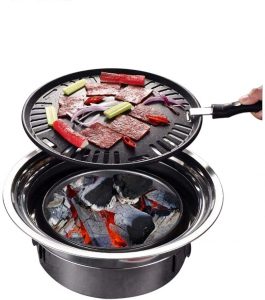 Out of all the products covered till now, this is the first charcoal grill. It's a tabletop smoker grill from Primst. Add this traditional Korean BBQ grill to your cart, and you are ready to enjoy the authentic smoky flavor. 
In this Korean BBQ grill, you'll get a 13.8-inch upper plate, and the bottom of this grill is about 9.3 inches. And the height is about 4.7 inches. 
Please remember that you can't adjust the flame in a charcoal grill. There are two ventilation holes, and you can easily adjust the flame. This Korean BBQ grill demands a small investment, and you'll get reliable quality in the form of thickened and anti-rust stainless steel material. 
Do you want to know how many pieces are in the package of this charcoal grill? It gives you a grill body, non-stick roasting pan, charcoal bowl, roasting mesh, pot stand, charcoal burning plate, and anti-scalding handle. Therefore, you can have an authentic Korean BBQ experience.
You'll be surprised to know that the weight is just 5.34 pounds with an overall size of 15.98 x 13.23 x 7.64 inches. It's a perfect grill for home, or you can carry it wherever you want to go camping. 
The biggest drawback is, there is no guide or instructions on how to set it up. If you are using this charcoal grill for the first time, you will face difficulty.  Moreover, the size is too small and not even suitable to make food for two people. Most importantly, it's tough to clean.
Pros
Easy to carry

Durable body

Easy to adjust the flame
Cons
No setup guide in the package

Difficult to clean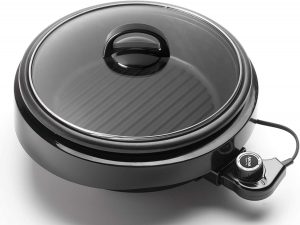 Aroma Housewares is well known for making electric grills. And our third best Korean BBQ grill is also from the same brand. 
Not just the grilling, but it's also good for stew and simmering too. So, you can consider it a 3 in 1 grill.
There is a temperature range of 300 to 450 degrees C. You can adjust it according to the requirement. 
This three-in-one grill provides you with a large 10 inches grill surface. Thus, it's perfect for making food for you, your partner, and your little ones. Moreover, the indoor grill comes with a 3-Quart aluminum pot. Cook your favorite grilled chicken bites, cheesy bacon, soups, or whatever you are craving for, and enjoy your dinner. 
Once you start using it, you'll say thanks to the non-stick coating, as it won't let your food stick to the surface.  As all the surfaces are dishwasher safe, there is nothing tricky in cleaning the grill. 
After reading the above features, you'll surely think this grill will have high power consumption. A correct guess in the previous product doesn't mean you'll always guess right. The power consumption is just 120V/60Hz and 1200W. 
What are your thoughts on its weight? Hey man, you caught it right this time! It's almost 5.2 pounds in weight, and the dimensions are 13.6 x 12.6 x 7.3 inches.  Wait a minute, do you know there is no vent to let the steam escape? And you can't use it for more than three people. 
In a nutshell, it's an excellent choice for a small family.
Pros
3 in one grill for a variety of tasks

Both a grill and a hot pot

Easy to clean and use

It heats up quickly to cook all food types.
Cons
Not suitable for more than three people

No vent for heat escape
Buying Guide for Best Korean BBQ Grills
Let's suppose you are with many Korean grills options in front of you, but you don't know what features the best Korean barbecue grill has. What would happen in that condition? Probably you'll end up putting your hands on the wrong product.
We've presented you the points you must know before buying Korean grills to save you from any critical condition. When you're able to differentiate which product to go for and which to go away from, you can't make the wrong decision. Here are some points you must know about the best Korean grills for barbecuing.
Types of Korean BBQ Grills
Before moving towards the buying guide, let us tell you that Korean grills are of different types.  They can be as given below,
Electric Korean BBQ grills are the easiest to use. They give a moderate heat level and don't get as hot as the other types.  The main point that leaves other options behind is, these grills are smokeless. So you can prefer to use it indoors than other grills. 
Stove Top Korean BBQ Grill Pans
The second type of Korean BBQ grill is the stovetop grill pan. These pans can work at higher temperatures than the electric grills.  You won't face the problem of smoke clouds as these are also smokeless. Moreover, they have a non-stick coating. So no problem with its cleaning as well. 
As the name shows, these grills need charcoal to start working. Unfortunately, these grills demand effort from your side before getting their benefits. 
But how?  You have to fire and bring the charcoal in a burning state to heat the grilling surface. After that, you can use it for preparing your food.
Oops, this charcoal will make a lot of smoke, so these grills are not preferable to use indoors but in small yards. Still, they can be your top choice if you love those epic charcoal flavors without heavily investing in big charcoal or wood pellet grills.
Korean Bbq Grill's

Plate

Capacity 
Neither the design nor the weight, but the plate's size or diameter is the first thing you have to pay attention to. 
Before buying a grill, ask yourself how many people you want to make food on a Korean BBQ grill. If you have a small family to feed, a small-sized grill with a 12 to 14-inch plate is good to go.  But for large groups or families with more than five members, go with a larger grill. Otherwise, you'll have to make food in more than one batch- that's quite time-consuming. 
Material of Korean BBQ Grills Indoors
Checking the grill material is not just important to ensure durability but also for users' health. And none can disagree with the previous statement.  For this, you'll get a variety of options.
Stainless steel, alloy steel, and aluminum are the most suitable options for Korean BBQ grill pans. We guess you want to know what makes these options preferable to other ones.
Is it so?  There are a few reasons. Initially, they have an excellent heat-bearing capacity. Secondly, they are with durable non-stick coating. You won't get your food stuck on the grill surface. Thirdly, they are easy to clean. What else do you need more to get attracted to a grill? 
Grease Tray of Best Korean BBQ Grill Pan
When we discuss the must-haves of Korean barbecue grills, no doubt there are many essential points. But the grease management system is the point you can't ignore.
That's because no one will like to see excess oil and grease coming down or from the sides of the grill.  There must be a proper grease tray to catch all the extra oil to avoid mess.  
Size of the Best Indoor Grill for Korean BBQ
How can we forget about the size? It's one of the most crucial points to keep in consideration. Indeed, you don't want to cover all your dining table space with a grill.
So, you'll avoid buying such a large-sized Korean grill. Instead, you'll pick a standard for the medium-sized cooking station.  Keep your available space in your mind, and then look for that sized grill in the market. 
Will you go for a grill that is superb in all the features except having a good heat range? Your answer will be "a big no."  That's because the only purpose of a grill is to cook food.
And if it's not with a proper heat range, is it going to meet your requirements?  Go for a Korean barbecue grill that's with a good heat range and high BTUs. The higher the BTU level, the more the burners provide heat. 
Weight of the Korean BBQ Grill
Here comes the point you were waiting for so long. Yes, weight matters a lot when you like to grill at a new place every time.  No matter if you are planning to grill indoors on your patio or outdoors during camping, if your grill is light in weight, you can easily carry it from place to place.  But if you don't want to use it outdoors, in that case, weight isn't an issue for you. 
Additional Features of Best  Electric Korean BBQ Grill for Home
There are some additional features as well. These include adjustable temperature, fast heat up, glass lid, easy to clean design, and dishwasher safe. If you have a grill with these additional features, it's too good. 
FAQs 
Why is Korean BBQ so popular?
Korean barbecue is popular due to its unique style. The Korean restaurants have fixed Korean grills to the center of the table. The customers are provided with marinated raw meat to cook and serve their food sitting on their dining table.
And this is a popular method in Korean cuisine.  Yes, you can enjoy Korean cooking at home. But having a perfect Korean grill is necessary. 
What kind of grills do Korean BBQ use?
Korean BBQ uses gas, charcoal, portable stovetop grills to cook the marinated kalbi or bulgogi. Not just these three, but the electric ones are also usable.  
Can you use a regular grill for Korean BBQ?
Amm yes. But you are going to face many problems with a regular grill.  Initially, it'll make smoke clouds making the cooking environment irritating. Secondly, Korean grills prevent even tiny slices of meat from falling through them. But if your grill has large spaces, it won't go well for Korean BBQ.  And lastly, your grill must let the fat run-off efficiently. 
How hot do Korean BBQ grills get?
Korean BBQ grills offer an excellent temperature range. They can touch temperatures of about 400 to 430 degrees F. 
Can I use an electric grill for Korean BBQ?
Yes, for sure. Electric grills are a good option for Korean BBQ. But you must ensure that the grill you are using has a high-temperature range and even heat distribution. 
Are Korean BBQ grills safe to use indoors?
Korean grills are primarily used indoors, and they are super safe to use. But if your grill produces smoke, please open the windows immediately and prevent using it indoors the next time. 
How can I use Korean BBQ plate as a stovetop model?
There is nothing tricky about using the Korean barbecue plate on the gas stovetop. Simply place the grill pan on the stovetop and let it get fully hot. Once properly heated, reduce the flame to medium level and put your marinated meat on it.  Keep on adjusting the flame according to the requirements.  
To Sum Up the Content
Isn't it satisfying to end your winter nights barbecuing in your home patio with one of the best Korean BBQ grills? Then go and buy one today. Summarizing this content, let us tell you that if you are brand conscious and want quality with a trusted brand, go for Iwatani smokeless Korean BBQ grill or Techwood Raclette table grill. 
For those looking for an extremely light Korean barbecue pan with die-cast aluminum and fluorine processing, the Iwatani Cb-p-y3 BBQ Plate is a perfect option for you. Having a spacious grilling surface along with other amazing features is also essential.
For this, the Presto 06857 model is worth buying.  But we advise you not to go with the flow. Check the product features and other essential points that we mentioned in the buying guide. After that, you can pick one that touches your heart. 
universitygrill.net is a participant in the Amazon Associate program and will earn from qualifying purchases.