It's a season of feasts. That means it's time for late BBQ nights and smoked beef ribs!
Are you also looking for top-quality beef ribs to make your BBQ night a hit?
Don't fret! We've found the perfect place for you.
That's right! Costco is the answer you're looking for.
Costco beef ribs and rib eyes steaks are of excellent quality. And you have tons of cooking options available, including baking them in the oven, smoking them with a Traeger, or grilling them outdoors.
In short, there are endless possibilities when cooking Costco's beef ribs! And we'll explore them all!
What are the Best Beef Ribs and Rib Eye Steaks at Costco?
Everybody loves variety. Costco fulfills that need immensely!
At Costco, you have a lot of options when it comes to beef ribs. The three basic beef rib cuts available at Costco are plate short ribs, chuck short ribs, back ribs and rib eye steak.
Each cut has distinguishing qualities of its own that set it apart. Let's take a look at each type.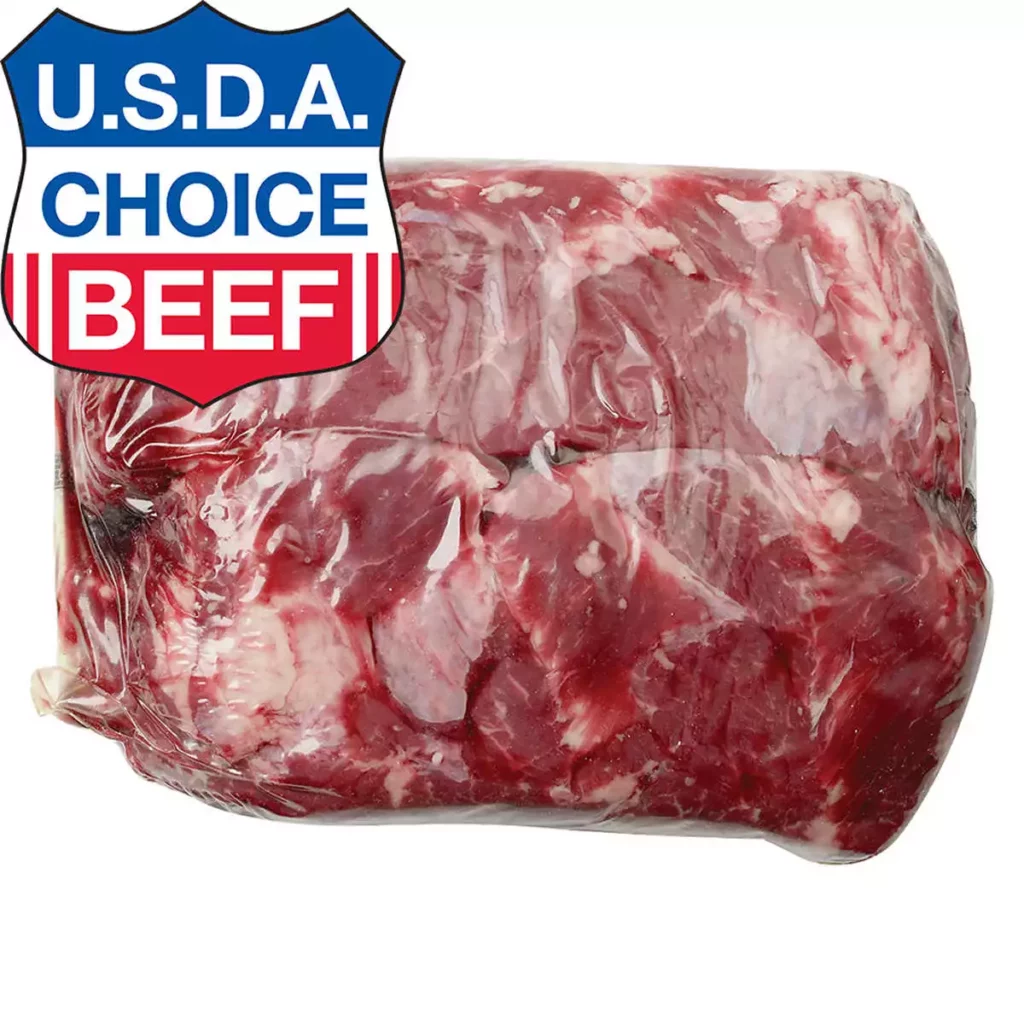 People love plate short ribs, especially in Texas, where they're frequently served with the state's well-known brisket BBQ. These ribs are exceptionally soft, meaty, and fatty. They're the perfect treat for meat eaters!
Costco sells its USDA Choice beef short ribs at the Costco Business Delivery website. It has less marbling than Prime-grade ribs. However, it's more popular among Costco's customers. It's tender and perfect for dry-heat cooking.
Costco's best-selling ribs are their beef short ribs. The ribs come in a pack of 16 pounds. So you can store them all season long!
Costco Business Delivery sells Kirkland Signature USDA Choice Beef Plate Short Ribs. However, you won't be able to buy them online. Currently, Costco does not sell short ribs on its website. But if you visit your local Costco warehouse, you might be in luck!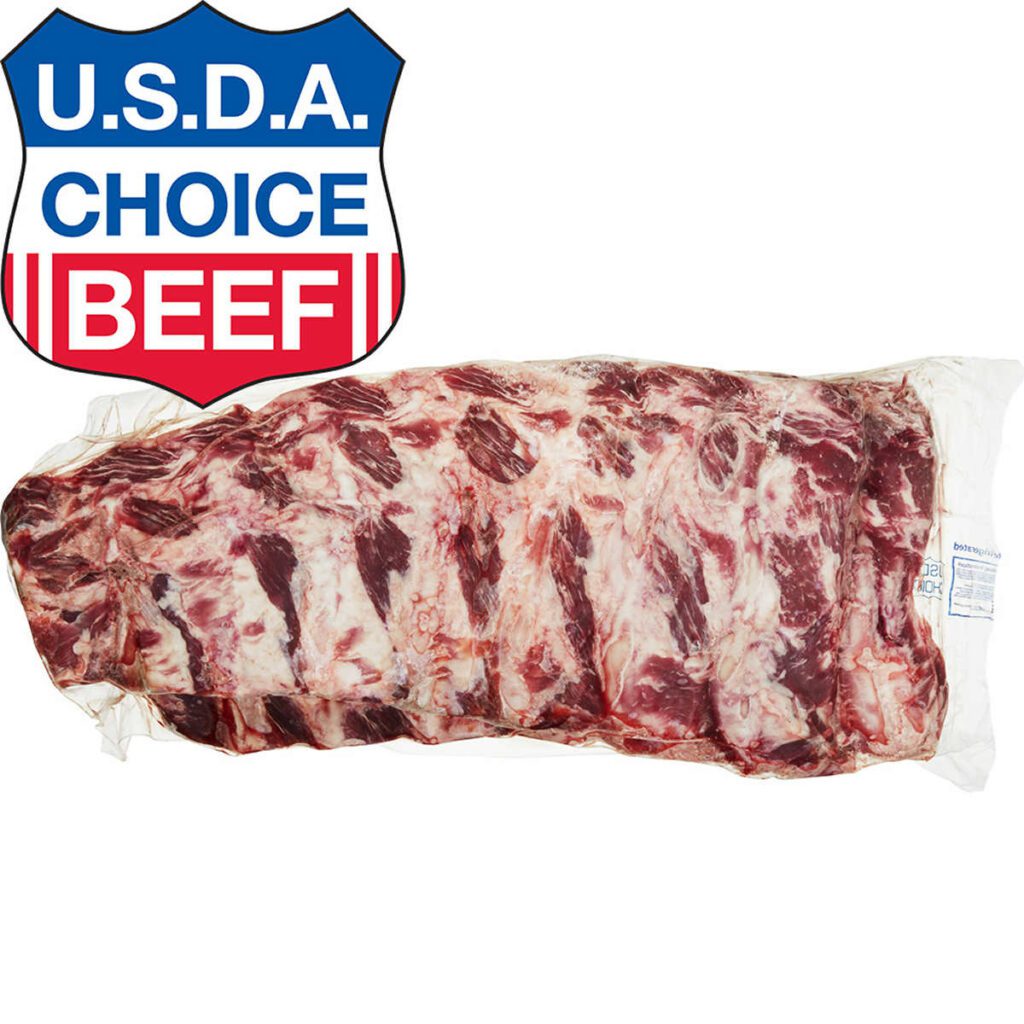 Beef back ribs are also available at Costco. The back ribs are obtained after removing the prime rib roast. This doesn't make the back ribs any less tasty. They're just as mouthwatering and flavorful as any other type of beef ribs!
If you love umami, you have to try out Costco's back ribs. They're beefy and savory. They can be chewy. But if cooked perfectly, they're the perfect meal!
These ribs come in a package of 6 pounds. They're perfect for cooking ribs for your friends and family!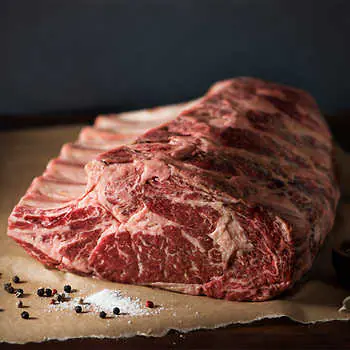 Everyone loves a good Ribeye because of its rich, juicy flavor. Costco's Beef Ribeye Roast is not an exception. It's highly marbled. With this 19-pound roast, you can make smaller roasts or cut them into steaks. It's the best-tasting beef cut!
It costs around $429.99 at Costco. It's more expensive than other Ribeye roasts on the market. However, it'll last you a long time and remain fresh!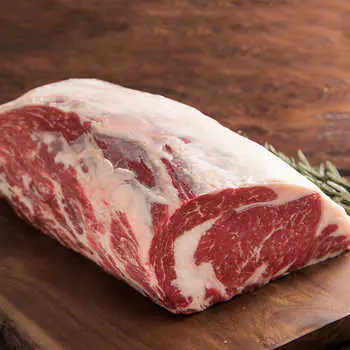 This rib roast is the talk of the town.
Check out this awesome piece of meat we've got! It's a hand-trimmed boneless black Angus prime rib roast with just the right amount of marbling. The suppliers have let it age in a wet environment for a good 21 days, which makes it incredibly tender and juicy.
All you need to do is season it up with your favorite spices, cook it to perfection, and prepare to be blown away by the mouthwatering, beefy goodness. You'll get a hefty 7-pound roast, all vacuum-sealed and ready for your cooking adventures. Trust me, your guests will be raving about it!
All you have to do is to marinate it in the seasoning, and voila! It locks in all the flavor. The result is a mouthwatering rib roast.
It comes in a pack of seven pounds. It costs $199.99 on Costco's website. It's the most tender cut of beef you'll ever experience!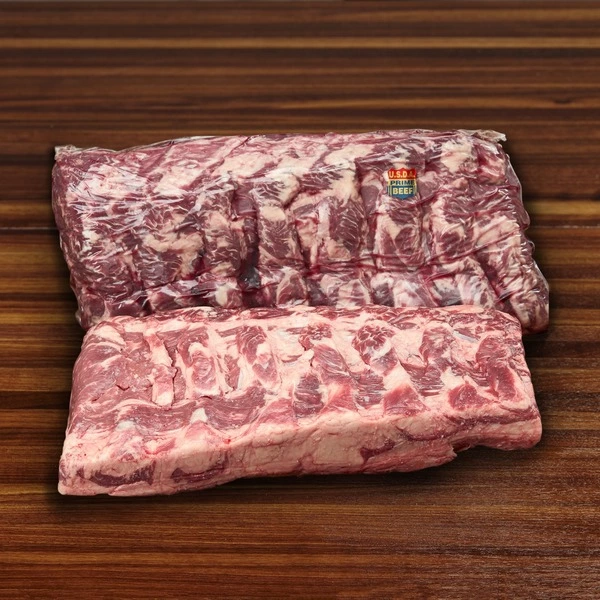 This Prime Grade Kirkland Signature Ribeye will exceed all your expectations for tenderness, marbling, and flavor. With boneless beef, you can enjoy the succulent flavor and tenderness of the meat. You can enjoy a fine-dining experience at home with such exquisite Ribeye.
Kirkland Signature Prime Ribeye at Costco costs $16.89 per pound.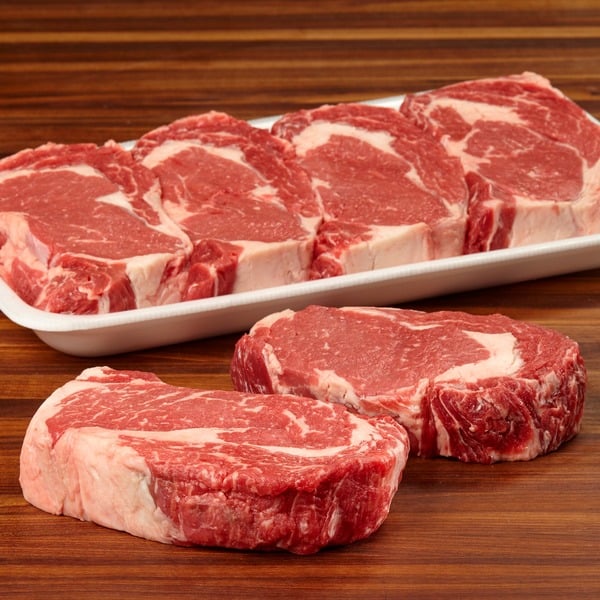 Kirkland Signature Beef Ribeye Steak is a popular staple for any meal. It's known for its rich flavor and beautiful marbling. It consists of the ideal ratio of fat to lean meat. It adds to the soft texture and exquisite flavor of the steak.
It costs $17.40 per pound. The boneless cut makes it more expensive than the bone-in Ribeye steak.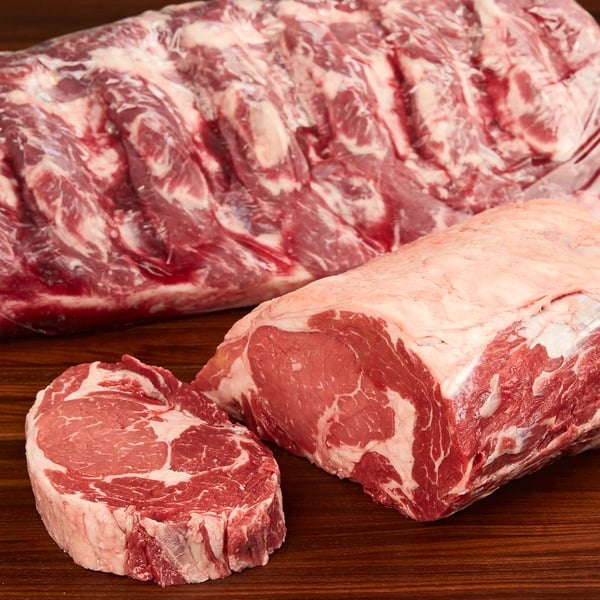 Kirkland Signature Ribeye is one of the best beef cuts at Costco via Instacart. You can cook it however you like. It has rich marbling. It has a delectable taste that'll leave you wanting more! Whether you're an experienced chef or a beginner, this Ribeye is sure to impress your friends and family.
It costs $13.73 per pound. With such an amazing price, this Ribeye is irresistible!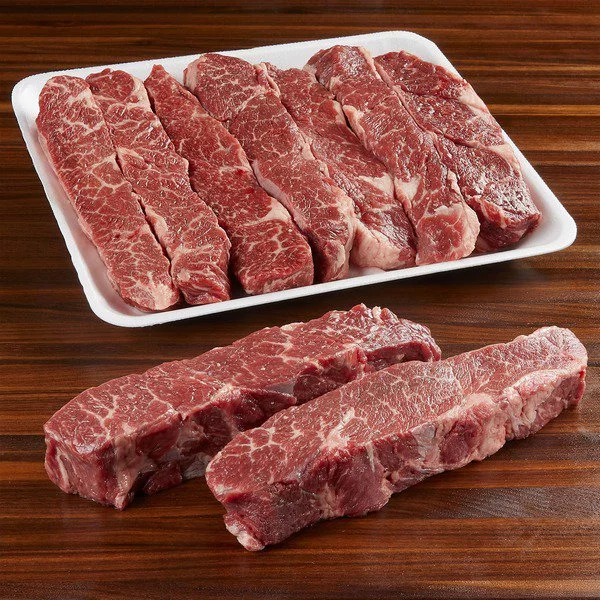 Conversely, chuck short ribs serve as the main course at every meal. They're less popular than short ribs. But they're much juicier and meatier than other kinds of ribs. Under the umbrella of Kirkland Signature, they come from the "chuck" area of the cow. You can snack on them or use them in your favorite meal!
Costco's chuck short ribs can be a little bit harder to bite on. However, you can make the most of these ribs using proper cooking methods.
Costco's chuck ribs are perfect for slow cooking. They're succulent and have a mouth-watering flavor. Whether you want to grill them or cook them on the stove, they're sure to satisfy your umami cravings!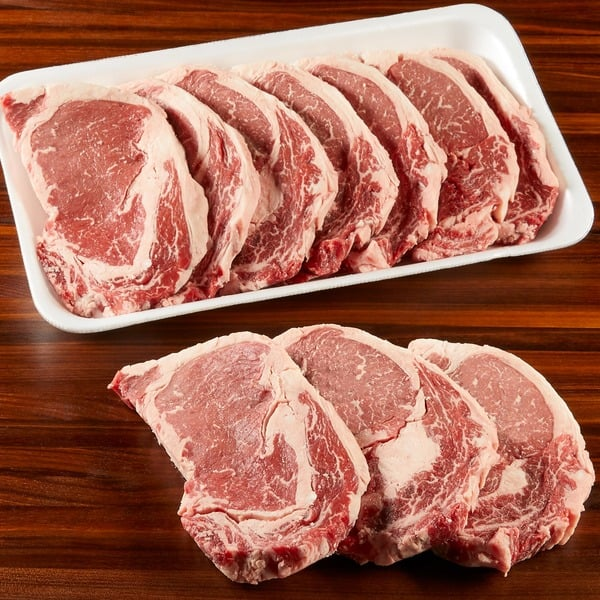 The last option, available to buy at Costco Via Instacart, Kirkland's Signature thin-cut mouthwatering steak promises a delightful eating experience. What makes it stand out is that it's boneless and thinly cut. It's easy and quick to cook. With enough marbling, this steak is excellent for grilling and broiling.
It costs $17.34 per pound. Kirkland Signature is known for providing excellent products at a reasonable price. It gives you great value for your money.
What're the Prices of Beef Ribs at Costco?
Costco beef ribs are not the most affordable. The price for beef short ribs at Costco ranges from around $6.99 per pound to $9.99 per pound. For a pack of beef short ribs, the cost will be around $30 and $60. Each pack weighs between five to eight pounds.
Costco has different options for its customers to choose from. For example, the USDA Choice short ribs are more expensive than other types of beef ribs. Short ribs are not the cheapest option. But they're worth the money.
If you're looking for a delicious and flavorful cut of meat, head to your nearest Costco store now!
How Should You Buy Costco Rib Eye Steak and Beef Ribs?
Sure, Costco sells high-quality beef ribs. But if you're a first-time customer or want to learn more about its products. We want you to make the most out of your shopping experience with Costco. That's why we've researched some important factors for you to consider.
Keep reading to find out!
Weight and Size
Costco has a range of different weights and sizes of ribs that you can buy. You can get whole plates or even 2-4 ribs as per your needs. So, whether you're throwing a BBQ or having a light snack, you'll have the perfect pack of ribs to enjoy!
Check the marbling.
You can examine the marbling on your beef ribs by comparing a few packs. This step isn't hard as you can see a clear difference between marbling of choice grade and marbling of prime-grade beef ribs.
Don't go for pre-marinated ribs.
You might think that pre-marinated ribs are more convenient than regular ribs. However, they might not always taste good. If you plan on smoking your ribs, we would suggest that you buy regular ribs and season them according to your liking.
Check the beef grades.
Costco sells different grades of beef. They sell middle-grade Choice beef ribs and the best-grade Prime beef ribs. Prime-grade beef is more tender than Choice grade beef. It has more flavor due to the equal distribution of fat. This makes it a superior choice for ribs!
Beef Membrane
Beef ribs have a hard and rubbery membrane on their back. So, remove the membrane before cooking your ribs.
Convenience
Cooking ribs is not the most convenient. Preparing the ribs can be a hassle. Not everyone has the patience to spend hours cooking and grilling ribs. It can take you a minimum of 2-3 hours to cook your ribs. Therefore, plan your time accordingly. And most of all, be patient!
How should you Cook Costco's Beef Ribs in the Oven?
Nothing tastes better than a rack of mouth-watering ribs. The good thing about Costco's ribs is that they're pre-seasoned. This means cooking them in the oven is a breeze!
The following steps will help you cook your beef ribs to perfection:
First, preheat your oven till it reaches the desired temperature (350°F or 176°C) for 5 minutes.
While that's happening, it's time to prepare the ribs. Place the ribs in a pan. Put the pan on a rack. To pack in maximum flavor, wrap the ribs in aluminum foil. Doing this will help the ribs stay juicy and moist.
Next, place them in the oven.
Cook them for about 2 hours. Check to see if the internal temperature has reached 190°F (88°C). You can use a meat thermometer for this purpose. Another way to tell this is to see if the meat easily separates from the bones.
Brush the ribs with a sauce of your liking to make them more flavorful.
After that, re-bake them for 20 to 25 minutes.
Now remove your perfectly cooked ribs from the oven. Let them cool down.
And voila! Go ahead, dig in, and enjoy!
How Should You Store Costco's Beef Ribs
So you prepared some mouth-watering Costco beef ribs, but you're unable to eat them all at once. Do you throw them out? Of course not! Here's to store them properly:
Prior to storing your ribs, make sure they have cooled to room temperature. Then, move them into shallow airtight containers. You can also wrap them in plastic or aluminum foil. It'll help stop any air from entering.
You can store cooked beef ribs in the refrigerator for about 3-4 days. However, we suggest that you eat them before that time. After that, your beef ribs will lose their flavor and texture.
Moreover, if you want to increase the shelf life of your beef ribs, try freezing them. Simply wrap them in plastic wrap or aluminum foil. Then put them in a freezer-safe container or bag. They'll last you 2 months in the freezer!
How Should You Preheat Costco's Beef Ribs?
Let's say you want to eat the ribs you stored earlier. How can you reheat them without losing their juicy, mouthwatering flavor? We're here to tell you!
Preheat your oven till it reaches 350°F (176°C).
Let the ribs bake for about 15-18 minutes. You can put them in aluminum foil for maximum flavor.
Check the internal temperature. It should be 160°F (71°C).
You can also reheat your beef ribs in the microwave or grill. However, we suggest that you reheat them in the oven.
Moreover, you can brush your favorite sauce on the ribs before reheating. You can also season them. This will give your ribs a fresh and new taste!
Serve and enjoy!
Conclusion
In conclusion, if you enjoy BBQs and grilled ribs, Costco's beef ribs selection is for you!
If you want to indulge in Costco's beef rib experience, spend extra money on a platter of prime-grade short ribs. At Costco, you can choose your meat the way you like it.
So why are you still waiting?
Head to your nearest Costco and get some succulent beef ribs.
It's time to grill!
universitygrill.net is a participant in the Amazon Associate program and will earn from qualifying purchases.