To help you get every slice as you want, we've reviewed these slicers keeping each meat slicer's reviews from real-time users in view, and also compiled a buyer's guide on choosing your meat slicer. Ultimately, it'll ensure that you get the meat slicing machine that is easy to use, clean, durable, and versatile. Here we begin.
Best Home Meat Slicers Reviews
We have chosen the best meat slicers, so you don't have to search for them alone.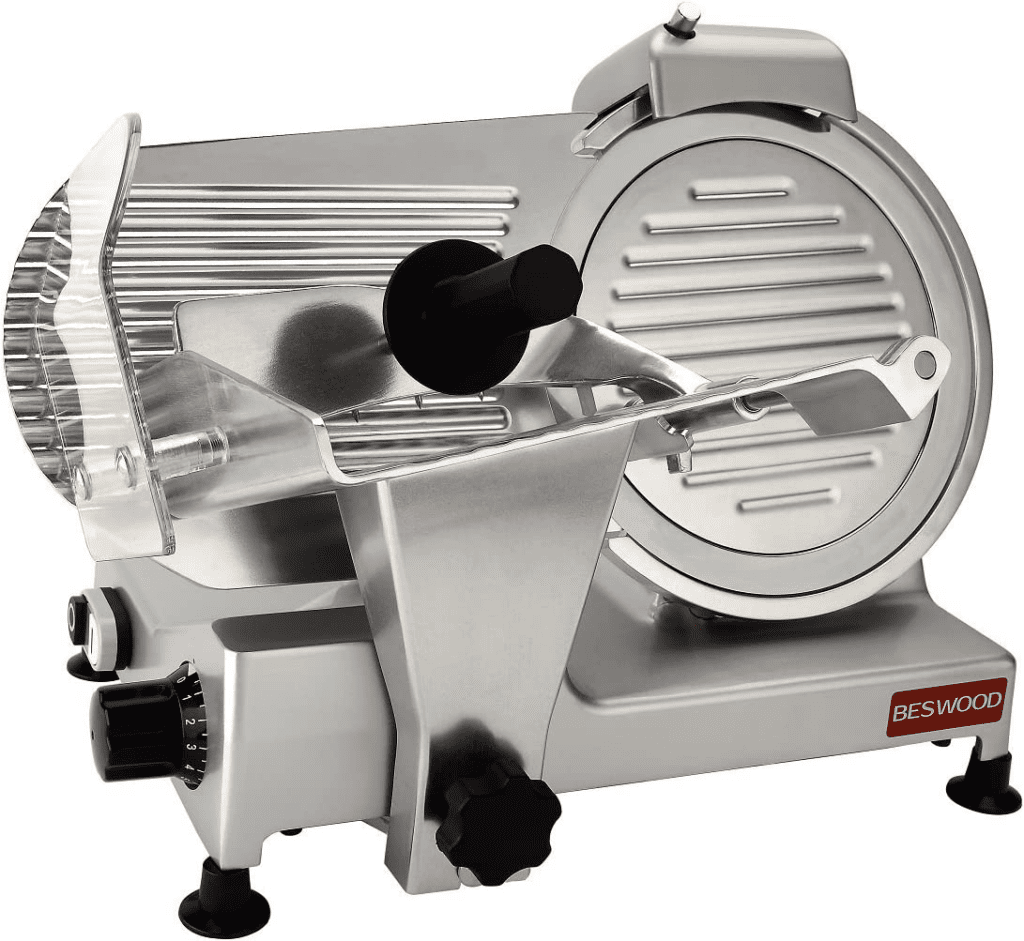 First, we have the Beswood meat slicer. It's great not only for home use but also for commercial use in kitchens, restaurants, and even cafes to offer you sliced meat in large quantities! Yet, it's not as pricey as commercial-grade units are.
The Beswood holds its own against the commercial counterparts!
Performance and Cost
This meat slicer is comparable to commercial-grade slicers for a reason! It comes with a 240W enclosed blade motor which outputs ⅓ hp! It'll slice through anything like butter! 
Beswood performs admirably in the kitchen. Even though you might cringe at the thought of a $300 meat slicer, it's value for money. Thus, if you can afford it, this meat slicer will last you a long time in the kitchen.
Size and weight
The Beswood is a 10-inch model. This tells us the blade diameter. It weighs about 33 pounds. This is pretty lightweight compared to how big it is. You'll be able to lift and carry this with no issues.
On the downside, for this size, you'll need enough space on your counter for it.
Daily usage and cleaning
The Beswood is a dream to use. It slices through meat like butter. According to the manual, the slicer is equal to a 13-inch Hobart deli slicer, which the company has sized down for miniature use. 
The weight becomes an asset when slicing. It stays planted on whatever surface you're using it on. The big tray table makes slicing so much easier, and the grabbers grab it as you slice! Ultra-thin slicers are also a non-issue for this slicer.
Cleaning the Beswood is more complicated compared to slicers just for home use. You'll have to disassemble the parts for clean-up. The whole process will take you about 20 minutes, but it's not that complex, and you don't have to remove the meat slicer blade!
Be careful during clean-up, wear cut-resistant gloves as the blade is super sharp! 
Additional features and durability
This Beswood meat slicer is a highly durable product. The material used in the blade is high-carbon chromium-plated steel. It'll last you years of use with proper care.
It also comes with a premium V-belt, which significantly reduces noise and vibration! It has a double illuminated on/off button and skidproof rubber feet too! 
The two-stone blade sharpener ‌maintains the sharp blade edge, which is another amazing feature.
Pros
Highly durable material 
It has sound and vibration reduction capabilities.
It can consistently slice meat, cheese, veggies, and even ham.
A powerful 240W motor 
The blade stays sharp for a long time.
Cons
It costs a lot just for home use.
It's big and covers an ample space on your counter.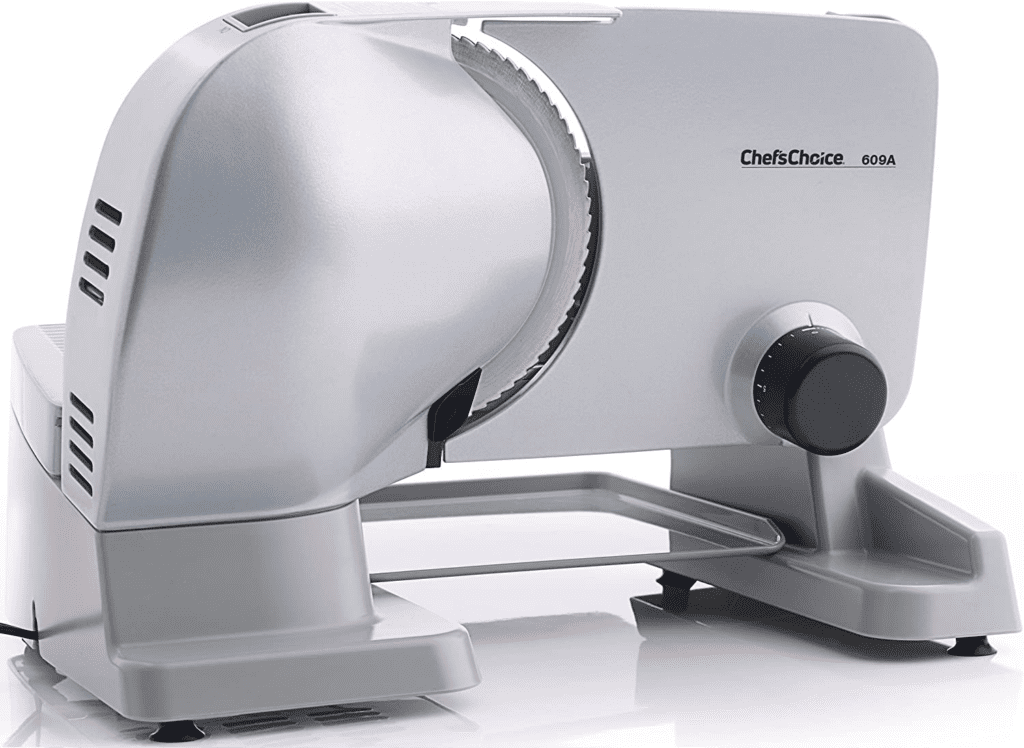 The Chef's Choice 609A electric food slicer is a rugged and robust machine that comes 2nd on our list. It's less expensive than Chef's Choice 615A electric food slicer by $10 — Chef's Choice 615A electric meat slicer is better for commercial use. 
With this, you'll be able to slice a wide variety of foods for many hours because of the high-powered motor.  
Performance and Cost
This meat slicer comes with a high-Performance motor that'll slice through even cheese without problems. The motor is excellent for running with a smooth and reliable gear drive for effortless cuts. 
Talking about the price, it falls in the middle of the pack. With the high workload and use it can handle in the kitchen, it's definitely worth the investment.
Design and Durability
The design of the Chef's Choice meat slicer is modern. It goes well with other metallic appliances. It's designed with a 7-inch multipurpose stainless steel blade that'll make quick work of food.
The stainless steel blade is rust and corrosion-resistant, so it'll take years of abuse. They make the internal gears of plastic, though metallic gears last longer. Nonetheless, it's a tough and rugged little machine, and the plastic gears are high quality, so you won't need to worry a lot.
All the structural components are cast aluminum and stainless steel, so the body is the last thing you'll have to worry about.
Ease of Use and Cleaning
All the parts are super easy to clean as they're all removable. The removable parts include the good carriage, food pusher, and thickness control plate. Coming to the usability, everything is straightforward; you can adjust the thickness with the dial, and there is even a safety lock.
The tilted food carriage also provides help when slicing foods for more efficiency.
Pros
The stainless steel and cast aluminum body make it durable.
It's easy to clean compared to other meat slicers.
It can safely slice any food
The tilted design makes it super easy to use.
Cons
The internal gear is made of plastic.
It's a little bulky.
The blade speed might be slow for some people.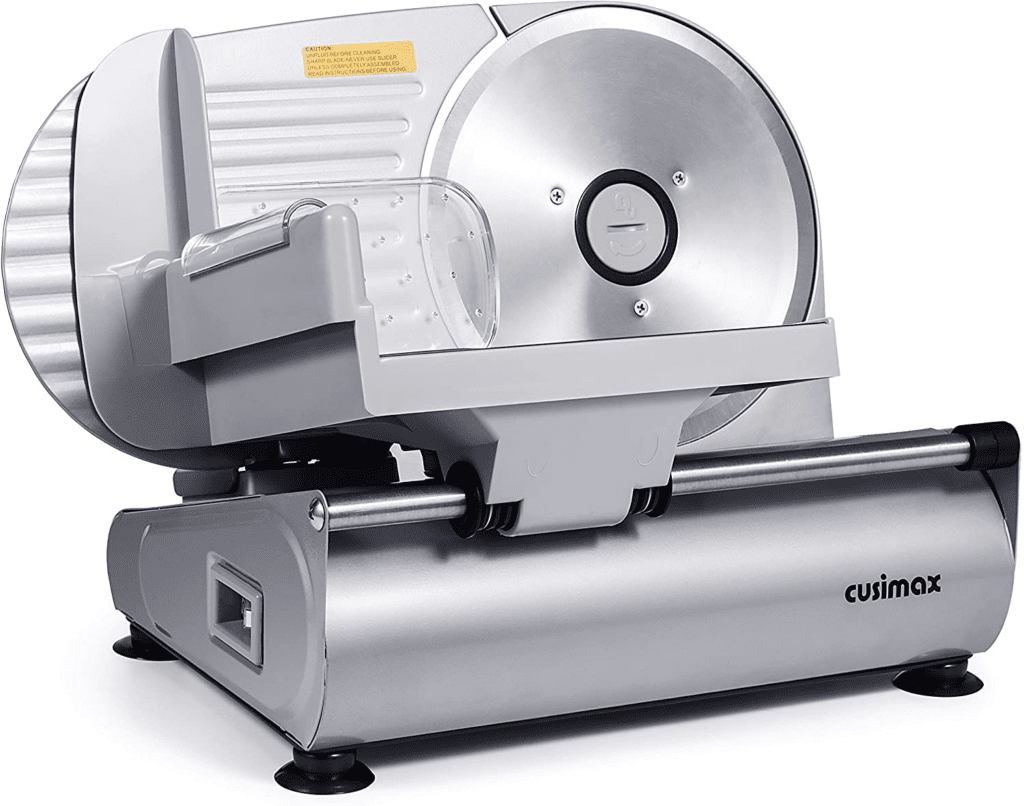 Next up here comes the Cusimax meat slicer with its unmatched slicing abilities. Once you buy it, there's no going back as it'll quickly become an indispensable assistant in your kitchen! 
With this piece of equipment at home, you'll be able to cut deli-style meat without any issues.
Slicing ability and Materials
First, the quality of the blade is amazing for the price. You don't have to lubricate it either, and it'll stay sharp and rust-free thanks to the 420 steel. 
It's super sharp and can slice through even the toughest of meat effortlessly. The meat doesn't even need to be frozen to slice.
While using the machine, it makes minimal noises, and everything you cut comes out evenly. Whether you need thin transparent slices or thick ones, this meat slicer will do your job for you easily and conveniently with its strong 200W motor.
Extra Features
This is a highly versatile product, and you'll be able to use it not just on meats but also on fruits and veggies. Besides that, it has a safety protection switch which you have to turn on or off when you need to use it. 
The blade guard and food pusher also protect your hands from the blade. The adjustable knob helps you adjust the thickness of the meat you're cutting. Beside these the strong suction rubber feet help the slicer keep stable when you're using it.
Ease of use and Clean-up
The parts of this meat slicer are removable. You can easily remove the blade and immerse it in soapy water for a few minutes to clean it up. 
Using the slicer is also a breeze, just place the food on the platform and adjust the food pusher to hold it. Just push the sliding table for easy slicing. 
Pros
The blade is super sharp and rust resistant.
No lubricant is required.
It gives you consistent slices of meat at your desired thickness.
Usage and cleaning is a piece of cake.
Cons
You can only run it for 10 minutes for a time before cooling down.
The 7.5-inch blade might be small for some.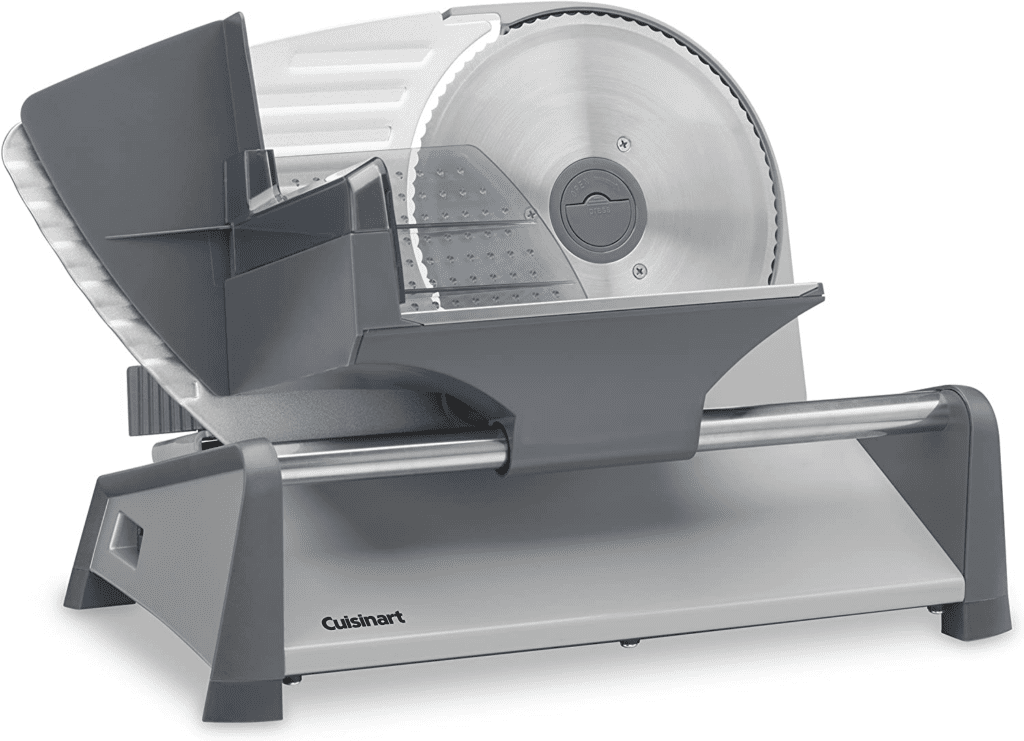 Next, we have the Cuisinart Kitchen Pro food slicer to slice meat, cheese, and bread on your countertop quickly and conveniently. If you're looking to leave your deli and move to home-up, cured, or bulk deli meats, this should be your choice.
Performance and Cost
The motor's power is necessary to keep running for a long time. Thankfully, this product comes with a heavy-duty 130-watt motor that can get most jobs done without problems. Cuisinart has designed this for home usage; although the motor isn't ultra-powerful, it's certainly not bad either. It's perfect for daily kitchen use. 
You shouldn't shove hunks of raw meat in it and expect ultra high-quality thin slices. It's a non-commercial kitchen product, and for $70, the quality of the product matches the price well. This product is undoubtedly worth the investment. 
The motor isn't super powerful. Therefore, it'll need to take breaks after every ten minutes.
Ease of Use and Cleaning
This product is relatively simple to use, but remember, different speeds of hand moving and heights make a difference based on what kind of food is being sliced. Also, don't push down too hard on the hand guard; it leads to inconsistencies.
On the downside, the parts aren't dishwasher safe, but hand-cleaning is a good option. It's pretty easy to wipe down and clean. The carriage piece can slant away, allowing you to clean the pieces out of it easily.
Going too fast will also result in uneven and inconsistent slices.
Durability
The cogs used inside this food slicer are made of plastic. Although that's not great compared to something that comes with a stainless steel cog, yet the plastic is super-durable and will last you years.
They also made the hand guard of plastic, but it's flimsy and not that strong. Therefore, you'll have to be careful with that so that you don't break it or hurt yourself.
Pros
It slices more consistently than a mandoline.
Its use, and clean-up are relatively easy too.
The slice thickness is adjustable.
Bread slicing is also consistent.
It'll save you money.
Cons
The plastic hand guard is not strong.
It needs a break after every 10 minutes.
The blade rpm is pretty low.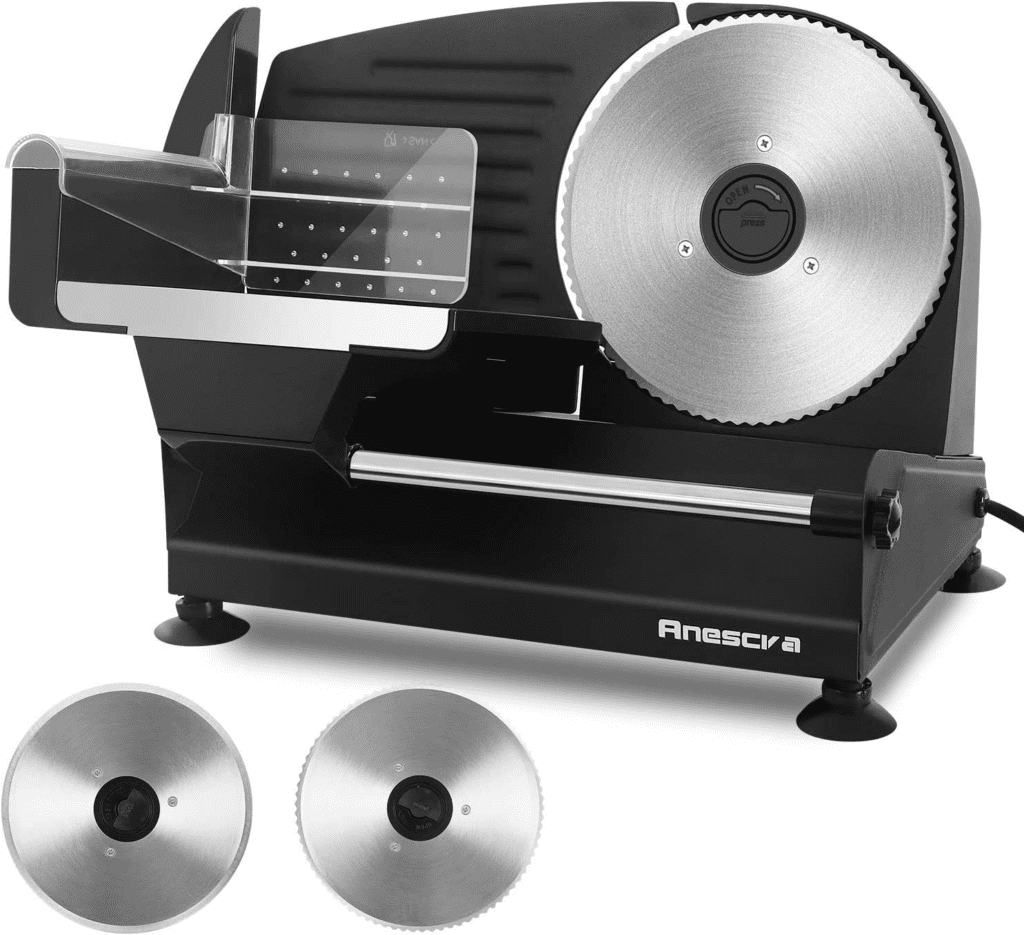 Here comes the Anescra Electric Deli Food slicer with a powerful motor and two removable 7.5-inch stainless steel blades! It's ideal not only for slicing meat but also for bread, veggies, and even cheese! So, if you want more convenience in your life, this is the slicer for you!
Performance, cost and durability
This meat slicer comes with a powerful 200W motor. This motor gives it fast and high-yield slicing power with the ability to slice through anything easily! It's like a saw, but for your kitchen!
The cost is also pretty affordable compared to the features! Of course, there are cheaper slicers out there, but with this slicer, your mind will be at peace, and it's value for your money!
Anescra has made this product from solid cast aluminum, which allows the body to last in the kitchen. They also made the blades from premium stainless steel, which won't rust or corrode!
Thus, this machine is highly durable and will last you a long time in the kitchen, withstanding years of abuse!
Daily usage and clean-up
This is a solid machine, and the design is ergonomic. Owing to the safety on and off switch, it's straightforward to use. 
You just need to switch it on and concentrate on how you're holding the meat. This also makes it safe as your hands will be away from the blade and protected.
The parts are seamless and easy to dismantle; this makes the clean-up an easy task. You can take apart the parts quickly and put them inside a dishwasher too! It only has three little screws you'll need to unscrew to take apart everything.
Extra Features
A great feature of this meat slicer is its sleek and compact design, making it the perfect size for your kitchen. It'll easily fit on most cabinets and countertops, so you won't have to move stuff around!
It comes with two blades, and one blade is serrated while the other one is smooth. You can use the serrated one for meat and bread while the smooth one for cheese and veggies. The food carriage is easily removable too.
You can control the thickness easily using the thickness control dial. It'll have no problem cutting paper-thin slices consistently. The suction rubber feet make it grounded and stable.
Pros
The motor is powerful, which makes this slicer super versatile.
The clean-up is super easy.
Consistent cuts of meat 
The size is compact, and the design is sleek.
Cons
The size may be small for some people.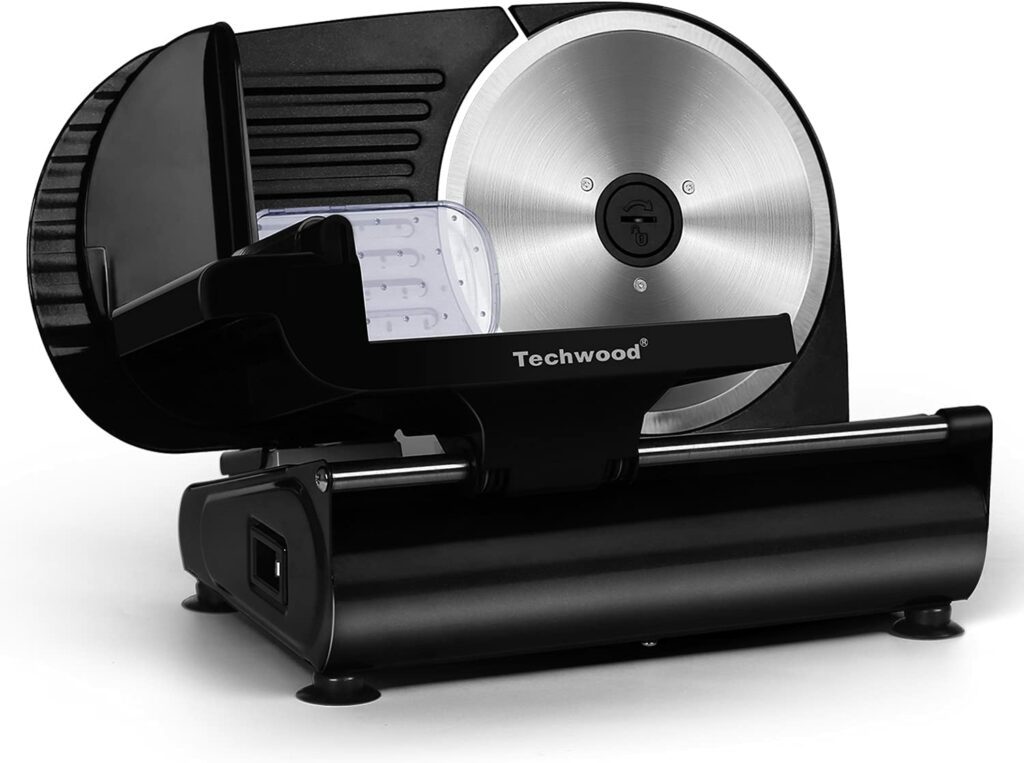 The Techwood meat slicer comes with amazing craftsmanship and a powerful 200W motor. This means you can use the slicer for a long time and much more frequently. This meat slicer will help you slice your hard food consistently and evenly while giving you excellent convenience.
Performance 
The Techwood meat slicer comes with a 200W motor with enough power to slice through the toughest of frozen meats. The ultra-sharp 9-inch blade is rust-proof, retractable, and removable. You'll be able to cut through any food with no issues.
In daily use, this product shines. It's not that heavy, so you'll be able to move it around quickly. The blade will maintain the thickness throughout slicing, no matter how thin you want the slices. Thus, the cutting ability is super consistent throughout.
Design and Durability
The bearing and belt drive structure for blade processing is a super-advanced design. The slicer doesn't require you to lubricate it. Thus, it's more durable and easy to maintain.
It's also durable thanks to the stainless steel blade and won't rust or corrode. It'll last you a long time in the kitchen.
Ease of Use and Clean-up
The set-up for the meat slicer is super easy. You can use it to slice through any meat; if you freeze it up a bit, it'll be even easier. The clean-up is also a breeze, as removing the blade is not an arduous task in this machine.
Be ultra-careful when cleaning the tray, though, as it's made of stainless steel with plastic housing. This means that the food particles can get stuck between plastic and stainless steel joints. The parts are dishwasher safe, so we can easily negate this issue.
Extra Features
The Techwood meat slicer has so many features, no wonder it made our list of the best home meat slicers! It's highly versatile. You can use it not only to slice meat but also to slice firm vegetables and fruits alike!
The slicing scale is also super precise, and you can use it to adjust the thickness of how you want it. It has suction cups on the bottom of the slicer, which stick to any surface so you have a stable platform to slice meat.
Pros
The design is super advanced and compact.
It's a highly durable slicer.
The motor and the blade are perfect for slicing all kinds of foods.
Clean-up is super easy owing to dishwasher safe parts.
The blade is super sharp.
Cons
They should've made the tray entirely from stainless steel.
It will heat up after more than 10 minutes of usage.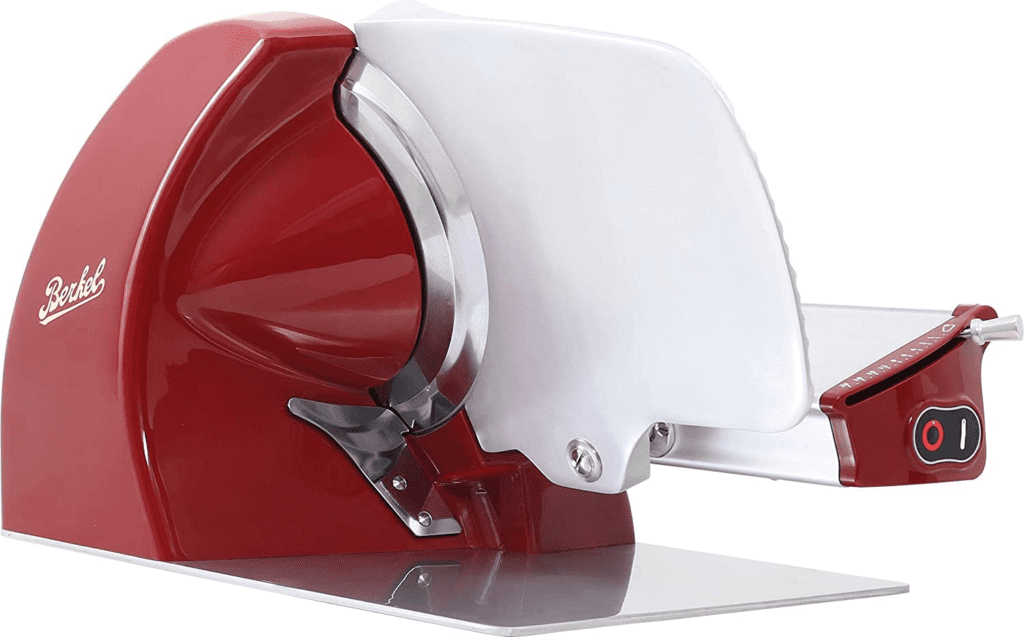 After you buy the Berkel Home Line slicer, you'll wonder why you waited so long in the first place! This beautiful meat slicer is an art for your kitchen, and it'll make the colors pop! 
Besides being beautiful, it'll also help you slice food with comfort and ease.
Performance  
The Berkel Home Line electric food slicer runs at 115V and 60Hz, and the chrome-plated steel blade is highly sharp for accurate cuts. In addition, it's resistant to any rust or corrosion, so it'll keep giving you transparent paper-thin slices for a long time. It also comes with a blade sheath for protection.
The Berkel will provide unbeatable performance and safety at this price level. Along with uniform and thin slices, it also reduces waste. It has an inclined table for further improvement of results.
Ease of Use and Cleaning
The design of the Berkel is highly innovative, along with beautiful craftsmanship. It's small in size and will fit comfortably on your countertop. The button panel has push buttons with LED indicators that'll be visible even in low light.
The parts of the Berkel are removable, and you'll easily be able to wash them. Besides this, they're dishwasher safe, so you can just throw them in the washer, and voila! Clean!
One thing to note, the removal of the blade requires a specific tool, the extractor, so make sure you have that as it's not included.
Pros
It's easy to use with a highly futuristic and durable design.
The parts are made from high-quality materials.
It's compact and will sit nicely on your countertop.
It'll give you paper-thin slices.
The slicing is consistent.
Cons
It's a little small for big cuts of meat.
Requires an extra tool for removal of the blade.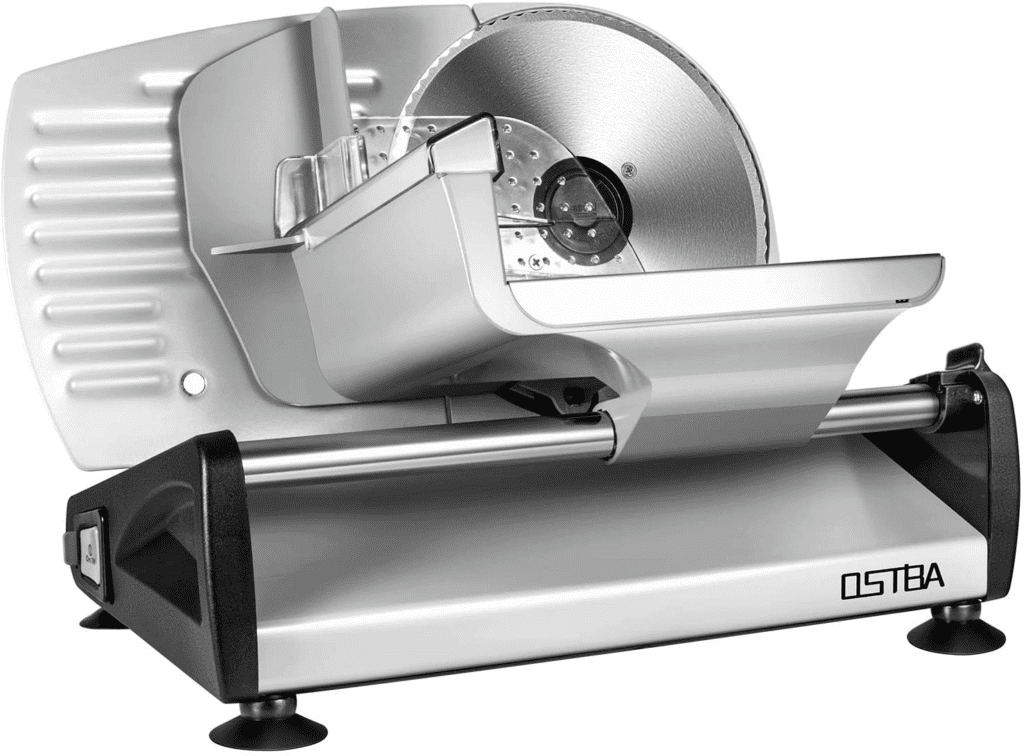 Last but not least, here comes the OSTBA meat slicer. It's a highly popular meat slicer worthy of being one of the best meat slicers. It's an appealing machine sporting a matte finish that won't devalue your kitchen. 
It's a great machine to make your meat slicing endeavors easier.
Performance and durability
The power of the motor in the OSTBA is pretty good for the price. It has a 150-watt motor that can power through meats and other food ‌ effectively compared to other models with 7.5-inch blades. 
They make the serrated blade from stainless steel, which makes it highly durable because of its rust and corrosion-resistant properties. It's made from high-quality materials, and the craftsmanship is pretty good. It'll easily last you 10-15 years of heavy use.
Is clean-up easy?
The OSTBA is easy to clean: the blade, pusher, guide rod, and the platform all come off easily using no tools. The back is also easy to clean with soap and water.
There is one issue, though: there is a small home at the bottom of where the blade rests. It's not a big problem, but the meat could fall there, leading to bacterial growth.
Features
It has many features that'll help you slice foods in the kitchen. To ensure that you are safe, OSTBA equipped it with a child lock switch which you need to press to turn on. You can adjust the thickness from 0-15mm using a knob, giving you consistent thin slices. The side rod is removable, so that cleaning is not a hassle for you either. In addition, the strong suction rubber feet help keep the slicer stable.
Pros
OSTBA used high-quality materials in construction.
You can clean it up easily.
The design is aesthetic and appealing.
It has a built-in whetstone to keep the blade sharp.
Cons
The blade rpm is not that great.
The blade is a little small.
How Should You Choose the Best Meat Slicer? Buying Guide
Let's see why you should opt for a meat slicer and what features you should consider.
Why should you invest in a home meat slicer?
Let's face the fact that not all of us are experts at handling knives; some of us get cut even while holding paper! Therefore, knives are dangerous and could cause a disaster on the counter! Thus safety is the biggest concern when buying a meat slicer.
Also, buying a meat slicer can save you a lot of money at the grocery store. Most of us choose to slice our meat at the store because it is a lot of money in the long run. It's also pretty easy to use; instead of doing it yourself, let the machine do the job while you rest!
You get uniform and thin slices by using a meat slicer. In addition, the meat slicer is also super versatile, and you can even cut bread, cheese, fruits, or veggies with it.
What are the types of meat slicers?
When looking for a meat slicer, remember that there are two types of meat slicers, a manual meat slicer, and an automatic electric meat slicer. Automatic meat slicers are more popular compared to the other options.
Manual meat slicers
As the name suggests, manual meat slicers require you to move the food manually while slicing. Compared to the other type, much more elbow grease is needed to operate them. They're also slower. 
If you want to slice up a high volume of food, though this option is better than a knife, it's still not too practical. Although they also provide uniform meat slicing, since automatic meat slicers have been introduced, the popularity of manual meat slicers is fading.
The manual meat slicers have a plus point, giving the user more control, and the meat slices have an improved texture compared to the automatic meat slicer. They're harder to come by than automatic meat slicers in the market.
Automatic Electric meat slicers
In your search for meat slicers, automatic meat slicers will probably make up most of the options you find. They're much easier to use and affordable, which makes them ultra-popular among the masses.
Electric food slicers do almost all of the work for you. The electric motor inside moves the carriage for you; thus, you must keep feeding the machine meat! Some even have an option to switch to manual mode to give you more control.
What features should you consider in your meat slicer for home?
Here are a few factors that you should keep in mind when you buy a meat slicer.
Performance and speed
The most important thing for an electric meat slicer is the performance of the motor. The power determines how long you can keep slicing the meat. Many food slicers need to cool down before you can use them again. 
This won't be a problem if you don't need to slice large quantities of meat, but it'll become annoying. You should go for a high-powered unit if you need to cut a lot of meat or even for frozen meats.
Durability
Do you want a meat slicer that only lasts a few months and breaks down constantly? Nobody wants that! Higher-end models' appeal is that they're made from more durable parts that can withstand a heavy load of punishment.
A higher price tag doesn't always mean durability, though; therefore, always do thorough research on the materials before buying a meat slicer for yourself. Metal parts will last much longer than plastic ones, talking about the internal components such as the gears.
Stainless steel is the most durable blade material you should look for. You should invest in a meat slicer that'll last you years instead of one that'll break down after a few uses.
Size and uses
The size of the meat slicer is another essential consideration that you should make when buying one. The first thing is counter space because if you don't have the space for it, you're better off not buying one at all. 
If you have limited space and only bring it out when needed, you should also consider things like the weight so that you can lift it easily. The blade and carriage size determines the meat slicer's functionality. 
Are you planning to buy vast cuts of meat and blocks of cheese? Then you'll need a giant meat slicer. The typical range for the blade length is 9 to 14 inches. Meat slicers also do other work. Therefore, they're also called food slicers sometimes.
Before buying, you should consider what you want to use the meat slicer. This will help you determine the specifications you want for your purchase.
Ease of use and cleaning
You're probably looking for a meat slicer to make slicing foods easier. Although almost all food slicers will be an improvement over a knife, some have features that will make your life even more accessible.
High-powered models are more convenient if you want to slice up a lot of meat as they won't need to take many breaks. If you need to slice significant cuts of meat, then a more large carriage won't have you trimming it to make it smaller. 
Some come with an extra convenient serving tray. Clean-up is the most significant factor regarding ease of use, as you should always keep your meat slicer clean and sterile. Although all meat slicers require clean-up, some are less hassle than others.
Most meat slicers have removable parts that make them easy to clean; one with not so many parts will have you trying to clean spots in tricky corners which are difficult to reach. Meat slicers with dishwasher-safe parts are the best option!
Noise
Most meat slicers are super loud. This can be bad for people who are sensitive to loud sounds. It can also disturb your neighbors! Quieter models cost more, but they're worth it as the difference in noise level can be substantial.
FAQs
Should I buy a meat slicing machine with serrated or smooth blades?
Serrated blades usually have sharp teeth lining on the blade edge. These teeth produce a saw-like motion when cutting meat. You should use serrated blades when cutting through lean meat or big chunks of meat.
Smooth blades are for thinner slices and produce finer results. They're also better for fatty meats.
What is a good wattage for a meat slicer?
The wattage requirement of the motor depends on the size of the blade, along with the type of food you want to cut. Standard seven to eight-inch blades need at least a 120-200 watt motor. For bigger blades, up to 12 inches, you will need a 320-420 watt motor.
Can I use the meat slicer to cut other foods?
Aside from the usual, that's slicing meat, and you can use most slicers to slice cheese, veggies, fruits, and even bread. They're also sometimes called food slicers for this reason.
Can I use the meat slicer to slice frozen meat?
The basic answer to this is 'yes,' but it's not recommended unless the motor is strong and the blade is a special kind. Most industrial-grade meat slicers are used to slice frozen meat.
Final Thoughts
We hope that after reading through the buyer guide and our specifically chosen meat slicers, you'll have decided on which meat slicer to buy.
We know it can be a significant task to find the meat slicer for yourself, but after this article it'll be a breeze for you!
universitygrill.net is a participant in the Amazon Associate program and will earn from qualifying purchases.