Outdoor grills come in handy when cooking for a large gathering. They're incredibly ideal for achieving classic, smoky barbecue flavors. They have a large cooking surface and allow you to cook multiple items in one go, giving you full control over the cooking area and heat.
Electric grills are sort of less traditional grills, rather unconventional options, even nowadays. While some audiences object to the not-so-charbroiled taste of electric grills, they're the healthiest option out there. 
Indeed, they won't impart the same smoky flavor you get from a charcoal or gas grill. They're the most efficient and accessible way to grill. You only need a power outlet to get them to work.
Just plug your electric grill into the wall or an extension cord, and they'll heat up rapidly.
Both charcoal and gas grills pose a safety risk as you're dealing with combustible fuel. Outdoor electric grills minimize the risks associated with grilling and grilled food.
Best Outdoor Electric Grills Reviews for You
The following outdoor electric grills have been carefully selected and reviewed. We've paid great attention to what products appear on our list, considering buyer satisfaction, features, durability, performance, and various other elements. Here we go.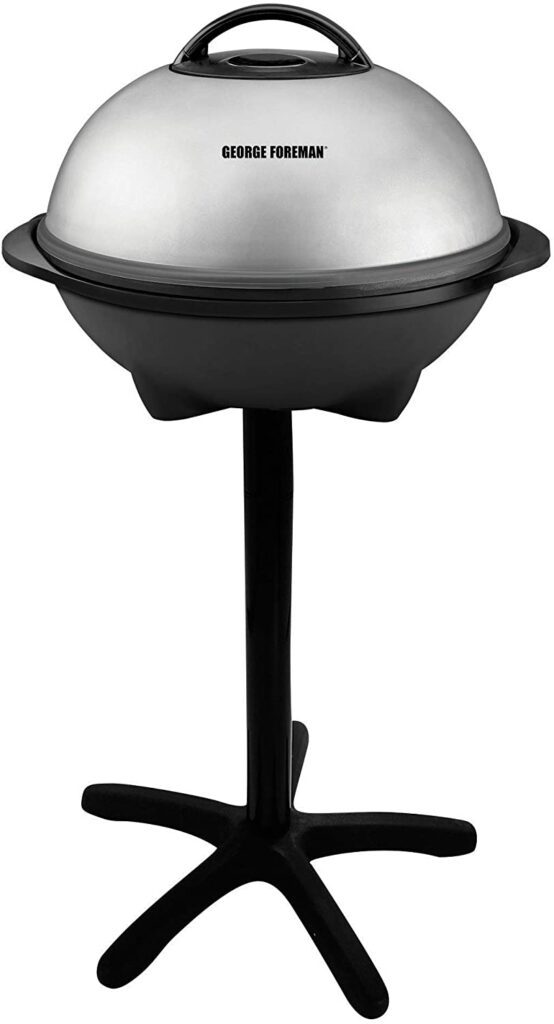 George Foreman Indoor/Outdoor Grill is an outdoor grill that doubles as an indoor grill, as it's equally suitable for balconies and small, compact places. While you can't expect the charbroiled flavor of a traditional charcoal grill, it does a great job grilling traditional foods.
The first George Foreman grills were contact grills, limiting your cooking practice to steaks, burgers, and other thin foods. This model is neither open nor a contact grill.
It features a domed lid over a removable cooking plate, allowing you much more overhead cooking space than the previous contact grill models. The flagship fat-draining system of the previous models is also there.
It's also versatile, allowing you to remove the cook box from the stand. Removing the stand, you can set up the grill on the tabletop or countertop through its four sturdy legs with rubber feet.
Design
The unconventional, distinctive design of the George Foreman electric grill makes it equally suitable for outdoor and indoor use simultaneously. The distinguishing features of its design are a dome lid, removable grill plate, disposable drip tray, temperature control probe, and a pedestal tube with a base.
The pedestal stand raises the grill to an appropriate height. The dome lid gives it a top-heavy feel, and the fat-draining system makes it easy to clean.
The cooking plate is continuous but has bumps to impart grill-like sear marks to the food. There's a flat middle groove with a pair of tubular cutouts near the front end. The middle groove dichotomizes the sloped cooking surface into two halves.
 Food juice and grease are channeled into the middle groove down the drip tray underneath the front cutouts.
The lid has a small vent to let out smoke and heat.
Performance
George Foreman's electric grill delivers an extraordinary performance. It has a large, round cooking surface that leaves beautiful grill marks on burgers and pizzas. The pizza cooked on it tends to have a crisp bottom crust. The cheese also melts well, probably due to the ridges and grooves on the cooking plate.
With a cooking surface of 240 square inches, the grill has significant room for searing steaks and seafood. When on high heat, the 1600-watt power unit raises the grill temperature to a whopping 450℉, highly unusual and extraordinary for an electric grill.
Since the cooking plate is continuous but not flat, fat and dripping from juicy foods run down the midline into the hole to collect in a drip tray underneath the hole. However, especially during high-heat cooking, the grease splatters out the sides of the grill, sometimes contaminating the tabletop. 
But you know cooking is always a little messy, isn't it?
It's advised that you preheat the grill for 10 minutes before cooking. It's also best to regularly season the cooking surface after cleaning.
The George Foreman electric grill has a simple dial with a light on it to indicate the grill is on. The dial is built into the cord, located at the end where the cord goes into the grill. 
It has five temperature settings as well as "off." When set at five, the heat is just more than what's needed for grilling steaks.
For best results, you should begin with high heat for the initial sear and then turn it down to let the cooking complete. Different pieces of the George Foreman electric grill are "snug fit," making it very easy to set up.
Final Remarks
The electric grill by George Foreman is matchless when you compare it with other best outdoor electric grills for the temperature range. Yet, you'll have to compromise on a few design flaws if its magnificent performance has caught you.
Pros
High-temperature range
The stand can be detached to use the grill on the tabletop.
Cons
When cooking fatty, juicy food, the grease and drippings tend to spill out over the edges of the grill.
Since the temperature control dial sits in the cord, the grill becomes practically useless if the cord falls apart.
Weber Q 2400 electric grill is an improved version of its predecessor, the Weber Q 240. The upgraded version features a larger grip handle, larger control knobs, and updated and ergonomic side handles. 
This portable outdoor electric grill boasts a 280-square-inch cooking area and a 1560-watt electric burner (or heating element), whatever you call it. The cooking grates are porcelain enameled cast iron, the lid and body are cast aluminum, and the nylon frame has received glass reinforcement.
Features & Design
The Weber grill features a sleek and catchy design. The grounded cord is six feet long, allowing you great freedom.
In addition, the temperature control dial is built into the grill. The barred thermostat just displays plus and minus signs. It would've been better if it had been labeled for precise control over the heat.
The grill also has a cast aluminum lid, just as it has an inner body of cast aluminum, which is excellent for heat retention. The frame is made of glass-reinforced nylon, yielding a sturdy and beautiful finish. There are two porcelain enameled cast iron grates. You can replace any grate with a griddle to achieve a versatile cooking experience.
A rapid-heating, corrosion-resistant heating element extends from the thermostat, just below the cooking grates, and bifurcates into two tubular burners for even, consistent cooking.
The inner cast aluminum body of the grill has a cylindrical hole that opens into a removable catch pan of aluminum for easy cleanup.
You can place the grill on a tabletop or any other surface to put it at a comfortable height. There is no folding stand, sadly. However, Weber sells a wheeled cart for the Q2400 grill separately.
Performance
The Weber Q 2400 is indeed the most powerful and outstanding portable electric grill. Allow to preheat for 15 minutes, and cook whatever you please over high heat. And besides, it cooks very fast compared to other outdoor electric grills.
Its cooking grates are similar to standard grill grates, unlike the sloped, continuous surface of the George Foreman 15-serving electric grill. Its standard cooking grates leave beautiful sear marks on your food without involving the health risks associated with gas or charcoal grilling.
The cooking surface heats up evenly with no hot or cold spots.
You can churn out as many as 12 burgers or steaks in one go, sufficient to stave off the hunger pangs of 3-4 people.
Final Remarks
Weber's electric grill is a must-have if you want your best outdoor electric grill to last the longest. However, it can be most satisfactory if you BBQ for small gatherings.
Pros
No assembly is required.
A powerful, corrosion-resistant 1560-watt heating element.
Built to last. Sturdy construction.
Compact yet with a lot of cooking space. Well-designed.
The thermostat is built into the grill and is not attached to the cord.
Cons
Not able to cook for a large gathering; may require a few rounds of cooking.
No built-in thermometer.
The thermostat doesn't have any labels for accuracy.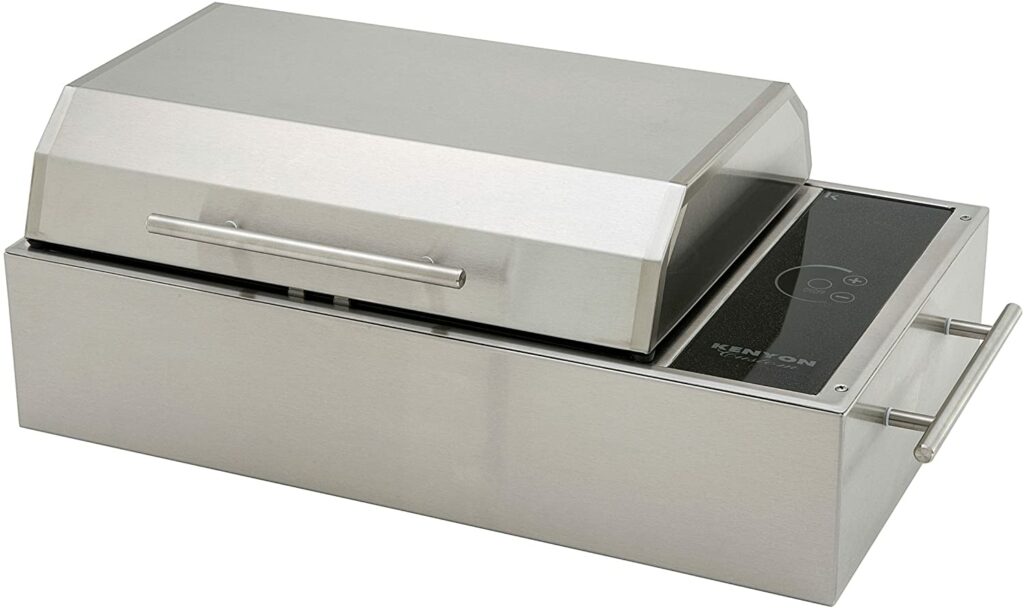 The Kenyon Floridian Electric grill can be plugged into a 120 V outlet and features a heating element of 1300 W that achieves a temperature of 600 F. The 155 square inches of cooking space is enough to handle up to six burgers in one go.
Kenyon, as a manufacturer, has roots in the aviation and marine industry, so they know "safety comes first." Most of the unit features 304-grade stainless steel construction and never rusts, as promised by the manufacturer. The insulated lid is removable for quick and easy cleanup. There are two side handles for easy pickup.
All parts of the Kenyon Frontier All Seasons Portable Grill are backed by a 3-year warranty.
Design and Features
The grill is rectangular with right-side digital touch controls for heat settings. The grill is available with the IntelliKEN Touch controller for precision temperature control. Its proprietary system allows you to monitor the discrete degrees of temperature in Celsius and Fahrenheit scales. 
The grill takes about 7 minutes to preheat and has a safety system that shuts the unit off in 60 to 90 minutes. The temperature control panel is waterproof to avoid accidental damage.
This grill has a double-coated non-stick cooking grate. The cooking grate is like a standard grill grate with ridges and holed grooves for letting fat and drippings run down into the drip pan sitting beneath the heating element.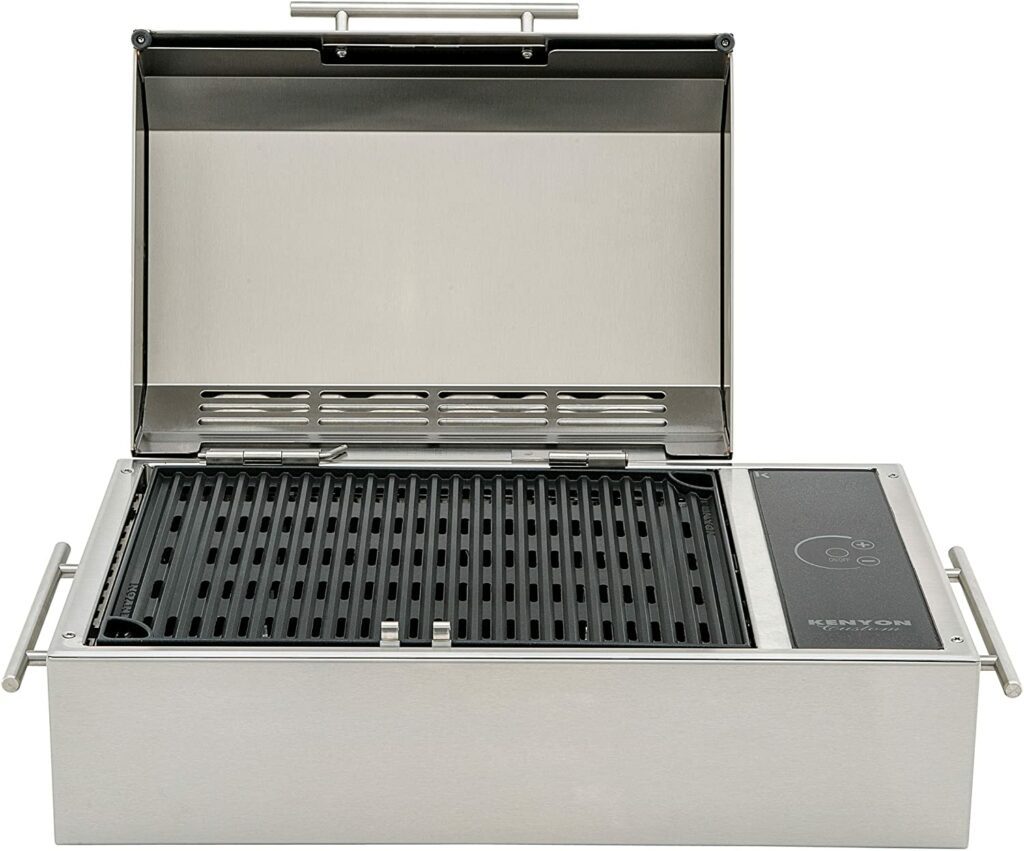 Instead of a messy metal tray for drippings, the drip pan here is an aluminum foil pan that you can just discard. Even more, the foil pan covers the entire area beneath the cooking surface, meaning there's no room for fat and juice to leak and spill out. The grease management system here does its job of collecting fat and juices very well.
The bi-tubular heating element is concealed by the underside, with specialized grooves on the cooking grate. This design accounts for the even heat distribution the Kenyon electric grill provides.
To diversify your cooking options, replace the cooking grate with a griddle. The griddle is sold separately and, like most Kenyon replacement parts, costs a hefty price. It's best if you buy the replacement parts from a third-party vendor.
Performance and Ease of Use
The Kenyon outdoor/indoor electric grill puts its competitors to shame in terms of performance. It heats up very well, and there are no hot, cold, or dead spots – the entire grilling surface heats up evenly.
And besides, the smoke that sets off fire alarms is out of the equation, even if you use it indoors. The reason is its heating element, which is concealed by the dedicated, carefully crafted underside grooves on the cooking grate, leaving no room for the drippings to fall onto the elements directly.
It'd be best to add 16 ounces of liquid, say water, to the drip tray to reduce the amount of smoke produced. You can also add lemon juice or beer for a better taste.
The grill is portable, so you can use it in your kitchen, on a tabletop, or put on a stand to cook outdoors. It's rectangular and great for the Yakitori style of cooking, allowing you and your family members or friends to eat while cooking.
Cleaning the grill is also easy. The grill top can be removed and put into the dishwasher. You can also wash it in the sink with a non-abrasive sponge and mild soap. Since the cooking grate is non-stick, the gunk comes off easily. Similarly, the drip pan can also be removed and washed with detergent.
We've found that the Kenyon electric grill is especially suitable for tailgating and camping as it doesn't take up much space in your RV.
Final Remarks
The Kenyon electric grill is indeed the best and most versatile to allow you to enjoy regular grilling, Korean BBQing, and unique Japanese-style Yakitori cooking on your camping sites and outdoors. Have it if you don't mind breaking the bank!
Pros
Built to last. There'd be no wear and tear after years of service, and the finish would stay the same as brand new.
Efficient grease management system.
Double-coated, non-stick cooking grate.
Well-designed.
Equally suitable for indoor and outdoor use.
It can serve as a good alternative for a Yakitori grill.
Cons
A hefty price tag.
Costly replacement parts.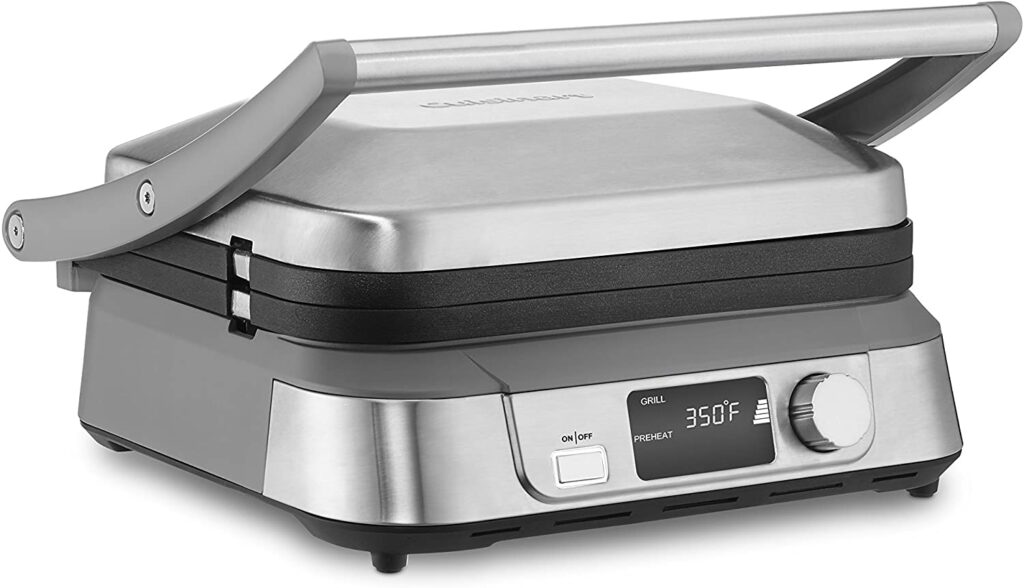 The Cuisinart Electric Griddler doubles as a panini press and outdoor griddle. We also love the fact that its cooking plates are dishwasher safe. Let's have a detailed review of this beautiful and utility-packed outdoor electric grill.
Features and Design
The Cuisinart Griddler features a sleek, modern look, LCD display, digital control, and a sear function. The handler, the lid top, and the front are of stainless steel. Cast-aluminum cooking plates are non-stick and dishwasher safe.
Each of the cooking plates has a flat griddle side and a ridged, sloped grill side. The bottom and top cooking plates are heated through separate but identical heating elements.
You can pop open the top and contact side with a switch on the handlebars. Each cooking plate can be released and taken off with a right-side button.
Due to the versatile nature of its cooking plates, the grill can function as:
Contact grill
Panini press
Grill
Griddle
half-grill/half griddle
Performance
The control panel consists of an ON/OFF switch, an LCD display, and a Select and Control Dial. Spin and press the dial to select between the following options:
Grill
Griddle
Temperature
Timer
The temperature range can be set between 175°F to 450°F in 25 degrees increments. You can set the timer in 30-second increments within 59- and 30 seconds limits. The auto-turn-off feature is missing, so it would be wise to switch off the grill when you're done cooking.
There is also a preheat bar to let you know when the grill is ready for cooking.
When the sear function is selected, the Cuisinart Griddler cooks your steaks at 450°F default sear temp for two minutes and then gradually drops the temperature to 425°F. It's a nice feature.
Also, note that the cooking plates can't be set to two different temperatures.
The cooking plates can also be replaced with waffle plates (sold separately).
Grease Management System
The Cuisinart Electric Griddler has an efficient, state-of-the-art grease management system. It has a rear grease management system, just like the Blackstone Griddle.
Each cooking plate is designed to channel food juices, drippings, fat, and grease toward the back into a grease tray sitting below, which slides out from the side for easy disposal and cleanup.
The grease tray tucks away slightly slantly (diagonally) through the side. When concealed, a small portion of it is visible from the back to collect grease tipping down from the cooking plates.
Final Remarks
It's an impressive outdoor grill both in terms of performance and versatility. What's more, Cuisinart offers a three-year warranty against defects in materials and artistry under normal household use. We can't recommend the Cuisinart Electric Griddler enough.
Breville Electric Grill is another beautiful outdoor grill with almost similar features to the Cuisinart Electric Griddler. Like its Cuisinart competitor, it, too, has a high positive rating on Amazon.
Pros
Doubles as a panini press.
It can be used as a grill, griddle, or half grill/half griddle.
A nice LCD display and digital control for various functions, such as grill, griddle, temperature, timer, and sear function.
Concealed, tuck-away grease tray.
It can be used as a waffle maker. (Waffle plates are sold separately.)
Cons
Some parts are not that snug fit.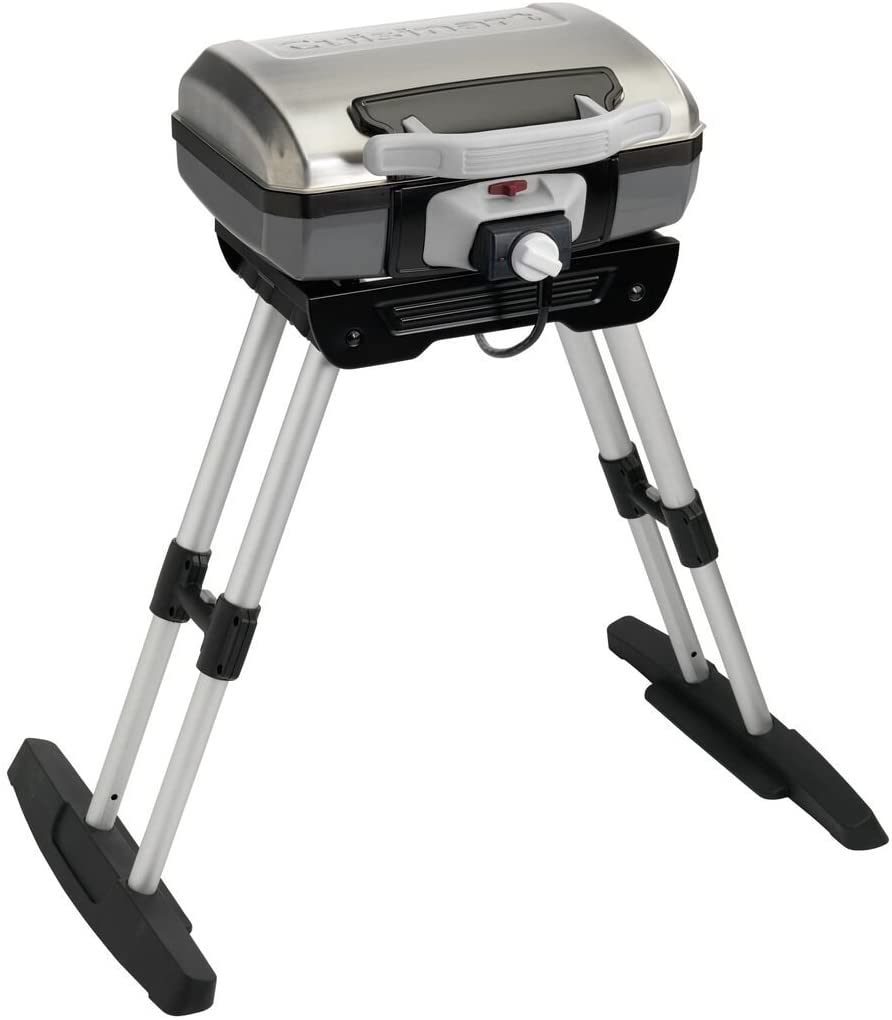 The Cuisinart outdoor electric grill is especially suitable for cooking on a patio or deck. But it has a folding VersaStand that allows you to take it anywhere outside, like camping.
When the VersaStand is folded, it doubles as an indoor grill and can be placed on a tabletop or kitchen counter at a comfortable height for cooking. The fact that its telescoping legs retract means you can store the grill in a confined place when needed, for example, during a rainstorm outside or in harsh weather.
The Cuisinart Electric Grill is suitable for outdoor use, primarily because the smoke it gives off can set off a fire alarm. Despite being an electric grill, we've noticed that it produces an amount of smoke that can easily trip a smoke alarm.
It plugs into a standard 120 V wall outlet, and its coiled, serpent-shaped heating element produces a whopping 5120 BTUs of heat per hour, which is a big deal for an electric grill. The heat produced by it is more than enough to create those beautiful sear marks on burgers, steaks, and chicken breasts that remind you of a charcoal grill. The porcelain enameled cast iron grate is sturdy and provides 145 square inches of cooking space.
Performance 
The Cuisinart Outdoor Electric Grill performs very well and even outperforms some of the outdoor electric grills of other known manufacturers. It has a big enough, powerful enough heating element to sear multiple steaks, hamburger patties, seafood, chicken thighs, and veggies in one go.  
You can cook for a maximum of eight people on this grill without cooking in multiple rounds.
 Design 
Now coming to the design, the grill has a majestic lid with a stainless steel inner lining to act as a heat reflector. 
The extra layer inside the lid acts as an insulator trapping and retaining the heat inside and as a heat reflector to direct the heat back onto the top surface of your food. Thus, it reduces the cooking time considerably. 
It also saves electricity by reducing the grilling time and removes the need for turning over the sides of your food to cook perfectly. The lid also has an easy-grip handle on the front. The lid is secured in place by a prominent button on the control panel.
The control panel of the Cuisinart Outdoor Electric Grill consists of a button for securing and releasing the lid, a light indicator to let you know when the grill is on, and an adjustable temperature control knob. To preheat the grill, spin the knob to "Max" and wait for 5 minutes while the heating element glows toasty red and hot.
Since the heating element is exposed to food juices and drippings flowing down, there can be flare-ups. The grill has a small drip pan that goes to the rear to help with effortless grease disposal. 
Grease Management System
The grill has a small hole on the right side of the lower part of the grilling chamber to channel the grease into the pan sitting below. However, most grease tends to accumulate in the lower part of the cooking chamber. 
The best strategy is to tilt the grill towards the right when it's still hot to funnel away the left-over grease into the hole. Alternatively, you can remove the cooking grate and clean the lower chamber. But it doesn't sound practical because the heating elements can't and shouldn't be removed.
When excess grease is present in the lower chamber, it can alter the taste of your food and even cause flare-ups. To avoid this, you should dispose of the drippings before cooking.
Final remarks
The Cuisinart Outdoor Electric Grill is backed by a whopping three-year limited warranty. It's an exclusively outdoor and portable grill but doubles as an indoor one. One of the most peculiar features of the Cuisinart Outdoor Electric Grill is its folding, versatile stand. The legs can also retract if you need to place the grill on a tabletop or store it. We absolutely love this grill.
Pros
Versatile stand with folding, retractable legs.
Specifically designed to be used outdoors.
Extremely lightweight and portable, yet stable enough to withstand accidental blows.
Gets hot enough to sear anything from steaks to smash burger patties to seafood.
Cons
Small drip pan.
The accumulated grease in the bottom can give off smoke during cooking.
What are Outdoor Electric Grills?
Outdoor electric grills are essentially heating elements fueled by electricity and topped with a cooking surface. Outdoor electric grills can be portable for tailgating and camping or of enormous size to only fit into a patio or backyard. Our guide and reviews include and address both types of outdoor electric grills.
Most outdoor electric grills have a slightly angled surface to let the grease run down the ridges into a drip tray. Some even come with food prep areas. Generally, they have a built-in thermostat with varying degrees of control overheating. For example, some models only have a low, medium, and high heat setting, and others may let you set the temperature to an exact degree.
Outdoor electric grills are cost-effective compared to backyard gas grills. They're also cheaper to run than their charcoal and gas-operated counterparts.
Things to Consider Before Buying an Electric Grill for Outside
The following are a few important considerations to make before buying an outdoor electric grill:
Type
Outdoor electric grills can be of various types, including the following:
Freestanding Outdoor Electric Grills
As the name implies, this type of outdoor electric grill refers to a standalone model. They can have a stationary stand or wheeled base for easy maneuverability across the backyard, deck, or patio. 
These grills are truly outdoor, have a large cooking surface, and usually come with more than one cooking grate. Sometimes, they can even have a warming rack to keep your food warm and other such features.
Portable Outdoor Electric Grills
These types of models are designed for tailgating and camping. Mostly, they can also be used as tabletops. They usually come with a tabletop stand, folding legs, a carrying handle, and a locking lid to keep the grill firmly in place while traveling.
These outdoor electric grills are less expensive and cater to the grilling needs of between two and four people.
Outdoor electric smokers/grill combos
Outdoor electric smokers/grill combos have a two-in-one functionality. With these types of smoker/grill combos, you cook your food at high heat, turn down the heat, and add wood chips or smoker pellets to get a rich, smoky flavor reminiscent of a charcoal grill.
There are two types of outdoor electric grills based on cooking grates:
Open grill
In this type of outdoor electric grill, there's only a single cooking plate that's usually large enough to handle a huge variety of vegetables and steaks in one go. This type resembles traditional gas grills for the patio and allows you to flip over the meat cuts for perfect cooking.
Contact grill
These types of outdoor electric grills come with a standard, lower grilling plate and an additional upper cooking plate embedded in the lower side of the lid. The two sides press against the food, removing the need for flipping over your food's sides. 
When the lid is closed, there's better heat distribution and retention; consequently, the food cooks lightning fast. Choose the type that suits you best based on your grilling needs and preferences.
Size
Next to the grill type, size is the second most important factor to consider when buying an outdoor electric grill. As a rule of thumb, any decrease in size reduces the grilling capacity of an outdoor electric grill.
You should choose a lightweight, smaller, portable model if you cook occasionally. It's the same if you're a frequent traveler or camper.
If you intend to cater to a large family or gathering, a wheeled electric grill with a large cooking surface may be the right option for you. A stationary outdoor electric grill is not the best option unless you have a roof or shade to protect your outdoor electric grill against a rainstorm.
Material
The following materials go into the construction of outdoor electric grills:
Stainless steel:
Stainless steel outdoor electric grills are known for longevity. In addition, stainless steel is rust-resistant, corrosion-resistant, impact-resistant, and yet lightweight.
Porcelain-coated cast iron:
Cast iron is also durable but prone to rusting. However, a good porcelain coating makes it as corrosion-resistant as stainless steel. It doesn't let the oxygen in the atmosphere interact chemically with the iron surface, making it last for decades.
However, one major drawback of porcelain coatings is that they peel off when the metal under them chips away. This happens to most porcelain-coated cast-iron cooking grates. When the porcelain coating is removed, it exposes the underneath iron surface to moisture and, in turn, rusting.
Sometimes, the porcelain surface can peel due to the metal brushes used for cleaning.
Non-stick Surfaces
Polytetrafluoroethylene, or Teflon coating, renders cooking plates on an outdoor electric grill with non-stick properties. Sauces, food juices, drippings, oils, and most food items don't stick to the Teflon-coated cast iron or stainless steel cooking grates, easing the hassle of cleanup.
Heat Output
Heating elements of outdoor electric grills are sometimes termed burners. These grills have one or more burners with varying configurations. For instance, in some models, there's one large round burner placed under the cooking plate centrally in some models. Sometimes, two, three, or four evenly-spaced burners are located beneath the cooking surface.
For most outdoor electric grills, especially portable models, there's a single convoluted burner extending out from one side and then looping or circling the base to heat the cooking plate evenly.
Additional features
One of the most important additional features is a digital control system. Such a system usually consists of a touch-sensitive LCD or LED screen for displaying info and controlling the temperature. Sometimes, touchpads or physical buttons may accompany the display.
Digital control provides more precise control over heat than temperature control dials.
Sometimes, an outdoor electric grill may feature a griddle plate instead of a grill plate. The main difference between the two is that the former includes bumps and ridges while the latter is a flat grill top or cooking surface.
Ratings & reviews
Amazon ratings and reviews are a great way to understand customer satisfaction and complaints regarding a specific grill. These reviews also speak about the ease of using, cleaning, and maintaining a particular grill.
When buying a grill, you should always consider the above-mentioned aspects before deciding.
FAQs
Are outdoor electric grills worth it?
Yes, being portable, easy to set and use, and versatile, the outdoor electric grills are worth every penny. They require low maintenance, and they last for several years. Thus, you never regret having them.
What is the best outdoor electric grill?
There isn't one. Each outdoor electric grill from our list qualifies for a certain reason. For example,
The Kenyon electric grill exhibits an attractive, innovative design and matchless performance, which is usually found in electric grills. Its higher price can worry you, but remember, it has premium grade 304 stainless steel construction to ensure longevity and sleekness.
George Forman beats all its rivals for its free-standing style. No counter required a unique design besides its highest temperature range.
The Weber electric grill is more durable and serves a small family excellently.
Final Thoughts
A careful pick among our experts' selected best outdoor electric grills by keeping your outdoor grilling needs in view can ensure a happy experience. You can opt for any, as all of them are good enough to cater to your outdoor grilling needs. BTW, which has been your favorite? Let us know by using the comment section below!
Happy cooking!
universitygrill.net is a participant in the Amazon Associate program and will earn from qualifying purchases.