Small electric grills are a great option if you cook for 2-4 people. They're portable and can be used indoors as well as outdoors. 
Since electric grills produce little to no smoke, there are no cries and woes of the fire alarm setting off. In addition, electric grills are safer than conventional charcoal and gas grills.
A small electric grill comes in handy when you're cooking indoors in a condo or apartment where real estate is lacking for a traditional grill.
Electric grills use a heating element for cooking your food—no burner, charcoal, or flame is involved, so there is no danger of flare-ups. 
Last but not least, small electric grills are generally affordable, easy to use and clean off, and more suitable for tailgating or camping because they're more lightweight than their gas and charcoal counterparts.
But the question is: How do I pick a small electric grill that suits my needs? Don't worry. We have got you covered. We have spent countless hours shortlisting a handful of products based on several criteria to save you time and let you make a confident buying decision.
Best Small Electric Grills Reviews 
The following list includes all the top-rated, time-tested small electric grills on the market. Here we go.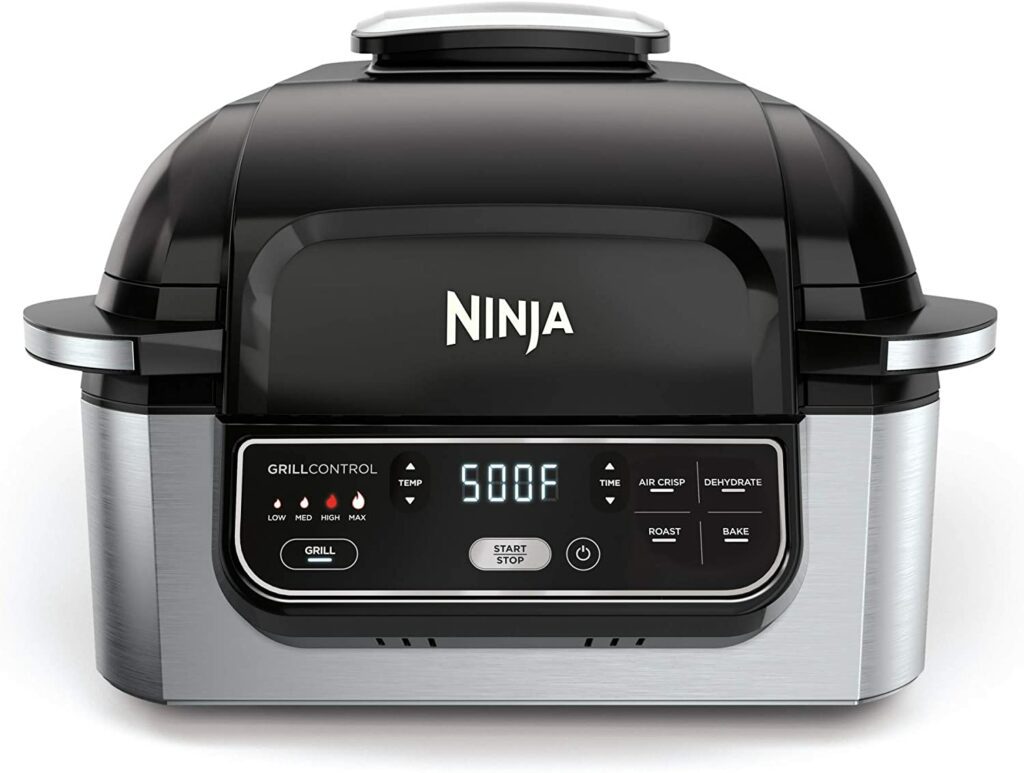 Many single-purpose appliances can be stressful, even if you have a fully organized, spacious kitchen/countertop. The remedy to this problem is a multi-purpose device that can do everything well.
The Ninja Foodi Grill is one of these kinds of multi-purpose appliances. In addition to grilling, the grill can air fry, bake, roast, and dehydrate your food. Even more surprising is that it costs you less than two hundred bucks and takes up very little space on your countertop.
Ninja claims that the grill's performance is on par with the cooking power of an outdoor charcoal or gas grill. The grill can handle frozen food and produce perfectly chargrilled steaks and burger patties in no time.
One of the most impressive things about the Ninja Foodi Grill is that it can act as an air fryer, an appliance that uses hot, circulated air to brown and crisp well like a deep fryer but without oil. The grill also serves as a dehydrator for drying fruits, vegetables, and meat. Its "roast" and "bake" functions resemble an oven.
Design & construction
The grill looks like an all-in-one printer or a huge bread box. It features a seamless stainless steel build with a black, domed plastic lid. 
It's the top where the heating element is located—the element directs heat toward the cook box when the lid is closed, so you can't use the grill with the lid open.
The grill measures 17 inches long by 14 inches wide and 11 inches high, giving a bulky, boxy appearance. Plus, it weighs under 15 pounds and is too hefty to be completely portable. But these measurements only add to the fact that the Ninja Foodi Grill is immensely stable and sturdy.
The cooking accessories include a (cooking) pot, grill grate, and crisper basket. These have a non-stick ceramic coating, are dishwasher-safe, and are free from potentially harmful PTFE/PFOA chemicals. Accessories posit quality and durability.
Features
The Ninja Foodi Grill features Cyclonic Grilling Technology, a top-down heat source producing up to 500 F of temperature. A powerful fan circulates the hot air rapidly to produce traditional grill-like char marks. The heat spreads evenly, and there are no hot, cold, or dead spots.
The smoke control system includes a metal mesh smoke screen that snaps in over the heating element to prevent grease splatter and reduce smoke—no worries about the fire alarm going off.
Touch-sensitive grill controls include one-touch buttons to power the on and off, cooking functions (air crisp, dehydrate, bake, and roast), cooking timer, and temperature control. You can adjust the temperature from 105 to 500 degrees F in increments of 25. By default, four temperature presets (low, medium, high, and max) are there with dedicated buttons.
Performance
The Ninja Foodi Grill sears, browns, crisps, and caramelizes nicely. It doesn't disappoint you with mediocre results.
The grill is easy to set up, operate, and clean up. Just plug in the grill, power it on, and let it preheat. Hold on for 5 to 8 minutes, and the grill should tell you that it's ready to cook based on your settings. That's all it takes to start.
Even more, after hours and hours of grilling, you don't notice any traces of the smoke. The grill cooks fast, and you'll need to watchdog lest it overcook your food. The included cooking guide is the best resource to learn about the time and temperature of the foods you cook with the Ninja Foodi Grill.
The grill's air fryer function is impressive. It's powerful enough to crisp the skin and caramelize it, whether salmon, chicken breasts, or steaks. It perfectly chargrills the meat even without flipping.
You have to lift open the lid to toss or flip over your food. While you can use a spatula or tongs to do this, it's not a good idea to keep checking your food's condition and tossing it as it increases the cooking time because of the top-down heat source. 
Since it's a small electric grill, it allows you to cook meat or salmon for four people max. The crisper basket is large enough to accommodate an entire bag of frozen fries—though you should never overcrowd the basket as it impacts the overall crisping performance of the grill.
Sadly, the grill's baking, roasting, and dehydrating functions are limited. Because it's a small and portable electric grill, you should only use these functions if your standard oven is away or overcrowded. 
Similarly, dehydrating plenty of fruits and vegetables is far from the scope and capacity of this small electric grill. You can do so in batches, which may take hours and may not be worth the effort.
Cleanup
The non-stick, ceramic-coated grill grate, crisper basket, and cooking pot are easy to clean by hand and dishwasher-safe. The metal mesh smoke screen is also detachable and dishwasher-safe. You can also clean the cooking pans by soaking them in soapy water.
Verdict
Ninja Food Indoor Electric Grill is equally suitable for baking, roasting, dehydrating, air frying, and grilling. But its performance as a grill even puts some gas and charcoal grills to shame, just as Kenyon Floridian electric grill beats any of the best outdoor electric grills.
It produces beautiful sear marks, browns the meat nicely, and creates a matchless caramelization whether you're cooking chicken breasts and thighs or ribs and steaks. Last but not least, you'd fall in love with its mesmerizing boxy shape, size, and design, not to mention the performance of this small grill which rivals traditional charcoal and gas grills.
Pros
Well constructed, sturdy, and durable.
Digital controls and displays are impressive, intuitive, and easy to navigate.
No smoke.
Easy to clean and maintain, cooking pots are dishwasher safe.
Multi-functional, can grill, bake, roast, air fry, and dehydrate.
Cons
The George Foreman Electric Grill has a domed cast aluminum lid that gives you more overhead cooking space than a contact grill. It includes an efficient grease management system and an easy-to-remove pedestal stand. Unlike a contact grill, the grill's functionality is not limited to steaks, burger patties, and other thin foods.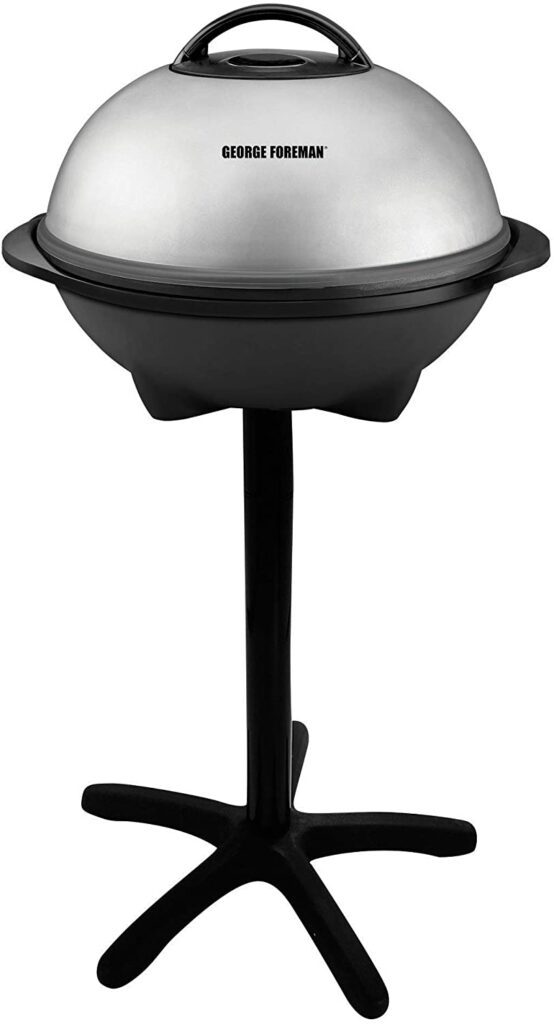 Features and design
The George Foreman Grill sits on a pedestal that raises it to a comfortable cooking height. It derives its top-heavy feel from the domed lid, but in reality, it's pretty lightweight yet sturdy and stable enough to stand a sudden, accidental blow when in use.
With the stand detached, you can use the grill on a countertop indoors. The lid includes a small vent but no temperature gauge. A knob inside the lid's center (dome) lets it hook onto the grill's edge, a nice feature to allow you to put the top aside to flip the food. It also allows you to use the lid as a windshield when cooking outdoors.
The grill is easy to assemble and use. All the pieces are snug-fit. Just turn on the grill and let it preheat before adding food.
The non-stick cooking grate has an enormous space of 240 square inches. The cooking plate is continuous but contains bumps and depressions to produce grill-like char marks. 
The middle groove cuts the cooking surface into two halves with a hole at one end. Food juices, drippings, and grease run down the main track into the hole, channeling away into a drip tray sitting underneath the hole. Remove the cooking grate, pull out the grease tray, and dispose of the grease.
Temperature probe
The 5-setting temperature probe is attached to the end of the cord. It's a lousy design because once the line is broken, you can no longer use the grill until you receive a replacement. You can't just plug in any ordinary cord because you need a specific cable with a temperature dial.
The simple yet sleek, innovative dial includes an indicator light to let you know the grill is on and that the specific temperature has been reached. The settings range from 1 to 5, in addition to an "off" button.
While the manufacturer doesn't specify the precise values for the temperature settings, the high is more than enough for most grilling. For this reason, the max location is perfect for the initial sear. After a few minutes of cooking at a high temperature, turning down the heat to finish the rest of the cooking is a good idea.
Performance
A test posted on the internet reveals that when cranked up to 5, the maximum temperature setting, the grill reaches a temperature of 450℉ within 10 minutes. It doesn't come as a surprise because, after all, it's a 1600-watt unit.
The grill eventually reaches a temperature of 500 degrees Fahrenheit. Even at a lower temperature than this, the sloped cooking grate surface produces beautiful, chargrilled sear marks on almost all types of meat.
The cooking surface heats evenly, and there are no hot or cold spots, thanks to the quality and design of the heating source.
One of the biggest problems with the George Foreman Indoor/Outdoor Grill is that it sucks most foods dry, especially meat. The issue arises from the sloped grilling surface that drives good, flavorful juices out of steaks and other foods into the grooves. Fat and food juices are channeled through the tracks into the drip tray below the cooking plate.
Portability
The portability of this grill is such that it also incorporates versatility. You can detach the round, dome-shaped grill top from the stand and relocate your cooking space from the backyard or patio to the kitchen. The grill sits on four sturdy rubber legs when removed from the pedestal stand. The low-profile set-up is especially suitable for tabletops. You can place the grill in the middle of the table and consume food as soon as you cook it, keeping your dish load to a minimum.
However, despite all this portability, it's still a tiny electric grill, and you need a power source, such as a home electrical outlet, RV, or generator, to grill on it.
But still, you can remove the slight nuance of a short power cord by arranging an extension.
Verdict
George Foreman Indoor/Outdoor Electric Grill has impressive features, design, and performance. It has a perfectly sloped cooking surface that removes not-so-healthy fat from the meat and channels it away into a removable, dishwasher-safe drip tray below. 
It does very well in terms of performance too. It sears meat exceptionally well and produces beautiful char marks. To allow the Maillard reaction to occur, you don't need to set the grill to its maximum—levels 3 or 4 are enough to brown and crisp the food nicely.
For this price, it's a worthy purchase.
Pros
Since it's incredibly portable, the grill is equally suitable for indoor or outdoor use.
Removable pedestal stand.
Non-stick sloped cooking plate.
Efficient grease management system.
The domed lid allows ample space to accommodate big foods.
Stable with snug-fit pieces.
Cons
Not as versatile as a contact grill.
The drip tray is small.
If the cord gets damaged, the grill becomes useless unless you order the replacement part.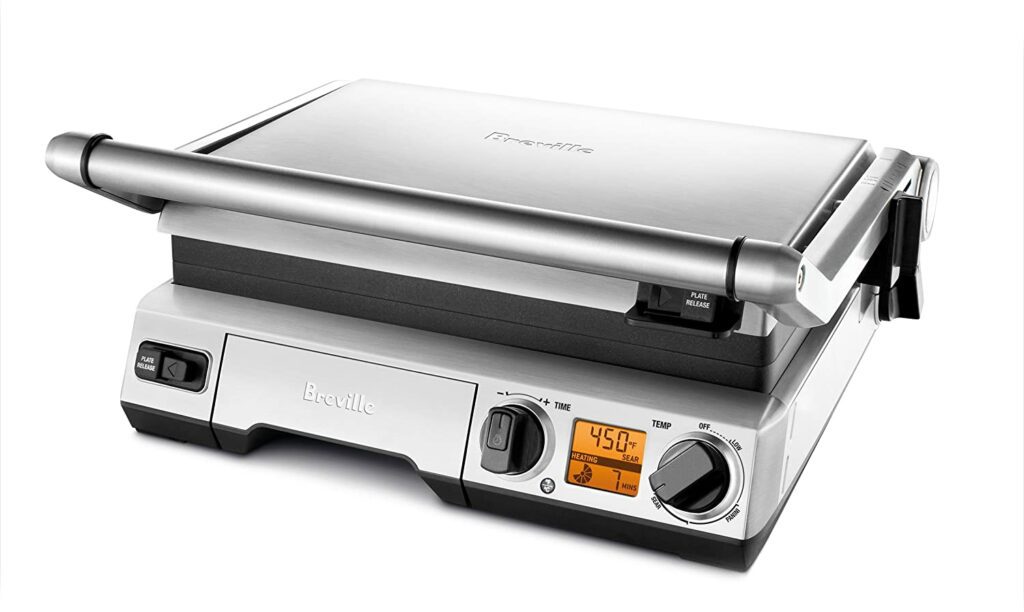 The Breville Smart Indoor Electric Grill has been aptly named. The "Smart" part refers to Breville's signature "Element IQ" technology featuring sensor-controlled heating. Due to this technology, the grill outsmarts and outperforms many other small electric grills, even those larger than it.
Features & Design
There is a ribbed grill plate and a flat one, both of which are non-stick, removable, and interchangeable. There's a separate "Plate Release" button for each plate. Additional ribbed or flat grill plates are sold separately.
The Breville Smart Grill functions as a standard, ordinary contact grill and an open-top, flat grill. The grill performs great in panini and barbecue modes because the top and bottom cooking surfaces have separate heating sources.
Using both the top and bottom cooking plates, you can press a panini or a hamburger in panini mode. Since you can adjust the upper cooking plate to 6 different height settings, you can press any food, from large sandwiches to small sliders, thanks to the grill's "hover lid" functionality. 
Open the top plate at 180 degrees in barbeque mode so the Smart Grill lies flat. This mode allows you to cook on both surfaces simultaneously, avoiding the hassle of grilling in batches. 
You can use this mode for cooking vegetables on one plate and searing meats on the other. As you can see, the Breville Smart Grill doubles its cooking surface while still being a small electric grill.
When the upper cooking grate is placed on the lower cooking grate, the Breville Smart looks like an ordinary contact grill. But the "hover lid" mode makes this grill unique. 
You can set the top plate high enough to hover over your food, for example, to melt cheese on top of your food. The adjustable top plate with floating hinges wiggles to accommodate foods of varying thicknesses. You can create open-faced melts by adjusting the top plate to the desired height to avoid touching your food.
This grill's two other worth-mentioning features are its "Element IQ" technology and heating elements embedded in the cooking plates.
Usually, the temperature drops when you place cold or frozen food on a grill. Most grills take time to recover from this, sometimes toughening the meat. However, this is not the case with the Breville Smart Grill, thanks to the "Element IQ" technology. Heat sensors embedded in the cooking plates can detect the slightest temperature drop and make rapid adjustments. 
When temperature loss is detected, the 1800 Watt heating elements rapidly compensate for the heat loss and inject enough heat into the system to recover back up to the previous temperature.
The grill plate sits on top of the heating element in most small electric grills. Such a design leads to sluggish transfer of heat and some heat loss. On the other hand, grill plates on the Smart Grill have embedded elements that make a rapid transfer of heat possible.
Temperature Setting and Control System
Digital controls on this unit consist of a temperature dial with Low, Panini, and Sear functions; a 30-minute timer with sound alert; and a temperature-responsive LCD backlit display that illuminates blue when in standby mode and turns orange when the unit is heating.
By default, the temperature readings are shown in Fahrenheit. However, there's a button to select between Fahrenheit and Celsius on the panel.
The grease management system on this grill is very efficient and beautifully designed. When in place, the drip tray sticks out slightly from the back of the grill to catch the drippings flowing down both grill plates. It slides out from the front to dispose of the grease.
Size
The Breville Smart Grill is a small electric grill with a cooking surface of only 130 square inches when used as a contact grill. However, Smart Grill doubles as an open-top grill, providing a cooking area of 260 square inches. You see, it's the most versatile small electric grill on our list.
Performance
Breville Smart Grill produces beautiful sear marks on meat and vegetables. With 1800 Watt heating elements, there's no question about the performance of this grill. It's specifically suitable for cooking open-faced melts, sandwiches, and smash burgers.
However, grill plates don't offer diverse cooking options due to embedded heat sources. You get only one ribbed and another flat grill plate. 
You need at least one more set of grill plates to cater to all of your cooking preferences. They're sold separately, so you have to pay a few more bucks to enjoy the full functionality of the Breville Smart Grill.
Verdict
The Breville Smart Grill is Amazon's Choice for several reasons—it's of high quality, reaches searing temperatures in minutes, and has an efficient grease management system. The grill becomes even more lovable if you buy an additional rubbed grill plate and a flat grill plate. It's worth the investment.
Pros
Heavy-duty, sturdy build.
Small in size but with a vast cooking surface, especially when opened flat to the Barbeque mode.
Heats up rapidly, creates beautiful grill marks on meat, and produces a chargrilled taste like your conventional charcoal grill.
You can adjust the top grill plate to 6 different heights.
Removable, interchangeable, non-stick, and dishwasher-safe grill plates.
Easy to clean.
Cons
Includes only one ribbed plate and one flat plate. To enhance your grill's functionality, you're forced to buy additional grill plates, which are also costly.
Zojirushi Indoor Electric Grill is a small unit with outstanding performance—-thanks to a powerful heating source embedded into the cooking grate. The design ensures faster heating times and better, even, and consistent heat transfer. And aside from this, the Zojirushi electric grill is easy to clean and has many excellent features. Here is a detailed review of the grill.
Design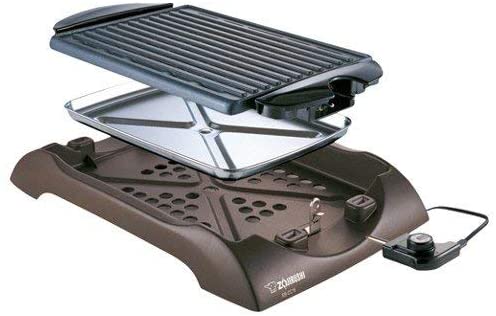 This grill features a modern, sleek design. It consists of a non-stick cooking grate, a metal drip pan, a plastic base, and a 62″ cord with an integrated adjustable temperature control dial.
The plug with an integrated thermostat resembles those commonly found with electric skillets.
The temperature controller has three settings (low, medium, high) and "off." The cooking grate has a heating element embedded into it, which accounts for the outclass performance of this grill. 
The metal drip pan sits under the grill grate and catches fat and drippings from the entire surface of the grate. It's removable for easy cleanup.
Performance
The manufacturer recommends applying a thin coat of oil before preheating for the best results. On average, the grill takes only 4-5 minutes to preheat. 
While the manufacturer states that the grill tops out at 410ºF, some online tests have claimed to achieve a temperature of 520 degrees F in 8-10 minutes with this grill. In practice, during long cooking hours, the average temperature of the grill remains close to 500 F as the thermostat kicks in several times to prevent overheating and, in turn, overcooking.
The Zojirushi electric grill adds a nice sear even at lower temperature settings. The grill reaches a sizzling temperature in a short time. It heats up efficiently and sufficiently to brown, crisp, and caramelize the meat well on the outer surface while retaining a juicy and tender internal finish.
Even when set to "medium," this grill produces enough heat for the Maillard reaction. It creates sear marks on the proteins in a manner that reminds you of a fully-stocked charcoal grill.
The cooking grate handles and plastic base remain cool to the touch despite reaching searing temperatures.
Verdict
This grill is perfect for 2-4 people living in a small compartment or condo. It has excellent searing capability, and the sear marks obtained are reminiscent of a full-fledged gas or charcoal grill.
High heat searing capacity means more grease splatter, but it's not exceedingly messy. Despite the dishwasher-safe metal drip pan and plastic body, you'll have to handwash the cooking grate.
Pros
Heats up readily and evenly.
High heat output.
Compact and modular components make it easy to store the grill when not in use.
The "safety interlock" feature prevents accidental plugging without the drip pan installed, preventing product damage or a potential fire.
Long cord.
The plastic base and drip pan are dishwasher safe.
Cons
Due to the embedded heating element, the cooking grate is not dishwasher safe. You have to clean it manually, which takes a lot of effort and care.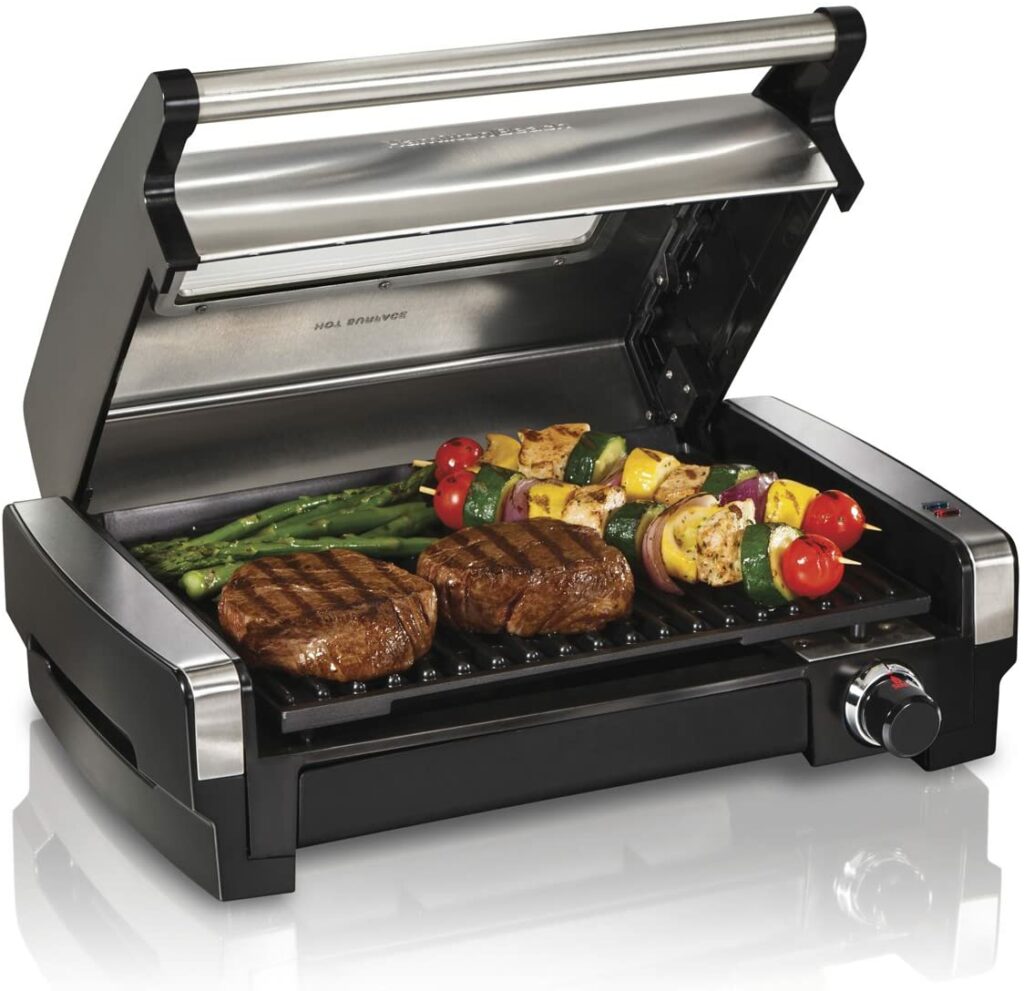 Hamilton Beach Electric Grill is Amazon's choice, with an average rating of 4.5 from more than 16k reviews. Here's an in-depth review of the grill.
Features and design
Thanks to its modular and snug-fit components, the Hamilton Beach Electric Grill is easy to assemble. Just unpack and make the grill; no need to look at the instructions.
Overall, this grill is made from quality materials. The components include:
An easy-to-clean, non-stick, ceramic, dishwasher-safe grilling plate.
A dishwasher-safe, removable lid/hood with a see-through window lets you watch your food cook while keeping the heat inside.
An extra-large, dishwasher-safe, removable drip tray.
A plastic body.
There are two power and preheat LED lights on the right side—a red indicator light glows when the grill is on, and a green light illuminates when the grill reaches your desired or set temperature. It's a nice feature that removes a lot of guesswork.
There's a temperature control knob on the front to adjust the temperature in increments of 50 degrees. The grill tops out at 450 degrees F—remarkable because, after all, it's a small electric grill. Indeed, 450 degrees F is enough to produce beautiful sears.
The 118-square-inch cooking grate with the embedded heating element is perforated to mimic the lines and appearance of conventional grilled food. Since the large drip tray sits just underneath the grilling plate, food drippings and juices easily fall into it instead of running off the surface as in some other grills. 
There'd be no grease spills with this grill. The drip tray slides out from the front for easy cleanup. This grease management system is more efficient and makes cleanup a breeze.
You can see that almost all components (except for the plastic body) of this grill are detachable and dishwasher-safe.
Performance
This grill is all about performance. It allows you complete control—you get the exact temperature you set. There's no question about the grill's performance.
The lid has a window to let you see your food cook—there's no need to wholly or slightly lift the hood to check how your food is doing and let some of the heat escape. 
It is a truly unique feature of this small electric grill. In addition, the hood is high enough to let you cook anything you want—from thin hamburger patties to large, thick cuts of meat. You can even pile different foods, such as veggies, on top of meats.
Typically, small electric grills produce little to no smoke. Still, you may expect some smoke based on the type of food you're grilling. There's no smoke when the lid is closed. But you should expect smoke when grilling with the top open or removed.
The grill produces beautiful char marks on meats, just like a traditional charcoal grill. You can cook almost anything with this grill, from veggies to chops to kabobs, and decide to crisp and caramelize or keep your food tasty and tender.
Verdict
The Hamilton Beach Indoor Electric Grill has received a lot of appreciation and love from thousands of buyers. Its "fan group" praises its searing capabilities, simplicity of design, and ease of use—not to mention its beneficial features, such as the lid window and non-stick, ceramic-coated grilling plate with an embedded heating element.
Considering the price and heat output, the Hamilton Beach Electric Grill is a legitimate product.
Pros
Easy to use, maintain, and clean.
Non-stick, ceramic-coated cooking grate with an embedded heating element.
Includes a drip tray that sits directly under the grilling plate.
Almost all components of this grill are removable and dishwasher safe.
Amazing heating capabilities.
1-year warranty.
Cons
Not as diverse and multi-functional as other small electric grills.
Complaints about the plastic body melting under prolonged, high heat use.
Things to Consider Before Buying Best Electric Grills Small – Buyer's Guide
While small electric grills are affordable, it'd be best to consider a few dos and don'ts of shopping for a grill. Looking through the following pointers will help you make a better decision.
Size and Dimensions
As we're discussing small electric grills, the choice of sizes and dimensions is minimal. Cooking space on a small electric grill is barely enough to cook for 6-8 people. But you're buying a small electric grill, so a cooking space of around 120 square inches is more than enough for your grilling requirements.
You can further narrow your selection based on the cooking surface and your grilling needs.
Similarly, the length, width, and height should be designed for comfortable cooking. If you're buying a freestanding small electric grill, ensure the height is ergonomic.
Design & Construction
The outdoor or indoor electric grills' design includes hoods, cooking grates, cook boxes, heating elements, a grease management system, and a stand or base. These things must be well-designed and coordinated for a better cooking experience.
For example, the hood and cook box may be round, square, or rectangular. The construction material of these items should also be considered before buying. It can be stainless steel, cast iron, cast aluminum, or some alloy.
Regarding design, cooking grates can be either continuous with bumps and depressions or discontinuous like a standard grill grate for producing grill-like sear marks. In terms of build and construction, cooking grates can be cast iron or stainless steel. They may also feature corrosion-resistant, non-stick porcelain or another enamel or coating.
Heating elements also vary in number, capacity, and configuration.
The grease management system should be efficient and well-designed. A poorly designed grease management system always leads to woes and cries of leaky fat and drippings.
Lastly, a standalone or freestanding small electric grill must be stable and sturdy enough to remain firm if you accidentally tuck it. If it's a tabletop electric grill, the lower side of the cook box must be at a reasonable distance from the table so as not to burn it. Or it should provide good heat insulation.
Temperature control
Small electric grills may include a temperature control dial, touch-sensitive temperature control system, or physical buttons with an LCD or LED display. You can adjust the temperature in predefined increments, for example, 10 or 25. 
But some electric grills let you set the temperature to a precise degree of Celsius or Fahrenheit, unlike many gas and charcoal grills. Don't worry; predefined increments are equally acceptable. You'll do no magic by exercising actual control over your grill's heating capacity.
However, the best practice is not to integrate the temperature control with the cord. If the two are combined, when the cable breaks, you can't simply replace it because of the attached temperature control dial.
FAQs
What is the best small electric BBQ?
Ninja Foodie 5 in 1 is the best small electric grill because of its matchless versatility and highest user satisfaction.
What is the highest-rated electric grill?
Zojirushi electric grill is the highest-rated grill. This versatile grill can be handy if you enjoy Korean BBQ besides traditional grilling.
Can you cook steak on a small electric grill?
Yes, small electric grills allow you to grill perfectly rare, medium, or well-done steak. The only thing you'll miss can be an epic smoke flavor that is only possible through charcoal or pellet grills.
Is Hamilton Beach Indoor Grill smokeless?
Yes. Hamilton Beach is a smokeless indoor grill to suit all types of grilling indoors and outdoors.
Final Thoughts
Keeping the actual user feedback in view, we've shared a few of the best small electric grills with you. You can pick any, keeping your needs and budget in view. How did you find yours? Let us know by using the comment section.
universitygrill.net is a participant in the Amazon Associate program and will earn from qualifying purchases.