If you're looking for the best stainless steel charcoal grills, you're by no means mistaken. The stainless steel charcoal grill makes you a great pick because of its excellent durability and epic taste. 
Yet, searching for them can be challenging, especially when you've got several options. Don't worry; we've reviewed the top stainless steel charcoal grills to help you find one that suits your needs. 
These products come in varying sizes due to different grilling demands, such as domestic or professional. And we've reviewed them for you accordingly.
So, by sparing only 15-20 mins, you can make a confident decision. Let's begin.
Best Charcoal Grill Stainless Steel-Complete Review
We've tested and analyzed the various best stainless steel charcoal grills, keeping real-time user feedback in view, and handpicked only the reliable ones.
Here's our list of the best stainless steel charcoal grills.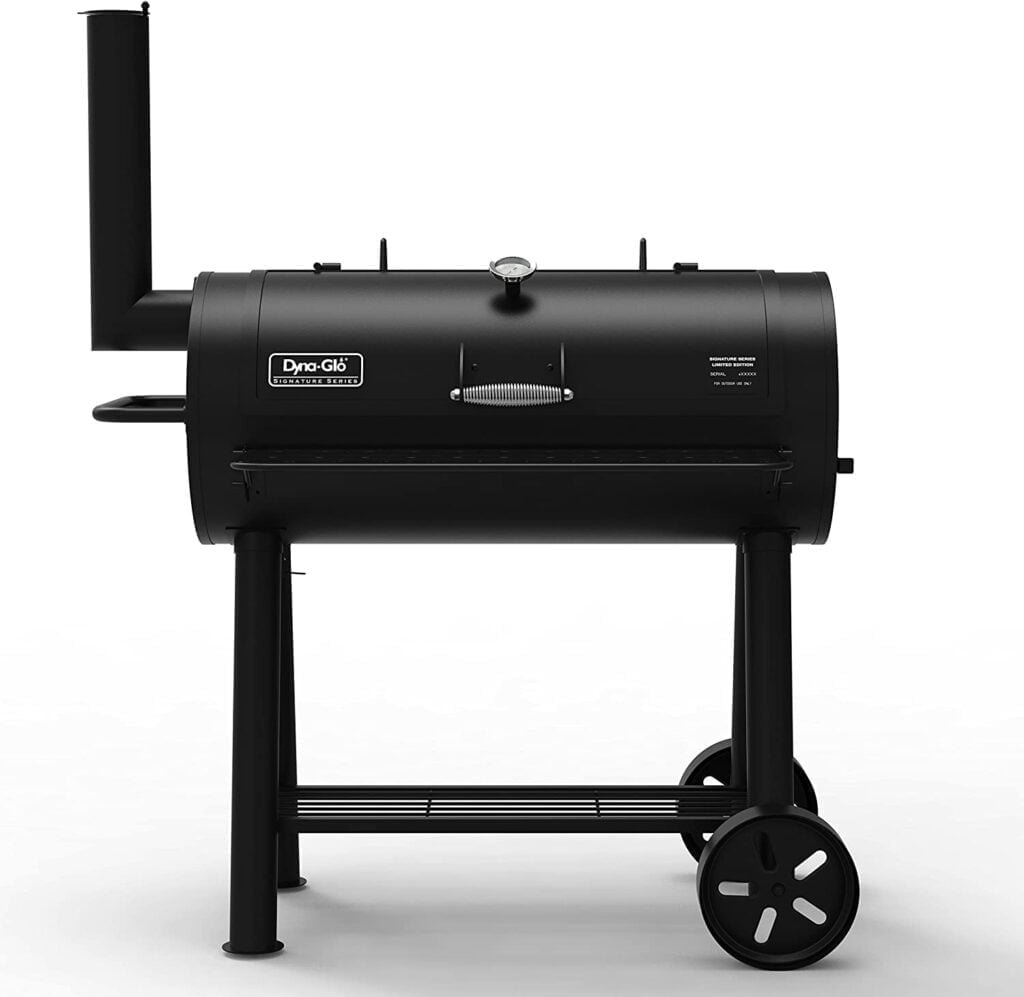 The Dyna-Glo Signature Series is feature-rich and includes many high-end grills, and the grill under review is no exception.
The barrel-style charcoal grill is mesmerizing to look at and behold. It has a black-coated stainless steel body with an expansive grilling space of 675 square inches. Plus, its porcelain-enameled cast iron grill grates are non-stick and retain the heat for a long time. 
There's a room on the side for an accessory smoker box, which doesn't ship along. The offset smoker box is worth purchasing if you want to multitask the grill.
The grill lid features a cool touch, spring-assisted, wide-grip handle. There is a built-in thermometer on the top as well. Its construction, finishing, and quality meet the highest industry standards.
The Dyna-Glo Signature Series puts many grills at comparable prices to shame regarding grilling performances. It has a sturdy build and ample cooking space for smoking meat and grilling simultaneously. 
Place pork shoulder or rack of ribs on one end and charcoal and wood chips on the other, close the lid, and watch the thermometer occasionally to know when your food is ready.
The collapsable steel front workstation on this charcoal grill is a nice and probably a must-have feature. You can use it as a prep table or place tools and food on it.
The adjustable vents make it easy to manage airflow and, in turn, heat circulation inside the grill. The vents are integrated into a "Side Access Door," which lets you add fuel and dispose of ashes. In addition, there's a smoke damper on the grill top.
Dyna-Glo Signature DGSS675CB-D has two heavy-duty, oversized, and sturdy wheels on one side. You can use the handle on the opposite side to lift the side slightly and move the grill.
A shelf under the firebox allows you to store charcoal and grilling accessories.
Pros
Capable of grilling for a barbecue party.
The offset smoker box comes with a warming rack.
Abrasive-resistant porcelain-enameled cast-iron grates.
Heavy-gauge stainless steel construction.
Adjustable smoke and air dampers.
Built-in lid thermometer to check the grilling temperature.
Collapsible prep table.
Cons
The offset smoker box is sold separately.
No removable ash pan. So, you have to scoop the lingering ash every time.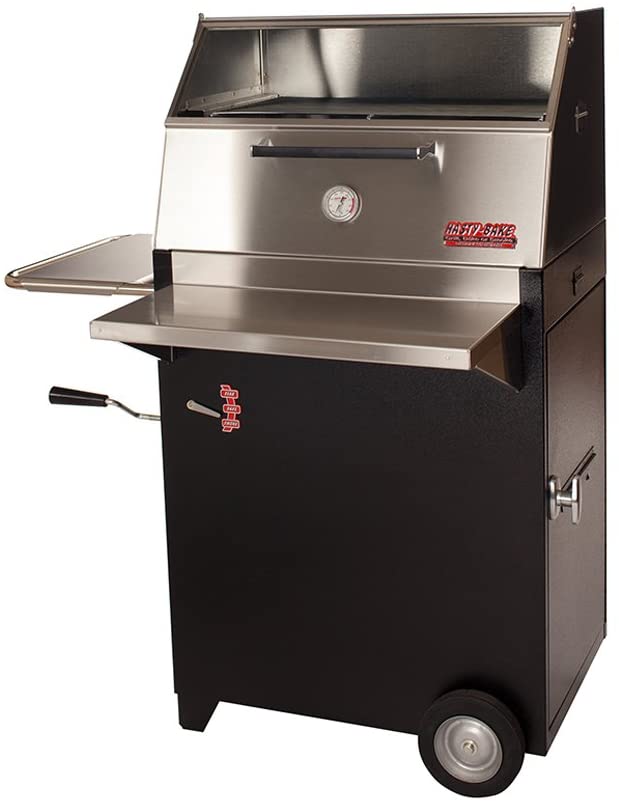 The Hasty-Bake Charcoal Grill is a premium-class stainless steel grill with a unique, innovative hood style. The hood has a spring-assisted lid that glides upward when you slightly lift it using the handle. 
The stainless steel hood sports a gasket to seal the hood when you shut the lid. The grill also has a cool, laser-cut, stainless steel warming rack.
The cooking grates comprise nickel-plated stainless steel rods. The grill features an enclosed-cart design, stainless steel front & side tables, and an 18-gauge, black-coated, double-walled stainless steel body.
A crank on the side allows you to move the charcoal basket up and down. You can adjust the coals to three options: sear, bake, and smoke. The hood sports a built-in bi-metal thermometer.
The cooking grates are inclined slightly towards the center, and a V-shaped channel drains the grease into an outside grease pan.
The side door gives you access to the charcoal bed. A removable heat deflector goes above the charcoal tray for indirect heat or slow cooking. The adjustable dampers facing the charcoal tray on the side allow you to regulate and optimize heat circulation and temperature. You can easily remove the ash pan underneath the charcoal basket for easy cleanup.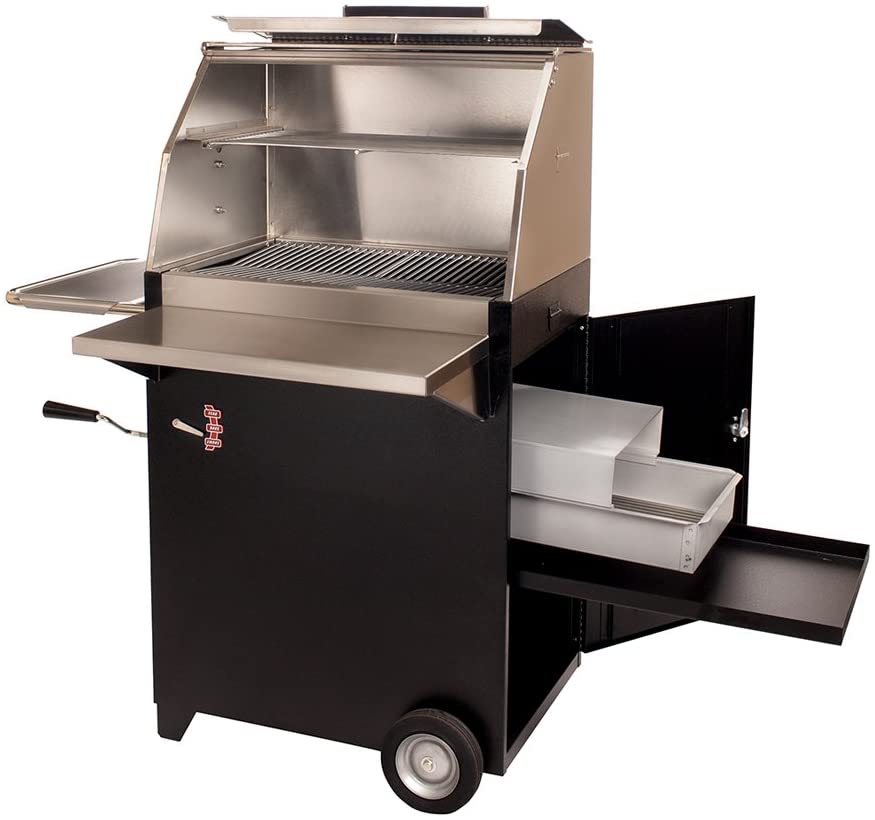 The removable work table runs the entire front length and gives you easy access to your cooking tools. The grill features a tempered glass window to allow you to monitor your favorite meals without lifting the bi-walled hood.
The Hasty-Bake 83 is also a good smoker, allowing maximum control over what you're cooking and the outcome. The grill is stable and has a fine polish. Hasty-Bake provides:
a one-year warranty on the finish,
a five-year warranty on the parts, and
a 10-year warranty on the body and stainless steel components.
Pros
Durable and high-quality grill.
Feature-rich.
Front and side work tables.
Features an adjustable charcoal tray and dampers.
Has efficient and separate grease and ash management systems.
Removable heat deflector.
Includes a glass window to monitor the food.
Spring-assisted lid with a gasket.
Has a bi-walled hood with a built-in bimetal thermometer.
Cons
The bi-metal thermometer is inaccurate, as is the case with nearly all built-in, lid-mounted temperature gauges. The Hasty-Bake is no exception.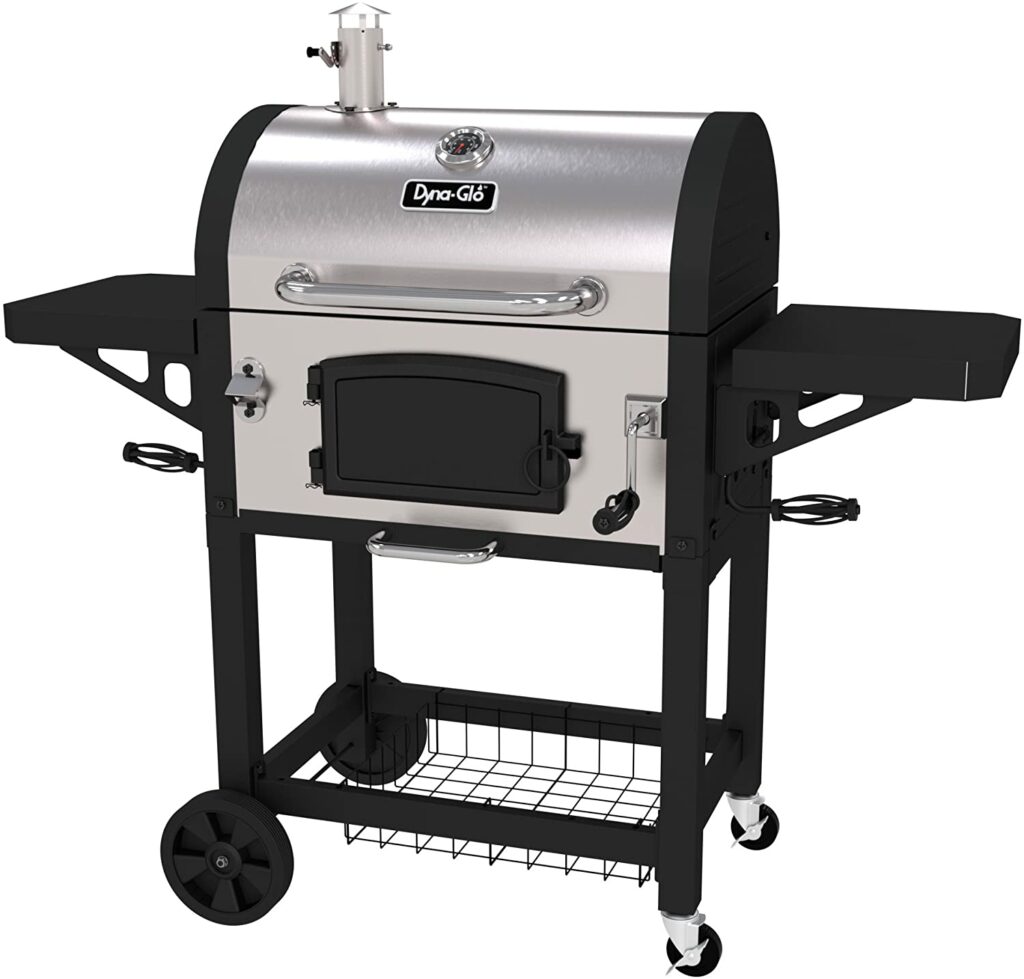 The Dyna-Glo stainless steel charcoal grill has a whopping 686-square-inch cooking area, enough for a large circle of family and friends. It has three hi-gloss porcelain-enameled cast-iron grates for retaining and dispersing heat for a long time. 
Porcelain-enameled cast-iron grates are easy to clean and resist rust better than stainless steel grates. Another benefit of heat-retaining porcelain-enameled grates is that they transfer heat mainly in the infrared form, thus preventing the sealed juices of the meat from escaping outside.
There's a porcelain-enameled warming rack with chrome-plated supports on the grill.
It has four heavy-duty wheels for backyard portability. 
There's an adjustable charcoal bed, so you can raise or lower the charcoal tray by using the adjustment crank and fine-tune your grill's temperature. The steel access front door makes reloading and stoking the coals a snip.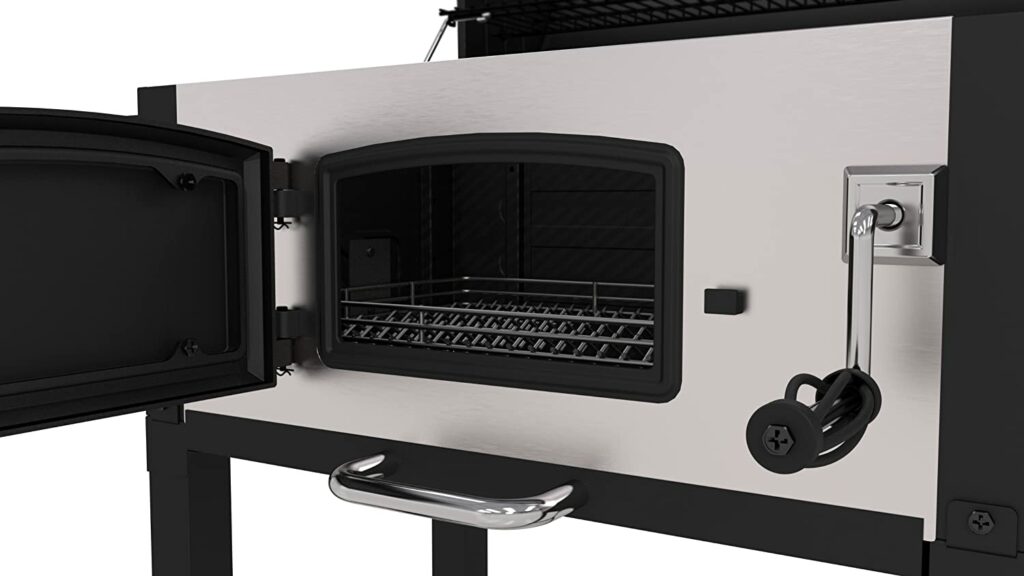 The grill has a beautiful, front-mounted, slide-out ash pan. It features two sturdy and stable side shelves for placing food and tools, two sliding side dampers (one on each side), which operate through a cranked handle, and a top steel smoke stack with an adjustment flue for smoke and heat control. The porcelain-enameled stainless steel hood has a built-in thermometer gauge to indicate the temperature inside the lid. 
The charcoal grill comes with a one-year limited warranty. However, since this charcoal grill is well-built and has all the features of a high-end charcoal grill, it can serve all your grilling needs for years to come.
Pros
The grill comes with adjustable side dampers, a top damper, a grease tray, and a charcoal pan.
It's an affordable charcoal grill. 
Built-in lid thermometer.
Porcelain-enameled cast-iron grates and a stainless steel body.
Large cooking surface and warming rack.
Cons
Despite high-end features, the grill is fragile and flimsy for the price.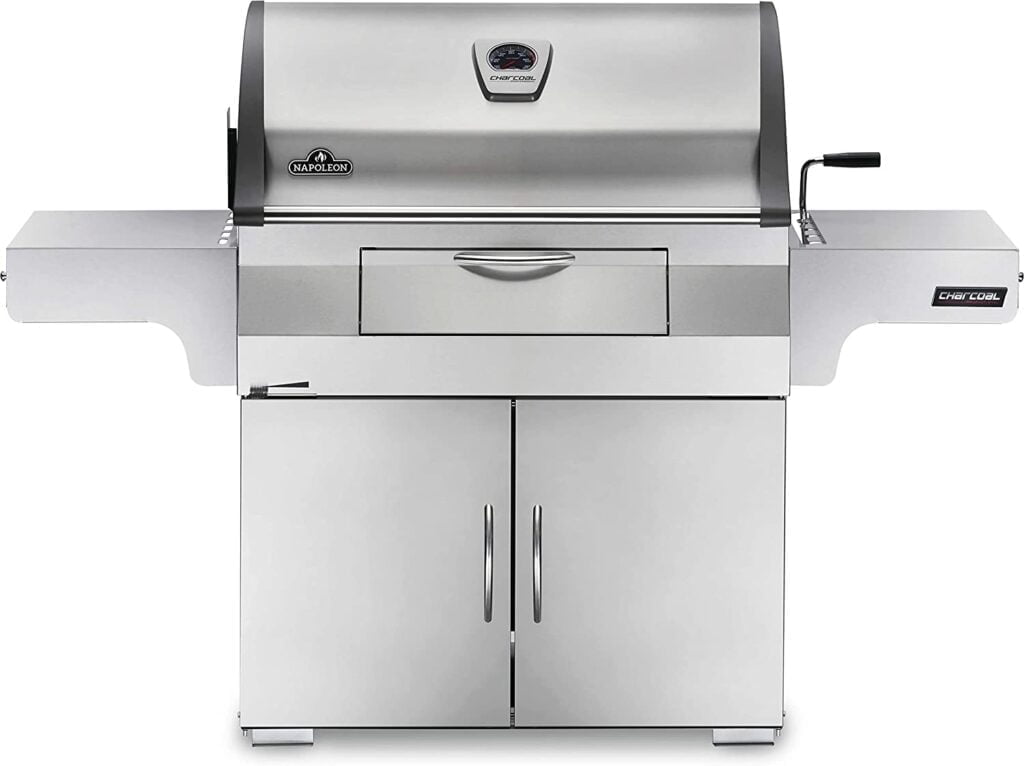 It's a premium stainless steel charcoal grill from Napoleon, a well-known brand in the charcoal grilling industry. If you're a traditional griller and love a better cooking taste through ultimate luxury, the Napoleon PRO605CSS professional charcoal grill is perfect.
Napoleon's Charcoal Professional Grill combines the stability of an enclosed-cart style with traditional charcoal grilling for incredible results. It has a rust-resistant stainless steel body which is also easy to clean. 
An 845 square inch grilling area is enough to produce 32 large-sized burgers in one go. It also features stable, sturdy side shelves with integrated hooks. Above all, it comes with a LIFT EASE™ roll top lid.
Using the front load door, you can add more charcoal or adjust the previously added coals quickly. The lid and door handles are chrome plated for added style. There's a slide-out "ash and drip" pan for easy cleanup.
Using the crank, you can adjust the charcoal bed's height to six different positions.
In every way, especially regarding the grill design and features, it resembles a high-end gas grill.
Adjustable, sliding air vents ensure proper airflow and temperature control.
One of the distinguishing features of this grill is its exclusive rear rotisserie burner. There is also a warming rack to keep your cooked food warm while grilling meats or preparing extra dishes.
You also get all the assembly equipment (tools and hardware) right out of the box.
A generous storage cabinet below the grill relieves the stress of storing charcoal, wood chunks, briquettes, food, and cooking tools.
Another great thing about this charcoal grill is that it comes with a lifetime limited warranty.
Pros
Gas-grill, enclosed-cart style.
Feature-rich.
Rear rotisserie burner.
There's a generous cabinet under the grill.
Sliding air vents.
Built-in lid thermometer to allow timely temperature control.
Lifetime warranty.
Cons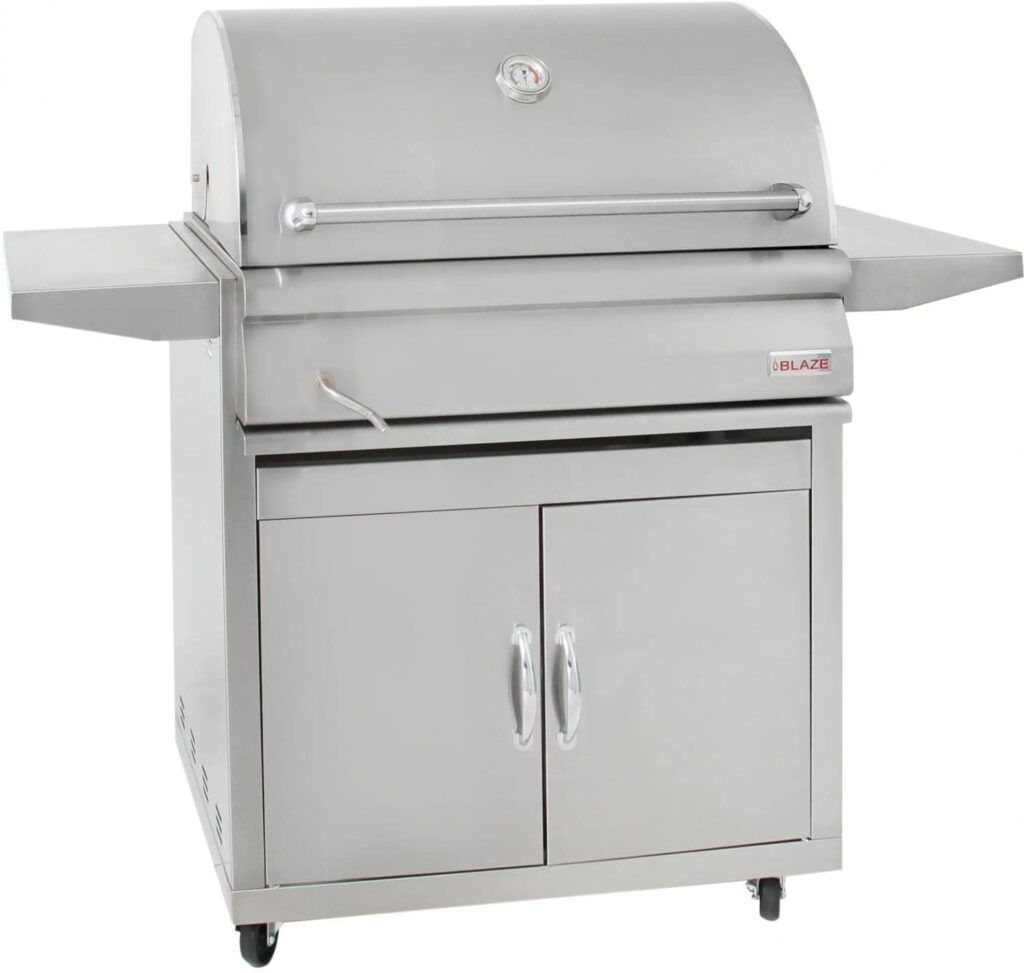 This grill has the same design and almost the same features as the Napoleon Professional Charcoal Grill. It's stable, heavy-duty, and long-lasting. 
It features the same enclosed-cart style as the Napoleon Professional Grill, with a spacious storage cabinet and side shelves. Both BBQ grills match a high-end gas grill in features and design.
One of the most attractive things about this grill is its extremely matchless 304 stainless steel build. The body has been cut and crafted with care, rendering the grill a beautiful finish both inside and outside. The grill has no sharp edges; instead, there are round, smooth edges of solid stainless steel.
This grill can cook 24 burners in one go, making it suitable for family barbecues.
Another valuable feature of the Blaze 32″ grill is a hook-and-hang grill grate system, allowing you to lift each grid individually and hang them on the integrated hooks on the hood for easy charcoal addition. The double-lined hood has a built-in thermometer for you to know the temperature of your food.
The charcoal bed can be lowered or raised using a front-mounted adjustable crank. On the back, the Blaze 32-inch grill has adjustable air vents. You can set the burn rate by raising or lowering the charcoal grate and adjusting the rear-mounted vents.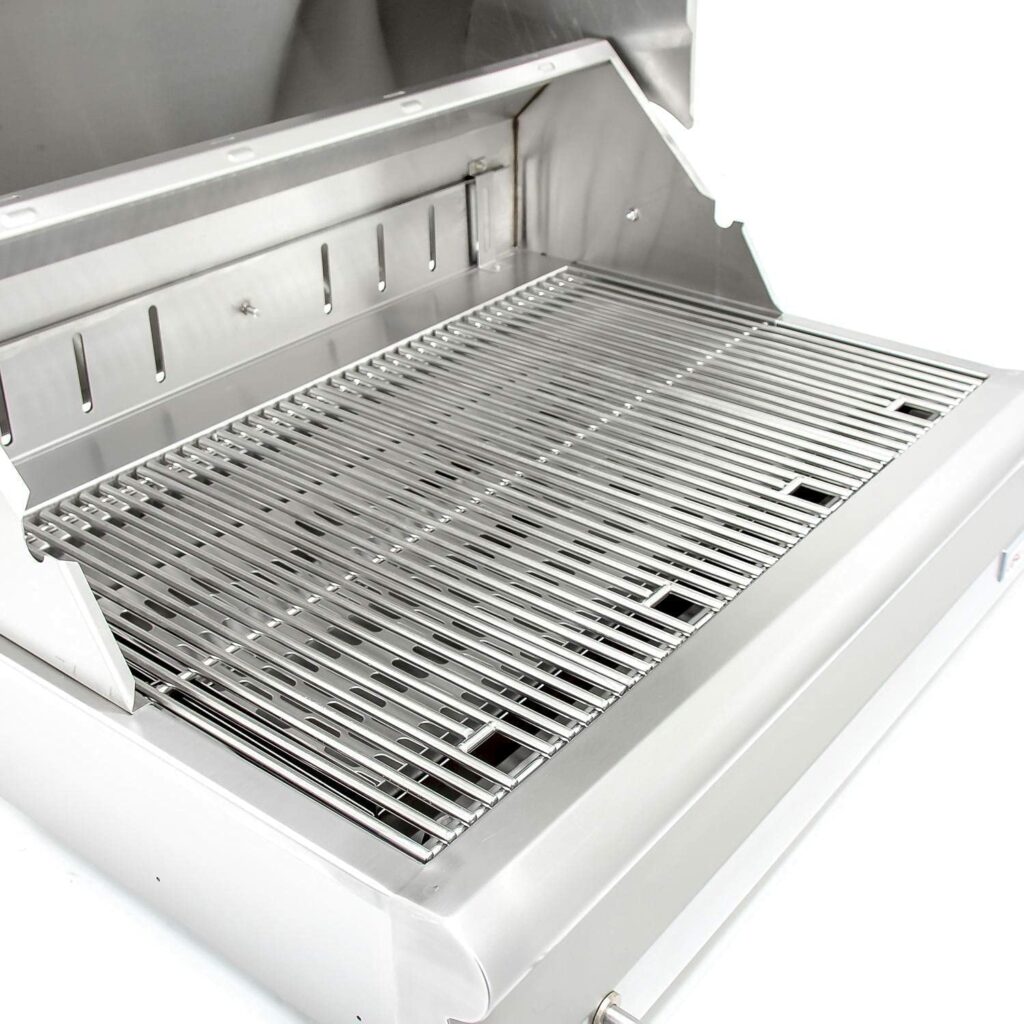 The stainless steel grill grates have a beautiful matte finish, ensuring your food doesn't stick to the grates. There's no need to season the grates, thanks to the matte-finished rods of the grates.
The charcoal grid and full-width ash pan are easy to remove, making it easy to clean up. In addition, four casters make the charcoal grill easy to move. However, remember that you should not treat a grill of this size as portable.
Pros
A 304 stainless steel build ensures matchless durability.
Easy to use and simple to clean up.
High-end features and design.
Relatively low in price.
Adjustable vents and charcoal grid.
High quality.
(No user complaints about the grill. Highly recommended.)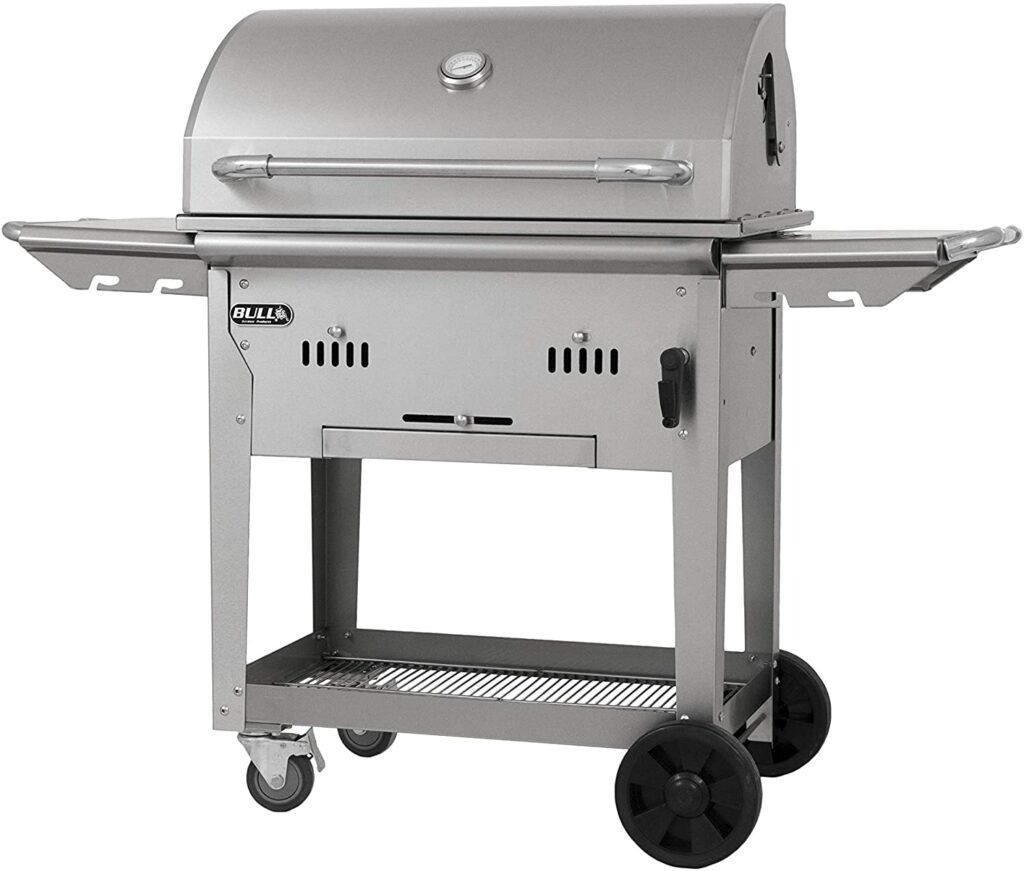 The Bull Bison Stainless Steel Grill is one of the finest charcoal grills. The grill seems like an architect's masterpiece, featuring an open-cart style and a newly designed front.
The grill has adjustable air vents on the front and smoke vents on the sides of the hood, ensuring optimum airflow. The thick gasket protection on the lid seals the juices and flavors of the meats inside and doesn't let them escape. 
Three charcoal beds can be lowered or raised to optimize the food's burn rate. There's a front-mounted, adjustable, and redesigned crank to achieve high and low heat outputs.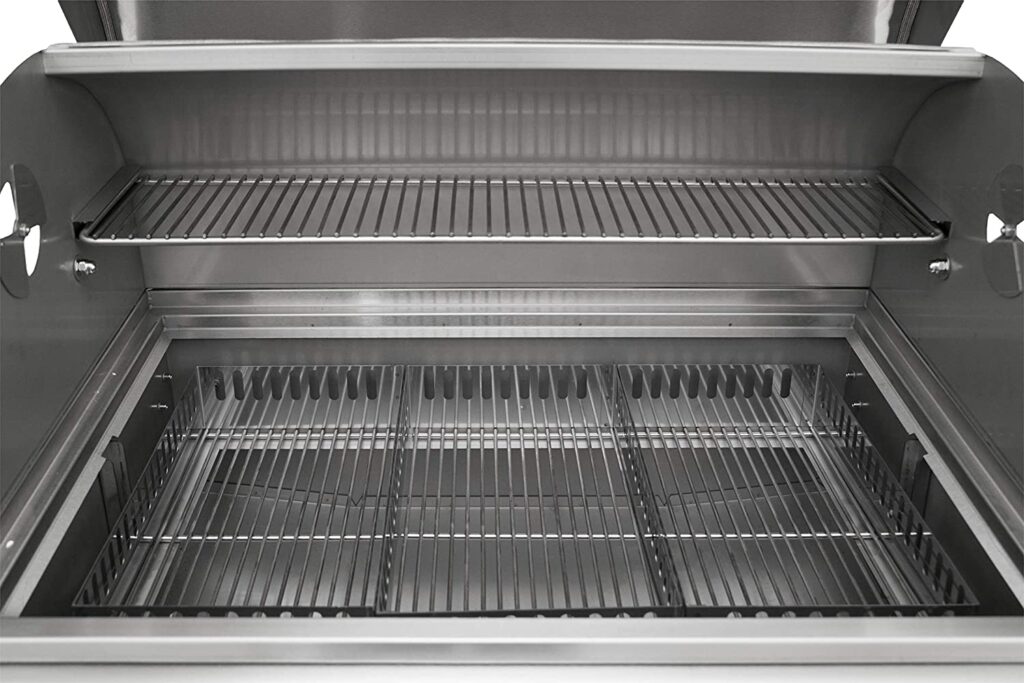 The hood includes a towel handle for lifting the lid and a built-in thermometer gauge for you to monitor the temperature of your grill. In addition, the grill has a warming rack.
A front access ash pan relieves the time-consuming trouble of cleaning the grill.
The Bull 88000 Bison Charcoal Grill has two side shelves, each with a towel handle and integrated tool hangers.
It includes four casters, two large-sized and two smaller ones. The open-cart design and casters make the grill easy to move.
The Bull Bison Grill has a great build, innovative features, and matchless functionality.
Pros
Easy to use and clean.
Adjustable charcoal bins and air vents.
Built-in thermometer.
There's a gasket for sealing juices, moisture, and heat.
Side shelves.
14-gauge, 304-grade stainless steel body.
Cons
No storage cabinet.
No rear burner.
No rotisserie.
The current model from Fire Magic comes in an enclosed-cart design with side shelves and a vast storage area under the grill. The grill also contains a dome-like smoker hood with a built-in analog thermometer and adjustable side dampers. The grill has 540 square inches of cooking surface.
The non-stick cooking grates and a warming rack are specially textured and sturdy stainless steel rods. The front-loading door makes adding charcoal while you cook easy, eliminating the need to remove the food first and then cooking grates to add charcoal.
Thanks to the front-mounted crank, the charcoal pan can be lowered or raised easily, making it easy to optimize heat circulation and burn rate inside the grill.
The Fire Magic Legacy Stainless Steel Charcoal Grill is easy to maneuver with four sturdy casters.
This grill has a complete stainless steel construction, unlike some grills with non-stainless steel parts. With exquisite build quality and texture, the Fire Magic Legacy can withstand the crushing pressure of years and uninhibited roasting and grilling.
Pros
Solid stainless steel construction makes it the most durable charcoal grill.
Premium build quality and a unique texture.
Generous storage cabinet and two side prep tables with integrated tool hooks.
Unique textured, non-stick, stainless steel cooking grates and a warming rack.
Front loading and adjustable charcoal pan.
Cons
No separate grease management system.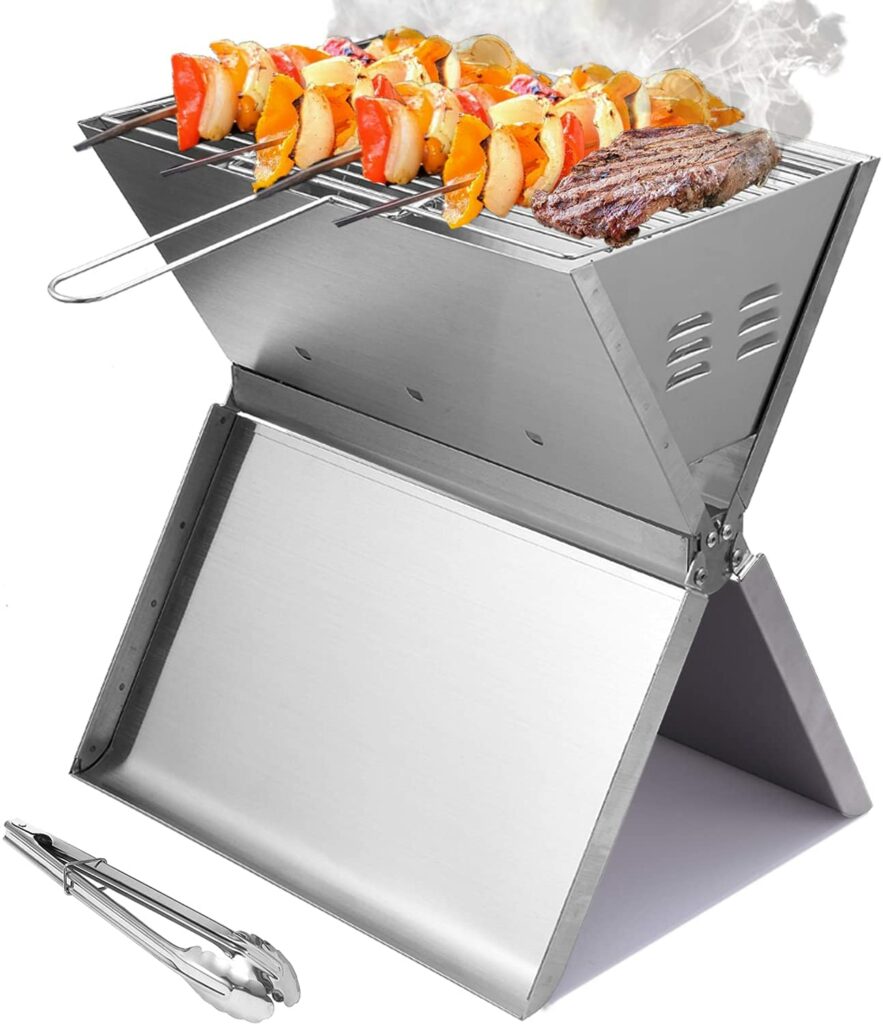 This grill from Salav can be your go-to choice for camping when you look for truly portable charcoal grills. The notebook-style grill weighs about the same as a 17″ laptop. When folded, it looks like a laptop. The small grill seems like a folding chair when you open it and set it up.
The grill doesn't come with a carrying case, yet it can fit any 17 inches laptop case. Hence, safe portability isn't a worry at all. 
It's entirely made of stainless steel, including racks and cooking grates. The edges are polished and turned inside to prevent you from getting hurt while handling the grill.
The main disadvantage of this charcoal grill is that you can cook for only four people, and its cooking surface can only handle 12 hot dogs or four chicken breasts at one go. But any portable grill, without exception, can't prepare meals for a large gathering.
The nice thing about the grill grates is the long handle that allows you to remove the grate and adjust the coals, even if the food is on the grates. The charcoal rack looks like a standard cooking grate and allows the ash to pass through it. 
The ash is then collected in a trough, which prevents it from falling on the tabletop or the ground. To discard the ash, turn the grill upside-down in the dump basket.
Despite stainless steel, the Salav Grill is fragile and doesn't allow you to cook for a large family. However, the Salav portable stainless steel charcoal grill is easy to use and innovative. 
Pros
Lightweight and portable.
Innovative design.
Long barbecue grate handle.
Cons
Very fragile.
Too small for a medium to large family.
Not stable as it's very lightweight.
Why do you need a charcoal grill? Charcoal Grill Benefits.
The first "controlled use of fire" can be traced back one million years. These are the oldest traces of wood ash left by Homo erectus, to be discovered by Homo sapiens in 2012. 
Wood and charcoal were our primary sources of fire until the nineteenth century when charcoal briquettes were patented and petroleum was discovered. For millennia, hot charcoal was our only source of cooking food. No wonder our taste buds are familiar with and relish charcoal-baked food more than that cooked on gas or electric grills.
While charcoal barbecue might not be as convenient as gas and electric grilling, it certainly enhances the flavor of the food. It sears meat quickly, makes it crusty and crispy, and adds a distinguished, smoky flavor.
In addition, charcoal grills are cheaper than gas grills. They're also portable and are excellent for camping because a bag of coal is much easier to transport than a 20lb—propane cylinder.
We need a detailed overview of why charcoal grills are better than their gas and electric counterparts.
Heat output
Electric and gas-powered grills have built-in maximum and even heat outputs, and you can only get the maximum heat output of a gas-powered grill in ideal conditions. In contrast, charcoal grills have no limitations in temperature, and you can add more charcoal and adjust airflow to increase the temperature as much as you want for indirect or direct heat.
Versatility
You can use charcoal grills in a variety of ways. For example, you can choose between direct and indirect heat by randomly setting up hot coals on one side of your grill. In addition, you can smoke, roast, bake, grill, sear, or roast based on food items and your barbecue or roasting preferences.
Smoke, juice, and flavor
Oil and food drippings falling on the coals generate delicious smoke, which infuses the steaks with rich, classy flavor notes.
When the coals turn white at about 1200°, they give off infrared radiation, considered better than gas grills' convected heat. Heat through convection, such as heat from a gas burner, liberates the moisture contained in the meat. 
On the contrary, radiated heat from the coals doesn't release sealed water inside the food. Thus, juices are retained when you cook the meat over the coals.
To enhance flavor, you can easily add mesquite, maple, oak, or hickory pellets to the charcoal. Adding smoker pellets to gas grills can be tedious as it requires a smoker box or a smoker tube.
You can also choose between different types of charcoal, for example, classic charcoal briquettes, char wood, Binchotan, and coconut shell charcoal.
Price
Charcoal grills are more cost-effective than gas grills. In addition, charcoal is relatively cheaper and easier to source than propane fuel.
How to Choose a Stainless Steel Charcoal Grill? Buyer's Guide
Stainless steel charcoal grills vary in quality, features, and potential use. An otherwise excellent stainless steel charcoal grill may be useless to you if it's not designed for your intended application. 
In addition, it's good to have some knowledge about the types of grills on the market and things to look for when buying a stainless steel charcoal grill. These are a few key areas that need your special attention before buying one for your grilling needs.
Intended application
A portable grill is ideal if you're a frequent traveler or camper. If you are a connoisseur, you should go for a professional grill, such as a gas-style charcoal grill. For average grillers and enthusiasts, a medium-sized grill with essential features suffices. The intended application is the first thing to consider before making a purchase.
Style
When you've figured out your intended application, the second thought comes of the style and design. For example, if you're a frequent camper, there are many options for you in portable grills. In this case, the intended use serves as a jumping-off point.
Features
It's hard to come by a stainless steel charcoal grill with many bells and whistles. Because stainless steel grills have different requirements, there's no need for an ignition system and other features. However, perks like side tables, warming racks, gaskets, front prep shelves, adjustable charcoal pans, grease management systems, ashtrays, side or rear burners, rotisseries, dampers, and vents deserve special attention.
Aesthetics
Traditional and straightforward stainless steel charcoal grills are becoming outdated and are looked down upon by many users. Most grillers prefer good-looking stainless steel grills that appeal to one's aesthetic sense. Since a product has to be a complete package, finding a feature-rich, high-end, and yet ugly-looking grill is hard. 
A stainless steel charcoal grill's finish, polish, and texture are the elements that paint the whole picture. It would help if you never compromise on aesthetics because a rugged charcoal grill indicates poor quality.
Cooking surface
This factor somehow correlates with your intended use of a grill. If you have to grill for a large gathering, you need a grill with a large-sized cooking area. A small stainless steel charcoal grill will do if you're part of a family of 2-4. The cooking surface of a grill is often indicated by square inches.
Some brands also feature a warming rack in the grill, thus increasing the cumulative cooking surface. Some grills have a side, rear, or rotisserie burner, further expanding your cooking space.
Construction
You should never compromise the construction of a grill. What is the point of buying a grill if it won't last for years and you'll have to replace it in a year or less? The thickness and grade of stainless steel used are also critical.
You should also pay attention to the build quality of a stainless steel charcoal grill, focusing on hinges, drawers, legs, wheels, and vents. The quality of ash and grease trays is also essential.
Mobility
If not portable, a stainless steel charcoal grill should be easily movable. Stainless steel grills usually have a single or double pair of wheels. If your charcoal grill has two casters, it should have a sturdy handle on the opposite side.
Are Stainless Steel Charcoal Grills any Good?
Like gas and electric grills, charcoal grills are essentially made from metals as they have high melting points, heat resistance, and tensile strength. But these attributes of metals and their alloys vary based on the primary metal and the alloy's composition properties.
Iron and its alloys yield excellent grilling equipment, but they're more prone to rusting. Even steel, one of the most refined iron alloys, rusts when it comes into contact with moisture.
However, stainless steel contains less than 1.2% carbon and over 11% chromium. This composition prevents the iron from rusting and gives stainless steel its heat-resistant properties.
In addition, stainless steel grills offer matchless longevity and little maintenance. Therefore, they're easy to clean too. 
Stainless steel grills are also lightweight.
What are the types of stainless steel charcoal grills?
Stainless steel charcoal grills can be categorized into two distinct types:
Portable stainless steel charcoal grills
These stainless steel grills usually feature a foldable design for camping, tailgating, and outdoor cooking session at a beach or park. Portable grills are typically lightweight and offer bare minimum features. When it comes to portable grills, the design varies immensely from grill to grill.
Gas grill style stainless steel charcoal grills
These charcoal grills are jam-packed with all the essential features you need as a griller. These features include thermometer gauges, side shelves, storage cabinets, casters, warming racks, separate and efficient ash and grease management systems, gaskets for sealing the moisture and juices in the food, and adjustable air vents, dampers, and charcoal trays. Remember that gas grill-style charcoal stainless steel grills cost way more than portable stainless steel grills.
FAQs
How durable are stainless steel charcoal grills?
The average life of a high-quality stainless steel charcoal grill is more than ten years. Stainless steel grills are generally considered long-lasting. However, the major limiting factor here is rusting. 
Stainless steel material is prone to rust if not correctly cared for. For this reason, it's advised to use a high-end grill cover to prevent your grill from rusting and being damaged by other environmental factors.
Stainless steel is prone to rust but much less than cast iron. It has high tensile strength, so a stainless steel grill is more resistant to mechanical stress. Stainless steel can also tolerate high temperatures.
For the reasons discussed above, stainless steel grills have exceptional longevity.
Where are Dyna-Glo grills made? Are they made in the US?
Dyna-Glo is an American brand owned by GHP Group, Inc., headquartered in Niles, Illinois. The brand specializes in home and patio products and has been around for a century. However, Dyna-Glo products, including grills, are manufactured in China.
Does a stainless steel grill need to be seasoned?
Stainless steel and cast iron cooking grates that have no coatings require seasoning before their first-time use. They would also need seasoning with mineral oil from time to time.
If your charcoal grill grates come with a unique texture, coating, polish, or finish, they're less likely to be seasoned before use. The same is true for porcelain-enameled cast-iron grates.
What is the best stainless steel BBQ?
The Hasty-Bake 258 Gourmet Pro is probably the best stainless steel charcoal grill, and it's so feature-rich and majestic that it puts a high-end gas grill to shame. For these reasons and many more, it doesn't come as a surprise that it stands at the top of our list of the best stainless steel charcoal grills.
Can charcoal burn through stainless steel?
No, charcoal cannot burn through stainless steel charcoal grills.
Final Thoughts
An excellent quality stainless steel charcoal grill is a must for convenience, durability, and taste. You can pick your best stainless steel charcoal grill by keeping your budget, space, and grilling needs in view. Let's do it now by getting yours. 
BTW, which did you like the most? Let us know by using the comment section below.
universitygrill.net is a participant in the Amazon Associate program and will earn from qualifying purchases.