Are you hunting for the best vertical smokers to cook the perfect classic BBQ? Indeed, it's the beauty of BBQing in a vertical smoker that you can have plenty of low and slow cooking without worrying about space in the cooking chamber. 
However, it gets confusing when it comes to getting your perfect bbq smoker as there are plenty of them available. You have to keep in mind certain features and configurations before purchasing one. 
Luckily we have all the information you need to know about vertical smokers. And we have compiled all of it here in one article. We are going to give you a complete buying guide along with the eight best options. 
After reading the top-picked vertical smokers review and the buying guide, you can easily find your vertical smoker from the given list. Let's get started! 
Best Vertical Smokers: Complete Review 
Here is a list of the 8 best vertical smokers with the review. You can easily find the vertical smoker that fulfills your requirements. 
First comes the vertical charcoal smoker by Weber in our collection of best smokers vertical. Weber indeed constructs the best BBQ smokers. And Weber smokey mountain smoker is one of their best products. 
Let's begin with the design. Its porcelain-enameled body is durable enough not to rust or peel. Moreover, it has a silicone temperature grommet that monitors the internal temperature. 
You can use the dampers for temperature control. To produce the heat, it uses charcoal. So, you'll be responsible for adjusting the heat. You can simply open the fuel to add or remove the charcoal. 
If you are a pro BBQ smoker, then Smokey Mountain Cooker is the best option for you. It's inexpensive and effective. It has two cooking grates, which will provide enough room for cooking. It can also be the best vertical smoker for beginners, but there will be a learning curve. 
How spatial is it? If you have a 22-inch weber smokey mountain cooker, you can feed at least 70 people. It is huge and heavy as well. You can cook at least 8 butts simultaneously. And it also has a better fuel capacity for extensive cooking. 
You can use this smoker for an overnight cook that is 13+ hours. Since it's a charcoal smoker, you'll have to keep an eye on the heat and maintain it by adding wood or charcoal. 
Cleaning a Weber smoker is very easy. Remove the ash, separate the grates, spray oven cleaner on grates and wait for half an hour. 
On the downside, though you won't mind it, this 22-inch smoker is heavier and difficult to carry. It weighs around 68 pounds. In short, it's an exceptional vertical smoker, with complete comfort and capacity if you don't care about its weight.
Pros 
it allows cooking a large quantity.

Easy to clean 

Usage is simple.

Budget-friendly 
Cons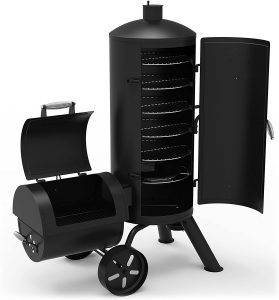 Next on our list, we have a Dyna-Glo vertical offset smoker. It's powered with charcoal.
This one has an ample cooking space, which can expand up to 1382 square inches through its six adjustable cooking grates. Thus, you can feed a massive gathering with just one round of cooking. 
It also has a smoke zone that will highlight the ideal cooking temperature of barbeque for you. And the best part of this smoker is that it has cool-to-touch handles, which help you access the food easily. 
It is also powered by charcoal. But it has a meter that will highlight the temperature for you. 
It has a good cooking space. And it can maintain heat for many hours. Also, the heat is distributed evenly. You'll need at least an entire bag of charcoal if you are planning to cook for a long time. 
Overall, the cooking performance of this offset smoker is excellent if you handle the heat retention issue, which is not difficult. You need to add fire bricks to your Dyna Glo smoker.
Cooking for hours hurts you when it's time for cleaning. When you're cooking, the firebox will fill up with ash. And that is not easy to remove. Yet, it's only challenging when you cook for at least 6 hours. 
As you get your Dyna Glo smoker, the assembly should not frustrate you, as it's the only challenging thing. You'll need two to three hours to assemble this vertical offset charcoal smoker. But after that the cooking part is fun. 
The wheels with the smoker allow you to move it in no time. But due to the weight, it is not easy to carry away. Still, it's one of the cheapest options. 
Pros 
It is affordable.

The cooking capacity is fantastic for cooking meals in large quantities.

Incredible performance

The temperature alarm system is excellent.
Cons 

What if you need a medium-sized or small charcoal smoker? Here it is.
Char-Broil is a medium-sized vertical smoker. It comes with two porcelain coated cooking grates. The porcelain-coated body is also appreciable, for it will last for years. 
The innovative airflow controls temperature regulation. To know the current heat, just look at the built-in gauge on the lid to measure temperature. 
The two chamber-lift handles help in carrying the smoker. And the steel tube legs with caps provide an accessible-height besides optimum stability. 
Well, this lightweight champ could do a lot. It can cook light food, and it'll also give excellent results with heavier weight. As a result, it can cover all of the food varieties. 
It also can maintain the temperature. Once you have set the desired heat, it'll stay consistent on it for hours. Thus, it'll save your charcoal. But, once it heats up, it is not easy to add charcoal. 
If you're already familiar with charcoal smokers, then this vertical charcoal smoker can become your choice. But if you are a newbie, it'll take you some time to adjust. 
Cleaning is worry-free with this smoker as it has a removable ash pan which makes the cleaning process more manageable. And you can easily wash it by hand. 
For portability, its weight is only 27 pounds. Thus, it's a portable smoker, besides being lightweight and cheap. 
So many qualities, then what can be the challenges with this small vertical smoker? It's not a "set it, forget it, "type smoker. As charcoal smokers come with a learning curve, you'll need to be patient if you want to enjoy the heavenly taste of smoke in your BBQs.
Pros 
It's excellent to provide consistent heat.

It's breezy to clean.

Portable

Cheap 
Cons 
 
The Cuisinart COS-244 is one of the known propane smokers among the masses. This propane smoker has a large interior of 5.45 square feet to allow you to cook all kinds of meats. 
It is one of the best horizontal smokers that will not let you down. Also, it has four standard cooking racks, which are easily removable.
You can put 4 slabs of ribs in it, and still, you'll find room to adjust more. Thus, it allows you to create space for large food items too. 
Furthermore, it comes with a thermometer on the front door. Resultantly, temperature adjustment is easier to get you perfectly cooked meat.
Liquefied Petroleum Gas powers this propane smoker. Hence, it allows you to adjust the temperature easily. The beauty of this vertical gas smoker is that even the newbies can use it easily. 
Assembly? Yes, it's easy to assemble. It'll take less than an hour to join the parts. 
It only has one disadvantage. The water pan and wood chip tray are pretty small. Therefore, you'll have to refill it after every half an hour to maintain the smoke. 
The propane smoker by Cuisinart is super easy to clean. Just separate the racks and use an oven cleaner to remove the stains. 
Well, it weighs about 69.5 pounds, which is not easy to carry around. 
In a nutshell, the smoker can be n excellent choice if you don't mind being vigilant with the water pan and wood chip tray.
Pros 
Easy to assemble 

Provides large cooking space 

Can provide consistent heat

The cooking racks are easily removable.
Cons 
You have to refill water and wood chips again and again. 
 
This Pit Boss horizontal smoker is another gas smoker among our best smokers vertical. It has a dual burner system that can handle the temperature range of 100-300 degrees. 
The manufacturer has also provided three cooking grids. They have a size of 800 sq/inch. The best part is that it has external access to the wood chip drawer. It also gives a perfect view of food through a large window. 
Like liquefied petroleum gas powers this vertical gas smoker, it makes cooking the meat easier through a consistent heat supply. But it may become complicated if you're trying to cook under 150-degrees or you're cooking in a windy environment. 
The Pit Boss grill smoker has a good track record as it can provide consistent heat. It'll offer more than 200-degrees for hours. Using this smoker, you can cook brats, pork, and anything else you want to. 
The process of cleaning is simple. You can remove the cooking racks and easily wash them in a dishwasher. You can carry it from place to place with a bit of effort as it weighs only 52 pounds. 
Lastly, it's one of the cheapest vertical gas smokers. 
Pros 
It is cheap.

Easy to assemble

It has a dual burner to cook large quantities of food.
Cons 
Difficult to maintain temperature under breezy weather 
 
Let's introduce you to one of the most reliable vertical smokers. It's a Camp Chef vertical smoker.
Camp Chef Smoke Vault 24 has two adjustable smoking racks, and a jerky smoking rack is a fantastic guy on our list for the best vertical smokers. You'll find three adjustable damper valves on it. One is on the top, and the others are on each side. 
Moreover, it also has a snap-ignition. If you don't know how to cook, then don't worry. The reason is, it comes with cooking tips, recipes, and ideas. 
As it's a gas smoker, it can become hot in no time, and the same is heat distribution. So, you'll need to keep an eye on the heat as it may get overheated. 
It has ample space, and it is easy to use. But sometimes, it may trick you with the temperature because the built-in gauge can become faulty. 
However, solutions are always there. You can use your best infrared thermometer for cooking.
With a larger space, it's ready to cook anything. Its water pan also has a good size that can last up to four hours at 360 degrees Fahrenheit. And the wood tray will produce smoke for 3 hours once fully loaded. 
So, you'll just have to take care of water and wood while cooking. 
The removable tray in the bottom works well, catching 90% of the drippings. The result is, it's easy to clean.
Unfortunately, you cannot move it around effortlessly. The weight of the vertical gas smoker is 74.6 pounds. 
In a nutshell, it's a mid-sized, vertical bbq smoker with an adequate supply of heat but less portability. So, have it if you want to place your BBQ smoker in your backyard for an extended period.
Pros 
Easy to use 

It can cook for hours.

Comes with snap-ignition 

Max heat provision
Cons
The temperature gauge isn't reliable.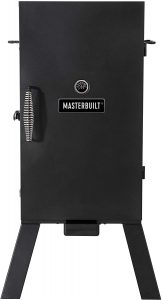 When it's about getting a simple-to-use electric vertical smoker, Masterbuilt is always there. This best vertical smoker electric comes with three chrome-coated smoking racks. And its 1500 watt heating element can provide even and consistent smoking. 
Moreover, it also has a pre-built temperature gauge. You can control the temperature with an analog dial. But, don't rely on the temperature gauge as it is at least 25 degrees off. 
For smoke, you can use wood or briquettes and water. This vertical smoker is powered by electricity. 
Similar to all-electric smokers, it is also easy to use. But it is not easy to set the analog dial. It'll take a few minutes to set the required heat — time to learn. 
It's a well-built smoker which can last for years. And it will cook mouth-watering dishes. For instance, you can add chicken, lamb, or pork to it. Of course, you can use it for more prolonged cooking. 
Cleaning is always the next event after eating your food. It's not problematic with this smoker. The dripping tray is removable. So, it'll be easy to clean. 
If you want to carry it from one place to another, you will need some power. Its weight is 49.86 pounds. In the end, It is cheaper than you can think. 
Pros 
It has a good cooking space. 

It can be used for prolonged cooking.

Easy to clean 

Affordable
Cons 
The temperature gauge can go wrong.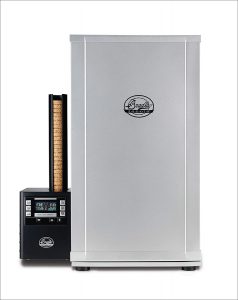 Bradley is also a great name for building smokers. And here comes the review of one of their vertical electric smokers. 
This electric vertical smoker comprises epoxy steel on the outer and interior sides; the manufacturer has used stainless steel. Super easy to assemble, and it comes with 4 racks. 
It gives you complete control over heat, time, and smoke. It uses bisquettes to produce smoke. You will need electricity to use this smoker. 
It is super user-friendly. All you have to do is add the food to the smoker. Set the time, temperature, smoke and now wait. 
This electric smoker is easy to install. You will hardly need 10 minutes to put it into action. Moreover, it has 4 racks. Thus, you can cook four turkeys at once. 
Most importantly, you'll not have to monitor the temperature constantly. Also, there is no struggle in adding water and wood chips. As a result, you can cook a lot without feeling tired. 
It's also effortless to clean. Why? Because you'll not have to clean the interior. 
Its weight is 57.5 pounds. Therefore, you'll need some manpower to move it around. 
The price of this smoker will fall within your budget. YET, it has some shortcomings.
You can't get a burst of smoke with this smoker except for some delicate smokey flavor. The reason is, adding wood chips is not easy.
Pros 
It's super easy to install.

You can easily control heat, time, and smoke.

Provides a large cooking area
Cons 
The temperature sensor is not up to the mark.

Less durable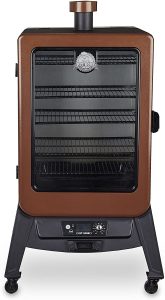 When it's about the best vertical pellet smoker options, you don't get many choices. Yet, don't feel disappointed. We've reviewed the Pit Boss pellet smoker among 2-3 of the best vertical pellet smokers. The product has been fantastic in its performance apart from a few issues with the shipment only.
Let's begin with the construction of this vertical pellet smoker by Pit Boss. The robust materials of this best vertical pellet smoker provide durability that lasts for years and years. The smoker's material is porcelain coated along with its porcelain coated water pan. However, its pellet hopper and internal components might need much care to be lasting. 
When it comes to cooking excellent tasting food at the right temperature and adding smokey flavor, the Pit Boss Grills 77550 is the most incredible pellet smoker in the Pit Boss line. 
It allows you to cook for hours on end without having to add extra pellets, thanks to its 40lb capacity hopper. Not only does it cook, but it also bakes, barbecues, and smokes only because of its amazing temperature range of 150-450 degrees through its control panel.
Ignition is also effortless with this pellet smoker. The auto-shut-off ignitor works well every time.
When it comes to pellet grills, cleaning is the most challenging task. However, cleaning the Pellet Smoker Pit Boss 77550 is simple. Because it has porcelain coated cooking grids, it does not allow any rust or debris that might harm the grill's smoking racks. 
What can be wrong? This vertical pellet smoker is less recommended because of the control panel issue. It does not perform well in many cases. And, you'll never want to invite worry.
Pros 
Extra cooking space through adjustable racks

Exterior construction is durable.

Uncomplicated cleaning
Cons 
Complaints about the problematic control panel

Assembly is laborious owing to short wires for the control panel.

It's heavy.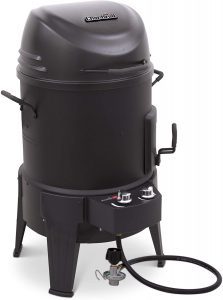 Vertical smoker with the infrared system? No, it's not a joke.
Here is the BIG EASY smoker roaster and grill combo by Charbroil. It's not a dedicated vertical smoker, we admit. Yet, it can offer you XX value for your money.
It promises to cook juicy meals for you, which is true — thanks to the infrared cooking system. The inner wall, which emits natural infrared heat, heats your meat without letting them dry out. 
When smoking meats in the Big Easy, you have the option of adding wood chips. The wood trip tray can contain up to half a pound of chips. Thus, you get a taste comparable to a charcoal smoker.
There is no need for a water pan because of infrared heating technology. It results in less cleaning. And, therefore means you enjoy a worry-free dinner with your dear ones — cleaning has always been a nightmare for many grillers.
Portability? It is simple to move because of its size, weight, and fuel type: propane. So, at your camping sites, it can be your best buddy.
You might be thinking, how much meat can you cook in it? Almost 25 pounds..! Yes, the Big Easy has as much room to invite dozens of friends to dinner. 
Assembly of any gear is its introduction. Thanks to the manufacturers, the Big Easy's assembly is quite pleasant. Thus, for beginners, it can be a peaceful pick.
What if the ignition doesn't work? The match hole will help you. 
The Big Easy SRG reaches temperature in a few minutes. However, the lack of a lid temperature indicator can be disappointing at first glance. Yet, remember, built-in gauges are not remarkable. So, it would be best if you always were wise to get a dedicated infrared thermometer for BBQing. 
Pros 
Fantastic cooking performance

It can be used as a grill and smoker.

No need for a water pan

The smoke tray is large.

Easy to clean 

Affordable
Cons 
It lacks a temperature gauge.
 

How should you Choose the Best Vertical Smoker? 
When you search for the "best vertical smokers," you'll find an extensive list of them. How will you be able to choose the best from them? You might miss the perfect one if you're unaware of the necessities of your vertical smoker. So, you must learn about them. 
Below, we have discussed the features you should consider before buying one. Now, without any delay, let's learn about them. 
Types of Vertical Smokers Based on Fuel 
Fuel is the first thing you need to consider about your vertical smoker. It'll decide the speed, smoke, and taste of your cooking. There are majorly four types of power supply different smokers use. 
Vertical Charcoal smoker 
If you want the temperature control manually, then a charcoal smoker can become your choice. A charcoal smoker is also known as a smoker grill or water smoker. 
A well-built charcoal smoker will maintain the temperature for hours. Furthermore, it comes with a kamado. Kamado can provide a stable environment for anything you want to smoke. 
Another benefit of charcoal is that it can produce smoke flavor better than gas. P.S if you use charcoal for bbq, then use Lump charcoal. The reason is, it does not contain any flammable petroleum products. 
Vertical Electric Smoker 
Electric smokers are just like an oven. Open the door, place the meat inside, set the temperature, and just wait. You will get your BBQ by doing little to no work. And there is no need to carry bags of charcoal as you were doing earlier. 
Also, the electric smokers are entirely closed. As a result, little air can get close to the food, which eventually retains the moisture. But remember, you might not get the traditional BBQ taste from these smokers. In the same way, you cannot enjoy smoking meat if there is no power. So, make sure that the power is not going out before starting the party. 
Vertical Pellet Smoker 
If you don't even wish to manage the temperature, then you can go for pellet smokers. They are the easiest ones to use as they'll automatically manage heat, airflow, fuel, and smoke for you. 
Here the wood pellets are the fuel and smoke of your vertical smoker. This pellet fuel will give a distinct smokey flavor to your meat without overly smoking your food.
If you are a person who likes less smoke in meat, then a pellet smoker is the best option for you. And with a pellet smoker, making BBQ becomes child's play. But with a vertical one, it might not be as breezy. The reason is, pellet smokers need improvements because of their vertical design. Consequently, you can face some issues with them.
Gas Smoker 
A gas smoker is a perfect alternative to an electric smoker. You can easily use them anywhere without the worry of electricity. They also have a more comprehensive temperature range as compared with electric smokers. 
Gas smokers can provide consistent temperature as long as there is gas. The best part is that they produce clean heat. 
By the way, a gas smoker is suitable for you if you are a bit impatient regarding food because it can cook the food faster than other vertical smokers. Gas smokers are faster because gas does not need time to heat up. 
Design of Vertical Smoker 
The design of a vertical smoker is also crucial. It can affect the overall user experience. 
For instance, if your smoker has less cooking space, the cooking can take much time. On the other hand, the vertical smoker with a larger cooking space will save you time. 
Also, the material used in the smoker should be sustainable. You can enjoy meat on the same grill for a long time. So, take a good look at the design of your vertical smoker before purchasing it. 
Ease of usage

 
When it comes to BBQ smokers, the ease of usage can vary from user to user. Why? 
For instance, some meat lovers can be more interested in cooking the food manually. And, for this purpose, they might prefer charcoal smokers. With such smokers, they'll be controlling everything manually. And, it'll require more effort. 
On the other hand, some people are just interested in eating. So, they'll go after automatic smokers like electric smokers and gas smokers. Or they can also go for the pellet smokers. Hence, the ease of usage depends on your choice. 
Performance 
Performance is also an essential factor for your vertical smoker. It should be able to provide heat consistently. And it should not overheat the meat as it will affect the taste of BBQ. 
Moreover, it should be able to produce enough heat for any kind of meat. It'll help you to enjoy all BBQs ranging from camel to chicken. 
Ease of Cleanliness 
After enjoying the delicious BBQ, it comes the time to clean the vertical smoker. 
You will need different times to clean other smokers. For example, you can clean gas smokers after every 2nd or 3rd BBQ. But for charcoal smokers, you will have to do it every time. 
We are going to discuss cleanliness in detail in the coming section. So stay tuned! 
Portability 
An ideal vertical smoker should indeed be portable. After all, your parties will not be just limited to your home. 
Therefore you try to buy a portable vertical smoker. The reason is, such smokers will save your energy for the party. 
FAQS about Best Vertical Smokers
How good are vertical smokers?
Vertical smokers are more convenient because they need less cooking space. And they can also cook faster. You can also reconfigure them to cook different foods. 
Which Pit Boss vertical smoker is best?
The PIT BOSS 77435 Vertical Lp Gas Smoker, Red, is the ideal pit boss vertical smoker because it can provide consistent heat for hours and feed many people. 
What is the biggest vertical pellet smoker?
The biggest vertical pellet smoker is the Louisiana Grills Vertical Pellet Smoker. It has six racks and spreads around 2000 square inches. Moreover, it can cook for 35 hours continuously. 
Who makes vertical pellet smokers?
Pit Boss is one of the best companies known for its vertical pellet smokers. 
What is the best vertical smoker natural gas convertible? 
Camp Chef Smoke Vault "24 is the best gas smoker that you can convert on natural gas too.
What is the best infrared vertical smoker?
Char-Broil Big Easy is the best-infrared smoke vertical. It isn't a dedicated infrared smoker but a grill and roaster as well. Finding a dedicated infrared vertical smoker can be difficult.
Final Thoughts
Well, these were the best vertical smokers from our guide. We are hopeful that you have found your required info from our blog. It would be even better if you were able to find your required vertical smoker. Enjoy your BBQ!
universitygrill.net is a participant in the Amazon Associate program and will earn from qualifying purchases.