Did we hear it right that you're looking for a Masterbuilt 30 electric smoker review? Well, that's great because this is the place where you're going to have a complete Masterbuilt 30 Electric Smoker review. 
How have we reviewed this smoker? We've critically analyzed over 100 users' feedback. 
Why did we do this? The varying experience of users of different expertise has let us evaluate the actual performance of this smoker under diverse levels of cooking expertise. Thus, it'll let you know from our final verdict how this smoker will help beginners to pro-level grilling enthusiasts.
Before stepping into this review, you may have a few questions popping in your mind. You might be thinking:
Is Masterbuilt the name of quality? 
Is the Masterbuilt electric smoker worth buying?
For whom is this electric smoker most suitable?
What are the perks of this product?
Are there any cons that the buyer has to face in this electric smoker?
We want to bring crystal clear answers to these queries for you. So we're giving you a task. No, no, there isn't anything tricky. 
You've to stick to this content till the concluding words. And we're sure you'll get all the necessary information about the Masterbuilt 30 electric smoker. 
Before moving towards the review of this electric smoker, do you want to have a few introductory lines about Masterbuilt? Okay, let's get started. 
Masterbuilt- The Matchless Brand for Electric Smokers
Masterbuilt is the pundit in making cooking devices, especially electric smokers beating the traditional smokers. This family-built business was formed in 1973 with the headquarters in Georgia. So, the products from MAsterbuilt are "made in America." 
They're the manufacturer of a variety of products like fryers, smokers, and grills. It won't go wrong to say that Masterbuiltr has mastered making the best quality cooking devices. 
So yeah, there's a big "yes" to choose this brand for buying your electric smoker, wood smoker, charcoal smoker, or any other cooking station. That's because Masterbuilt claims to provide quality to its customers. 
After glancing at the short introduction of the brand, we'll now delve into the review section. Each of the features is discussed in detail. Without wasting even a section, let's move forward. 
Quick Features
Spacious Cooking Surface of 536 sq inches

Analog Temperature and Time Controls

Integrated Thermostat for Even Cooking

Side Wood Chip Loading System and Door Latch

Insulated Body

Highly Durable Material

Compact Size and Medium Weight

Easy to Use

Simple to Clean and Maintain
Spacious Cooking Space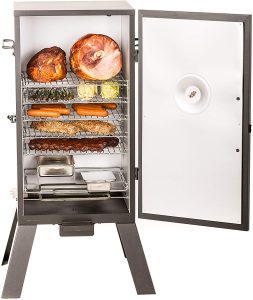 Without a shadow of a doubt, the first thing that most buyers pay attention to is the size of the cooking surface. Isn't it? 
Not just you, I'm also one of those initially interested in knowing about the cooking space. 
We're glad to tell you that this Masterbuilt electric smoker has 536 sq inches of cooking space. 536 square inches means you can easily make three racks of ribs, three chickens, three pork butts, and two turkeys. Aren't these all enough to serve a family of 4 to 5 people? 
Indeed they're.
Not just this cooking space, but you'll also get three chrome-coated racks along with an 800-watt heating element that saves energy. So, your food won't lose its heat after cooking.
There's no need to reheat the food before serving. Just transfer your food from the cooking space to the heating space once, and you can serve the entirely fresh food at any time. 
Analog Dial Temperature and Time Controls
Do you think temperature and time controls are not the prime things to consider? These are crucial points that you can't ignore at any cost. 
It's obvious that you can't properly cook food without setting a proper time and temperature range for your smoker. 
Keeping into consideration the feature of temp and time range, Masterbuilt has made this smoker with an advanced analog control system, not based on digital controls. Thus, it's perfectly stable unless you are shifting the items frequently unlike a digital controller. Set your desired temperature and time range through the analog dial and let the smoker give you outstanding results. 
Thermostat For Even Cooking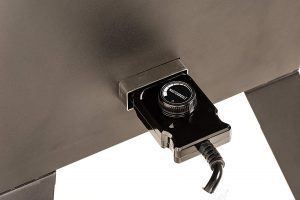 If you're aware of the temperature your smoker is working at, you can confidently think about the excellent results. But this can only become possible if your smoker has a thermostat. 
This analog smoker comes with a thermostat or not? Of course, yes, there's a thermostat to help you work at your required temperature within the range of 100 to 275 degrees F.
The Masterbuilt electric smoker has all the fantastic features, and a built-in thermostat is also one of them. Therefore, making smoked food like smoked meat is no more of a difficult task. And smoking salmon is an excellent idea when you have this smoker.
Side Wood Chip Loading System and Door Latch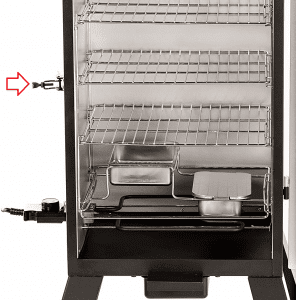 Are you fed up with using the traditional smokers that require opening the door to add wood chips in the wood tray or other fuel types in it? Oops, we feel sad about that. 
But this time, be confident that you're choosing the right product. This Masterbuilt model MB20070210 has a convenient chip loading system to access the wood chip pan from the side. Thus, you won't need to open the door. 
And in this way, the smoke and the heat won't lose from the smoker. No smoke and heat loss means that the smoker will take less smoking time for preparing your food. 
There is also a door latch that pulls the door tightly, shuts it, and locks it in the place. In simple words, there is no chance of accidentally opening the door. The door latch keeps the smoke inside and maintains the internal temperature. 
Insulated Steel Body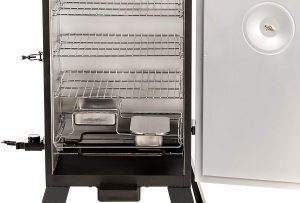 Making a smoker's body insulated is the justice that not all manufacturers do. But as this smoker is from Masterbuilt, you can't even think of injustice from the manufacturer's side. And that's why the cooking experts get convinced to buy this product. 
The body of this electric smoker is insulated, which means there will be no heat loss, and the smoker will get consistent temperature. A consistent temperature means there will be more consistent cooking times. 
Moderately Durable Material
Do you know what's the most common point that the majority of the buyers complain about? Yeah, it's the body material. Oops, have you also heard many people complaining about their previous smoker's durability issues? 
The low-quality body material is what can make your whole device useless. But here, in the case of the Masterbuilt 30 electric smoker, the body is made using good quality steel. Thus, you won't face any issue with its durability if you take proper care. 
Yet, it needs care as it's not 304 stainless steel, but steel. 
Ease of Usage
IT IS A SMOKER FOR BEGINNERS!
You may have gotten fed up with smokers that are tricky in usage. Some smokers are challenging to use, and some have different operating options that are difficult to understand. 
Yet here, Masterbuilt has made it easy for you by introducing this 30 electric smoker. 
What's the thing that adds this much convenience in its usage? 
Let us tell you that there's no mess of lightning charcoal and no flame to blow out. 
Not just this, but the side wood chip loading system also adds easiness. You've to load the chips in the side tray and insert them in the smoker. 
Above all, the analog control system adds extra ease in operating this electric device. In simple words, it's tough enough to imagine how easy it is to operate this Masterbuilt electric smoker. You have also not to keep a check on the internal temperature, the latched door takes care of the heat inside.
Easy Cleaning And Maintenance
With a smoker, you might be glad to know about all the features that make it unique. But what about cleaning? It's the only thing you can know thoroughly after using the device. 
The removable racks in this smoker have made the cleaning process as easy as pie. You'll need to take them out from the device, scrub them, and ta-dah! The perfectly cleaned racks are waiting to serve you again. 
And when it comes to talking about the drippings, seriously no need to even think of difficulty. The removable grease tray catches all the drippings and saves your device from the mess. When in need of cleaning, you've to bring that tray out and empty it. 
It was about the ease of cleaning, but you must also know how to clean the device and maintain it. For interior cleaning, you'll need only two ingredients. 
Do you know what these two precious ingredients are? 
These are warm water and apple cider vinegar. Take equal amounts of hot water and apple cider vinegar and mix both of them in a spray bottle. 
Spray this mixture and use a soft sponge to wipe clean it. It'll leave a shiny, clean and fresh interior to be ready to make smoked food for the next time. 
Compact Size and Medium Weight
Hey, no need to fret about the sizing and the weight. This vertical electric smoker is just 49.86 pounds in weight. 
Having all the fantastic key features but still, this much light in weight is simply a blessing for you. Not just amazing in weight, but you'll also find its size satisfying. 
The dimensions of this Masterbuilt electric smoker are 20 x 21.69 x 40.15 inches. Thus it won't take a spacious room; just a small space is more than enough to place this tip-top smoker. 
But at the same time, you must know that the grease tray might not be professionally made so that it might start leaking. Leakage of the tray can make a mess. Moreover, the racks can start catching rust, and you might not be able to use them again if you don't take care of your vertical smoker. 
Another point that some buyers feel about this product is that it should have wheels for easy portability. Though its light in weight but don't forget that the wheels can add extra ease in moving it 
The worst of all is, the digital control panel might stop functioning after some time. So is this smoker going to be of use when you can't even set the temperature? Of course not. 
So please keep all these points in your deep consideration before buying this smoker for your patio or yard. 
Why love this electric smoker? 
Large cooking area to make a variety of smoked food in a single turn.

Less heat loss due to its insulated body.

It's pretty easy to clean. Just a mixture of water and vinegar can work well.

The smoker comes with an easy-to-use system. 

It doesn't require a large spacious area to place it in your yard. 

Neither light nor too heavy, but it's easy to carry and move. 

There's easy access to the wood chip loading system. 

Temperature and time both are easy to set with the analog controls. 

There are minimal temperature swings. 

Adding wood chips is fairly easy because of the side load system.
What are the cons?
The grease tray might start leaking, making the device greasy. Yet you can use any spare tray, So, it's not a big deal.

The racks can start catching rust if you don't clean and dry them right after finishing your cooking. 

Its analog time and temperature control system might stop functioning as the device get OLD.

The temperature control system comes with a learning curve. You can expect a 20-30 degrees gap on the dial. Similarly, the temperature on the top rack is not similar to the last rack. However, it's pretty common with vertical smokers.

For better portability, the smoker could have wheels.
Inside the Package and First Impressions
"What comes inside the box" is the frequently asked question when buying a cooking device. And we're sure you're also waiting to have the answer to this question. 
The package includes an insulated smoking cabinet along with the other major components inside it.  These components include three chrome-plated smoking racks, a drip pan, a wood chip tray, casters for moving, and a water pan. 
You'll find all the racks wrapped and tied into place, so there is no risk of damage during shipping. 
Okay, let's talk about the first impressions now. 
On receiving, you'll find it exactly like a mini-fridge. The whole body is sturdy with a classy black appearance. 
Not very high, but you'll find it too low to the ground. Thus, it would be better to use a stand for placing this smoker on it. 
If you're mainly concerned with the appearance and like the basic design, you'll surely love this one. 
This Masterbuilt electric smoker comes with a fundamental design without any unnecessary additions. The same simplicity you'll find in its installation.
There is nothing to worry about the assembly because all the instructions are mentioned in the manual. These are easy to follow. Hence, even beginners can do this task of assembling. 
In short, you can say that this smoker is a great device both in appearance and in features. So you'll surely fall in love with it once it reaches your yard. 
For Whom is this Electric Smoker Most Suitable?
Whether you are a novice who has just started the smoking journey with smokers or you stand in the category of smoking masters, this Masterbuilt digital electric smoker is second to none for all. We repeat it's the best electric smoker for the money.
The smoking pundits will read the previous statement and move forward. But the beginners might wonder how this device is best for them. 
Dear beginners, this analog electric smoker has an easy-to-operate analog control system. So, you won't find any smoker better than this one. 
Secondly, as a beginner, you won't need to face the mess of charcoal or other such fuels. Please place it on your patio where there is a power source nearby. 
Provide electrical power to your smoker, and it's ready to work. There's no need to wait for the fuel to get burnt and make enough heat for cooking your food. 
Most importantly, this one is best for all beginners, intermediates, and experts because this smoker can give authentic smoke flavor to your food without waiting for so long and without creating much mess all around. 
How Do I Use my Masterbuilt 30 Inch Electric Smoker?
Setting up this smoker is no more of a challenging task. Just a few minutes of effort, and your smoker is ready to make smoked meat, smoked pork butts, salmon, and other delicious meals. 
Have you used any Masterbuilt smoker before? Yes? This can become a plus point because the setting of this smoker is no different from other Masterbuilt smokers. You've to season the smoker to get the true sense of smoke flavor. 
If there is any water in the pan, properly clean it. 

Now place all the equipment at their required position. 

The third step is to plug the smoker into a power source and turn the power on. 

After this, you've to set the temperature at 275 degrees F.

Maintain this temperature for 180 minutes. 

Take half a cup of wood chips and put them in the wood chamber.

When the timer announces that it's 3 hours, you've to switch the power source off. 

Don't forget to let the smoker cool before using the smoker for the first time. 
Frequently Asked Questions  
Is Masterbuilt a good smoker brand?
Undoubtedly, Masterbuilt is one of the leading brands for buying cooking devices, particularly smokers. This brand is unrivaled in the quality, design, and features it presents in its smokers. 
Once you start using its products, you won't go towards any other brand. So yeah, Masterbuilt is an ultimate smoker brand. 
What is the best electric smoker for your money?
For sure, the Masterbuilt MB20070210, 30-inch electric smoker is the best one. It has some matchless features. 
The body is made of high-quality steel, plus the body is also insulated. There's an analog control system for setting time and temperature range. 
Moreover, you'll also find a side wood chip loading system that prevents heat loss. And the door latch tightly shuts the door in place. 
How can we forget about the spacious cooking area? You can make food for almost 4 to 5 people at a time in this smoker. Above all, the cleaning process is so simple. 
Just a liquid of water and apple cider vinegar is all you need to clean this device. So after knowing all these unique features, how can this device not become my favorite one? 
How long do Masterbuilt electric smokers last?
Masterbuilt electric smokers are made with top-quality material that has high durability. 
Once you invest in buying the Masterbuilt smokers, they're going to serve you for more than ten years. They only demand proper cleaning and storage care.
Is it the best cheap smoker?
Yes, Mastrebulit's 30 electric smoker is the best smoker under budget.
Wrapping Up our Masterbuilt Electric Smoker Review
We've presented you with the in-depth Masterbuilt 30 electric smoker review. 
Not just the features, but we've made our readers aware of the pros, cons, setting procedure, and all the other important points regarding this digital electric smoker by Masterbuilt. 
You'll be desperately waiting for the final words now. Is less heat loss, authentic smoke flavor, insulated body, ease of cleanliness, light and compact-sized body your main concern? If it's so, you can definitely go with this smoker without thinking twice. 
But can you compromise on the body material, less portability, and the need for the care? 
If yes, this best cheap electric smoker is for you!
Happy smoking!
universitygrill.net is a participant in the Amazon Associate program and will earn from qualifying purchases.