Do you want to know about the best stainless steel grills? The durable and rust-free outdoor usage can be your biggest concern. You understand well that regardless of how many features a grill has, it'll not last long if it's made of a fragile material. As a result, you'll be handling breaking parts and calling the stores for the spare parts, which are always hell to get. 
Therefore, the grill's construction is a big concern for you. Well, the good news is besides finding you the top stainless steel gas and electric grills, we've also reviewed the grills for the material quality, like grade 304 stainless steel vs. 430 stainless steel. 
Let's find out how and where each grill is doing excellently.
Best Stainless Steel Grills- Complete Review
To find some of the best stainless steel grills ever, we've sifted through the internet, tested a large number of products, and come up with the best stainless steel gas grills and electric grills for you. Most of them have a high performance and garnered a lot of positive reviews on Amazon. 
Here's our detailed review of the top stainless steel grills.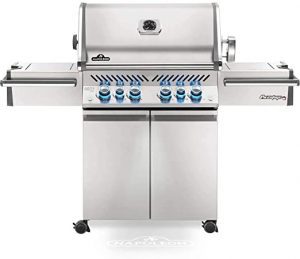 With a company name like Napoleon and a grilling device named "Prestige Pro" on the market, one would expect a lot from this grill. But will it live up to those expectations? The answer is a resounding yes.
It's a barbecue grill for professional use, made of stainless steel and burnished chrome. It's a high-end grill with 304 stainless steel, and that's reflected in the price. 
So, when you're looking for a luxury grill that won't crumble or crack from exposure to the environmental elements or any moisture by hasty usage,  the Prestige 500 is designed to meet your expectations.
The Prestige Pro 500's cooking grid, tube burners, sear plate, and basin comprise stainless steel. It also features Napoleon's signature wave cooking grates, ensuring that food does not slip through the cracks.
In addition, the jet Infrared side burner, with an ability to hit 1,800 F in just 30 seconds, is excellent to let you enjoy restaurant-style signature seared steak ultimately. In addition, the large cooking surface lets you enjoy grilling for your mega gatherings.
Plus, it has a lighted cooking area, an internal storage area, no slam doors, and spacy side tables for aiding food preparation. Not only is it sturdy, but it also looks great.
The temperature control knobs for the LED spectrum lights are ready to shine in many colors. So, you can choose the one you love. 
Heat is a concern, of course! With the Prestige 500, you get 80,000 BTUs on its 900 sq. inches cooking surface. How can we forget about its roll-top lid? It's beneficial too.
In short, this premium quality natural gas or propane grill is for those who have the money to spare and want to make a one-time happy investment.
Why love this grill?
It features wave cooking grates to ensure that food doesn't slip through the cracks.

This best stainless steels grill includes an infrared side burner

It's available in two options: natural gas and propane.

The grill has spatial storage through side shelves and cabinets.

It's the best 304 stainless steel grill.
What are some cons?
Since it's a high-end device, it comes at a steep price.

It's not that portable and easy to clean.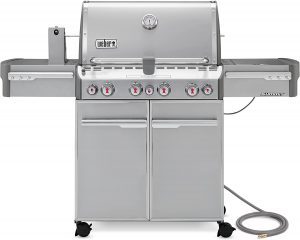 The Weber Summit 7270001 S-470 is a luxurious natural gas grill in more ways than one: it's spacious, powerful, modern, and packed with convenient features. Underneath the sturdy cover and stainless steel grilling surface are four high-performance burners. 
These 4 burners can produce high heat consistently. The Weber Summit S-470 natural gas grill contains a side burner, a smoker burner, a sear station burner, and a rear-mounted infrared rotisserie to complement its four main burners. You'll especially love the sear station on your gas grill if you know how to use a sear burner on a gas grill. 
For maximum effectiveness, each of the four main burners is equipped with an individual snap-jet ignition system that lights faster. Additionally, each burner can be customized, adjusted, and controlled using the control knob.
With two large side spaces for food prep, the Weber Summit S-470 is highly functional. Regardless of what you are cooking, this grill can handle everything. Considering the grated cooking space, the additional cooking section, and the prep section, this product offers a fantastic amount of workspace. Unfortunately, however, with so much cooking space, the design is awkward and impractical.
Why love this grill?
It has four burners and individual snap-jet ignition.

The natural gas grill has temperature control knobs for precision.

The thermometer is accurate.

The build material is high-grade 304 stainless steel.

It has a five-year warranty.
What are some cons?
It's a bit difficult to operate for beginners.

It's pricey.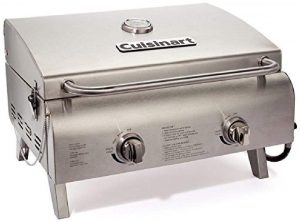 This little model from Cuisinart embodies everything a tabletop grill should be: easy to carry, powerful, and capable of cooking enough food for a small gathering. It's also made of all stainless steel and looks beautiful.
The best thing about this product is that it is large enough for small parties and has reliable cooking.
The 306 features two stainless steel burners with a cooking power of 20,000 BTUs on a 276 square inch cooking grid. The porcelain-coated cast iron cooking grate transfers heat evenly and reliably across the grill surface, and the twist-start ignition makes it as easy to start as a large five-burner grill.
A thermometer on the lid allows you to monitor the condition of your food. The lid also has a double-layered steel construction that keeps the heat in place even after opening.
An optional standing base is as sleek and portable as the grill itself for those who are not comfortable with tabletop grilling. We also recommend it for tailgating and boating, as it fits neatly in the trunk and is easy to clean up afterward.
Why love this grill?
It is easy to assemble.

The grill has a twist-start auto-igniter.

It has a construction of 304 stainless steel.

The grill has an integrated temperature gauge.

It's lightweight and easy to carry.
What are some cons?
It doesn't provide much heat, making it unsuitable for large gatherings

Burner knobs can be stripped and start malfunctioning.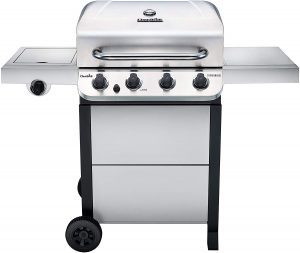 The Char-Broil 463377319 is the most innovative of the stainless steel gas grills, featuring a folding design, electronic ignition, rapid start-up, and larger cooking space. With four burners of 36,000 BTUs and a dedicated side burner that delivers up to 10,000 BTUs of consistent heat, it's easy to achieve maximum cooking performance.
The stainless steel cooking area features 425 square inches of primary space and a 150-square-inch warming rack. You can also close the rack when you're not using it. 
The cooking area is equipped with stainless steel burners and efficient heat tents to ensure even cooking. As far as aesthetics go, the stainless steel layout is just spectacular. Its four quick-start burners also have a beautiful, simplistic design.
Additionally, an electronic ignition system allows for quick operation. It is also equipped with a temperature gauge, side tables, and a removable grease tray.
Though the grill is made of stainless steel, it's not a 304 grade. Instead, the 430 stainless steel makes it a durable grill, yet the side shelves appear flimsy and scratch-prone.
So, when you're looking for a stainless steel gas grill that uses propane gas, the Char-Broil 463377319 is the perfect choice for you.
Why love this grill?
The grill has large side shelves.

It's compatible with stat ignition.

The side burner also has a lid.

Thermometer for accurate temperature readings.

It's easy to move because of the wheels.
What are some?
The grill takes a lot of time to assemble.

It's not ideal for cooking soft foods like eggs.

It's thin.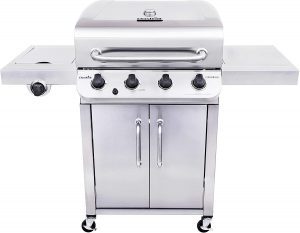 The Char-Broil Performance 4-Burner uses the unique TRU infrared cooking system, which reduces gas usage by up to 30% while making food. 
Ease of use varies. To your goodness, infrared cooking systems consume less gas than conventional burners and cook at a higher temperature than a typical gas grill. Hence, the grill temperature rises faster, and you may get a nice sear on your steaks.
The four main burners put out 47,770 BTUs, and the side burners put out another 10,000 BTUs. Space is always limited around grills, but this one comes with a side burner for cooking side dishes and sauces, as well as side shelves. 
There is also a storage shelf underneath the grill itself. For easy cleanup, it comes with a porcelain-coated grease tray. A simple wipe will suffice.
Accessories include a Surefire electronic igniter, a lid-mounted thermometer, a built-in warming rack, and lockable casters. So, you hardly worry about the gas grill rolling away.
Except for the porcelain-coated cast-iron grates, the entire grill comprises durable stainless steel and comes with a five-year warranty on stainless steel burners and a two-year warranty on all other parts.
Why love this grill?
The TRU infrared cooking system allows you to cook hotter while using less gas than a traditional grill. 

The grill has a 5-year warranty on the burners and a 2-year warranty on the rest of the parts.

It features ample storage options.

It looks nice despite being thin.
What are some cons?
It comes in many parts, so you need to assemble this grill manually.

The material is thin.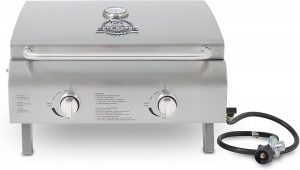 The Pit Boss Grill 75275 is a long-lasting grill with 430 stainless steel body and 304 steel griddle construction, encased in a sleek stainless steel exterior.
The lightweight of this tabletop gas grill makes it easy to carry the grill around. Featuring two independently controllable burners, the Pit Boss Grill 75275 boasts a total of 10,000 BTUs of cooking power.
These burners provide the heat needed for searing and grilling. It also comes with a 38-inch hose for propane tank connectivity. Thus, you save more bucks.
With its foldable legs and latched hood, you can easily carry it anywhere you go. The Pit Boss Tabletop Gas Grill, despite its size, provides 275 square inches of cooking surface.
It also features a push-and-turn ignition for an easy startup and a dome thermometer to monitor the heat on the grill to keep it at optimal levels. This stainless steel grill is also easy to clean. How? The grease tray at the bottom of the gas grill also collects excess grease for easy cleaning.
Take it to a tailgate celebration or camping trip for the best grilling experience.
Why love this grill?
It's best suited for RV camping, being portable.

The grill includes latches on both sides to lock the lid shut and hold the grate in place.

It's easy to clean.

Made from stainless steel, it's durable.
What are some cons?
Legs have no locks.

There are many sharp edges, especially around the legs.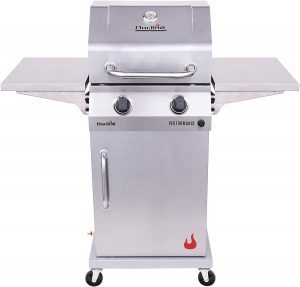 Are you looking for the best quality stainless steel gas grill for your small family? This best stainless steel gas grill from Char-Broil features complete stainless steel construction. 
As far as the griddle is concerned, it's made of a porcelain-coated, rustproof, and durable material. This material keeps food from sticking to the bottom of the griddle, which measures 310 sq. inches. The griddle also has a 95 sq. inch warming rack designed explicitly for heating bread and other foods. 
The grill's ignition is electronic, and it is ready to fire at the push of a button. In addition, it has a side shelf to help you place food or as a cutting board. 
Underneath it is a storage shelf that can hold all the essential accessories. There is a temperature gauge on the lid of the grill. 
It is simple to use and easy to clean. The legs of the grill include wheel locks to provide stability to the grill. As for the dimensions of the grill, it is 44 x 20 x 45 inches.
One of the best things about this grill is that it allows you to store the propane tank inside the base. It also features a one-touch removable cleaning tray.
When it's about the heat distribution, the heat is not even. However, you can use ceramic briquettes and enjoy the excellent heat of your food.
Unless you're not looking for a vast stainless steel grill for your grilling needs, this unit with two burners is more than enough to fulfill the needs of a small family of grillers.
Why love this grill?
It features complete stainless steel construction.

Porcelain-coated cooking grates offer excellent rust resistance.

The storage shelves and cabinets take care of your BBQ essentials.

The wheel locks keep the grill stable.
What are some cons?
It takes longer to assemble.

Some users find it hard to clean this grill.

The heat is not even.
Best Stainless Steel Grills – Electric Grills
For indoor grilling, a few options among electric grills can also be helpful. These durable and sleek grills can last over several years. Let's have a look at how efficient these are.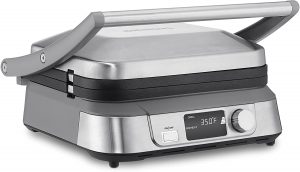 Cuisinart GR-5B is a redesign of the Cuisinart GR-4N Griddler. With its sleek and modern design, LCD screen display, and several improved features, the GR-5B model has garnered many positive reviews.
The 5-in-1 cooking feature that it has become famous for is of much help and allows the griddle to be used as a contact grill, full grill, griddle, and panini press. You can grill steaks, make waffles, serve eggs, prepare sandwiches, and do (almost) anything else.
The new model looks more modern. Nevertheless, it is also easier to operate. It has a large, easy-to-read LCD screen that shows the cooking functions (griddle or grill), temperature, timer, preheat, preheat bars, and sear.
You can use the dial to select between the functions and set the temperature and timer. In addition, cooking plates can be removed or reversed to save space. There used to be a small scoop to trap excess fat, but this has been replaced with a sealed drip tray.
The latch for releasing the plates has also been improved, making it a little easier to remove the plates. One drawback is that the metal parts other than the handle get pretty hot during grilling. Some people also say that the corners of the plate hardly generate any heat.
Why love this grill?
It's portable and durable, and the plates remain clean even after months of use.

Features a sleek design.

Plates are dishwasher-safe and non-stick.

Includes a dishwasher-safe scraping tool for easy cleaning.
What are some cons?
The metal parts get hot enough and can cause a burn during grilling.

Not great customer service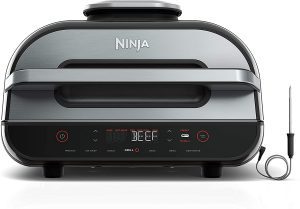 Equipped with 500F cyclonic grilling technology and the Smart Cook system, this Ninja Foodi Grill is a large box shape, 7 X14 inches wide and 11 in. high. You can imagine how well it'll accommodate your food.
The grill is made of brushed stainless steel and topped with a black plastic domed lid. It's not something that competes for beauty. Yet, it has an impressive finish and a sensational feel about it!
For a complete grilling experience, the grill comes with a heavy-duty ceramic non-stick grill net, crisper basket, and cooking pot. It also includes a cleaning brush and kebab skewers.
This indoor electric grill has five cooking options: grill, sear, roast, bake, air fry, and even a food dehydrator, all of which have received high ratings in tests. All of the functions are easy to cook with, and it has a thermometer that tells you the internal temperature of your food. If it is time to let the meat rest, the thermometer will tell you the resting temperature.
With the same heat as an outdoor grill, it can cook up to 500 degrees. It's ideal for cooking indoors on rainy days or in winter. Also, all parts are dishwasher-safe, making it very easy to clean.
Priced at around $200, this product has many more features than just baking, making it an absolute must-have for grilling. On the downside, it's a little weighty. So, you might need to place it permanently over the kitchen counter.
Why love this grill?
You get a double value that of the grill and air-fryer.

The grill grates, basket and inner pot are of durable stainless steel.

The grill offers five cooking options, thanks to its Smart Cook system.

It provides up to 500 degrees of heat, something unusual for an indoor grill.
What are some cons?
It claims to offer smokeless grilling, but that's not the case.

Average customer service.
FAQs about Best Stainless Steel BBQ Grills
Stainless Steel is a kind of alloy steel that usually contains 10-30% chromium. Combined with its low carbon content, chromium provides excellent corrosion resistance and heat resistance. In addition, added elements, such as nitrogen, sulfur, phosphorus, nickel, molybdenum, titanium, aluminum, niobium, copper, and selenium, can increase corrosion resistance, improve oxidation resistance, and impart unique properties.
What's the highest quality grill?
Generally, the one that's made of 304 stainless steel. Besides the stainless steel grills' material, the overall design and finish are also important. 
The third factor to consider is the number of valuable features a grill comes up with. To summarize, the highest quality grills are durable, well-designed, and featureful.
What is grade 304 Stainless Steel?
It's one of the strongest grades of stainless steel and accounts for more than half of the total stainless steel production in the world. Because of its excellent corrosion resistance, it's part of everything from automobiles to buildings to food utensils. Many grill components, such as griddles and grill mesh, are made of 304 stainless steel. It is also non-magnetic, which means that magnets will not stick to it.
What is the difference between grade 304 stainless steel and 430 stainless steel?
Grade 304 stainless steel is most suitable for making cookware. It's also common to find grade 430 stainless steel in grills, at least in some of their parts. 430 stainless steel is magnetic and not as corrosion-resistant as the previous one.
The best way to find out whether your grill uses grade 304 or 430 stainless steel is to put a magnet on the grill. If the magnet sticks to the grill, there is a good chance that it is made of grade 430 stainless steel. Most grills use a combination of both grades, but this simple test will give you a pretty good idea of the overall quality of your grill.
Is stainless steel or porcelain grill grate better?
Stainless Steel Grates:
Stainless steel grates are stronger and more durable than their cast iron counterparts. They are more resistant to rusting and discoloration than cast iron. It also helps if you lubricate them frequently with a cooking oil spray and clean them regularly after baking.
Pros
More durable in the event of an accident.

Easier to clean than other materials, such as porcelain or cast iron
Cons
They need to be coated with a non-stick material to prevent food from sticking to them.

Require regular cleanliness to avoid the accumulation of debris
Porcelain-Coated Grates
Porcelain-coated grates can hold heat well and offer good corrosion resistance. However, if you are not meticulous when cleaning it, it may chip in and reveal the undercoat, which can rust over time.
Pros
Low price

Non-stick compared to stainless steel
Cons
High temperatures can distort or chip the porcelain path

Adding oil to season the porcelain-coated cast-iron grates is not a practical option as it may cause damage.

We recommend using porcelain-coated stainless steel grills since they combine the qualities of both stainless steel and porcelain.

How long will my stainless steel grill last?
Depending on the complexity and durability of the grill, you can expect a stainless steel grill to last five to ten years or more. The best grills will last even longer than this, but only with proper maintenance.
Should I oil my stainless steel grill grates?
When using a stainless steel grill grate for the first time, it's best to oil/season it. After the first time, it is advisable to apply cooking oil before and after each use to maintain a clean appearance.
What is the best stainless steel grill under $1000?
Char-Broil 463377319 Performance 4-Burner Liquid Propane Gas Grill is the best stainless steel gas grill for under $1000.
What are the best 304 gas grills?
The 304 stainless steel gas grills as reviewed in our article, include natural gas and propane-powered units. These are:
Final Thoughts 
When it comes to the best stainless steel grills, the material matters. Hence, when you wish to have one, it means you want to make a lifetime investment. 
If that's the case, we'll advise you to choose one for the Weber, Napoleon, or Cuisinart. However, if you want to be on the budget, the grills from Charbroil can also be yours. 
BTW, which one is yours best? Let us know by commenting below.
universitygrill.net is a participant in the Amazon Associate program and will earn from qualifying purchases.