Have you ever had Chicken fried rice that they cook right before your eyes when you visit a steakhouse? If not, you're missing out! Don't worry, though! We will show you exactly how to replicate this recipe at home for your loved ones!
We'll go over two recipes for the Chicken fried rice:
Easy Chicken Fried Rice on Blackstone grill
 Authentic Chicken Fried Rice on Blackstone
So, hang tight as we take you on a journey for your taste buds! Though this recipe doesn't come with the entertainment at the steakhouse, it'll entertain your taste buds!
Chicken Fried Rice on Blackstone Griddle Recipes
Now you have an idea of Chicken Fried Rice; great! Now you can enjoy it as we dive deep into how to make the best chicken fried rice ever! We will go over a couple of recipes, a quick and easy one that you can whip up in 15 minutes, and a long authentic one.
So what are you waiting for? Keep reading, and your taste buds will thank you for it!
1. Authentic Chicken Fried Rice on the Blackstone griddle
Let's dive right into this fantastic authentic chicken fried rice recipe that will leave you craving more! First up, we have the ingredients.
Ingredients
2 cups of Jasmine rice or Basmati rice
Oil for cooking on Blackstone
Butter (according to cooking).
1 cup cabbage
½  cup diced carrot
½  cup peas
½ cup red pepper
½ cup yellow bell pepper chopped
½ cup of chopped onion
Two eggs
2 Chicken breasts (most important) that you chopped into cubes
2 cloves of garlic that you minced
One thumb of ginger minced
One to two tablespoons of hoisin sauce
¼ to ½ cup soy sauce
Sesame oil for drizzle
Green Onions for garnish
Steps to cook the best authentic chicken fried rice on a Blackstone
PreCooking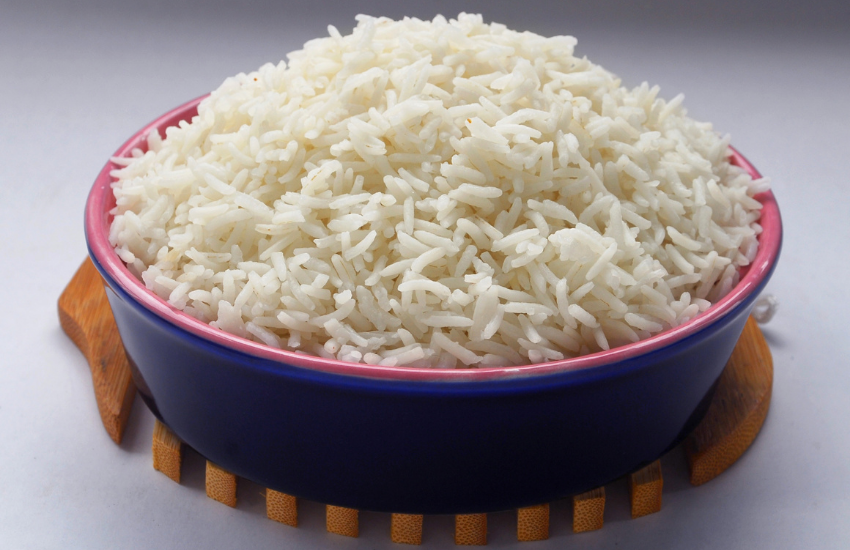 Cooking before you do everything and preparing things beforehand is essential, and it matters even more when cooking chicken fried rice because the rice needs to be nice and dry.
The first and most important thing you have to prepare is the rice. You can use leftover rice to make this recipe too. If you don't have leftover rice and want to make it fresh, you can make it a day before and set it to cool in the fridge.
Though most people cook it a day beforehand, it's not too important, you can cook it and leave it in the fridge for 4-5 hours, which will also be enough.
You can cook rice in two ways:
Cooking in a pot by using steaming or draining method
Slicing and dicing veggies
After everything, now you need to dice up the veggies. Now you dice one cup cabbage, ½ cup red pepper, ½  cup yellow pepper, and ½ cup of onion, and you'll be ready to cook the best chicken rice on your Blackstone griddle.
On the Blackstone griddle
Now it's time to return to the Blackstone's griddle. Make sure that you cleaned it up and that it's ready to use! Warm it up and drizzle on some oil. Take your spatula and slide the oil all around. You can light up three of the burners to about medium heat and one to low heat to keep things warm.
Cook Vegetables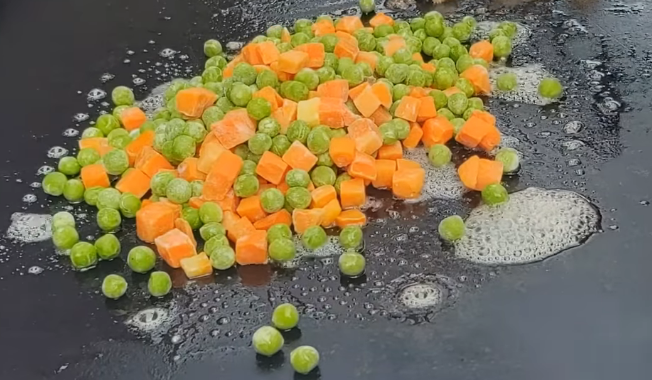 Take your diced-up veggies and throw them all over your Blackstone griddle. Move them around! 
Slice up a little butter about a tablespoon and place it in the veggies and start moving them around again. We have got to make them dizzy! 
After they're done, slide them to the low heat side of the griddle.
Cook the chicken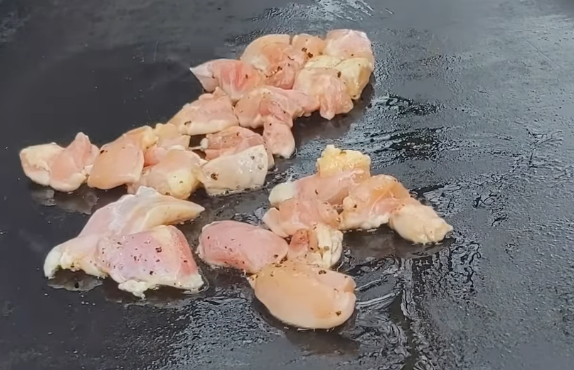 You'll need to increase the temperature of the griddle to about 400 degrees celsius as the chicken needs higher temperatures to cook then take some more oil and pour it on the grill.
Place your cubed chicken on the grill and let it cook. Make sure you turn and move the chicken around, space it around, and let it get to a nice brownish golden color. After doing that, you move it to the side with the veggies.
If you didn't chop it up
Let your chicken cook till it has a nice brown color on it. You don't need to worry about cooking it from the inside yet, as we'll chop it up. 
Once one side is done, flip it over to the other side and let that side simmer too.
Start chopping it up on the griddle once you see that the chicken has a nice golden brown color on both sides. Slice your chicken into nice bite-sized chunks. 
Once you have chopped up the chicken, add a tablespoon of the garlic butter into the mix and cook it until it's done.
Once done, move aside the chicken to the coolest part of the grill, so it keeps warm. You'll know when the chicken is done when it gives out a little water like it's sweating!
Moving on to the rice
Now we are getting to the juicy part of the recipe, take the rice that you cooked and place it on the grill. Spread it around and let it cook so that it gets a little crispy. 
Pour a bit of oil on top. While the rice cooks, take the ginger and shave it all onto the veggie chicken mix you placed aside. 
Also, take two cloves of garlic and chop them up over the veggies and rice. 
Put some more butter, around two more tablespoons on the rice, and let it melt. Move around the rice.
Let it get dry and a little crispy.
Mixing everything up
Now you have everything ready, bring over everything from the low heat side, and start mixing it up! Mix the veggies and chicken into the rice nicely. You have a lot, so don't be too shy and mix well.
Add some soy sauce about ¼ to ½ cup, and also the hoisin sauce, but just a drizzle! Now mix, mix and mix!
Now that your chicken fried rice is ready, you can serve it up in some bowls, either directly in small ones or in one large one for everyone to serve themselves!
The eggs
Move the rice mixture aside and melt some butter on your Blackstone griddle. 
Also, add some oil and crack open the eggs on the griddle, chop them up and scramble them.
After they're done, you just bring over the rice mixture and mix again! Mix it all up well and taste it.
You can add more sauces according to your taste and your chicken fried rice will be ready! Put it on a plate and drizzle some soy sauce and sesame oil on top and serve.
I am sure that you, your family or any guests will love this recipe!
2. Quick and easy Blackstone chicken fried rice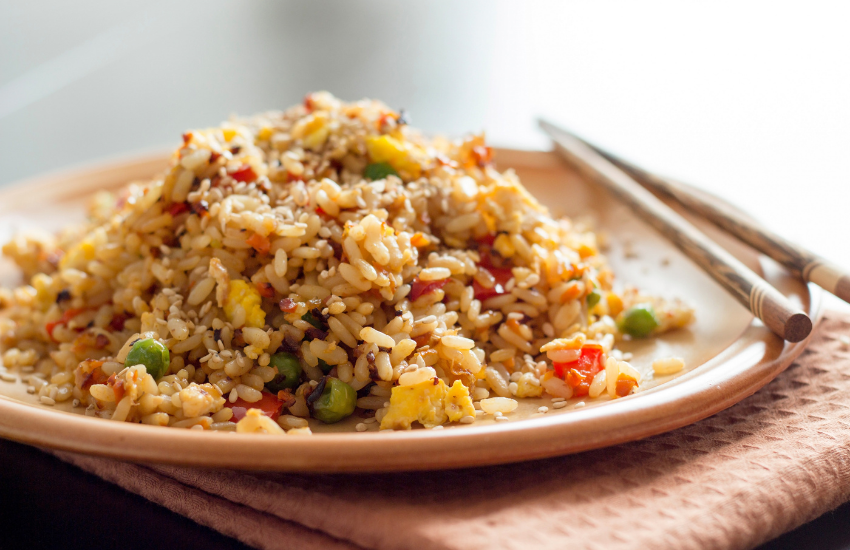 Do you have rice leftovers at your home? Are you too tired to cook a long recipe? We got you covered! We have an easy chicken fried recipe for you to make with chicken tenderloins and rice that you've got leftover at home!
This recipe takes only about 30 minutes and everything is cooked on the grill so cleanup is so easy a baby could do–don't let a baby clean it up though.
Ingredients
Diced chicken breast – One
Diced veggies according to what you like (quarter to a half cup of any vegetable).
½ cup of onions you chopped.
Garlic powder (you'll add according to taste).
Sesame oil for cooking.
White rice (2 cups leftover or cooked and cooled in advance)
Soy sauce ½ cup.
2 eggs.
Steps to cooking quick and easy Chicken fried rice
Follow the procedure given below to make easy chicken fried rice on a griddle.
Pre-cooking and tips
Most of the ingredients you may already have been lying around at home. If you want to reduce the cooking time even further, frozen veggies and leftover rice can be used. 
You don't even need to thaw the frozen veggies. You add them to your Blackstone griddle and cook for a few minutes till they're heated throughout. If you want to make such a quick dinner easily, you can even make a large batch of rice so you can use it again later!
Moving on to the recipe
We need this done quickly, so preheat the griddle to high heat. 
Pour sesame oil on your griddle and spread it around. Once preheated, turn it back down to medium heat and add the diced-up chicken. Move it around and cook it throughout until the chicken has a light golden color.
Now add all the veggies, mix everything up, and spin it around as if the chicken and veggies are dancing! Keep moving it around till you soften the vegetables, and the chicken leaves with a little water.
Then you need to create a little bowl in the middle of the veggies and chicken and add butter. Add about two tablespoons of butter. Once the butter is melted, add the rice to it and mix everything up.
Now you need to add soy sauce, add ½ cup of it to the rice, you can add more according to your taste. 
Coming to the eggs, scramble them on a clean part of the grill in a little butter or oil and use a flat spatula to cut them up into little pieces. Stir the egg into the rice.
Now it's all but done! Just add salt and pepper according to taste and serve while it's hot!
FAQS about Chicken Fried Rice on a Flat Top Grill
What is chicken fried rice?
Chicken Fried Rice is an amazing dish that originated in China, that's why sometimes people also refer to it as Chinese fried rice. Fried rice is one of the most popular dishes thanks to the white rice that chefs cook to perfection with bits of meat and veggies.
Origins
Chicken fried rice is a pretty old dish. Its origins trace far back to the Sui dynasty in China in 589-618 AD in the city of Yangzhou in eastern Jiangsu province. Nowadays, chicken fried rice is famous in South China thanks to rice being the main grain of that area. 
Chicken Fried Rice vs Hibachi Fried Rice: What's the difference? 
Hibachi fried rice is another popular Japanese rice dish. People sometimes confuse it with Chinese fried rice, so let's look at the difference between the two.
The first difference between the two is the land where they originated. Hibachi rice originates in Japan, whereas fried rice originated in China. Another big difference between the two is that they both use different ‌rice to make.
They make hibachi rice using Calrose rice instead of Chinese fried rice, which uses long-grain rice. The biggest difference is that we make Hibachi fried rice on a grill or a flat-top, whereas we make fried rice (Chinese) using a stove-top wok or skillet, though we can also make it on a Blackstone grill ‌.
In Hibachi fried rice, chefs use more butter and soy sauce, whereas, in Chinese fried rice, they use more oil and fat but less soy sauce, and sometimes no soy sauce. They both taste pretty different by the end of preparing them.
How long can leftover chicken fried rice be good in the refrigerator or freezer?
Chicken fried rice leftovers last for up to 3-4 days if you keep them well. To make them last longer, you need to cool them completely and then transfer them to an airtight container and store them in a fridge.
You can even freeze the leftover fried rice. You put the rice in an airtight container and leave it in the freezer. Then when you need to reheat it, you add a bit of chicken broth and heat it in a frying pan or microwave.
What can you serve with chicken fried rice?
Chicken fried rice is a versatile dish and you can serve it on any occasion, either as an appetizer or even as the main course! You can even eat it as a snack. Although, at Chinese banquets, they usually serve chicken fried rice at the end of the main meal before the dessert.
Simple chicken fried rice without any sides or curries can make for a nice substitute for plain cooked rice at any evening meal or brunch.
I usually like pairing my chicken fried rice with yummy sesame chicken, I think it's an amazing combination, although most people like pairing it with something with more gravy. You can pair garlic chicken with it or even beef chili.
Some people believe that you shouldn't add any seasonings to the chicken fried rice and let all the flavor come from the stir-fried ingredients.
In my opinion, though, it's all a matter of personal preference. You can decide to season it with any sauce, from soy sauce to oyster sauce. Add a little first and then add more if you need it. In restaurants, they usually add a thick soy sauce to give the rice a nice dark color.
Instead of chicken, you can also use other types of meat such as beef or mutton, you can even use shrimp and seafood! For the vegetarian version, you can leave out the meat.
You can even use different types of vegetables, from bell pepper to beans, you can try so many tasty and fun variations!
What are the nutritional facts of chicken fried rice?
These nutritional facts are for 1 serving (using a 1.5 cup size serving). It contains about 670 calories with 30g carbohydrates, 25g protein, 50g fats, and 4g fiber. 
Chicken fried rice is a pretty nutritious comfort dish. The rice has carbohydrates and its value, chicken, and veggies add protein and fiber making it highly beneficial.
Although pretty nutritious, you should be cautious of ingredients such as sodium glutamate or synthetic vinegar, which might be harmful to your health in large quantities. You can eliminate them from the dish. 
Are chicken fried rice gluten-free?
The rice which you use in cooking is gluten-free but you should focus on the other ingredients to find out exactly if the dish is gluten-free. Traditional chicken fried rice recipe contains rice, oil, and salt, which are all gluten-free. Even after adding meats, veggies, or eggs, it's gluten-free.
The major problems arise when you add other sauces and spices or gluten-containing things, such as grains or marinated ingredients.
People with gluten allergies or celiacs should pay attention to the list of ingredients before making or purchasing chicken fried rice.
Rice is naturally gluten-free. All types of rice, ranging from white, brown, basmati, and even glutinous rice, are gluten-free. Cross-contamination can occur during growing, harvesting, processing, or any part of the rice cultivation process.
If trace gluten doesn't affect you, it's fine, but if you are more allergic, then you should choose rice that the makers have labeled as gluten-free. Likewise, get gluten-free soy sauce and hoisin sauce.
Enjoy eating your Fried Rice!
What's next you'll love to cook on your griddle?
Let us know in the comment section. We'll try to share the perfect recipe for that.
universitygrill.net is a participant in the Amazon Associate program and will earn from qualifying purchases.