Hardwood pellets and lump charcoal are the fuels of choice for grilling and smoking enthusiasts. Both have their advantages and demerits. 
However, they're equally suitable for achieving a rich, smoky barbecue flavor. It's important to note from the beginning that a Traeger grill uses smoker pellets, as opposed to Big Green Egg Kamado-style grills, which use lump charcoal as a fuel source to cook meat in a low-and-slow manner.
Both grill types are poles  apart in structure and function despite promising similar results. Read on to learn more about the two brands before arriving at a decision and purchasing. 
We carried out a head-to-head and side-by-side comparison between the two smoker grill manufacturers to help you decide which one might be the right option for you. Here we go!
What is a Traeger (or pellet) grill?
You can better describe Traeger grills as pellet grills. Traeger invented the world's first wood pellet grill some 30 years ago in Angel, Oregon, and they have been industry leaders since then. Because of massive market share and dominance, Traeger's name has become synonymous with the pellet grill.
Invented by Traeger in 1987, pellet grills use wood pellets made from compressed hardwood sawdust as a fuel source instead of gas or charcoal. Wood pellets allow you to achieve a more consistent and controllable fire with the flavor of your choice.
Traeger Brand History
The Trager developed their first grill in 1985, patented in 1986, and commercially produced in 1988 by Joe Traeger. The grill's exterior design was a close replica of the traditional offset smokers–a barbecue smoker with a horizontal cooking chamber and a side firebox. 
Joe Traeger simply replaced the side-mounted firebox with a pellet hopper, keeping the classic drum barrel body and the top chimney intact.
The early Traeger grills came with a three-position switch to control the auger's speed. The pellets would travel from the hopper onto a rotating auger that offloaded them into a firepot. 
There was always a fan to stoke the fire and distribute heat. However, the early models needed to ignite the pellets manually. Currently, Traeger grills support automatic-start, lighting the pellets using ignitor rods.
Smoker pellets serve as a fuel source and flavor enhancer simultaneously. Traeger pellets contain no chemicals or additives except vegetable oil, which is often used as a lubricant during production. 
The brand claims it doesn't harvest a single tree to produce pellets as they're a by-product of saw-milling and other industrial processes involving trees. The company just collects the sawdust–that would otherwise go to waste–and compresses it to generate its wood pellets.
Traeger has enjoyed a 20-year monopoly on the pellet smoker industry, developing a loyal fanbase of BBQ enthusiasts. The monopoly ended soon after the patent expired in 2006. The Traeger family sold the company the same year for $12.6 million. 
How does a pellet grill work?
Traeger pellet grill has a hopper attached to the side that hosts wood pellets of your choice. The auger in the hopper translocates wood pellets into the fire pot, where the HotRod ignites them into flames. 
There's an angled drip tray above the firebox to keep the fire off your food and prevent flare-ups. The grill also has a fan to circulate heat and smoke for consistent cooking. 
The most beautiful thing about a Traeger grill is that it uses a digital controller to maintain precise temperature control by regulating the flow of pellets into the firepot. Thus, it allows you to mix in the party while the grill takes care of your food. 
You can adjust the controller to your desired settings through an easy-to-use electronic control panel on the hopper. Just set the temperature and forget about it.
There's an angled drip tray above the firebox to keep the fire off your food and prevent flare-ups. There's a fan to circulate heat and smoke for consistent cooking. 
Almost all Traeger pellet smokers are barrel-shaped, with sturdy legs under the barrel and a horizontally attached side hopper. 
It's also important to mention that pellet grills use a small amount of electricity to run the drill that feeds wood pellets to the fire and fan the fan that circulates heat and smoke.
What makes a pellet grill so unique?
Several factors make pellet grills so unique. Below we've discussed some of them.
Wood Pellets as Fuel Source
The main benefit of a barrel smoker is that it infuses your food with a delicious, wood-fired flavor. Traeger grills offer 6-in-1 functionality, allowing you to grill, smoke, bake, roast, braise, & BBQ on a single barrel-shaped smoker.
Ease of Use
Traeger grills are easy to use and can be easily tuned using a simple digital controller with physical knobs and buttons. Traeger's Pro, Traeger Ironwood series , and Traeger Timberline lineups feature WiFIRE® enabled controllers, allowing you to set temperatures and timers through the Traeger App or a smart home device.
More Control on Smoke Flavor
Another benefit of a pellet grill is that it allows you to choose any hardwood pellets to match your recipe for a more personalized, distinct taste. 
For example, you can pick fruit woods like cherry and apple to impart a sweet, subtle flavor to poultry, pork, seafood, and baked items. Alternatively, you can select bolder flavors like oak, hickory, and mesquite for veggies and wild game.
What is the Big Green Egg grill?
The Big Green Egg is a popular, modern form of traditional Japanese Kamado style grill–an egg-shaped, wood or lump charcoal-powered ceramic cooker. This cooker has a dimpled, green exterior and top and bottom air vents to control airflow. Resultantly, heat flows into the system. 
You can use it to grill, smoke, roast, bake, and more. Its unique oval shape allows you to cook directly or indirectly by setting up zonal cooking.
Big Green Egg brand history
As we know it today, Barbecuing owes a lot of credit to Big Green Egg. Before the brand launched its first product and conquered the market, most barbecues relied solely on simple grill preparations. 
The EGG was the first traditional but multifunctional cooker to enter the market. It was quite an achievement that Big Green Egg grills combined an entire outdoor kitchen into a single appliance.
The original inspiration behind the Big Green Egg wasn't Kamado, as most people think, but tandoor–an Asian ceramic clay pot without a lid that has been around for as long as 5000 years. 
Primarily, it had been serving as an oven to bake bread and cook meat. This Asian Kamado is also related to mushikamado–a round clay pot with a removable domed lid to steam rice on ceremonial occasions.
The EGG's story started in 1974 when American Big Green founder Ed Fisher started importing Mushikamados. Being a keen person, he immediately realized that the egg-shaped ceramic cooker had a great potential to become one of the modern-day grilling essentials. 
The immediate realization was also that the closed system and ceramic as a base material would ensure greater temperature control, less fuel consumption, and an adjustable airflow than the standard barbecues at the time. Above all, the cooked ingredients proved to be more delicious. It was an immediate success in the US.
However, soon the company officials felt that something was missing–especially the ceramic's quality was terrible. Kamados would frequently break during transport and shipping. 
In addition, temperature shifts during cooking were a common phenomenon. For these reasons, Ed Fisher idealized the more robust, more heat-retaining, and yet lighter ceramic.
Meanwhile, the Georgia Institute of Technology was researching lightweight ceramic for NASA's Space Shuttle program. The focus had been to achieve a composition that could withstand extreme heat during the flight. 
Luckily, one of Fisher's friends worked at the facility and helped him choose the best composition for the EGG and a high-tech factory for its production on a mass scale.
How does the Big Green Egg work?
Unlike traditional charcoal grills, the Big Green Egg uses lump charcoal to power itself up. Since the grill material is shuttle-quality ceramic, it keeps heat and moisture for an extended period. 
This performance is significantly better than any other grill. The snug-fit ceramic lid closes down to preserve heat, juices, and flavor within the food.
The patented airflow system in the Big Green Egg takes care of the temperature and smoke quantity within the system.
The bottom Draft Door and the dual function Metal Top act as vents to control airflow in and out of the EGG. The Draft Door determines the range, mainly the upper limit of temperature. 
In contrast, you can tune the Metal Top to achieve finer adjustments to temperature, usually within a degree.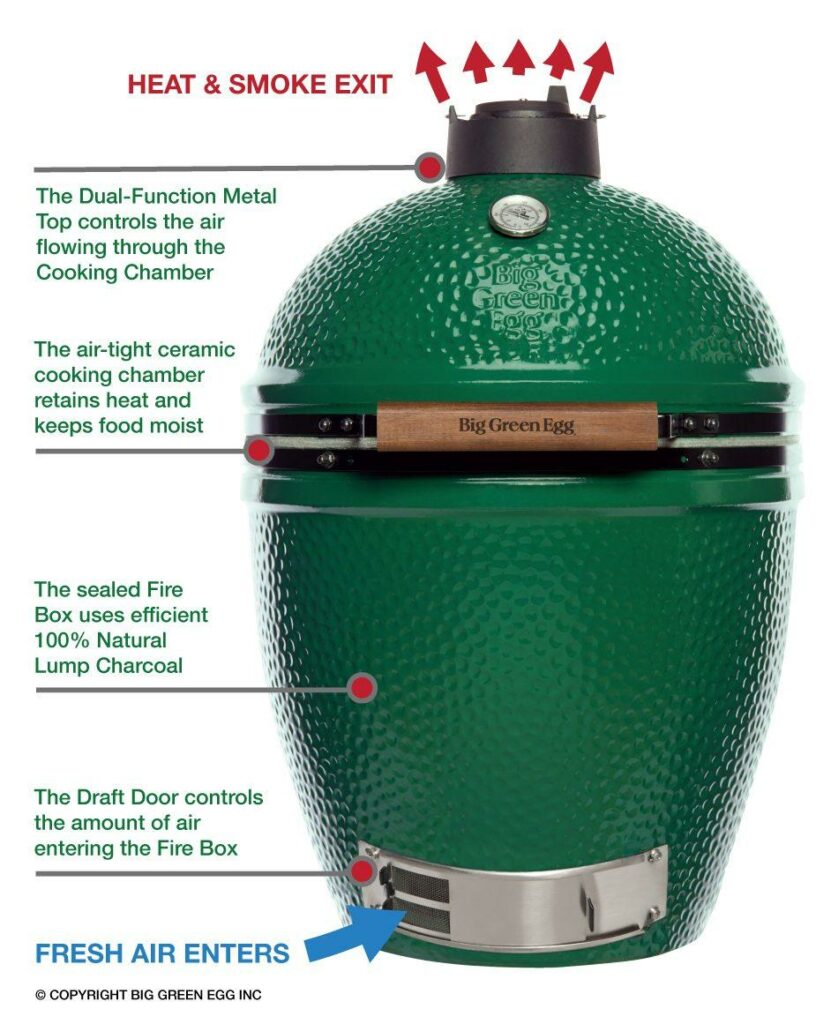 Start by loading the grill's lower half or firebox with high-quality lump charcoal. The next step is to fire up the EGG by igniting the charcoal you have filled in it. 
You may need to open the Flow Draft Door below to draw in air and, in turn, oxygen necessary for ignition. Once the lump charcoal has started getting red, you're ready to put your food in. 
You may also need to adjust the air vents again for precise temperature control based on your recipe. As soon as your food nears the doneness, seal it up by closing the lid and the exterior vents. 
You don't need to throw water on the burning coals to extinguish the fire. Instead, close the lid and vents to stop oxygen for the charcoal to burn. However, thanks to the EGG's patented, double-ceramic design, your food will continue to cook and reach the perfect doneness. 
Because of its design, the grill's exterior remains cool to touch even after several hours of cooking–removing any chance of accidental burns.
What makes the Big Green Egg so unique?
The most significant advantage of the EGG is that these grills derive power from lump charcoal. Lump charcoal is the pure form of charcoal. 
Pure Charcoal as a Fuel Source
It doesn't contain any additives or chemicals. It lights up quickly, burns furiously, and still leaves little ash compared to briquettes. Even more, it's more responsive to oxygen, making it a perfect choice for Kamado grills like the EGG that have adjustable air vents.
Better Temperature Control for Incredible Cooking Performance
Big Green Eggs offers you precise control over your grill's temperature. You can adjust the vents for more controlled airflow and turn the heat up and down. In addition, the lid-mounted temperature gauge gives you temperature readings of up to 700°F.
Because of its matchless quality and accuracy in retaining heat, you can roast poultry, mutton, and beef with perfection. Or use a baking stone and convEGGtor–a grilling accessory designed by Big Green Egg to facilitate indirect cooking–to bake pizza, bread, and pastries to perfection.
Ease of Cleaning
The Big Green Egg is a breeze to clean. Put the lid down after cooking, and the remaining heat will burn off any food residue attached to the grate or ceramic. 
You can empty the EGG by turning its lower half upside down from time to time. But given that it feeds on lump charcoal, you'll rarely need to empty it because of the little ash buildup.
Caution: Don't use water to clean your EGG as it'll only be absorbed by the ceramics.
Unconventional Material
Last but not least, Big Green Egg incorporates new materials by NASA into its ceramics. (And NASA puts heavily into developing ceramic materials for their shuttles' nose cones–the front parts are exposed to temperatures above 1500 °C, which is so hot that most known metals begin to melt and flow.)
Addition Accessories
Big Green Egg offers numerous accessories called EGGcessories to let you customize and diversify your cooking experience. EGGcessories include everything from racks and baskets to tables and covers. There's no need to list all of them here–they offer countless choices.
Traeger vs Green Egg: Detailed Comparison with Product Reviews
In the following, we'll review two top grills, one from each brand, and explain their features and capabilities to let you know what each company offers.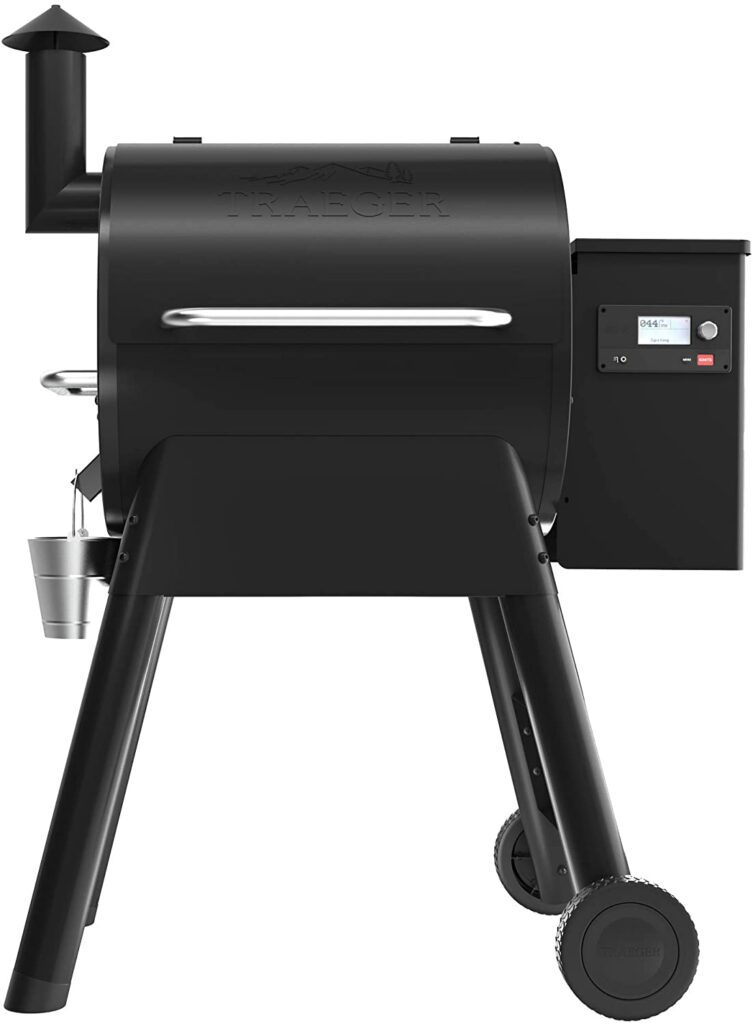 The Traeger Pro 575 is the most popular grill the brand has created so far. Given its user-friendliness and ease of use, it doesn't come as a surprise that the grill has received a 4.8 rating on Amazon with many highly positive reviews.
It can cook 24 burgers or five racks of ribs in one go–more than enough for a family gathering. It has two racks, allowing you to cook your proteins and veggies separately.
The Pro 575 comes either in a classic black design or a rusty bronze finish. In addition, its 18-pound hopper capacity means it doesn't need refilling frequently.
Brief overview
It's an entry-level grill in the Traeger's Wifi-enabled lineup. Being a mid-sized grill, the Pro 575 comes with a 425 square inches of cooking grate (primary) and an additional 150 square inch warming rack. The cooking grates are porcelain-enameled for easy cleanup.
Traeger has cleverly named its Wifi technology as WiFire remote control system that allows you to pair the grill with a user-friendly smartphone app for additional features.
The grill features two all-terrain, sturdy wheels on one side for easy mobility. The handle on the other side allows you to lift the side slightly from the ground and move it around.
We have talked a lot about how these grills work; there's a motorized auger to move pellets from the hopper to the firepot.
Like other Traeger models, the Pro 575 has an excellent temperature control system. The grill's thermostat detects temperature changes and lets the controller know of these alterations. The controller then slows down or increases the temperature by regulating the auger rotation and fan speed.
Ease of use, maintenance, and cleanup
The Traeger Pro 575 is pretty easy to use, given you have an AC outlet to get it to work. Once you have paired it with the app, you can access amazing Traeger recipes and set the temperature and timer.
The Pro 575's meat probe is a nice feature that adds to the overall user-friendly nature of the grill. The probe lets you see your food's internal temperature for safety. You don't need to lift the lid every time to check your food's doneness.
The grill includes a rear-mounted pellet clean-out chute to empty the hopper or switch from one type of wood pellet to another. There's a thumbscrew on the pellet chute to lock it shut to avoid accidental spills. When you have to empty the hopper, open the door, and the magnetic screw will hold the door up.
There's a heat baffle in Traeger grills that roofs the firepot, ensuring that the cooking grate receives even, consistent temperatures across the entire surface. The same heat baffle also serves as a drip tray, catching food juices, fats, and drippings from the cooking grates and sending them into a tube that leads to the outside grease bucket. 
It's best to use drip tray liners and place aluminum foil inside the grease bucket. This way, you'll have to deal with a lot less mess than is otherwise created.
Unfortunately, there's no easy way to clean the inside of your grill (especially firepot and auger) other than using a vacuum cleaner. As for the cooking grates, they're reasonably easy to clean because of the excellent porcelain coating. Allow the grill to cook down after the cooking session and wipe down the grates. Did this? Your grill is ready for the next cooking session. Go grilling.
Portability
The Pro 575 weighs 124 pounds, too heavy to be suitable for tailgating or camping. However, its all-terrain wheels are sturdy enough to let you move the grill around your backyard or patio.
Also, note that you need an AC power outlet to power this grill. We can say that the grill isn't portable for all practical purposes.
Warranty
Traeger provides a 3-year warranty on this product, which is not bad.
Key features
We have already talked about some key features of the Pro 575 grill; however, most of them deserve attention to detail.
WiFire controller
Traeger's WiFire controller is a set of components that make this grill entirely wireless. The controller is integrated into the pellet hopper, and you can adjust it through the attached control panel or via a smartphone app. The meat probe plugs into the control panel and threads through a small hole in the smoker box.
The app and control panel allow you to set a timer or specific temperature to alert you at, and the grill takes care of the rest. It'll automatically adjust the flow of pellets, fan speed, and, in turn, temperature to bring your food to the required doneness. Then it sends an alert to your smartphone app when your food is ready.
If the required doneness level is reached before what you anticipated, you just have to click on the Keep Warm button on the app and walk away until you need to eat or serve the dish.
The smartphone app contains delicious recipes, video content, and cooking and smoking tips. It's also compatible with Alexa and Google Smart Home.
D2 Direct Drive Platform
Previous generations of Traeger pellet grills included AC power operated auger motors and induction fans. Since both the fan and motor used the same power output from the controller, the grill couldn't separately control the individual components to adjust the temperature. 
In addition, the previous generation grills used brushed motors–meaning they required a carbon-graphite brush to complete the connection (or to connect the rotating element and power source). The brushed motors were prone to wear and tear based on usage and needed specific parts (carbon-graphite brushes) to be replaced.
In the current generation of Traeger grills, including the Pro 575, the company has replaced old AC motors with DC motors, specifically with 20V DC motors. The primary benefit of direct current motors is that they produce more torque and, hence, are less prone to clog due to auger blockages. In addition, D2 Direct Drive motors can rotate in the reverse direction if a blockage is detected.
The new Direct Drive Platform keeps temperature fluctuations to within 5 degrees max, as opposed to the previous system, in which changes sometimes rose to 25 degrees.
TurboTemp
Another benefit of a DC auger motor and induction fan is faster response times. On startup, the fan and motor speed is set to max, resulting in a quicker warm-up, referred to as TurboTemp by Traeger.
Yet another scenario to test TurboTemp's usefulness is when you open the lid to check your food's doneness or add sauces, etc., resulting in a rapid heat escape and sudden temperature drop. However, D2 Direct Drive powered TurboTemp can get back to the set temperature more quickly than previous generation grills.
TurboTemp function is a direct result of the inclusion of independently controlled, brushless DC auger motors and fans in the modern generation Traeger pellet grills.
PID controller
The Pro 575 includes a PID controller instead of the conventional controller you got on the previous generation pellet grills. Before venturing into the differences between the two types of controllers, we must clarify that both use the RTD sensor, which stands for Resistance Temperature Detector. 
RTDs are temperature sensors containing a resistor that changes its value (resistance) based on temperature fluctuations. Using the RTD output, a temperature controller then employs a "negative feedback mechanism" to speed up the motor and fan if the temperature has dropped and vice versa.
A conventional non-PID controller detects temperature changes through RTD. Thus, it speeds up or down the auger motor and combustion fan based on those changes. 
However, to do so, it relies on simple additions and subtractions, as opposed to a PID controller, which uses complex math, such as algebra and calculus, to control the auger motor and combustion fan speed. As a result, after a conventional controller's interferences, the smoker's temperature may undershoot or overshoot the setpoint.
PID stands for Proportion, Integral, and Derivative, which are complex mathematical functions beyond the scope of this article. In simple words, a PID controller samples, predicts and intervenes more often than a conventional controller. Consequently, we see far fewer fluctuations in the set temperature than using a traditional controller.
Pros
Easy to use
Easy to assemble
Features a solid, sturdy construction
Easy to move around in a backyard or patio
It can be used as a grill, smoker, or both
Includes a reliable temperature control system
Feature-rich
Cons
You need a power source to power it up.
Not made for tailgating or camping
Big Green Egg Large Review
We've said a lot about Big Green Egg Kamado-style grills and how they function, so let's jump headfirst into the review. However, it's pertinent to note that Big Green Eggs come in seven basic sizes: mini, minimax, small, medium, large, extra-large, and extra-extra-large. The current grill is a little bigger than an average-sized kamado grill.
The Big Green Egg large consists of the following components (from bottom to top):
Egg base
A slide-out drawer for easy cleanup with a metal screen on the exterior called a draft door
A Firebox
A fire grate that goes into the bottom of the firebox
Stainless steel grid
A fire ring that goes above the firebox
A gasket along the lid's rim
Egg dome (lid)
A lid-mounted temperature gauge
The exhaust on the dome top
Two optional components are also supplied with the grill:
A dual-function metal top for precise control over temperature
A ceramic damper top to cool the grill
The lid-mounted temperature gauge provides accurate readings up to 750 degrees Fahrenheit. There are two vents: a dual-function metal top and a bottom draft door for precise temperature control. 
The cooking space measures 262 square inches with an 18.25-inch diameter. It weighs about 162 pounds, so it's not wholly portable.
The main benefit of buying an EGG is that hundreds if not thousands, of Big Green Egg's accessories, called EGGcessories are available to add to your grill and enhance and diversify your cooking experience. However, most of these accessories are sold separately. 
Similarly, the grill under review comes with only a basic set of accessories, including a standard grill grid and metal feet. The package also doesn't include a grill stand. Although it has metal feet, they don't raise it to a comfortable height for cooking. 
Some of the essential EGGcessories for this grill include a heat deflector, an ash tool, a cover, and a pizza stone. Some of these may come bundled with the package based on the dealer and the deal selected.
How does it work?
Using the EGG doesn't involve any complexity, especially for those who are the least exposed to charcoal grilling. The process involves a little prep work, lighting the charcoal, heating, and then leaving the grill to cool. 
Once you've ignited the charcoal, allow it to heat by tweaking the air vents and letting the heat retention do the remaining work. The working principle for the EGG is low-and-slow cooking, so you don't need any extra chores except to wait for the cooking to finish on its own.
Prepping
Prepping the EGG involves cleaning the leftover ash from the previous cooks if necessary. You don't need to clean it often as the EGG consumes very little charcoal. Consequently, there's much ash buildup, and you may need to clean it once every five to ten cooks.
For a quick cleanup, slide open the ash drawer and move the dust into a dustpan using a scraper. Slide back the drawer but leave the draft door open to heat the grill.
Heating
Now, remove the grid and scrape the leftover unburned charcoal to the side, ensure that the fire grate's holes are clear, and add a fresh lump of charcoal to the firebox. 
Mix the old and new charcoal thoroughly and make a place in the center for the fire starter you have by lining most of the charcoal along the firebox's periphery. It's always advisable to use a natural fire starter, which usually consists of wood, paper, wax, and other natural organic substances. 
Don't use lighter fluid as it's laden with chemicals and can seep into the grill's ceramic, only to contaminate your food's taste.
Ignite the fire starter and place it in the middle of the firebox, where you have created a tiny hole for it. Keep the lid and draft doors open for 15 to 20 minutes to allow the charcoal to light properly.
Once the coals are ready and fully heated, replace the grill grid, close the dome, and adjust the vents according to the recipe, i.e., whether it's a low-heat cook or a high-heat cook.
Soon you'll find your EGG's temperature stabilized. Now it's a versatile outdoor oven for all practical purposes.
Cooling
When you're finished grilling, close the dual-function metal top or replace it with a ceramic damper top and close the draft doors. Doing so will deprive the grill of oxygen and put off the fire. Another benefit of this is that you'll have to do fewer cleanups or none at all because the leftover heat will burn any food residues away.
Cooling the EGG takes more time than a metal charcoal grill, as the EGG retains heat very well. So, wait for at least 3 hours before you replace the cover.
Overview
The EGG Large sells at a steep price, but it's a worthy investment thanks to its superior heat-retaining qualities and ability to reuse old lump charcoal for future cooks. Being versatile, it can sear, roast, bake, and smoke efficiently using EGGcessories. Harnessing the EGG's full potential and versatility isn't possible without these accessories.
In addition, you get a limited lifetime warranty on all the ceramic components, including the dome, base, damper top, firebox, and fire ring. We are confident that you won't need to make a warranty claim within a decade or even more.
Pros
Extremely durable
Versatile cooking through many accessories
Matchless cooking performance
Incredible heat retention
Fuel saver
Cons
No smoke flavors are available except charcoal.
Heavy and less portable
Pricey
Not easy to clean
Traeger vs. Big Green Egg: Features Comparison
These are two different brands and present more dissimilarities than similarities. However, a side-by-side comparison of the two can still be made for easy comprehension. Let's do that.
Affordability
Both grills come at a steep price as they're solidly built and feature-rich. The Pro 575 and the Big Green Egg large cost you around nine hundred bucks each, definitely not cheap and heavy on your wallet.
Since the two brands are very dissimilar and aimed at different user groups, it's challenging to select two models of two different brands and compare their prices. In addition, the cost varies from model to model for each brand.
That being said, affordability is a relatively subjective term, and it's only you who can decide which brand offers you good value for money and which seems heavy on your pocket.
Design
Like other Traeger pellet smokers, the Pro 575 has a barrel-shaped firebox on a sawhorse chassis. There are two large, sturdy, all-terrain wheels under the right legs. 
The left side handle allows you to lift the grill a bit and move it around on its two wheels. However, some Traeger grills also contain two swivel locking casters on the left for added maneuverability.
On the other hand, as the name suggests, the Big Green Egg looks like a flat-bottomed dinosaur's egg. The EGG's exterior baths in a rich, bright green hue. A temperature dial is embedded into the dome.
Overall, the Big Green Egg doesn't feature a complex design or setup like the Traeger pellet grill. The design is straightforward. 
It can perform a broad range of functions despite a minimalistic design because of its ability to use accessories, cleverly called EGGcessories. It's an engineering marvel and landmark for a grill to support hundreds of accessories despite a minimalistic design with no hooks or pre-defined or pre-supplied attachments.
Construction
The Traeger Pro 575 features overall stainless steel construction with porcelain-enameled steel cooking grates. As for the lid, it either comes in a black or bronze finish. 
The rest of the pellet smoker features a black painted finish. The reason for the cries and woes of the paint peeling off even after a few months of use is the cooking heat.
On the other hand, just like other Japanese-style kamado grills, the Big Green EGG is made of ceramic. However, the ceramic construction of the EGG is inspired, if not borrowed, from NASA's Space Shuttle program. Hence, you can count on the EGG for durability. Unlike standard, fired clay, the EGG won't yield to a single accidental blow. The stainless steel primary cooking grid supplied with the EGG is just as sturdy and durable as its ceramic.
Fuel source
Traeger and EGG use different fuel sources, making the two brands very hard to compare. Traeger uses smoker pellets, which are small, hardwood, cylindrical objects that usually comprise compressed sawdust. 
However, the problem with hardwood pellets is that sometimes pellet manufacturers use additives, such as adhesives and fillers, and chemicals for several reasons. These chemicals can damage your health by infusing your food with toxins. Some pellet manufacturers avoid chemicals by adding some organic oil into the pellets.
There's no simple solution to avoid chemicals in smoker pellets, as you mostly have to rely on the manufacturers to know what goes inside their pellets. As it happens, brands sometimes resort to lying or misleading about the ingredients and manufacturing process.
In addition, hardwood pellets go rancid when exposed to humidity or when not used for long periods of time. These ruined pellets can also destroy the taste of your food and even turn it unhealthy to consume.
For these reasons, it's significant to source your pellets from a trusted manufacturer. You can also use wood chips instead of pellets. Traeger also manufactures great-quality pellets that go well with their pellet smokers.
Instead of using briquettes or wood pellets–which are not without health concerns due to the presence of many additives–the Big Green Egg uses lump hardwood charcoal for best results. The lump charcoal is free from any impurities. 
There are many other qualities that it has, including but not limited to faster lighting time, adjustable burn rate, capacity for high heat output provided there's proper ventilation and less ash production compared to smoker pellets and briquettes.
In the end, it all boils down to your cooking preference. However, in terms of fuel choice, the EGG is a more healthy way to cook, for it uses lump charcoal, which is a better fuel source than pellets.
Heat retention
The Pro 575 offers excellent heat retention ability, mainly because of its seamless design and snug-fit parts.
However, by and large, the heat retention of a grill depends on the material from which it's constructed. So it doesn't come as a surprise that the EGG wins hands down when it comes to heat retention.
The EGG's ceramic wall is what lends it its characteristic heat-trapping ability. The EGG's lid comes with a gasket system to further enhance its heat-retaining qualities. The grill burns like the "eternal hellfire" when the lid is closed. Plus, the heat will not reach you even if you're standing an inch away from your clay oven, thanks to the thick ceramic wall.
Ease of Temperature control
Temperature control in a Traeger grill is more efficient and precise than in the EGG. Traeger grills feature a digital control panel for finer temperature adjustments. 
The current generation of Traeger grills uses cutting-edge, state-of-the-art technology, such as PID controllers, to keep the temperature as close to the setpoint as possible. In addition, if you're using their meat probe, you can adjust the temperature and timer and read your favorite novel or watch a movie or TV serial while your food cooks. 
The Traeger smoker pellet grill lets you know it right on your smartphone screen when your set time or internal temperature is reached. You don't get these perks and privileges with the EGG.
While you can set the temperature on a Traeger grill only up to 500 degrees, temperature fluctuations are minimum, and you can count on the brand for this. Yes, Traeger grills are reliable.
When you're done grilling, you can serve it right away or press the "Keep Warm" button on your Traeger smartphone app to let the grill take care of your food while you finish your half-watched movie. Alternatively, you can turn on the "Super Smoke Mode" to infuse your steaks with delicious, rich smoky flavor and notes.
On the other hand, you have to adjust the vents manually on your Big Green Egg to control the temperature, which poses a significant problem for novice kamado-style cooking lovers. They need to understand that fine-tuning air ventilation drafts on the EGG involves a steep learning curve. It's not easy as it always takes time to develop reflexes.
However, the Big Green Egg offers a higher upper-temperature limit than the Traeger. For example, the temperature gauge on the EGG's domed lid can measure as much as 750 degrees Fahrenheit–which is definitely beyond most grills' high heat settings.
Cleanup
Both grills are easy to clean. The Pro 575 has an efficient grease management system with a drip pan attached to the left side of the barrel. It collects grease from the heat baffle, which serves as the grease tray, collecting and channeling fat, oil, and drippings away from the firebox into the outside drip pan. 
There's a pellet clean-out chute on the hopper's rear to empty the hopper or replace the pellets. But you have to use a vacuum cleaner to suck the pellet dust away from the firebox and auger system. 
There's no need to do it often as there's no chance of the pellet dust clogging the auger, fan, or motor.
As for the EGG, it also doesn't need frequent cleaning up. Once you're done cooking, replace the dome, and the excess heat will burn any food residue away. You may occasionally need to empty the firebox and clean it. 
To clean up the leftover ash, slide out the lump charcoal drawer, empty it into a dustpan, and just replace it. Replace the draft door screen, and it's done. Go grilling.
Final Thoughts
When it's about Trager vs Big Green Egg, you can't recommend one over the other. For the cooking performance, energy saving and durability, indeed, the big green egg wins. Yet, for the portability, ease of usage and variety of smoke flavors, besides cooking performance, Traeger also remains unbeatable. So, you can decide which grill you should pick keeping your needs in view.
universitygrill.net is a participant in the Amazon Associate program and will earn from qualifying purchases.