We warmly welcome all the food enthusiasts who love to learn the new Blackstone griddle recipes to try at lunch or dinner. It's going to be an interesting piece of content for all the avid food lovers who always stay passionate to try the new tastes in their homes. 
We're sure you won't just read, but your taste buds will feel the taste, your nose will smell the aroma, and your ears can listen to the sizzling sound arising from the scrumptious foods going to be discussed in this content.   
So let's dive deep and let all the recipes touch the bottom of your heart. 
Some Best Flat Top Grill Recipes For Breakfast
Peanut Butter and Jelly Stuffed French Toast 
Blueberry Pancakes 
Sausage Stuffed Hash Browns
Taqueria-Style Breakfast Tacos
Breakfast Burrito
Let's now head towards the details of these recipes. 
1. Peanut Butter and Jelly Stuffed French Toast
Who isn't fond of having yummy French toast stuffed with peanut butter and sweet jelly for breakfast? None can stop one's hand when such a rich flavored breakfast is present on the table. 
Do you also want to start your day with this recipe? That's great.
Here is the complete list of the ingredients and a detailed note on the preparation process. 
List of Ingredients
The ingredients of this recipe are so simple and can be easily found in your kitchen cabinet. These include,
2 slices of bread (or according to your need)
A small cube of butter
Peanut butter
Strawberry or raspberry-flavored jelly (or any other, according to your taste)
Half a cup of milk
2 eggs
1/4 teaspoon of Cinnamon Powder
A Complete Frame of Recipe
Nooo! There isn't any tricky step in the whole process. 
Take two slices of bread and spread peanut butter and jelly on both slices. 
Turn one slice over the other just to make a sandwich. 
Mix two eggs, 4 to 5 spoons of milk, and a pinch of cinnamon in a bowl and whip. 
Dip the sandwich in the batter. 
Meanwhile, add a little oil or butter to the hot pan of the griddle. 
It's time to place the batter-covered bread on the hot pan carefully. 
Let it get a beautiful golden brown color on both sides. 
Place it on the plate and sprinkle sugar powder to enhance its appearance and taste. It's that simple. 
2. Loaded Hash Brown on Blackstone Griddle
Hey, do you want to come out of the world of boring breakfasts? Using the same food for breakfast for months can make you feel lifeless. Thus, to give you a breakfast full of joy and nutrients, we're here with a healthy yet relish recipe. 
When paired with veggies and ham, Hash brown becomes the ultimate breakfast. The way we'll present this recipe will be your dreamy breakfast. 
Can you imagine the crispy hash brown loaded with mushrooms and ham giving an authentic flavor to your taste buds? 
The previous statement has indeed triggered your taste buds, and you can't wait for the recipe now. Okay, no more wait, and let's delve into the recipe now.  
Ingredients for the Recipe
Two cups of hash browns
Two to three teaspoons of clarified  butter
1 cup sliced mushrooms
Half cup sliced onion
Salt (according to taste)
Black pepper (according to taste)
A quarter cup of minced ham or sausages
Handful of shredded cheese
An All-inclusive Recipe of Loaded Hash Brown
Undoubtedly, it's easy to make Blackstone recipes that you can prepare in significantly less time. But first, prep your flat top grill. To do so,
Turn the burner on, heat the surface, and add a little butter to it. 
Add the hash browns and let it catch a golden brown color. 
Add the mushrooms and onions to the other side and let them become half-cooked. 
Cook some minced ham or sausages so that they get the perfect tenderness.  
Layer some cheese on the hash browns.
Mix mushrooms, onions, and ham and place them on hash browns. 
Add another cheese layer and cover with the lid. 
Spray some water on the base of the hash brown so that it might not get dry. 
Remove the lid, and ta-dah! One of the delicious griddle recipes is ready to serve and enjoy. 
3. Blueberry Pancakes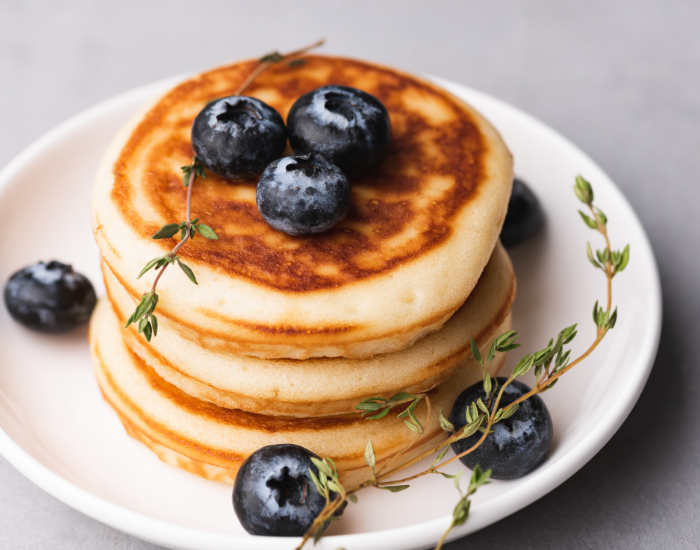 Do you want to have something light yet full of energy to boost your immunity in the morning? 
We present you the recipe for blueberry pancakes that won't just add sweetness but will also give you a boost of energy because of the fruits. 
Let's get started.
What Do You Need to Make this Recipe?
1 cup all-purpose flour
1 cup blueberries
1 teaspoon baking powder
1/2 teaspoon baking soda
2 tablespoons sugar
¾ cup milk
1 ½ cup buttermilk
2 Eggs
2 tablespoons melted butter
Note: You can also use berries of your choice.
Easiest Way to Make Blueberry Pancakes on Blackstone Griddle
First, you need to make a smooth batter for the pancakes. So,
Take a bowl and mix flour, eggs, milk, buttermilk, sugar, baking powder, and a pinch of baking soda. 
Heat the griddle surface up to 400 degrees and add a little butter. 
Now, pour the batter on the surface with a pancake batter dispenser.  
When the batter is still wet, drop some blueberries and leave. 
Give them a flip, and wow! You'll see a perfect golden brown color from one side. 
Now cook the other side for a few minutes until it's also covered with a golden brown layer.  
Hold on, why are you becoming so anxious to eat? Place them on the platter and add maple syrup or some fresh blueberries or butter. 
Yummy, what a heavenly taste!
4. Taqueria-Style Breakfast Tacos
Not all people are fond of having waffles, chocolate chip pancakes, Nutella toast roll-ups, or any other sweet thing in their breakfast. 
Do you catch the same category? 
When you're having your Blackstone griddle at your home, you're open to making the breakfast of your choice. How about trying some Taqueria-style breakfast tacos? Isn't it a good idea?
All You Need to Have For this Recipe
Few chunks of bacon
2 to 2 tablespoons oil
2 cups diced potatoes
Black pepper (according to taste)
Salt (according to taste)
2 beaten eggs
Handful of cheese
Wheat and Corn Flour Tortillas (as per your need)
2 to 3 tablespoons of chopped cilantro 
Hot Sauce (according to taste)
Steps to Follow for the Recipe
Start your recipe by dropping some bacon pieces with some oil on the cooking surface. 
Use a chopper scraper to chop the piece of bacon and let it cook.
Add a handful of diced potatoes and season them with black pepper and salt.
Combine both the things and add beaten eggs to them
After this, throw some shredded cheese and keep this mixture aside. 
Drop some tortillas on the griddle top and toast them.
In the final step, add this mixture to the tortillas, sprinkle cilantro, and add hot sauce to the filling. 
Your savory taqueria-style breakfast tacos are ready to be served in your breakfast. 
5. Easy Breakfast Burrito 
You might have seen breakfast burritos on the breakfast menu of restaurants. Yet, you can now try it at your home using your cooking partner, i.e., a Blackstone griddle. 
All the ingredients are so simple that you can find them in your kitchen. 
Listing of Ingredients
2 to 3 tablespoons of oil
2 cups hash browns
3 to 4 sausages
3 to 4 slices of bacon
4 eggs
Garlic salt (according to taste)
Tortillas (as per your need)
½ cup cheese
2 tablespoons tabasco
How to Make a Breakfast Burrito on Blackstone Griddle?
Unlike the recipe name, the preparation method is so simple that even beginners can easily make it. All you need to do is, 
Pour some oil on the surface and add the hash browns. Cook them until golden brown.
Sprinkle garlic salt according to your taste and place it aside. 
Drop some sausages, cook them, and cut them into small chunks.
When you find your sausages properly cooked, set them aside where there is little or no flame.
Now crack three to four eggs on the surface and let them fall on the cooking area. 
Add garlic salt to the eggs and fry them. 
Throw the tortilla on the surface to heat it. 
Now assemble all the things, including cheese, hash browns, eggs, and the last layer of cheese on the tortilla.
In the end, drop a few drops or half a teaspoon of tabasco and wrap the tortilla.   
Just wow! We're sure you can't wait even a day to give this recipe a try. 
Some Appetizing Blackstone Griddle Lunch Recipes
The next category of recipes that we will discuss is for lunch. Let's make your lunch moreish together by following these recipes. 
Deluxe Grilled Cheese Sandwich
Texas Tequila T-Bone Steak With Tequila Lime Sauce
Loaded Smashed Potatoes
Sesame Teriyaki Chicken Rice Bowls 
Amazing Steak Quesadillas 
1. Deluxe Grilled Cheese Sandwich
You might have eaten cheese sandwiches several times during your lunch. But we're here with a twist in the recipe to present you with a mouth-watering sandwich you haven't tried till now. 
We're talking about the deluxe grilled cheese sandwich to make on the Blackstone griddle.
Ingredients
A few slices of bacon
4 slices of bread
2 cheese slices
2 slices of grilled turkey breast
Medium-sized butter cube
A few slices of avocado
A few slices of tomatoes
Seasonings (salt and pepper)
How to Make a Deluxe Grilled Cheese Sandwich? (Step-by-Step Guide)
In the first place, you've to prep your griddle by turning the burners on so that the surface catches the required temperature. 
Season the cooking surface and add bacon to it.
Cook the bacon and remove it to a platter.
Pour some butter and place the bread slices on it. 
It's time to place cheese slices and freshly sliced turkey on the bread.
Place the second slice of each sandwich and spread butter on them. 
Cook from both sides until golden brown and remove on a platter.
Add sliced tomatoes and avocados along with the seasonings according to your taste.
Go, serve and enjoy the delicious deluxe grilled cheese sandwiches with your family.
2. Texas Tequila T-Bone Steak With Tequila Lime Sauce
As a foodie, you might be fond of having beef steaks at your lunch or might be at weekends. 
Wait please, don't you get bored with eating the same thing prepared in the same way? 
We want to give some change to your taste buds by presenting you with the super yummy Texas T-bone steak. We know you'll be very interested in knowing this recipe, so let's move forward and catch every point discussed below.
Main Ingredients You Need To Have
A T-bone steak
3 to 4 tablespoons of olive oil
2 to 3 tablespoons tequila lime seasonings
7 tablespoons table cream
1 tablespoon lemon juice
1 tablespoon garlic paste
Salt (according to taste)
1 tablespoon fresh cilantro
¼ cup tequila
Process of Cooking on Blackstone Griddle
Before starting cooking, you need to marinate the T-bone steak. 
For this, 
Pour some olive oil all over the steak surface.
Sprinkle tequila lime seasonings on the steak and rub it, so it's not easily removed. 
Now keep it at room temperature.
Properly heat the griddle surface and place the steak on it. 
In the next step, rub some garlic paste and cook it. 
Place it on the warming rack and prepare the Tequila Lime Sauce. 
For the dip or sauce, take some table cream, add lemon juice, some minced fresh cilantro, salt, tequila lime seasonings, tequila, and mix. 
Remove the cooked steak to a platter and add this dip to it. 
Yum, what a scrumptious steak it is! 
3. Loaded Smashed Potatoes
We don't want our vegan friends to lose heart. Here's something palatable for you guys, also. Neither too heavy nor too light to the stomach, but you need something balanced for your lunch. 
Is it so? We caught you right. The best recipe to satisfy your hunger is the loaded mashed potatoes. 
Let's try it. 
Ingredients
4 to 5 boiled potatoes
¼  cup green onion
½ cup green pepper
½ cup red pepper
¼ cup shredded cheese
A few slices of bacon (optional)
Sour Cream (as per your need)
½ tablespoons bacon chipotle seasonings
Salt (according to taste)
Black Pepper (according to taste)
Detailed Recipe (Step By Step)
Getting some delicious loaded smashed potatoes in your lunch is not a challenging task. 
First of all, turn the burner on and heat the surface of your gas griddle. 
When hot, season it, add bacon and cook them. (You can also skip using bacon.)
Now drop the chopped green and red peppers, cook them and move them aside. 
Pour some oil into your hand and cover the potatoes with this oil. 
Place the potatoes on the surface and smash them using the spatula. 
Sprinkle some bacon chipotle seasonings and place the cooked veggies on potatoes.
Add bacon (optional), make a layer of shredded cheese, and cover it with a lid.  
When the cheese is melted, give it a finishing touch with the sour cream and green onion. 
The crispy on the outside and tender on the inside potatoes will prove to be the best lunch. 
4. Sesame Teriyaki Chicken Rice Bowl 
Teriyaki chicken rice bowls aren't just a restaurant dish. Your Blackstone griddle can help you get it right at home. 
Until eating in restaurants, you might wonder what the secret of this recipe is that makes it finger-licking.
Let the cat out of the bag to let you quickly make this dish at your home. 
Must Haves of this Recipe
1 chicken breast
1 bowl of boiled Rice
1 cup bell peppers
2 tablespoons oil
1 ¼  cup onion
¼ cup green onion
2 tablespoons soy sauce
3 to 4 tablespoons teriyaki sauce
1 teaspoon black pepper
¼ cup broccoli
Salt (according to taste)
Pinch of sesame seeds
Method to Make this Recipe
Put some oil on the flat surface and add the chicken chunks. 
Sprinkle salt and pepper according to taste and let it cook.
Now throw some veggies, including cut bell peppers, onion, and broccoli. 
Enhance the taste by adding soy sauce to the veggies. 
Stir-fry them.
When the chicken is almost done, put some teriyaki sauce on it.
Mix all the veggies and chicken and remove them to a bowl.
In the final step, add boiled rice to a bowl and add this teriyaki chicken on the top. 
Garnish it with green onions and sesame seeds. 
5. Amazing Steak Quesadillas 
Are you fond of having steaks or quesadillas at your lunch? How about using both these to make a single dish? Let's make the mouth-watering steak quesadillas to transform your lunch into a quesadillas party. You'll surely love it. 
What Do You Need to Make this Recipe?
1 medium-sized bowl of sliced steak   
2 to 3 tablespoons of oil
Paprika powder (according to taste)
1 cup shredded cheese
Quesadillas (as per your need)
2 to 3 tablespoons of butter
Method of Making Steak Quesadillas on Blackstone Griddle
Start your recipe by cutting the steak into thin slices. 
Pour some oil on the surface and add the steak slices to it. 
Let the pieces cook, and add some paprika powder.
Please wait until the steak becomes tender and juicy, and then place it aside. 
Spread some butter on the quesadilla and put it on the hot cooking surface.
Add the shredded cheese, sliced steak, another layer of cheese, and the second quesadilla with butter spread. 
Cut your steak quesadilla into four pieces, and it's ready to serve in your lunch. 
Few Relish Blackstone Griddle Recipes For Your Dinner
Mac and Cheese Smashburger
Quick and Easy Grilled Salmon on Blackstone Griddle
Chicken and Veggie Fried Rice
Honey Lemon Cauliflower Steak 
Sweet Fire Chicken Quesadillas
1. BBQ Mac and Cheese Smashburger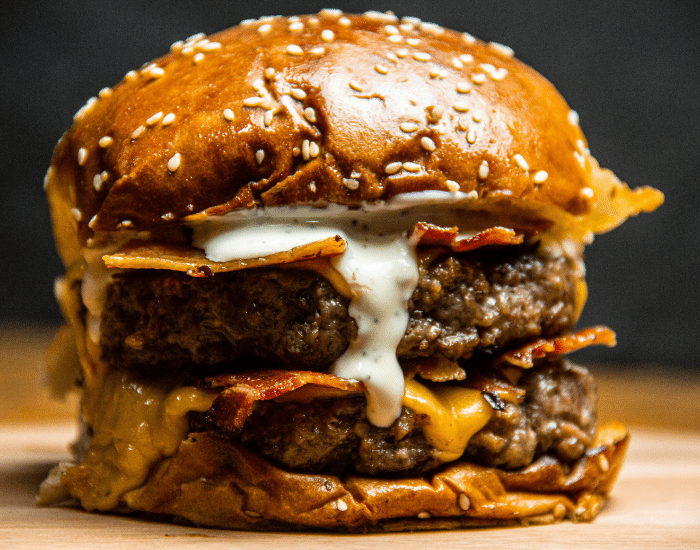 Mac and cheeseburgers are everyone's favorite. Can you restrict yourself from having this super yummy food item? Probably, only if you're following some diet plan. 
But count it a cheat day, and let's make this super-duper BBQ mac and cheese Smashburger for your dinner. 
Listing of Ingredients
Few slices of bacon
2 tablespoons oil
Medium-sized beef mince ball
Seasonings (according to taste)
1 cup mac and cheese
½ cup shredded cheese
1 sliced burger bun
2 tablespoons BBQ sauce
Some sliced jalapeno peppers
Steps to Make BBQ Mac and Cheese Smashburger 
In the first place, prepare your Blackstone griddle and then cook bacon.
Take a minced beef ball and smash it on the grill surface to make it look like a smashed patty.  
When half cooked, add some seasonings.
Let it cook for some time; then keep it aside.
Now put some cheese on the grill and add mac and cheese. 
Add another layer of shredded cheese and let it melt. 
When the cheese is melted, place this mac and cheese patty aside.
Warm the burger buns to bring slight crispiness to the inner side. 
Assemble the burger by layering BBQ sauce, mac and cheese patty, smashed beef patty, sliced bacon, some sliced jalapeno peppers, and the bun top. 
A super tender, juicy, cheesy, and delicious mac and cheese Smashburger is ready to enjoy. You must give it a try tonight. 
2. Quick and Easy Grilled Salmon on Blackstone Griddle
Do you want to try something straightforward, quick yet finger-licking after a hectic day? You can go with this quick and easy grilled salmon for dinner. 
We won't ask you to arrange a pile of ingredients. But you'll need just a few essentials to make this recipe chef's kiss. 
Let's quickly step into the section on ingredients and recipes. 
Ingredients
3 tablespoons olive oil
1 salmon filet
2 to 3 tablespoons fish seasonings (Mixture of black pepper, garlic salt, crushed red pepper, parsley, basil, lemon zest)
How to Make this Quick and Easy Grilled Salmon?
First, you need to cut the salmon filet into small equal parts. 
Now take some olive oil and rub it on the pieces of salmon. 
Sprinkle the mixed seasonings on each piece and rub it so that it gets properly marinated. 
Meanwhile, heat the cooking surface of your Blackstone griddle by turning the burners on. 
Once heated, place the salmon pieces in the cooking area.
Let the pieces on the griddle surface until they are properly cooked. 
Remove on the platter and pair them with rice or your favorite veggies.  
We bet you won't find any grilled salmon recipe easier and tastier than this one. So what are you waiting for? Give it a try. 
3. Chicken and Veggie Fried Rice
Craving to have some Chinese food tonight? How about chicken fried and veggie fried rice? The addition of chicken, veggies, and eggs will give you the perfect balanced diet. 
Were you also looking for this recipe to make on your flat top grill? Okay, let's jump into the recipe without waiting for even a single second. 
Complete List of Ingredients
6 tablespoons oil 
1 tablespoon garlic
4 eggs
2 cups boiled rice
1 chicken breast (cut in cubes)
1 cup diced onion
1 ½ cup mixed veggies
2 to 3 tablespoons soy sauce
Pinch of sesame seeds
2 tablespoons sesame oil
Process of Making Chicken and Veggie Fried Rice
Start your recipe by putting some oil on the cooking surface.
Now add some chopped garlic and put chicken cubes on it. 
Add some sesame oil and soy sauce, then cook the chicken until it's done.
Keep your chicken aside and add mixed veggies with sesame oil on them. 
Pour some soy sauce and toss some onions.
Cook all the veggies and keep them aside when done.  
Again, use some oil on the surface and add the boiled rice. 
The next step is to put some soy sauce and sesame oil on the rice.
Mix all the veggies and the chicken chunks with the fried eggs and the rice.
Lastly, throw some sesame seeds, and your fried rice is ready to serve. 
We must say what a moreish dinner it is!
4. Honey Lemon Cauliflower Steak 
Not really fond of meaty dinners? Do you prefer some veggies rather than burgers, pizzas, and other such foods?
The last recipe is mainly for you and our vegan friends. When cooked with honey, lemon, and paprika powder, cauliflower steak will give you a sweet and savory taste that you'll surely like. 
Ingredients of the Recipe
3 to 4 cauliflower steaks
1 lemon
¼ cup honey
1 teaspoon olive oil
½ teaspoon paprika powder
1 lemongrass stalk (sliced)
¼ teaspoon crushed red pepper
How to Make Honey Lemon Cauliflower Steak on a Blackstone Griddle?
First of all, squeeze a lemon into a cup and pour some olive oil into it.
Add a quarter cup of honey, some smoked paprika, crushed red pepper, and tiny lemongrass slices, and stir everything. 
Drop the cauliflower steak on the griddle and pour some water for steaming. 
Properly brush the honey, paprika, and lemon mixture on the cauliflower.
Turn the cauliflower and brush the other side with the same mixture. 
Let it cook for 4 to 5 minutes until it's done.
Remove it to a platter, and add the remaining honey-lemon mixture.
Ta-dah, your sweet, savory dinner is in front of you. 
5. Sweet Fire Chicken Quesadillas
I'm not a spice lover, but do you love to try sweet and spice in a single recipe? We're here with the yummiest recipe of sweet fire chicken quesadillas. Once you try it, you will make it a must-have in your dinner. 
Let's have a glance at the ingredients.
Essentials of the Recipe
2 to 3 tablespoons of oil
1 chicken breast cut into small pieces
1 ½ cup shredded cheese
Flour quesadillas (as per your need)
½ cup sliced green onion
2 tablespoons cilantro
3 tablespoons sweet fire sauce
Steps to Make Sweet Fire Chicken Quesadillas
First of all, pour some oil and add the chicken breast pieces.
Let the chicken cook and pour some sweet fire sauce.
Now place the chicken aside.
Place the flour quesadillas and make a layer of cheese on them.
Add chicken chunks, sliced green onions, and cilantro to one half of each quesadilla and fold. 
The sweet, spicy, and mouth-watering quesadillas are ready to give you a heavenly taste. 
Happy Eating!
We've tried our best to present you with the easiest yet most delicious recipes to make on your Blackstone griddle. You'll love each of the discussed dishes, from luscious blueberry pancakes to juicy texas tequila T-bone steak and yummy chicken and veggie fried rice.
At the end of the day, let us know which recipes you selected to make for your breakfast, lunch, and dinner today. We'll be waiting for your reply in the comment section. 
universitygrill.net is a participant in the Amazon Associate program and will earn from qualifying purchases.