When it's about Camp Chef Sear Box vs Sidekick, you can have any, the reason is they're a perfect solution for the insufficient heat of pellet grills. But, "what are the Sear Box and Sidekick in the first place? And when can you have any and why?" These are the real questions that need a detailed answer to help you make right decision.
Well, Camp Chef Sear Box and Sidekick are optional, LPG-powered side burner accessories you can add to any full-sized Camp Chef 24 and 36-inch pellet grills by removing the right side shelf. In this guide, we have reviewed these two accessories in detail and compared them to help you make a confident buying decision. 
But before we dive headfirst into the reviews, the topic deserves a short introduction. In the following lines, we delineate why you should buy one of these accessories as a Camp Chef pellet grill owner.
What are Camp Chef Sear Box and Sidekick pellet grill accessories for?
Pellet grills are notorious for not getting hot enough to searing temperatures. They were developed to cook meat and other foods at a low and slow temperature. It's hard to find a pellet grill lover complaining about their pellet grill not getting too hot. The usual complaint, instead, is that a particular pellet grill gets hotter than it should.
The ideal temperature for most smoking falls between 225°F to 250°F. For example, the Traeger Scout is a portable smoker with frequent temperature swings (often spikes), owing to its conventional-style, non-PID controller.
That said, only a few smokers in the market can manage to get to a fairly high temperature–the Recteq RT-540, for example, can cook between 180 to 700 degrees Fahrenheit. 
But who would want a pellet grill capable of getting to a searing high temperature? 
Hold on! The answer lies in a relatively new form of cooking called reverse searing.
The searing method involves searing the steak in a hot pan or a grill and then transferring it to the oven to bring it to its safe minimum internal temperature. Reverse searing is the opposite of this process.
It involves cooking, mostly smoking the meat on a very low indirect heat to reach its safe minimum internal temperature, letting it rest, and then searing the outside over high direct heat. Reverse searing, almost invariably, results in a more stunning browned crust and a more tender piece of meat while providing great control of the internal temperature.
Another scenario where the Camp Chef Sidekick and Sear Box derive their popularity as pellet grill's powerful partner is the desire to save space while enjoying complete versatility for grilling, smoking, or both. If you don't have a lot of deck or storage space and still want the ability to grill and smoke, the Camp Chef Sidekick and Sear Box are excellent options to add to your full-sized Camp Chef 24 and 36-inch grills.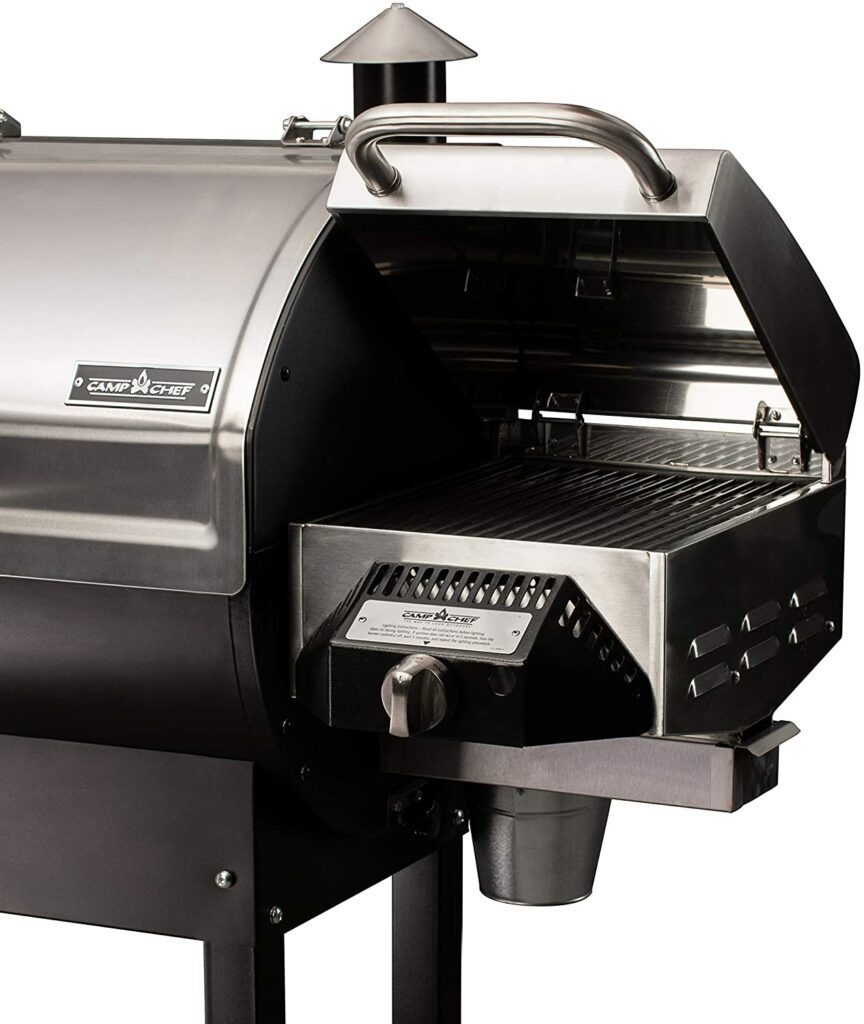 As already mentioned, pellet grills are not good at and not meant for searing, and the BBQ Sear Box is Camp Chef's answer to this problem. It's a small side burner accessory that–using the existing hardware–you can add to a full-sized Camp Chef pellet grill.
The Sear Box has a sturdy construction–stainless steel everywhere save the ignition system and the cooking grates. We can say that the unit is built to last for years, if not decades.
Build/Features
As the name indicates, the Sear Box looks like a small but rugged stainless steel box. It has a slightly tapering lid–more prominent in the rear, gradually diminishing toward the front. 
The lid is also bulged upward, which translates to more headspace for larger cuts of meat. But you can't fit an entire bird on it, anyway. As you may have anticipated, the lid also has a beautiful stainless steel handle.
The Sear Box comes with enamel-coated cast iron grill grates, resembling those on mini, portable electric grills. They have a continuous surface save the semi-rectangular cutouts between the raised ribs, meant to produce distinct grill marks. 
A flavor screen containing tiny holes goes right underneath the grates, and it has a built-in finger hole to lift it out for cleaning. There's a heat deflector plate underneath the flavor screen above the burner. 
The flavor screen and the heat diffuser plate vaporize the drippings, infusing your meats with a rich, smoky flavor. The heat deflector plate also allows for infrared cooking, dispenses heat evenly across the grilling surface and protects the stainless steel tube burners from grease. 
A large, rectangular, slide-out drip tray can be found underneath the unit. The Sear Box has air vents on the side to allow oxygen in.
The Sear Box has an automatic ignition system, so you can get it roaring with the twist of a knob. It has a temperature range of 480° F Low to 900° F high, thanks to the stainless steel burners with a heat output of 16,500 BTUs per hour.
The searing area dimensions for this unit are 11.5 in. x 16 in., which translates to a total cooking area of about 184 sq. inches. The Sear Box is 11 in. high with a weight of 34 lbs. A tank holder also comes along with the unit.
Impressions/Performance
The first thing you note about the propane-powered Sear Box is its rough and tough build. As for the assembly, it takes about 15 minutes to remove the shelf and attach it. However, the instructions are not very legible (due to a smaller print) and unclear. 
But assembling a small cooker like this and attaching it to the main grill shouldn't be rocket science. There's a leveling screw to adjust the cooker's angle against the grill.
Despite being a side burner, the Sear Box's performance is on par with a medium-sized gas grill. It gets to 900 degrees Fahrenheit and sometimes above its upper-temperature limit. It does its job–that is, in most cases, reverse searing–pretty efficiently. We were glad to see that it hardly takes 10 minutes to reach its maximum temperature.
Pros
Entirely made of stainless steel
Includes a flavor screen and diffuser plate
Automatic ignition
Features a slide-out drip tray
Gets pretty hot–matchless for searing
Cons
Doesn't include a temperature gauge built into the lid
Not compatible with the range of accessories you can add to the Sidekick
Can't be used other than searing/grilling
Like the Camp Chef Sear Box, the Sidekick is a side burner accessory that attaches to any of Camp Chef's full-sized (24 or 34-inch) grills meant for reverse searing at high temperatures. But it's more versatile than its predecessor; allowing you to grill, bake, smoke, boil, flame broil, BBQ, sear, roast, braise, sauté, fry, brew, and more on a single small, compact unit–cleverly but rightly advertised by Camp Chef as "your new partner in cooking crime."
The unit derives its advertised versatility from its compatibility with most 14-inch Camp Chef accessories, for example, the Camp Chef Deluxe Barbecue Grill Box, the Artisan Outdoor Pizza Oven, the Reversible Pre-Seasoned Cast Iron Griddle, various pots & pans to be used on its propane-fueled burner, and more.
Build/Features
The stainless steel unit measures 21.5 long x 20.1 wide x 6 inches high and weighs slightly over 32 pounds. The Sidekick's cooking area dimensions are 14 in. x 16.5 in., making to a total cooking surface of 231 sq. inches. It has a 28,000 BTU stove top-style cast aluminum burner, unlike the Sear Box, which has tube burners.
In terms of design, the unit is simple but well-built. It's made entirely of stainless steel save the burner and the ignition knob. First, there's a grid of thick but thinly spaced stainless rods, and it's not an actual cooking grid as it only serves to support your pots and pans. 
There are air vents on the sides and the rear. And while there's a stainless steel tray beneath the burner, it's not precisely a drip tray as it doesn't cover the entire bottom of the Sidekick.
So, where does the grease go if the Sidekick doesn't have a drip tray? The answer lies in the individual grease management systems of the BBQ Grill Box, the Artisan Outdoor Pizza Oven, the Griddle, and other accessories that mount on the Sidekick. Virtually, you can't use the unit without accessories–which is its major downside.
The unit includes a 14″ Flat Top Cast-Iron Griddle. It comes pre-seasoned and is ready to cook out of the box. It has a dedicated grease management system consisting of a drain and a cup. The grease pools to the front of the griddle, entering a channel that leads to the drain and finally the front-mounted cup.
The assembly and installation are a snap.
The Sidekick features Camp Chef Matchless Ignition, meaning your cooks are just a knob's turn away.
Sidekick Extras
In addition to the pre-included griddle, the Sidekick is compatible with the following accessories: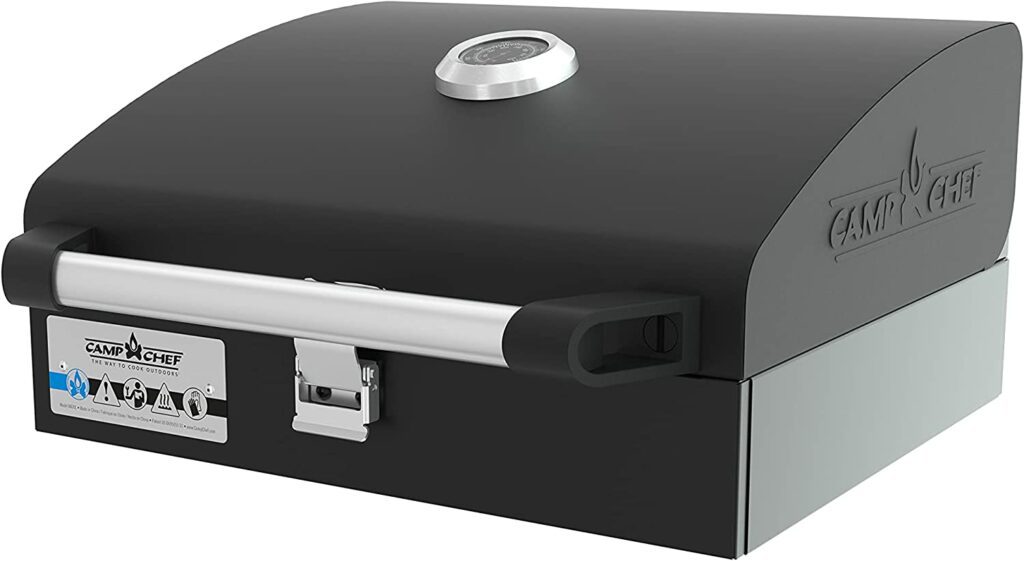 It's a simple box you can add to your Sidekick and has a hinged lid and lid handle for convenient opening and transportation. The latch locks hold the lid and the cooking grates to make maneuverability easier. The lid also has a built-in temperature gauge.
The Grill Box has two True Seasoned Finish cast-iron grates that are great for searing. Given that the Sidekick heats up much faster and to a much higher temperature than the Sear Box, the Grill Box sears meat more efficiently. Like the Sear Box, the Grill Box comes with heat diffuser plates for infrared searing and vaporizing meat juices.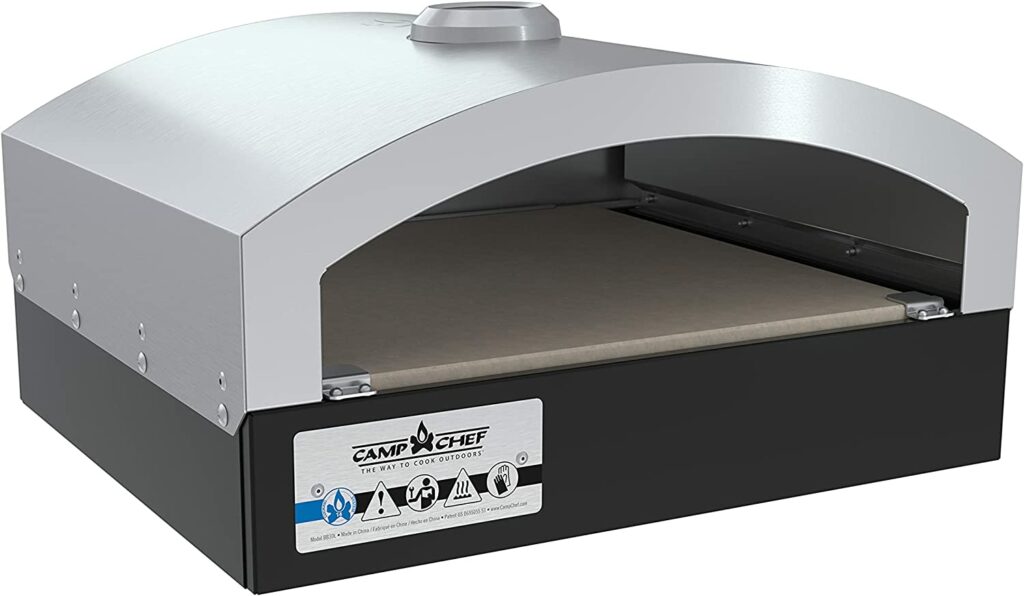 Another useful accessory you can add to your Sidekick is Camp Chef's 14″ Pizza Oven. The Camp Chef pizza oven is perfect for pizzas, bread, meats, vegetables, and desserts with its pizza stone made of cordierite ceramic. The ceramic pizza stone pulls moisture off the dough to make it super crisp, while its double-wall stainless dome enhances heating dynamics. The dome also has a built-in temperature gauge.
As for build quality, like other Sidekick accessories, its high positive ratings and satisfying customer reviews on Amazon speak for themselves.
The other Camp Chef 14″ accessories that pair well with the Sidekick include various pots, pans, and skillets.
Impressions/Performance
The Camp Chef Sidekick looks like a great accessory if you already own one of the full sized Camp Chef pellet grills. It's well-designed, well-built, and has great controls. Specifically, ignition and temperature regulation are a breeze due to the ignition and temperature knob. It dispenses heat evenly and consistently, no matter what additional accessory you add. Some additional accessories, like the Grill Box and Pizza Oven, have their own heat diffusion systems.
When it comes to heat output, it's more powerful than its predecessor, the Sear Box. You can't use the Sear Box for purposes other than grilling and searing. For example, if you have to make a hamburger or cook eggs, you can't do it on the Sear Box because, for this, you would have to add a griddle plate to it, which turns out to be quite challenging–there's no easy way to do this. On the other hand, the Sidekick can be used as a grill, griddle, skillet, and even a pizza oven.
Pros
28,000 BTU cast aluminum burner
Includes a Flat Top griddle that comes pre-seasoned
Compatible with a range of accessories (sold separately)
Can bake, sear, boil, sauté, braise, grill, etc.
Cons
Doesn't have a dedicated grease management system of its own
Accessories are sold separately
Sear Box vs. Sidekick: Which one should you have?
Regarding the Sear Box vs. the Sidekick, it's hard to declare one of these products as a hands-down winner–it's all gray areas. So, instead of having black-and-white certainties, we have to deal with a spectrum of possibilities each product presents.
Camp Chef Sear Box Vs Sidekick, which is more durable?
Both the Sear Box and Sidekick are well-built and durable. So, by and large, which of the two products is best for you depends on your grilling needs.
Sear Box vs. Sidekick, which is more versatile and compatible?
In comparison, the Sidekick offers more possibilities as it's compatible with a range of accessories, namely the griddle, the grill box, and the artisan oven, neither of which can be added to the Sear Box. It also outputs more heat than the Sear Box.
It would be interesting to note that the Sear Box and the Sidekick are the same prices. You also get a griddle with the Sidekick. If you want to add more accessories to the Sidekick, you must buy them separately. So if the Sear Box serves only as a standalone unit and isn't compatible with these versatile and useful accessories, who on earth would choose the Sear Box?
Camp Chef Sidekick Vs Sear Box, which is better for searing?
Sear Box is exceptionally great at reverse searing. When attached to a 24 or 36″ Camp Chef pellet grill, it sears the steaks and other stuff so remarkably that the results put any of Traeger's premium models, say Traeger Ironwood or Timberline pellet grills, to shame. 
It has the searing ability not shared by any other pellet grill currently on the market. So, comparing the Sear Box and the Sidekick based on their price doesn't generate a fair comparison.
What can prevent you from having Sidekick?
The major and probably sole downside of the Sidekick is that it's not meant to be a standalone unit. While it comes with a Flat Top griddle, you can't sear so well on it. 
To get close to or outdo the results achieved through the Sear Box, you would have to buy the Delux Grill Box accessory, which costs you an additional $200 (approximately). 
Camp Chef Sidekick Vs Sear Box — Final Verdict
Long story short, when it comes to price, the Sear Box is a truly matchless option if reverse searing is all you need.
But it's not affordability that this all boils down to. The Sidekick is pretty useless as a standalone unit as it doesn't have a grease management system of its own. But, you can add it to your Camp Chef pellet grills and still need other accessories–which cost you an extra few hundred bucks–to enjoy all the versatile cooking options it offers. 
Alternatively, you can cook, bake, and grill on the pre-included griddle, but the results may not be that awesome. But still, if you can afford the accessories, the Sidekick is a better option as it provides diverse cooking options with amazing results.
As for build and durability, both the Sidekick and the Camp Chef Sear Box feature a tough, rugged, stainless steel construction.
universitygrill.net is a participant in the Amazon Associate program and will earn from qualifying purchases.