Are you among those who have heard about ceramic briquettes and their amazing heating support to help you get delicious steaks and vegetables? You must be anxious to know everything about them.
If it's the case, you're at the right place for you're going to learn and A-Z about grilling with ceramic briquettes. After all, they have proven themselves excellent for their uniform and long-lasting heat outcomes to make your gas grills exceptional.
So how can you take advantage of the best of both worlds? Well, the answer lies in ceramic briquettes.
What are Grill Ceramic Briquettes?
The briquettes are great heat enhancers and stability insurers to put a grill on fire— they don't cause flare-ups. They are superb heat retainers made of ceramic dust with no mess inside your gas grills. To support their setting inside your grill, the manufacturers have made them in many shapes like square, rectangular, circular, or pyramids.
Unlike heat shields, they retain heat. In contrast to lava rocks, they're cleaner and long-lasting. It's the reason lava rocks are not much encouraged by grilling lovers but these briquettes. In short, the ceramic briquettes are:
Ensure even heat without caring about the cold spots

Enhance the heat under your BBQ

Help with retaining heat that your gas grill produces

Preventing heat loss in windy weather or higher altitudes.

Make sure that the heat under your steaks isn't more than needed.

Easy to clean 

BBQ taste improvers
Hence, they're a single solution for all gas grills heating problems.
Is ceramic briquettes a good choice for cooking or decorating, and what makes them so desirable? Continue reading for information! 
How are Ceramic Briquettes Useful for Gas Grilling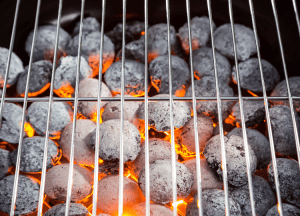 Should you add ceramic briquettes to your grill? Here is the answer. These game-changers are replacing the lava rocks and other heat managers sitting inside your grills. There are many reasons. Let's have a look.
The ceramic briquettes help with improving meat taste.
When one is dear to you, you can get 100s of reasons to love them. It's why, besides their heat efficiency, the users have begun to love the taste that the ceramic blocks are offering to the BBQ.
Are they right in doing so? Yes…!
These grill heating tools are less porous. Therefore, the drippings from your food stay on their surface to burn and create an irresistible aroma. But, remember, the magic of taste is also happening because of the even heat these briquettes bring.
They help with even heat distribution and save fuel.
Ceramic briquettes are an excellent source to help you prevent heat loss as they absorb the heat coming from burners and slowly release it to aid perfect BBQ. The same capability also helps with decreasing fuel consumption. Hence, by spending a few $$, you save XX time money that your grill could cost you by burning gas and losing the resultant heat.
Ceramic briquettes are durable.
How long can ceramic briquettes last? Can you imagine? What if we tell you, "five full years." 
You might be left surprised, yet it's true. Now, you can make comparisons with other heat diffusers like heat shields and lava rocks. 
Ceramic briquettes are easier and cleaner to use.
Unlike charcoal or lava rocks, Ceramic briquettes go neatly into the tray, and because they're a single unit, you can effortlessly set and remove them from the grill.
It's also quite simple to replace installed briquettes. Ceramic briquettes are put into the tray in a modular form, allowing you to replace the briquettes as needed.
Again, being a single unit, you can easily get them out of the grill and clean them.
Ceramic briquettes Keep flare-ups away.
How scary can grill flare-ups be? You know it well.  The briquettes ceramic aid in uniform heat distribution. Thus, they prevent flare-ups, especially when the drippings grease from your food, and drippings can become the second source for such horrifying flames. 
Unlike lava rocks and Flavorizer bars, which can create flare-ups due to grease build-up, the ceramic briquettes ensure that you will not have any flare-ups.
Ceramic briquettes are health and environment-safe.
Who else doesn't know that grilling on charcoal can be risky? In the same way, you can't vow for the health or environment-friendliness of the lava rocks, for they are hard to clean and home to millions of bacteria ultimately. However, the ceramic briquettes are far more helpful for your health and environment for being non-toxic.
As you do not have to replace them often, the waste is also low. Hence, compared with their rivals, lava rocks and heat shields, they're far more economical, convenient to use, heat effective, and safer. 
Are there any Disadvantages of Ceramic Briquettes?
Are you one to doubt whether ceramic briquettes have any disadvantages? Yes, there are some but not significant in relation to the actual value when using ceramic briquettes. So, here are these.
The pack of 50 ceramic briquettes can cost you nearly $25-50. Likewise, you'll have to spend an extra $50 on the tray. Thus, it'll be an expense of $100. 
 Does it seem too costly? The truth is that they're not because they last much longer in comparison with flavorizer bars or lava rocks in your gas grills.
The ceramic briquettes don't absorb drips, right? Then what do they do? When the briquettes heat up at high temperatures, these drips change into ash, which can be a mess in your grill ceramic briquettes tray. It's why the gas grill briquette tray might look troubling. But on-time cleanliness can help you.
Unlike charcoal, ceramic briquettes are denser. Therefore, they take longer to heat up. 
Worrying? Please don't because once heated up, they keep heat longer. You'll love that!!!
Still, for the benefits, the ceramic briquettes for gas grills are exceptional.
What are the Specialty Flavors of Ceramic Briquettes?
As a BBQing fan, you're well aware of mesmerizing flavors of wood pellets. Then how about the ceramic briquettes? The good news is here. 
The ceramic briquettes also feature specialty flavors. So, these heat distribution tools can bring the desired taste to your meat, chicken, and other foods without depending on wood pellets. Here are some prominent flavors that these ceramic grill tiles are featuring, along with their food suitability.
The classic taste of Hickory

can go well with any type of meat

A regional flavor of Mesquite

can offer you a taste liked by the southwest and Texas.

The red-colored Cherry flavored

is perfect for outdoing the beef and pork.

The pinchy but sweet Peach flavor

is a great pick for the pro-grillers.

The dreamy, sweet flavor of apple

is fit for any type of meat. 

Pecan

is excellent to flavorize your meat through a shorter burning time as the prolonged smoking of hickory family woods can make your BBQ bitter.
Here is a step-by-step process to add the ceramic to your BBQ grill.
Step 1: Gather the essentials.
First, you need to arrange all the tools and gears that will help you add ceramic briquettes to your grill. 
Gas Grill Ceramic Briquettes that are compatible with your grill.

Ceramic briquettes tray (optional)

You gas or barbecue grill.

Matches, a lighter with a long handle 

 A thick tinfoil

Gravel (optional)
Step 2: Read the grill's manual.
Are you sure you haven't lost the grill manual anywhere? The time is to read it; it will give you enough info about the safety measures your grills need when you customize it. 
Ensure you also keep an eye on any section concerning the grill's firebox and ignition. Measure the area between the bottom of your grill and your sauce rack, as this will prevent the grill from forming too much contact with the taste. Measure the thickness of your grill grate that's a little bigger than your briquette tray. 
Step 3: Place ceramic briquettes in your grill.
Put all your ceramic briquettes evenly on top of the tray, as demonstrated below.
Set the tray right above the rack holder above the burners. Place the grill rack back (If you don't want to have a tray for briquettes, you can also set the ceramic briquettes in the charcoal tray inside your grill.)
Now, set your grill on medium heat and let your ceramic briquettes heat. After 10 minutes, turn the temperature to high and burn for another 10 minutes to stress test. Thus, you can proceed with your grilling over ceramic briquettes.
Tips & Safety Measures for Using Ceramic Briquettes in Gas Grill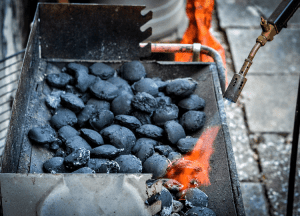 Ceramic briquettes aren't hard to use, you know. But, here is more….by following certain tips and safety measures, you can enjoy a happy experience with these heat distributors and flavor enhancers for your gas grill. These are here:
Soaking the briquettes in vinegar solution is an effective way to clean them.

Turn the briquettes over each time you cook so that they will be clean the next time you fire up the grill. 

Before you start cooking, the briquettes should be glowing to prevent bacteria from growing and causing food poisoning.

Grills can be dangerous, so if children are present, they should be accompanied by a parent or guardian and have a fire bucket and extinguisher available. 

Grilling meat on the grill can cause flare-ups, so maintain a safe distance and use long tongs. Set up the grill according to the instructions.

Hire a skilled griller who can refrain from alcohol, at least until everyone has eaten food. Also, make sure that the griller has read the instructions.
Yes, it's possible. Since the ceramic briquettes are well known for heat retention. They can help you create two zones of cooking area in your "impossible grills."
Unlike gas grills, creating indirect heating or two-zone heating might seem difficult with charcoal grills. Yet, with a creative arrangement, you can succeed in doing so and thus enjoy heat variation for your food.
5 Best Ceramic Briquettes for Your Gas Grill
Now that you have all the necessary information about what ceramic briquettes are and how to use ceramic briquettes, it's time to explore what are the best ceramic briquettes for your gas grills. We have carefully analyzed each product to ensure that they're overall best in terms of their offerings and have received many positive reviews on Amazon.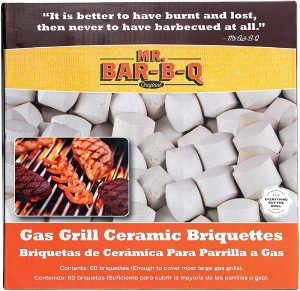 Mr. Bar-B-Q's ceramic briquettes are a great option for anyone wanting to improve the enjoyment of their food. The benefits are especially great for those who have older grills that no longer function as well as they used to or need to have parts replaced.
A rising flame (flare-up) is a problem that no one wants to face because it can ruin the food's taste and texture besides safety concerns. While flame guards and burner protectors offer some help, most of them are not very effective.
Bar-B-Q's ceramic briquettes are far more effective in preventing flare-ups. We also found that adding these briquettes evenly raises the temperature of the grill.
We were also pleased to find that, unlike other brands, all the briquettes could withstand transportation. It is proof that they are made of high-quality materials.
Pros:
Enough briquettes for a medium or large grill

Flat bottoms make them easy to place on the griddle.

Designed in a way that the briquettes don't bounce around when the grill moves
Cons:
Take a long time to heat the grill

Require very high heat for self-cleaning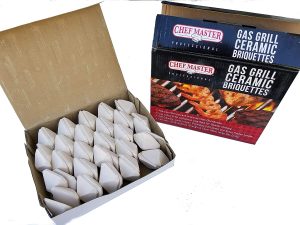 The Shape of the Chef Master Briquettes has an advantage over  Mr.Bar-B-Q.
Even though the Mr. Bar-B-Q briquettes are "self-cleaning," they need to be pulled off the grease tray and require very high heat to clean.
It's in contrast to the pyramid-shaped Chef Master briquettes. The pyramid-shaped Chef Master briquettes are very easy to clean because their shape does not allow grease to accumulate.
A box of briquettes can cover a cooking area of 375 square inches. Note, however, that there are 10 fewer briquettes than if you purchased them from Mr. Bar-B-Q. There were very few flare-ups, and if there were, they were only small flame bounces.
Other than that, both products offer very similar advantages. Both products were able to produce higher temperatures than before using the briquettes.
Pros:
Significantly reduces flare-ups.

They raise the temperature of the grill.

The pyramid shape prevents grease buildup.
Cons:
I

t may need to be replaced in a few months.

Requires more than one box to use on a 400 square-inch grill.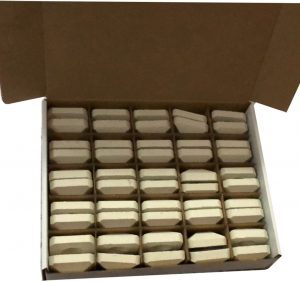 Cost-effectiveness is an important factor when considering a brand of briquettes. When comparing prices, only Grill Greats briquettes are more expensive than Soldbbq briquettes. 
However, Grill Greats' briquettes are not the "rock" style, but rather, they offer plate-like briquettes, which cost the most per briquette.
So, is it worth the extra price? In short, yes.
Of all the briquettes tested, the Soldbbq product had the greatest impact on temperature. It can achieve up to twice as much temperature as without the briquettes.
Due to the briquettes' heat retention and temperature-raising effect, less fuel is needed for cooking. This means that you will ultimately save money on your fuel bill.
This briquette is made for Lynx grills, but it can also be used on grills by other manufacturers to reduce the flame and increase the heat.
Pros:
A higher temperature than competitors

Better heat retention than other manufacturers' products

Enough bricks for a medium or large grill
Cons:
The price is high.

Most effective with Lynx grills.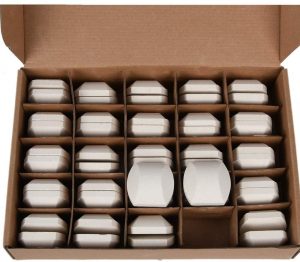 These briquettes will revive your old grill and make it usable for several years. (Note: You may have to replace the briquettes a few times during that time.)
Based on the look and feel of the briquettes, it seems like they will last longer than those of other brands.
The only thing that bothered us was that they took longer to heat up compared to Soldbbq. However, the price is also lower.
It's a choice between buying cheap but long-lasting briquettes that give result in heat retention and distribution.  YEP, they also help with heat retention.
Pros:
The briquettes are cost-effective.

Made of durable materials

Can prevent flare-ups

Suitable for medium and large grills.
Cons:
Lower heating efficiency compared to other brands.

Short heat retention time.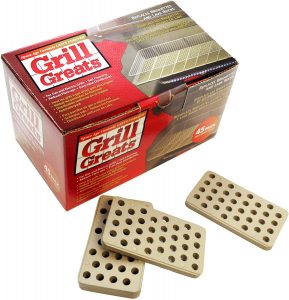 Grill Greats has a different product offering than the other four reviewed here. The "briquettes" are in plate form; each of them is a quarter-inch thick, and a total of 45 plates can cover a grill of 315 square inches.
The main advantage of this plate style is that once assembled, each plate is fixed in place. It reduces the movement of the briquettes if you have to move the grill due to a sudden wind.
Overall, the way the heat is distributed and the flames rise is similar to other products. The best heat source is Soldbbq, but Grill Greats is a cheap and effective alternative.
As these plates heat up faster than a traditional briquette, you can start cooking much sooner.
If it comes with a drawback? It is in the way these briquettes are packaged. Many people say that the briquette they received was cracked, and this is because the packaging was not well protected.
Pros:
Heats up rapidly

Cooks with less flame and less fuel.

Capable of self-cleaning in 10 minutes before cooking.
Cons

:
It can only cover 315 square inches.

Fragile and needs careful handling.
FAQS about Ceramic Briquettes
Are ceramic briquettes toxic?
No, ceramic briquettes are not toxic at all. Being easy to clean and less absorbent, they hardly accommodate any food residue. Therefore, they're health-safe. 
Can you use ceramic briquettes in a charcoal grill?
Yes, you can use ceramic briquettes in your charcoal grill. They'll make your charcoal grill hotter and save energy costs.
Who should use ceramic briquettes?
Using ceramic briquettes is a sure way to reduce the risk of burns in meats and reduce risk. Many people said using it was effective on more meat. They help distribute heat more evenly than lava rock and help to prevent undercooks and burns of meat. Ceramic Briquettes help you avoid overcooked or burnt meats with no need to use lava rock for the best flavor of your meat.
Should I use ceramic briquettes or heat shields?
Metal can not provide heat. Metal heat protection shields often are the main cause of rusty metal in gas grills. They don't have long-lasting properties like ceramic briquettes. Allowing grease to come off these shields can damage them even more.
The briquettes provide the same flame-dispersing benefits as heat shields, however, with a longer lifetime and better flavor-saving properties. A further supplementary ceramic brush with sharp bristles helps with easy cleanliness.
Why Should I use ceramic briquettes, not lava rocks?
They serve as a cleaner, heat-retardant option as compared with lava rocks. Several companies relocated from the lava grating system because the lava rock would crumble and mess inside the grill. Another reason for preferring briquettes over lava rock is that lava rocks can vaporize more flammable gases to make them unhygienic. Hence, there is no better alternative than briquettes ceramic.
How do I clean ceramic briquettes?
The briquettes do not have to be cleaned on a charcoal fire or propane grill. The heat from the flame usually blows away small pieces of vapor or waste. Yet, you have to remove the debris using some wire brush if you haven't cleaned them for a long time. 
The following are the steps to cleaning your ceramic briquettes:
When you're through cooking, and the grill has cooled, wipe away any food particles with a dry paper towel and flip the briquette tray over. If you aren't using a briquette tray, flip each briquette over so that the oily side is facing down.

Turn, increase the heat, and close the grill cover. Leave it in this position for 15-20 minutes.




This should remove all of the food residues. If not, scrape any leftover residue with a wire brush.
Ideally,  when should you clean them? After the initial use of 10, turning the briquettes is a better strategy.
How long do ceramic briquettes last?
Ceramic briquettes are durable enough to last for 4-5 years, a highly durable substance as long as it gets used correctly. You know when your Briquette must be replaced when:
 It will break, crack, or fracture. 

If you notice a foul scent when grilling, it may need vacuuming.

What are the best ceramic briquettes?
The briquettes by SOLDBBQ are the best for excellent heat and durability. 
Final Thoughts
A cleaner, durable, and efficient solution for heat distribution has always been a concern of grilling lovers. Now, the time has arrived when you should choose ceramic briquettes as the most effective solution to kill cold zones on the grates, prevent heat loss, and save fuel. By having yours, you can have the most joyful grilling. So, let us know how you'll add these briquettes to your gas grill and which is yours best by commenting below.
universitygrill.net is a participant in the Amazon Associate program and will earn from qualifying purchases.