Are you a steak lover in search of the ultimate meat experience? Look no further than Costco's Wagyu steak, the luxurious beef known for its rich marbling and intense flavor. But is it worth the hype (and the hefty price tag)? 
In this review, we'll dive into the world of Costco Wagyu steak and explore its taste, texture, and overall value. Whether you're a seasoned steak connoisseur or just curious about this high-end beef, join us as we savor every bite and deliver our verdict on this sought-after delicacy.
Costco Wagyu Steak Review
Wagyu steaks cost you anywhere an arm and a leg, but Costco provides the same quality at much lower prices!
Let's have a look at each of its offerings and whether they're any good;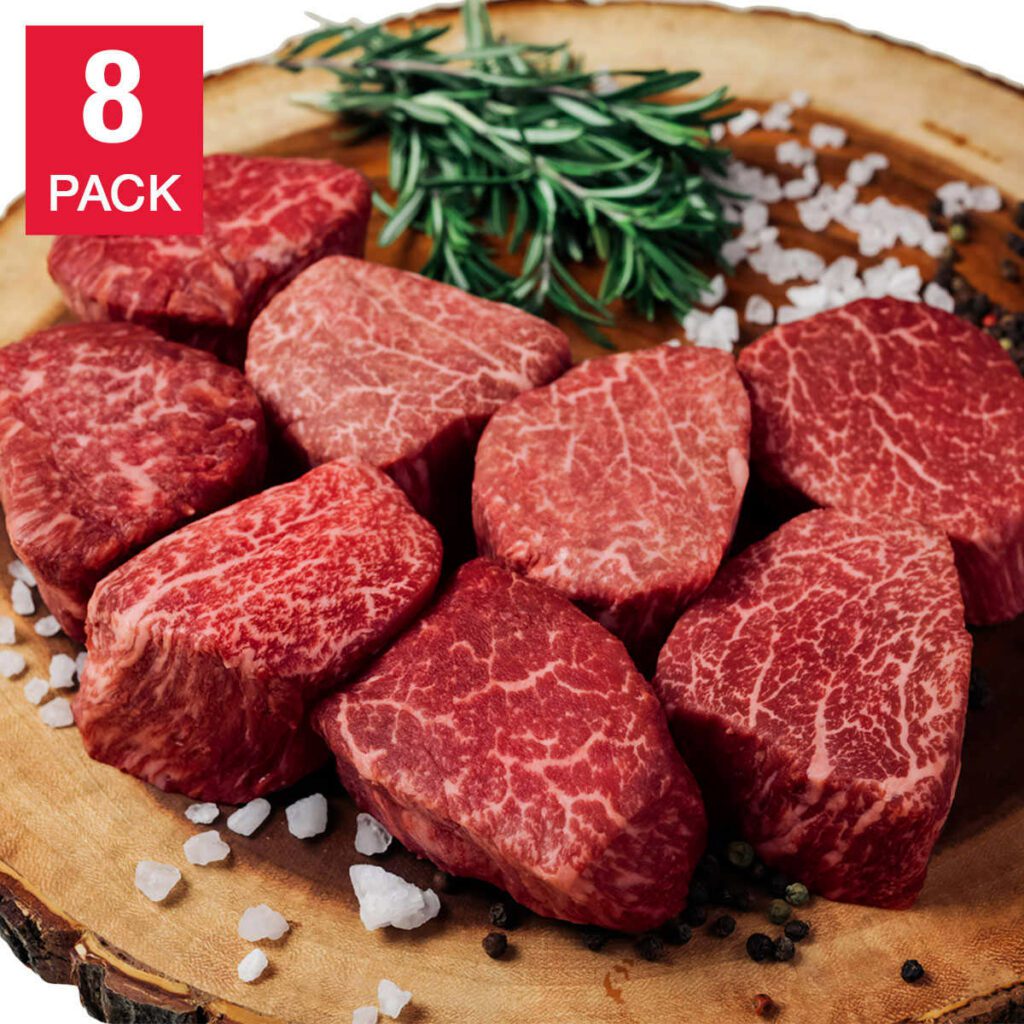 If you love wagyu steak and enjoy its taste so often, then you must be familiar with Japanese Wagyu Filet Mignon Steaks From Kagoshima Prefecture in Japan.
Available at Costco, these steaks are for people who want the best wagyu beef steaks without caring about the price. Of course, they're excellent in quality, but a slight compromise is reasonable at this price.
Yes, they taste the most delicious and are the favorite of Costco buyers. You would also prefer authentic Japanese wagyu because I like my steaks to be supremely flavorful and juicy. 
These American steak strips are tender and juicy as A5 wagyu should be, with the fatty taste of authentic Japanese Wagyu meat.
From the price point, yes, you might not have them on your dining table weekly. Yet, they can be part of every special occasion when you want to make the meal most memorable for your loved one.
This 3 lbs pack of 8 steaks costs you $649.99: $216.66 per lb. 
Pros:
Most delectable taste among all wagyu steaks at Costco
Sourced from original A% suppliers from Japan
Perfect for all steak styles
Cons:
It's pricey, and you might undermine them if price matters you
Uneven thickness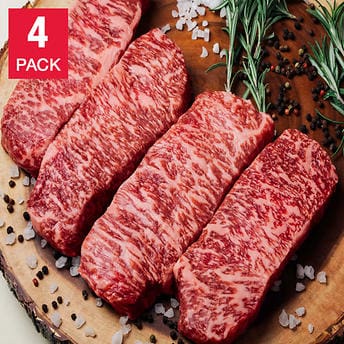 One of the ways you can get your Wagyu beef is as this New York strip style. Each strip weighs about 12 ounces and is authentic A5 Japanese Wagyu. Comes in packs of 4, a total weight of about 3 pounds, and they're sold at a steal price of $469.99, which is approx. $160 per pound!
The strips are full of fat, and the marbling seems to be quite impressive, to be honest! When cooked, the meat is incredibly tender, juicy, and just the perfect amount of fat. Based on that, I would definitely recommend this for a lavish and decadent dinner–especially if you're hosting it for someone you wanna leave a good impression on!
However, some of you might be skeptical about the cut of this meat–it kind of looks more like an American cut rather than Japanese, but perhaps at this price point, the manufacturers pay little heed to the cut.
So, I believe that there are more pros to getting this meat than cons, so thumbs up!
Pros:
Soft & juicy meat
Tantalizing buttery taste
The incredibly affordable price point
Imported from the Kagoshima prefecture in Japan
Easily chewable
Cons:
Thinner cut
Not as marbled as other Japanese stores' Wagyu
This A5 grade Wagyu is your ticket to leave a lasting impression on your guests at your dinner party. When cooked, the meat is so tender that it would melt in your mouth. 
Since it was a favorite of Costco buyers, I decided to review it–the most mouth-watering and savory premium Wagyu beef, definitely worthy of being on top. 
You'll be taken aback by the juiciness and the intensely robust and buttery taste of the meat, and they claimed it can feed an army as an appetizer. 
It'll definitely become the star of the show as an appetizer at your dinner because of how fatty & heavy it is!
Retailing at $469.99, a pack of 3 steaks, 16 ounces each, is definitely worth it. 
It's not only the price but the quality too!
Cherry on top? 
They're sourced from Kagoshima, Japan, which ensures their authenticity, and well, the taste speaks for itself. 
These ribeye steaks are also pretty quick to prepare! Opt for a simpler recipe– just add butter to a pan and sear each side for 2 mins with some essential herbs & garlic, *chef's kiss*.
The fat, the taste, the melting-in-mouth feel–everything is just perfectly balanced in this thinly sliced ribeye steak. 
Pros:
Extremely flavorful
Excellent packaging 
Melt-in-your-mouth tender
Authentic sourcing
Cons:
It can be too fatty for some people
The slices were cut unevenly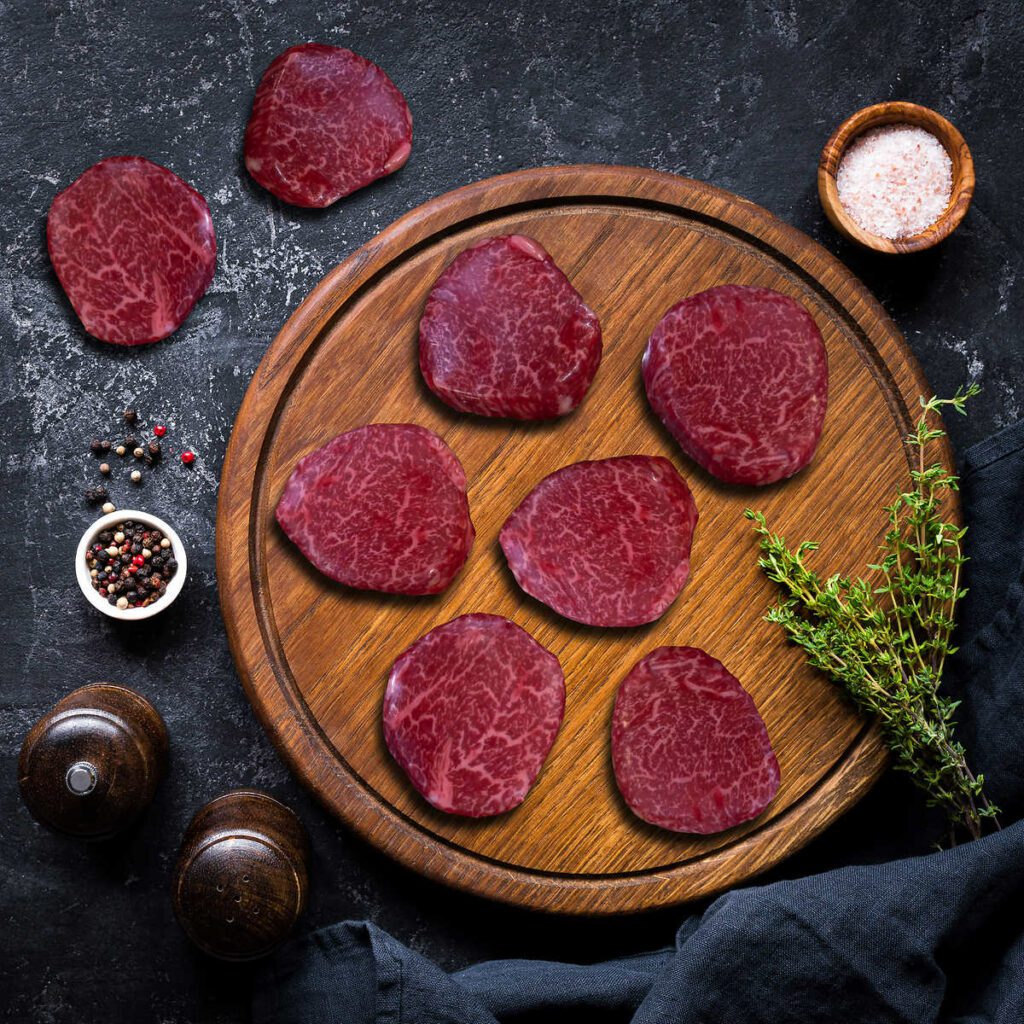 Incredibly savory and juicy, these beef medallions are to die for. They are definitely worth the money; in fact, I think they are retailing at a pretty reasonable price, given their amazing quality and taste! 
Being a meat lover, I think you can never go wrong with medallions. The meat is incredible in taste, however, it isn't as marbled as one might expect. It's also astounding how it cooks quickly and is seared perfectly. A thick-cut medallion is heavenly for people who like a medium-rare sear, a.k.a me!
You will get 8 steaks, 8 ounces each, for $449.99, which makes it a great deal offering you one steak for only $56.26 and $112.50 per pound!!
Pros:
Divine taste– perfect for fancy meals
Incredibly soft & easily chewable
Great value for your money
Leaner than strips
Great texture
Sealed and shipped perfectly
Cons:
Not as marbled as expected
Requires a lot of seasoning to enhance that taste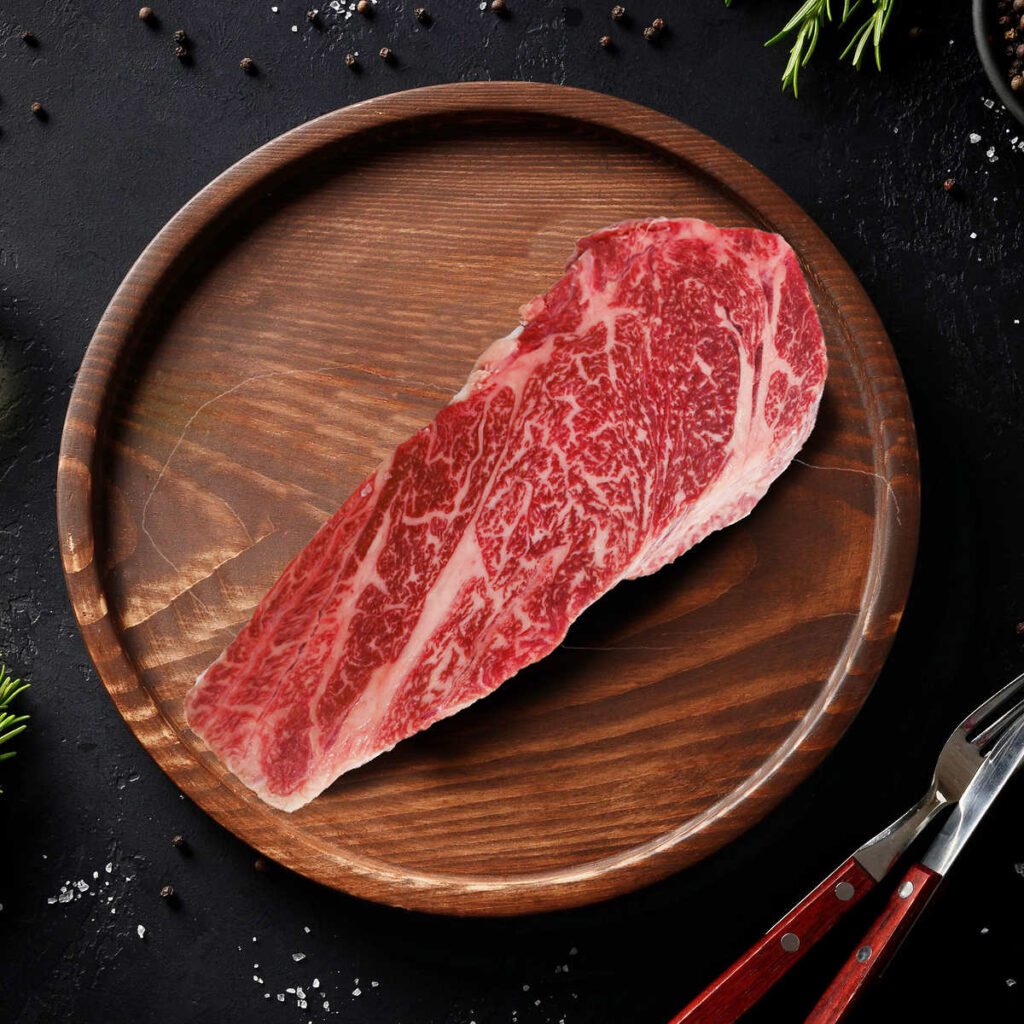 This A5-grade chuck-eye steak is definitely a show stealer. Premium cut, divinely sweet, and smooth, this steak will steal your heart in a heartbeat.
A little birdie told me that these steaks are utterly tasteful and appetizing, incredibly filling, and definitely worth the money!
Let me tell you here that it has a bit of a strong taste, which everyone may not like, but true meat lovers know the charm of it. So if you're a true meat lover, you should definitely give this a go! 
The best part about this is that they're authentic and sourced from Kagoshima, Japan, and then sold at wholesale prices at Costco. You get 6 steaks, each weighing 8 ounces, for as low as $329.99! This makes it $110 per pound, which is very reasonable!
Pros:
Rich in flavor
Authentic beef
Utterly juicy and tender
Cons:
Not good for well-done steaks
Needs to be cooked carefully for the best experience
Sometimes the cut may be too thin
Too fatty & greasy
What You Need To Know About Costco Wagyu Beef
Costco sources its Wagyu Beef from Kagoshima, Japan, and hence only sells authentic and premium quality Wagyu. Not only that, Costco's Wagyu beef is sold at all kinds of price points for everyone to enjoy. 
Their variety starts from as low as $109, a steal price for premium Wagyu beef! They have A5-grade Wagyu beef in many cuts–New York Strip Steaks, Ribeyes, Chuck Eye, Medallion, and they have it!
Meat with marbled fat and an intensely strong, buttery flavor–a perfect way to impress your guests! The meat is juicy and tender, with a perfect balance of fatty and divine taste.
When buying your Wagyu beef from Costco, you need to know that they have different grades of meat, meat from different origins, and different cuts too! 
You can choose whichever gets in your budget, or if your budget is quite open, then you can choose whichever you find the most appealing!
FAQs
How much does Wagyu beef steak cost at Costco?
A wagyu steak will cost you depending on the beef quality and cut.
The price can range between $110 to $216 per pound.
Where does Costco get its Wagyu Beef from?
Costco sources its Wagyu beef from various suppliers worldwide, including Japan, Australia, and the United States. The specific supplier may vary depending on the Costco store's location and the product's availability. 
Costco typically offers Wagyu beef that is graded either A4 or A5, considered some of the highest-quality beef in the world. 
And among these, Costco's A5 grade wagyu comes from the Kagoshima prefecture of Japan by Authentic Wagyu, LLC.  
Kagoshima prefecture is a region in the southern part of Japan's Kyushu island, known for producing high-quality Wagyu beef. Authentic Wagyu, LLC is a company that specializes in importing and distributing premium Japanese Wagyu beef to customers in the United States.
Authentic Wagyu, LLC sources its Wagyu beef from a select group of trusted producers in Kagoshima prefecture, who are known for their commitment to quality and animal welfare. 
Does Costco package its meat properly?
Yes, Costco generally packages its meat products properly to ensure their quality and safety. Costco has strict food safety and quality control standards, and its meat products are subject to rigorous inspections and testing.
Costco's meat is typically packaged in airtight and leak-proof plastic trays, which are then covered with plastic wrap or placed in vacuum-sealed bags to prevent contamination and extend the shelf life. The packaging also includes labels that indicate the type of meat, sell-by date, and other important information.
And finally, your package is delivered to you exactly as you would get it in stores. 
Final Thoughts
Concluding all the details, you'll definitely find the Wagyu Beef steaks at Costco worthy of the hype. Apart from a few extra fatty steaks, you'll love how the ribeye and center-cut steak strips tasted and how reasonably they were priced!
So, I think Costco deserves a pat on the back for offering such good Wagyu Beef steaks at wholesale prices! Kudos!
universitygrill.net is a participant in the Amazon Associate program and will earn from qualifying purchases.