Welcome to our latest food review! We're going to take a closer look at a popular snack item that has been making waves in the health food community – Pulp Pantry Salt Chips.
According to the company, Pulp pantry salt chips are made from the pulp leftover from juicing fruits and vegetables. The company markets them as a healthier alternative to traditional potato chips. 
The main concern is whether everything about the chips is genuine or a marketing technique to capture the attention of a healthy foodie. 
To help you out, we'll cover the taste, texture, and nutritional value of the chips. Our review will provide you with overall thoughts about the product and answer whether you should go for it or not. Let's find out! 
It's a fact that the potato chip industry is gigantic. According to the IMARC report, the market size of potato chips was $32 billion in 2021, and it will reach $39 billion by 2027.
Countless brands like Lays, FritoLay, etc. are already in the market, then why choose Pulp Pantry chips over them? The reason is that your health matters. 
Pulp Pantry is a brand that makes chips from the pulp of veggies. So, they're basically not the same potato chips as they are made from veggies. Additionally, according to the company, the chips are 100% vegan. 
Many brands offer veggie chips, so what makes Pulp Pantry chips different? Though you can find a wide range of veggie chips in the market, they're not exactly made from actual vegetables. 
Usually, the main ingredient of the veggie chips is the starch and flour of potatoes. In comparison, Pulp Pantry made chips from upcycled veggies. Hence, they're not only healthy for you but also the environment. 
Key Differences Between Pulp Pantry Salt Chips Vs. Regular Ones 
Here are the key differences between the Pulp Pantry salt chips vs. regular salt chips. 
Difference in ingredients 
First, let's discuss the health factor of the Pulp Pantry salt chips vs. the regular ones. When we buy veggie chips, we think they are made from veggies other than potatoes. 
In a way, it's true, as they contain beetroot, spinach powder, tomato paste, and many other plant-based ingredients. However, the main ingredient will always remain the same, which is potato starch, potato flour, corn starch, etc. This is the reason why they're not exactly "healthy." 
In comparison, Pulp Pantry chips are made from upcycled veggies. They turn the leftover juice of vegetables into chips. And since they're using actual vegetables, the chips will be more nutritious than the traditional ones.  
To understand the difference better, you can see the image below. On one side, there are ingredients of Pulp Pantry chips, while on the other, the regular veggie chips.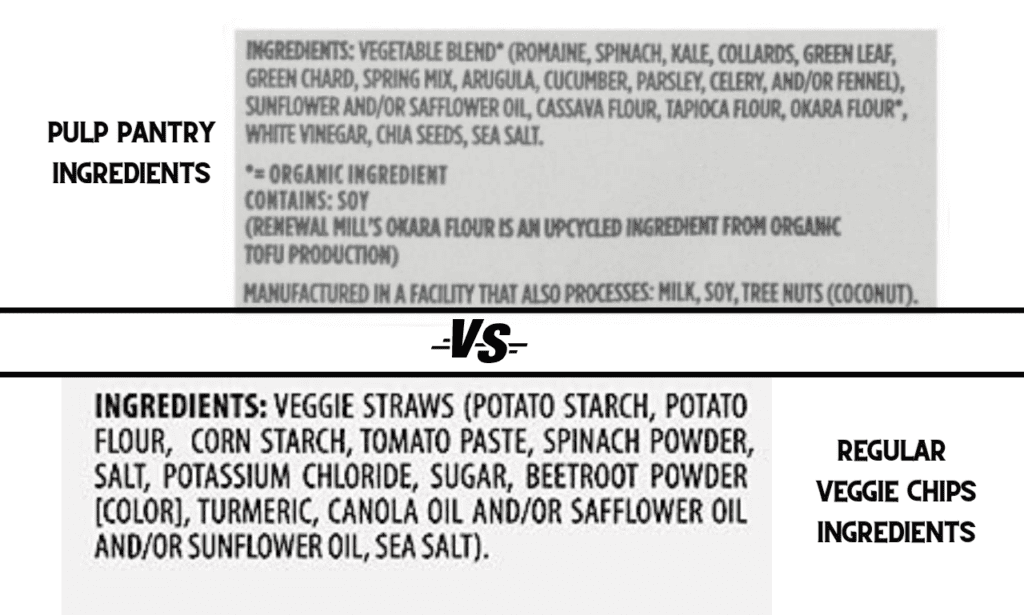 Texture & taste of chips 
Another main difference you'll notice between the chips is the taste and texture. In terms of taste, the Pulp Pantry chips are quite similar to traditional salt chips. 
They have a salty, crispy, and crunchy texture, but the thickness is a little bit high. You may feel that the Pulp Pantry chips are tough and more like thin crackers in looks because of the thickness. 
We found that 90% of reviews were good, and the customers were highly satisfied with the taste. The 10% are most of those customers who don't like salty flavor and think it's a bit too high. 
Therefore, our suggestion is if you're someone who doesn't like salty flavor, this one isn't for you. You should check out other flavors (BBQ, Jalapeno Lime, and Salt & Vinegar) of Pulp Pantry chips.
Environment friendly 
According to the Pulp Pantry company, 40% of the food grown in the United States ends up as waste in landfills. It's not only the issue of wasting food but also related to our environment as landfills generate harmful gasses like carbon dioxide, methane, etc. 
The CEO of the company Kaitlin Mogentale comes up with a solution. They collected pulps of fruits and vegetables from juice companies and dried them by converting them into a flour-like consistency. 
The dried pulp is then used as the main ingredient in the development of recipes for food products like chips. This means the chips you eat will be 100% vegan, healthy, and environment-friendly. 
Remember, the above process is only used by the Pulp Pantry company. Regular potato or veggie chips are made following the traditional way, so they're not eco-friendly. 
FAQs 
Are Pulp Pantry chips healthy?
Pulp Pantry chips can be a healthier option compared to traditional potato chips. They are made from vegetable pulp, which is a good source of fiber and nutrients. The use of pulp also means that the chips are lower in fat and calories compared to traditional potato chips. 
What are pulp chips made of?
Pulp Pantry chips are made of vegetable pulp. The company dried the pulp and converted it into flour-like consistency, then seasoned it with salt or other flavors to create a crunchy, healthy snack.
How much sodium is in pulp chips?
The Pulp Pantry salt chips have sodium of about 130 mg in one pack. 
The Bottom Line 
In conclusion, Pulp Pantry's salt chips are a delicious and healthy snack option for anyone looking for a crunchy, salty treat. 
The chips are made from vegetable pulp, which offers a unique taste and texture. Additionally, they're a more sustainable and environmentally-friendly option compared to traditional potato chips. 
Still, the choice is yours; if you think the idea of tasty and healthy snacks thrills you, go for it. Otherwise, you always have the option of trying other snacks. 
universitygrill.net is a participant in the Amazon Associate program and will earn from qualifying purchases.