Do you feel your dinners are incomplete without Popeyes' signature fast food but don't know what Popeye's sides will go the best? Well, do you also order Popeyes' sides with your favorite meals? 
No? We feel sad for you as your tenders and seafood aren't going to give you that much satisfaction unless you get some cajun fries and mashed potatoes with them. 
It won't go wrong if we say that the Popeyes sides aren't sides but are the mains in your meals. We bet your taste buds will feel drenched entirely in the taste of these sides.                      
Before ordering, do you want an all-inclusive note on these sides, along with the price and nutrition facts? Why not? Just head towards the main body of this content. This content will indeed help you know about all the delicious sides of popeyes. 
So let's get started, you all popeyes lovers!
Popeyes Side Menu You Must Try in 2023 – Complete List
All food lovers might know that Popeyes is one of the leading fast-food chains that has satisfied its customers for years. You can enjoy its relish meals not just in America but also all around the world. 
If we keep Popeyes' main menu aside, only the sides are giving a tough time to its competitors. From flaky buttermilk biscuits to finger-licking cajun rice, everything is to die for!
If you dine in popeyes with your family, none of your family members will become dissatisfied as it has great options for all age groups. 
Let's directly delve into the Popeyes side menu without any further delay.
Mashed Potatoes with Cajun Gravy
Coleslaw
Red Beans Rice
Cajun Fries
Homestyle Mac & Cheese
A la Carte Biscuits
1- Creamy and Smoky Popeyes Red Beans & Rice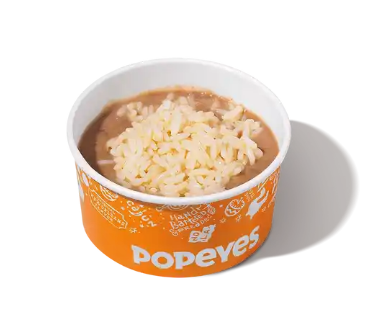 Not in the mood to have chicken at Popeyes? Or is there any vegetarian friend with you at dinner? No worries, red beans, and rice are perfect for ordering in such conditions. Red beans and rice singly can satisfy you if you don't want to pair it with any other dish. 
What's the thing that makes its flavor so moreish? This Popeyes specialty has liquid smoke and bacon as the secret ingredients. The liquid smoke gives a lovely smoky flavor, and the thick, creamy texture of this dish lets you satisfy your appetite. 
If you want to pair it with something spicy, go with the spicy chicken sandwich. Both of these together will give you satisfaction in each bite. Moreover, contrasting it with fried chicken would also be a good option. 
How much do you have to pay for red beans and rice? 
After reading the above-discussed information about red beans and rice, are you thinking of ordering now? That's great! Just like coleslaw, this side is also available for $3.99. 
Nutrition facts
Have a glance at the number of calories your favorite Popeyes side has. The calories and nutrition facts, including the number of carbs, protein, and fat, are discussed below. 
| | |
| --- | --- |
| Calories  | 247 |
| Fat | 16 |
| Carbs | 22 |
| Protein | 8 |
2- A la Carte Biscuit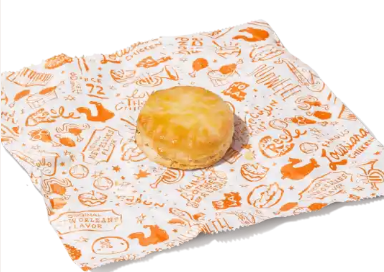 The yum-yum A la Carte biscuits are a constant in Louisiana Kitchen. Doubtlessly, these biscuits are one of the best-loved sides of Popeyes. The buttermilk added to these biscuits gives a soft texture and a slightly salty flavor. Moreover, their amazing flaky look appeals to perfection. 
No! These aren't heavy on your stomach at all. You'll find them so light in weight that you can't hold your hand from ordering more. Yet, eating them without a drink is a hard nut to crack. 
Here the main ingredient is buttermilk which makes it so delicate. They melt like butter in barely a few seconds as soon as they land in your mouth.
Thinking about what would be the best dish to pair with these biscuits? Well, there are many options like crunchy fried chicken, hushpuppy shrimp surf & turf sandwich, mac & cheese kids meal, and whatnot. It won't go wrong if we say that these biscuits are the only side you can order with any dish from the main menu.  
Cost of buttermilk biscuits
One piece of these biscuits is available for just $0.79. And if you want six pieces, you'll have to pay $3.99. 
Nutrition facts
Have a glance at the information mentioned below. A single piece of these biscuits has the following nutrition facts. 
| | |
| --- | --- |
| Calories  | 207 |
| Fat | 13 |
| Carbs | 20 |
| Protein | 3 |
3- Crispy Cajun Fries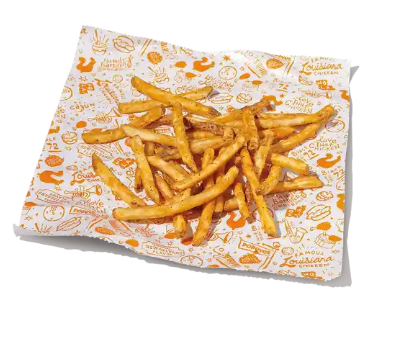 If you haven't tried Popeyes cajun fries, you've tried nothing. You can find cajun fries at many other restaurants, but Popeyes is the master among all. 
The combination of crispy outside and soft inside is so balanced that you'll crave them daily. The cajun seasonings sprinkled on the top feel just wow to your taste buds!
These seasonings also enhance the overall appearance of fries and look more mouth-watering. And kids have a never-ending love for this side. 
So, no need to think about its pairing. These fries are best to fit with any dish from the main menu. Order this side with any of the main menu items, and you'll feel true love in each bite. 
What's the price of cajun fries?
If you want to try it for the first time, go with the regular pack that's available for $1.79. And if you're confident about its taste, you can place an order for the large one for $3.99. 
Nutrition facts
Complete detail of nutrition facts about this side is shared below. Don't forget it's about the regular pack.
| | |
| --- | --- |
| Calories  | 268 |
| Fat | 14 |
| Carbs | 33 |
| Protein | 4 |
4- Mouth-watering Homestyle Mac & Cheese 
Once you try this homestyle mac & cheese, we're sure its scrumptious taste won't let you order anything else before this side when dining in Popeyes. This dish is truly made for you if you're a cheese lover. 
If we explain this dish in five words, it's macaroni, butter, cream, and cheddar cheese. Both the butter and cream make a perfect sauce. Its consistency is neither so thick nor watery. The nicely cooked macaroni pasta is thoroughly drenched in this sauce, so each side of pasta is fully coated with buttery cream cheese. Yum!
This coated pasta is loaded with cheddar cheese making it an entirely cheesy top. When broiled, this cheese layer gives a crunchy or crispy texture along with a golden-brown crust. 
So don't you think this side is a stand-out item in the whole side menu? 
Price range 
When you visit Popeyes, spending $3.99 is a must. That's because mac and cheese is the side that you'll order on every visit. And this is the price of large-sized mac and cheese. 
Nutrition facts
You might think this mac and cheese might have more calories. To clear up your confusion, we've made a table showing the actual nutrition facts about the regular-sized pack of this side.  
| | |
| --- | --- |
| Calories  | 219 |
| Fat | 10 |
| Carbs | 24 |
| Protein | 8 |
5- Delicious Mashed Potatoes with Cajun Gravy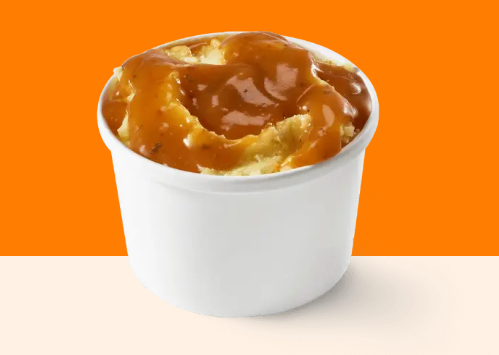 The first and tastiest dish on Popeyes' side menu is the mashed potatoes with cajun gravy. We bet you haven't tried such delicious potatoes anywhere in the world. No matter what food you're having from the main menu, the mashed potato with cajun gravy will have your heart. 
The silky mashed potatoes quickly melt in your mouth, and the cajun gravy feels so light to your taste buds. Potatoes dipped in the gravy make the best combo and double the delight. 
The best thing about this side is that you can still enjoy this dish even if you're on a diet. These mashed potatoes with cajun gravy are enough to give you the fullest taste, but better to order it with fried chicken and some tenders.
Give it a try, and you won't stop yourself from having more and more.
What about the price of mashed potatoes with cajun gravy? 
All of you will be interested to know about the price. Is it so? 
If you order a large-sized bowl of these potatoes, they will cost you about $0.79. And it's pretty reasonable to have such a fantastic dish at this rate. 
Nutrition facts
Knowing the nutrition facts about the food you're eating is crucial. The regular package of mashed potatoes has the following nutrition facts. 
| | |
| --- | --- |
| Calories  | 110 |
| Fat | 4 |
| Carbs | 18 |
| Protein | 3 |
6- Popeyes' Appetizing Coleslaw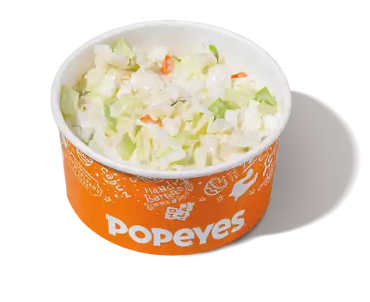 Are you a chicken lover, but having some veggies with your meal is something you can't come out of? Popeyes takes care of your choice. That's why it has a healthy yet delicious side with all the veggies in it. Yes, we're talking about coleslaw. 
Coleslaw is mainly a salad having finely chopped or shredded veggies, including carrots and cabbage. As these veggies are used in their raw form, they're highly juicy and give a nice crisp. 
Here, the sweet pickle relish, dill relish, and white vinegar are the secret ingredients that make it both sweet and a bit sour. Other than this, the creamy dressing mixes all the ingredients, and thus, you get a fantastic tangy treat.
Get this coleslaw as the Popeyes side item to enjoy with a spicy or classic chicken sandwich, popcorn shrimp, or any other meal you love to eat at Popeyes. 
How much does it cost? 
This lip-smacking side is everyone's favorite, so most of the visitors order its large serving. If you also want the same size, you can get it for $3.99. Yes, just for $3.99. 
Nutrition facts
Do you want to know about its nutrition facts before ordering? Why not? The complete details show the number of calories, carbs, fat, and protein in its regular package. 
| | |
| --- | --- |
| Calories  | 140 |
| Fat | 10 |
| Carbs | 12 |
| Protein | 1 |
What size are Popeyes' sides? 
Popeyes' sides are available in two sizes. These are regular and large. Large-sized packages are usually best when you visit with your family. Otherwise, a regular-sized side is enough for a single person. 
What are the best Popeyes Sides? 
It isn't easy to choose any one or two as the best sides of Popeyes. But
Popeyes Mac and Cheese,
Red beans & rice
Popeyes Biscuits
Popeyes fries with cajun seasoning
are everyone's favorite. Moreover, they're healthy and a high fiber source for your body. Yet, how much do you like the 2 Sides of Popeyes:
Popeyes Coleslaw and Popeyes mashed potatoes entirely depend on your taste.
What sides did Popeyes discontinue? 
Last year, Popeyes limited its side menu and discontinued green beans, garlic rice, cajun cheese fries, onion rings, and cajun rice. Undoubtedly, it was bad news for the lovers of these dishes. 
You might find a few names of these sides on the internet, yet keeping limited demand in view, Popeyes has discontinued them. These are:
Garlic Rice
Cajun cheese fries
Ring onions
Cinnamon apple pie 
Corn on the cob
Green beans
Final Words about Popeyes Sides
Popeyes offers a wide variety of sides. Everything tastes lip-smacking and delicious, from flaky buttermilk biscuits to creamy and smoky red beans and rice. We've tried to cover everything about Popeyes' sides available in the USA in this content. 
Pick up your smartphone and order your favorite side, main menu, and drinks. And if you're planning to dine out with your family today, Popeyes is the best option, with its sides as the nummy and yummy treats. 
We bet Popeyes' side menu won't disappoint you with its taste. 
Happy eating!
universitygrill.net is a participant in the Amazon Associate program and will earn from qualifying purchases.