Recteq, as a pellet grill manufacturer, is popular among connoisseurs and beginners alike. Recteq grills are known for quality, reliability, and integrity. 
Their matchless construction, paired with dedicated customer support, is giving nightmares to other pellet grill manufacturers, especially Traeger, who has dominated the market as once dinosaurs ruled the Earth.
Recteq has quite a loyal fanbase, who always sings its praises from the top of the mountains. Besides social media and recteq's official support, many unofficial but active recteq grills forums exist. 
Recteq fans at these forums are very cooperative should a problem arise. If you're too shy to ask a question yourself, there is a high chance that someone has already asked it for you. More on this later, but all of this translates to a superior owner experience.
But recteq grills cost you a steep price, so much so that you're left pondering: are they worth spending three or, in some cases, four figures for? Does an alternative brand offer the same quality at a low price?
Let's find out.
Recteq Brand History – Quickly Understand Recteq Emergence in Grilling Industry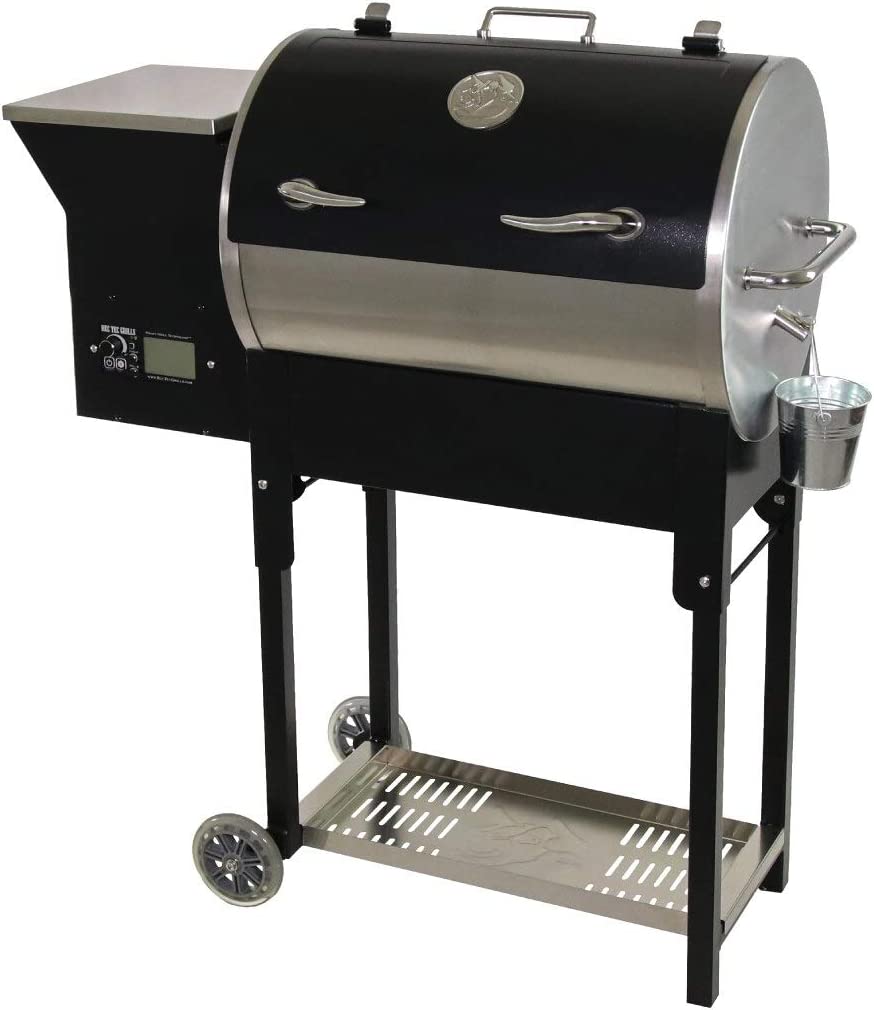 Ray Carnes and Ron Cundy, two ex-vacuum cleaner salesmen, founded recteq in 2009. They met in 1991, beginning a friendship and partnership spanning over three decades. 
The idea behind recteq was to provide customers with high-quality grills at competitive prices and revive old-school customer service. Recteq, as a brainchild of Ray and Ron, is all about quality and dependability.
Recteq's vision of a pellet grill can be summed up in three words: flavor, convenience, and versatility. Recently, recteq has focused its attention on consistency and efficiency as well.
Flavor
Flavor is the foremost thought that kicks in when you think of a pellet grill. Unless you have primitive taste buds or haven't yet tasted smoked meat, you hate gas grills. 
A pellet grill is a superb alternative to a coal-fired kitchen range. It incorporates all the ease of use of a gas grill yet delivers the same taste as a charcoal grill.
That said, the flavor is a by-product of a pellet grill's design. A poorly designed pellet grill, no matter how feature-rich it is, has the power to ruin every meal you cook on it. 
Recteq doesn't have an exhaustive list of products because product design takes time. Many pellet grill brands continue coming up with a new model every month, though at the cost of a well-thought design and quality.
Regarding design, recteq is the Apple of the pellet grill market.
Convenience
Recteq grills are convenient to use. Just fill the hopper, set the temperature, and you're ready to go. Most recteq grills come with PID Smart Grill Technology that allows you to monitor and control your grill from the recteq app. They include a WiFi controller, meaning good range and better connectivity.
Versatility
Recteq grills offer versatility as they can smoke, bake, grill, sear, and even dehydrate your food. This power comes from a broad temperature range that most recteq grills offer. 
The RECTEQ RT-590, for example, has a temperature range of 180°F-700°F, making it equally suitable for smoking, searing, and grilling.
But it's pertinent to note that pellet grills, by design, use indirect heating for cooking the food–there's no direct contact between the flame and the meat. While you can still grill and sear on a pellet grill, some say grilling and searing are best done over direct flames.
But the RT-B380 Bullseye is an exception–it's the only direct-fire wood pellet grill on the market, which handles grilling, searing, and even reverse searing exceptionally well. The recteq Bullseye blurs the line between traditional charcoal grilling and modern pellet smoking.
Consistency
Most recteq grills utilize a PID temp controller, which offers reliable and repeatable results every time. A PID controller, as opposed to a conventional one, uses complex algorithmic calculations to predict future temperature changes and, in turn, finetune the auger rotation and fan speed to keep your grill's temperature close to the set point.
Efficiency
Efficiency, by and large, depends on the grill's design and the quality of its components. Recteq's seamless design and attention to detail ensure a completely closed system, leaving no room for the heat to escape, resulting, in turn, in maximum efficiency.
Recteq's Naming System
Recteq's nomenclature is pretty simple yet informative–the prefix RT is followed by the model number, indicating the primary cooking space in square inches. For example, the RT-590 and the RT-700 have an immediate cooking area of about 590 and 700 square inches, respectively. 
Since recteq grills have a lot of headspace, you can buy an additional cooking grate (if it's not already included) to further increase your cooking area.
Previously, recteq used to name its grills by specific names based on their features. For example, the RT-590 was called "The Stampede," and the RT-700 as "The Bull." But recteq has returned to using numbers for model names for good, and now they seem more systematic.
Recteq's Salient Features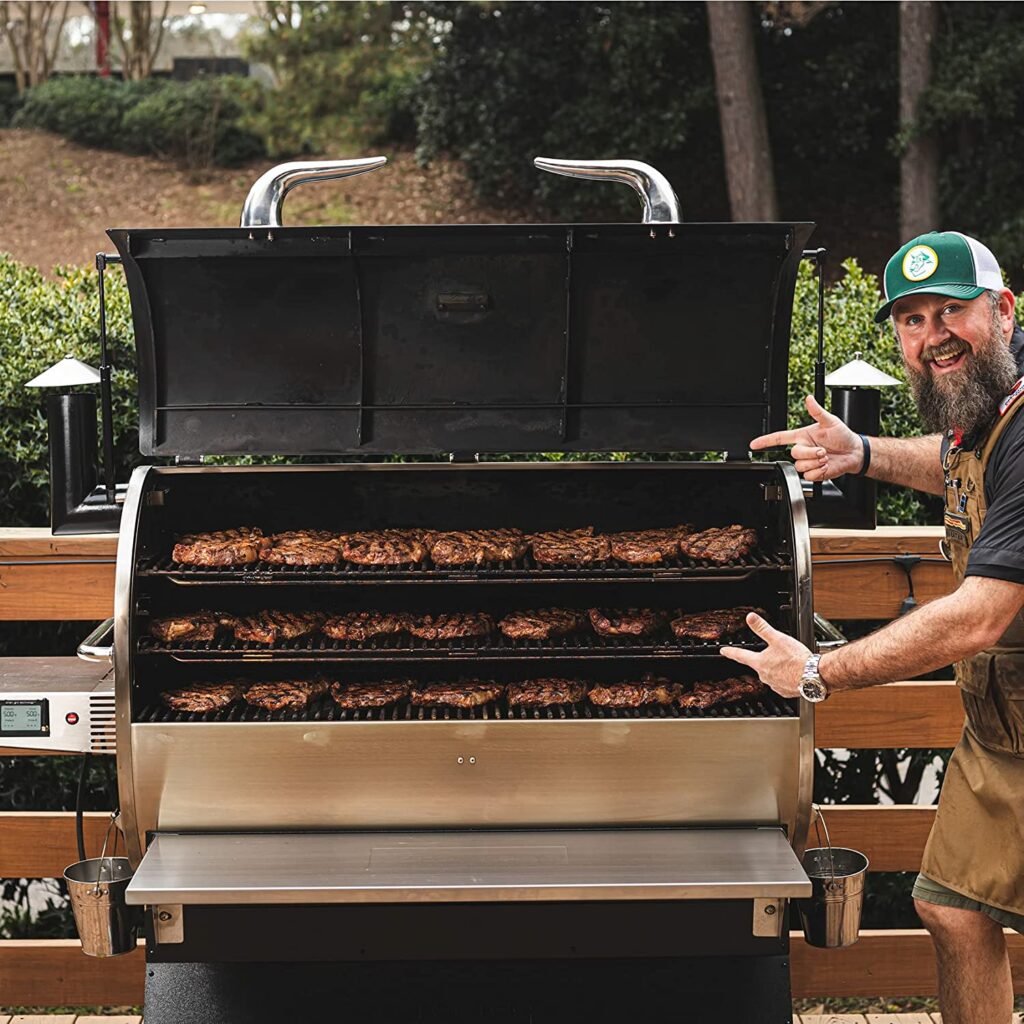 Before jumping over to the topic, I must highlight a few essential things. Recteq, as of the time of this writing, has only eight grills on its selling list. 
I have reviewed some of their best-selling, highest-rated grills in detail and noticed more similarities than differences. Save the RT-B380 Bullseye (which I mention separately); the following features cover all recteq pellet grills (unless otherwise specified).
Aesthetics/overall appearance
Recteq is to pellet grills as Porsche is to sunglasses. While they don't resort to aggressive marketing campaigns, their products speak for themselves. Recteq pays extraordinary attention to the design and, look & feel of their grills.
Recteq grills come with the large stainless steel slab bull logo and signature polished bull horn handles on the lid.
On the other hand, recteq is moving away from the traditional round barrel to the angular build. For example, the RT-590 and the RT-1070 have octagonal barrels that look sticking out and have more headspace and clearance above the cooking grates. This design saves space and offers more functionality.
Recteq's smaller models have the hopper attached to the side for a modular appearance and to save space. These compact grills also don't contain the smoke stack to minimize the amount of real estate taken on your patio. These models have rear smoke vents instead.
As for the outside appearance, save the RT-1070, which has a completely shiny stainless steel exterior. 
And the RT-B380 Bullseye has a glossy stainless barrel and a lid. The rest of the recteq models have a black and shiny stainless steel exterior–the top and the body are black powder-coated steel. In contrast, the barrel and all internal components are heavy-gauge stainless steel. 
All of the recteq grills have beautiful stainless steel side handles as well. A steel mesh bottom shelf is present on most grills. Some even come with a front shelf that you can fold down when you don't need it.
The RT-1070 is a unique member of the recteq family as it has a cabinet-style variant. It's designed so well that you can mistake it for one of Weber's top-of-the-line gas grills or even something more beautiful.
It's also pertinent to mention that quality is a given regarding recteq. While each grill is designed differently and has a unique aesthetic appearance, nowhere is quality sacrificed.
Matchless build quality
Recteq is unmatched in materials and construction quality–it's futile to compare recteq with other brands. Sometimes, the entire grill is hefty, stainless steel, like the RT-1070. The Bullseye, except for the legs and the hopper, is entirely made of stainless steel.
As for the rest, the handles, the barrel, including the internal components are heavy gauge stainless steel. Even though the legs, the hopper, and the lid are black powder-coated steel, they're noticeably beefy. Even the paint doesn't fade, flake, or fail. By merely casting a look at a recteq grill, you know that this thing is built to last for years, if not decades.
Open the lid, and an almost mirror-like stainless steel interior welcomes you. The ledges, the RTD temperature sensor, the walls, the cooking grates, the drip pan, the heat deflector, and even the firepot are all stainless steel.
Another testimony to recteq's attention to detail is the use of silicon thermal caulk over the seams, not just in the cooking chamber but in the pellet hopper as well.
Let's take the RT-590, a mid-sized recteq grill, as an example. Its materials profile goes like that:
Lid: 2.7mm Powder Coated Steel
Body/walls: 1.2mm Stainless Steel
Grate: 5mm Stainless Steel
Drip pan: 1mm Stainless Steel
Heat Deflector: 1.85mm Stainless Steel
Firepot: 316 Stainless Steel
Ignitor Rod: Ceramic
If you only look at the grates, 5mm thick stainless steel grates are no joke by any standard. Under this price range, you only receive thin steel grates from other brands.
As we have already indicated, the RT-590 is a mid-sized grill. If you buy the RT-2500 BFG, the behemoth of a pellet grill, you'll notice that it's equipped with more stainless steel than any other grill in its class.
PID temperature controller
Except for the Bullseye (which has different requirements), all recteq grills come with a true PID temp controller that controls the fan speed and the pellet feed rate in a constant finetuning equation.
Bakeries, breweries, and pharmaceutical companies worldwide use the same controller for reliable, repeatable results.
This type of controller performs better than a traditional one because it synchronizes more often and uses complex mathematical and algebraic functions and algorithms to calculate future temperature changes. This way, it can adjust the pellet burn rate and, in turn, keep the actual grill temperature close to the set point.
If you have ever had a pellet grill with a conventional controller, you'll see what a blessing a PID controller is. Old pellet grills experience wild temperature swings in trying to compensate for extremely hot or cold ambient conditions. 
But this is not the case with the recteq grills as they all have a PID controller that keeps your grill's temperature within a ±5 degree range of your set point, as opposed to a ±25 degree range of a conventional controller.
Smart Grill Technology Control Panel
Recteq grills come with a compact, feature-rich LCD backlit control panel that remains visible in direct sunlight. While LED is modern and relatively costlier technology, I see it of no use in a pellet grill display as no one will be looking at it all the time, and digits and letters become illegible in daylight.
The buttons are membranous type, temp selection is via a rotary dial (in 5-degree increments), and the display shows both the actual temperature and the set temperature, as well as both meat probe temperatures.
WiFi connectivity and the recteq app
All recteq pellet grills are WiFi compatible, meaning you can monitor and control your cooks without leaving your room. The recteq app allows you to turn your grill on and off, set and adjust the temperature via a beautiful slider, and see meat probe readings. 
You can also set and receive notifications for the grill and meat probes' temperature targets. Last but not least, it also allows you to see a line graph history of your cooks, indicating the set point, the actual grill temp, and meat probe readings. One more thing, you can also take cooking notes.
The recteq app is all about functionality and utility–allowing complete control over your grill without distracting your attention. Yes, it doesn't include recipes or other fanciful but pretty useless features you're never even going to look at.
Auto startup and shutdown cycles
All recteq grills feature one-button easy, pre-programmed startup and shutdown cycles, as opposed to other grills requiring additional steps to start and turn off your grill. Since these cycles run automatically, they can also run via the WiFi app.
But what are these sequences in the first place?
On startup, the grill first primes the pot for faster ignition. The auger turns for 30 seconds at startup, putting pellets into the pot. Similarly, on shutdown, the drill turns for 30 seconds after the fan cuts off to ensure no burning pellets are inside the auger tube. 
It empties the auger tube and thus prevents back and a hopper fire. So, essentially, the pellets are going to smolder after the shutdown cycle. 
That's why recteq recommends leaving the lid closed after the shutdown cycle for 10-15 minutes. It ensures the fire is completely extinguished after the shutdown cycle has run.
These auto startup and shutdown sequences ensure maximum safety without requiring additional steps on your part.
Consistent and versatile temperature performance
Most recteq grills have a temperature range of 180-700 degrees Fahrenheit (the Bullseye can reach 750 degrees, though). In a pellet grill, a high-temperature range is pretty useless because smoking is done best over low and slow temperatures. 
But the temperature must remain stable as even a couple of wild swings can turn your meat to charcoal.
At the Lo/Extreme Smoke setting, recteq grills produce exuberant wispy white smoke. As for temperature consistency, the mere presence of a PID controller stamps accuracy.
Some pellet grills are prone to flame out and re-ignite at low temperatures, temporarily producing acrid smoke. However, this is not the case with any of the recteq grills.
We have another matter at hand. Recteq claims its pellet grills to be complete outdoor cookers. With one or two accessories attached, they can grill, sear, and bake very well. While recteq grills have a high upper-temperature limit, you might not be satisfied with the results unless you're fond of indirect cooking. If you prefer meat directly cooked over flames, you should consider the RT-B380.
Dependability, customer service, and ease of ownership
Blue ribbon, all-inclusive extended warranties cover Recteq grills. It shows recteq's confidence in its products. Despite generous warranties, they also have a 30-day money-back guarantee. However, considering the exceptional quality and longevity of recteq grills, 
I assume you'll rarely need to claim your warranty or get replacement parts. Recteq grills are truly built like a tank.
Every recteq customer receives both co-founders' cellphone numbers with their purchase. While the support for non-recteq customers is pretty limited, it's far better than what you get from other brands.
For example, you can talk to a digital assistant via the chat icon on recteq's official website. Don't take it as just another digital assistant out there, as it's one of the finest, most helpful robots I have ever talked to. Here are the snapshots of how our conversion went.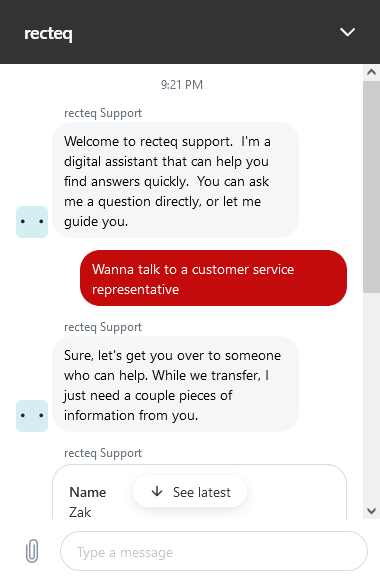 As you can see, their service hours are Monday to Saturday, morning to evening, but they have a 24/7, round-the-clock availability for recteq customers. Recteq customers get a unique number to call anytime.
Other reviewers have found that Ray and Ron, the founders of recteq, do field service calls often. Calls are answered immediately (often after one ring), and callers are not subjected to a call tree being transferred from one representative to another. If the suggested fix doesn't work, you're offered a free replacement part with no questions asked.
From our own experience and various others, we can safely say that, when it comes to customer service, recteq is beyond the competition–they don't even compare with it.
Now for the ease of ownership, recteq treats you as a family member. You don't have to panic or google a solution if anything goes wrong. Call them, and they'll either fix the issue or send you the replacement part. Shipment charges? Forget it.
If the issue is minor or you are too shy to call them, remember that the recteq community is knowledgeable and altruistic. Not convinced yet? Just make up an issue and google the solution. You'll be amazed by the sheer number of other recteq customers' answers, provided the problem exists.
Several grill accessories
Recteq is more like an ecosystem than just a pellet grill manufacturer. Like the Big Green Egg, recteq offers multiple accessories that turn your pellet grill into a complete backyard cooker. These extras include:
Gloves
Grill covers
Sear kits
Recteq Instant Read thermometer
Front folding shelves
Competition carts
Spatulas
Flat Top griddles
Grate brush
Interior shelves
Mesh cooking mat
Grill pad and
The Smokebox
Other accessories are self-explanatory except for the competition cart, the sear kit, and the Smokebox. The competition cart is sold for the RT-590, 700, and 1250 to raise the cooking grates to a comfortable cooking height, provide stability, and make it easy to maneuver your grill over various surfaces. 
I think you don't need it unless you have an above-average height or need to frequently move your grill, for example, across a gravel driveway.
Sear Kit
The Sear Kit is a set of three interlocking hard-anodized aluminum plates. One surface is flat, while the opposite surface contains raised rails and valleys. There's a symmetrical array of holes in the valleys or depressions.
With the kit turned upright, you can achieve restaurant-quality diamond pattern steaks. Recteq says you can achieve up to 100-200+ degrees hotter temperatures than your grill's upper-temperature limit. It happens because the heat concentrates between the grooves and the bumps.
With the grates flipped upside down, you can achieve a perfect sear on your smash burgers, though the temperature difference won't be much. Even better, this way, vapors are moisturized on the grates, surrounding your burger patties in a flavorful steam bath.
For an additional one hundred dollars, this accessory is absolutely worth it.
Smokebox
The Smokebox is another must-have accessory, but sadly it's only compatible with the RT-1250 and RT-700 (because these grills have a smokestack instead of smoke vents). For installation, remove your grill's smokestack and the side handle, which will be attached to the Smokebox later. 
The hole left empty after the smokestack is removed is the source of smoke and heat for the Smokebox. The stainless steel drip pan on the bottom of the Smokebox opens directly into your existing drip bucket. 
The beauty of this accessory is that it seamlessly integrates with your grill as if they were one. Thanks to the seamless integration, you can also use the Smokebox as a warming unit.
The Smokebox has three grates and two door-mounted thermometers.
What can be the Reasons to Avoid Recteq Pellet Grills?
Recteq seems to be quite an idealist regarding quality and design. However, it has also received a lot of negative comments concentrating on two areas, which we'll discuss here. 
It's not that recteq hasn't responded to those issues, but with their own logic. It seems recteq's desire to be an idealist is doing them more harm than good as others don't quite agree on their definition of perfectionism. 
I only want to emphasize that recteq has maintained that these choices were made intently and for good reasons. Let's see if they're being truthful.
Vents instead of a smokestack
Many recteq grills, like the RT-590, have rear exhaust ports instead of a chimney, letting moisture in the grill. The situation can worsen if your grill sits outdoors without a roof, where it's exposed to direct showers or a rainstorm. However, recteq says it has come up with this design to save space, which is desirable.
We think the moisture issue is preventable if you use a grill. We recommend grabbing one from recteq's store, as it's high quality and specific to your grill model.
No pellet purge door
Pellet grills usually have a pellet purge door on the pellet hopper. It's a beneficial, nay essential feature that proves its usefulness in many scenarios, for example:
You can use it to spill out the remaining pellets after each cook to prevent moisture.
In case of a hopper fire, you can empty out the hopper rapidly to prevent further damage.
That said, no recteq grill comes with a pellet purge door. You hear it right, none. Even more surprising is that recteq keeps iterating the same bizarre reasons every time to defend their grills.
For example, recteq says that having a pellet purge door is the most significant contributor to moisture. While there's some truth to it, as recteq's pellet hoppers have silicon thermal caulk placed over the seams to create a completely closed system, moisture always finds a way to get in. 
Even if we accept this argument, what's in the case of an emergency, such as a grill fire? A hopper full of wood pellets without any way to quickly remove them is not what you want from a three or four-figure grill.
I wish recteq could tell us how easy they think it would be to scoop 20 or 30 lbs of pellets.
Should you get Recteq Somkers? My Final Thoughts
Recteq grills are just matchless in quality, durability, and dependability. Despite having a high-end PID temp controller and more stainless steel parts than other brands, recteq pellet grills come at competitive prices. 
When considering the quality of recteq's customer service, many pellet grill brands, including Traeger, are no longer among the competitors' equation. As for aesthetics and performance, recteq grills are "beauty & the beast" combined.
It should also be highlighted that if you purchase a recteq smoker directly from recteq's website, there's no shipping fee if you reside anywhere in the United States. On Amazon, recteq grills are offered as Grill bundles–think of it as a grill plus pellets deal.
universitygrill.net is a participant in the Amazon Associate program and will earn from qualifying purchases.