At Costco, you can find beef jerky from 7 to 8 different brands. Except for Berto, all are outstanding, and among these, you can also find the best gluten-free or grass-fed beef jerky as well. 
So, what is best, then? 
Let's get into the details without beating about the bush.
Best Beef Jerky at Costco – Quick Summary
Cattleman's Flank Jerky – Best Texas Style Flank Steak Beef Jerky 
Old Tapper Beef Jerky – Most Balanced Flavoring and Texture
Jack Link's Beef Jerky – Most Famous
Kirkland Signature Beef Jerky- Best Gluten-Free Option
Prevail Variety Beef Jerky – Grass Fed Beef Jerky at Costco 
Berto Beef Jerky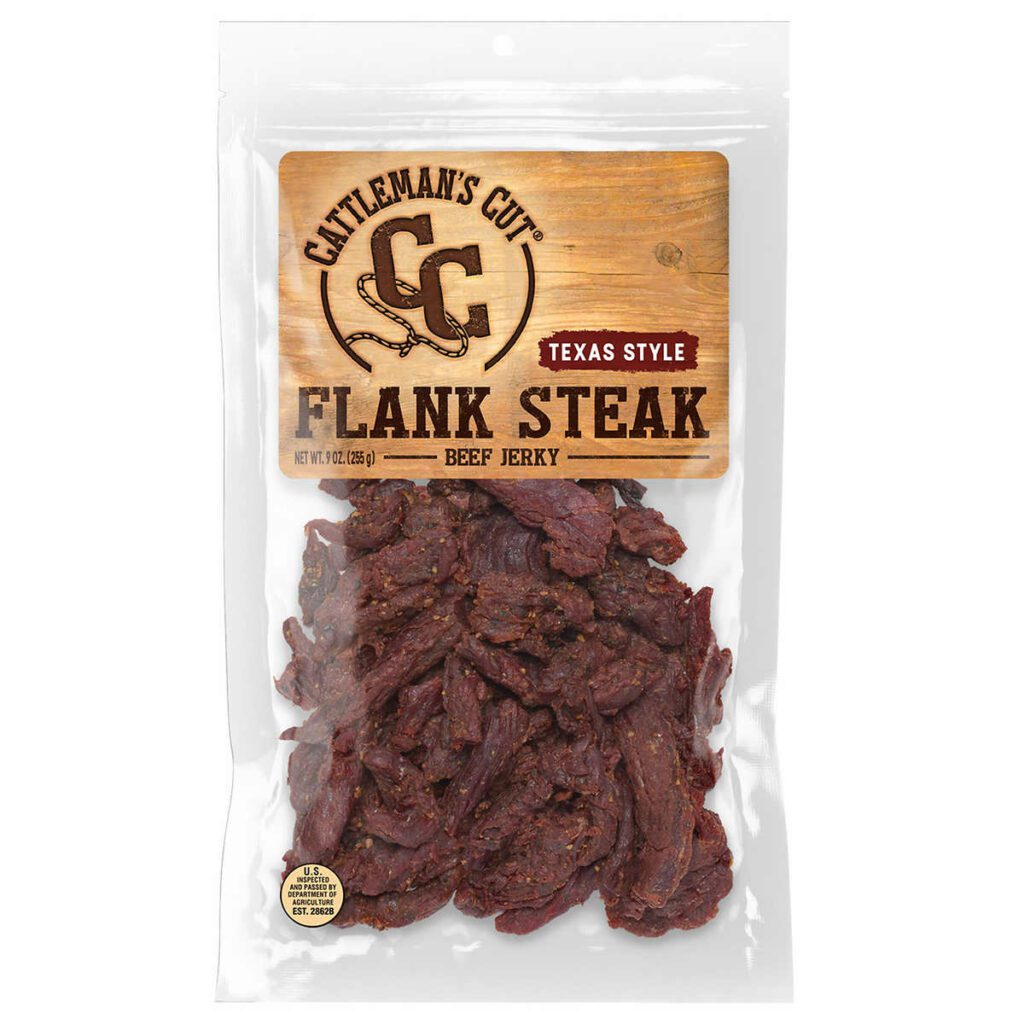 A double deal is always a win! 
What taste can you expect from beef jerky that has been smoked, slow-cooked, then dehydrated?
Here is the first-rated beef jerky for you. 
Get lucky to enjoy it at a nominal price at Costco–Cattelman's premium quality smoked beef jerky is packaged in a clear bag to captivate your attention when looking at the racks.
It's made from flank steak–how clearly it states the exact beef cut.
At Costco, you can get Cattleman's Beef Jerky 9 oz package for $12.99, which is about 2-3 dollars cheaper when compared with other stores.
The only dark side is that it has sodium nitrites.
Pros
Good-sized, even jerky pieces packed in transparent bags for purchasing transparency.
Easy-to-eat tender jerky
Incredible Flank steak flavoring
Low in sodium, sugar, and fat
GMO, MSG & gluten-free
Cons
2- Old Tapper Beef Jerky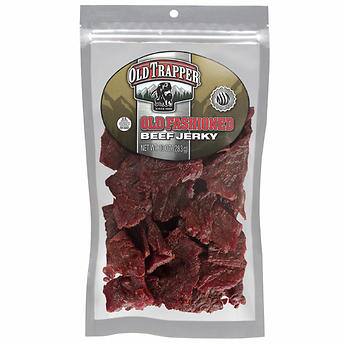 Second, comes Old Tapper Beef Jerky on our list. Clear plastic see-through bags are pretty welcoming. 
The single word that can define this jerky is "uniformity." From the texture and thinness to taste, everything follows a balance. As soon as you open the packaging and pick your first piece, the country-style seasoning is visible on it, giving you instant gratification for your bucks.
The Old Tapper's beef jerky might cost you slightly more than Jack Link's, but it's worth eating—it looks and tastes real meat rather than a snack!
Is it healthy? 
When compared with Jack Link's, it's not nitrates-free, but it has no GMOs or fats! 
At Costco, you can get 3 flavors of the Old Tapper Beef Jerky:
Pros
Even moist cuts
Balanced but complex flavors with appetizing aroma
Low in sodium, sugar, and fat
Non-GMO
No added flavors
Cons
It has sodium nitrite. 
It has gluten.
Bit pricey
3- Jack Link's Beef Jerky – Most Famous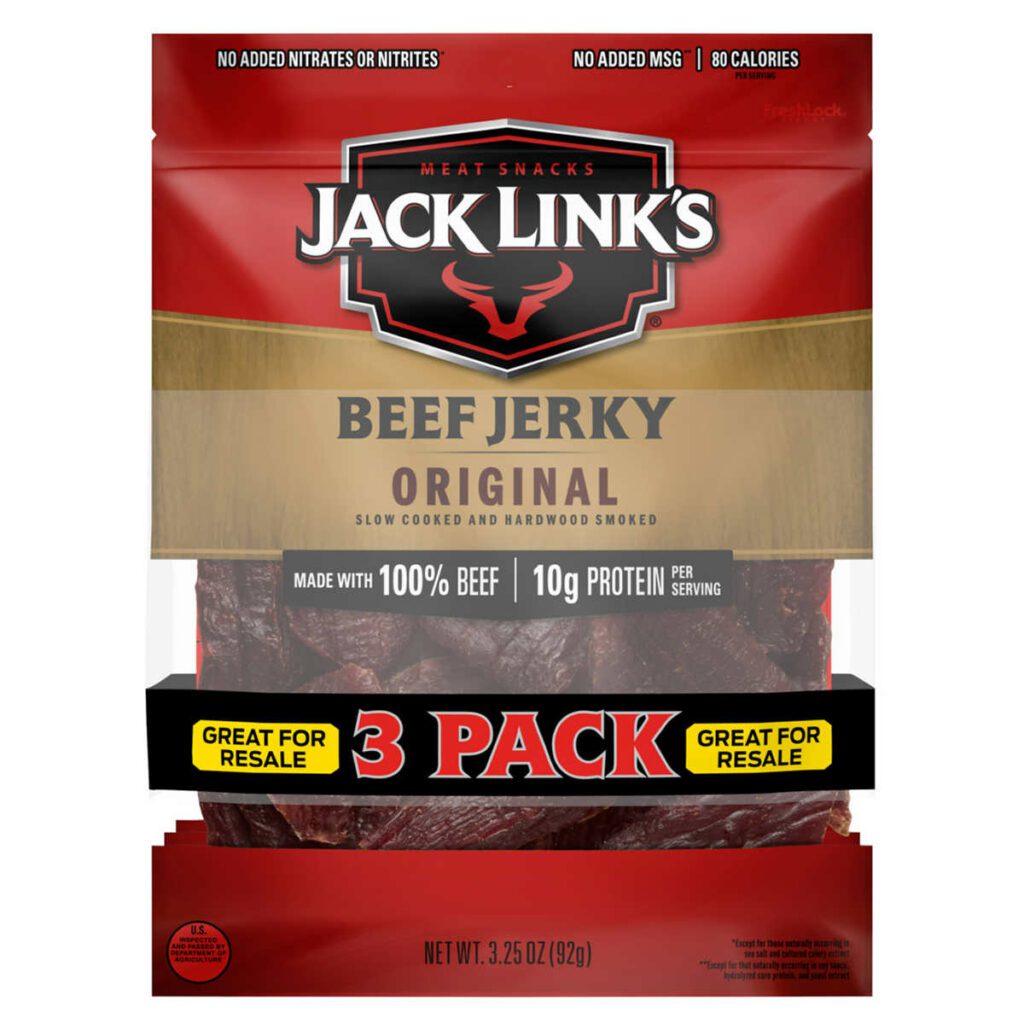 Founded in 1986, famous Jack Link's jerky recipes are based on "old grandpas'" recipes. It's the hottest-selling jerky in your country. 
All flavors: original, teriyaki, sweet & hot, and pepper are equal favorites of carnivores and omnivores–sorry, my dog hasn't tried it yet! 
Compared with other delicious beef jerky brands at Costco, it comes third on our list. 
Yet, the manufacturers have taken great care not to add too many flavors, sodium, fats, or sugars. Besides this, it's non-GMO and nitrates-free. So, whether you eat it regularly, you get more health benefits, not harms.
The only info that we miss is about the cut of meat used to make this beef jerky, though Jack Link calls it made from the best meat cut. Still, it's popular and makes a good choice.
Below are the details of what flavors are at the top.
1- Jack Links' Beef Jerky, Original, 3.25 Oz, 3 count 
2- Jack Links' Beef Jerky, Teriyaki, 3.25 oz, 3 count
3- Jack Links' Beef Jerky, Sweet & Hot 3.25 oz, 3 count
4- Jack Links' Original Big Beef Jerky Sticks, 20 Counts
5- Jack Links' Beef Jerky, Peppered, 1 Oz, 12 Count
6- Jack Links' Beef Steak Sticks
7- Jack Links' Beef Jerky Jalapeno
These beef jerky flavors at Costco cost you about $16.99 for 3 counts. Thus it's about $1.74 per ounce.
Pros
Chewy
Balanced flavors and excellent aroma
Low in sodium, sugar, and fat
No GMO or MSG
No added flavors
It has no nitrate or nitrites.
Cons
The cuts are not uniform.
Not gluten-free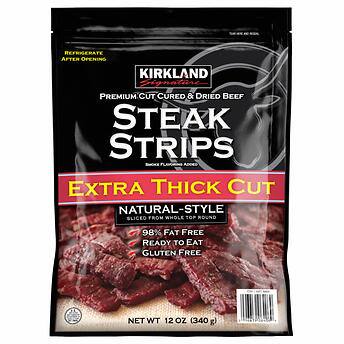 Extra thick, moist, and tender steak beef jerky serves you with Costco's user-focused specialty when you pick the Kirkland Signature beef jerky at a Costco gas station. 
Its thick, chewy bites are just a "wow!"
You can easily compare Costco's beef jerky brand with any of the top-rated jerky brands. With smokey notes, and visible seasoning, its perfectly infused smokey flavor makes every protein bite memorable–I bet you're not going to forget it. 
It was all about taste and value for fairly low-priced Costco Beef Jerky. How about the technical side?
Not like Jack Link's meat snacks, but more like Old Trapper; it has sodium nitrate–not a good choice if you prefer a health-safe snack. Other than that, it's all-natural. 
I liked that it states peach puree concentrate besides onion and garlic powder. Yet, you can hardly guess the peach flavor–it adds some delicacy to the snack.
From the price point, again, it's cheaper than many other rivals.
Pros
Thicker, softer, and even pieces 
Fully flavorful
Low in sodium, sugar, and fat
GMO, MSG, and gluten-free
Cost-effective
Cons
Not gluten-free 
It has nitrites.
5- Prevail Variety Beef Jerky – Best Grass-Fed Beef Jerky at Costco 
The Prevail Variety's grass-fed beef jerky is available at Costco in 2 options:
I call it the healthiest jerky at Costco–it's free of gluten, GMO, MSG, antibiotics, and nitrites/nitrates.
Honestly, if health is your concern, the taste must come second, always.
Still, you want to know how it tastes and feels when munched?
Though the package mentions the flavor, it has a truly mild flavor—it needs the effort to guess it! 
But all flavors are equally sweet–you would complain! It's because of added coconut sugar. Among all flavors, only spicy flavor is hotness-loaded, while others are not as strong. 
You can suspect that it's not nitrites/nitrates free because the package is silent about it.
Overall, it's great value for money. 
Pros
Mild but joyful taste
Low in sodium and fat
All organic ingredients
GMO, MSG, soy, and gluten-free
Celiac-approved and paleo friendly
Cons
Not nitrites or nitrates free.
5- Oberto Beef Jerky – Gluten Free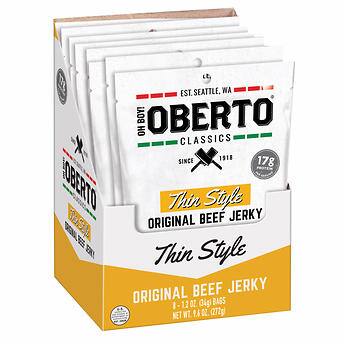 I haven't got a lot to say about Oberto. Oberto can be your favorite beef jerky if you haven't tried another brand yet. Or you want a gluten-free meat snack on the road.
No matter if you buy Oberto Beef Jerky at Costco at a lower price, despite being well known, it's not great. 
It's hard-chewy jerky as if you want to chew something, but it should be meaty–not like you want jerky, and you'll chew it.
Technically, the Oberto Jerky is smaller and hard—Obreto has really worked hard to make them this way. LOL….!
At Costco online store, you can find the Oberto gluten-free beef jerky in 2 flavors:
Pros
Higher flavor dominance
Low in sodium, sugar, and fat
No GMO, MSG 
Gluten-free
Cons
Jerky cuts are not small and not uniform.
The aroma and taste could be fresh.
Chewing is challenging–you need stronger molars.
Prices vary drastically according to the flavor.
What Makes Best Beef Jerky, and How to Choose yours? Buying Guide.
Healthy snacks like protein-loaded beef jerky become more tempting on the roadside store racks. 
Will you just get one or a single reason: you like the flavor?
If you say 'yes,' my dear, you need to rethink!
You must choose wisely for your health because even Keto friendly snacks like beef jerky can be more harmful because of added sugars, higher sodium content, or preservatives. It's why besides keeping the technical standards like texture, chewiness, and taste in view, you must also consider nutrition.
We've listed a few factors to help pick the right beef jerky.
Lower in sugar
Sugar is a part of many marinades because it adds complexity to the taste besides acting as a natural preservative. But, on the health side, it's not good, especially when you need to be at a low carb intake. 
You can mistake the sugar added to your jerky, thinking it's only added in sweet flavors. The truth is, it can be in any flavor, yet you've got the solution–check the labels/packaging. And avoid buying it if it has unnecessary sugar. 
Lower in sodium
Next comes the sodium. In a standard serving size of beef jerky, there can be hundreds of milligrams of sodium which can be drastic if it triggers health issues like high blood pressure. So, read the packaging carefully.
Can you avoid it??
No, you can't! But before picking the beef jerky, you can ensure that it has minimum sodium in it.
Artificial colors, flavors, or additives
Every brand tries to stand out uniquely. For this purpose, they use additive colors and flavors. The story doesn't end here. 
To extend the packaged beef jerky's shelf life, they add a few additives like nitrates, which become hazardous when combined with proteins. That's why checking your beef jerky for "all-natural" and "additive-free" labeling is essential.
Meat quality standards
Beef jerky is all prepared from the best beef cuts—with minimum fats and max lean with intramuscular marbling. It helps to create the tender, chewable, but most tasty bites for effortless gnawing–they mustn't break your molars.
Yet, a few more standards affect the meat jerky quality–grass-fed or grass-finished meat jerky is quite expensive. If you want a healthier snack, you can also prefer grass-fed beef jerky—ignore the price tag, please! 
Please avoid any meat product that tells you it's grass-finished–it's a deception.
Texture
Beef jerky is about balancing texture, taste, and chewiness. It should be chewy but not extremely hard – you may enjoy it in oblivion without challenging your chewing ability.
Aroma
Beef jerky is dehydrated flavorful meat, right? So how should it smell? 
Not about to rot, of course–it'll have a meaty aroma but clean. Similarly, added flavors like smoke or chilies should not overwhelm the meaty freshness.
Flavor
Just like aroma, the beef jerky's taste also has to be on the meaty side rather than all that of marinades. 
FAQS
Does Costco sell cheap beef jerky?
Yes, the beef jerky at Costco is about 2-5 bucks cheaper for 1 pound, than any other store like Walmart, Sam's Club, or Amazon.
Is beef jerky at Costco Halal?
No. It's hard to find halal beef jerky at Costco or any other superstore. You can find one or two brands selling halal beef jerky at Amazon. Or it can be better to make it at home using some best beef jerky recipes.
How much protein is there in beef Jerky?
100 grams of beef jerky gives you about 30 grams of protein. While you consume 410 calories by eating 100 grams of beef jerky. One serving of beef jerky is approximately 30 grams, giving you 100 grams of protein.
How much sodium is there in beef jerky?
In 100 grams of beef jerky, you get 2081mg of sodium. Eating 30 grams of beef jerky makes you eat about 700mg of sodium.
Final Thoughts
Costco's cheap beef jerky is worth buying. All you have to do is, select yours according to your taste and texture preferences. Also, don't ignore the nutrition side; it comes first. 
Good luck!
universitygrill.net is a participant in the Amazon Associate program and will earn from qualifying purchases.