Traeger is best known for being an ancestor of pellet grills technology. And, chances are you also know them for the same reason, or you have seen a Traeger grill at some friends.
Costco must be your go-to area if you want a cheap Traeger grill with a guaranteed return/refund policy. The sad news is that Costco sells only 4 Traeger grills, most of which are only made for Costco.
As said earlier, they're 5, yet I'll be reviewing 4 of them–best. Whether or not you should buy them, I'll discuss them later. 
Let's get straight into the review and detailed buying guide.
I want to help you make choices wisely. So, please do me a favor! Spare your precious time and read this article till the end.
Detailed Review of the Best Traeger Grills at Costco
Here we;re unlocking the potential and drawbacks of Costco Traeger grills.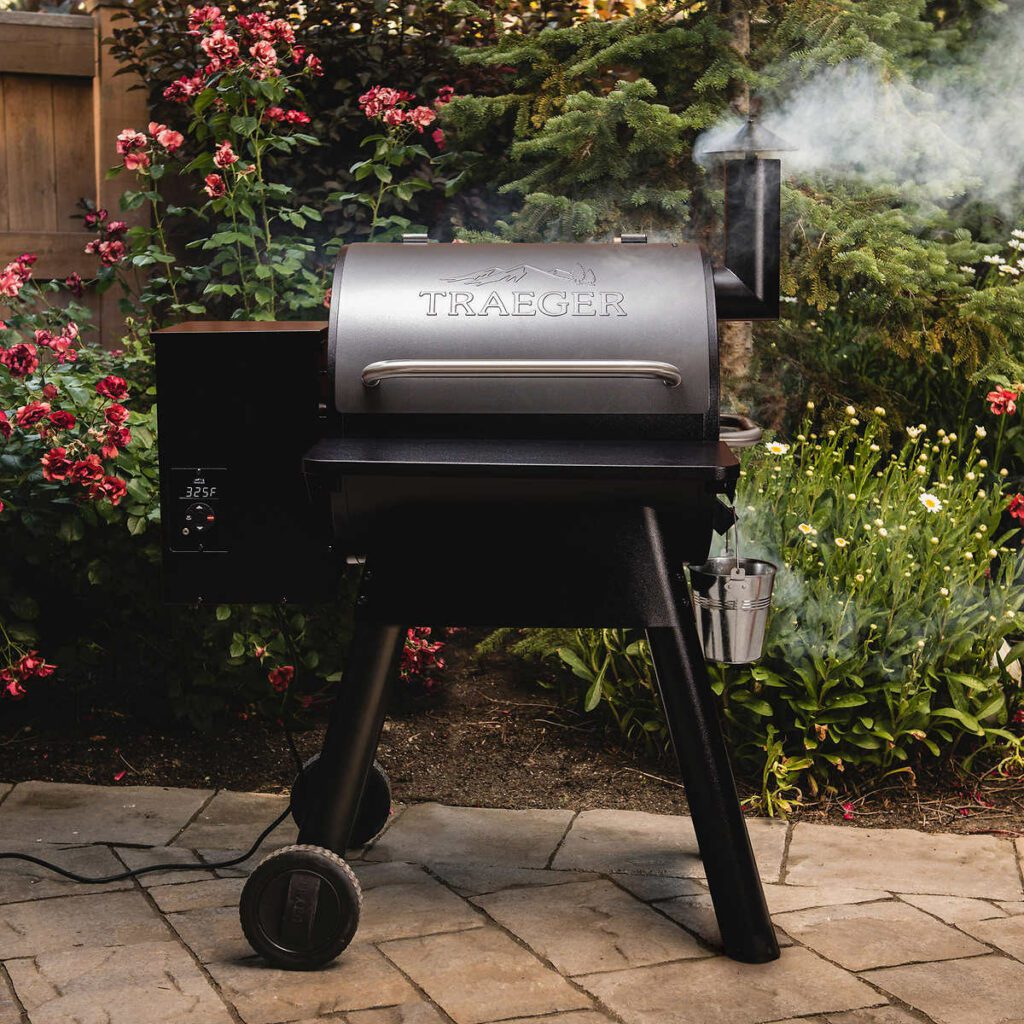 The Traeger Fremont wood pellet grill is a Costco-exclusive Traeger BBQ supply. The design does not differ from other Traeger grills.
Behold! This little monster is great.
Let's know more about it.
Design
It's a small grill with a grilling space of 520 square inches total–best for a small family. You can cook one big turkey, 2 chickens, or a large-size brisket in it.
The Fremont appears to have solid legs and two large wheels for firm placement in your yard as a typical Traeger cart style. It doesn't have a cabinet, but the spatial warming drawer is a bonus to let you cook one batch of food after another. 
Performance
This junior-level grill is more solid and promising when you speculate the performance keeping the Traeger grills' reported +/-20-25 temperature increment in view. 
Don't worry; this grill is controlled by Traeger's Digital Arc Controller, which allows you to control temperature by -/+5 degrees Fahrenheit. Make sure you calibrate the integrated probes properly with the smart controller. Simply put, you can cook your demanding recipes and keep them warm.
I haven't found this system in another Traeger grill at Costco. So, if you're at Costco and checking the Traeger grills, Traeger Fremont is the most reliable option.
Another advantage is that it comes with WiFire technology. It's why you can control it while enjoying a cup of coffee sitting before your TV in your lounge–I call this entire system a blessing. 
Traeger Fremont's hopper's 18 lb capacity is also fine to cook for 6-8 hours. 
Overall, Traeger Fremont at Costco is the only Traeger grill I could recommend. Yet, the only downside is that it can be a little difficult to pair the grill with the Traeger app. 
Why? You might not find the grill model in your app. However, you can connect it to the Traeger 540 model in Traeger's app.
Why do I like it?
Most reliable temperature control among Traeger grills.
The warming drawer is a great addition.
Wi-Fi-enabled smart digital controller
Sturdy thing
What are the cons?
The grill is small.
Connecting it with the Traeger app is complicated.
Getting used to the control panel takes time.
Traeger's support team seems less educated about Fremont.
The maximum temperature is only 450 F.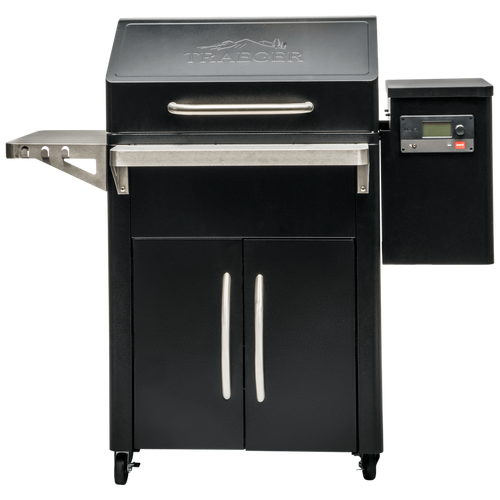 Design
In an enclosed cart design, Costco has got you another WiFire technology Traeger grill with improved functioning. It has a powder-coated steel grill with a total grilling area of 620 sq. inches and 812 pounds of weight–the heaviest. 
It's also exclusively available at Costco at the same price as at Traeger.com.
I liked the clean look of this heavy grill because its grease bucket hangs inside the storage cabinet. So, the upcoming cleaning doesn't terrify you. It has a front table and a side prep table. The grill is small and has 4 wheels for easy mobility. 
When opening the grill lid, a realm of porcelain-enameled cast iron grill grates with decent cooking capacity welcomes you. This Traeger's Costco special edition has an improved interior of stainless steel-previous grills have powder-coated steel inner. 
The grill's top rack is pretty much helpful for getting the smoke flavor when slow-cooking your meats at 225-250 degrees Fahrenheit. 
When you remove the grill grates, an arch-shaped heat diffuser is innovative–it ensures better heat deflection and prevents heat shield warping.
The grill's hopper has enough capacity to hold 21 lb pellets that can cook overnight. So, for an overnight slow smoking, the unit is great.
D2-powered Traeger grill – the auger motors run on direct current to save you energy costs. The build of pellets in hoppers is a common issue with pellet grills. The Gen 2 motors have censors to eliminate pellets build-up in the hopper by reversing the motion.
Cooking Performance
When it's about cooking performance, the grill works like other Traeger grills–the learning curve is there, and the winds and cold weathers are also its worst enemies.
Traeger Silverton 620 has a digital pro controller. Little better than other pellet grills, this digital pro controller allows you only 15 degrees increment. 
But this grill also has temperature yo-yoing. So, when you set the temperature at 225 degrees, it can be somewhere between 210-240 degrees–enough to annoy you. 
It's why the best way to ensure the grill temperature is to use a digital thermometer to take your readings and adjust the grill temperature. Otherwise, you'll keep on complaining about the temperature swings.
Why like it?
No chimney design
More storage space
WiFire system
3 yeast warranty
Energy-efficient D2 auger motor and convection fan
What are the cons?
No super smoke setting, so it's a grill only.
Wi-Fi connectivity can be challenging.
Temperature fluctuations in harsh weather
Traeger probes are inaccurate, so get them separately.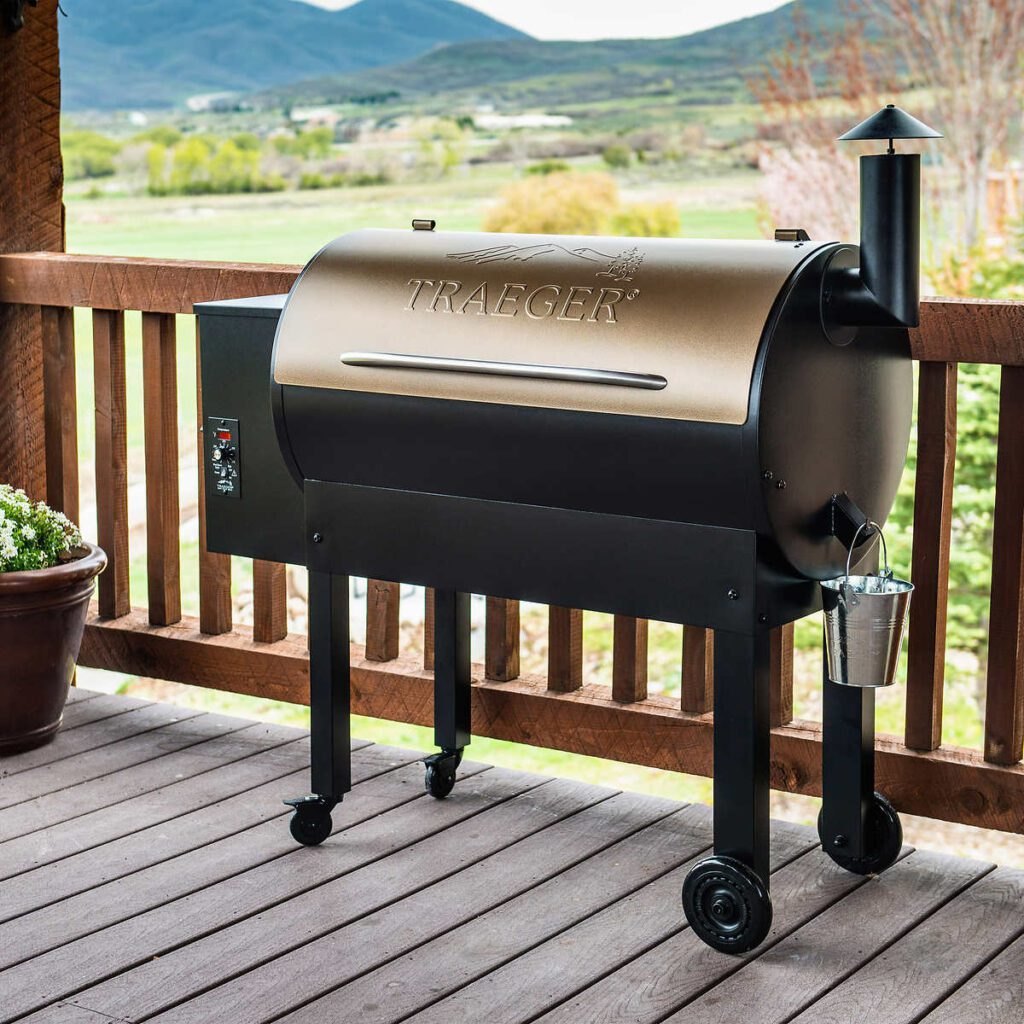 Design
Traeger's Texas 340 Elite grill is an entry-level grill you can buy at Costco for $599.99.
I'll begin with the design of this Traeger grill. It has a sturdy powder-coated body with 24 in. x 53 in. x 22 in dimensions. The grill weighs 135 lbs and has 2 rugged wheels for easy mobility and firm placement on your patios or backyards. 
On the downside, it doesn't have a storage rack. So, look for a grilling table or prep table to manage your food and accessories.
The Traeger Texas 34 Elite grills feature a well-balanced design to suit your ambiance, with a digital controller on one side and a grease bucket on the other side.
When opening the lid, you get an extensive cooking area covered with porcelain enameled cast iron grill grates. The space is enough to cook large meals for your family.
Cooking Performance
When talking about any grill, the performance is the ultimate outcome that you want to ensure. Traeger Texas Elite 34 grill is just like other Traeger grills. While the Digital controller controls the temperature by 25 degrees increment. 
IS digital controllers efficient? 
NO!
It's what most of the pellet grills' ancestors, Traeger backyard grilling units lack.
Tracing back to hundreds of user feedback at Costco and other stores, the major complaint has been about the grills' performance–you tend to keep the entire construction aside and learn the controls.
Many happy customers of Traeger 34 are those who already understand Traeger. Yet, those new to using Traeger grill can find it challenging to understand or use. 
The most common problem is the grill needing to get high temperatures of 375-450 range which many recipes usually require. Likewise, the grills take a lot of time to regain the temperature after you open the lid to check your food. Thus, this grill appears fit for slow-cooking merely.
Why do I like it?
Heavy grill
Good for slow cooking
Cost-effective
What are the cons?
Temperature control of -/+25 degrees could be more precise.
The grill takes time to retain heat when opened for checking food.
Cleaning takes work.
No secondary rack.
No temperature probes are part of this unit.
Customer service at Traeger is polite but less helpful.
Can't get high heat during cooler months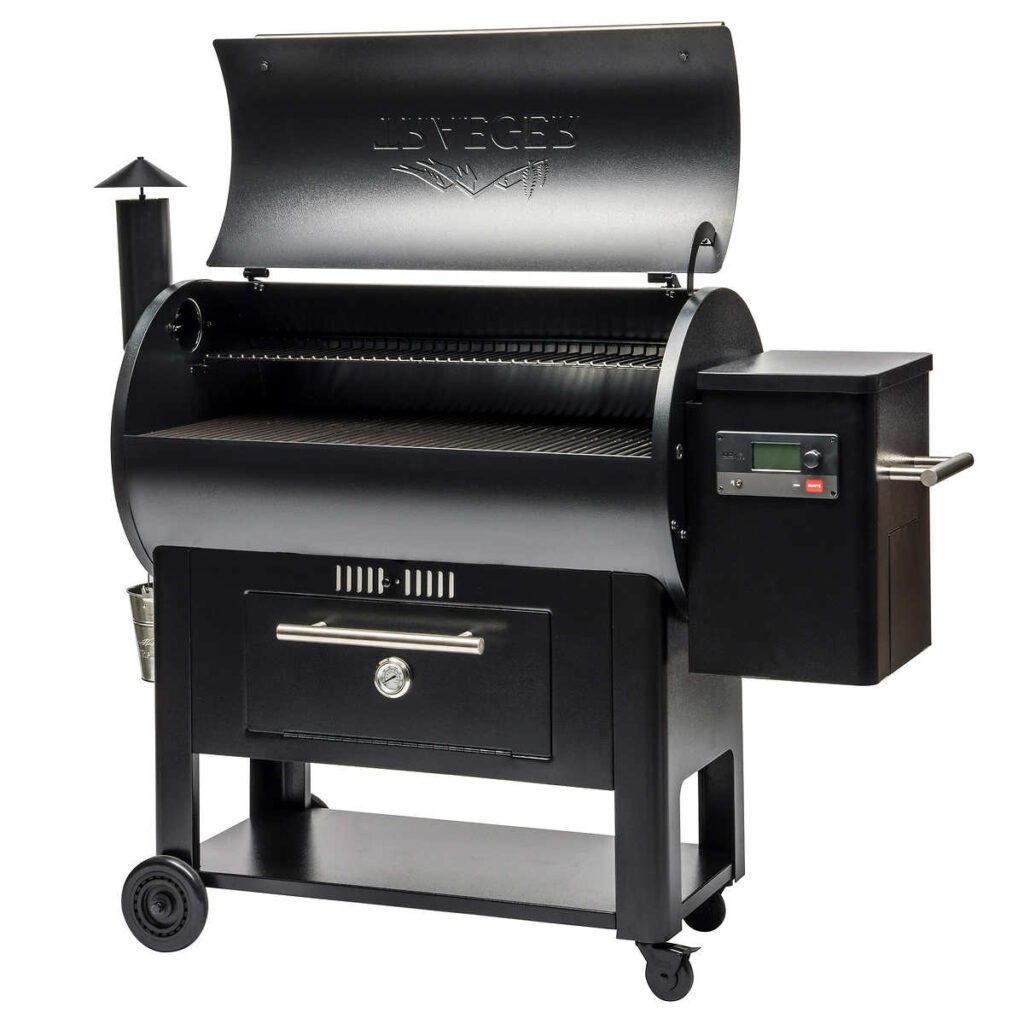 Design
Let's start with walking around the next Traeger grill on our list. It's a Traeger Century 880 grill–not a smoker. Please remember it! 
With an up-to-date design, black powder-coated steel body, and Wi-Fi connectivity, this modern Traeger grill looks pretty winning among Traeger pellet grills Costco.
The grill is a heavy beast that can cook big batches of food on your lawn. It has a front rack, a side prep table, a warming drawer, and storage beneath it. 2 sturdy wheels are also there to move the grill. 
On the right side, you get a digital smart temperature controller along with the pellet hopper. It can be paired with a smartphone to monitor your cooking progress virtually–thanks to Taeger's WiFire technology. Besides this, the smart temperature controller has one slot for managing probe–2 could be better.
As soon as you open the grill lid, you find two cooking racks offering a total of 885 sq. inches. It's enough for cooking 10 chickens and a few briskets.
The hopper capacity is also great: 20 lbs, so your grill can cook overnight.
Performance
Then comes the biggest concern: the cooking performance!
For temperature control and consistent heat production, the grill is great. The temperature fluctuation at elevation is understandable.
The grill works, and it's a "wow thing!" If not, you'll be hanged calling Traeger customer service or "Googling" your issues!
Seeing it saving $200 at Costco, the deal can seem captivating. But here is what you need to remember–the grill is a pellet grill, and no "super smoke" mode works on it; that's for the Ironwood series. The reason is that Century 885 Traeger grill doesn't have a back fan to help an efficient smoke circulation inside the grill.
Still, you can get some out of it by using a pellet tube smoker. 
It's also apparent that a dropped price/discount at Costco, when compared to Traeger online, has been alluring for hundreds of users, the looks also have been seductive, yet the actual performance has not been up to the mark, especially for new grillers.
Why do I like it?
Grilling performance is good
Assembly and ignition are easy.
Cheap at Costco
Better design with more storage
WiFi-paired smart digital controller
Sturdy thing
What are the cons?
Black paint can flake off if the grill is not stored properly.
Traeger's support is heartbreaking.
Setting up Wi-Fi can be a daunting task.
Not a smoker because it lacks a smoke circulation system, what you call super smoke.
The price difference between Traeger online and Costco is only a sales tactic, as the grill is only available at these two places.
Are Traeger Grills At Costco Really Cheap?
No, Trager grills are not cheap at Costco. The good news is that they're also not over-priced there. How can I testify to this?
Traegers has made a few grills exclusively available at Costco. Some of these grills can be, either way, only found on Trager.com at a similar or higher price. Since you can't compare the price with another marketplace, you can't predict the cost-effectiveness. I've done some calculations for you.
Let me get into details:
Similarly, on Traeger.com, Traeger Century 885 is priced at $1349.99, yet on Costco, it's $1199.99. 
Where will you go? At Costco, of course! 
What should I call it? 
A sales strategy to engage buyers at Costco, while this grill is unavailable on some other marketplace.
You can get a Traeger Fremont Pellet grill at Costco for $649.99, but nowhere else. So, where to go to compare prices to tell you it's cheap at Costco?
The Traeger Silverton 620 bears a hefty price tag of $899.99 and at Costco, it shows $749.99, still not available at any other place. You can understand the price difference and its purpose.
Traeger Texas Elite 34 has been available at Amazon.com, yet it has not been available there after March 2021. At Traeger.com, it costs you $749.99, and on Costco and Walmart.com, you can buy it for $599.99. Thus, it's apparent that this huge price difference is a strategy only.
To sum it up, Traeger grills are in no way cheaper at Costco; and only 4 grills are available there. Among these 4, only 2 are worth buying. 
So, it'll be a better idea to choose another Traeger grill from any other store or even consider buying a better one than Traeger's.
Should you Buy Traeger Grill at Costco?
Yes, Traeger grills are great for" set it and forget it" type slow cooking, and if you love them, Costco can be the best place to get one for you. 
It's because Costco offers you a better return policy of 90 days, so your money isn't wasted if you have buyer remorse. Remember that it's not about price–if you do some calculations, the Traeger grills are neither cheap nor overpriced at Costco.
Yet, at Costco, you find only 4 options exclusive to Costco. And among these 4, only Two grills are worth buying: Traeger Fremont and Traeger Century 885.
But if you need a really reliable grill from Traeger, get it at Amazon store. It's a Traeger Pro Series 780 pellet grill.
What can be a better alternative to Costco Traeger grills?
Pellet grill manufacturers with better design and technology have found their way into the realm of pellet BBQing after the expiration of Traeger's patent. Among them, some compete with Traeger in affordability and few others in quality. 
If you need a more affordable grill, look for grills like Pit Boss. If you prefer quality, have a high-grade material grill with a helpful PID controller like the Rec Tec grill. Yet, staying with Traeger, you can find the best Traeger grills from their Pro Series, as one has been reviewed below.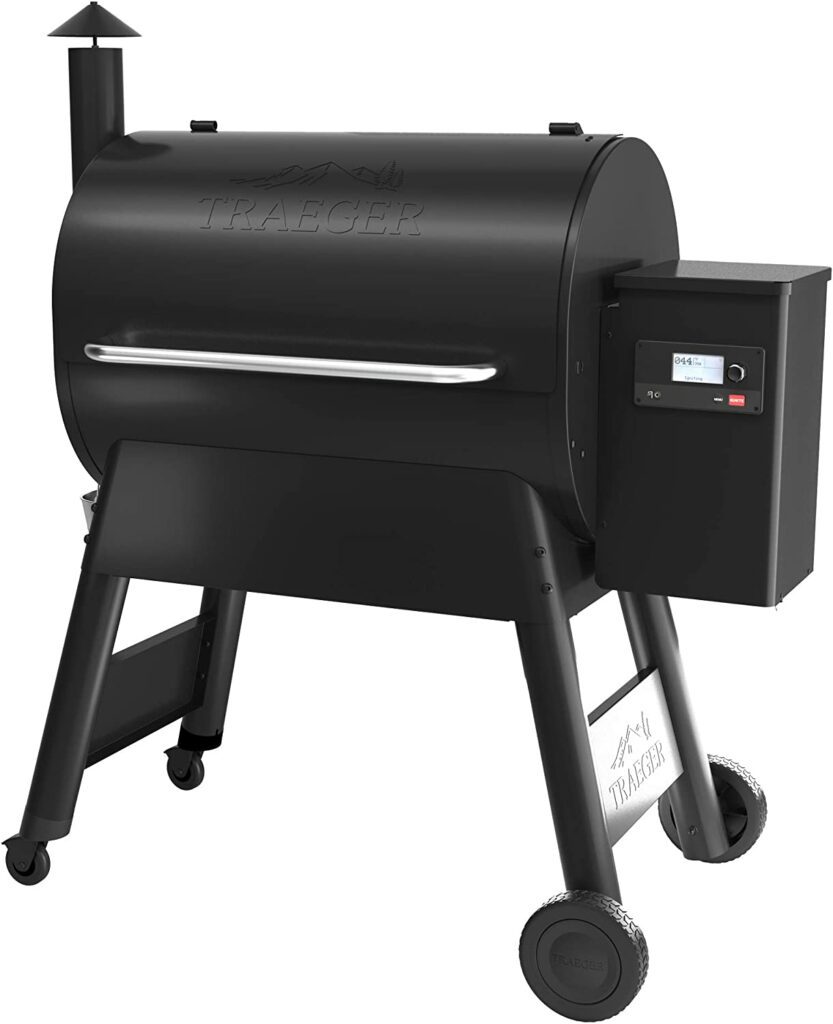 Available in 2 colors, black and bronze, paired with WiFire and Alexa smart voice control technology, the heavy-duty Traeger-Pro Series 780 grill is worth buying a grill. Let's get straight into the review.
Design
The Traeger Pro Series 780 grill comes in cart style. It has 2 caster wheels and 2 large rugged wheels for easy transportation and firm placement of this 150-pound grill.
In its simplistic design, you can't find any embellishments. The grill has rear hooks to let you hang the secondary rack if not in use.
I like the sleek stainless steel handle of the grill, not only at the front but on the right side as well. This side handle helps the rugged all-terrain wheels to move easily.
How can I forget about the material–it's made of stainless steel? You can understand that it'll last much longer. Furthermore, it also helps with an easy cleanup–of the hopper and grill interior.
Inside the grill are two cooking racks with a 30 sq inches grilling area. For large-sized meal dinners, the grill is great: it can grill 6 chicken, 6 ribs, and 12 burgers. 
The grill's pit has been made in an oval shape, adding an extra 3.5 inches to let you cook versatile roasts more comfortably, like a beer can chicken roast.
Hence, the grill facilitates cooking large-sized proteins.
The grill's hopper has a capacity of 18 lb pellets. So you can smoke briskets overnight. 
Besides added mesh in the grill hopper, I'd also love to appreciate its funnel-like design, which keeps the pellets moving in the auger without letting them glue.
Cooking performance
Finally comes the most important part, "how well the grill cooks the meals?"
The target Pro series grill, whether Traeger Pro Series 575 or Traeger Pro Series 780 grills, all come incorporate Traeger's "Turbo Temp" system to get back to the grill's set temperature as soon as possible after opening the lid. 
It's about recovering the lost heat back by 5-10 degrees each minute–to regain 50 degrees Fahrenheit, and it'll take it when you close the lid.
Using the Traeger control is snap. A single knob allows you to set the temperature in no time. In the same way, pairing your phone with your grill is also hassle-free. Yet, to control your grill through the Traeger app, using WiFi, your phone and grill must be in the range.
How about the temperature fluctuations?
Traeger grills have temperature swings, yet this grill has an improved temperature control system that lets you set your grill temperature by -/+5 degrees. Thus, you get precise control as you do with your convection ovens–it's your true backyard wood pellet convection oven.
With so many enhancements to compete in the market of pellet grills, this Traeger unit lacks a few things. I would love to see more temperature probe options–it has only one.
For your safe experience, the temperature alarm shuts down the grill if it stays below 165 degrees for over 10 minutes. The same system further alarms you if the temperature rises over 550 degrees Fahrenheit. It's the first security feature that you can find in Trager grills.
In a nutshell, compared with several Trager grills, Traeger Pro series grills 575 and Traeger Pro Series 780 speak of Traeger's craftsmanship–but that's what keeps Traeger going!
Why do I like it?
Grilling performance is good.
Assembly, usage, and cleanup are easy.
More space for cooking big cuts
Heavily built grill with easy mobility through rugged wheels.
WiFi-enabled connectivity of easy control
It's sturdy.
Cost-effective
What are the cons?
 No super smoke setting
Only one meat probe option
The temperature alarm security feature is beneficial.
The warranty period is not the same as Costco.
Why Some Users Have Unpleasant Experiences with Traeger Grills?
3 factors have caused huge annoyance for Traeger users: temperature fluctuations in Traeger grills, warranty, and customer support. We'll discuss each one by one.
Temperature fluctuations in Traeger grills
Before knowing the exact reason behind temperature variations in pellet grills, you must know how pellet grills work.
Most Traeger grills work pretty simply, primarily using conventional temperature controllers.
The pellets filled in the grill hopper are moved in the firebox inside the grill through auger motors. A hot rod burns these wood pellets to light fire. The heat produced through these wood pellets is deflected through a heat diffuser plate that sits right above the firebox.
For your chosen temperature, the conventional digital controller operates the auger motor and feeds the grill fire until the temperature limit is reached.
Inside the grill wall, at the side control, there are temperature sensors to collect grill temperature data for the controller. This temperature is shown on the digital controller screen or your app.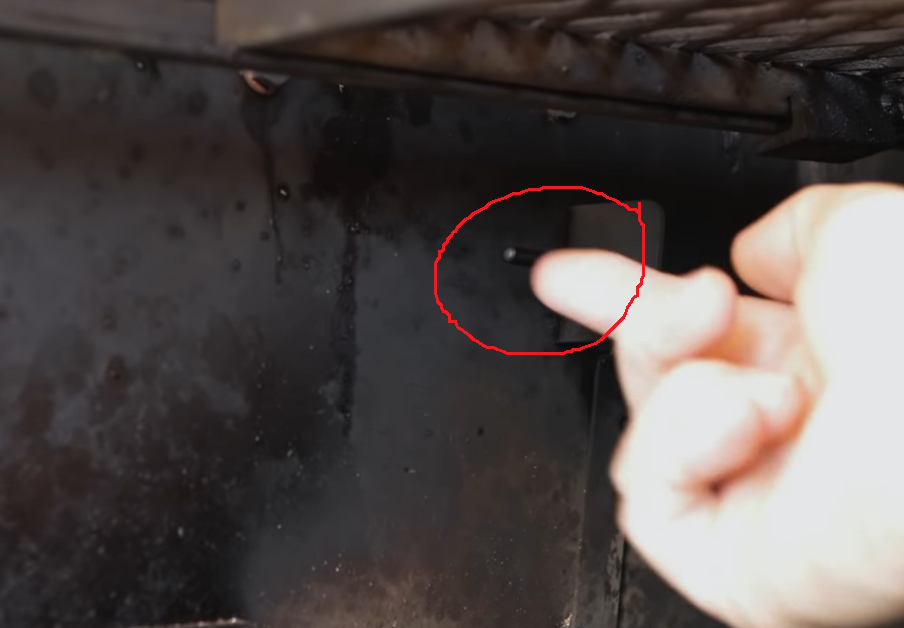 It is essential to keep this temperature sensor clean to keep it working accurately since the pellet grills fire supply on pellets quantity, and speed of feeding them. The convection fan helps with heat regulation. But, these grills are not programmed to deal with external factors like wind, weather, and opening the grill lid.
Several things can affect the pellet grill's heat efficiency.
The wind and cold weather are the biggest enemies of Traeger grills.
When you lift the grill lid and close it, the grill controller doesn't direct the auger to supply more pellet heat to compensate for the loss. Instead, they keep on working in a previous manner. Therefore, the grill again takes time to recover heat loss.
If the grill's temperature sensor has build-ups or is not calibrated with the digital controller, it'll show the wrong temperature on your grill app and controller screen, while your probes will show different readings. And you'll be left with bad food at the end.
WHAT SHOULD YOU DO THEN?
Calibrate your Traeger grills with the probe.
Cover the grill with a thick blanket to fight the weather–hazardous!
Don't open the grill lid too often.
Keep the grill's temperature sensor clean.
Get a grill with a better controller-PID controller with a better temperature sensor system for managing temperature in all critical situations.
PID temperature controllers come in various types.
A PID controller beats a traditional temperature controller because it saves information about past cooking. It collects data from several sources/sensors and combines it to expect future temperature swings. So, within a rec teq grill, the PID algorithm controls the pellet burn rate by increasing or decreasing the pellet feed rate based on temperature and fuel rate data. 
It also independently adjusts the convection fan. As a result, slow down the rate at which pellets are fed into the fire pot as the temperature reaches the predefined point.
To also compensate for the quick temperature drop, the rec tec's PID temp controller adds additional fuel when you raise the lid.
Note: You can also add a PID pellet controller to your Trager grill for better cooking performance.
Hot Rod Breakage in Traeger grills
Ceramic hot rods light wood pellets in the firebox; unfortunately, they don't last long. How long a rod lasts primarily depends on the frequency of usage. Therefore, if you use your pellet grill 2-3 times a week, the ceramic rod would hardly last over a few months. Thus, after a brief period, your grill won't be heating to make you suspect it has stopped working.
The replacement is a solution that costs you $$. OR it can be best to get a grill with NASA-grade ceramic. 
"High-Efficiency Tantalum-based ceramics (HETC) composite structures suitable for thermal protection systems."
Can you find any pellet grills?
Yes, rec tec grills have hot flash ceramic rods to ignite the grills for 100,000 cycles.
Traeger Customer Support and Warranty
The customer support and refund policy at Traeger is disappointing. They can help you with a few initial issues. Yet, if left unfixed, anticipating a return, they'll seem less cooperative. 
Besides this, their refund policy requires you to return the product without usage in actual packaging within 45 days of the original shipment. It's pretty impractical to assess grill performance without using it!
No matter how malfunctioning a product you get, in the end, it's the warranty, customer support, and returns policy that relieves your heart after spending $$$.
How should you choose a pellet grill? Don't Ignore this Buying Guide!
When searching for a pellet grill, tons of options pop up in your search window. Some of the grilling industry for several decades, while others might be just a few years old. Should you trust a grill brand because of its authority?
No!
After consulting many pellet grill gurus, I've got your few points below to help you make an informed decision. You must consider a few things before picking the right grill for you.
Grill material
A grill with high-quality materials like stainless steel or 304 stainless steel is built to last for decades. These grills are also easy to clean, for they don't mind abrasive cleaning. In contrast, powder-coated steel, though reliable, hardly lasts over a decade. 
You can get some premium quality material if you research more.
The best way to check a grill for material is to check the grill grates. If they seem thin, chances are, it's a mid-range quality grill. Yet, it has been built as a beast if it features heavy, 304 stainless steel grill grates. Hence, you'll be fortunate if your grill has the utmost use of stainless steel in its construction.
Temperature control system
I have found hundreds of grill users complaining about grills' failure to maintain or supply the desired temperature. No matter what it looks like yet, if it fails to do what it's supposed to, it's garbage.
Normally, the grills use a digital control system, which feeds the firebox with fuel, simply keeping the time in view: e.g., how much fuel a grill needs to reach 275 degrees Fahrenheit. This system is notorious for maintaining grill temperature in challenging weather or latitudes.
However, the PID temperature control system is a modern solution. 
A PID controller uses Proportional, Integral, and Derivative variables to control the timing of the feed more precisely. The mathematics works 1000 times in a minute to ensure a consistent heat supply. Thus, you keep cooking expensive meat cuts noticing no drop or rise in the temperature. 
Do Traeger grills use a PID control system?
NO!
They lack it… You can only find it in a few grills by some other brands–rec tec grills use this system. It's why rec tec has got a handsome followership. It also maintains the temperature again when you've opened the grill lid/
Wi-Fi Connectivity
You can't babysit your grill-you've got a lot of things to do. A WiFi-enabled grill helps you control your grill easily. 
Today, you can find Wi-Fi-connected pellet grills from any brand, but make sure, it should be workable–easy to connect, and accurate.
Sturdy ignitor rod
"My grill stopped working after a few months…" 
"Ehh, mine is not getting hot enough…!" 
"Me too!"
When researching pellet grills, I have found that most of the pellet grills no longer produce heat and the primary issue is a broken rod. The hot rod's breakage is not time bound–it's about how frequently you use your grill. In most pellet grills, the hot rod has got an expiration limit. Then, you'll have to replace it.
But some premium quality pellet grills like rec tec don't have such problems.
They have a hot rod made with high-quality ceramic (NASA-grade ceramic) that guarantees up to 100,000 lighting cycles. Probably your grill will keep cooking after 50 years: lucky you!
Grill size
The grills mention their size, yet they measure differently. Some also include the secondary rack size when discussing the size. When you look forward to choosing a grill, consider the primary grilling area size first–the secondary cooking rack will be a bonus.
Fuel consumption
How many times can you guess the fuel quantity that your pellet grill needs? But you're left in a fix when the reality is different–pellet grills burn 1-4 pound pellets in an hour. It usually happens when a grill's temperature fluctuates or they don't burn clean. 
Yet, the grills with consistent heat production eat less fuel. Saving a few bucks when buying a grill and ignoring the fuel consumption can cost you XX times. So, beware and calculate the grill's performance.
Temperature range
Pellet grills don't sear. Some may claim to help to sear, but it comes through propane-fueled searing kit attachment–you have to attach extra fuel for this purpose.
Is there any pellet grill that can help to sear steaks?
Yes, some names are there. For example, the rec tec grills like RT 700 or 590 can produce up to 700F temperature in FULL mode. 
Design
For almost 3 decades (1988-2006), Traeger has been a solo manufacturer of pellet grills, being a pellet grills patent. It's why the word "Traeger" jumps into your mind whenever you think about pellet grills. And, probably, it's why all pellet grills look alike.
Since new manufacturers introduced their pellet grills, they have become more accurate, sleek, and easy to use. For instance, in the rec tec grills, you can find a large hopper placed in the grill's rear and a smart PID controller at the side–only the size of a prep table. 
This gives a more authentic look to the grilling unit. Similarly, some grills have a light inside the grill to help with nighttime cooking. 
Some others have a see-through lid, yet such grills are horrible! It's because the smoke inside the grills builds soot, and lids are of no use soon. Beware not to pay for a smoker with a see-through lid.
Smoke Setting
Smoke setting on wood pellet grills is nothing but a trick. Dozens of folks are discussing their experience with Traeger's "super smoke setting." Their honest reviews reveal one thing:
The super-smoke setting is less helpful. No special advancement is involved there, except that the super smoke setting cooks at a temperature lower than 225 degrees. 
So, for "super" smoke, keep the pellets burn rate (grill temperature) below 200 F or at least 225 degrees. This way, on your quest to light more and more fire, your wood pellet's moisture won't evaporate so quickly, and you'll get nice smoke out of them.
So, without caring about the special feature of "super smoke," if you want your pellet grill to produce more smoke:
Cook at a temperature below 165-225 degrees Fahrenheit.
Use excellent quality hardwood pellets–avoid combinations.
 Put your meats at upper racks to get more circulated smoke.
In short, "super smoke" mode shouldn't deceive you.
Warranty and Customer service
The warranty period and refund policy guarantee ultimate user satisfaction. So, before ordering a grill, make sure that the grill comes with a comprehensive warranty and an excellent refund policy–Costco gets you a 90 days money-back guarantee that you don't get at Traeger.com.
Also, before breaking the bank, ensure your product manufacturer or supplier understands your pain and is always there to help you in a true sense–again, Traeger lacks it!
What are the Best Traeger Grills at Costco? Final Thoughts
Traeger pellet grills following decades-old technology have persistent issues of temperature see-sawing. Yet, in recent years, Traeger has improved them by integrating D2 motors, a smart control system, and a digital Arc control system.
Therefore, these grills have been successful in winning users' trust. Costco's 90 days refund policy has allowed the pellet grill lover to pick Traeger grills courageously. Among all 4 Traeger grills available at Costco, 2 are worth "trying!"
Traeger Fremont Grill for small grilling needs.
Traeger Silverton 620 pellet grill for small to midsize families.
YET
And, if you want to get a pellet grill for life, then rec tec's pellet grills are the best. They'll cost you $100-200 more than Traeger's. Yet PID controller, premium quality solid construction, ceramic flash hot rod, illuminated interior, responsive customer support, lifetime warranty, and refund policy are all you need.
universitygrill.net is a participant in the Amazon Associate program and will earn from qualifying purchases.