Who doesn't have endless love for the sweet-tart candy, Skitles— "Skittles," when spelled correctly?" Most of you might have grown up enjoying these fruit-flavored, chewy candies. But do you know all about these sugary treats? 
Skittles are the chewy candies available in vibrant colors that let you "taste the rainbow." The heavenly flavor refreshes your taste buds making them feel addicted to Skittles.
Do you know all the available flavors, colors, origin, and other necessary information about these candies?  If not, let's directly probe into the discussion without waiting for a single second.  
Haven't you tried these candies yet? You'll surely love to try them after reading the entire content. 
Let's get started! 
What are Skitles (Skittles) Made of? 
Skitles (Skittles, when spelled the right way) are small-sized, button-shaped fruit candies with the letter "S" imprinted on them. Inside the hard shell, they are made of sugar, fruit juice, corn syrup, citric acid, hydrogenated palm kernel oil, and a little touch of artificial and natural flavors. 
You must know that Skittles candies used to have animal-derived gelatin. But in 2009, the company removed animal-derived gelatin; thus, Skittles became suitable for all vegetarians. 
Taste the Rainbow- Skittles' Slogan
The company D'Arcy Masius Benton & Bowles introduced the slogan of Skittles "taste the rainbow." It's a New York advertising agency that made the longest-running advertising campaign. This slogan is based on the vibrant colors of the Skittles that, when placed together, look like the rainbow. 
Origin of Skitles (Skittles)
Regarding the origin of Skittles, it's important to mention here that a British company first made these candies commercially. It's the Mars Candy Company that, in 1974, made Skittles commercially.  
In 1979, Skittles came to the United States for the first time as an import confectionery. After this, its local production also started in the U.S in 1982. 
At present, Skittles are the manufacturing of Wrigley Company. It's the subsidiary of Mars, which is considered Wrigley's parent company. 
What are Skitles' Flavors with Color Variations?
Skittles- the second most popular candy in the United States, is available in a wide variety of flavors. You might be familiar with the original flavors, including orange (orange), lemon (yellow), strawberry (red), grape (purple), and lime (green). These five are the most common flavors that most of you might have tasted. 
Wait for a second; there are a lot more that you must try out. Not just the flavors, but we'll also discuss the colors.
Let's have a deep look at these flavors, along with the color of each. We know that most of us have to decide the flavor through its color at the end.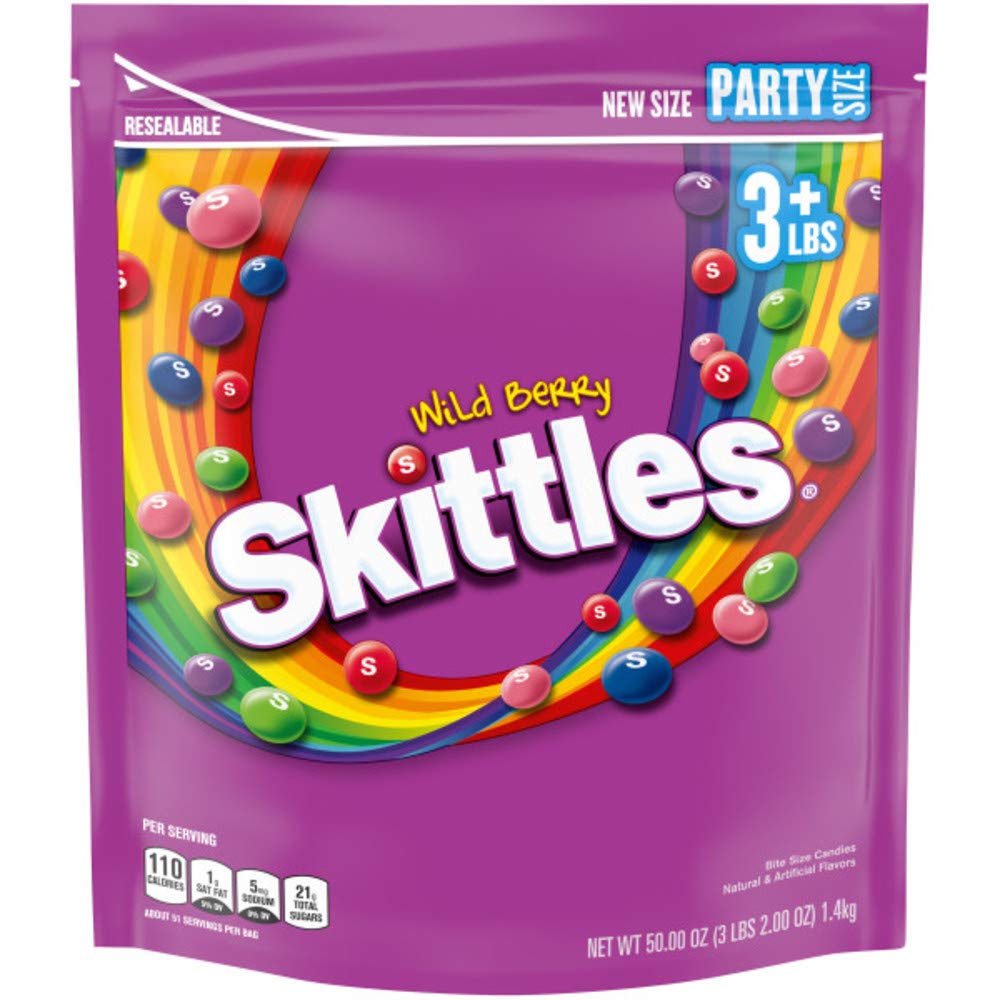 Internationally famous and most like flavor, wild berry Skittles came in colors and flavors like, 
Wild Cherry in red color
Strawberry in pink color
Berry Punch in violet color
Melon Berry in green color
Raspberry in blue color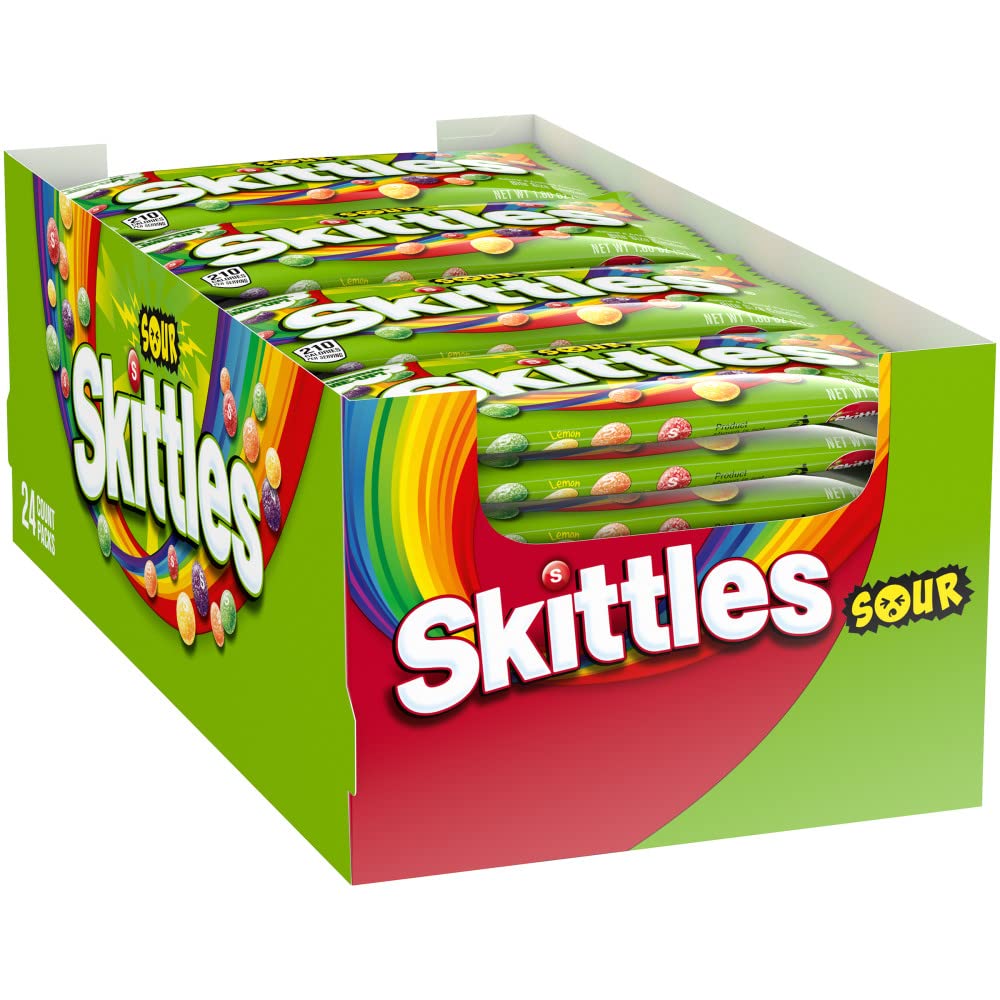 Sour Skittles rank second as the most favorite Skitles variety. They have all the tangy and sharp flavored fruit candies. These are the following colors.
Sour Lime in green color
Sour Lemon in yellow color
Sour Orange in orange color
Sour Strawberry in red color
Sour Blackcurrant in purple color
Sour Grape in purple color
But let us tell you that from the sour Skittles family, the sour green apple was replaced with sour lime. It started in 2013 and continues.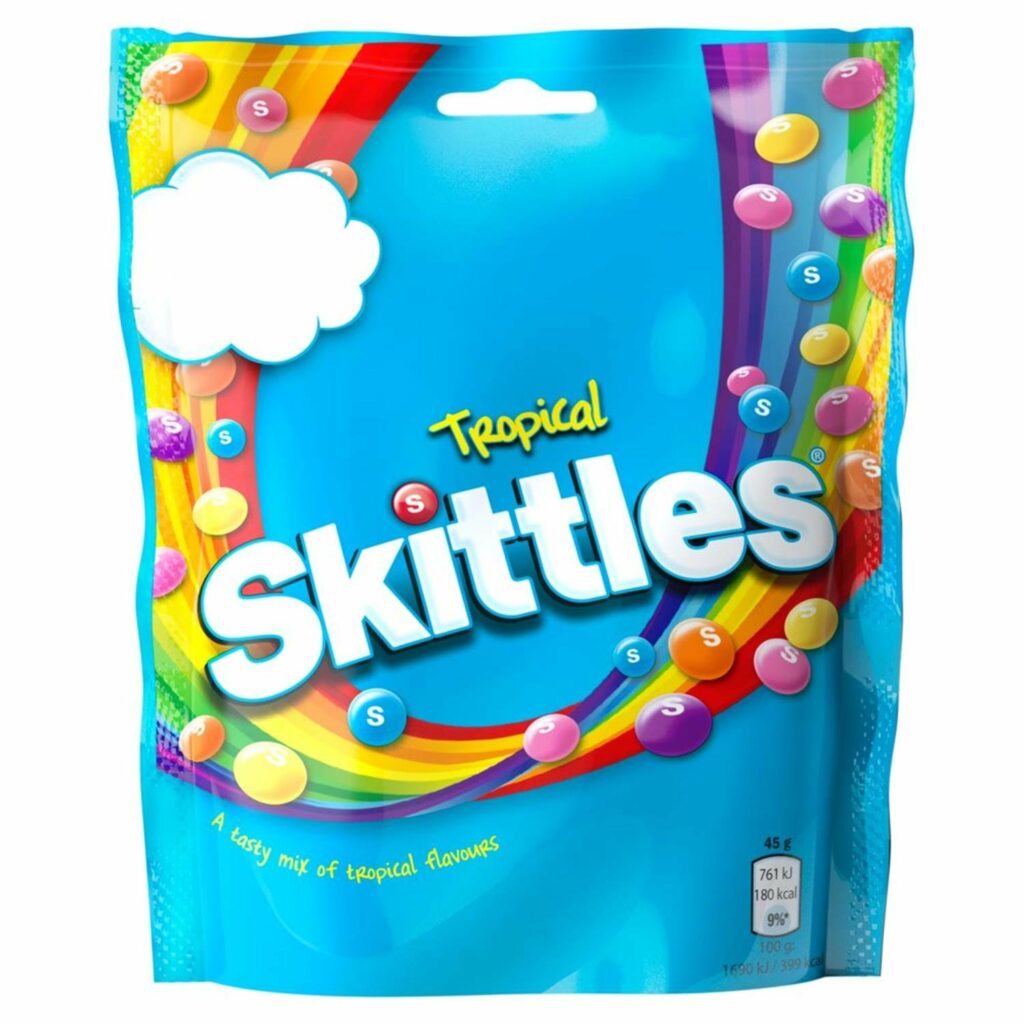 The group of tropical Skittles (international ) has the following flavors.
Kiwi Lime in green color
Mango Tangelo in orange color
Banana Berry in yellow color
Strawberry Starfruit in pink color
Pineapple Passion Fruit in Blue color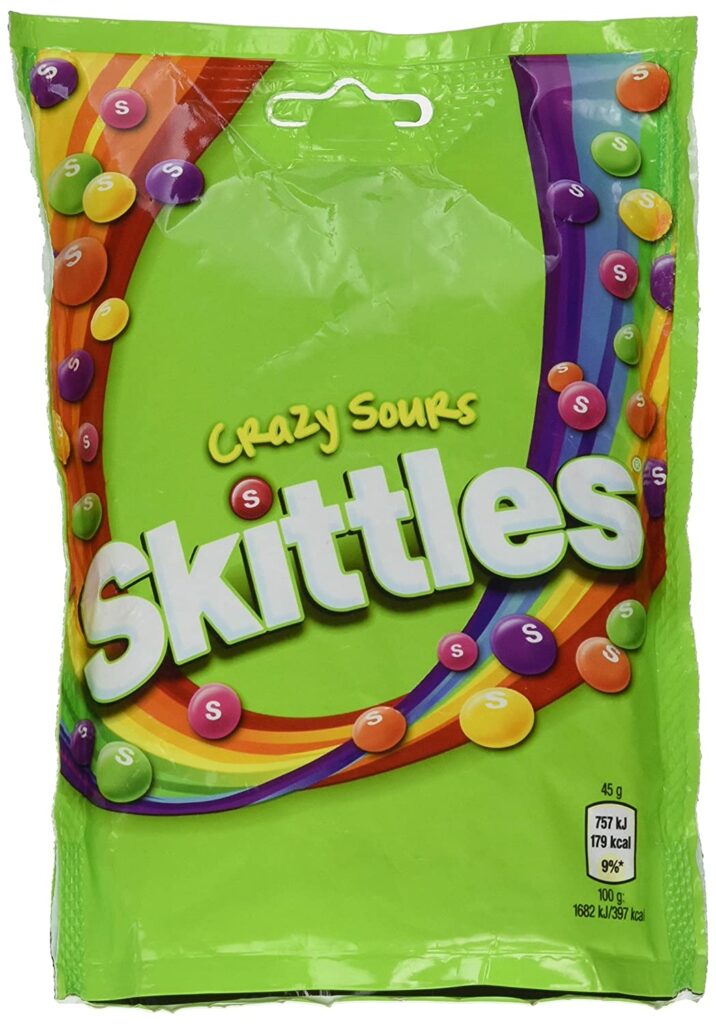 Crazy sours are mainly available in Europe. It has the following flavors. 
Sour Raspberry in pink color
Sour Apple in green color
Sour Pineapple in yellow color
Sour Cherry Berry in purple color
Sour Mandarin in orange color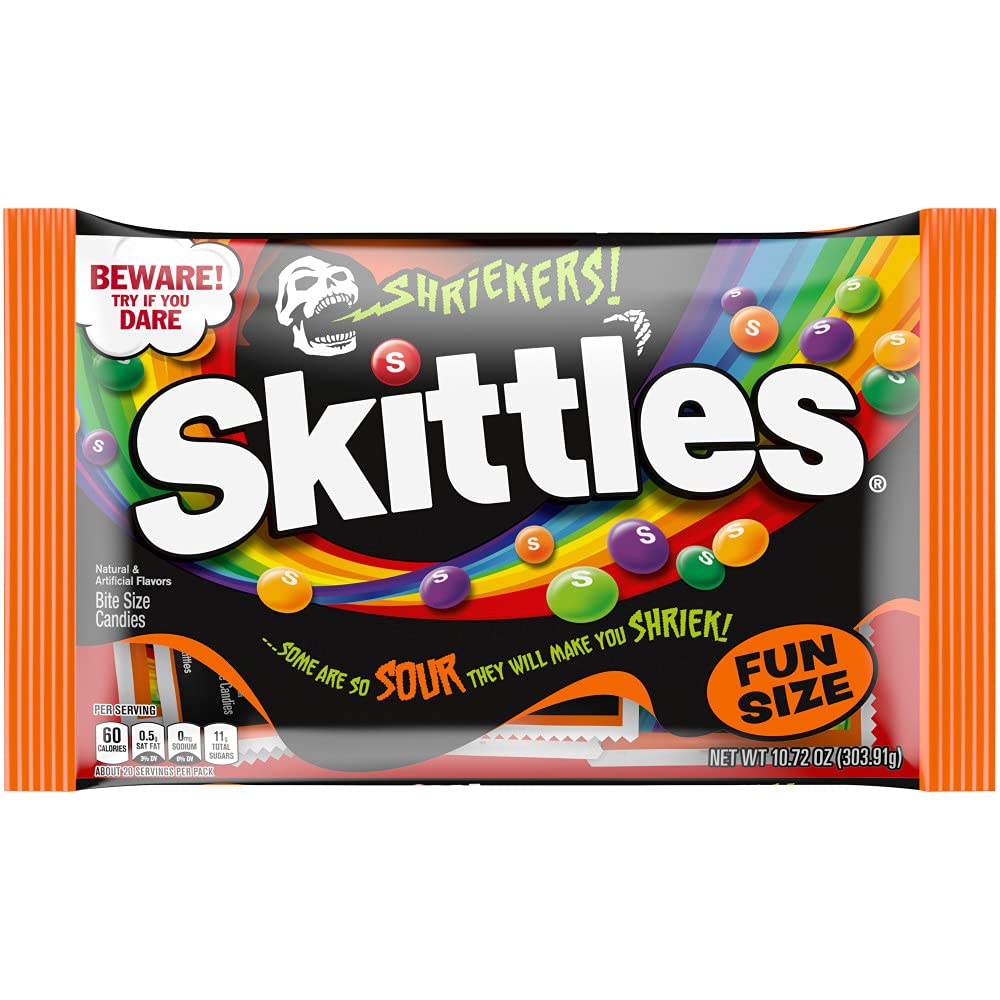 Shriekers came in October 2021, and they were with a strong sour flavor. 
Citrus Scream in pale orange color
Rattled Raspberry in purple color
Spine-tingling Tangerine in orange color
Ghoulish Green Apple in green color
Shocking Lime in pale green color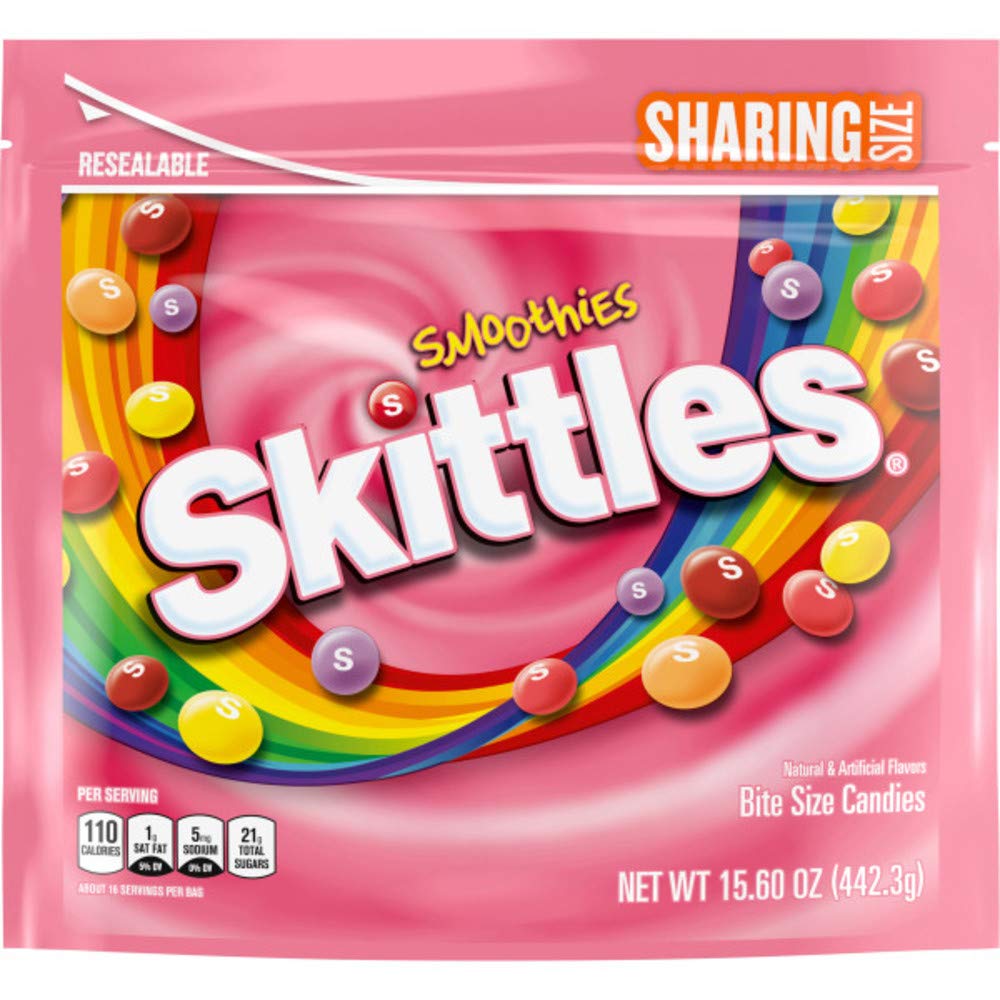 Smoothie Mix Skittles were updated, and a new version was produced named Skittles smoothies. They have the following flavors. 
Strawberry Banana Smoothie in pink)
Raspberry Smoothie in red color
Mango Smoothie in orange color
Blueberry Smoothie in purple color
Peach Guava Smoothie in yellow color
What are Some other Flavors of Skitles (Discontinued or Unavailable in the USA)?
Apart from above mentioned flavors, some of Skitles flavors are either available in Europe, Australia or have been updated/discontinued. Here is the list of some flavors among these.
Tropical Skittles (Europe and Australia)
The category of tropical Skittles contains five different flavors. These flavors include, 
Orange in orange color
Watermelon in pink color
Pineapple in yellow color
Passion Fruit in purple color
Fruit Punch in blue color
X-treme Skittles
The next category we have is x-treme Skittles. This category has one skittle with two flavors in it. But this dual flavor skittle was sold for just a limited time in the year 2009. 
Red Apple (Watermelon-Green Apple) in red and green color
Green Apple-Watermelon in green and red colors
Lime (Lemon-Green Apple) in yellow and green color
Lemon-Watermelon in yellow and red color
Grape-Lemon in purple and yellow color
Confused Skittle Flavors
The confused Skittles were introduced in the United Kingdom. The important thing about these Skittles was that the same colored shell contains different flavors in it. 
For example, one bag of green Skittles has cherry flavor while another bag with the same green Skittles may contain peach flavor. Other than this, it includes flavors including,
Lime
Watermelon
Melon Berry
Raspberry
Blueberry
Mandarin
Mango + Peach
Lemon
Blue Raspberry
Cherry
Smoothie Mix Skittles
Another category about which most of you stood unaware is the smoothie mix. This flavor came in an orange-colored packet and was sold just for a short time. 
It was with the following flavors and colors: 
Lemon Berry in light yellow color
Strawberry Banana in light peach color
Mixed Berry in pastel purple color
Peach Pear in light green color
Orange, Mango in faded orange color
Wild Berry (Europe and Australia)
Wild Berry Skittles came in a lot of yummy flavors. All these flavors have the most attractive colors. These are,
Apple & Blackberry (green)
Cherry (purple)
Raspberry (pink)
Blueberry (light blue)
Strawberry & Kiwi (red)
Ice cream Skittles
You might be shocked to know that Skittles also came in ice cream flavor. But unfortunately, they just came in convenience stores for a limited time in 2010. It had these fantastic flavors.
Vanilla Swirl (orange)
Caramel Ripple (light brown)
Chocolate (dark brown)
Orange (orange)
Strawberry (pink)
Vanilla (beige)
Chewies Skittles
Skittles' chewies are the no-shell candies found in Europe. They have a lot of delicious flavors, including:
Lemon
Orange
Lime
Strawberry
Blackcurrant
Sour Wild Berry Skittles
Next, we have sour wild berry skittles that have a sour coating. These skittles were introduced in June and July 2019. They have the following flavors.
Sour Raspberry 
Sour Melon Berry 
Sour Wild Cherry 
Sour Berry Punch 
Sour Strawberry
How Many Calories Are in Skittles?
If you're both a Skittles lover and a diet conscious, you'll surely need to know about the calories.
As a regular buyer of Skittles, you might know that the regular pack of these candies weighs 55 grams. And according to the Mars Company, they have 220 calories in each pack with 2.5 grams of fat. But all the fat is saturated. 
One hundred grams of Skittles contain approximately 404 calories. Moreover, it has,
Fat: 4.2 grams (9%)
Carbs: 90.9 grams (91%)
Protein: 0 grams (0%)
Yes, Skittles are high in both calories and sugar. Plus, they also have a high level of fat than the other fruit candies. 
Are Skittles Vegan?
Are you wondering, "are Skittles vegan"? Not just you, but the majority is looking for the answer to this question. Let us spill the beans by saying that some of the Skittles types are vegan. These include Skittles Sour, Skittles Classic Fruits, Wild Berry Skittles, and Skittles tropical. Vegans can eat them as they have all the plant-based ingredients. 
Hold on; not all types fall in this category. You'll also find some of them that are not suitable for vegans. These include Once in a Blue Moon Skittles that have animal-derived ingredients in them.
FAQs about Skittles
How to freeze dry Skittles?
Freezing dry Skittles isn't a tricky task. The main thing that you must have is the best freeze dryer. Once you've got your device, you're ready to change your chewy Skittles crispy. For this, place your Skittles on the freeze dryer tray. Make sure to make just a single layer of Skittles in the tray. 
They will come out in odd shapes, with shells cracked. Moreover, the candy will also double in size. 
Why are Skittles white?
Skittles released white Skittles as a limited edition for the pride month of June to celebrate LGBT pride. Both the candies and the packaging turned white. Thus they ditched their rainbow, saying only one rainbow matters. They also decided to donate 2p per pack to the LGBT charities from that white Skittles limited edition. 
Why did Skittles get rid of Green Apple?
In 2013, Skittles ditched its lime flavor and replaced it with green apple flavor. This lime flavor was presented first in 1979. Skittles' fans badly showed their interest in the lime rather than the green apple. So the brand replaced Green Apple with lime. The green apple is out, and the lime is back in manufacturing from October 2021. 
When did Skittles get rid of lime?
In 2013, Skittles removed the lime flavor and replaced it with the green apple. But for this, Skittles later made an apology tour for ditching fans' most favorite lime flavor.
How long do Skittles last?
The most frequently asked question by Skittles fans is, "how long do Skittles last?" Let us tell you that the unopened Skittles pack can last up to 12 months. Or it can also last till the expiry date. 
If the pack is unopened but you keep it refrigerated, it can last for 6 to 9 months. Moreover, when kept refrigerated, unopened packs can stay for more than a year. And if you freeze the unopened pack., it increases the life of your Skittles. The frozen Skittles will remain safe for up to 18 months. 
Why do Skittles dissolve in water?
Skittles are made with water-soluble ingredients. Their outer coating is mainly food color and sugar. So when they come in contact with water, the colored coating and the sugar get dissolved, making the water the color of the Skittles. 
What are the ingredients in Skitles?
The main ingredients in Skittles include sugar, hydrogenated palm kernel oil, corn syrup, modified corn starch, citric acid, tapioca dextrin, sodium citrate, carnauba wax, and natural and artificial colors. 
Why are my Skitles hard in the middle?
Skittles can become hard from the center if you store them in the refrigerator for a long time. The lower the temperature, the harder the center of Skittles. 
If your Skittles have become so hard to chew, leave them at room temperature for some time. 
How many Skittles are in a big bag?
54 ounces is the largest bag of Skittles candies. This bag has about 1200 pieces of yummy Skittles in it that are more than enough for Skittles lovers to use at parties and even in gift baskets. 
How many Skittles are in a 3-pound bag?
Skittles' 1 oz bag has almost 27 pieces, and 3 pounds is equal to 48 oz. So a pack of 48 oz contains approximately 1300 Skittles in it. 
How do you melt Skitles?
You can melt Skittles in different ways, including microwave or water. Place the Skittles in a circle on the plate if you want to melt or soften them using water. Pour some water into the center and let it reach the Skittles from all sides. 
The process of melting is proportional to the water temperature. Skittles will quickly bleed and melt if the water is a bit warm. 
Final Thoughts  
Skittles are super yummy fruit candies that have fans from all age groups. The pretty colored candies aren't just attractive to your eyes, yet leave a yummy sweet and sour taste on your tongue.  
Don't say you haven't tried these sugary treats yet. If it is so, your whole life was a lie. Bring a stop to all your tasks, rush to the market, and buy the flavor that seems tastiest. You can also order from online stores if you don't want to move out of your comfort zone. 
Taste the rainbow with the rainbow-colored Skittles!
universitygrill.net is a participant in the Amazon Associate program and will earn from qualifying purchases.