When it's about Traeger Scout Vs Ranger, both are similar-looking, portable, micro pellet smokers made by the same brand Traeger, which also happens to be the inventor of pellet smokers, pellet grills, or what some call pellet smoker grills. 
That being said, if they're made by the same company, and they look pretty similar, what sets them apart from each other? Which one is the best buying option for you? 
In this guide, we have tried to find answers to these questions to help you arrive at a confident buying decision. Read on to learn more about the two portable smokers, their similarities, and key points of difference between them.
What are Traeger Portable Grills? Know First
Traeger first came up with the idea of barrel-shaped, pellet-fed smokers, which included a hopper for storing wood pellets, an auger system that feeds these pellets to the firepot, and a combustion fan for circulating heat and smoke.
Typical Traeger smokers, such as those in the Pro Series, Ironwood, or Timberline lineups, provide a lot of cooking space but aren't portable. They've got sturdy wheels to allow mobility around your backyard or patio, but they're not suitable for tailgating or camping. 
They usually weigh a hundred-pound plus and, given their sheer size, can't fit in the back of your car, pick-up, or RV. But if you still want to enjoy the super-smoked steaks while camping, the Traeger Scout, Traeger Ranger, and Traeger Tailgater are some of the perfect options to consider. Yet, you can't expect to feed a massive crowd from them. 
Traeger Ranger Vs. Scout: Side by Side Comparison
Let's compare both great grills by Traeger and find which wins and why?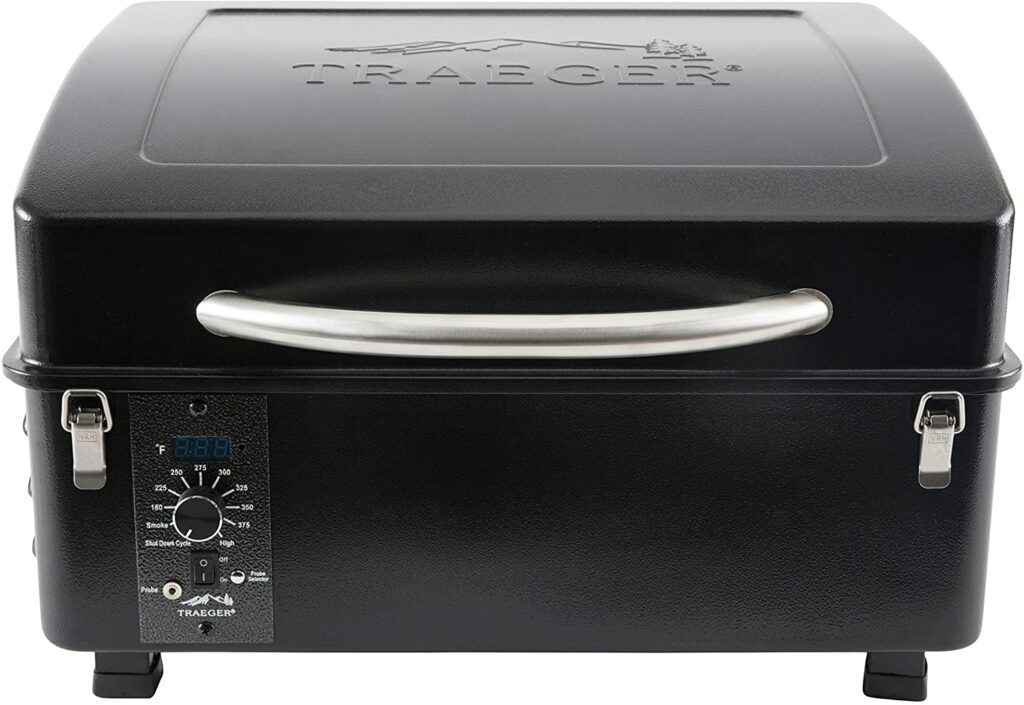 Traeger Scout pellet grill is a compact, portable pellet smoker no larger than a suitcase. Indeed, it doesn't have all the bells and whistles of a full-fledged pellet grill, such as a large cooking space and ample pellet storage capacity. Yet, it's still capable of providing you with a tremendous wood-fired cooking experience on the road.
Construction and Design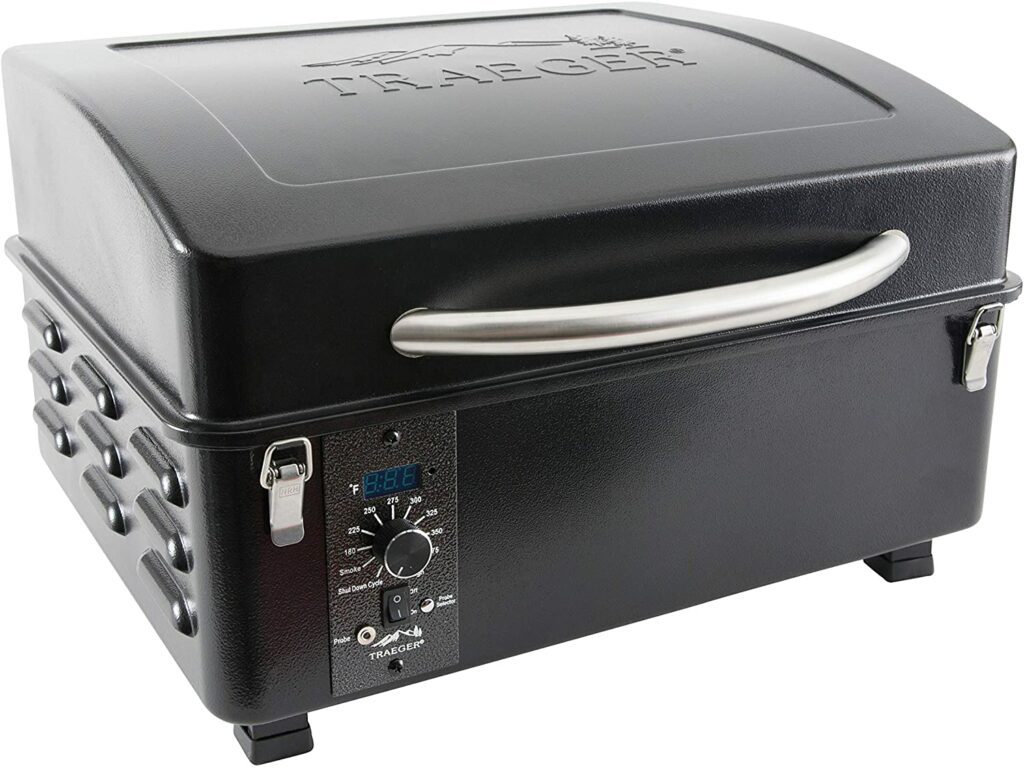 Portable pellet grills have a reputation for being poorly-designed mini versions of full-sized pellet grills with thin legs that are more hassle than they're worth. However, that's not the case with the Scout.
The smoker is packed inside what looks like a tough, black powder-coated steel box. While it's still prone to dings and scratches, it'll not give in to a few heavy blows. It looks like Traeger has built this model keeping the harsh road life in mind.
It measures 21″ w x 13 h and 20″ deep and weighs about 45 pounds.
The unit has received porcelain enameled cast iron cooking grates that are not as good as stainless steel but still a snap to clean. The rest of the inner parts feature stainless steel construction.
The grill features two front latches that hold the lid closed. Unfortunately, the door of the pellet hopper isn't snug-fit, so the pellet dust will spill out of the hopper when you're holding the smoker by the handle. The problem has been fixed in the Ranger, though.
Overall, it's a well-designed and well-constructed pellet grill.
Capacity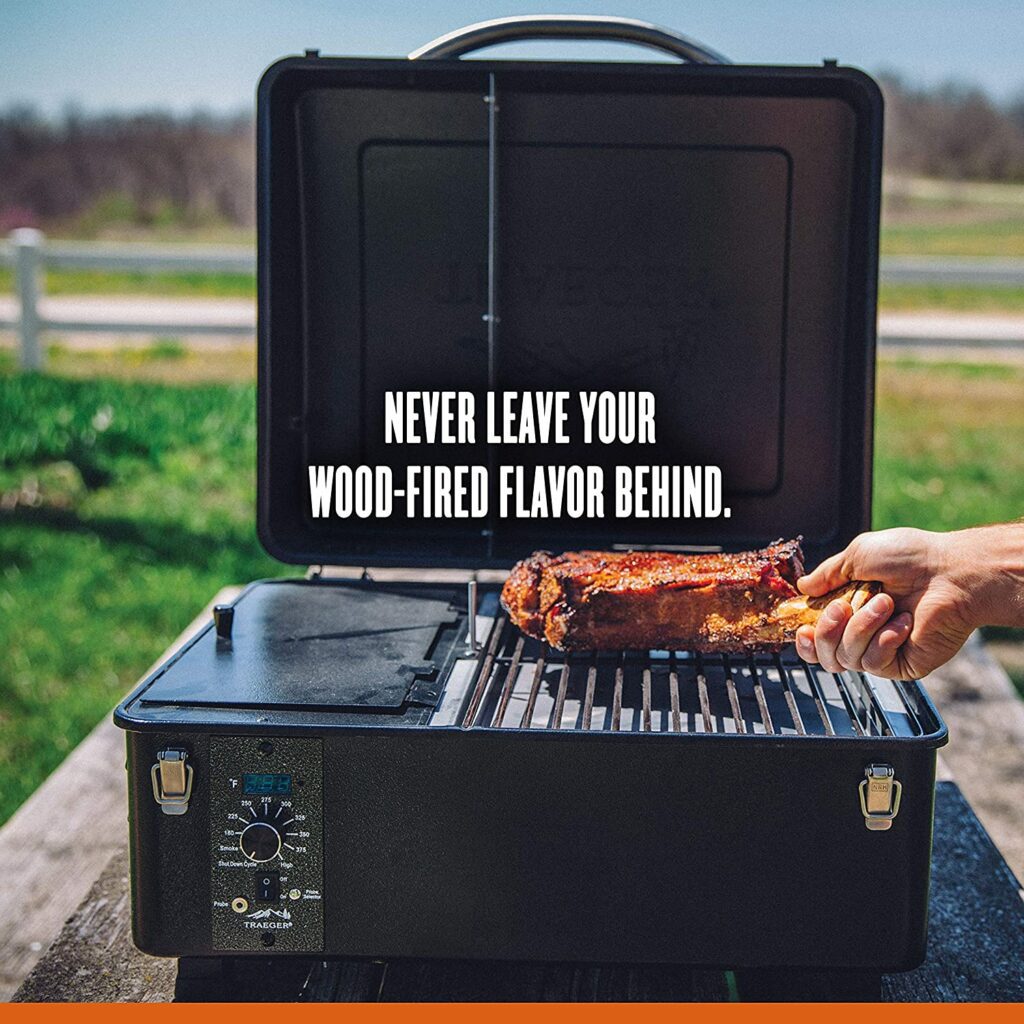 The Traeger Scout has a total cooking area of 184 square inches and a decent amount of space to let you grill 6 burgers, 6 chicken breasts, or 4-6 steaks. This quantity of food should be enough for four people at the max, but not undoable for 6 people if kids included.
The Scout pellet grill's storage capacity is four pounds, which should be sufficient for 4-8 hours of low and slow cooking and smoking. However, over higher temperatures, the pellets will burn faster but doing so will decrease the cooking time. 
We advise having an extra bag of pellets on a road trip as you may need to refill your smoker even during a single cooking session. It's especially advisable when you have to cook in batches to feed more people.
Smoking and Grilling Performance
The Scout comes with Traeger's older style temperature controller, which allows you to set the temperature in 25°F increments. So, you may see temperature fluctuations from the set point in the range of +/-20-25°F.
However, this doesn't impact the smoker's performance. Thus, it remains impressive for all practical purposes.
If you want more (psychological control over the temperature, we suggest going for the Ranger, which has a modern PID controller.
Given that it's a small grill, there are no hot or cold spots.
If you intend to use a pellet smoker for grilling, you'll be disappointed. Pellet smokers are not designed for grilling as they use indirect heat for cooking and smoking your food, often taking hours before they get your food to its minimum internal temperature. 
However, that's not the case with the Scout. It's compact, and there's a little distance between the grates and the firebox, so it does a perfect job of grilling up anything from seafood to steaks, briskets, and ribs.
Meat Probe
One of the most appealing features of the Scout is that it comes with a meat probe. This meat probe directly plugs into the controller panel, allowing you to see your food's temperature climb up as you cook and smoke.
Cleanup
The Scout has an efficient grease management system like typical Traeger pellet grills, consisting of a drip tray, grease drain, and grease bucket that goes to the smoker's rear. As all of these parts are removable, you have to clean them one by one. But first, remember to take off the grates and scrap and wipe the grease off them.
There's no easy solution for the ash buildup in the firebox than gently turning your Scout upside down. You can also use a vacuum cleaner for a deep clean, but it's not a practical solution for road life.
Warranty
Traeger provides a standard 3-year warranty for this unit.
Pros
Small, compact, lightweight, and portable
Does a great job grilling and smoking
Easy to clean
Includes a meat probe
Well-designed and well-constructed
Cons
It doesn't include a PID controller
Less pellet storage capacity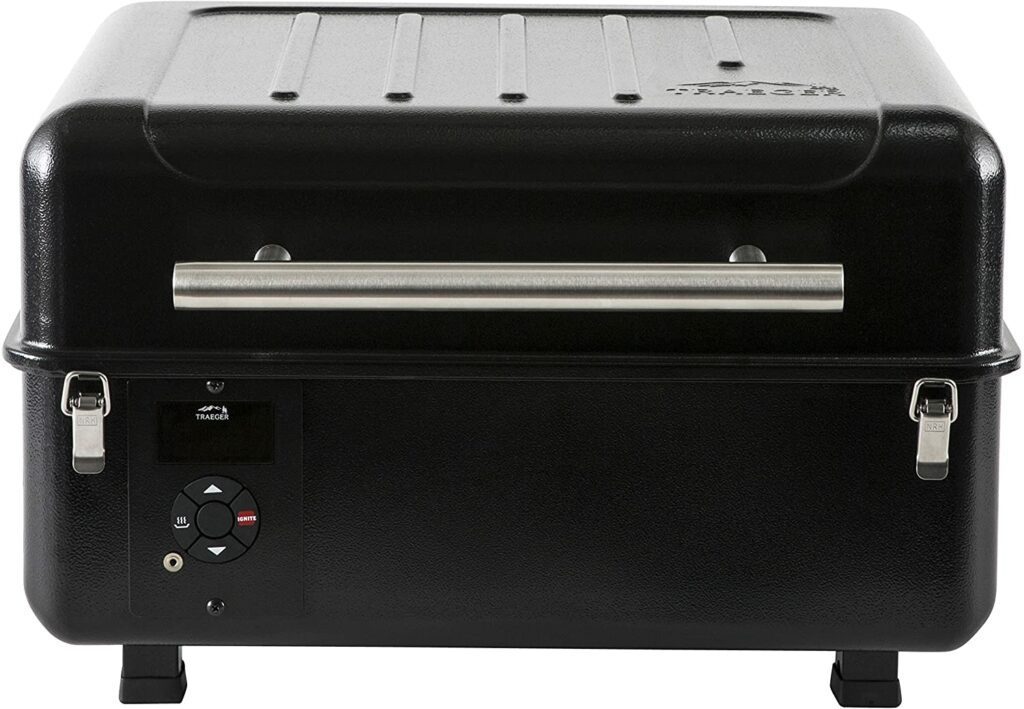 Just like the Traeger Scout, Traeger Ranger is a tabletop smoker compact enough to store in your RV or be packed into your car's rear. But it's a bit heavier than the Scout. Let's review Traeger's premium portable smoker in detail.
Construction and Design
The Ranger's size and dimensions are the same as the Traeger Scout's. The only difference being that the latter is 25% lighter than the former, which translates to the Ranger's total weight of 60 pounds. 
The Ranger is even sturdier than the Scout and almost seamlessly designed for harsh road life. Since everything is packed inside what seems like a small briefcase, its high weight to volume ratio makes it a bit heavy but easy to store as it doesn't take up much space.
As already mentioned, it has the same design as the Scout, but its construction is much improved and impressive. For example, the hopper lid is snug-fit and doesn't let the pellets spill even when you're holding it by the handle. This small grill has two latches to keep the smoker's lid shut tight to let you carry it around by the handle.
The pellet smoker has porcelain-enameled cast-iron cooking grates for better heat retention and easy cleanup.
Capacity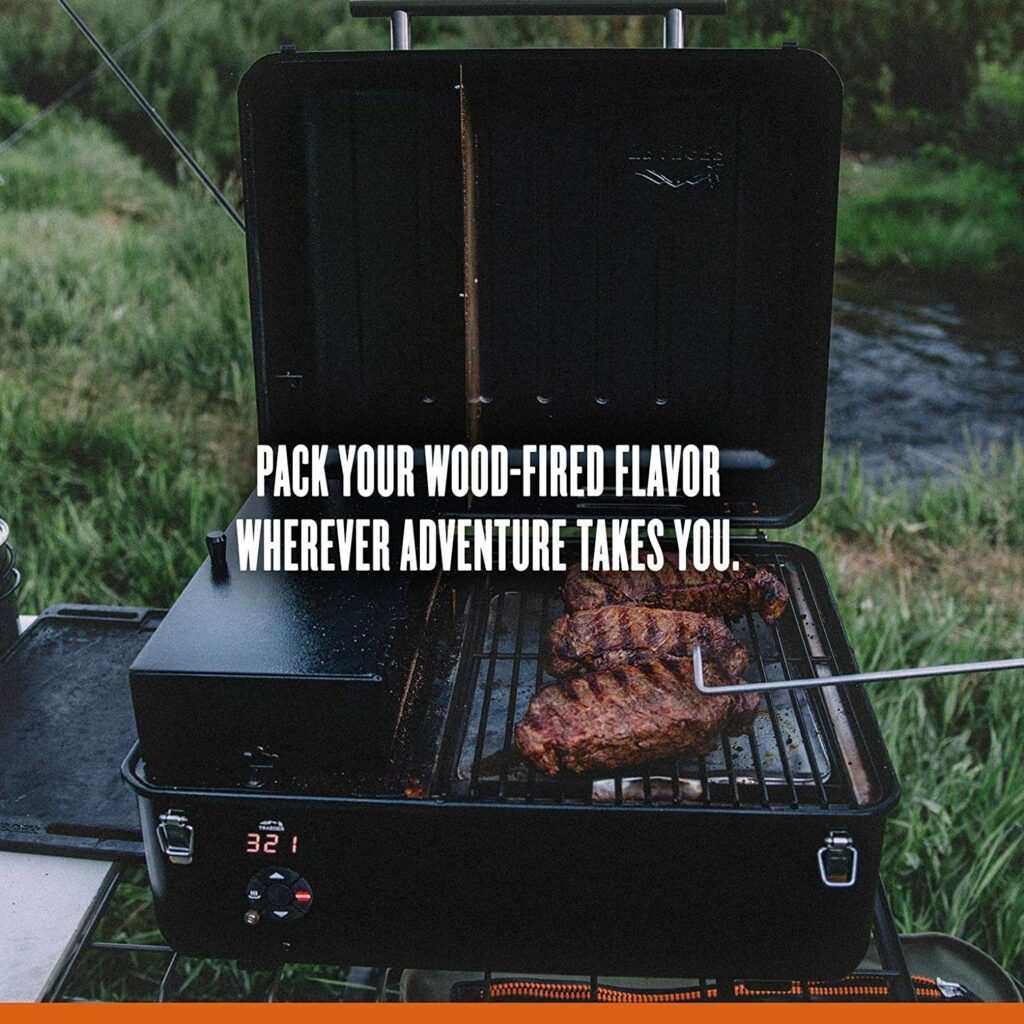 Traeger's flagship portable smoker has a cooking area of 184 square inches. The hopper on this model can hold up to 8 pounds of pellets, which is double than what you get from the Traeger Scout.
Smoking and Grilling Performance
It's a compact used, meaning Traeger had no choice but to put the firebox and cooking grates pretty close. It results in a uniform, lossless heat distribution across the entire grilling surface. 
Ordinarily, typical, standard-sized pellet smokers aren't any good for grilling. It's not the case with the Ranger. It has an excellent grilling and smoking capability for deliciously moist results.
One of the most impressive things about this unit is its digital, PID-based Arc Controller, which doesn't let the temperature fluctuate more than five degrees above and below the set point.
Another massive improvement this model has received is its Keep Warm mode. Done cooking but not ready to eat yet? 
Don't worry. Turn this mode on to let the smoker take care of your food until you have done your chores.
Like its predecessor, the Scout, it can reach 450°F max, which is high enough for most types of cooking, grilling, and smoking.
Meat Probe and Griddle Plate
The Ranger comes with a meat probe and griddle plate. One end of the meat probe plugs into the controller panel, and the other threads through the grill into your food. So you won't even need to lift the lid to check how your burgers or steaks are doing. 
Traeger's temperature output is accurate and pretty reliable, unlike the integrated thermometers found on most gas grills.
The griddle plate is a nice extra you get from Traeger. They cost a steep price if bought separately.
Cleanup
The best practice is to clean up your portable smoker to prevent future grease fires after each use. After each cooking session, you should always scrape down the cooking grates and wipe away the grease from the drip tray and drip bucket. You can use an aluminum drip tray and drip bucket liners for a mess-free cleanup.
Sadly, cleaning the firebox and auger system isn't easy on this grill. You either have to use a vacuum cleaner or turn the grill upside down after it's cooled.
Warranty
The unit is backed by a standard 3-year warranty from Traeger.
Pros
Sturdy, well-built, and well-designed
Seamless construction
More pellet storage capacity than the Scout
The "Keep Warm" feature is excellent for keeping your food warm.
Includes a meat probe and griddle plate
Sports a more advanced, PID-based controller
Cons
It's a bit heavier than the Scout.
Traeger Scout Vs Traeger Ranger: What are the Similarities?
First of all, it's quite an engineering marvel to pack so many intricate parts into a small box no more than the size of a suitcase. Both grills seem alike, but they're a bit different. So. you have to observe keenly before deciding any. Before getting into the differences, let's see how comparable or similar both are!
Features Rich Grills but Small Coking Area 
Traeger has done an excellent job fitting a pellet hopper, auger, drive motor, and combustion fan into the grill. Then there's a temperature controller along with the display, a firepot, and a grease management system. 
You literally get everything you can expect from a typical barrel smoker. However, all of these features come at the cost of some compromises, such as less cooking area. 
Both models offer the same amount of cooking space of 184 square inches, which translates to accommodation for up to 6 chicken breasts, 6 burgers, 10 hot dogs, or 100 asparagus stalks at the max. So with any of these grills, you'll be able to feed between 1-4 people.
Low Fuel Consumption: Almost Same in Both Grills
On average, a pellet smoker consumes half a pound of pellets per hour on low smoke settings. The pellet consumption goes up by approximately 5X while in high-temperature settings. 
The Scout and Ranger can hold up to 4 and 8 pounds of pellets, respectively. This allows 1-3 hours of smoking based on different heat/smoke settings. 
As you can see, the pellet storage capacity and cooking/smoking times offered by the two portable pellet grills are nothing compared to those offered by a full-sized pellet grill, which can typically hold around 18 pounds of smoker pellets.
Equal Ease of Portability
In addition, the two portable smokers weigh between 45 and 60 pounds. So while they're significantly lightweight compared to a typical full-sized barrel smoker, they're still a hell to be carried around. Plus, you need a source of 110V AC power for a portable smoker to work.
These are some of the significant drawbacks of using a portable smoker, and the Scout and Ranger are no exception. No doubt they offer a lot of potential benefits that outweigh their demerits; we just wanted to let you know of the limitations of these grills before you buy one.
Power
Both grills require a 110 AC power source to operate.
Included extras
Both grills include a meat probe to monitor your food's internal temperature.
The Ranger, however, includes a griddle plate too, which comes in handy for various types of cooking.
Traeger Scout vs. Traeger Ranger: In-Depth Comparison
After looking at their similarities, it's time to know what makes these grills different from each other.
Build— Both Seems Alike, But not Truly!
Both Scout and Ranger feature a brief-case-style tabletop design with a black powder-coated stainless steel construction. They both have built-in short legs (roughly an inch's length) and are pretty stable on any flat surface. 
There are two latches on each unit to hold the lid shut tight. Due to good-quality stainless steel construction, neither of two grills will easily give in to dents and scratches.
Inside, the two grills have porcelain-enameled, cast-iron cooking grates for easy cleanup and good heat retention.
Now for the difference, the Ranger has a sleek, modern look while the Scout looks a bit old-fashioned. The Ranger has a straighter, cubicle-shaped design with no bumps. On the other hand, the Scout has a somewhat rounded lid and handle with an outward bulge in the middle.
Pellet Storage Capacity
The cheaper Scout has a hopper capacity to hold up to four pounds of pellets. The upgraded Ranger has double the storage capacity of the Scout, which translates to 8 pounds of pellets.
Same Size But Different Weight
Both units measure the same, that's 21″ wide x 13″ high and 20″ deep. For the weight, the Ranger packs15 extra pounds than the older model Scout. The Scout weighs just 45 pounds compared to the Ranger's 60 pounds.
Temperature Controller is Different— It Decides the Winner!
The most significant difference between the Traeger Scout and Ranger is the temperature controller, with the former having an older-style, first-generation Pro Digital Controller. At the same time, the latter comes with an advanced Digital Arc Controller.
The latest PID-based Digital Arc Controller in the Ranger lets you change the temperature in increments of 5 degrees Fahrenheit. In contrast, the first generation Pro Digital Controller in the Scout model only lets you change the temperature by 25 degrees. 
There's an extra "Keep Warm" mode in the new generation of controllers. However, the difference is unnoticeable for all practical purposes unless you have more developed taste buds. The two types of controllers are worth taking a look at, though.
How does a temperature control system work?
The temperature control system in a pellet grill, such as the Scout and Ranger, works by taking the user input as a set point (SP), which is your desired temperature. It receives data from a sensor called RTD (Resistance Temperature Detector). 
RTD is a type of thermometer which detects the temperature change by measuring the sensor's resistance which increases as the temperature rises and vice versa; and by controlling the fuel system. In this case, the auger motor rotates to raise or lower the grill's temperature and keep it as close to the SP as possible.
However, while the working principle is the same, the main difference between the two types of temperature controllers lies in how precisely they can detect temperature fluctuations and then respond to them. In short, it's a battle of efficiency.
How does a conventional temperature controller work?
A conventional, non-PID controller works by increasing or decreasing the auger rotation based on the RTD's output. For example, if the grill's temperature is higher than the setpoint, as measured by the sensor. Thus, the conventional controller on your grill decreases the auger rotation to feed fewer pellets to the firebox. 
Similarly, if it detects that your grill's temperature is lurking behind the setpoint, it increases the auger rotation to feed more pellets to the firebox. The fan speed can also be synchronized with the auger motor to match the fuel's combustion needs.
One of the biggest problems with the conventional controller is that it doesn't store temperature data. And, hence, it can't precisely predict any future temperature changes. As a result, every time the controller kicks in, it causes the grill's temperature to undershoot or overshoot the set point. 
For example, when it detects that your grill's temperature is lower than the setpoint, it kicks in and causes the temperature to overshoot the setpoint by 10, 20, or, in some cases, even 50 degrees. Thus, it affects the cooking performance of Traeger Scout.
How does a PID-based temperature controller work?
PID stands for Proportion, Integral, and Derivative, a complicated, three-pillar mathematical model used to keep the temperature as close to the setpoint as possible. While a non-PID-based controller uses addition and subtraction, a PID-based controller uses calculus and algebra for more advanced temperature control.
A PID-based controller uses algorithms for sampling the data, analyzing it, and making predictions based on that data using three methods. They are primarily used for maintaining and regulating temperature, fluid flow, air pressure, etc.
One of the most appealing things about a PID controller is its ability to predict. Since it's sampling more often and taking various kinds of input, it can make more frequent adjustments to keep the fluctuations at a minimum level.
Price Makes Huge Difference.
As of the time of writing this article, the Ranger costs you approximately $100 more than the Scout.
Traeger Scout Vs Ranger-Our Final verdict
The Traeger Ranger pellet grill is worth it if you have the money to pay for it. It includes a more advanced PID-based temperature controller with a "Keep Warm" function and a griddle plate and offers more hopper capacity, double than what you get from the Scout. On the downside, it packs 15 pounds extra than the Scout.
The Scout is a great option, too, if you want to save on money and can go with what seems like an undersized hopper. However, it's lighter than the Ranger and transportation-friendly.
If you also prefer aesthetics, the Ranger wood pellet grill is a more beautiful, sleek, and modern-style option.
universitygrill.net is a participant in the Amazon Associate program and will earn from qualifying purchases.