Do you want to be the luckiest by having the best pellet tube smoker for your classic smokey BBQs? You have reached the right place because we've reviewed some top pellet smoking tubes to help you make a regret-free choice.
A pellet smoking tube is an incredible tool to modify your favorite grills without charging you a lot. Yet, many times, less understanding about your tool also causes a failure.
To help you more with your pellet smoking tube, we'll also guide you about the standards to choose the right way to use it. Let's get started with our BBQ experts' designed user guide to the best pellet tube smoker for gas, electric, and charcoal grills.
Best Pellet Tube Smokers Reviews
Having got your best pellet smoker tube might not make you happy. Why?
These simple smoking tools come with a learning curve. As a beginner with them, you need to be patient.
Though they differentiate based on shape and size, over 50% of the outcome depends on the mastery of their use. But, the good news is, you can easily learn to use them to get the best rustic flavor of your BBQ that you've ever longed for.
How?
You can learn the best techniques about "how to use a pellet tube smoker the right way" in our 20 mins read's, followed by the best pellet smoker analysis.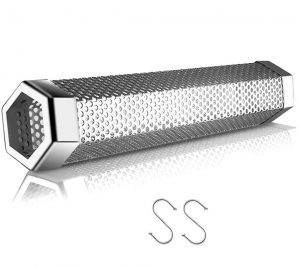 Among our best pellet smoker tube reviews, here comes the tube by Lanney as the best pellet tube smoker option.
Made with food-grade, rust-free 304 stainless steel, this hexagonal tube is available in three options with hooks and brushes.
Ranking high as the best pellet tube smoker, this tube has one capped end to take care of your dear treasure of woody flavor. The space is ready to accommodate cherry, apple, and hickory wood pellets and wood chips.
The manufacturers have designed the holes in the entire high-quality stainless steel tube in the maximum density. Therefore, the smoke and air distribution are slick. For a smoking time, you can expect it to last up to 5 hours of smoking.
This small bbq lovers gift is portable and comes with a hanging hook for easy placement. The cleanliness is also effortless because of the robust brush.
Because of all the qualities of a standard smoker tube, it comes with a money-back guarantee. Hence, you're confident with your selection. Ultimately, your experience with this tube purely depends on your expertise with using a pellet smoker that you can learn later in this article.
Why love this tube?
It can work for 5 hours.

It has durability because of high-grade stainless steel.

The holes are large in number for effective smoke transportations.

Equally suitable for hot smoking and cold smoking.

It's corrosion-free and safe to wash with water.
What are the Cons?
It comes with no cleaning brush.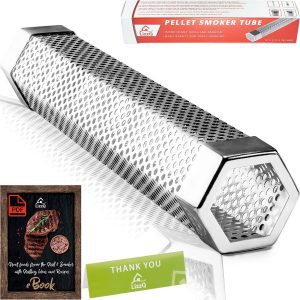 Made from food-grade stainless steel, this Lizzq premium pellet smoker hexagonal tube is the best pellet smoker tube with excellent holes density that allows the smoke to diffuse from all sides for smoke flavor.
The heavy-duty material will let it last over the years — it's a lifelong investment. First, the tube's shape is highly appreciable to aid the setting on the grill as well. Likewise, the lid on the other end keeps the pallets secure inside.
The Lizzq premium pellet smoker has 5 hours of smoking, as many users have reported. While in ordinary, low-temperature circumstances, it can last for 4 hours. In the same way, it's equally suitable for cold and hot smoking. The last comes the cleanliness.
The tube is easier to clean with the help of a brush, although the manufacturers have not included the brush in primary packaging. But you can pay extra to get a brush and glove as well. Overall, the tube makes an incredible choice for you.
Why love this tube?
It has an optimized shape and holes density for a smooth smoke outcome.

It's durable.

The included brush helps with easy cleanliness.

It is reliable for cold smoking and hot smoking.

It is not rust-prone.
What are the Cons?
The hanging hooks are missing.

You might not get the e-book.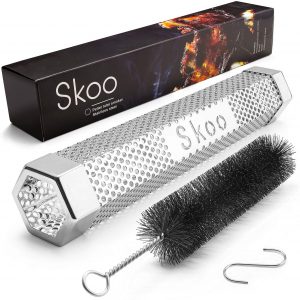 Here is another best pellet tube smoker on our list for best tube smokers for grills. It's the hexagonal smoke tube by Skoo — the beautiful logo speaks.
The wood smoke tube has a sturdy material and smoke delivering design. The secure ends of this smoke generator are efficient to safeguard the wood chips. As a result, you get 5 hours of smoking.
Likewise, many holes help with smoking the beef, meats by diffusing the heavenly flavor in all directions. With all the accessories, the cleanliness of this tube is as easy as pie. The hook is also added to the packaging. Hence, your unforgettable BBq is fully facilitated.
The fanciful logo also convinces you of brand loyalty. Yet, it might seem to be compromising on the number of holes.
The truth is, the smoke tube remains matchless like its other peers on our list. Not only this, but it also offers you a money-back guarantee. Then why not try it!!!
Why love this tube?
It has robust stainless steel material.

The cleanliness is worry-free because of the added brush.

The smoke outcome is superb.

It's fit for hot and cold smoking.

It doesn't catch rust.
What are the Cons?
Nothing noticeable except the logo reduces the holes' density.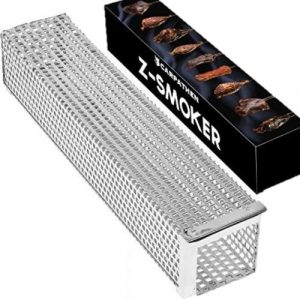 Fourth, to claim its superiority, with a unique square shape cylinder and holes, is this pellet tube is in our best pellet tube smoker reviews. This tube is also made of high-quality 304 stainless steel. Therefore it has enough longevity to be a companion of your grills.
The secure end keeps the wood pellets inside the tube to help you light it without fear of falling off your wood material when hung or placed vertically during ignition. The tube is also airy to clean. Yet, it does not include a brush. So, get that separately.
Before discussing the actual performance of this pellet tube smoker, we dare to say that its innovative design makes it easy to set in a grill by preventing roll around.
It's captivating. Yet, it can cause nearly 32% of infectivity in comparison with the hexagonal tube.
How long does it last?
As evaluated by our BBQ experts, this smoke generator can run for nearly 5 hours. Thus, this best pellet tube smoker succeeds in terms of actual performance.
Here is another reason it is winning among the many best pellet tube smokers. The fabulous customer support and refund policy make every purchase confident.
In short, if the design has inspired you, you can have it.
Why love this tube?
It has a unique shape among other best pellet tube smokers.

It's easy to set.

The smoke tube is excellent for cold and hot smoking.

It has a high-grade stainless steel construction.

The tube is rust-free.
What are the Cons?
It doesn't come with hanging hooks.

It doesn't have a bush for comfy cleanliness.
5. BBQFAM 6″ EZ Smoker Tube, Stainless Steel BBQ Smoker Tube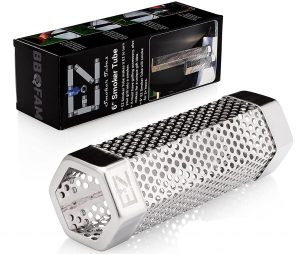 Sleek-looking, high-quality stainless steel, the EZ smoker tube is the best pellet tube smoker tube in 6 inches size. Indeed, it's loveee when you want a little bomb of smoke ticking inside your grill to add some moderate flavor of nice light smoke.
The hexagonal shape of the pellet tune has the densest fabrication of holes to allow any wood pallets to produce smoke while playing with beef and meats.
We liked it because the EZ smoker tube has the BBQ experts' recommended conventional tube design. Despite being small, the smoke tube does not compromise the design. It has a closed-end to safeguard the pellets.
You, short BBq cooks, embrace a smooth smoke with this tube. The tiny tube brings you complete satisfaction through 2-3 hours of smoke delivery. In a nutshell, the smoke tube for grilling is the second name for comfort.
Why love this tube?
This best pellet tube smoker is reliable for its performance.

The food-grade stainless steel guarantees durability.

The smoke tube is easy to use and set up.

It is incredible for hot smoking besides cold smoking.

It'll not rust.
What are the Cons?
This wood pellet tube smoker has no hooks or cleaning brush for further ease.
How Can you Choose an Ideal Smoker Tube? Buying Guide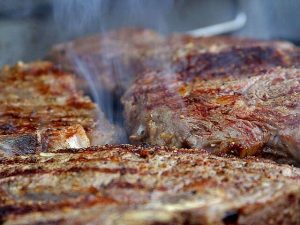 What qualities should you look for while deciding on your pellet smoking tube for cold smoking or hot smoking?
If you don't know, read this selection, we've listed some essential qualities of the best smoker tube here.
The Size of Pellet Tube Smoker
How long would you like to smoke your BBQ or cheese? Your smoke tube size has a lot to do with it.
Mostly, the tube of 12 inches size is ideal. Yet, many people might prefer a small tube of inches or a larger pellet tube of over 12 inches.
The Shape of a Pellet Smoking Tube
The smoker tubes are available in many shapes like Square, round, or hexagonal. The square shape is nothing except a fancy design.
Does the tube's shape affect the smoke distribution? Yes, it does. For example, a cylindrical shape is good, but it can roll around.
While the square, triangle, or hexagonal shapes stay in place. But they affect the smoke outcome diversely.
So, the solution is the hexagonal shape of your tube. The curved sides help it sit in place.
The Hole's Density in the Tube
All the tubes have holes. The holes' density directly affects the smoke outcome.
The more holes there are, the more smoke you'll get. In contrast, the tubes with lower density can be better for wood chunks but not the pellets. In the same way, wider holes are also desirable.
The Material of Pellet Tube
The wonderful material of your smoke tube can be more durable in high heat. It's easy to clean and corrosion-resistant.
Therefore, your smoker tube is made of stainless steel. In contrast, the smoker boxes can be of cast iron as well.
The Smoker Tubes' Accessories
Not a must, but additional accessories like hooks or cleaning brush can be more helpful. If the tube comes with hooks, you can put it in your desired area while cooking.
In the same way, specially designed brushes can further help you with cleanliness. But, remember, while deciding on a smoker tube, it shouldn't be the primary factor.
Don't forget, once you've got your wood pellet tube smoker, keeping the factors mentioned above in view, your experience with the tube still depends on how you'll use it.
Don't worry; in our last section of this article. We'll also help you understand the proper usage of your tube.
How to Use a Smoker Tube for excellent Smokey BBQ: a Quick Guide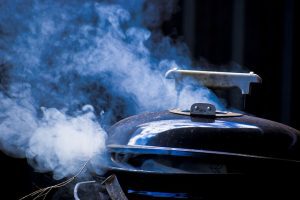 As said earlier, we're here to help you make the best out of your smoker tubes. So, here it's how you should properly use a smoker tube step by step on your gas, charcoal, electric, and pellet grill.
Step # 1: Fill the Smoker Tube and Ignite it.
The foremost step will be to put the wood pellets in your smoker tube for any grill like gas, electric, or charcoal. So, follow these smoking tips:
Use wood pellets or hardwood chips to fill it a maximum of half-inch below the brim.

Tap it over a hard surface to let the pellets settle well. You need not dip the hardwood chips promptly.
It'll take much time to evaporate the soaked water and then produce the original smoke. So, it'll be the same.
Then light it using the butane torch lighter. Keep the torch's flame on for one minute and let the flame burn the pellets for over 9 minutes.
Remember to keep your tube vertical when it's burning.
Keep it burning for 8 minutes. If it's windy, extend the time by 10 mins. Once it has been ignited, now turn it horizontally. Then below it out.
Step # 2 Put the Smoker Tube inside the Grills and Smokers.
Now you can place this smoker tube inside your grill for slow, indirect, or cold smoking. For this purpose:
Heat your grill to reach the desired temperature for your cooking by turning on all the burners. When the grill has gained temperature, turn off all the opposite burners where you'll place your food. And keep one lighted to maintain the temperature.

Keep the smoke attachment (tube) over the burner side of your grill grate. And place the recipe over the grill side with no burn underneath.
Beware, don't keep the tube on the chimney's side. It'll waste your smoke.
How strong the smoke flavor you need, the tube's size, and its position affect it.
Hence, if you properly use a 6 inches smoker tube, it'll last up to 2-3 hours, and you'll get enough flavor for your hem, poultry, cheese, or other foods along with the meat temperature chart.
Also, check the pellet tube after half an hour to see if it's burning correctly.
Our BBQ experts have recommended using aluminum foil as a tent over the tube to save it from dripping from your food, and thus you end up with a much cleaner tube from your grills and smokers.
But does it mean that you should get a 6-inch tube only? No.
We'll advise you to get a 12 inches tube and either fill it or partially. However, keep two attachments handy.
Using the pellet tube can be hard for any beginner as it has a learning curve. So be patient, or you'll end up condemning these simple tools.
Why do Smoker Tubes Produce White Smoke? How to fix it?
You never want white smoke with tar. Yet, getting blue smoke out of your pellet tube can be challenging, especially when you're a beginner.
The truth is, the problem is not with your tube but the temperature. The higher the temperature is, the thinner the smoke you'll get.
If you're getting thinner but white smoke, make sure that it does not taste bitter because of the tar.
You can avoid that unpleasant day by ensuring a smooth flow of smoke inside your grill.
The uneven smoke circulation can cause a bitter taste in some parts of your food, and resultant, you'll be unhappy.
You can get a good smokey taste during cold smoking by following these tips:
Place your smoking tube away from food.

Don't over the smoke to achieve taste, yet you'll learn it gradually. So, begin with a smaller period of smoking.

Make sure the temperature of your food and grill's interior are uniform by using a thermometer.

The cold food will decrease the overall temperature and cause white or grey smoke and result in bitterness. So, try not to put too much cold food.

Try to maintain the smoke flow evenly.

If you do cold smoking often, then remove the deposits in your grill regularly.
FAQs
What's a smoker tube?
A pellet tube smoker is a cylindrical tube stainless steel construction in various sizes with holes and a closed-end to help you transform your grill into a smoker. Basically, the tubes are compact to port on the camping sites.
You can light it up from its open end with the wood chips or wood pellets for slow-burning. Then, set it in your gas or charcoal grill to smoke your food with a mesmerizing woody aroma by turning your grills into smokers.
What is the best pellet tube smoker?
The smoke tube by Lanney is the best pellet tube smoker.
In how many ways, smoker tubes benefit BBQing?
These smoker pellet tubes are used to help you transform the performance of your grill in the following ways :
They alternatively work as cold smoke generators inside the pellet grill to enhance the smoky flavor in your BBQ for your family.
The pellet grills are though supposed to do a similar job.
Yet, they cook food too quickly to compromise the intensity of the smoky flavor. Here, the smoker tubes help to accomplish the burnt woody flavoring.
The pellet smokers are certainly great to influence the performance of your smokers

by producing a smoky aroma in your BBQ.
Without spending a lot to replace them, you can simply use $$ tubes to enhance their performance by providing more heat and smoke. You can also create a blend of different smoke flavors with their help.
You can use the smoker tubes to modify the ultimate flavor of your gas or charcoal grills.

How long do the smoker tubes keep smoking?
Depending on the pellet sizes used and the tube size used, usually smoked pellet tubes run for about 2 to 4 hours.
Can I use wood chips instead of wood pellets?
Yes, you can use wood chips instead of wood pellets. Yet, they might not be durable because of lower numbers.
How to use wood pellets on a gas grill using a smoker tube?
To use the wood pellets on a gas grill, you can use various methods, including smoke tubes as guided here.
How to use wood pellets on a gas grill?
You can follow the process mentioned above or follow this link to learn more.
Why does a pellet tube discolor?
Though the inexpensive pellet tubes are high-quality stainless steel, their silk finishing ends soon when exposed to heat, especially during hot smoking. Yet, it had nothing to do with the health safety of your product.
Our Final Thoughts
All five smoke tubes are top-performing smoke generators. You can choose any keeping your budget in view.
Yet, how it'll perform also depends on your skill with their usage. So, by using a tube, you'll definitely call it your best pellet tube smoker.
universitygrill.net is a participant in the Amazon Associate program and will earn from qualifying purchases.