There is nothing like family bonding while eating Zaxby's on weekends.
The famous southeastern restaurant in the US, Zaxby, is famous for its variety of chicken cooked and served in a fun way: tender, juicy, and yummy. With 32 years of serving delicious chicken, Zaxby expanded to 941 locations throughout America.
Zaxby offers chicken wings, chicken fingers, sandwiches, and salads. However, America's favorite fast-food chain is famous for its chicken fingers and wings meals.
Apart from the fingers and wings meal, what makes Zaxby a favorite among fans is their signature sauces ranging from honey, mustard, marinara, wimpy, nuclear, and insane.
Keeping with the growing trend of fast food eateries, they have to expand their menu a bit and now offer different kinds of sandwiches, salads, and appetizers.
Today we will share things you might not know about Zaxby staple dishes, chicken fingers, and buffalo wings. Let's dig in!
Things You Need to Know About Zaxby's Chicken Fingers and Buffalo Wings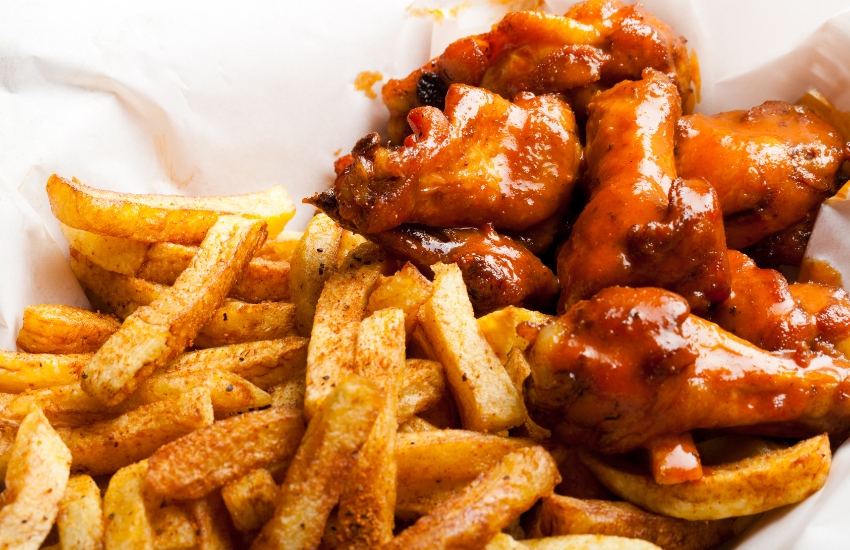 1- Zaxaby has been Serving Chicken Fingers and Wings Since 1990.
Zaxby has been serving chicken fingers and wings from the very start of its first branch launch. Two friends, Zach McLeroy, and Tony Townley started their first Zaxby branch (that time known as ZAX) in Statesboro, GA, back in 1990. 
Chicken fingers and wings have always been their staple food. However, the famous buffalo wings were introduced later as the food chain grew.
2- Chicken Fingerz and Buffalo Wings Are not the Same!
Wings and fingers have become a staple of the American diet. Chicken Fingers are made from the pectoralis minor muscles, the white meat that is under the breast meat of chicken.
On the other hand, wings or buffalo wings are America's favorite fried food cooked by deep frying, coated, and dipped in different sauces. 
Wings are mostly skin, bone, and cartilage. Most of its nutrients are fat rather than meat. Buffalo wings are usually served hot and tangy if you love spicy food, you would love it. 
The wings are made from white meat and dark muscle fibers or a combination of both; mostly, it is white meat muscles.
Interestingly, there are no such things as boneless wings. The boneless wings Zaxby and other fast-food chains serve are actually not wings but boneless white meat strips that are breaded and deep-fried. Boneless wings taste succulent and juicy, just like real wings.
People confuse the finger's wings and are tender as one food when they are made from three different parts of chicken meat.
Chicken fingers, chicken goujons, chicken strips or chicken filets, and tenders are chicken meat prepared from the pectoralis minor muscle strips of white meat right under the breast of a chicken, which is the most tender chicken finger according to fast food lovers.
3- Zaxabay's Chicken Fingers are the Most Famous.
Chicken Fingers have perfect crispness, not overly crunchy. Though few people complain the fingers are salty, in my opiI think has a different salt preference. So you only know if they have the perfect ratio of salt once you try. 
The combo of onion and garlic can make the taste more flavorful. 
The right amount of spices makes them tender and yummy. If you wish to dip them in one of the Zaxby sauces, then it will only add a blast of flavor to the tenders.
The finger is made from whole chicken muscle meat. You can easily distinguish chicken fingers from nuggets and tenderness. 
Fingers are not processed pieces of meat, so you can feel the strands of meat coming apart every time you take a bite of Zaxby's chicken finger. 
If you don't bite into strands of juicy chicken meat, they probably have used mechanizing or grinding techniques; when the chicken is processed and stored. As a result, the heart loses its natural tendency and taste.
4- Zaxby is Reviving "Guy on the Buffalo."
We have to applaud Zaxby for bringing back 10 years old memories. Recently, Zaxby launched their Buffalo Garlic Blaze Boneless Wings. 
The remarkable thing about the ad is the epic return of 'Guy on the Buffalo." It's now Guy on the Buffalo wing," to be specific.
For some of you who might not know, "Guy on the Buffalo" ad is an adaption of the rambling narrative of the Band Jomo and Possum Posse video series.
During the CFP national championship, an ad was played that made fans surprised. The ad shows a man riding on a Zaxby big buffalo wing, stumbling upon a garlic blaze wing and gaga over it.
5- Zaxby Offers 6 Ultimate Deals.

There are various deals available in-store or online.  However, there are a total of 6 meal deals you can choose from if you want to try out their chicken finger and buffalo wings.
Chicken Finger Plate
Great 8 Boneless Wings Meal (1220-1680 Cal)
Big Zax Snak Meal (960 – 1390 cal)
Boneless wings Meal (1010 – 1420)
Traditional wings meal (1070 – 1480 cal)
 Wings & Things Meal (1480 – 2050 cal). 
The deal has sauce, but you can get any Zaxby sauce you like separately.
6- Only Two Zaxby's Deals are the Most Popular.
Zaxby's most popular deal, Chicken Fingers Plate, comes with three options: you can choose 4, 5, or 6 chicken fingers with any finger-licking sauce of Zaxby plus ranch sauce.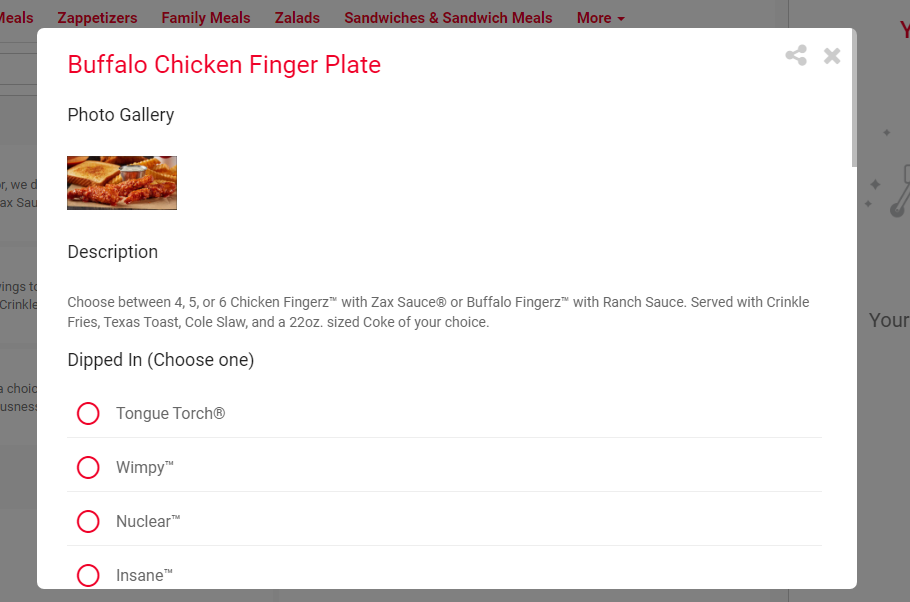 The deal also includes Cole Slaw, Crinkle Fries, Texas Toast, and a small coke. The total calories in this meal are around 1190 – 2090 cal.
Buffalo wings come with a meal that includes Zaxby's traditional wings, ranch sauce, Texas toast, the famous spicy wrinkle fries, and a must-have drink coca cola. The total calories mentioned on the official website for the whole meal is 1070 – 1480 Cal.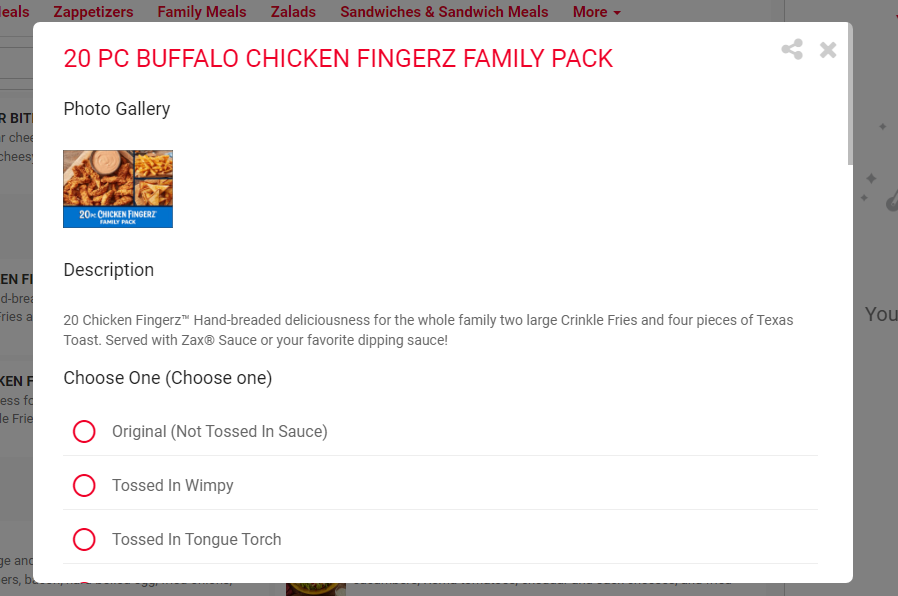 Zaxby's Wings and Things plate is another favorite meal of Zaxby. It has wings, chicken fingers, Texas toast, celery, crinkle fries, Zax sauce, and ranch.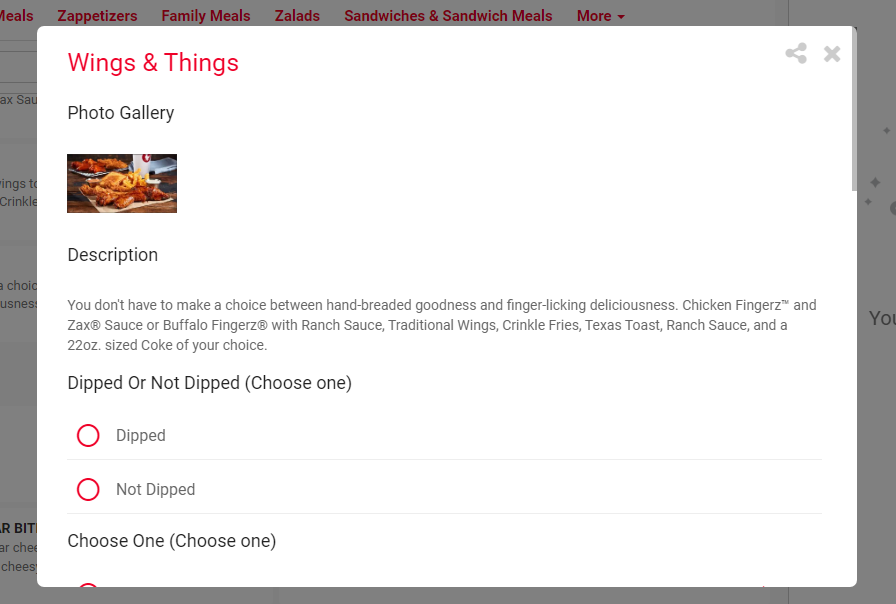 7- Zaxby Buffalo Garlic Blaze is GARLICKY but not Hot!
Buffalo Garlic Blaze Boneless Wings taste the same as regular buffalo wings. There is a less distinct taste of garlic. If you have their traditional buffalo wings, you ultimately have a similar thing. YET, YES, it makes a great combo.
The tangy buffalo sauce hits your taste buds immediately after the first bite. The heat on this one is probably about half the heat of a Jalapeño but not overly spicy.
A mixture of spicy garlic and creamy style buffalo sauce, with a blend of different ingredients such as peppers, vinegar, and salt from the hot sauce with fresh garlic and buttery notes to round out the flavor.
8- Zaxbay Takes Care of the Meat Quality.
Zaxby stands favorite among big names like KFC or McDonald's because their finger foods are not dry like others. The Fans can vouch for the quality of meat and taste supremacy. 
Other big fast-food chains often deliver dry and skinny tender finger foods that are not the case with Zaxby. Their fingers and wings are well seasoned, and you can feel the ultimate crunch just in your first bite. 
There is this perfect and balanced mixture of spices and herbs. Where the sauce makes everything double yummy, Zaxby fingers and original wings (not the boneless one) taste supreme even without the sauce.
9- Zaxby also Ensures Oil Quality. 
The most concerning part of eating fast food is knowing that it is deep fried in unhealthy oils, making it bad for health. Fat food is not fast food if it's not fired deep in the ocean of oil; however, using a healthy version makes a little difference.
Zaxby uses a blend of highly refined soybean oil, which is rich in Vitamin E. It also has omega-3 fatty acids. 
Plus, soybean oil has many potential health benefits. Not only does it enhance the flavor of food, but it also helps reduce cholesterol and is good for hair and skin health.
10- Zaxby  Only Gets its Chicken from Trustworthy Suppliers.
Wonders where the chicken of Zaxby fingers and wings comes from to make you fall in love with them? Pilgrim's Pride, the Pittsburg, TX-based poultry company, is the one who provides the chicken to Zaxby.
11- Zaxby's Food also has Sodium, Alas!
The excess sodium causes the bloating you feel after eating fast foods. Zaxby's isn't different. Zaxby fingers have a high value of sodium.
According to the FDA, Zaxby finger% DV (daily value percentage) for sodium is 22% per 510 mg, which makes it a sodium food. The sodium amount in buffalo wings by Zaxby is 55%.
The recommended sodium consumption is 1500-2300mg; foods should be within 5%-20% DV per serving.
Overconsumption of sodium can cause many health issues, such as:
Obesity
High blood pressure
Strokes
Heart disease
Increased Hunger
So if you have one Zaxby Fingerz or wings meal, make sure you don't take other high-sodium food on the same day.
12- Zaxby Fingers and Wings are not for those with MSG with Sensitivity.
The meat Zaxby used for chicken fingers is perfectly juicy and tender.
Do you wonder why it tastes so good?
It's because Zaxby uses MSG in their food, as verified by Zaxby over Twitter. 
While, according to the FDA, the consumption of MSG is safe. However, overdose can lead to several health issues. If you have an allergy to MSG or react after eating food that contains MSG, then avoid Zaxby's chicken fingers, as they have double doses of MSG in one serving of Chicken Fingers.
All in all, MSG is used in several foods as flavor enhancement, and it does not have any prominent health danger as long as you consume it in moderate amounts.
13- Zaxby uses the "Z" in their Menu so Intentionally!
You might have found this already while ordering from their website the common use of Z words in many items. To add a fun touch, they name "fingers" as "fingerz" and "salads" as "saladz."
14- You can know your Personality Type Through a Saucenality Test!
Choose 9 unique sauces with your Chicken Fingers and Buffalo wings order. You can even take a special test of Saucenality to know what your personality is and which sauce you would like the most.
15- Zaxby Has the Title of 'The Official Chicken of Sports Fans."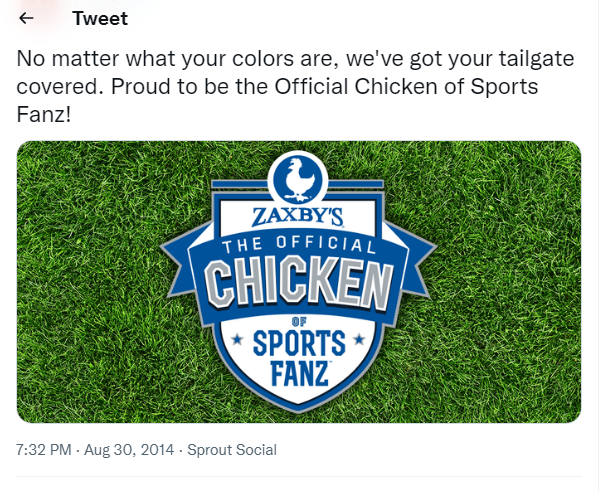 "The official chicken of sports fans" is a title given to Zaxby's by its fans because the company has a share in third-division colleges. They provide sponsorship for football and basketball teams of each college they share in.
16- Zaxby is the First to Bring Cook Free-Styles Machines.
Getting cooked in your fast food deal is a common thing. However, you might not be aware that Zaxby's was the first restaurant that even set coca cola freestyle drink machines in their branches. You can choose a 22-ounce drink out of 100 different beverages with your chicken fingers and buffalo wings.
17- Zaxby has its own Secret Recipe for the Sauce.
Wings and fingers might be a well-known recipe among all the food chains of Zaxby's. Zach, the owner, has kept the sauce recipe a secret from all its employees that is served with crinkle fries and other Zaxby' items like 
Texas toast
Zaxby's chicken fingers
Chicken finger plate 
Texas toast cole slaw 
Fries Texas toast cole 
Mixed greens, red cabbage carrots topped with chicken 
Fried white cheddar bites 
Cucumbers Roma tomatoes cheddar 
Kickin chicken sandwich 
No one knows the recipe, not even the chief executive!
More about Zaxby's Chicken Fingers and Buffalo Wingz
Calories In Chicken Fingers & Buffalo Wings
Chicken Fingers and Buffalo wings are breaded and have a more content fat percentage rather than meat. One piece of the chicken finger (45.60g ) has around 100 calories and about 19 grams of protein.
One serving of Zaxby chicken fingers has almost 610 calories (5 pieces). One serving of Buffalo wings has 540 calories in 5 pieces, and most calories, nearly 68%, come from the fat.
Nutrient Facts of Zaxby's Chicken Fingers Buffalo Wings
| | | |
| --- | --- | --- |
| Total Carbohydrates | 19g | 3g |
| Calories From Fat | 350 | 370 |
| Total Fat | 39g | 41g |
| Saturated Fat | 5.5g | 8.5 g |
| Cholesterol | 130mg | 205mg |
| Sodium | 1890mg | 535mg |
| Dietary Fiber | 1g | 1g |
| Sugars | 4g | 2g |
| Protein | 46g | 40g |
Is it Healthy To Eat Zaxby Daily?
It's not healthy to eat fast food every day. There is no nutritional value in wings and fingers, but all it has is sugar, sodium, and fat. Some fast food items are worse than others. 
However, if you are a fairly healthy person who consumes healthy food throughout the week, then eating Zaxby buffalo wings or chicken fingers once a week would not be harmful.
Yes, it tastes delicious, but it tries to cut down the amount of fast food you consume in a week slowly. According to Zaxby fans, you would be mad if you didn't like the sauce.
Wrapping Up
Zaxby is 25 years old and still going strong. Zaxby knows what the customer wants and keeps up with their taste demands. Slow but stealthy, they have expanded throughout the state and become one of America's favorite fast-food chains.
With all the variety of chicken, they have introduced over the years, chicken fingers and buffalo wings remain top choices among Zaxby Fans.
If you haven't tried Zaxby before, this is your sign to get some chicken fingers and buffalo wings. You can order the fingers and wings at home, but to have real fun, you must visit the restaurant. The theme of every branch is eccentric and unique from other branches, which is quite fascinating. 
universitygrill.net is a participant in the Amazon Associate program and will earn from qualifying purchases.