Let us guess; you want a matchless griddle to cook some relish meals for crowds at your family dinners. Got it! You actually need a Camp Chef griddle that offers you features that are second to none.  
Don't you know why Camp Chef's flat top griddle stands high among all the competitors? The pre-seasoned griddle top, proper grease management system, and much more make it superior. 
If you want an all-inclusive note on the things you must know about Camp Chef griddle, let's directly dive into the main body. 
At the end of this content, you'll be confident enough to spend your hard-earned money on the Camp Chef griddle.  
1- Camp Chef Griddle Cooking Station are Special!
Camp Chef griddle competes with all the professional griddles. Once you use it, you can't stop yourself from recommending it to others. The main reasons you should pick this griddle are,  
Camp Chef griddle has been designed to give a burst of even heat.
They're made with highly durable material. 
The ready-to-cook surface makes your griddle cooking easy-peasy and time-saving. 
Ease of usage and ease of cleanliness make the Camp Chef griddle win your heart. 
Whether it's breakfast, lunch, or dinner, Camp Chef griddle is best for all. 
Camp Chef griddles are available in multiple sizes.
Not just these, but the Camp Chef griddle also has a wide variety of other features. Let's go through the comprehensive note given below.
2- Camp Chef Griddle and Grill Comes With Different Size Options
Camp Chef griddle isn't like ordinary griddles with a single size. You can get it in different sizes. 
The size of the griddle varies in every model.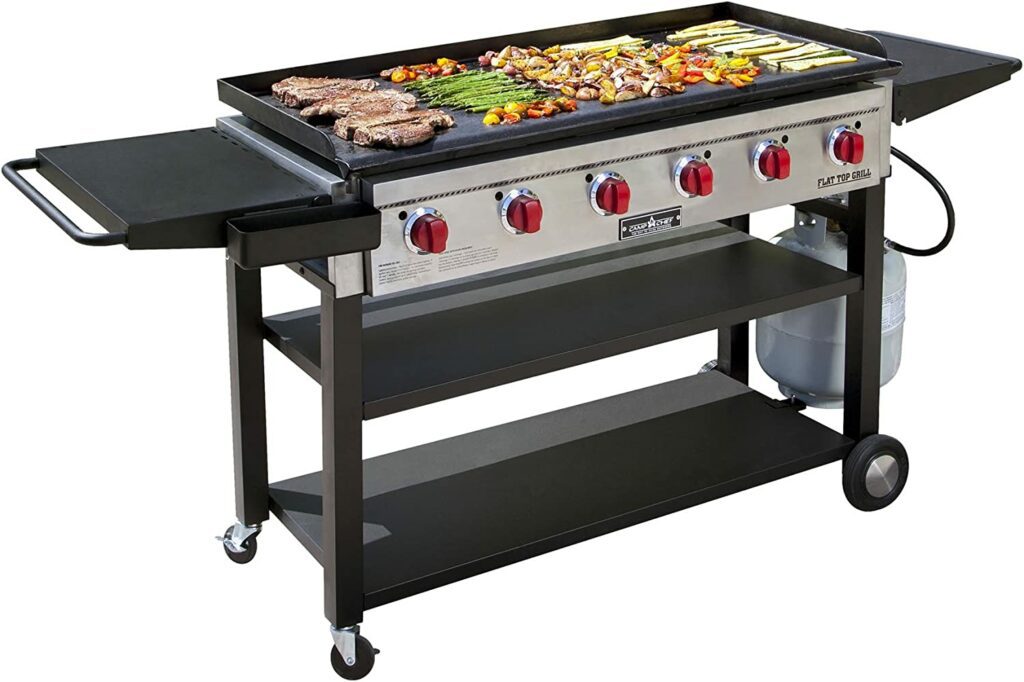 Camp Chef FTG900 has a cast iron griddle top with 877 square inches of cooking area. If your ultimate goal is to get a Camp Chef griddle to cook food for large crowds, this is the best option to pick.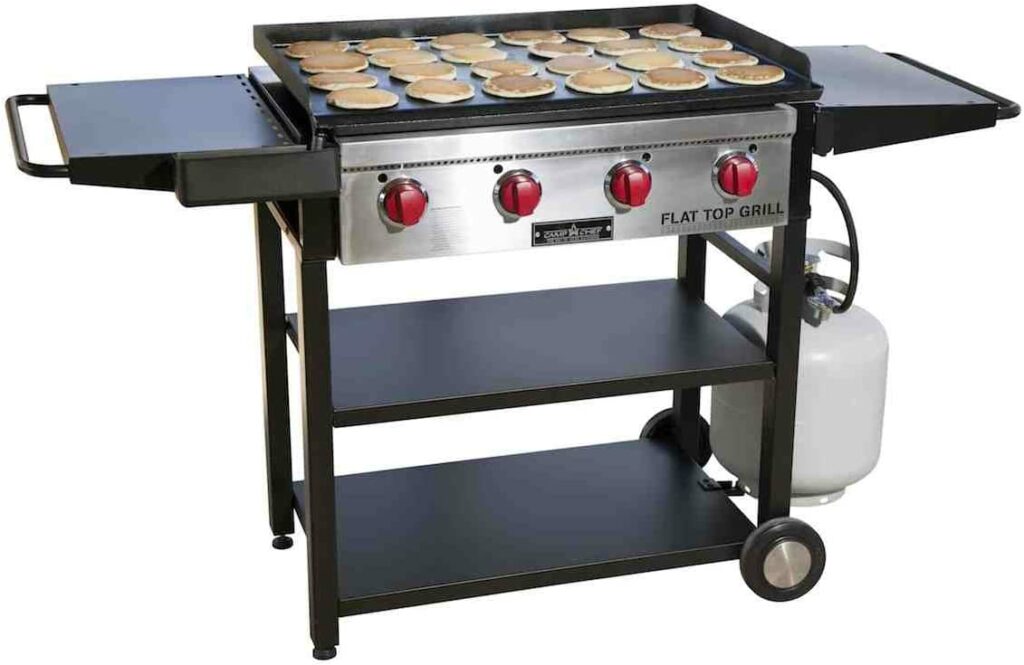 The second option that you can choose is Camp Chef 604 square inches of the griddle that comes in the model FTG600. This one is suitable if you want a griddle to make food for your whole family. 
Make sausage pancakes, hamburgers, and delicious chicken tacos in a single batch for your entire family. It's also available as a more portable griddle under the model number FTG600P.
Thirdly, Camp Chef 475 flat top grill comes with 3 burners. The approach is to accommodate the needs of a small family for whom a 2 burner lt top grill is smaller and 4 burners are too big.
Fourth, Camp Chef griddle's FTG400 model has 416 square inches of griddle surface. That's enough to cook food for five to seven people simultaneously.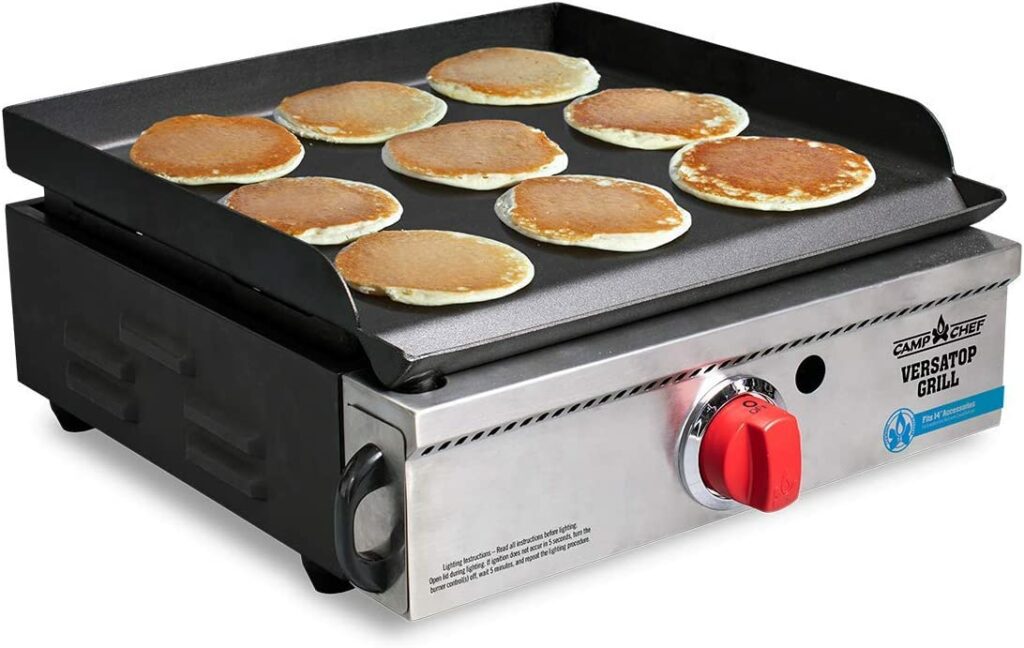 Lastly Camp Chef griddles offer you the option of 247 square inches of griddle surface, that is available in the model FTG250. This one is the best option for those with a family of two to three. 
3- Several Features Make Camp Chef Grill and Griddle Truly Matchless!
When you start digging about the features that make Camp Chef griddle matchless, it might take a long time. That's because these griddles are manufactured with a lot of fantastic qualities. 
These include, 
Durable Material
True pre-seasoned Surface
Non-stick Cooking Surface
Ample Cooking Area
Amazing Grease Management System
Sufficient Number of Burners
Durable Material 
Camp Chef uses none other material than alloy steel and stainless steel. Both materials are considered top-class griddles. Due to the high durability of these materials, Camp Chef griddles serve you for quite a long time. 
Alloy steel provides high strength to the griddle, plus it also makes it light in weight. The corrosion-resistant properties also play a leading role in making it highly durable.  
While stainless steel handles high temperatures in the best possible way that any other material can't. Stainless steel Camp Chef griddles resist scratches and dents. 
So you can opt for a Camp Chef griddle made with any of these materials. 
True Seasoned Surface
Camp Chef griddles have cold-rolled steel surfaces that give them a true-seasoned finish. Bring the Camp Chef griddle out of the box, and it's ready to make your favorite meals. 
Yes, you won't need to spend your efforts and time seasoning the griddle surface. Not just this, but these griddles also don't demand much oil during cooking. 
Thus, you can kill two birds with one stone by spending once and saving your time and oil during cooking. Isn't it amazing?
Non-stick Cooking Surface
One of the leading reasons you should opt for the Camp Chef griddle is the non-stick cooking surface. Your pancakes aren't going to stick to the cooking surface anymore. 
Not just the pancakes but the non-stick surface of the griddle lets you cook all the meals quickly. Moreover, you don't need to add much oil. 
And when you're done with cooking, the cleaning process is also so simple. No sticking means no difficulty in cleaning. 
We can also say that no food sticking means no scratches on the surface. So better to opt for the Camp Chef griddle as its non-stick surface brings ease to your life.
Spacious Cooking Area
There isn't anything more embarrassing than letting half of your guests wait for the food when the other half is served with the meal. 
That occurs when your cooking station has a small cooking surface. Camp Chef griddles offer you spacious cooking areas to cook a good amount of food for large gatherings and crowds. 
In fact, these griddles are the best if you want to cook food in large batches for your family dinners and friends' parties. And your guests don't have to wait for the food. 
Amazing Grease Management System
Seeing your griddle drenched in grease makes your blood boil. 
Relax! 
You aren't going to face this with the Camp Chef griddles. All the Camp Chef flat top grills have a proper grease management system with a grease tray and catch bucket included in it. And it's what all the Camp Chef users praise about the griddle.
The grease tray prevents grease from moving all around, and you can empty the catch bucket any time when it's full. The cooking and the cleaning process are like a piece of cake on a Camp Chef griddle. 
Sufficient Number of Burners
The number of burners available in a griddle plays a significant role in making a griddle worth buying. If we talk about different models of Camp Chef griddles, you'll know that each model is equipped with a sufficient number of burners. 
FTG900 has six burners with each of 12,000 BTUs. In the same way, the FTG600 model is made with four burners. Each of these burners delivers about 12,000 BTUs. FTG400 has two burners that are enough to heat the cooking surface quickly. Both of these provide 32000 BTUs with 16000 BTUs each. 
If you want a griddle for 2-3 people, you should use the FTG250 model with a single burner. The Heat energy that this single burner delivers is 18,000 BTUs. 
All these burners quickly heat the griddle surface. Thus, you can start making food within a few seconds of turning the burners on. 
Moreover, the adjustable heat control knobs make it easy to manage the heat according to your needs. In this way, you can also create hot and cold zones to get perfectly cooked food. 
4- Camp Chef Griddles are Highly Portable.
Do you often love to change the venues of your weekend parties? No problem at all. The Camp Chef griddles are highly portable. 
The feature of portability is due to the presence of wheels. So you can quickly move them from your patio to the backyard or wherever you want to cook. 
Not just indoors, but you can also bring your Camp Chef outdoors. If you set your griddle on any surface outdoors that isn't leveled, no problem at all. 
Camp Chef has provided the solution for all conditions. You'll get the griddle with adjustable leg levelers that will help you set your griddle even on uneven ground surfaces. 
5- You Can Cook a Variety of Dishes on Camp Chef Griddle?
Here comes your favorite part of this content. Do you want to know which foods you can cook on the Camp Chef griddle? 
This griddle isn't limited to a few foods. In fact, there's no limit to what you can cook. You can make unlimited dishes most conveniently. These include breakfast, lunch, brunch, and dinner recipes. 
Some of the dishes include,
Blueberry Pancakes
Lamb Chops
Philly Cheese Steak
Buttermilk Pancakes
Salmon Filet 
Loaded Hash Browns
Mac and Cheese Smashburger
Steak Quesadillas
BBQ Pork Belly
Honey Lemon Cauliflower Steak
Bacon Sandwich
Cinnamon French Toast
French toast
Bring your Camp Chef griddle out on the patio and start making any of these dishes right now to fulfill your cravings. 
6- Camp Chef Griddle Isn't Just a Griddle But Your Complete Kitchen!
When you buy a Camp Chef griddle, you don't just buy a griddle but a whole kitchen. And don't forget it's a portable kitchen. You can call it a complete kitchen because it offers a spacious cooking and storage area. 
Apart from the cooking area, the shelves at the sides add more space for food preparation. You can also place your cooking essentials like spices and oil bottles on them to keep them near you. 
Moreover, you'll also get two lower shelves. These are the best to place your fuel tank. If not, you can put extra platters there and bring them out when needed. 
7- Camp Chef Flat Top Grills are Comparable with Many Other Brands.
Despite being expensive, the Camp Chef griddles fully justify the price compared to many leading brands. Here is a quick overview of how the flat top grills by Camp Chef excel.
Camp Chef VS Blackstone Griddle
When it comes to comparing both the leading brands, for best Blackstone grills or Camp Chef's choosing one is quite tricky. But still, a few points let one of them win the show. 
Ignition System and Fuel
Your griddle isn't of any use if it doesn't have a proper ignition system and a good heat output from burners. 
Camp Chef griddles use propane as a fuel source. On the other hand, Blackstone also uses the same fuel but comes with some electric griddles that are free from fuel usage. So this is the plus point of the Blackstone griddle. 
Burners and BTUs
Secondly, if a Blackstone has four burners, each of these burners will have an output of 15,000 BTUs. Thus, the total output of all four burners becomes 60,000 BTUs. 
In contrast, the same number of burners in a Camp Chef griddle offers 48,000 BTUs, each with 12,000 BTUs. So this is where Blackstone seems favorable. 
But again, it becomes tricky! 
How?
The heat output of 12000 BTUs by Cam Chef is more reliable for the Camp Chef griddle to withstand the winds better than those on Blackstone. It's because the griddles by Camchef have purely been designed for outdoor cooking like camping.
Users on Amazon have shared positive reviews about Camp Chef's flat top grill.
Grease Management System
In the case of grease management systems, both brands work the same. Not just this but griddles from both the brands are super easy to clean. 
Price Difference
What about the price range of both brands?  Blackstone fulfills your demands and offers cheaper griddles than the Camp Chef griddles. Camp Chef griddles are made almost with the same features, but their price is a bit high. So, Blackstone is the first choice of the majority of the people. 
TO PUT IT SIMPLY
Large cooking surface, better ignition system, more heat output, and most importantly, reasonable rates are the points that make Blackstone griddle preferable to Camp Chef griddles. 
Yet, for your large outdoor gatherings and cooking large batches, you might need an extra large griddle like Camp Chef 900 that can get the job done for you. 
Camp Chef VS Pit Boss Griddle
Camp Chef and Pit Boss are both considered competitors of each other. But what would be your choice if you want to choose one of these two? Before knowing your answer, let us compare some points from both brands. 
First of all, let us make a comparison based on the area of the cooking surface. Both griddles come in a variety of sizes. But Camp Chef has the largest area of about 877 square inches. 
In contrast, Pit Boss offers the largest surface area of 647 square inches. So it's clear that the Camp Chef griddle is best if you want a griddle to make food for large gatherings and big families. 
For the product range, Pit Boss griddles are pretty limited. Their griddles have 2, 4, and 5 burner options. 
Besides all these, Pitboss griddles lack wind protection. So, during windy weather, cooking outdoors can turn out challenging.
The grease management system in the Pitboss and Camp Chef griddles is equally better than Blackstone.
In the end, again, or the price, many people prefer Pit Boss as they do Blackstone, for the flat top grills by Camp Chef are pricey. Yet, they are worth your money. 
In short, we'll advise you to either go for Camp Chef or Blackstone and drop the idea of getting a Pitboss grill, except for only two options: a tabletop griddle for RV.
Camp Chef VS Cuisinart Griddle
Let's now compare the Camp Chef griddle with the Cuisinart griddle. 
The first point that we'll discuss is the cooking area. The largest griddle from Camp Chef offers you a cooking surface of about 877 square inches. It's more than enough to make food for twelve to fourteen people. On the other hand, the Cuisinart XL griddle has a cooking space of 700 square inches. So Camp Chef VS Cuisinart griddle, the former one, is the winner here. 
For the number of burners, the Camp Chef griddle is heated with six burners, each having a heat output of 12,000 BTUs. Yet, in the case of the Cuisinart griddle, there are only three burners to heat the entire surface. So all the sides might not get even distribution of heat which can result in hot and cold spots. 
The grease management system is pretty good in both brands. Both the Camp Chef and Cuisinart griddles are super easy to clean, and you won't face greasy surfaces after cooking. 
In terms of the price range, both brands are highly comparable. There isn't much difference between the prices of their griddles.  
In short, if you need a tabletop griddle that can work on higher altitudes, pick Cuisinart, but Camp Chef will be preferable for frequent outdoor usage.
Camp Chef VS Char-Griller Griddle
There's no doubt that when buying a griddle; you first note the size of the cooking area. But some other points need your attention. Here we are comparing important points of Camp Chef and Char-Griller. 
Char griller griddle can't beat Camp Chef griddle in terms of the cooking area. Char-Griller has the largest griddle with a cooking area of 775 square inches, about 102 square inches smaller than the Camp Chef griddle. 
The number of burners in Char-Griller is less than the Camp Chef griddles. When buying a Char-Griller griddle, the maximum number of burners you'll get is four. While in the case of Camp Chef, there are mainly six burners that give an even distribution of heat. 
There's no doubt that Camp Chef griddles are easy to use due to the proper grease management system. But Char-Griller griddles are made the same way and have a grease cup to catch all the grease. So cleaning is easy with both griddles. 
Both the brands have a highly reasonable price range, but Camp Chef griddles win for the cheaper rates and top-class quality. 
In a nutshell, if you have to choose between Camp Chef and Char-Griller, the former is far better.
Camp Chef VS Royal Gourmet Griddle
Here's the comparison of Camp Chef and Royal Gourmet for their griddles. 
Like Char-Griller and Cuisinart, Royal Gourmet griddle can't beat Camp Chef griddle in the cooking surface area. This brand has the largest cooking area of about 784 square inches, which is enough for ten people. But still, it's smaller than the largest cooking area in Camp Chef griddle. 
The main point that creates a significant difference is that Royal Gourmet griddles aren't heated quickly. You've to wait to get the griddle hot enough for cooking. That's because they have four burners, which is less than Camp Chef griddles. So you can say that the Camp Chef griddle is better to consider than the Royal Gourmet griddle. 
The grease management system and durability are somewhat the same in the griddles of both brands. 
Lastly, for the price range, Royal Gourmet griddles are cheaper than the Camp Chef griddles. But regardless of price, most people prefer Camp Chef to Royal Gourmet due to their best quality in all aspects. 
Still, Royal Gourmet gets you one of its best grill and griddle GD401C that is hard to find in any brand. This flat top grill has collapsible legs and grill grates to get you a fantastic combo griddle. 
FAQs
Are Camp Chef griddles pre-seasoned or not? 
Camp Chef griddles are pre-seasoned, so you don't need to season them before using them. The cold-rolled steel surface gives a true-seasoned finish to these griddles.
How Can you Clean Camp Chef Griddle? 
Camp Chef griddle is simple and unchallenging to clean, so you'll enjoy the whole cleaning process. 
You can start cleaning when the griddle is still hot (not too hot). If it's too hot, leave it for a few minutes. Cleaning it when it's hot will prevent the food debris from badly sticking to the surface and make cleaning back-breaking for you. 
Firstly, take a scrapper and scrape off all the food stuck on your griddle's surface, sides and corners. 
Remove this food debris. 
Spray some water and again use the scraper to remove any leftover food particles. Water will soften or loosen the rigid and stuck food. 
Now take a paper towel and clean the surface thoroughly. 
Note: 
You can also use salt to clean your flat top grill. Always prevent your grill from catching rust by seasoning it and using a grill cover. But if it has caught rust, you can still restore your griddle.
Is the Camp Chef griddle worth buying? 
Doubtlessly, Camp Chef griddles are worth buying due to their fantastic features. They are much better than the other griddle brands and give you excellent cooking and cleaning experience when you get some additional flat top accessories.  
Will a Camp Chef griddle rust?
If you take care of your flat-top grill: clean it and season it properly; it won't rust. So, season your Camp Chef griddle after every use to protect it from rusting. 
When you finish cleaning your griddle, follow the last step of seasoning it with oil. Oil will act as resistance to rust. 
Can you use the Camp Chef sear box for your Camp Chef griddle?
Yes, if you truly love searing your steaks and burgers, you can add a Camp Chef sear box to your flat-top grill. Sear boxes by Camp Chef are incredible to get you gas grills like searing with any pellet grill or a flat top grill. Hence, having a Camp Chef sears box will indeed be a "wow addition!"
Final Thoughts About Camp Chef Griddle
When all is said and done about the things you must know about Camp Chef griddle, let us know your remarks about it. 
Camp Chef griddle is preferable to many other griddles. The ample cooking surface lets you cook large batches of food for your whole family. With the pre-seasoned surface, cleaning becomes a super easy task. Plus, the surface requires less oil during cooking. 
So why not opt for this griddle when it offers you countless perks? We hope you're now delighted with putting this matchless griddle in your cart. If you still have any questions, you are open to reaching us through the comment section. 
universitygrill.net is a participant in the Amazon Associate program and will earn from qualifying purchases.