"How to clean a flat top grill" is the first question to jump into your mind when you're done with enjoying grilled salsa verde, corn tortillas, steamy grilled BBQ ribs, and butter pancake? You aren't alone.
Whether you're a home chef or a professional restaurant cooking pundit, flat-top grills are the first choice of one and all. Yet, every grilling session ends with a need for cleanliness.
The time is to spend some of your efforts cleaning your flat top grill to make it ready for further use. Please don't panic; we're here to help you out in this regard. Keep following every single method of this content and absorb as much information as you can. 
How to Clean Flat Top Grills? A Few Effectual Methods to Use
Undoubtedly, the internet is full of various cleaning methods, but not all are effective. We don't want you to spend your money and time cleaning your device and end up having nothing but the semi-cleaned grill. We believe your time and efforts will surely pay you in the form of satisfactory results. 
So put your hands on the method that suits the condition of your dirty grill. Let's get started to explore each effective way. 
1. Opt For Grill Cleaner- A Foremost Cleaning Option:
You may be unaware of other cleaning methods. But for sure, everyone knows about the grill cleaner sprays. You've to spray the cleaner on the dirty grill and wait for a few minutes. 
When you feel that all the stains, food, and grease buildup get detached and start vanishing, take a clean piece of damp cloth and wipe off the liquid. And you're done with the cleaning process. It's one of the best ways to clean your flat top grills. 
2. Use Dish Washing Liquid- An Easy-Peasy Way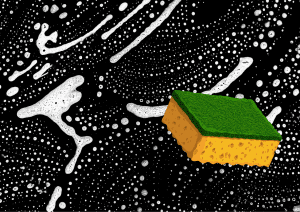 From small kitchen utensils to large flat-top grills, dishwashing liquid has always been one of the simple yet effective things for cleaning. The best tool to use this cleaner is nothing else but a sponge. Using this method is as easy as ABC, and you've to do just two steps. 
Pour the dishwashing liquid on the grill surface.

In the second step, scrub the flat top grill's surface with the sponge.
But you must know that this method is effective only when the surface becomes messy with drippings, sauces, or grease. You can't remove the food debris stuck on the surface with the dishwashing liquid and sponge. 
How to Clean a Flat Top Grill Without Chemicals?
Cleaning has always been a humdrum job, whether it's for kitchen utensils or outdoor grilling devices. But when it comes to cleaning the top flat grills without chemicals, it becomes both a tedious and ticklish task. 
Yet, do you know the reason behind it? Probably, the unawareness of the magic of natural kitchen ingredients. 
Don't worry. We're here to help you know how to cast that spell that will give a new life to your grill. Here are some of the best chemical-free cleaners. Add these to your cleaner's list and let them amaze you with the results. 
1. Use Vinegar and Water Mixture on a Hot Flat Top Grill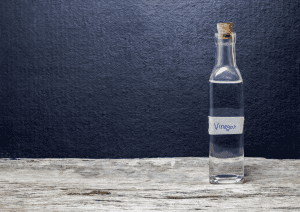 You can clean your flat top grill with vinegar. If you don't want to opt for a chemical cleaner, vinegar mixed with water is beneficial. Grease buildup always brings you in trouble during cleaning. 
If you're fed up with cleaning this mess, why don't you opt for a mixture of vinegar and water? It can be a highly effective solution to eradicate grease and stains from your flat top grills. 
For this method, follow the steps given below.
Take an equal amount of water and raw vinegar and put it in a spraying bottle. 

Spray the mixture on the hot griddle and let it remove all the grease.

Turn the flat top grill off, pour the vinegar mixture again, and wait for a few minutes.

Remove all the mess with a piece of cloth, and here you go. You'll find your flat top grill clean and shiny again.
2. Use Onion as a Scrubbing Agent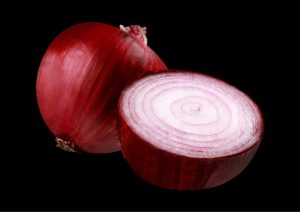 Yes, onion is also a cleaning agent when it comes to deviating from the conventional cleaning methods. So why not apply it on your flat-top grills? 
Don't worry; you won't need to make any mixture. Here is how to do it.
Just take a large-sized onion and cut it in half. 

Now scrub it on a hot grill for at least five to seven minutes. 

Once you see the food debris coming off the surface, continue onion scrubbing for about two minutes. Doing this will remove all the food debris and sauces that got hard during baking. 

After this, wipe off all the debris, and a full clean, ready-to-use flat top grill is in front of you. 
You can hope to see a new-like grill top before you!
3. Bring Brewed Coffee and Grill Brush for Cleaning
Coffee is a mind relaxing drink, but you can also pour it on your dirty and greasy flat-top grills to completely change the look. 
Surprising? If you've leftover brewed coffee, don't waste it at all. 
Pour the coffee on your flat top grill surface. Set it aside for about ten minutes so that all the dirt, grease, and baked sauces quickly soften. 

In the next step, take a wire brush to scrub the surface thoroughly. 

After this, you've to remove all the residue using a griddle scraper. 
Thus, it's ready to use for the next outdoor dinner now.  
4. Go For Steam- A Chemical-Free Cleaner
For those thinking about how to clean a flat top grill without chemicals, please keep the steam method in your consideration. Don't doubt its cleaning power, but stay sure that it will give you satisfying results. 
For this, switch on your flat top grill and let it heat. 

Before adding anything else, take a wire brush and remove all the baked things that stick on the surface. 

Once you've scraped off all the residue with a grill scraper, pour warm water on the surface. Make sure no side remains dry. 

Now cover the grill with the lid and let it produce steam. 

This steam will work as a powerful cleaning agent, and you'll be surprised by the results. 

When the steam starts building in the grill, it's time to uncover the griddle and wipe off the remains and the water. A perfect, shiny, and clean flat top grill is waiting for you to make delicious food again on it. 
5. Why Not Opt For a Beer Cleaner?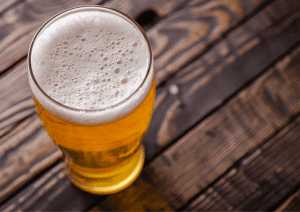 Do you know the power of beer in cleaning? Don't forget a beer cleaner can efficiently kick-off cleaning and can give you outstanding results by doing this. 
Properly pour the beer on the griddle surface and make sure it goes to all the sides.  

Now take a grill brush in your hand. This grill brush will remove all the thick layers and the stains that feel tough to remove with other cleaners. 

Wipe off all the beer with paper towels and thoroughly dry the grill surface. 
How do you Deep Clean a Flat Top Grill?
For deep cleaning, nothing is more beneficial than using a lemon water mixture. Details of this method are given under the next heading.
Use Lemon Juice- A Natural Stain Remover and Cleaner: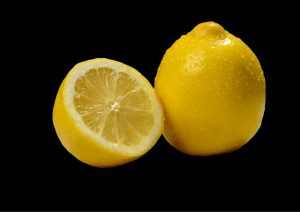 Chemical cleaners or some natural cleaners are not suitable for deep cleaning. So lemon juice can be a good cleaner for deep cleaning your grill. And the citric properties of the lemon juice can never disappoint you in the making your stainless steel flat grill a new one. 
No, you don't have to apply lemon juice directly. But make a mixture by using one-fourth of lemon juice with three-third tap water. Make sure water is neither too hot nor too cold. Warm water/lukewarm water is recommended. 

Now put this mixture in a spraying bottle. 

Spray enough lemon and water mixture on the hot grill and set it aside for a few minutes. 

Wipe the mixture with a clean piece of cloth. 

If there are still stains or your flat top grill is not fully clean, repeat the process and respray the lemon juice mixture until you get satisfactory results. 
How Do you Clean a Flat Top Iron Grill?
Regardless of various cleaning agents, not all fit best for the flat top iron grills. So we've presented you with the hot oil method to eradicate the stains and debris from the grilling surface. Let's move towards this method now. 
Scrubbing with Hot Oil:
In the list of flat top iron grill cleaners, hot oil possesses significant value. You don't have to struggle much; pour hot oil on the grill. 
Yet, make sure the grill is hot. Now take a grill brick and scrub it on the grill. And it'll remove all the hard stains. 
You can also opt for a stiff copper brush despite a brick. After this, take a grill brush or a grill scraper and scrape off all the mess. 
If you find any jam left behind, take a sponge and clean the surface. Undoubtedly, hot oil cleaning is highly effective. 
What do you use to Clean a Griddle Grill?
The answer to this question is "grill brick cleaner" with oil and vinegar-water mixture. All the further details are below. 
Use a Grill Brick to Clean a Flat Top Grill 
Using a grill brick is considered unrivaled in cleaning griddle grills. Cleaning liquids mainly work to remove the stains, but the grill cleaning brick is also suitable for removing the food particles and the thick layer of sauces that sticks badly on the surface. 
To be honest, you've to make some extra effort when the food sticks to the surface. These efforts will amaze you with the awe-inspiring results. Here is the step-by-step guide. 
Initially, pour about half a cup of oil on the surface of a hot flat top grill. 

Use the grill cleaning brick in a circular motion and scrub the surface with it.

Make sure the grill cleaning brick reaches all sides and remove all the grease and food debris.

Now remove the oil and the trash in a grease holder to make the surface clean.

In the next step, you have to soften the entire surface and make it oil-free. 

So, pour half-cup of the vinegar-water mixture on it.

Scrub the surface with griddle brick again to remove any particles left on it.

Remove the food debris and excess oil in a grease holder and repeat the process if necessary.
Using a grill brick can become an endless choice. It can also be combined with other methods too.
How do you Restore a Flat Top Iron Grill?
Restoring a flat top grill is like cleaning the grill. Yet, it's much more complicated besides being delicate as well. To properly restore your griddle, you can follow this tutorial.
Plump For Your Method Wisely!
Without knowing the type of your grill, you can't even think of selecting a cleaning method. Don't make any mistake in choosing tools and cleaning agents because a wrong selection can become troublesome. And it can also affect your grilling device. 
Initially, you must pay attention to the construction of your grill. 
For a chrome flat grill, you can't use any abrasive material on it. Otherwise, the upper protective layer of the flat top grill will become damaged. Water, paper towels, and sponges, and natural cleaners like salt, vinegar, lemon or baking soda can go well with such grills. 
For a stainless steel flat top grill

, you have a wide variety of options for cleaning. The steam method, vinegar, lemon juice, dishwashing liquid, grill brick all seems fine. 

Then comes the Composite grills. Well, you can again opt for any method for these grills. But make sure not to use too harsh tools like a stiff copper brush; instead, picking a sponge can be safe. 
FAQs about How to Clean a Flat Top Grill
Yes, of course. Regular cleaning after each use will ensure a bright surface, ready for the next use. Not only this, but it'll also prevent complications and call for deep cleaning less frequently.
Q. How can I season my flat top grill after cleaning?
To season your flat top grill, turn on your main burners to HIGH heat once the cooking surface is clean, and allow your grill to heat up for 10-15 minutes. You'll see the surface of your griddle top begins to darken and discolor as it heats up. That is perfectly normal.
Once your grill is hot enough, apply cooking oil to the griddle top, spread it evenly across the entire cooking surface with tongs and a paper towel. Simply leave it to cook. And let oil vanish after burning off. 
Repeat this process two or three times more until most of the oil appears to be burned off the surface. After three full cycles, your griddle top will be fully seasoned and ready to grill.
Q.  How can I clean my commercial flat top grill?
Cleaning the restaurant flat top grill is similar to taking care of a griddle for home-usage. However, it's all about becoming disciplined with the cleaning procedures: using the pro methods like scrubbing, washing, and proper seasoning like here.
Q.  When should I deep clean my flat top grill?
When you notice the burnt or uneven cooked food, grease buildup, stickiness, or rust building up,  the time is to spare some time for a deep clean of the flat top grill.
Q. How can I make my flat top grill nonstick?
Oil forms a thin layer to keep your food on the surface without getting stuck and protects that surface. A grill that's not sticky has a cleaner finish. 
You have to make sure that you don't use excessive oil because this could worsen the problem. You'll have to season your grill a short way with a bit of olive oil before you brush the grilling material over them with a rag. It'll also help ease removal from the surface.
Q. What's the best method to clean a stainless steel griddle?
Cleaning the stainless steel griddle comes with much ease as you can choose any method and repeat it in the future if it works the best. Hence, soap and water wash, scrubbing, using grill bricks, use of vinegar and baking soda, all go well for this purpose. 
You can also go for a stainless steel cleaner. Similarly, the non-chemical methods can also help with regular cleaning.
Final Thoughts
We're done with providing you an all-inclusive note on how to clean a flat-top grill. If you want your flat-top grills to stay in mint condition, clean them without further ado after every use. 
Doing this will increase your flat top grill's life, besides preventing the tastes of different foods from mixing. So a perfect taste needs a properly cleaned flat top grill free from the contaminants of the previously cooked food. 
For this, have a keeked look at your grill's construction and go for the cleaning method that you find second to none according to your flat top grill material. Happy cleaning!
universitygrill.net is a participant in the Amazon Associate program and will earn from qualifying purchases.