Are you searching for the best wood pellets for smoking? The mesmerizing epic aroma of woody smoke has certainly won your heart, and you want to infuse that restaurant-like flavor to your food? 
By landing on this page, you've got luck! How? 
We've reviewed the best wood pellets that have a dramatic effect on the quality and flavor of your food. Find those now by sparing 20 mins. Here we come.
11 Best Smoking Wood Pellets – Complete Review
Finding the best smoking wood pellets for smoking is not an easy job. Landing at the perfect and right product for your gas grill demands serenity and unprejudiced observation. 
In our review of the best wood pellets for smoking, we've selected the top reviewed products, read customer opinions about them, and analyzed them. We've ensured that you get the flavor or blend that suits your needs. 
Keep reading the guide to learn about different smoker pellets and their pros and cons. Please note that this guide consists of reviews of both types; smoker pellets and heating pellets.
Traeger Grills is a household name in the grilling industry. Besides making classic wood pellets, the company also produces high-quality apple, cherry, hickory, mesquite, and pecan smoking wood pellets, all made of natural hardwood. But there's also a signature blend sold by the company which combines hickory, maple, and cherry flavors.
Traeger Grills Signature Blend has garnered about 30 thousand reviews on Amazon with an overall 4.8 rating.
The company says that its pellets consist of 100 percent natural hardwood. Moreover, according to the company, almost all food-grade pellets contain 70% of alder or oak hardwood and 30% of whatever flavor wood it states on the package. So, the mesquite flavor consists only of 30% of the mesquite hardwood. 
Adding alder hardwood is that it provides the right amount of moisture, temperature, and smoke. Traeger Hardwood Pellets provide the best burn-to-smoke ratio and don't include any binding agents or fillers. Therefore, this burn-to-smoke ratio has become the "golden yardstick" of the grilling industry to judge the quality of pellets.
Are these wood pellets safe? 
One of the greatest advantages of using Traeger Grills Signature Blend Pellets is that they don't involve any health risks. The reason is they don't use artificial oils, flavors, and other chemicals to enhance flavor. 
In contrast, you can't expect this from cheap pellet manufacturers. However, small amounts of soybean oil are added to these pellets as a lubricant to facilitate the smooth operation of wood pellet production.
Why trust these pellets?
High-quality, natural hardwood pellets

Don't include binders, fillers, and additives.

Excellent burn-to-smoke ratio, moisture content, and temperature properties

Don't contain artificial flavors, oils, and chemicals

Come at a low price
What are some cons?
The presence of natural flavoring oils to enhance flavor is evident.

Ash build-up issue
With an overall rating of 4.8, RecTec Grills Ultimate Blend Wood Pellets is one of the top-rated pellets on Amazon. After carefully analyzing pellets and customer reviews, we've found that high ratings are legitimate and well deserved. 
These grilling pellets reflect the industry's best practices, feature a luxurious taste, and offer state-of-the-art heating and smoking qualities.
These pellets are compact and uniform in size. Why? 
The reason is that these pellets have a long life. If you grill for a small family or circle of friends, you can expect one pack of these pellets to last for a month.
It's also important to note that this blend consists of oak and hickory smoking wood pellets. Both of these hardwoods are known for their superior heating and smoking properties, making your food more delicious and juicy.
Another great thing about RecTec is that they use only fresh hardwood. You can open the packet to sniff the ultimate smell of freshly-cut hardwood. 
In addition, these pellets come without any contaminants, such as additives, binders, chemicals, and fillers. If you happen to be a nature lover, you're also going to love RecTec Grills Ultimate Blend Pellets.
Since these pellets are dense and compact, they're also low on ash. But it doesn't mean they're also low on heat and smoke. As far as the heat and smoke are concerned, RecTec Grills Ultimate Blend Pellets are just matchless. 
What does it mean? Low ash means your grill or smoker doesn't get blocked and remains easy to clean.
Another notable thing about RecTec wood pellets is that they undergo strict quality control. And, it's almost impossible to find variations in different packs. This again indicates that RecTec uses the industry's best practices for quality control.
Why trust these pellets?
Top rated on Amazon because of excellent quality control

Excellent heating and smoking properties

Compressed, dense, and compact

Made of fresh oak and hickory hardwoods

Low ash residue
What are some cons?
A bit more expensive than other brands

Only available in a blend of two hardwood flavors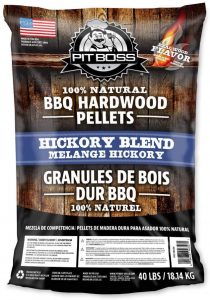 Pit Boss makes some of the finest grills and is a household name in the grilling industry. But in addition to grills, they're also into the business of making wood pellets. The company claims that these are 100% natural hardwood pellets and free from additives, such as artificial flavors, chemicals, glues, spray scents, and other contaminants. 
Are they right?
After reading dozens of customer reviews, we find the claim to be "verbatim" true.
In addition, these pellets are low on ash but high on heat and smoke. The smoking wood pellets are capable of rejuvenating the taste of your food, thanks to their all-natural composition. 
Since natural wood juices hold the mass of these wood pellets together, there are no artificial binders or fillers to ruin the taste of your steaks.
In contrast to the wood pellets of other brands that burn too fast and hot, these pellets burn longer and cooler. It's the reason that Pit Boss pellets provide a mild and gentle taste. 
Using these pellets, you'll get rid of the fear of over-smoking your food. If you don't like the bitter taste of over smoked meat, you should order Pit Boss BBQ pellets right away.
Why trust these pellets?
Made of 100% natural hardwoods

Free from additives and harmful contaminants

Low on ash

Burn longer

Provide a mild, gentle taste
What are some cons?
Some people find the smoke to be too low.

You can't store them for a long time.
Oklahoma Joa is a well-known grill and wood pellet manufacturer. The wood pellets from Oklahoma Joe's are a blend of natural apple and oak hardwood. 
It's a custom to add oak or alder hardwoods for a light, fruity smoke flavor. We've already seen it from other famous manufacturers, such as Traeger.
No matter how good a wood pellet smokes, it's of no value to you if it's high on ash. Unlike many other brands, these wood pellets burn clean and produce pretty little ash. No matter how good a wood pellet smokes, it's of no value to you if it's high on ash. 
Since these pellets comprise pure and natural hardwood, we can stamp them as food-grade. While you can use these pellets for any type of food, they're generally best for seafood, chicken, fruit, and vegetables.
It's important to note that these pellets can't be stored for a long time. So, it's best to use fresh pellets as they provide the best smoke. If you ever need to store them, ensure that you keep them in a dry, cool space.
Why trust these pellets?
Made of natural hardwood of apple

Produce very little ash

Free from chemicals, food-grade wood pellets

Great for seafood, chicken, fruit, and vegetables
What are some cons?
Avoid storing for a long time to prevent the pellets go rancid and smoking bitter and white.

Here is a treat! Now you can create your blends with the proven greatness of the aroma of each bag. Each pack of BBQr's Delight wood pellets weighs 1 pound and includes apple, hickory, mesquite, cherry, pecan, and Jack Daniel's whiskey flavors. And amongst them, you can have a sensational smokey flavor of cherry smoke in your food. These pellets feature 100% natural hardwood formulation and are compact and uniform in size.
BBQr's Delight wood smoking pellets work with all outdoor grills, including gas, charcoal, electric, and smoker. In addition, these pellets don't need to be soaked before use, and these qualities make them ideal for people with no grilling background.
Since these cherry pellets are food-grade, they don't contain any additives or harmful chemicals. And because they're a blend of the most frequent flavors, you don't need to look anywhere else if you have them.
⅓ cup of these pellets is more than sufficient for most cooking events. In most cases, a single pack of these wood pellets is enough for about 60 cooking sessions.
One of the fascinating things about these wood pellets is that they're completely made of raw sawdust. And before that, raw dust is processed, it's cleaned off of bark and other wood contaminants.
Why trust these pellets?
A control of creating a unique blend of the most common wood flavors

Suitable for all grill types

The pellets don't need to be soaked before use.

Food-grade, free from chemicals

Burn for a long time
What are some cons?
A little pricey

Small pack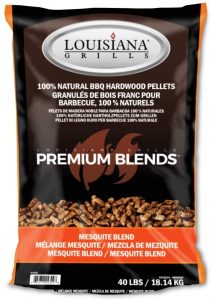 Louisiana Mesquite wood pellets are a 35/65 blend of mesquite and maple hardwoods. These pellets have also received high positive ratings and customer reviews on Amazon. Overall, these pellets smoke well, produce little ash, and can be used on a smoker pellet as well as a gas grill.
These pellets render a distinctly tangy, spicy flavor to the meat. What puts these pellets on par with other well-known brands and even superior is that the hardwoods are sourced from North America.
One of the best things about Louisiana Mesquite pellets is that they provide a long burn time. Since these pellets burn well, you can also use them for heating or cooking purposes in a wood pellet grill. Originally, these wood pellets were meant to be used on a wood pellet grill. But due to their superior smoking properties, most people use them for smoking seafood and meat on a gas grill.
They come at a reasonable price and last for months, and they're an absolute value for money.
Why trust these pellets?
One of the top-rated wood pellets on Amazon

Natural, North American hardwoods

The pellets are equally suitable for cooking as well as smoking purposes

Burn longer
What are some cons?
Poor packaging

It can turn into dust if stored for long.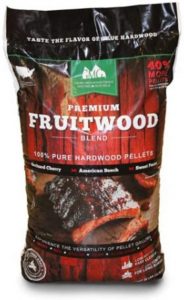 Green Mountain Fruitwood Pellets are the best cooking pellets you'll even find. These wood pellets are meant to be heating pellets. However, due to their all-natural composition and fruitwood formulation, these pellets can also be used for smoking purposes. This blend of cherry, beech, and pecan hardwoods can transform the taste of beef, chicken, seafood, and vegetables altogether.
It sets them apart from other brands because these pellets have a large diameter for a sustainable cooking and smoking experience. In addition, Green Mountain wood pellets have lower moisture, providing you with enhanced performance and efficient burn. It, in turn, results in little ash production, keeping it hassle-free to clean the grill.
Another great thing about these pellets is that they consist of kiln-dried sawdust of natural fruit hardwoods. This practice keeps the process clean and ensures that the pellets can be stored for a long time without going rancid.
If you're looking for wood pellets that produce a reasonable amount of heat as well as smoke, these pellets from Green Mountain Grills are generally the best. Each pack weighs about 29 pounds so that you can have endless grilling sessions with a single blend.
Why trust these pellets?
Burn hot and long

Low on ash

Don't go rancid easily

Great flavor

Last longer
What are some cons?
Work best for pellet grills instead of gas grills.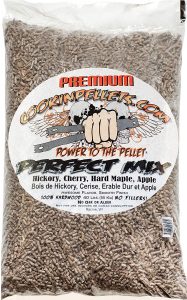 What about a perfect blend of 5 hardwood pellets? CookinPellets Perfect Mix is a brand of pellets that only comes second to Traeger Grills Signature Blend. 
It has also received thousands of positive reviews on Amazon, Facebook, and internet forums. It also boasts a 4.7 rating on Amazon. Let's unfold its composition and characteristics.
We find that CookinPellets Perfect and 100 percent true a blend of:
Hickory hardwood pellets

Cherry hardwood pellets

Maple hardwood pellets

Hardwood pellets
The most lucrative thing about these best pellets is that they contain no alder (oak) or fillers, making them absolute value for money. What's more? These pellets have been designed for smoking a gas grill.
Since CookinPellets Perfect Mix consists solely of heartwood, it doesn't include bark: a plant part rich in lignin. Lignin is a natural binder that produces high heat and, as a result, more ash.
Yet, these best pellets are meant to be smoker pellets; they don't provide as much heat as Traeger pellets. However, they provide more smoke and a better taste.
As these pellets are kiln-dried before being packaged, they're easy to light. Each pack of CookinPellets Perfect Mix weighs 40 pounds. Hence, they can last longer before you order more.
It bears repeating that CookinPellets Perfect Mix doesn't include artificial and harmful additives, such as binders, fillers, chemicals, oils, and flavors. If you're health-conscious, these pellets are a great match for you. There are no health risks associated with these best pellets other than a small percentage of carbon dioxide, a by-product of combustion.
Why trust these pellets?
Consisting solely of heartwood

Smoke well and for a longer duration

Low on ash and heat

Only suitable as smoker pellets
What are some cons?
You can expect to find plastic pieces in the pack.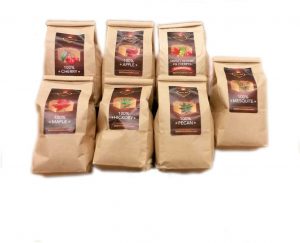 As the name suggests, this wood pellet pack contains seven unique hardwood formulations, namely apple, cherry, pecan, hickory, mesquite, maple, and a competition blend of maple, hickory, and cherry. 
These wood pellets contain compressed hardwoods of 100% natural varieties, except for the competition blend cherry-hickory-maple, which impart a specific flavor profile to smoke. 
In addition, these pellets don't comprise any binders, fillers, or additives. So far, these are the ideal pellets to be used in a secondary smoke device, such as a Smokin Wedgie, smoker tube, smoker box, and A-MAZE-N smoker tubes or trays.
Lumber Jack wood pellets are easy to use as they don't need soaking before you put them on an outdoor grill. As for the flavor and taste, these wood pellets deliver the best flavor notes and never give off bitter and "off" flavors.
As for the weight and size, each pack of Lumber Jack pellets weighs 1 pound, which is just enough to fill a 12″ pellet tube smoker. If you don't have to grill or smoke for a large family, you can add fewer wood pellets to the smoker and keep the rest for later use.
Unlike pellets from cheap manufacturers, these wood pellets from Lumber Jack don't turn into dust no matter how long you keep them. Moreover, they smolder and smoke well, provide consistent heat, and enrich your food with a blend of all essential flavors. These pellets, in addition, don't require much effort to ignite. Overall, these pellets are a valuable addition to your grilling essentials.
Why trust these pellets?
Contain all the essential flavors for grilling

Made of natural hardwoods with a unique flavor profile

It's suitable for all types of smoker tubes, trays, and boxes.

Soaking is not necessary

Easy to ignite
What are some cons?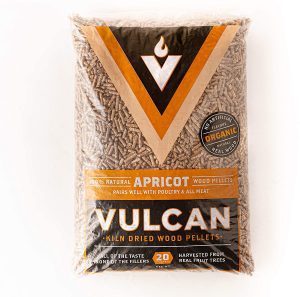 Vulcan Apricot Grilling Wood Pellets have a distinct and awesome flavor profile designed by a NASA scientist. 
These wood pellets are kiln-dried, allowing you to store them for a long time without worrying about the bitter and "off" tastes produced after pellets go rancid. Hardwoods of these pellets come from real apricot trees instead of scrap wood. So you get real wood pellets that are free from any fillers or additives.
The pellets can be used on almost all outdoor grills, and in the case of a gas grill, on all smoker boxes and tubes. These apricot fruitwood pellets are great for all kinds of meat, seafood, and veggies. These organic wood pellets have a unique flavor profile that infuses your food with great-tasting smoke.
A single pack of Vulcan Apricot Wood Pellets weighs 20 pounds. Considering the weight of a single pack, these fruitwood pellets seem to be inexpensive and offer great value for the money you pay. After all, it's the value that matters in the end; as Warren Buffett once said: "Price is what you pay. Value is what you get".
Why trust these pellets?
A distinct, beautiful flavor profile

These kiln-dried wood pellets never smell foul

Inexpensive keeping in mind the value they offer
What are some cons?
Fruitwood is not suitable for all types of food.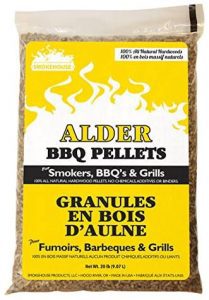 Smokehouse's Alder hardwood pellets come at a competitive price and offer great value for money. Each pack of Alderwood pellets weighs 20 pounds (9.55 kilograms). Since these wood pellets are refined, compact, and dense, you can use them for a long duration of outdoor recreation.
These 100% Pacific Northwest BBQ pellets add a mild, neutral, and balanced flavor to various foods, including seafood and beef. Smokehouse Alder wood pellets are ideal for smoking salmon, trout, sturgeon, catfish, and even oysters.
For centuries, Native Americans have been using Alderwood to cook and smoke salmon. Owing to its neutral flavor, Alder can be used along with other flavor woods to enhance the taste of the food. For a better and reinforced flavor, you can mix these alder pellets with various fruit wood pellets to enrich the taste of your meats, such as steaks, ribs, and briskets.
Like other pellets on our list, Smokehouse alder pellets consist solely of natural hardwoods. These pellets are free from binders, oils, waxes, and other secret ingredients. These food-grade pellets can be used on almost all grills, including outdoor BBQ grills, gas grills, and traditional charcoal grills.
Smokehouse's smoking wood pellets are famous for their consistency of flavor. Keeping the qualities mentioned above in mind, it doesn't come as a surprise that Smokehouse Alderwood pellets have garnered a 4.9 rating on Amazon.
Why trust these pellets?
Great value at a competitive price

100% Pacific Northwest alder hardwoods

Great for smoking a variety of seafood

Free from oils and additives
What are some cons?
We couldn't find any shortcomings.
A Quick Guide to Smoking Wood Pellets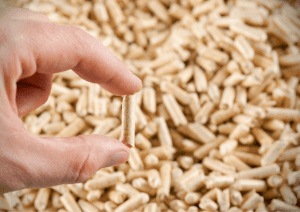 If you're a gas griller, you would have a clear idea about the importance of wood pellets for smoking. Smoke does add some flavor to the food, especially the meat, and we all like it. Smoking the meat also prevents the moisture from evaporating, making your steaks juicy and delicious.
But, if you're a novice, you need to know what wood pellets are, how they're made, and above all, what are the best wood pellets for smoking. If these questions frequently cloud your mind, we've got you covered.
What are Wood Pellets?
Wood pellets are small, cylindrical cubics of compressed sawdust, agriculture or forestry residues, old paper, etc. As for the shape and size, wood pellets are cylindrical and range from 1-2 cm to 6-12 mm in diameter. But 6 mm pellets are considered ideal because they provide the best combustion conditions. Since our focus is on smoker pellets, 12 mm pellets are best for smoking. To be more general, the more the diameter, the better the smoke.
How are Smoking Wood Pellets Made?
Wood pellets are made by pressing sawdust in a funnel-shaped tube called a die. As the sawdust is forced to pass through the die, it becomes dense. The friction between the mold and sawdust causes the lignin, a compound found in the cell walls of the plant cells, to heat up and disintegrate. After this compressed sawdust passes from the other end of the mold, it's in the form of long, cylindrical pellets.
These long pellets are allowed to cool, cut into short segments, and packaged for usage as smoker pellets in a smoker tube. The compression of the sawdust releases natural chemicals (through heating and disintegration of the lignin) that act as binders for pellets. For this reason, smoker pellets don't include any additives or binders.
What's the difference between Heating Pellets and Smoker or BBQ Pellets?
Smoking wood pellets come in two forms, namely heating pellets and smoker or BBQ pellets. Although both are made using the same material (sawdust) and technique, they're not the same.
Smoker wood pellets only consist of hardwood and don't include any additives or binders. They are primarily focused on generating specific aromas with no or little care for producing heat.

Heating wood pellets, contrarily, are usually made from softwood or hardwood softwood blend. Softwood, such as pine, contains resins and other materials that produce bitter, unappetizing smoke. Infusing your meat with the resin smoke is a terrible idea for grilling and the worst thing you can do as a griller. What's more, heating pellets can also include bark, leaves, and other plant materials. These impurities can cause the meat to become bitter and even inedible.
Long story short, you should always use food-grade smoker pellets for smoking in your gas grill and heating pellets for a pellet grill. Heating pellets are meant to be consumed to fuel the grill. Smoker pellets, on the other hand, are suitable as the direct source of heat and serve to add smoke to the food on a gas grill.
FAQS about Wood Pellets for Smoking Food
What's the difference between wood chips and pellets?
A wood pellet is made out of wood, finely cut and compressed. Wood chips are wood pieces that pass through the wood chipper. Pellets are also a better fit for smoking meat due to their higher fire strength. It also needs to be noted you don't need to wet wood pellets but wetting wood chips is an effective way to slow down the burn rate for a longer burn time on a grill.
Do wood pellets contain bark?
Yes, wood pellets may contain bark. Bark burns slowly compared to the wood so that its temperature can vary significantly, and it can cause blocking in the grill and cause your barbecue to misread the temperature.
Bark can have a broader smoky flavor profile, so some use in the mix may be beneficial. You must evaluate each type for a particular type of pellet. There are exceptions, but generally speaking, most manufacturers keep bark out of pellet mixtures. You can take wood pellets with or without bark, but most prefer using no bark.
What are the signs of cheap wood pellets?
Poorly compressed pellets can't hold together and can fall apart as the auger draws them out. So, they'll not be able to burn properly, which will reduce temperatures and smoke. So before you buy, check the bag with dirt on the side. If there's dirt or sawdust visible, it means pellets are already starting to fall apart.
How do I store smoker pellets?
In most cases, an air-tight container is the best storage option for pellets. Oklahoma Joe's pellet bucket kit consists of a scoop jar and mesh holder, making it one of the best storage devices for wood pellets. Avoid storing pellets around fires or heat. They're still flammable! Use an air-tight container to prolong their life to keep them in the greatest form possible for the longest time.
What is the sign of a good wood pellet?
A solid wood pellet will look smooth and bright with minimal cracking. Pellets with a dull surface with many cracks or visible wet streaks shouldn't be used. Bad wood pellets can turn your food toxic.
Can I leave pellets in the hopper?
There is a good chance that these hoppers can be sprayed with moisture that can soften and start disintegrating your grain. Moist pellets may lead to jams and won't burn and cause mold growth that is not safe to eat. After every smoke, it is best practice to remove unopened pellets from the hopper.
Why do pellet brands use additives?
Some brands add additives to wood pellets to make them burn cooler. These chemicals can have severe adverse effects on your life. Avoid particles of bark, glue, cardboard, etc., in pellets. Cheap pellet manufacturer brands use certain binders and fillers to hold wood particles together. For these reasons, it's advised that you only use pellets that are made of 100% natural hardwoods and are labeled and certified as food-grade.
What should be the ideal heat output of pellets?
Always look for pellets that have high energy density. Typically, pellets up to 4,000 BTU are a fantastic choice.
How to go for the best food-smoke pairing?
You should choose the requisite wood flavor, depending on the food you smoke. You should have a clear idea of what a flavor is capable of and ensure that it'll not ruin the taste of your food. The idea is to enhance the taste of your food in a natural way, not to over smoke it.
How can you use wood pellets in a smoker box or smoker tube?
When it's about how to use wood pellets on a gas grill, you can equally use them in a smoker box or tube. Using pellets in a smoking tube is generally considered the best practice. It's because wood chips retain moisture and don't heat well. 
In addition, chips are known to produce more ash compared to pellets. The more the ash, the more the chance that your burners and thermostat get clogged.
How long do pellets burn in a smoker tube?
There's no simple answer to this question, as it depends on several factors. First of all, it depends on the number of pellets you have. Secondly, the quality of pellets also plays a major role in determining the time pellets will last. However, it's estimated that a 40-pound bag of wood pellets will be enough to smoke for at least 16 hours.
Final Thoughts
All these best wood pellets for smoking are delightful to cook with and are highly recommended. All products have been chosen for consistent quality, great taste, decreased ash production, and outstanding performance with good uniformity and reliable burn. 
You can get the flavor that you love the most. BTW, it can be more than one, too…which is that? Let us know by commenting below.
universitygrill.net is a participant in the Amazon Associate program and will earn from qualifying purchases.