When coming across top grill lines, available in the market, researching for Char Broil vs Weber shows you want to make a confident decision. It's challenging!
Char-Broil and Weber are household names in the grilling industry. And they both put all those bells and whistles on their offerings that other manufacturers can't provide. Still, finding the right grill at the right price can be tricky, especially when you consider other factors, such as your requirements and preferences. 
We have compared competing models from the two brands head-to-head in a bid to answer some key questions and help you arrive at the right decision. Read on to find the perfect choice for your budget and needs.
Here we come…!
Char Broil Overview
Char-Broil has been in the business for a while longer than Weber, taking off on their journey with one of the first cast iron charcoal grills in 1948. Its heritage stems from its inception as a privately owned subsidiary of Bradley, a well-known company headquartered in Columbus, Georgia, a barbecue grill manufacturer, among other things.
Char-Broil grills have a reputation for being affordable and convenient. One of the most innovative features of the Char-Broil gas grills is the TRU‑Infrared™ Cooking System. 
This system delivers even heat across the entire grilling surface with no flare-ups for juicier, restaurant-quality food. Char-Broil's greatest triumphs so far are rooted in outdoor and backyard grills.
After producing grills like the CB940, Char Broil has become famous as the World's Best BBQ Grills by the Book of Bests. The brand's focus has shifted to making budget-friendly options with basic functionality and BBQ enthusiasts enter the gas grill realm with no distress. The company's strategy has worked as it has developed an enormous fan base that loves these grills for outstanding performance, heating up quickly, and durability.
Most Char-Broil grills support zonal cooking. The overall focus of the brand is on the performance, longevity, and affordability of its models.
What makes Char Broil Grills so special?
Indeed Char Broil has maintained, entirely different identity. Below we've discussed some salient features of all Char Broil grills.
TRU-Infrared™ Cooking Technology
Char-Broil's specialty lies in its patented TRU-Infrared™ cooking technology, which creates radiant heat instead of circulating heat. Char-Broil's steel emitter plates form a protective barrier between the food and the open flames. 
It prevents flare-ups, restricts the circulating hot air from direct contact with your food, and sealing moisture inside your food. As a result, your food remains tender and up to 50% juicier than other gas grills.
No More Cold and Hot Spots
Emitter plates also ensure no hot or cold spots, and the entire grilling surface heats up evenly. Another benefit of emitter plates is that they collect meat juices and fat dripping down the cooking grates and then return the smoke and steam directly to the food on the grill. 
Doing so, they not only enhance the food's flavor but also keep the combustion chamber clean. You can easily remove the emitter plates and readily clean them when you're done cooking.
Energy Saving Heating System 
Char-Broil claims that its TRU-Infrared technology reduces fuel consumption by about 30%, which seems logical and trustworthy. Char-Broil's TRU-infrared grills use infrared heat rather than convection heat, which makes us believe these grills are fuel efficient. 
Since most heat transfer occurs through radiation rather than convection, TRU-Infrared gas grills increase efficiency and reduce cooking times. As a result, reduces fuel consumption.
Weber Overview
Weber's story began in 1952 when George Stephen invented the world's first kettle grill inspired by the shape of a buoy. Soon after its inception and debut, the company started producing different grills and smokers, focusing on outstanding quality and features. 
One of the best things about the company is that you can find almost all types of grills in its catalog. From essential products intended for beginners to feature-rich models preferred by connoisseurs, all options are available under the umbrella of Weber.
Thanks to their sturdy construction, aesthetic design, and great features, Weber's Spirit and Genesis lineups are exceptionally feature-rich and extremely popular. Weber seems to focus on providing its customers with an enormous cooking area and more power output than offered by contemporary and competing models.
What makes Weber Grills so special?
Weber's greatest specialty lies in its trademark flavorizer bars–triangular metallic bars that help reduce flare-ups, provide even heat transfer, and vaporize sizzling droppings to add smoky flavor to your food. 
Integrated Flavorizer Bars as Weber's Signature GS4 Grilling System
Flavorizer bars are part of Weber's GS4 Grilling System. It's a set of proprietary components;  
Infinity™ Ignition
Durable Burners of Stainless Steel
Efficient Grease Management System
Flavorizer bars.
Infinity Ignition System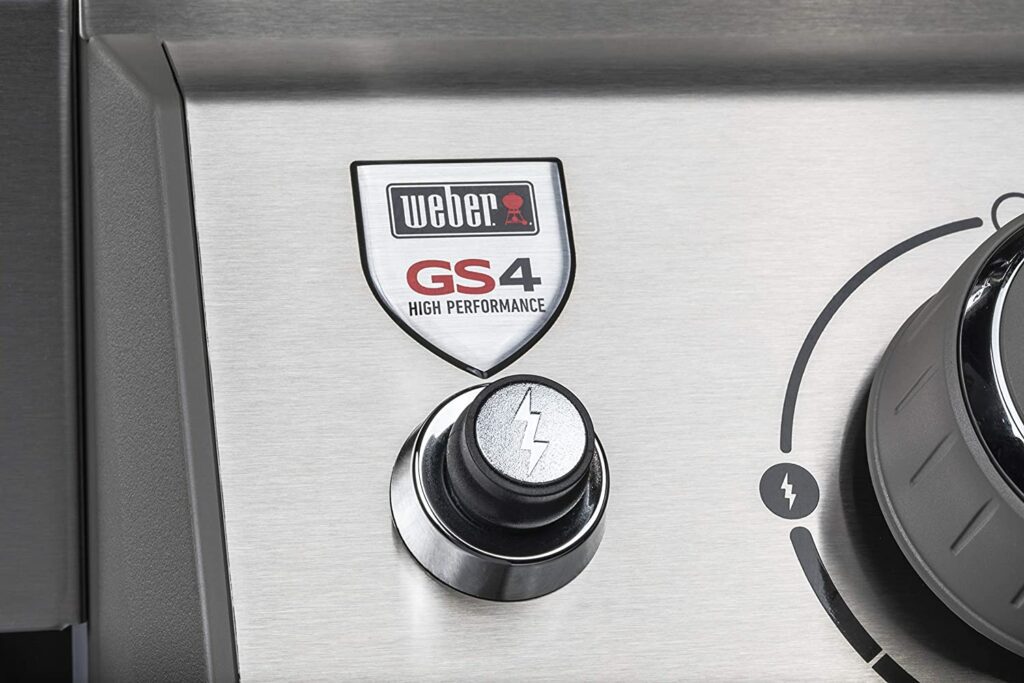 Weber's Infinity Ignition system promises to ignite every time and in all kinds of weather, for example, a rainstorm. The stainless steel burners in GS4 Weber grills are fuel efficient and radiate even heat to the cooking grates. 
Flavorizer Bars to Prevent Burner Clogging through Drippings
Primarily the flavorizer bars evaporate the fats and food drippings. Yet, if any, is left over, they're funneled away into a redesigned grease management system in the center of the firebox just below the burners. 
The aluminum grease tray slides out to the front for easy disposal. So, you can either swap it or empty it into the wastebasket in seconds.
Except for a few, most Weber gas grill lineups are equipped with the GS4 Grilling System.
Char-Broil vs Weber: Price is another Keynote Difference
The primary difference between Char-Broil and Weber is that the former provides budget-friendly grilling. The latter is well-known for its industry-leading flagship products.
Weber's products are costly but efficient, feature-rich, and durable. On the other hand, Char-Broil cuts corners perfunctorily to keep the prices down.
Char Broil vs Weber – Complete Comparison through Product Reviews
The following reviews include high-end products from each manufacturer selected based on the number of burners. The reviews contain information about the products, their characteristics and features, and pros and cons of each product. Here we go.
Weber and Char broil's 2-Burner Models Comparison
2-burner gas grills are considered entry-level but perfect for those who need little cooking space. They cost little but offer the same quality and longevity you get from a multiple-burner grill.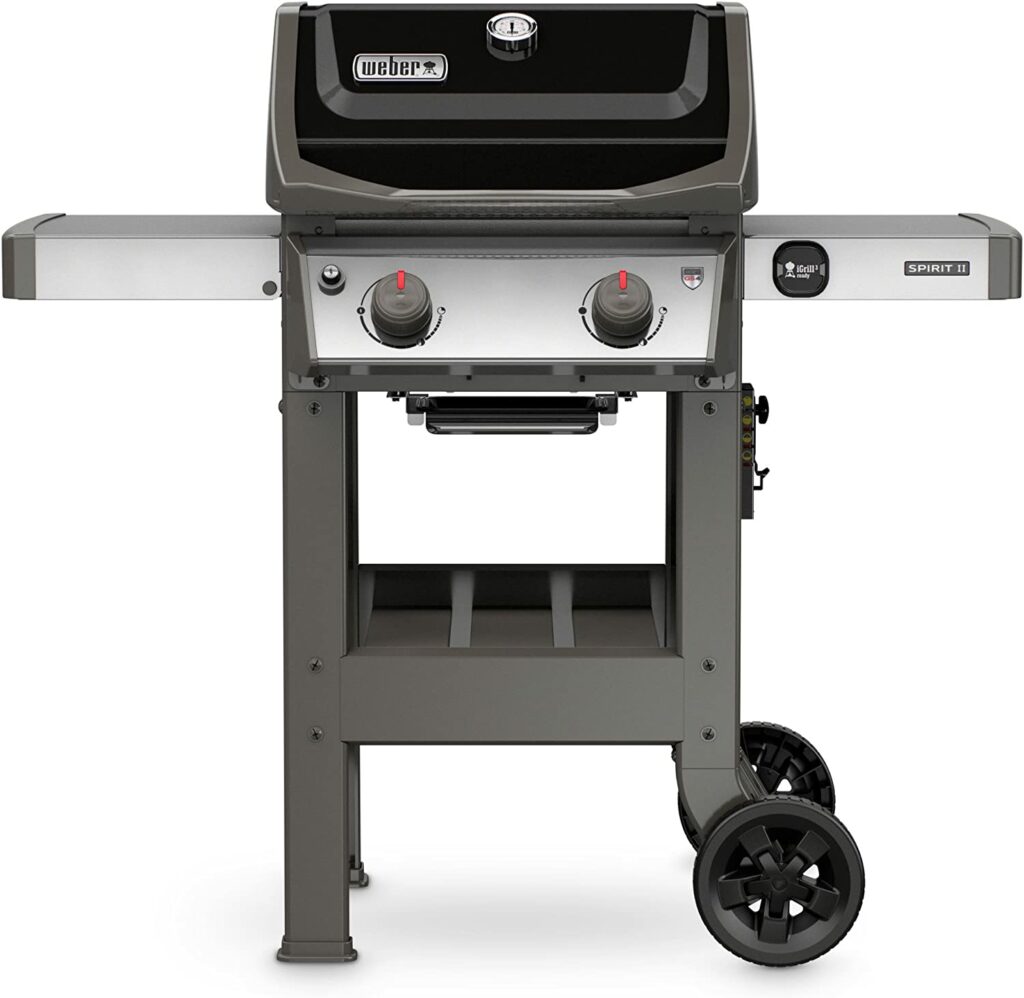 The Weber Spirit II E 210 grill is suitable for small places but still has valuable features, such as the GS4 grilling system. It has two side tables that can be used as prep areas. 
Heat Output and Cooking Performance
The grill measures 57 "H x 48 ,"W x 26″ D when the lid is open. It also has two equal-sized, porcelain-enameled cast-iron cooking grates that give a combined measurement of 20.32″ x 17.5".
The two primary burners output a whopping 26,500 BTUs of heat/hour for the primary cooking area of 360 Sq inches and a 90 Sq. in. warming rack. The 73.6 BTUs per square inch heat output leaves no question about this 2-burner grill's performance.
These two porcelain enameled cast iron cooking grates are reversible. They have a thin side for cooking small foods such as fish and shrimp and another wider side for producing beautiful grill marks on steaks.
A tuck-away warming rack is great to keep your food warm while you're busy cooking batch after batch. 
The right table contains a cutout for the iGrill3 thermometer–the reason that Weber advertises this grill is "iGrill3 ready." The grill has three integrated hooks on each table for hanging tools.
Design and Build Quality
The E-210 grill features a beautiful open-cart design with a shelf just under the grill. You can use it for placing tools, cooking utensils, and many other grilling essentials–removing the need to make several trips to your pantry when you're cooking outdoors. 
The fuel tank goes to the side just under the right table. It mounts to a spring scale that also acts as a fuel gauge. However, the design and quality of the fuel gauge make it sturdy and easy to read. The tank goes outside the grill, making it easy to access and remove.
The grill features a spring-assisted, foldable left side table. You can fold it with a single button. Thus, it further shrinks the grill's size for small balconies. 
There are two big, sturdy wheels on the right side for easy maneuverability. The left table can be used as a handle to lift the side slightly and push the grill to move around. 
The grill includes a 10-year exclusive warranty on all parts. 
What else do you need?
Pros
Features a modern, sleek, and aesthetic design.
It's a durable model thanks to quality materials and sturdy, seamless construction.
Comes with four stylish lid color options.
Includes an industry-leading GS4 grilling system.
iGrill3 ready.
Includes a tuck-away warming rack.
The temperature gauge is integrated into the lid.
Cons
It is challenging to assemble like other Weber grills.
Not a budget-friendly option.
Heat Output and Cooking Performance
The Char Broil Performance 2-Burner gas grill is one of the eminent infrared grills from Char Broil. The grill's dimensions are  44.5 x 22.4 x 45.3 inches. 
The primary cooking space 310 square inches is ample to cook up to 16 burgers in one go. In addition, it provides a warming rack of 95 square inches for toasting buns and keeping the food warm while you prepare other dishes.
It has porcelain enameled cooking grates of cast iron. These cooking grates are easy-to-clean to fairly rust resistant. These grates also retain heat well and measure 17.5-in wide x 17.1-in deep–offering. 
The grill is powered by an electronic ignition system that includes a standard AAA battery to provide instant ignition via a button. There's a temperature gauge on the lid to let you monitor the grill's internal temperature.
The grill includes TRU-infrared cooking technology. It prevents flare-ups by keeping the dripping away from the burner tubes and ensures an even heat blast to cook you food faster.
The emitter plates used in the cooking technology facilitate indirect heating by infrared radiation to increase efficiency. Thus, they reduce cooking times. In addition, infrared radiation involves no health risks associated with grilling over open flames.
The top-ported stainless steel burners are durable and provide precise temperature control and even heat across the entire grilling surface. Porcelain-enameled triangular bars, called heat tents, protect the burners from fat, meat juices and food drippings.
Design and Build Quality
The grill features a closed-cart design with a single-door cabinet to house the propane tank and store grilling tools and accessories. A gas pressure gauge lets you know about the leftover fuel in the tank. The grill sits on four sturdy casters (including two locking casters) for easy mobility.
This 2-Burner Infrared gas grill by Char Broil features 2 side shelves you can use as prep areas and storing tools. If you fold the shelves down, you can save space. The Gear Trax enabled side shelves to improve your workspace options–though the accessories are sold separately.
The grease collection pan slides out from the grill's rear for mess-free cleanup.
This mammoth of a grill outperforms even many of Weber's 2-burner gas grills in heat output. According to a buyer, it's hard to get a temperature below 275 with this grill.
Pros
Comes with a cooking grate cleaning brush
Easy to assemble, use, clean, and maintain
Perfectly sized for a small patio
Uses infrared radiation instead of traditional heat
Rust-proof, composite gray-coated body
Cons
Quality issues.
Some buyers find grill grates hard to clean.
Weber vs. Char-Broil Gas Grills: 3-Burner Models' Comparison
These grills offer ample space to cook for a large circle of family and friends. Both Weber and Char-Broil provide multiple variations of a 3-burner grill. Here are our top picks, one from each brand:
The grill under review is Amazon's Choice and for multiple reasons. It carries an overall high positive rating of 4.7 on Amazon. The purchase includes the grill in black color and a supply hose.
Heat Output and Cooking Performance
The grill measures 47 "H x 59 "W x 29" D. It has a primary cooking area of 513 square inches. 
Its porcelain-enameled, cast-iron cooking grates are great for an even heat distribution and superior heat retention. It has a tuck-away warming rack of 156 square inches for toasting buns, while the main course is grilled on the cooking grates.
Its novel stainless steel burners provide 39,000 BTUs per hour of combined heat output. The presence of the GS4 grilling system leaves no question about the grill's performance. 
It's such an exceptional grill in terms of performance that you can arrange big parties and outdoor gatherings with this grill. It can even perform batch cooking–no need to cook in rounds.
Like most Weber Genesis grills, this model is advertised as "iGrill3" ready. The caveat is that the accessory is available separately. However, there's a snug fit hole in the right table for the iGrill3 thermometer. 
The device is beneficial as it lets you monitor your food's temperature remotely through your smartphone's screen. You can also set timers and alarms and get notified when the desired doneness is reached.
Design and Build Quality
The E-315 grill comes in an enclosed cart style with a spacious storage cabinet with two shelves for storing grilling tools and accessories. The two side tables are also present with integrated tool hooks. 
The porcelain-enameled lid keeps heat well and protects your grill from the elements. The fuel tank mounts to an easy-to-read fuel gauge just under the right side shelf. 
Weber installs spring weight scales in their models, as opposed to Char-Broil grills, which include a gas pressure gauge to act as a fuel gauge.
There are two big, all-weather wheels and two sturdy, swivel-locking casters under the grill's legs for easy mobility.
Lastly, the grease management system of the Weber E-315 grill is efficient, nay remarkable. 
The primary function of the flavorizer bars is to prevent burners from clogging and vaporizing the fat and drippings to add epic "BBQ' flavor to your food. However, not all the drippings are vaporized. So, the leftovers run into a removable catch pan that is under the cook box. 
A removable aluminum grease tray sits under the catch pan that collects excess fat and grease. You can empty the grease tray or just replace it. The catch pan also slides out for easy cleanup.
Overall, it's a great gas grill with exceptional heat output, matchless quality, durability, and ease of cleaning. There are no flare-ups, thanks to well-designed and optimally placed heat shields. 
The distance between the cooking grates and heat shields is geared towards maximum efficiency, even and consistent cooking experience, and reducing flare-ups.
In a nutshell, this grill is no less than an engineering marvel.
Pros
Features the GS4 grilling system
iGrill3 compatible
Ample cooking space for the grill's size
Easy meal prep through side tables
A spacious storage cabinet with two storage shelves.
Exceptional output and matchless longevity 
Cons
No cons, except it's challenging to assemble. You may need a professional's help to install it.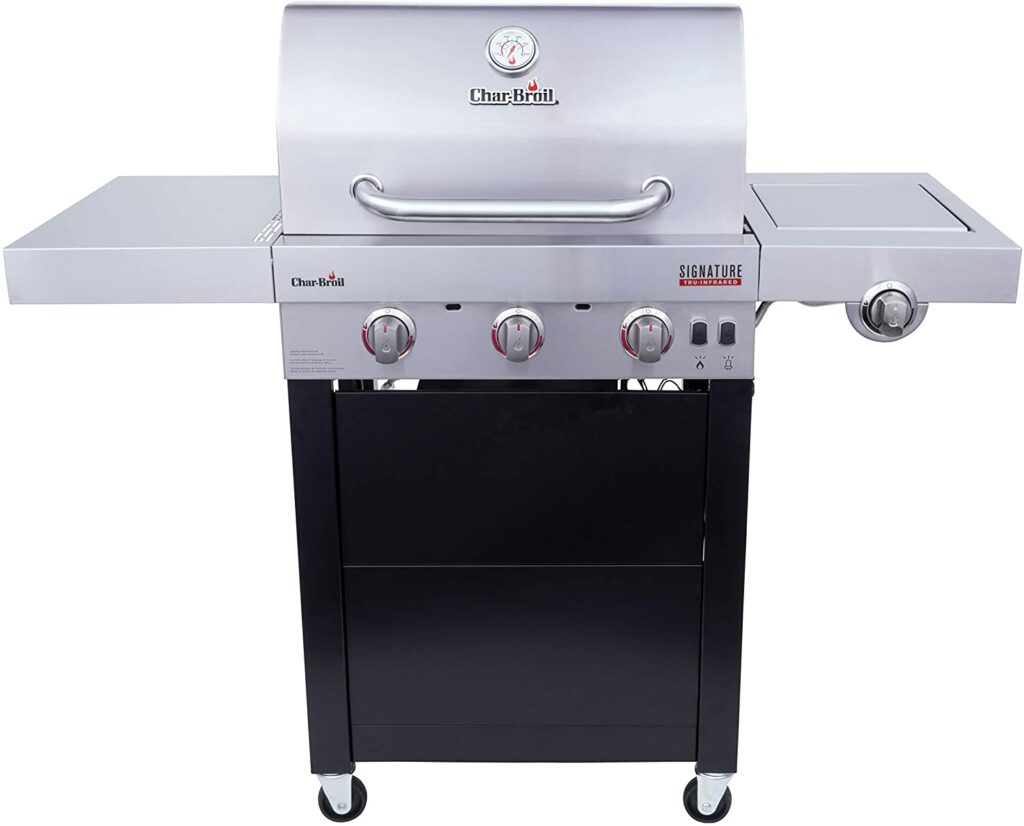 376 Char-Broil's offerings are minimal compared to Weber's. Char-Broil makes no truly 3-burner grill. Here is a detailed review of this grill to help you understand how Char Broil Grills is different from Weber's.
Heat Output and Cooking Performance
This grill too, has three main burners and a side burner integrated into the right table. However, it still costs less than Weber's 3-burner models with a side burner.
The Char-Broil gas grill comes in an enclosed cart style with a porcelain-enameled cast-iron storage cabinet and a stainless steel overall finish. It measures 52.8 x 22.5 x 47.2 inches and weighs 106 pounds. 
It's still less than Weber's 3-burner grill, which weighs 152 pounds. In addition, it rests on four sturdy casters (two of which lock) for easy maneuverability, compared to Weber's two all-weather wheels. The Signature 3-Burner grill boasts a 24.2-in wide x 17.6-in deep primary cooking space. 
This grill comprises porcelain-enameled cast iron. These cooking grates are easy to clean and heat-resistant cooking grates that are rust-resistant and easy to clean. 
This grill, too, is TRU-Infrared enabled–meaning it uses emitter plates to act as a barrier between the open flames and cooking grates. 
It has a warming rack of 155 sq. in., measuring 22 X 7.5 inches. It can host up to 11 ears of corn at one time. In addition, it has a 13,000 BTU side burner for making side dishes. You can fold down the lid over the side burner and get additional space to use as a side table.
You can also save on fuel by reducing cooking times and flare-ups, plus always having juicier, tender food and even heating across the grilling surface. 
Design and Build Quality
The grill features a premium stainless steel construction for stability and longevity. The removable grease tray makes cleanup a breeze. 
The stainless steel lid has a temperature gauge built in to show the cook box's temperature. So you can check your food's condition and doneness without lifting the lid.
The grill has a SureFire electronic ignition system. It ensures that the burner ignites in no time with a single push only.  
LED lights on the control knobs are present for controlling grill's temperature during night BBQ parties. It adds matchless beauty to your grill's front panel.
A gas pressure-based fuel gauge has also been integrated into the regulator for an accurate fuel amount estimation. Overall, this grill is feature-rich, durable, and yet budget-friendly. These qualities can be aptly described as a clincher–stamping Char-Broil's legitimacy as a grill manufacturer.
Pros
A lidded side burner
Durable, easy to clean, and powerful
TRU-Infrared cooking technology
Gas pressure-based, accurate fuel gauge 
Weighs much less for a 3-burner gas grill
Cons
The propane tank goes inside the storage cabinet right under the firebox. A hazardous design flaw, indeed.
Char Broil vs Weber: Multiple-Burner Models' Complete Comparison
These models often come with extra burners alongside main burners, such as a rotisserie, side burner, and sear station burners. While Char-Broil offers some models with a rotisserie or side burner, Weber is a clear winner because of the diversity of extra burners.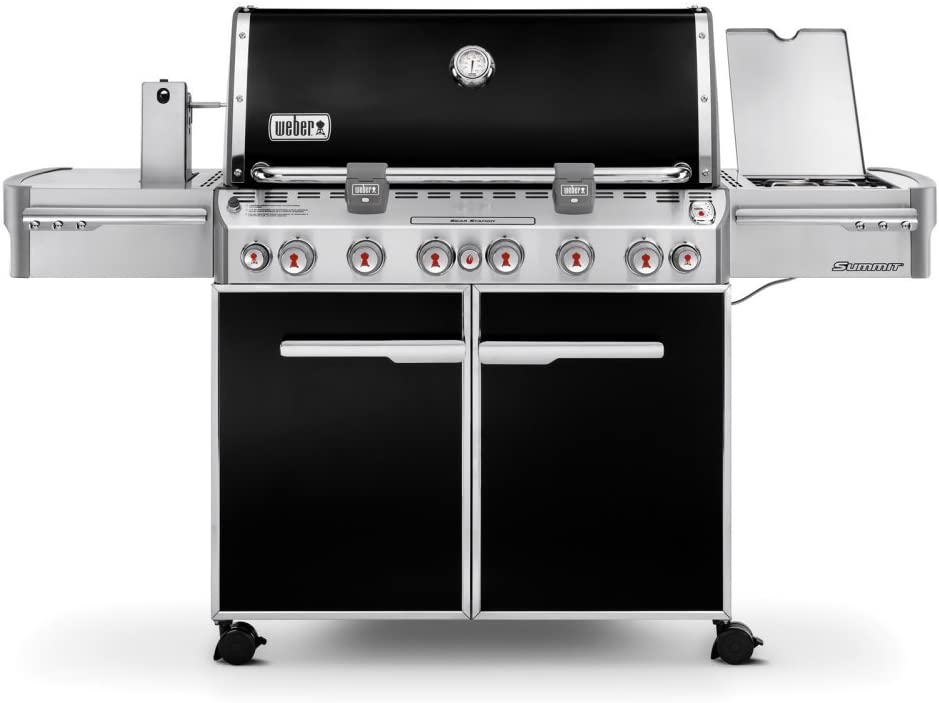 This E-670 is one of the luxurious Weber gas grills, indeed. Let's find out what makes this grill so special.
Heat Output and Cooking Performance
The grill measures 30 X 74 X 57 inches, making it spatial for big gatherings.
It has six main burners powered by Snap-Jet individual burner ignition systems and outputting a collective power of 60,000 BTUs per hour. Besides the main burners, there are:
Side burner of 12,000 BTU
Sear station burner of 10,600 BTU 
Smoker burner of 6,800 BTU
And a 10,600 BTUs rotisserie burner at the rear. 
The grill features stainless cooking grates with 9mm diameter rods, stainless steel flavorizer bars, and a whopping 769 Sq inches of cooking space–including 624 square inches of primary cooking space and 165 square inches of the warming rack.
The side burner is also a nice feature for connoisseurs who love multitasking.
The grill has a sear station in the middle of the cook box–an aggregation of three closely placed burners for searing steaks. Sometimes, you can't achieve a good sear with a single burner–regardless of how powerful it is. 
The rotisserie burners direct heat onto your whole chicken or turkey right from the dome. The rotating mechanism is present in the left table. You need to connect your grill to an AC outlet to use the rotisserie feature.
Indirect cooking can be a big problem with small gas grills. The Summit-670 grill's sear station solves this problem by combining the output of three or more closely spaced burners. 
It's valuable for you if you love beautiful sear marks on their food. For example, you can put your steaks in the middle of the cooking surface with the sear station off and the rest of the burners on for juicier, tender steaks.
The smoker burner is present on the right of the grilling surface. Put in wood pellets/smoker pellets of your choice, turn the heat on, and let the smoke infuse your food with a delicious, charred, smoky flavor. 
Design and Build Quality
Weber has put all the features they have been putting in their premium grills, like:
Enclosed cart design
Painted steel doors
Cast aluminum handles which are chrome plated.
It further boasts a seamless stainless steel construction.
The front-mounted lighted control knobs are functionally important as well as aesthetically appealing. 
The mesmerizing Grill Out handle lights are a valuable addition indeed. The two-lid handle lights come with an integrated tilt sensor that turns on the lights automatically as soon as you raise the grill's dome. 
The Summit E-670's cast aluminum cook box is efficient and durable. The shape and design of this are such that it doesn't let the heat escape but retains it.
As for the side tables, they're so big and sturdy that they're unfoldable. However, they come with redesigned and reimagined integrated tool hooks. 
There's also a tank scale on the front panel. You can check the fuel status with a single push of the button. As soon as you push the button, one of the five points on it illuminates to show the fuel level.
It's what you can't find in other gas grills, which require you to bow down and read a traditional analog fuel gauge. The front panel has a bit (or more) of an aesthetic appeal.
For easy cleaning, the grill has an angled grease management tray with a large grease collection pan for easy cleanup. In short, the grill is matchless among the Weber premium line up!
Pros
Feature-rich and truly flagship 
Aesthetic design 
Heavy but sturdy and durable, made to last for decades 
A well-designed grease management system 
An extensive cooking space of 769 square inches 
Beautiful front panel with illuminated control knobs for night bbq
Features a great variety of burners–great for multitasking.
Cons
The price tag is a bit high.
Difficult assembly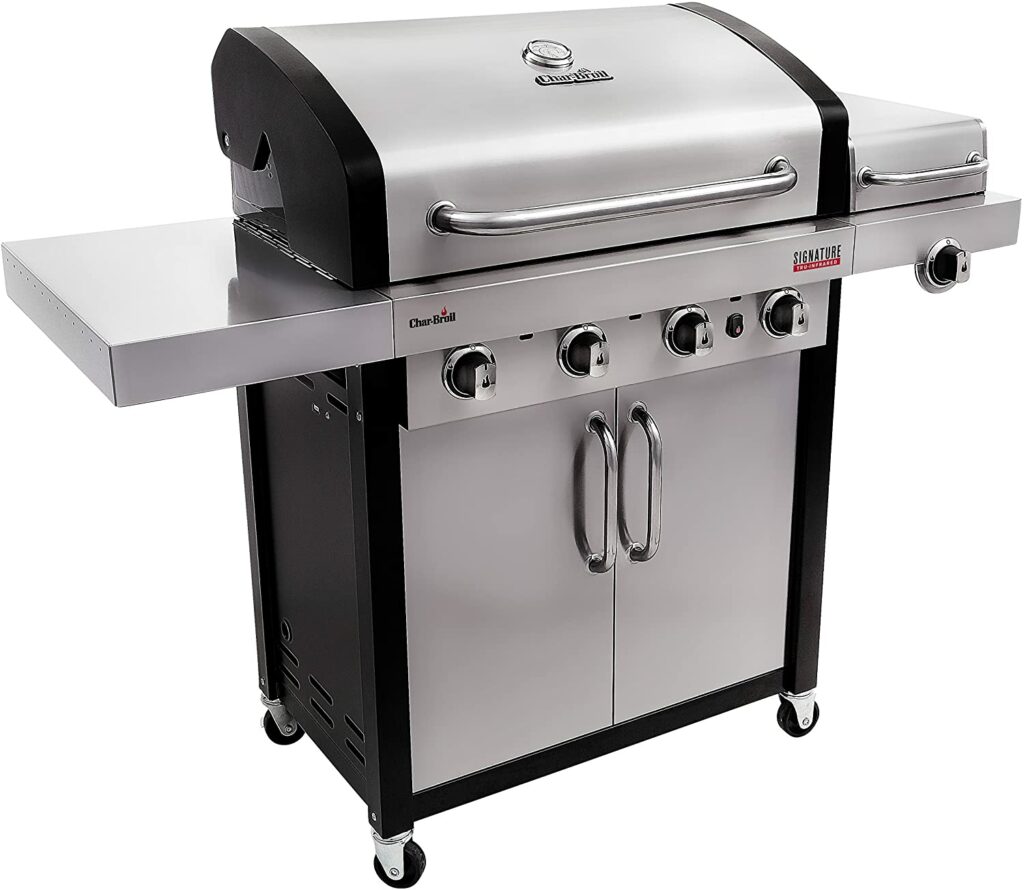 It's a 4-burner grill with four 443 stainless steel, durable burner tubes, incredible performance, and enhanced temperature control. 
How is this grill comparable to Weber's grills? Let's find out!
Heat Output and Cooking Performance
The grill measures 23.5 x 57.2 x 47.2 inches and weighs 162.9 pounds.
It has a primary cooking area of  525 Sq in. In addition, you get a 200 square inch porcelain-enameled warming rack. You also get a 13,000 BTU side burner. While the cast-iron cooking grates are porcelain coated. 
It's a family-sized grill with Char-Broil's flagship TRU-Infrared cooking system. Thus, you can grill your steaks over indirect heat instead of open flames. 
With this system, you get even temperatures with no flare-ups or hot and cold spots–reducing overall cooking times and fuel use. In addition, your meat juices are sealed, and you always get tender, more juicy food.
One of the best things about TRU-infrared cooking technology is that it doesn't involve any health risks associated with grilling over open flames. Grilling over open flames releases toxic chemicals from fat and protein–leading to cardiovascular diseases and cancer.
You can adjust the redesigned 443 stainless steel burners for a higher but controllable heat output across the entire grilling surface. The burner tubes also support zone or indirect cooking. 
The burners are powered by Char-Broil's Surefire electronic ignition system, because of which every burner delivers enough spark every time you push a button.
The lidded side burner has a fold-down cover that drops seamlessly over the burner to provide extra prep space when you're not using the burner. The 13,000 BTUs side burner is an excellent choice for cooking sauces and side dishes, besides preparing the main course on the primary burners.
The grill's cooking grates include heavy, sturdy, porcelain-enameled cast-iron rods. Thanks to a cast-iron build and porcelain coating, they retain heat well and are easy to clean.
Design and Build Quality
The grill features an enclosed cart design with a spacious storage cabinet for storing the tank and other items, such as wood chips, smoker pellets, grilling tools, sauces, etc. 
Two large, handled stainless steel doors hide your stored items. The grill features 4 sturdy casters (two of which lock) for easy maneuvering.
It's a pretty aesthetic grill with two side tables, a steel lid, and an integrated thermometer gauge. The alloy steel lid beside the grill sides (termed as fire box) have a porcelain coating to withstand weathering.
With an overall alloy steel construction, there's no question about the grill's longevity.
Pros
Aesthetic design
Sturdy and durable
TRU-infrared enabled
Features a lidded side burner with a drop-down cover
Features a spacious storage cabinet
Cons
Costly
Difficult to assemble
Char-Broil vs Weber: In-Depth Comparison
Heat output
You can count on both Char-Broil and Weber for an exceptional heat output compared to other brands on the market.
For Char-Broil, you may have to monitor your food to avoid overcooking or even burning it. Many Char-Broil users often complain about not being able to achieve a low temperature on their grill. However, that doesn't imply that Weber grills output any less or inadequate heat. Both brands roar on liquid propane.
Overall, Weber burners produce more heat in terms of BTUs per hour than competitive Char-Broil Models. Weber offers more products with the same number of burners but higher single-burner outputs. Char-Broil's offerings in the single burner number category are limited.
However, one shouldn't solely rely on heat output when comparing the two brands. For more accurate performance estimates, experts also consider heat output to cooking space ratio, how much heat gets distributed per square inch of cooking surface.
Most times, Char-Broil grills provide you with a higher BTU output per square inch of grilling area than Weber grills.
Cooking Grates
Cooking grates should be effortless to clean and also durable and show good heat retention and rust-resistant properties. They can be made of stainless steel or cast iron.
While cast-iron cooking grates retain heat well, they're difficult to clean and rust easily. One solution to this problem is coating them with porcelain. Luckily, both brands offer porcelain enameled cast iron grates instead of relying on a good cast iron finish.
Stainless steel cooking grates from either of the two brands are also good. Both use heavy gauge stainless steel to make sturdy and durable cooking grate rods.
Ignition System
With Weber Spirit and Genesis models, you get the never-failing, all-weather Infinity electronic ignition system. Weber's most advanced Summit grills feature the Snap-Jet individual burner electronic ignition system that's even more reliable and lightning-fast.
On the other hand, basic Char-Broil models have an (unnamed) electronic ignition system. Char-Broil's TRU-infrared enabled grills include a Surefire electronic ignition system that is more reliable and promises a never-failing capability.
Grease Management System
Weber has a clean upper hand over Char-Broil for an efficient and easy-to-clean grease management system. However, Char-Broil's grease management system presents almost a similar design and functionality to that of Weber's. The only difference is that the grease tray in a Weber grill slides out from the front, as opposed to Char-Broil's, where you can access it from the rear.
Wheels
Different Weber grills sit on either two or four wheels. If your Weber grill is a 2-wheel model, you get two big, all-weather wheels on one side and two thick stand-legs on the other side. 
You can move these grills even on the roughest surfaces by using the other side table as a handle to push the grill along. If you buy a 4-wheel Weber model, you'll probably get two big, sturdy all-weather wheels and two swivel locking casters.
On the other hand, almost all Char-Broil gas grills come with four sturdy casters (two of which lock for stability).
Warranty
Warranty just shows the manufacturer's confidence in their products. Weber is a clear winner in this domain because it offers more comprehensive and extended warranties on its products. You get a 12-year warranty on 2022 Genesis gas grills and a 10-year warranty on Spirit, Spirit-II, and Summit gas grills.
On the other hand, Char-Broil provides a 5-year warranty on Grill Hood (top half) and primary burner tubes. There's a limited 1-year warranty for the grill body, side burner, and defective parts.
Price
Char-Broil grills are a novice's entry to the grilling realm when it comes to affordability. They're cheap in terms of money but not in quality and features. Their price is way less than a Weber model with similar specs.
Weber grills cost more because of their extra features, high-quality materials, and longevity. But it seems they also charge for their products' aesthetics. They're a reputed manufacturer and probably take advantage of their market position and domination. Similar to "Apple Tax," there's undoubtedly a "Weber Tax" in place.
However, Weber legitimately deserves some more money because of the high cost of manufacturing outstanding products.
Our Final Verdict
A Char-Broil grill is all you need to taste deliciously grilled food if you're a beginner. The reason is that Char Broil grills have a relatively high heat put-to-cooking surface ratio and are durable and easy to clean. You can look for some top Char Broil Grills.
They also cost less than a Weber grill with almost similar features and the same number of burners. Char-Broil TRU-Infrared enabled grills are especially suitable for producing juicier and tender food while keeping fuel use to a minimum. In addition, indirectly cooked meats and other foods are healthier and safer for your long-term well-being.
If you're a seasoned griller and have a decent amount of money in your pocket, a Weber grill may be your way to go. Weber has multiple and more diverse options available than Char-Broil.
universitygrill.net is a participant in the Amazon Associate program and will earn from qualifying purchases.