Everyone loves jerky, whether it's a snack or used as a side dish. But finding good quality turkey can be difficult. 
That's where Costco comes in. Costco is famous for its large variety of fresh and frozen food items. 
Costco has a large variety of jerky options, and turkey jerky is one of them. Their most popular turkey jerky brand is Kirkland Signature Turkey Jerky. It's available in-store and on their online website. 
Costco Turkey Jerky; what's the Hype?
Known for their affordable prices, Costco always delivers on their quality. 
Why should you buy turkey jerky from Costco when you have many other options? What is it that makes Costco's Signature Kirkanld turkey jerky so unique? 
Please read our complete guide to find out!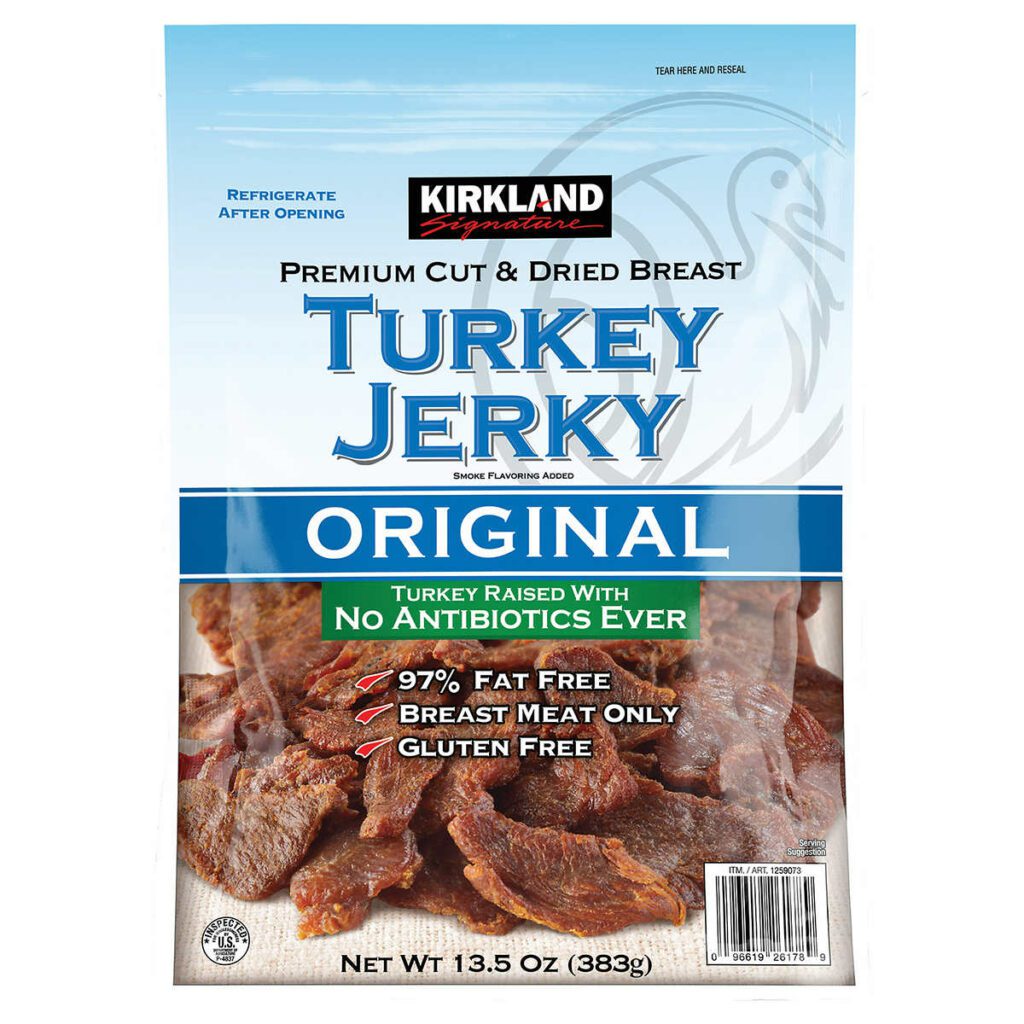 Costco's most popular Turkey Jerky is Kirkland Signature Turkey Jerky. It's 97% fat-free and consists of 100% breast meat. 
The jerky is extremely tender and full of flavor. Being high in protein, Costco Turkey Jerky is a great snack for all ages! 
It's marketed as premium cut and dried turkey breast. Costco's brand of Turkey Jerky is antibiotic and gluten-free. It's low in fat and calories, which makes it a perfect treat! 
Let's look at some individual features of Costco Kirkland Signature turkey jerky. 
What does the packaging look like?
Any product must have durable packaging that helps preserve the product's shelf life and quality. Costco turkey jerky is sold in a large re-sealable plastic bag. 
The bag is made with high-barrier packaging materials that increase its shelf life to approximately 8 months. The zip-lock lining on the bag keeps the jerky fresh and ready to enjoy. Now that's a quality you can't overlook. 
How much does Costco Turkey Jerky Cost?
Finding good-quality turkey jerky worth your spending on it can be a struggle. Luckily, Costco is known for its affordable wholesale prices. The prices for jerky differ from brand to brand and the type of meat used. 
Costco sells its Kirkland Signature Turkey Jerky for $1.56 per ounce (about 28 grams). The price for one pack of Kirkland Signature Turkey Jerky is $20.99. Each pack contains 13.5 ounces of turkey jerky (about 385 grams). 
What does the Turkey Jerky look like? 
We've all heard the saying, "never judge a book by its cover ."We're here to tell you that this doesn't apply to food. You should ALWAYS judge a food item by its appearance, as it can tell you a lot about the quality of the product. 
When it comes to Costco's turkey jerky, you'll find it in different shapes and sizes. The turkey jerky is big and looks like regular beef jerky. 
It's tender and easy to rip off or tear. The edges are thick, and you can smell the smoky aroma when you open the bag. The texture is dry and salty. Each turkey jerky is a good size and looks easy to bite. 
It's safe to say that Costco's dried and salted turkey jerky looks just as delicious as it claims to taste. 
What goes into making Costco's famous Turkey Jerky? 
Nothing beats a good-tasting turkey jerky. But what goes into making these delectable snacks, one might wonder. Don't fret! We have Costco's complete list of ingredients to create its perfect turkey jerky. Ready to find out? Keep reading, then!
The following ingredients are used to make Costco's Signature Turkey Jerky pieces:
100% Turkey Breast Meat (raised without any antibiotics)
Tamari soy sauce (made with a combination of water, soybeans, salt, and sugar)
Water (as required)
Brown sugar (granulated)
Vinegar
Natural smoke flavor 
Garlic powder
Onion powder
Apple juice concentrate
Spices
Salt to taste
What does Costco Turkey Jerky Taste Like?
By now, we know the facts and figures about Costco turkey jerky. Now it's time for the taste test. That's the real assessment. If we know one thing to be true, flavors don't lie. Will the taste convince you to buy turkey jerky from Costco? Guess we'll find out!
When it comes to taste, Costco's turkey jerky has a subtle flavor. It's not too salty and not too spicy, either. We can say that it's not overwhelming at all. 
The turkey jerky is smoky with a dab of sweetness. Some may describe the taste as caramel-like with burnt notes. The texture of the turkey jerky is similar to regular beef jerky. 
The Kirkland Signature Turkey Jerky is marinated for 24 hours to give it a unique flavor. You can taste the marinade that they use due to its strong flavoring. 
Overall, Costco's Kirkland Signature Turkey Jerky is extremely tasty and flavorful. Similar to regular beef jerky, it's tough to bite. The thickness of the jerky strips makes it a little hard to chew. Nonetheless, it's bound to give you an amazing turkey jerky experience. Is that convincing enough for you? 
How can you Store Turkey Jerky from Costco?
Nothing's more annoying than figuring out what to do with the food once it's out of the package. You can't just shove everything in the fridge, nor can you leave everything out in the pantry. Every food needs proper storage according to its type. 
Once you open the packaging, you have to refrigerate the turkey jerky. If you want to store the opened package in the pantry, it'll stay fresh for about one to weeks. Costco Kirkland Signature turkey jerky will stay fresh for about a month in the refrigerator!
Nutritional Facts about Costco Turkey Jerky 
You should always read the nutritional facts on any food label as they provide valuable information about the product. Let's look at some of Costco's famous jerky brands. 
Kirkland Signature Turkey Jerky is a quick and convenient snack. It's high in protein (about ten grams for three strips of turkey jerky). Each turkey jerky consists of 3g carbohydrates, 153g sodium, and 2.6g sugar. 
In total, the entire bag of turkey jerky contains about 14 servings. The serving size is 3 pieces of turkey jerky per bag. It contains 80 calories and ONE gram of fat only. That's pretty nutritious if you ask us!
But
Beware, you might eat more than 1 serving and thus consume more sodium and sugar–it can be bad for you. 
Should you buy Costco'c Turkey Jerky?
We care about our beloved readers, so we want to give you as much information as possible. We want you to make wiser choices with your time and money. If you're considering buying turkey jerky from Costco but are still unsure, we have a list of pros and cons. 
So take a look! 
Pros of buying turkey jerky from Costco
Costco turkey jerky is lower in fat than beef jerky, making it suitable for people who want to lose weight.
It contains high amounts of protein–each serving of Costco turkey jerky contains about 10 grams of protein. 
It's low in calories, making it a healthy snack option. Whether it's a hike or a run, you can count on Costco turkey jerky to satisfy your cravings!
It's gluten-free, which makes it easier to digest, and it doesn't cause inflammation. 
The jerky is soft and delectable. Now that's a pro you can't resist! 
Costco Kirkland Signature Turkey Jerky is affordable in price. 
They use high-quality meat. The jerky is made using 100% turkey breast. Sounds rich! 
They claim to raise their Turkey with zero antibiotics. This means that the product is organic, and no antibiotics were used at any point. Not even in the incubators! 
The packaging is convenient. Their zip-lock bags make it easy to store the turkey jerky after opening the bag. 
And lastly, it's easy to eat on the go! Did we mention that it tastes scrumptious? 
Cons of buying Costco's turkey jerky 
While we praise Costco for its mouth-watering turkey jerky, let us warn you that it's not all that perfect. You might consider a few cons before buying turkey jerky from Costco. What are the cons, you ask? Read on!
Since Kirkland's Turkey Jerky doesn't have preservatives, it lacks the typical freshness of packaged foods. Therefore, they also need to be refrigerated to keep them fresh.
The sodium content is very high for Costco's turkey jerky. Each serving of turkey jerky contains 460mg of sodium. That's almost 20% of the daily max. Yikes!
It contains high amounts of sugar. One serving of Costco turkey jerky has 8g of sugar. That's approximately 29% of the daily max. It doesn't sound too healthy now, especially for diabetics!
It's extremely chewy, making it difficult to consume. Some pieces of turkey jerky are TOO HARD to eat. 
It dries up your mouth. We suggest you have a lot of drinks on board. The lack of moisture in the turkey jerky is to blame for this. 
Lastly, Costco has limited options when it comes to turkey jerky brands. Currently, only one brand is available that makes turkey jerky. It's called Kirkland Signature and contains various products, including turkey jerky and turkey jerky dog treats. 
FAQs
Is jerky a slice of raw meat?
Costco Kirkland Signature Turkey Jerky is a completely cooked product. It's been cooked, dried, and then preserved by draining all the moisture. This makes it an easy snack. The downside is that you can't store it without a refrigerator for longer periods. It's sensitive to oxygen and heat and can spoil easily. 
Is Turkey Jerky healthier than beef? 
Definitely! Not only is turkey jerky lower in calories, but it's also lower in saturated fat. On the other hand, beef jerky is higher in saturated fats and comparable in protein content with turkey jerky. 
Conclusion
So, now that you know everything that you need to know about Costco turkey jerky, do you think it's worth buying? 
Let's give you a simple exercise to collect your thoughts. Imagine that you're on a hike with your friends and take a small break. You're craving a meaty snack to enjoy with your drinks. Do you wish you had a bag of Costco Signature turkey jerky? If you answered yes, that's your cue. 
Next time the hunger strikes, you can definitely have Costco turkey jerky.
universitygrill.net is a participant in the Amazon Associate program and will earn from qualifying purchases.