Upon checking out the Popeyes menu, you'll find multiple combos in the category named, you guessed it, 
Combos *are mind-blown*. 
Each combo has a sub-category; you can choose the desired one. 
Sounds easy!
Each Popeyes combo comes with a biscuit, a side, and a drink. You can choose your favorite dipping sauce from their wide range of delectable sauces. 
Their famous sauces include Popeyes sweet heat sauce, Popeyes blackened ranch, wild honey mustard, Popeyes mardi gras mustard, and Popeyes creole cocktail sauce, to name a few.
Now let's get into these exciting Popeyes combo reviews, shall we?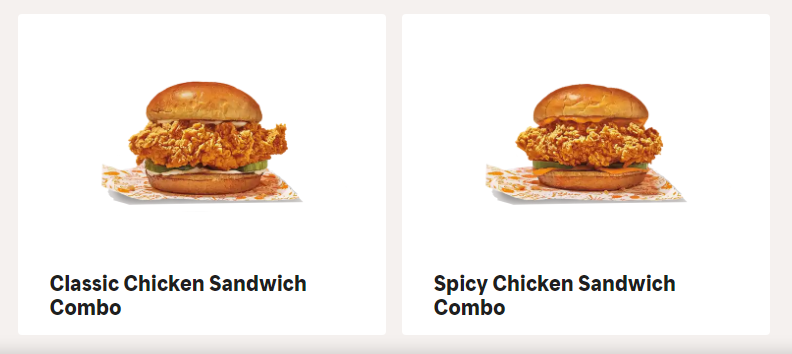 The first category is called "The Sandwich." 
You might be wondering, isn't it a burger? 
The answer is "yes" and "no." 
At least, according to Popeyes. The sandwich consists of toasted brioche buns layered with a HUGE chicken breast cooked to perfection. It's topped with mayonnaise and some crunchy pickles. 
Is your mouth getting watery yet? 
The crispy chicken breast comes in two forms; blackened and white. Popeyes has two combo options for their signature sandwich. Let's know about both of them.
Classic Chicken Sandwich Combo
First off, we have the Classic chicken sandwich. This combo consists of one signature chicken sandwich, fries, and a drink. It contains a total of 1,125 calories. This combo will cost you a total of $7.69.
Now let's talk about the taste. 
The Classic Chicken Sandwich Combo is as delicious as it smells. The chicken breast is nice and big. It's juicy and crunchy when bitten into. Even the bun is soft and crispy. 
The barrel-cured pickles add additional flavor to the sandwich. The mayo gives the sandwich an extra kick!
Spicy Chicken Sandwich Combo
Next, we have the spicy chicken sandwich combo. It comes with a spicy chicken sandwich, with fries and a drink. It has a total of 1,125 calories. The combo is priced at around $7.69.
Taste-wise, the spicy chicken sandwich has a robust taste that melts into your mouth. The chicken breast is spicy, and you can also add the additional sauce that comes with it. It's not dry at all and leaves you wanting more! The fries come as a side, but you can also choose mashed potatoes with gravy.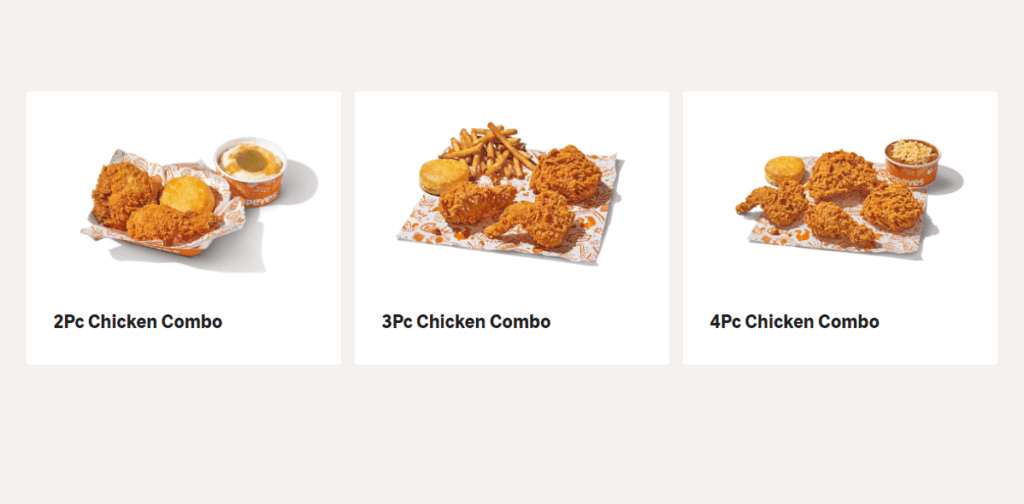 The second category of Popeyes combos that you'll find is the Signature Chicken. 
It consists of different pieces of chicken, including drumsticks, thighs, and breasts. Each chicken piece is tender and juicy in its way. 
The flavors range from mild to spicy. 
These Popeyes combos come with a drink and a side of your choice, including the infamous Popeyes biscuit. Astounding right?
2Pc Chicken Combo
This Popeyes combo includes two pieces of chicken, one of Popeyes's sides, and a drink of your choice. The two pieces of fried chicken are 1,072 calories. The cost for this combo is $6.79.
The fried pieces of chicken are perfectly moist and tender. They're perfectly cooked from the inside out. 
All the flavors balance each other nicely. The chicken is coated with a thick layer of breading. 
It comes in two flavor options, one is spicy, and the other one is mild. You can also enhance the taste by dipping it in your favorite sauce.
The renowned Popeyes biscuit that comes with the combo is soft and crunchy. It's not fruity and can be enjoyed before or after the meal. Overall, this combo is perfect if you're looking for a light snack!
3Pc Chicken Combo
This sub-category consists of 3 pieces of fried chicken, including one breast piece, one thigh, and one drumstick, along with a side and a drink. The total calories for combined pieces of chicken are 1,432. The cost for Popeyes 3pc chicken combo is only $7.99.
Each piece tastes unique yet, equally flavorful. The variety of chicken pieces gives you a fun eating experience as you pick your favorite piece from the combo, whether a thigh or a breast. This combo is great for when you're hungry and want something to fill you up!  
4Pc Chicken Combo
This combo contains four pieces of chicken, a side, and a drink of your liking. It has a total of 1,662 calories. The price for this particular combo is $9.19.
You can enjoy the chicken or pair it with mashed potatoes. If you love fried chicken, this Popeyes combo is just what you need!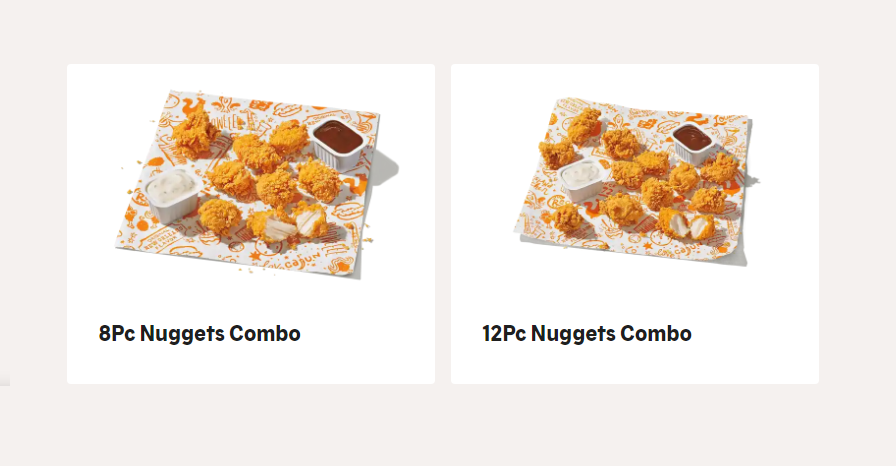 Who doesn't love nuggets? We certainly do. 
And after knowing about these Popeyes nugget combos, you'll love them too! 
The combo includes juicy nuggets and one Popeyes biscuit. The nuggets are made with chicken breast pieces. Each piece is hand-battered and then coated in creamy buttermilk for breading. 
They're served with two sauces, ranging from mild to spicy. Let's learn more about these scrumptious combos!
8Pc Nuggets Combo
This combo consists of eight pieces of luscious chicken nuggets and two sauce options. The combo comes with a Popeyes biscuit. It has a total of 1,013 calories. The cost is $3.99 for this combo.
Each piece of the nugget is thin and lightweight. The rich breading makes these Popeyes nuggets extremely crispy and adds just the right amount of crunch to them.
12Pc Nuggets Combo
It has twelve pieces of nuggets, two sauce options, and one biscuit. This combo has a total of 1,204 calories. It's priced at $5.99.
Whether you're on a long road trip with your friends or having a sleepover and want a late-night snack, you can count on this combo to satisfy your cravings!
24Pc Nuggets Combo
Third, in the nuggets combo list is this combo that consists of twenty-four pieces of fried chicken nuggets with two mild to spicy sauce options and one Popeyes biscuit. It contains 2,288 calories. The price is $10.99 for this combo.
You can enjoy these mild and juicy nuggets with your friends or family. We highly recommend trying the Popeyes nuggets combos. They're finger-licking good!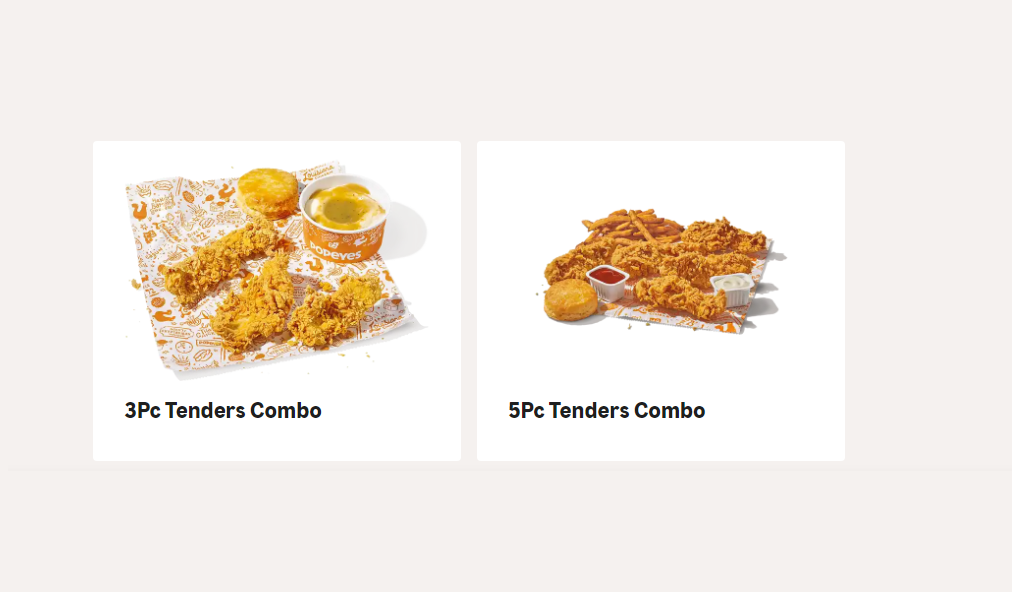 The chicken tender combo has spicy, mild, or blackened tenders, with a regular side, Popeyes biscuit, and a small drink. The chicken is perfected to a crispy tender that's savory in flavor. 
The tenders are handcrafted and marinated for 24 hours. 
Then the breading is applied. The breading is thick, and the tenders are well-sized. They're soft to bite into. 
Now that we have the basics covered let's look at the individual combos.
3Pc Tenders Combo
It has three pieces of crispy chicken tenders, a side, one biscuit, and a small drink of your choice. The three pieces of tenders contain almost 1,092 calories. It costs only $7.29.
The tenders range from mild to spicy. Each tender is succulent and has a savory flavor. 
The spicy tenders are not too spicy. Instead, they give off a peppery flavor that tingles in your mouth. The thick coating makes the tenders extra crunchy. 
You can enjoy these tenders with a side of some yummy Cajun fries!
5Pc Tenders Combo
This tender combo contains five pieces of finger-licking chicken tenders, one biscuit, your favorite side, and a drink. It has 1,402 calories. The price for this combo is $9.29.
Each tender is fully coated and fried to perfection. The quantity of chicken on the tender is less than the thick coating. This combo is an amazing snack option!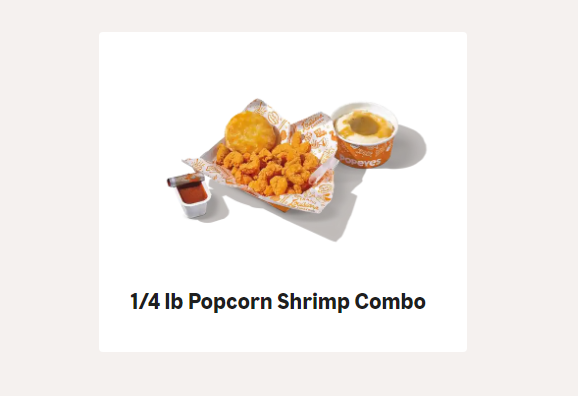 Aside from crispy chicken sandwiches, Popeyes also gives its customers tasty seafood options. Each seafood combo is served with a regular side, a small drink, and a biscuit. Their platter includes two regular sides, a biscuit, and a medium drink.   
The Popeyes seafood combo is interesting as it features both seafood and chicken options. How's that possible, you ask? Let's look at the combos and find out!
¼ lb Popcorn Shrimp Combo
It consists of a quarter pound of popcorn shrimp, a regular side, a Popeyes biscuit, and a drink. The shrimp contains a total of 1,022 calories.
The combo comes to a total of $6.99.
Crispy, golden-fried popcorn shrimps are an instant kicker! The shrimp is small in size, with a thick coating and a slight bit of sizzle. The familiar Popeyes flavor makes it a fan favorite.
Surf and Turf Combo
It features four Popeyes butterfly shrimp, two chicken tenders, two dipping sauces, a regular side, a Popeyes biscuit, and a small drink. It contains 1,148 calories. The suggested price for this combo is $7.
The butterfly shrimp is tender and juicy. It's heavily coated and has a nice kick to it. The juxtaposition between the crispy outside and soft, tender inside makes this shrimp so special. It doesn't taste fishy at all, and you can taste the Cajun seasoning.
The chicken tenders come in mild and spicy flavors. They're BIG to bite. The breading on the tenders also contains spices, allowing the spice to linger in your mouth.
What makes the Popeyes surf and turf combo special is that you're getting a combination of seafood and chicken. You can customize it according to your affinity with the sides you want and the dipping sauces.
FAQs
What is the most popular item on Popeyes' menu?
Popeyes has a variety of delicious items to choose from. Some of their most popular items include:
Signature chicken sandwich
Red beans with rice
Mashed potatoes with gravy
Popeyes biscuit
Crispy chicken tenders
Popcorn shrimp
Cinnamon apple pie
Cajun fries
Is Popeyes' food healthy?
Popeyes is a fast-food restaurant chain. Their items include chicken and seafood, which are healthy meal options. However, they deep fry their items and use high-calorie and high-fat ingredients that are considered unhealthy. Most of the items are also high in sodium.
Conclusion
It's no secret that Popeyes is globally famous for its high-quality food and amazing combos! Each combo is fulfilling and is sure to give you a good eating experience. We hope this article gives you more insight into Popeyes' combos. 
What do you think about Popeyes' combos? Do you think they're worth the price? The only way to learn is to try them out!
Grab your own Popeyes combo and give it a taste test. Better yet, invite some friends over and enjoy your combos together.
universitygrill.net is a participant in the Amazon Associate program and will earn from qualifying purchases.