Rec Tec grills are trendy among food experts for their performance, versatility, and ease of use. These gas-powered units deliver results similar or superior to a charcoal fire. 
In terms of versatility, a single-pellet smoker provides many cooking options. They're complete outdoor ovens that can roast, bake, grill, or smoke any food to perfection. 
Since you're looking for the best pellet smokers of Recteq, you already know how a pellet smoker works and the other details. So, at this point, let's jump headfirst into what you've come here for.
A Word About Recteq's History
Joe Traeger put together the world's first pellet grill in 1985 and patented it a year later. Traeger was the sole pellet grill manufacturer until 2006 when its patent expired. Thankfully, it ended Traeger's monopoly on the pellet grill market. Resultantly, other manufacturers entered the industry, the most notable ones being Recteq and Pit Boss.
Recteq, formerly Rec Teq, was founded by two grilling enthusiasts in 2009. The two friends had a humble beginning, selling their prototypes in local garages. 
But this proved immensely useful as they had the opportunity to hear directly from their buyers. Thus they continued developing prototypes after prototypes to find the perfect feature combination. 
Then, What is Making Rec-Tec Smokers so Remarkable?
Today, Recteq is famous for creating the industry's finest pellet grills with high-grade stainless steel construction. As of now, Recteq grills are sold all over the United States.
Recteq promises to deliver you the ultimate convenience, versatility, consistency, and efficiency. And it's what ensures mouth-watering flavor every time you cook. 
Recteq grills are simple to use, an essential feature of a pellet smoker. They're complete outdoor cookers with the ability to smoke, bake, grill, sear, and even dehydrate. 
Their temperature controller—the crucial part of a pellet smoker—is accurate and reliable. Most of them are shipped with a PID controller, leaving no question about the consistency of results. 
Recteq grills are also known for their high degree of fuel efficiency.
In the end, it would be unfair not to mention Recteq's excellent customer service. If the product is under warranty, they'll timely send you all the replacement parts you need. 
The staff at Recteq's customer support is amicable and helpful. Indeed, what sets Recteq apart from the other manufacturers is that they stand behind their products. They're always willing to go the extra mile in helping their customers.
Top Recteq Grills Reviews – They're only 4!
Most Recteq grills have garnered thousands of reviews on Amazon and Recteq's own website. Therefore, it can be challenging to find the right product among them for your needs. In addition, it's unwise to rule out the presence of any cons. 
Yet, there's another issue with prices. 
What's the point of buying a product that's overvalued or overpriced?
Who on earth would want a product that's not value for money? 
Yet there are a host of other issues!
Don't look anywhere else, as we have got you covered. Our review is solely about the best Recteq grills/pellet smokers to help you make the best purchasing decision. 
We have reviewed the best Recteq pellet grills for different price/feature categories. Let's get straight to the reviews.
(It's also interesting to note that Recteq's nomenclature indicates the primary cooking surface of their smokers. For example, the RT-340 has about 340 square inches of cooking area, and the RT-700 has 702 square inches of cooking area.)
The Rec Tec RT 590 was once known as the Stampede. Yet, Recteq has since based its nomenclature on the numbers for model names, which often hint at the primary cooking surface of the unit. 
It's a mid-sized smoker and, as expected, carries a lot of weight, about 190 pounds. Another unique feature of the RT-590 is its bombproof stainless steel construction.
Design and construction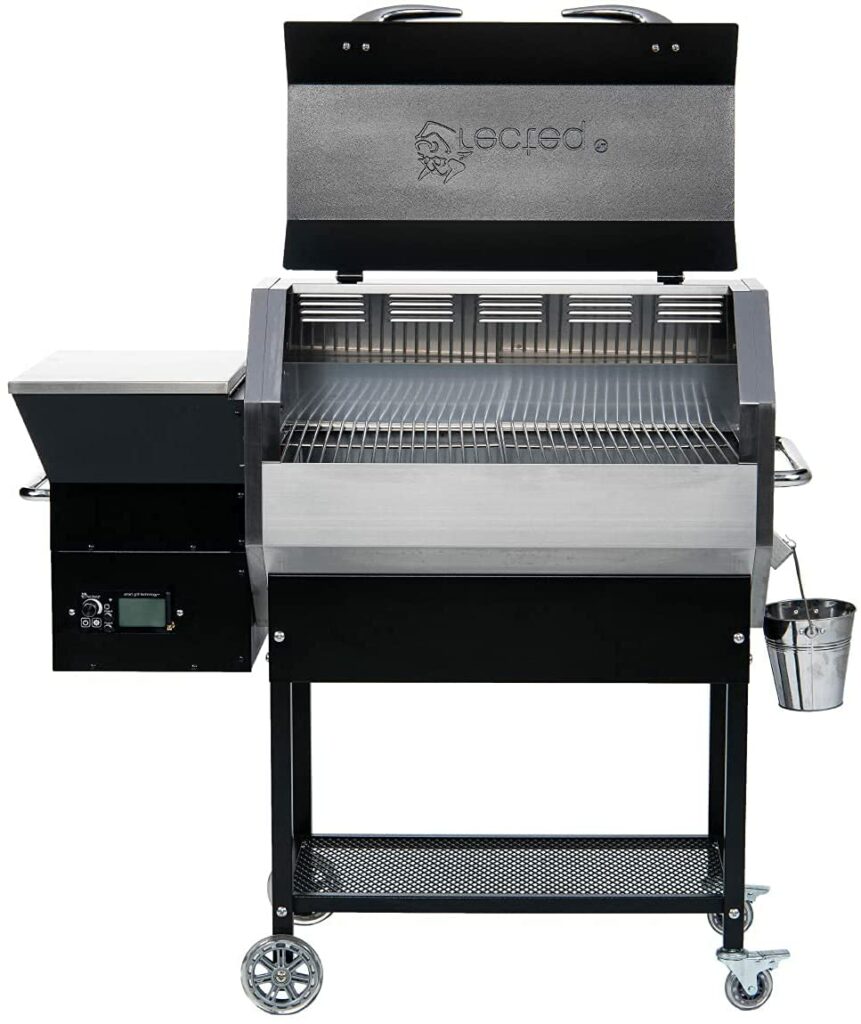 The RT-590 has an angular, octagonal design and a stocky, stable build. The reason is that the Rec Teq has used stainless steel to construct everything from the cooking chamber to the Recteq's signature bullhorn handles. Other stainless steel parts include the firepot, heat deflector, and drip pan. 
As for the exterior, you get black powder-coated steel. The shiny stainless steel barrel and the black powder-coated steel lid and body impart the RT-590 with its unique looks.
Recteq firepots are virtually indestructible. You get a heat deflector above the firepot that also offers protection to the firepot besides dissipating heat above.
A drip tray sits right above the heat deflector under the cooking grates. It has a chute that opens into an outside grease bucket.
The Recteq logo on the RT-590 is debossed on the steel lid instead of being a stainless steel slab bull logo. Therefore, the logo is less noticeable. It's a minor downside of the Recteq grill. 
Another design flaw is the presence of exposed vents on the grill's rear. Recteq has come up with this design to save space, as the grill has no chimney. 
So you'll have to buy a waterproof cover if you intend to use the grill outdoors. Otherwise, these exhaust ports can let rain in.
The legs are slightly undersized but okay for most people. If you're 6ft or above, the legs are definitely a deal breaker as they may not provide a comfortable cooking height.
As for the construction, the RT-590 is as excellent as other Rec Tec grills. Recteq grills are virtually indestructible, with their quality and construction second to none.
The overall construction of the RT-590 is seamless–there are no rough edges. The use of silicon thermal caulks over the seams in the cooking chamber and the pellet hopper is a testimony to Recteq's attention to detail. 
The same is the case with the ceramic ignitor rod, which has been rated at over 300,000 lighting cycles – nothing can be more appreciable among your BBQ gears and gadgets…!
Capacity
The RT-590 has a 30-pound side hopper, translating to continuous cooking of up to 30 hours. It has two hefty, 5mm thick stainless steel grates that provide 592 square inches of cooking area. 
The cooking area can be increased to 772 square inches with the optional second shelf. The cooking grates can accommodate 75 wings, 30 small-sized burgers, 18 standard-sized burgers, 4 racks of ribs, or 4 pork butts. Since there's a lot of headspace, it can also accommodate at least two large-sized whole turkeys.
Operations, controls, and performance
When it comes to a pellet smoker's performance, it directly relates to the type of temperature controller used. The RT-590 has a PID controller, the same type used by bakeries, breweries, and pharmaceutical companies for always consistent, reliable, and repeatable results. 
The conventional controller adjusts the auger motor and the fan speed the same way. On the other hand, a PID controller doesn't only control the auger motor and the fan separately. It also uses machine learning via constant feedback from the cooking chamber in order to predict any future temperature swings. 
Recteq's Smart Grill Technology controller also takes into account the ambient temperature to keep the temperature in the 10-degree range of your target.
The RT-590 uses an LCD backlit display, which is visible in direct sunlight. There's a rotary dial for temperature selection. 
The display shows your set temperature and the grill's actual and meat probe temperatures. You can set the temperature in the 180-700 degree range in 5-degree increments. It's an extremely precise temperature setting range, indeed!
When set to the LOW setting, the grill's temperature remains close to 180 degrees while it's about 700 degrees in the FULL mode – you can cook a beast in it! 
Recteq's one-button startup and shutdown feature – is meant to start a programmed startup and shutdown sequence. And it's another impressive thing about the RT-590. 
Pellet grills from other manufacturers require additional steps to start or turn off. Recteq's self-cleaning, auto-shutdown feature is especially helpful in reducing the frequency of cleanups that most pellet grills often demand.
The RT-590 is Wi-Fi-enabled. So you can access all the control panel features via Recteq's smartphone app. For example, you can start/turn off the grill, set the temperature, and read your grill's actual temperature and meat probe temperatures. 
The app also notifies you about temperature targets for both the grill and the meat probes. In addition, there's a line graph history of your set point, the grill's actual temperature, and meat probes.
Now for the performance, it's extraordinary. In the LO setting, the grill produces exuberantly wispy white smoke. The grill doesn't flame out and re-ignite itself, something which some other pellet grills do in a low and slow setting.
The RT-590, like most Recteq grills, is more than an ordinary smoker. In fact, it's a versatile outdoor cooker that can bake, roast, smoke, grill, sear, and even dehydrate.
Cleanup
The grill grates are made of premium quality stainless steel. You can use a grill brush to clean your cooking grates after every cook–there's no porcelain coating on the grates to chip away. 
Likewise, using an aluminum drip tray liner under the grates is the simplest way to perform a mess-free cleaning every time and prevent any grease fires.
Recteq recommends cleaning the ash from the grill's interior, firepot, and hopper after every 5-6 bags of pellets. They also advise you to use a vacuum cleaner as it leaves a thin film of ash on the barrel's bottom for insulation.
Using mild soap and water is the best practice for the grill's exterior. You shouldn't leave the pellets in the hopper for more than six weeks as they'll catch moisture and swell, jamming the auger.
Warranty
Industry-leading, comprehensive, 4-year warranty.
Pros
Well-designed
Sturdy construction for stability and durability
PID controller
WiFi connectivity
Versatile cooking functions
Two meat probes included
Automatic and easy startups and shutdowns
Heavy-gauge stainless steel is used in most parts
A broad temperature range, i.e., between 180°F-700°F
Cons
Exposed vents that allow moisture in
No pellet purge door
Recteq RT 700 Pellet grill is equipped with more stainless steel than any other pellet grill on the market. So, it doesn't come as a surprise that this grill finds the top place on our list. But this is not the only reason this unit gets us excited—we didn't pick this grill on a whim.
The RT-700 is, as it's nicknamed, the Bull in terms of size and the Beast in terms of performance. Incorporating stainless steel from the cooking chamber to the iconic bull horn handles and a PID temperature controller, the RT-700 is the top-rated smoker by user feedback.
Design and construction
The RT-700 features a 304 stainless steel firepot, heat deflector, and steel drip pan. Other stainless steel parts include hardware, cooking grates, drip pans, and a smoke cap (that goes onto a side chimney). 
The firepot is of exceptional build quality, rendering it virtually indestructible. A rust and corrosion-proof ceramic igniter rod–rated for over 100,000 lighting cycles–opens into the firepot. The ignition system has been named the HotFlash Ceramic Ignition system.
The RT-700 is barrel-shaped with a side control panel and a pellet hopper on the rear. There are two bullhorn handles on the front, and a side handle. The grill also has a bottom shelf and a washable interior light for nighttime grilling.
There are two big, sturdy wheels and two swivel locking casters for easy maneuverability and stability.
Capacity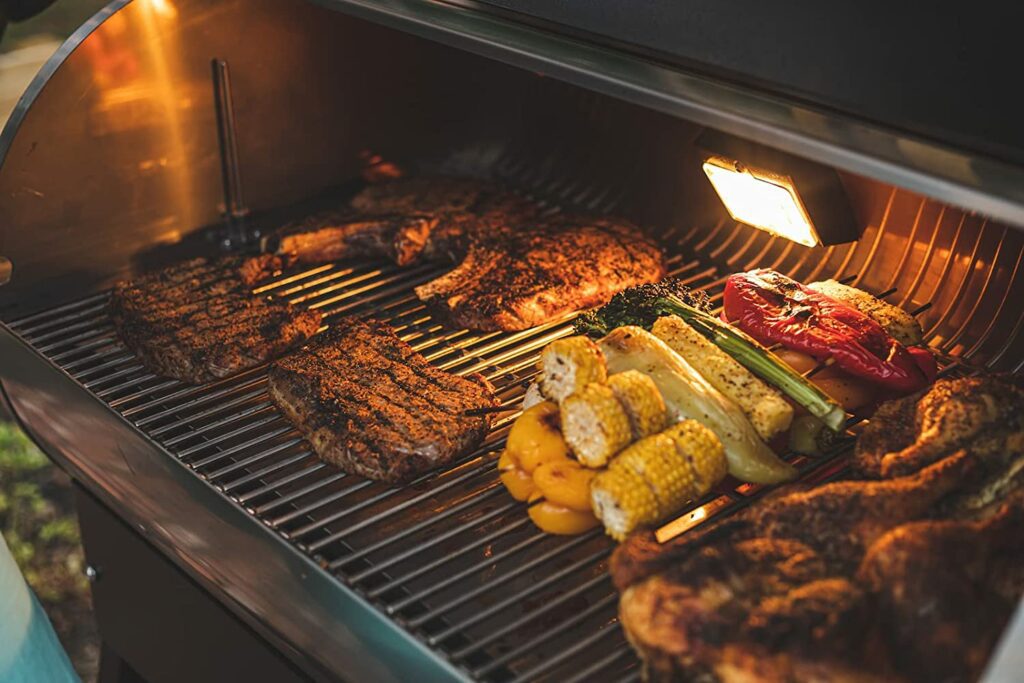 The RT-700 has 702 square inches of primary cooking space. It can accommodate up to 8 whole chickens, 5-6 baby back ribs, 100 chicken wings, or 25 bone-in pork chops. It's also spacious enough to hold large-sized whole turkeys.
An optional extra tier sits above the primary cooking rack and gives you 352 square inches of cooking space. Thus, it brings you a total cooking area of 1,054 square inches.
The pellet hopper can hold up to 40 pounds of pellets at a time, bringing the single, continuous cooking time up to 40 hours. How many briskets will you love to slow cook? It'll smoke them all!
Yet, here is some advice, fill it up less in shorter cooks as pellets can absorb moisture in there and go rancid.
Operations, controls, and performance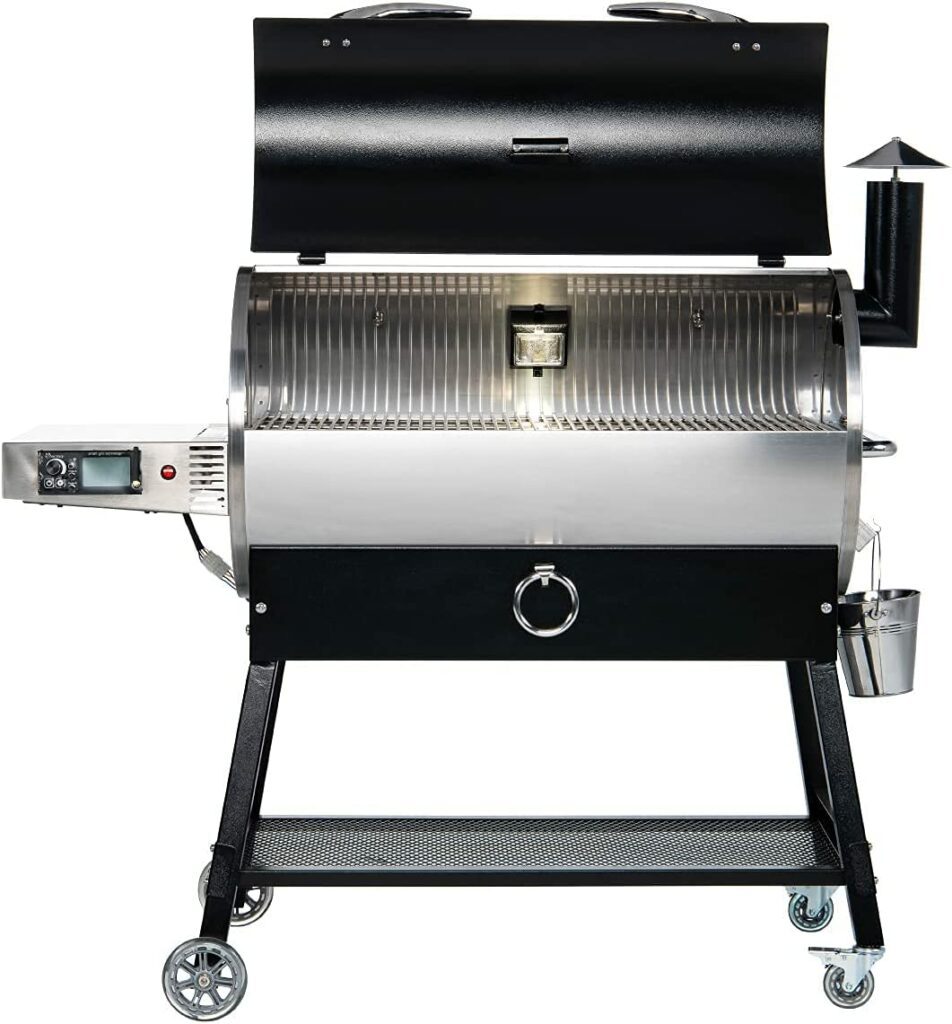 The performance of a smart pellet smoker generally depends on how well it can control the temperature. The RT-700 uses a PID-style Smart Grill Technology™ controller for repeatable results every time you fire your grill. 
It's the same controller used by bakeries, breweries, and pharmaceutical companies all over the world for dependable regulation of temperature.
A PID controller is superior to a conventional temp controller because it keeps a record of the previous cooks. It takes input from multiple sources/sensors and uses this data to predict future fluctuations. So, inside a Recteq grill, the PID algorithm uses temperature and fuel rate data to control the pellet burn rate by enhancing or limiting the pellet feed rate.
It's smart enough to slow down feeding pellets into the fire pot as the temperature nears the set point. In this way, it doesn't overshoot your target. 
Likewise, the Rec tec's temp controller adds more fuel as you lift the lid to compensate for the sudden temperature drop.
The RT-700's temp controller also considers weather conditions outside to control the flow of pellets into the auger system. So whether you're stationed at a frosty hillside or camped in a rainforest, you can count on your RT-700 to stay within about +/-5°F of your set temperature. It makes every place heaven for BBQ LOVERS! 
You can set your Recteq RT-700 anywhere between 180-500°F in five-degree increments. If 180 degrees seem a bit high for smoking, the LO setting takes the temperature below the 180°F mark for maximum smoke production. Similarly, you have a FULL setting to raise the temperature above 500°F for searing purposes.
The RT-700 is Recteq's flagship model. It's why it has WiFi, too, allowing you to check your grill's temperature remotely from your phone. Using the Recteq app, you can set the temperature, check the meat probe readings, and turn the unit off when done.
The RT-700 has two meat probes included.
You can use Recteq sear kits for the RT-700 to take your grilling experience to another level. 
These are three interlocking aluminum panels that replace one of the cooking grates as a single unit. Aluminum gets hotter quickly and is easy to clean.
And besides, these sear kits are versatile and reversible. They have a flat, holed surface and a ridged surface to accommodate various recipes. When cooking on the grooved surface, the ridges help you achieve perfect sear marks, and the grooves catch food drippings to vaporize them and infuse your food with an intense smoky flavor, just like Weber's iconic flavorizer bars.
Cleanup
The RT-700 has a cleverly designed, efficient grease management system, so cleaning it up is a snip. There's a heat deflector sitting on top of the firepot, also rendering protection to the firepot besides dispensing heat.
A drip pan goes right above the heat deflector. It directs excess oil and grease into a chute which opens into a side grease bucket. Both the drip tray and grease bucket are easy to wipe down.
The RT-700 has high-grade stainless steel grill grates. They're not porcelain-coated, but they're so sleek that you can maintain them without pain.
The hopper, however, doesn't have a pellet purge door. It can be inconvenient for some people to use a scoop whenever they need to take the excess pellets out. 
The reason for not including a pellet dump door, as stated by Recteq, is that it causes more harm than good–letting more moisture in. If you use good-quality pellets, they can stay in the hopper for 6 weeks before going rancid. But the best practice is to fill as many pellets as you can quickly use.
As for the firepot, you need to clean it after every 3-5 cooks. You can use a vacuum cleaner to perform a quick and deep clean-up. The RT-700 has a self-cleaning shutdown mode to reduce the frequency of firepot cleanups.
Warranty
The RT-700 comes with an all-inclusive, industry-leading 6-year warranty. Currently, no other brand offers such a long-term warranty on all parts of their pellet smokers.
Pros
The RT-700 is sturdy and stable, thanks to a high-quality stainless steel construction
40-pound pellet hopper that calls for fewer refills
Ceramic ignition system
Versatile, allowing you to smoke, grill, sear, bake, and dehydrate any food to perfection.
Includes a modern PID temperature controller
WiFi connectivity via the Smart Grill Technology-enabled control panel and the Recteq app
Interior light
Excellent performance
All-inclusive 6-year warranty
Cons
No pellet hopper cleanout door
Not portable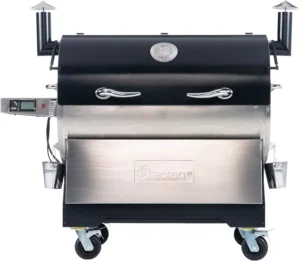 RT-2500 is a mammoth of a grill. The BFG could be short for The Big Family Giant, a 1982 children's book written by the British novelist Roald Dahl and illustrated by Quentin Blake. Or it could stand for Better, Faster, Cheaper–we don't know as Recteq hasn't given the slightest hint about what it could be. 
In terms of quality and price, the RT-2500 isn't, in any way, cheaper. One thing is for sure; it's built like a tank. In terms of performance, it's the king of the mountain. Indeed, it's beyond the competition. Let's get straight to the review.
Design and construction
The RT-2500 measures 66" long x 36" wide x 58 inches high and weighs about 560 pounds, just to give you an idea of how colossal it is. You see Recteq's iconic bull logo in the black powder-coated lid's center. 
The lid also has Recteq's signature bull horn handles. The lid itself is so massive that it has hydraulic arms to lift it. There are two sturdy side handles for easy maneuverability.
The hopper on the RT-2500 is located in the rear, and the control panel goes to the left side. You get two hanging grease buckets on either side of the grill. 
There are two chimneys with stainless steel smoke cups. The grill has four large-sized cartwheels that allow for some transportation. 
The wheels are the only parts that will rust within 2 years. For the rest of the grill, it's virtually rust-proof and indestructible.
RT-2500 also has a foldable front shelf that snaps back when you don't need it anymore. It has a round, barrel-shaped cooking chamber with two internal grill lights for nighttime cooking.
The external appearance alternates between black and a shiny stainless steel finish–the lid, the chimneys, and the lower body is black powder-coated steel. At the same time, the rest of the exterior, including the cooking chamber, is shiny stainless steel. The RT-2500, just like other Recteq grills, has a bottom shelf.
Capacity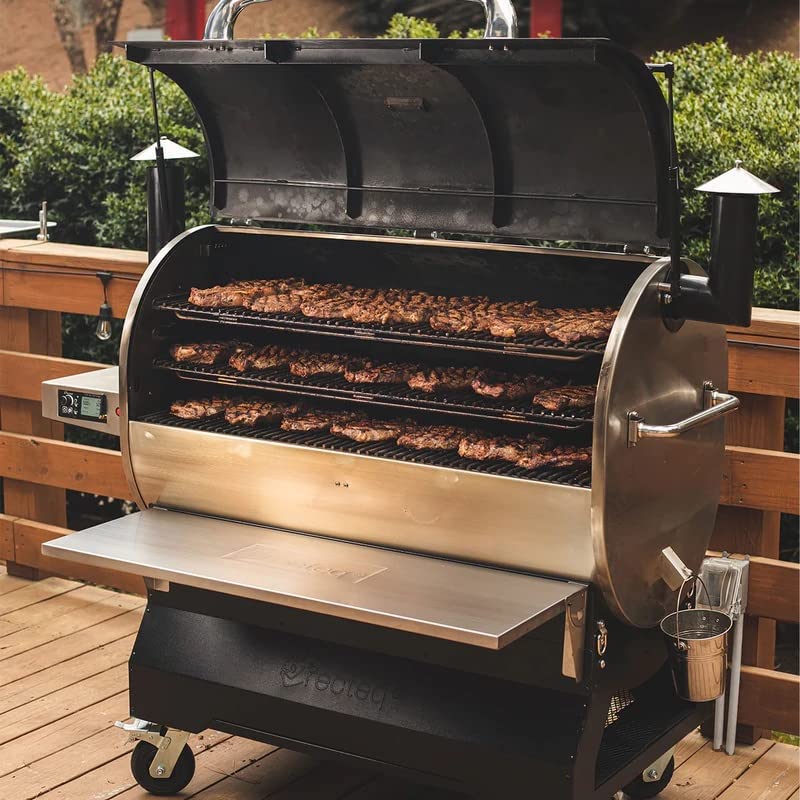 RT-2500 has a 53-pound hopper, meaning that, on average, you can enjoy 53 hours of continuous grilling and smoking. But who on earth cooks for two consecutive days? Anyway, it only means the refills would be scarce and far and few between–once in a blue moon.
With a primary rack and two adjustable middle and top ranks, the grill's total cooking area is about 2535 square inches, which is enough to feed an entire army with a single cooking session–no need to cook in batches anymore.
On the three racks, you'll be able to fit 30 whole chickens, 27 baby back ribs, 300 chicken wings, or 15 briskets at a time.
Operations, controls, and performance
The RT-2500 comes with a modern PID controller, which we have discussed in detail in previous reviews. It also has WiFi connectivity, allowing you to control and monitor your grill from the Recteq app. The grill also has auto startup/shutdown modes to make preheating and cleaning up after cooking easy.
As for performance, the RT-2500 has no competitors. You can adjust the temperature in the 180-500 degree range in five-degree increments.
Cleanup
Unlike other Recteq grills, the RT-2500 is massive as it has three racks and two side grease buckets. It's also got a bigger firepot and a larger drip pan. So cleaning it up shouldn't be easy.
Primary cooking grates and additional racks are stainless steel. Therefore, they're easy to wipe down with the help of a paper towel. Alternatively, you can use a grill brush to wipe any residual food off the thick and smooth grate rods. You can also use mild soap with water to clean them thoroughly.
Placing aluminum foil inside the pan and in the bucket before every cooking session is the best way to keep a post-cook cleanup hassle-free.
As for the grill's interior, you should use a vacuum cleaner to remove ash from the firepot and the barrel.
Warranty
RT-2500 comes with a comprehensive, all-inclusive warranty of six years. If you ever run into a problem, call Recteq's customer support, and they'll send you the replacement parts without asking any questions.
Pros
It has been built like a tank.
From the fire pot to the grill grates to the exterior, thick stainless steel is used everywhere.
It has a cooking surface area of about 2500 square inches
Sports three cooking racks
Features two chimneys and grease buckets
It has a foldable front shelf
Big cart-style wheels
Large pellet hopper
Cons
It doesn't have a pellet purge door
Expensive
Not so easily movable
RT-340, formerly the Trailblazer, is Recteq's portable, indirect smoker that offers about 340 square inches of cooking space. It comes with a PID-style controller and WiFi connectivity control panel. Read on to find out more about the grill's other specs and features.
Design and construction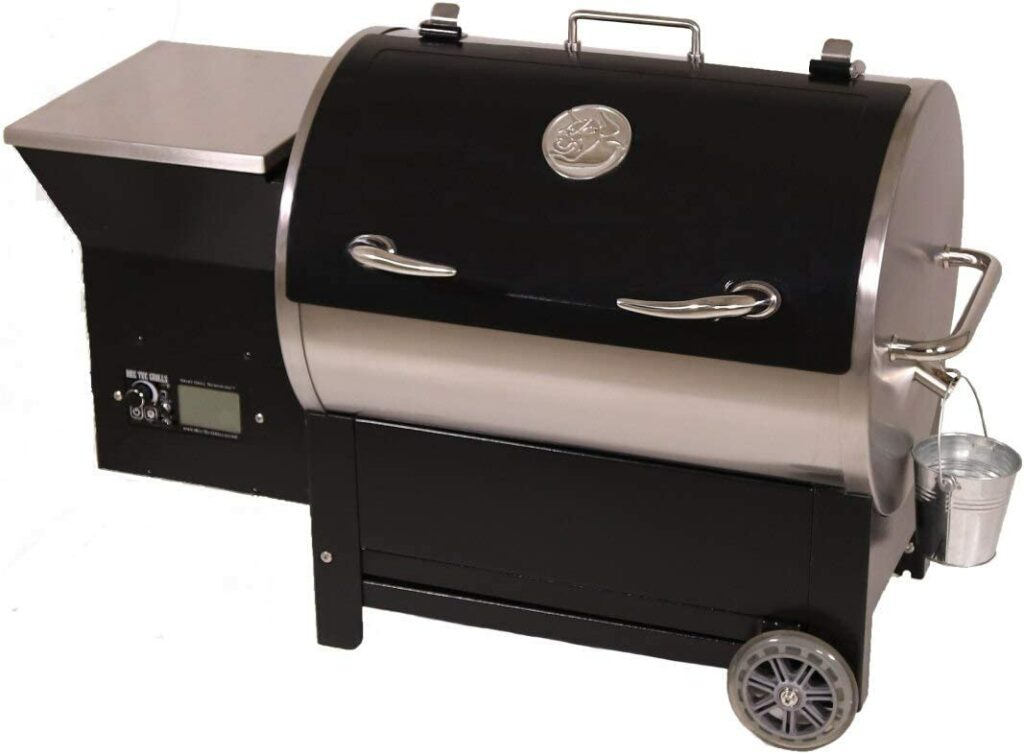 The RT-340 features a sturdy and durable stainless steel construction–the grill grates, the entire cooking chamber, the fire pot, the heat deflector, and the drip pan are all made of high-quality, heavy-gauge stainless steel. However, the lid and the rest of the body (legs) are black powder-coated steel. When it comes to quality build, Recteq grills are matchless.
A 20-pound pellet hopper and a Smart Grill Technology controller go to the left side. On the right, you see a grease bucket. There are two polished steel side handles on either side, and Recteq's signature bull horn handles on the lid. An extra handle, as well as two latches, are present on the top of the lid. The grill also has a bottom shelf.
With four strong legs, the RT-340 is stable enough for a standalone grill. However, Recteq has designed it to become portable when needed. Its design allows you to remove the bottom rack, fold the legs, and roll it like a carry-on suitcase. 
It has two big, all-weather wheels under the left legs and none under the right ones for stability when upright. Recteq hasn't included a chimney to save space. Instead, RT-340 has open rear vents that let moisture and rain in.
While Recteq has designed this grill with portability in mind, according to some buyers, it doesn't live up to the manufacturer's claims. At about 95 pounds, the RT-340 is a bit heavy to lift for transportation. 
To add to the misery, you first have to disintegrate its lower half to be able to place it on a tabletop or pack it inside the back of your car. But if you're more than one person, you can quickly go camping with it–there's nothing to worry about.
Capacity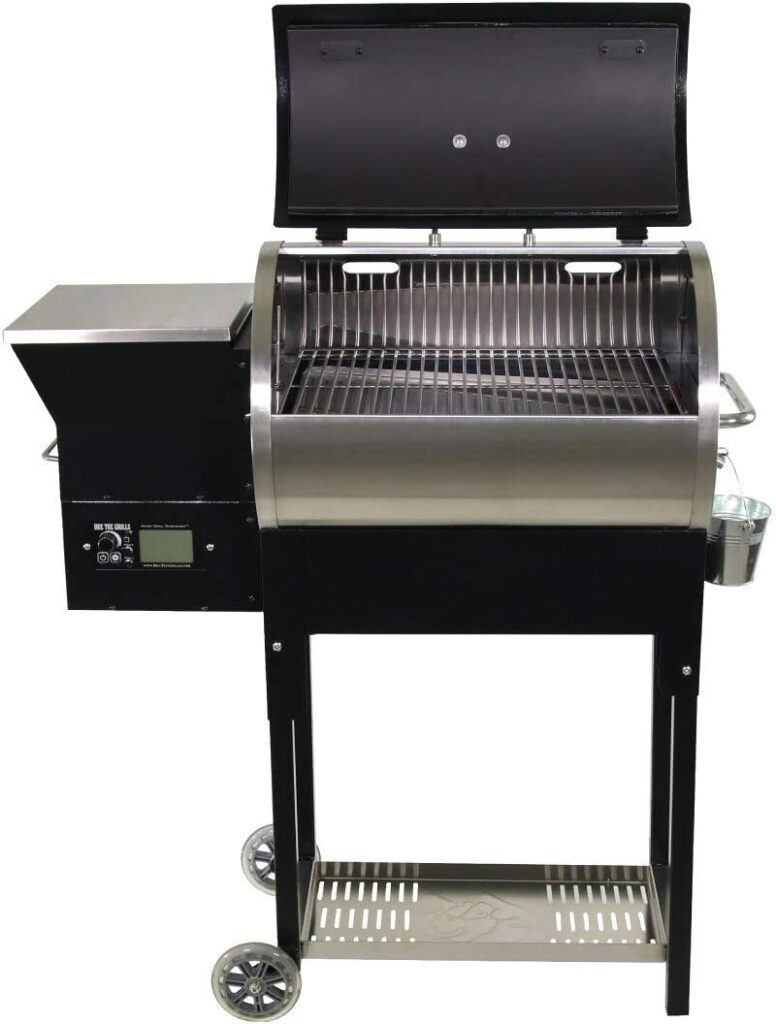 As already mentioned, RT-340 has 340 square inches of cooking space and a 20-pound pellet hopper. By purchasing a second optional rack, you can increase the cooking area by up to 511 square inches. 
As for the hopper should be enough for 20 hours of low and slow cooking once full. The primary cooking space can hold two whole chickens, two pork butts, three baby back ribs, 50 chicken wings, and 12 bone-in pork chops.
However, we have found that Recteq exaggerates things when it comes to the actual cooking space and capacity. But even with 310-320 square inches of cooking space, the grill has enough space to cook for more than 12 grown-ups.
Operations, controls, and performance
RT-340 features a PID temperature controller, which is far more efficient for temperature regulation than a conventional style controller. The Smart Grill Technology control panel has the following:
LCD backlit display 
A temperature control knob to set the temperature in five-degree increments 
A startup/shutdown button 
2 meat probe ports 
RT-340 has two meat probes to let you monitor your food's internal temperature more precisely.
The 340 grill has WiFi connectivity, allowing you to use all of the control panel's functions from your smartphone via the Recteq app. You can turn on/off the unit, set and monitor your grill's temperature, and keep a record of the temperatures measured by the dual meat probes in real-time. You can even set reminders to notify you before the target temperature approaches.
RT-340 uses a 2.4GHz band of WiFi for connectivity, which is slow but has more reach. The 5GHz band is faster but can't get through walls and other physical obstacles. That's why most pellet grills use the former WiFi band. Since the pellet grill doesn't have to transmit a lot of data anyway, the 2.4GHz band is okay.
The RT-340's temperature range is between 180°F-500°F+, which is sort of okay for most cooks. Indeed, when set to FULL mode, this Rec Tec grill has a temperature above its upper limit.
With optional accessories, you can turn this grill into a complete outdoor oven–meaning you'll be able to grill, sear, bake, and even dehydrate.
The RT-340's performance, both in terms of smoking and grilling, is impressive. Indeed, when it comes to grilling and smoking results, it puts high-end models from other brands to shame.
Last but not least, RT-340 has automatic startup/shutdown modes to enhance its performance further and save you time. During the automatic shutdown cycle, the auger motor stops, but the fan blows for five minutes to completely extinguish the fire. 
After the fan turns off, the auger delivers its remaining pellets into the fire pot to prevent a hopper fire. Similarly, during the automatic startup cycle, the auger turns for 30 seconds to feed pellets to the pot before ignition. It's a really cool feature that makes pellet smoking even easier.
Cleanup
Cleaning up a pellet grill demands the same methods and safety measures, irrespective of the brand, and the RT-340 is no exception. It has heavy gauge stainless steel grates, which you can wipe down when they're a little warm. Alternatively, you can use mild soap and water to clean them. You can use soapy water on the grill's exterior too.
As for the drip tray and grease bucket, using aluminum foil before each cook is simply the best way to perform an easy cleanup. The interior, including the firepot, is best cleaned with a vacuum cleaner as it leaves a thin layer of ash for insulation.
Warranty
You'll receive a comprehensive 2-year warranty on RT-340. Since it's made of high-quality materials, you would hardly need a replacement part. If you ever run into a problem, Recteq's 24/7 customer service always stands behind you.
Pros
Superior build quality, with most parts being stainless steel
Excellent as a standalone, tabletop, and portable grill
Gets really hot
It comes with a PID controller and has WiFi connectivity.
Has automatic startup/shutdown modes
There are LO/FULL settings to let you choose between more smoke and more heat.
Cons
The price is too high for than any entry-level grill.
No hopper pellet purge door
Best Recteq Grills – Quick Comparison
| | | | | |
| --- | --- | --- | --- | --- |
|   | RT-590 | RT-700 | RT-1250 | RT-2500 BFG |
| Square Inches | 592 | 702 | 1250 | 2535 |
| Hopper Capacity | 30 lb. | 40 lb. | 40 lb. | 53 lb. |
| Temperature Range | 180°F – 700°F+ | 180°F – 500°F+ | 180°F – 700°F+ | 180°F – 500°F+ |
| Cooking Racks | 1 | 1 | 2 (2nd Rack Removable) | 3 (Middle and Top Racks Removable) |
| Meat Probes Included | 2 | 2 | 2 | 2 |
| WiFi-Enabled | ✓ | ✓ | ✓ | ✓ |
| Front-Folding Shelf Included |   – |   – | ✓ | ✓ |
| Interior Light |  – | ✓ |   – | ✓ |
What Makes Recteq's Grills So Special?
Recteq is a respected brand with a dedicated fan base of grillers, pitmasters, and chefs. Recteq grills last for years, if not decades, thanks to their overall stainless steel construction. 
We thought it might not be easy for you to read individual reviews. So here's a brief overview of how Recteq stands out from the rest of the manufacturers.
High-quality materials and construction
Recteq boasts that their grills are built like a tank. We think there's not much exaggeration in the claim. 
Recteq grills incorporate more high-quality stainless steel than any other brand. The grill grates, firepots, drip pans, heat deflectors, cooking chamber, and other hardware are all stainless steel. 
Considering a virtually indestructible construction, Recteq's claim about the firepot–that they have driven a dump truck over it, and it still worked. Undoubtedly, it doesn't seem far-fetched.
The rest of the parts on a Recteq grill are black powder-coated steel. But, they, too, are thick, tough, and rust and corrosion-resistant. This should give you an idea of how tough a Recteq grill really is.
PID controller
Recteq grills use a PID-style controller instead of a conventional one, meaning you'll have a temperature accuracy of up to 10 degrees. This is a huge difference compared to the 50-degree accuracy offered by a conventional-style controller.
PID temp controllers, too, are of different styles and generations. 
Those in Recteq grills, however, take into account the ambient temperature and the grill's internal temperature, store data from the previous cooks, and then make predictions about any future temp fluctuations. 
They also control the auger and the fan separately–because, most of the time, the fan is turned on while the auger is off. A conventional controller can't regulate the auger motor and the fan separately.
Versatility
Recteq grills are complete outdoor cookers that grill, bake, sear, and even dehydrate. You can diversify your cooking options by buying a handful of optional accessories.
WiFi connectivity
Recteq grills can be operated via the Recteq app, which allows you to turn ON/OFF your unit and set and check temperature options. Plus, you get two meat probes with every Recteq grill to check your food's internal temperature. If you're not away, you can operate and monitor your grill via the side control panel.
Customer service and warranties
Recteq's customer service is matchless–so much so that Ray and Ron, the brand's founders and owners, do field service calls often. They truly stand behind their products and are willing to recall them or send you replacement parts. Once you buy a Recteq grill, you become a family member.
On its website, Recteq lists its service hours as Monday-Saturday, morning to evening. But for Recteq grill owners, their customer service is open 24/7. They can get a special number to call anytime.
As for warranties, Recteq offers comprehensive, all-inclusive warranties on its pellet grills. The warranty duration ranges from 2 to 6 years for different grills.
How Should You Choose the Best Pellet Smoker Grills?
When it comes to pellet grills, you find many options, leaving you wondering about the most important aspects of a pellet grill to consider before making a purchase. 
If you're thinking the same and are still indecisive, we have come up with a few points to help you if you wanna make a regret-free choice. Here we come.
Construction
Durable construction is the number one factor to look for in a pellet smoker. Recteq grills have most parts made of heavy-gauge stainless steel, such as grill grates, the cooking chamber, the drip pan, the heat deflector, and the firepot.
The rest of the exterior, for example, the lid and the body, are black powder-coated steel. They're of rugged construction, built to last for years.
It's also important to check for gaps between the parts. If you see anything like that, stay away from the product as it indicates poor construction. You should also look for any rough edges.
The parts should be seamlessly integrated.
Fuel efficiency
It's the foremost thing to consider by a conscious consumer. Not only does a grill with poor efficiency emit more carbon, but it also costs you more money in terms of hardwood pellets.
If you buy a grill larger than you need, you're going to have poor fuel efficiency. In this case, the problem may not be with the grill itself but with your buying decision. 
Larger pellet grills have bigger components, such as the auger and the firepot. So, it doesn't come as a surprise if a larger unit consumes more pellets per hour.
Recteq grills, on average, consume one pound of pellets per hour at a moderate temperature. But as you increase the temperature, you should notice a rise in pellet consumption and vice versa.
Temperature controller
The type of temperature controller on a pellet smoker relates directly to how the grill performs. As a rule of thumb, you should always look for a grill that has a PID controller. It's why we have reviewed only PID-based Recteq grills.
WiFi connectivity
While this is not an essential feature, it's a super cool feature to have on your grill, allowing you to monitor and control your grill remotely.
Price
While price is not the most important factor when buying a pellet grill, it definitely becomes the number one limiting factor when it comes to the features and performance of a pellet smoker. For example, you can't expect all the premium features for 500 bucks. 
So, it's essential to find the right balance between features and performance based on the price of different models.
We have left the other relatively non-essential factors to save you time. We hope it was a good read for you.
GOOD LUCK for YOUR BEST RECTEQ PELLET GRILLS SMOKER!
Please let us know in the comment section if you need any further information.
universitygrill.net is a participant in the Amazon Associate program and will earn from qualifying purchases.