Weber Genesis II S 435  gas grill is one of the finest and most powerful on the market. Weber Genesis II models are certainly beyond competition and matchless in output and features. The entire Genesis II lineup incorporates Weber's state-of-the-art GS4 (Grilling System 4), iGrill3 compatibility, a more sturdy build, and exceptional longevity. 
Similarly, the grill under review has style, fuel efficiency(whether you use natural gas or liquid propane), and power in exuberance. Let's review Weber's cutting-edge, top-notch, and truly flagship model in detail and see what makes this grill superior to any other grill on the market.
What's in a Name?
Weber's terminology is pretty simple. The letter preceding the model number indicates whether the grill contains porcelain-enameled, cast-iron grates, or stainless steel ones. As the letter "S" indicates, the current model boasts heavy-gauge stainless steel cooking grates. 
Another model,  Genesis II E-43, features black porcelain enameled steel body, cast iron grate, and a porcelain enameled lid. Both models are available in natural gas and LP.
Similarly, the first number of the model indicates the number of main burners on the model. Weber Genesis II S-435 sports four main burners, a sear station burner, and a powerful sear burner.
First Impressions and Design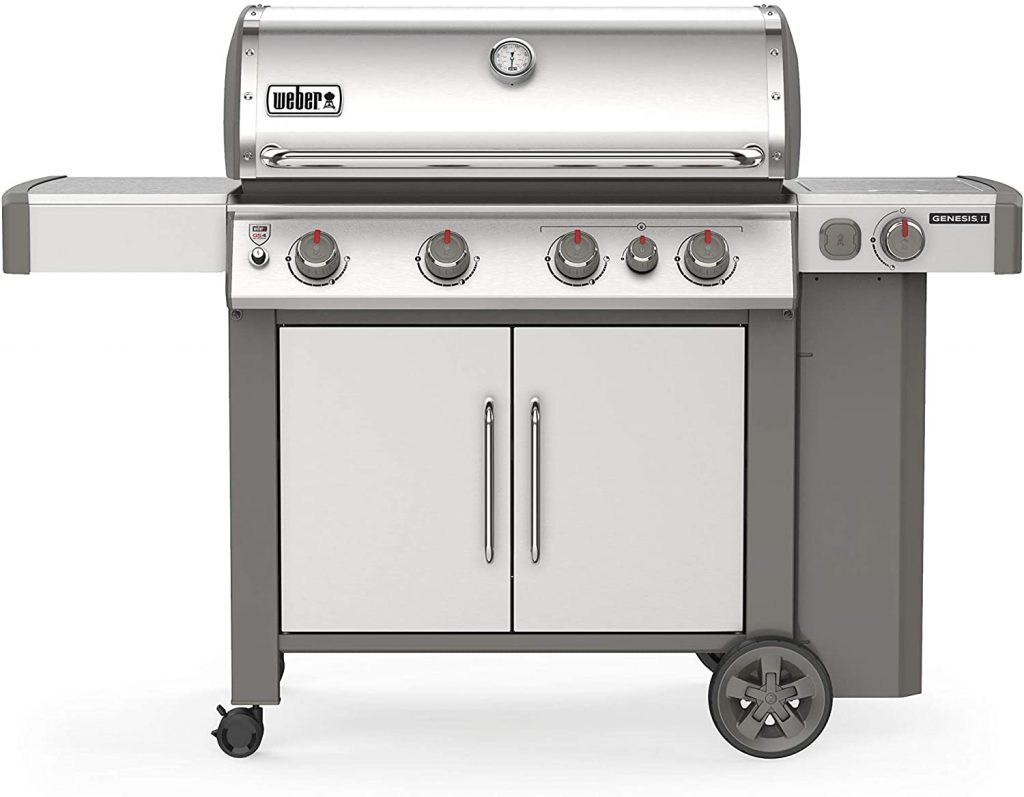 Most BBQ grills are bulky and massive, simply built for purpose. But this mammoth of a grill doesn't only offer an extraordinary amount of space, it also stands out stylish. The sheer size of it convinces you that it can alleviate the hunger pangs of a huge gathering.
As soon as you assemble it, you come to realize that this grill really means business. Most of its exterior exhibits a spectacular shiny finish with some parts having a matte silver appearance. Its hardened stainless steel construction rules out any traces of rust or corrosion for decades to come.
Weber Genesis II S-435 features an enclosed-cart style with a spacious two-door cupboard under the grill, which comes in handy for storing utensils, saucers, and plates. When you close the cabinet doors, a magnet holds them tight shut. 
The stainless steel hood has an ergonomic handle for easy lifting open and closing, as well as a highly accurate temperature gauge for monitoring the internal temperature of the grill. There are two beautifully designed side tables—each containing three integrated tool hooks. 
The right side table hosts a side burner. When not using the burner, you can shut the lid and use the table as a prep area. Your liquid propane tank goes under the right side table.
As far as aesthetics and performance go, the S-435 grill reminded us of "beauty & beast". It has a marvelous design and extraordinary output—a complete package.
The knobs, dials, and controls boast contrasting colors while other parts have varying silver shades. The dials contain prominent labels and the knobs feature a red mark to represent different temperature settings.
For easy maneuverability, the grill has two sturdy, all-weather wheels and two swivels, locking casters. With dimensions of 65 x 29 x 47 inches (LxWxH) and a weight of 176 pounds, the S-435 is a beast of a grill.
Features
The grill features four stainless steel, high-performance main burners; one side burner, and a sear station burner with a combined temperature output of a whopping 69,000 BTUs. Here's a categorical analysis of different S-435 features.
GS4 Grilling System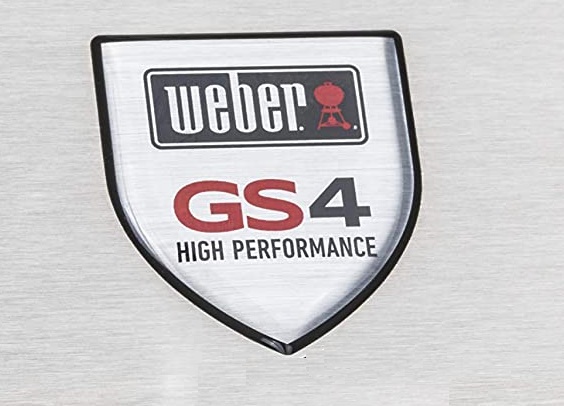 GS4 Grilling System can be thought of as a reliable and powerful engine that runs most Weber grills, especially the Genesis II and Spirit II models. This advanced system incorporates these four key technologies that set Weber grills apart from those of other brands:
Infinity™ Ignition
Stainless Steel Burners
Flavorizer® Bars
Grease Management System
Weber's Infinity Electronic Ignition promises to instantly light up your grill and never fail. Genesis II S-435 features an upgraded Infinity Ignition version, in which the ignition module has been placed away from the heat and protected from elements.
The battery compartment has been relocated for easy access, and the battery size is standard AA—relieving the hassle of sourcing conventional disc batteries. Other improvements include a beefed-up wiring; weather- and heat-resistant individual electrodes for each burner, and an improved ignition switch.
Weber Genesis II S-435 sports rectangular, high-quality stainless steel burners that have been redesigned for even and consistent heating. These burners show no signs of wear and tear and continue to perform for decades to come—virtually indestructible.
Flavorizer bars in the present model have also been improved for more consistent heating. These are triangular, metallic bars that sit on top of the burner to catch food juices and drippings falling down the cooking grates. 
As soon as drippings fall on the flavorizer bars, the bars sizzle and smoke them to infuse your food with rich, smoky flavor notes. Not only this, they also prevent the burners from fat and grease dripping down the grill grates. In this model, flavorizer bars have small openings (more precisely, semicircular cutouts) to let the burners breathe and allow you to see the flame.
The fat and grease that are not vaporized by the flavorizer bars are channeled away into a drip tray located underneath the burners. The angled grease tray has a square hole in the middle to channel the grease into a slide-out drip pan sitting below. The tray slides out for easy cleanup.
Sear Station
Weber's sear station is a group of three burners that are closer together than the other burners on the grill. More specifically, Weber places a dedicated sear station burner in between two main burners and names this 3-burner zone as a sear station. 
The zone offers a much higher output than other grilling areas, giving rise to a temperature that's best for searing all kinds of meats. Another benefit is that a sear station takes much less time to get to searing temperatures. You can sear on a grill without a sear station but cooking times will increase and the outcome won't be as great as you get from a grill with a sear station.
Since all burners on the Weber Genesis II S-435 are independently controlled, the use of the sear station is entirely optional. There are six different ignition knobs, allowing you to create separate grill zones with varying temperatures—perfect to cook food like meats and veggies at different temperatures simultaneously.
Side Burner
A side burner is always a handy feature to simmer sauces and sauté veggies while the main course cooks on the main burners. The design of this burner differs from the main burners—it's like a burner on your stove and is meant for cooking rather than grilling. It delivers a whopping 12,000 BTUs of power per hour.
Rotesserie Kit Compatibililty
You can miss a rotisserie on your high-end grill when any idea of cooking juicy whole chicken to turkey comes to your mind. Thank's to Weber's care, they have dedicated designed a rotisserie kit that can be installed on your Weber Genesis in no time, and the result will be, a fully cooked delicious meal for your party.
Tuck-away Warming Rack
The grill features a 198 square inch warming rack which you can fold down when not in use. It's quite a useful feature for keeping your food warm or toasting buns while the main course is being grilled on the primary cooking surface.
Cooking Grates
The S-435 grill features solid stainless steel rod cooking grates that are built to last and provide even heating across the entire grilling surface. The 646 square inch cooking grates are also easy to clean, thanks to a state-of-the-art, seamless, and glossy finish. They're virtually non-stick.
iGrill3 Ready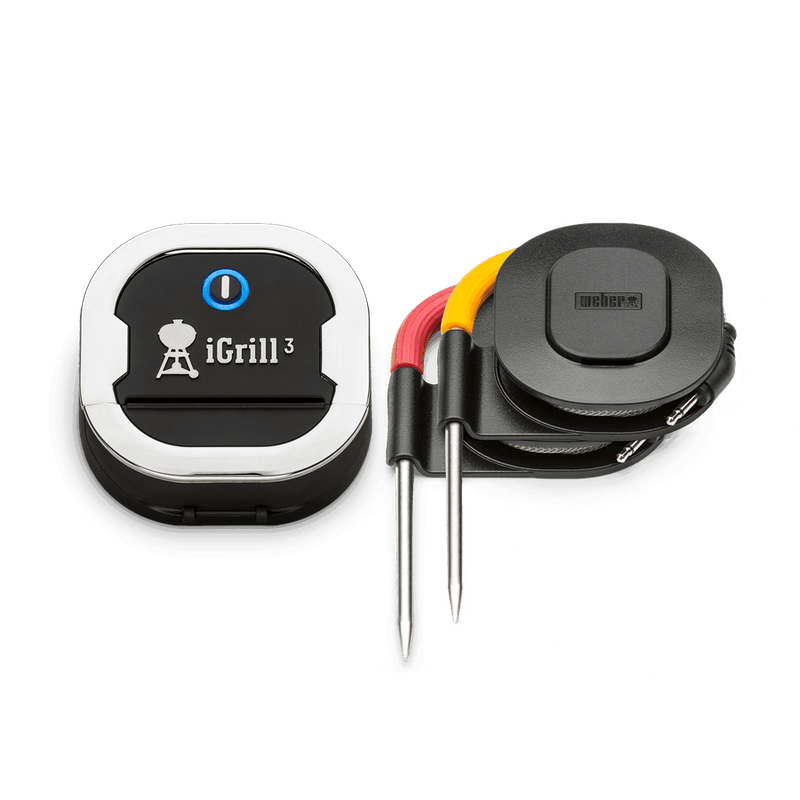 The Weber S-435 is iGrill3 ready, but what does it mean in the first place?
If you don't know, iGrill3 is Weber's wireless food thermometer. But the accessory is sold separately. So what's the point of advertising a model as "iGrill3" ready?
iGrill3 ready models have a dedicated cut-out of the shape of the thermometer in the front of the right side table. You can place your thermometer unit into that hole, connect the temperature probes into the unit, and pair your smartphone to the unit via Weber® iGrill® app, which can be downloaded from Google's play store or Apple's app store.
iGrill3 is a handy device that allows you to monitor your food temperature remotely—no need to sit by your grill for half an hour or more to check your food's condition. The app notifies you as soon as your set time or temperature has reached.
Storage
The Weber Genesis II S-435 features a cabinet that adds enclosed storage space for placing cooking tools, utensils, food, and even drinks if you like. The cabinet is divided into two shelves to further compartmentalize storage, providing more surface area for the existing volume.
Fuel Gauge
The liquid propane tank goes to the underside of the right table, where it mounts on a spring scale. The scale acts as a fuel gauge to indicate the quantity of fuel left in the cylinder. The spring scale on this model is more accurate than the less effective gas pressure method.
Side Tables
The grill has two side tables that can be used for placing tools and as prep areas. The right table also hosts a side burner, which you can use to cook sauces, veggies, and side dishes.
Performance
The Weber S-435 performs like a true flagship product from a well-known manufacturer. Whether it be rib-eye steaks, pork chops, or veggies like asparagus, mushrooms, onions, and cherry tomatoes, grill them all on the Weber S-435 and the outcome will amaze you. 
Everything comes out fantastic, bearing great grill marks. The heat output will also surprise you as the grill outputs 69,000 BTUs of heat per hour when all the burners are on and set to high.
You must take extra care when operating the grill on high heat, for example, when flipping steaks and pork chops, or else you'll end up burning off your arm, hand, or fingers. You should always use some long tongs or forks to flip over your food. Otherwise, the grill singes your arm hair.
The grill offers a side burner to let you simmer sauces and saute vegetables while you grill steaks and seafood on the main burners.
Even more, the sear station feature of the Genesis II S-435 grill is also matchless. When using it, you should always be careful so as not to overcook your food or turn the meat into charcoal. This grill has every capacity needed to do that—just be careful while grilling on it.
One thing is for certain; there will be complaints of undercooked food.
In terms of performance, the Weber Genesis II S-435 grill is incomparable to other cheap ass grills from cheap manufacturers.
Construction, Quality, and Warranty
The Genesis II S-435 has the exceptional build quality and matchless longevity. Quality control at Weber is also great. The Weber Genesis II S-435 has a stainless steel construction and cooking grates, making cleaning up a snip.
All Weber grills are built to last, there's no question about it. So, normal wear and tear and damage from minor trauma are out of the equation. All Weber Genesis II models, and hence this model, too, are backed up by a whopping 10-year inclusive warranty. The warranty includes all parts. A 10-year warranty highlights Weber's confidence in the product.
Portability
As already said, something as big as the Weber Genesis II S-435 can be everything but not portable. The grill weighs 176 pounds and is quite heavy. However, simultaneously, the model is well-designed and features four sturdy wheels for easy maneuverability. 
The two big, all-weather wheels and two locking swivel casters under the machine are quite helpful for transporting this giant of a grill. A single person can move the grill around the grill provided you're translocating it on a plain terrain. If the path is uneven, a few people can workaround to move the S-435 grill.
Assembly
The S-435 model, like other Genesis II models, is really difficult to assemble and you may need professional help for that purpose. If you intend to do it on your own, luckily, 3D interactive assembly instructions are available through the free BILT app, which can be downloaded from Apple's app store or Google's play store.
If you use the BILT app, you can easily assemble the grill without looking at the old-fashioned assembly instruction manual that comes along the grill. However, it may still take a couple of hours to assemble the S-435 grill.
Watch this video to learn how to assemble the Weber Genesis II 435 grill.
Accessories
You can boost the performance and safety of your S-435 grill by owning a few accessories that are sold separately. These accessories "add to the experience" and arm up the grill's efficiency and functionality.
Premium Grill Cover
There's a premium, dedicated grill cover available for this model, which protects your grill from "pouring rain, freezing snow, and scorching sun." The cover is lightweight yet sturdy and durable, easy to pull on and off, breathable, and water-resistant.
The cover's breathability allows for ventilation, discouraging moisture build-up underneath the cover. Simultaneously, its water-repellent properties shield your grill against any form of an outside source of water.
The premium cover has fastening straps along two sides, keeping it from blowing out into your neighbor's backyard.
Grill Brush-18″ Bamboo
Weber recommends cleaning your grill grates after each cooking session to avoid ruining or tainting your next meal. Weber's grill brush is appropriate for use on all types of cooking grates, including stainless steel, cast iron, porcelain enameled, and chrome-plated ones. 
It has a leather loop for hanging on your grill hooks. You can easily clean the brush using warm, soapy water. It has sturdy stainless steel bristles and a solid bamboo handle.
Beware, we advise you not to use this brush on stainless steel or porcelain-enameled cast iron cooking grates. That's because the stainless steel bristles may rip the delicate finish off, making the surface uneven or leading to pits on your grill grates. Consequently, more food will stick to the grates in the future and you'll end up doing more harm than good to your S-435 grill grates.
For this grill, you should always use a nylon brush for cleaning up the grates.
Large Premium Tool Set
The premium toolset includes an angled spatula and hands-free locking tongs. These are your everyday grilling essentials, especially when you own a model like Genesis II S-435.
Drip Pans
The aluminum drip pans line the drip tray of your Genesis II S-435 and slide out for easy clean-up.
Final Thoughts
The Weber Genesis II S-435 is a beautifully designed, powerful, and true flagship largest gas grill from a reputed grill manufacturer available in both natural gas and liquid propane, and stainless steel and black porcelain enameled steel body. 
It has everything you need to take your grilling experience to a whole new level. Whether you're a family of two or a professional, connoisseur griller who loves to cook for a large circle of family or friends, there's no better grill on the face of the Earth for you than this. Weber has packed everything they had and which they boast about into their masterpiece, the S-435.
It features Weber's proprietary system of grilling called GS4, which includes Infinity™ Electronic Ignition system, renovated stainless steel burners, flavorizer bars, and an efficient grease management system. Considering that the grill outputs a whopping 69,000 BTUs of heat and has a grilling area of 844 square inches, the model is absolutely worthy of anyone's investment.
The performance is further enhanced by a sear station burner and a side burner. Even more, the grill has two spacious side tables that serve as prep areas.
As for the build quality and construction, the Weber grill is almost indestructible. It has a heavy gauge stainless steel built that will not give in to minor trauma or accidental blows.
Pros
The grill features a GS4 high-performance grilling system.
Heavy gauge, seamless, stainless steel build
Solid, sturdy, and durable
Aesthetically pleasing and efficient design
Spacious storage cabinet and grilling area
Sports a sear station burner and side burner
Cons
A little bit expensive
Not very portable, so it can only suit your backyards.
Being huge, it can't be operated or stored in a tiny utdoor kitchen.
FAQS 
Is Weber Genesis II S-435 worth it?
Absolutely. The grill is a bit expensive but worth every penny. It packs all the bells and whistles that the industry-leading manufacturer, Weber, has ever come up with. The grill is sturdy, durable, backed by a 10-year all-inclusive warranty, and features a sear station and side burner.
Which Weber Genesis model is best?
Weber Genesis II S-435 and E-435 are the best and largest gas grills in the entire Genesis grills. The two models feature additional burners, extra features, more grilling area, more storage space, and a higher output compared to the rest of the models in the Genesis series.
When did the Genesis II lineup come out?
Weber introduced their flagship Genesis II lineup in 2017. The Weber Genesis II models, indeed, preceded the older Genesis models as they included extra features and higher performance. However, in 2020, Weber seems to discontinue its Genesis II models and replace them with newer, Genesis 2022 grills.
How long do Weber grills last?
Weber grills last for at least a decade and a half if maintained and cared for properly. Weber is providing a 12-year warranty on some parts of its new 2022 Genesis gas grills. Some parts contain a 10-, 5-, or 3-year warranty.
universitygrill.net is a participant in the Amazon Associate program and will earn from qualifying purchases.