Do you want to figure out what can be the best Yakitori grill? Primarily Konro grills (also entitled as Yakitori grills) nowadays come in two formats: the Japanese style and the American style; which will be the best out of these?
Among those mentioned above, the latter can't be called purebred Yakitori grills. They resemble the former. And besides, originally, any best Yakitori grill had to be essentially charcoal. Therefore, you can't neglect any electric or gas-operated Yakitori grill that frequently comes across, especially when you can't afford outdoor grilling.
We're compelled to make our list more versatile and all-encompassing for the reasons listed above. While we've tried our best to include only those with exceptional build and performance, some grills on our list are recommended with reservations. 
We've not only reviewed the best Yakitori grills for you but also ranked them in a descending manner. The grills on the top of our list are highly recommended as closest to the traditional Yakitori grills. And others are charcoal grills as the most suitable alternative to the Yakitori grills. They're the best for being durable. 
Why not read the complete review of these best Yakitori grills?
Here we come!
Best Yakitori Yakiniku Grills Reviews
Although made in the USA, The Bincho Grill is an unconventional Japanese-style Yakitori grill. It's on the top among the best Yakitori grills. How? Let's see in our review.
Design and Construction 
The Bincho Yakitori grill is made of heavy-gauge stainless steel with seamless welds. Furthermore, it includes an aluminum firebox insert for added heat insulation, ash collection, and ease of cleaning. You can see that this grill is entirely made of no rust materials.
With item dimensions of 36 x 6 x 6.75 inches (LxWxH), the Bincho Yakitori grill weighs 34 pounds. Thus, it's a large Yakatori charcoal grill.
The Bincho Yakitori grill sports 2 adjustable windows for controlling airflow and, in turn, heat circulation. In addition, there are wooden handles and legs to protect your hands and tabletop from heat. 
Performance
The Bincho large Yakatori charcoal grill for heat retention and insulation outperforms some of the most advanced Yakitori grills. However, the tradeoff here is the absence of a ceramic lining around the sides of the fire basket to make it look like traditional Konro grills. 
Yet, it includes an aluminum insert or firebox. 
That being said, the inset is about 1/4 inch thick. So, it's durable and offers some heat retention as well. You can place it on a wood, metal, or glass table. Thanks to the sturdy build and thick aluminum insert, the table will get warm but not hot.
To sum up, indeed, it's the best grill for Yakitori.
Why have this grill?
Heavy-gauge stainless steel construction and seamless welds
1/4 inches aluminum firebox insert that fits nicely into the fire basket
With item dimensions of 36 x 6 x 6.75 inches (LxWxH), this is a pure Japanese style Yakitori grill
2 adjustable windows for controlling airflow and heat circulation
Easy to clean and maintain
What are the cons?
Lacks a ceramic or any other lining for heat retention
It doesn't include grates or skewers. So, you have to buy them separately.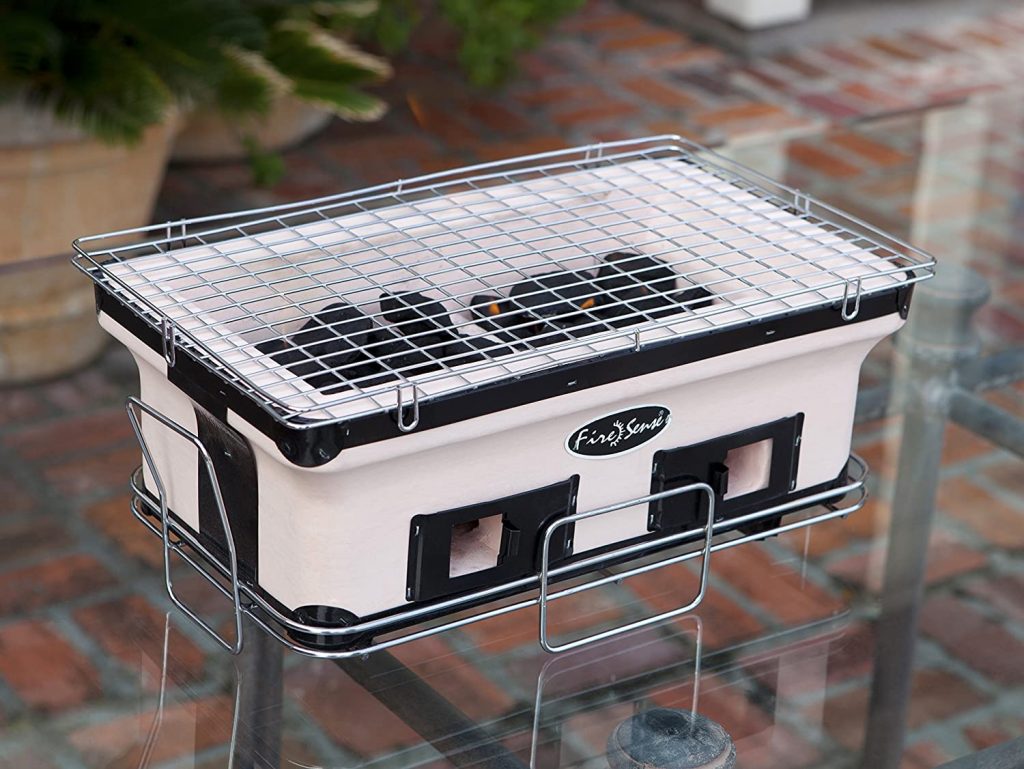 Fire Sense Yakatori Grill is a low-cost solution that combines the Hibachi and Yakitori styles of Japanese cuisine. The clay part is aesthetic, well-built, and durable. The clay insulation in this grill balances out the pH levels of your food and, in turn, makes them healthier.
Design
The Fire Sense Yakatori grill is made of clay, including the charcoal bed, for better heat retention and even distribution. Thus, you need less charcoal needed for grilling, ultimately reducing the running cost of the grill. 
They've also put in adjustable vents for controlling airflow and heat circulation. The grill weighs only 18 pounds, making it portable and suitable for camping or tailgating.
As for the grill grate, it is thin. And it also loses its chrome finish to reveal a solid copper color beneath over time. However, the grate is fenced along the edges to prevent the food from slipping off while using a scapula. 
There are clips on either end of the cooking grate to hold the food in place. Fire Sense Yakitori grill also features a metal stand with large handles on the side to pick it up and move it.
Performance
Since it's a small, portable grill, it can only cook two burgers and two Kebabs in one go. The charcoal bed is also made of clay, goes above the air vents, and contains perforations to let the airflow through from the vents.
It takes less than five minutes to fire up and ten minutes to cook chicken breast burgers, steaks, or fish filets. The temperature of this grill can go as high as over 500 degrees Fahrenheit: high heat, according to all definitions.
However, this doesn't mean you can't cook your chicken low and slow on Fire Sense. To do this, take out some charcoal and close the air vents after preheating the grill for five minutes.
Ease of cleaning
Pretty distressing, his grill is hard to clean. First, it's made of ceramic and clay. The food sticks to the clay and the grill grate. Therefore, it requires some scraping, which can be annoying.
To clean the grill, you need to remove the grill grate and charcoal bed and then turn over the grill. It seems easier said than done.
Our verdict on this grill.
Fire Sense Yakatori Charcoal Grill is a balance between Hibachi and Konro grills. On one side, it offers excellent insulation thanks to the fire-pit style clay surface. On the other side, it features air vents to adjust airflow and control the charcoal's burn rate.
That being said, some buyers complain that it's not made of fired clay and that it's just dried clay. So, it can't stand a rainstorm if placed outdoors.
Putting a new Fire Sense grill under the direct shower isn't a good idea. The clay gets hardened after repeated use. However, even then, you can't expose it to the harsh rainy weather or parts of it will break down.
Why have this grill?
High heat output because of excellent clay insulation
Adjustable air vents to control the burn rate
Aesthetic-looking, portable design
Fenced grill grates with clips
Internal, perforated charcoal bed for even heat distribution.
What are the cons?
Hard to clean
Made of dried clay instead of fired clay
Questionable quality and durability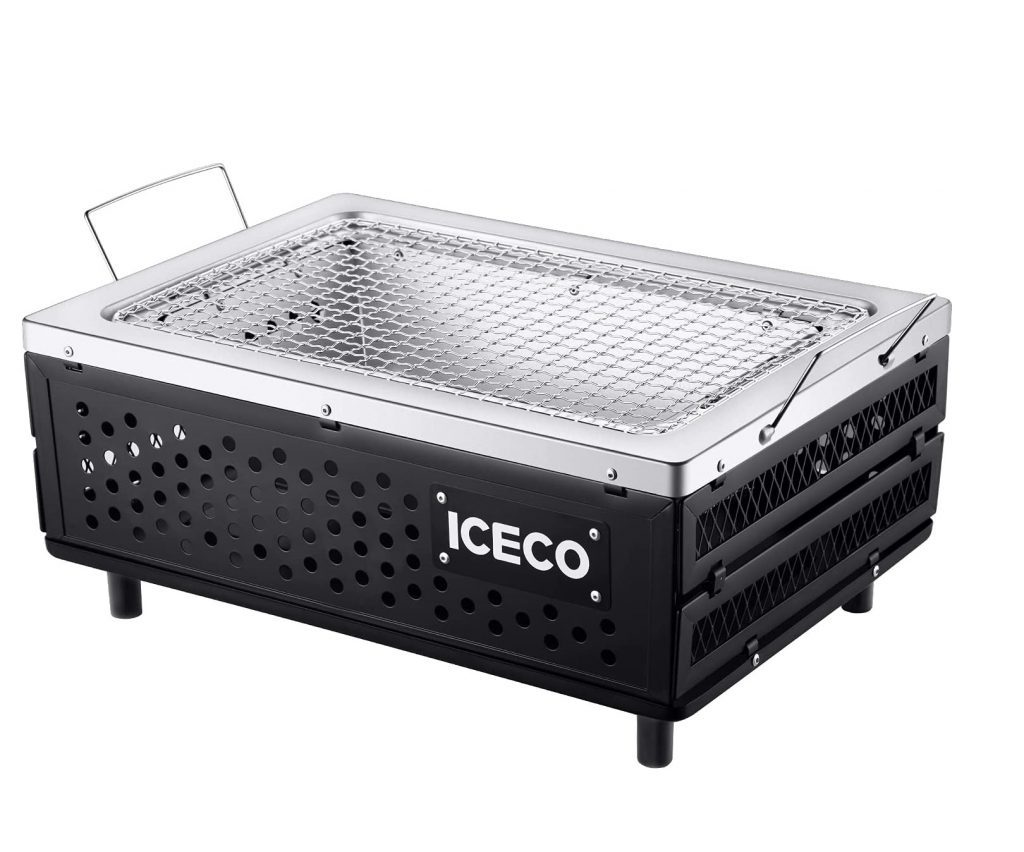 IEECO 15.7″ foldable charcoal grill weighs only 6.8 lbs, looks very professional, and should be the essential part of anyone's cooking gear who loves Yakitori and Hibachi styles of BBQ. The ICECO foldable charcoal grill comes from a US brand trusted for portable car freezers and is designed for a small family of grillers.
Design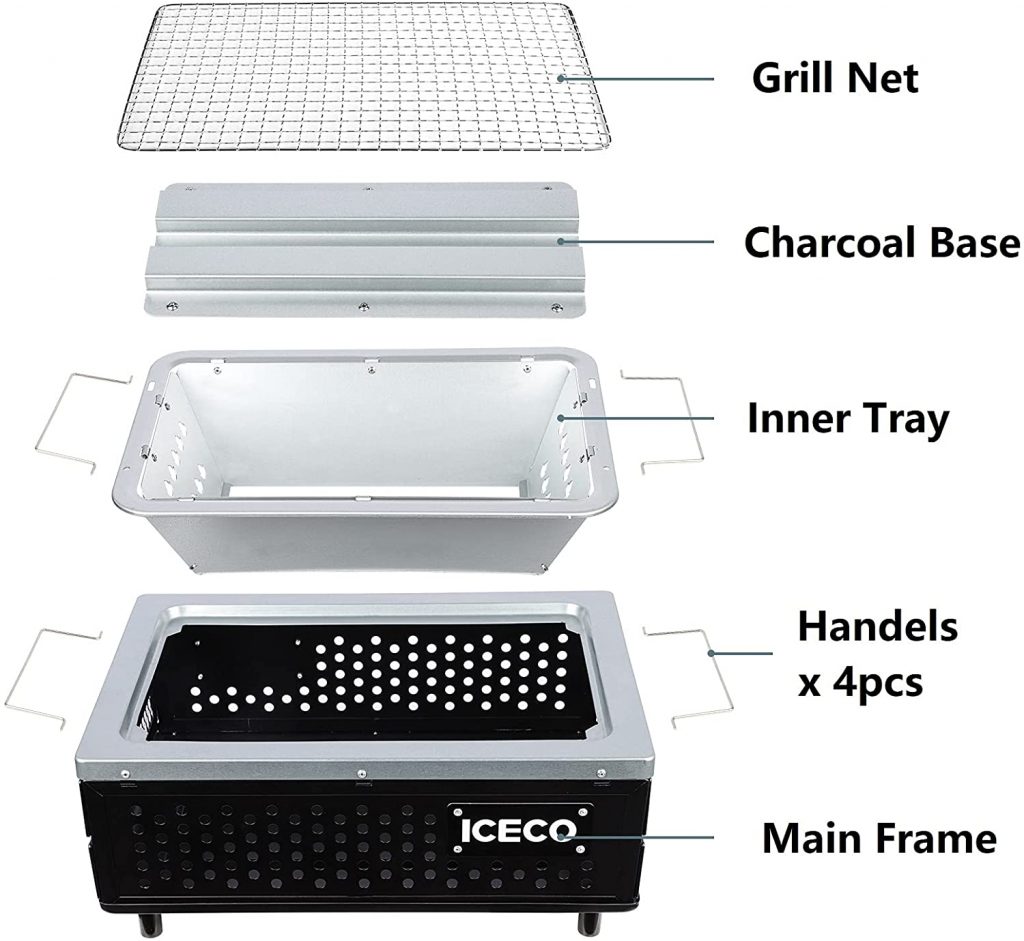 The grill comprises a rectangular and folding mainframe, a non-slip metallic base or legs, side handles, and a folding inner tray with side handles. It has a charcoal base that goes in at the bottom of the unfolded inner tray and a grill net that serves as a mesh rack or grate.
The ICECO grill is made of premium steel with zinc plating having rust resistance and anti-deformity properties built-in. Overall, this intricate piece of cookware is very durable and has been built to last for years.
Even more, you get a carrying bag and a 12-month warranty from ICECO.
Performance
The grill has an excellent heat outcome. The reason is it has large air vents on the sides of the grill frame and the inner tray to let the air in and increase the charcoal's burn rate. 
The main cooking space of the ICECO camping grill is 125 square inches, which is large enough for 2-3 people.
Its modular configuration allows you to remove the charcoal with the inner tray without using thick gloves or waiting for the charcoal to die down. The handles on the primary frame and inner tray are well-built and long enough to easily lift the grill or the inner tray.
Cleaning 
The ICECO Yakitori grill is a piece of cake to clean. Take out the inner tray with the charcoal base, flip it over, and wash. You can also give the inner tray and charcoal a scrub. The leftover ash can be removed by flipping over the mainframe.
The mainframe top gets dirty because of the oil splatter created during grilling, but that's expected from charcoal-powered cookware. A good and regular scrubbing restores the shine and gives it a new look.
Our verdict on this grill.
It's, indeed, one of the best Yakitori grills. A few drawbacks can be negligible.
Folding this Yakitori grill away is easy but will require some practice to do it efficiently. 
The inner tray handles need to be removed to fold the tray and are a minor annoyance because you have to re-attach them before grilling. However, the mainframe handles can be left on during storage.
Why have this grill?
Rectangular, folding, compact, and professional design
Robust, modular, durable alloy steel material
The removable inner tray assists in easy cleaning.
Air vents on the inner tray and outer frame
Includes a carrying bag and 12-month warranty
What are the cons?
Air vents can't be adjusted or closed.
ICECO doesn't sell a replacement grill net, which is the first and probably the only part that would require replacement over time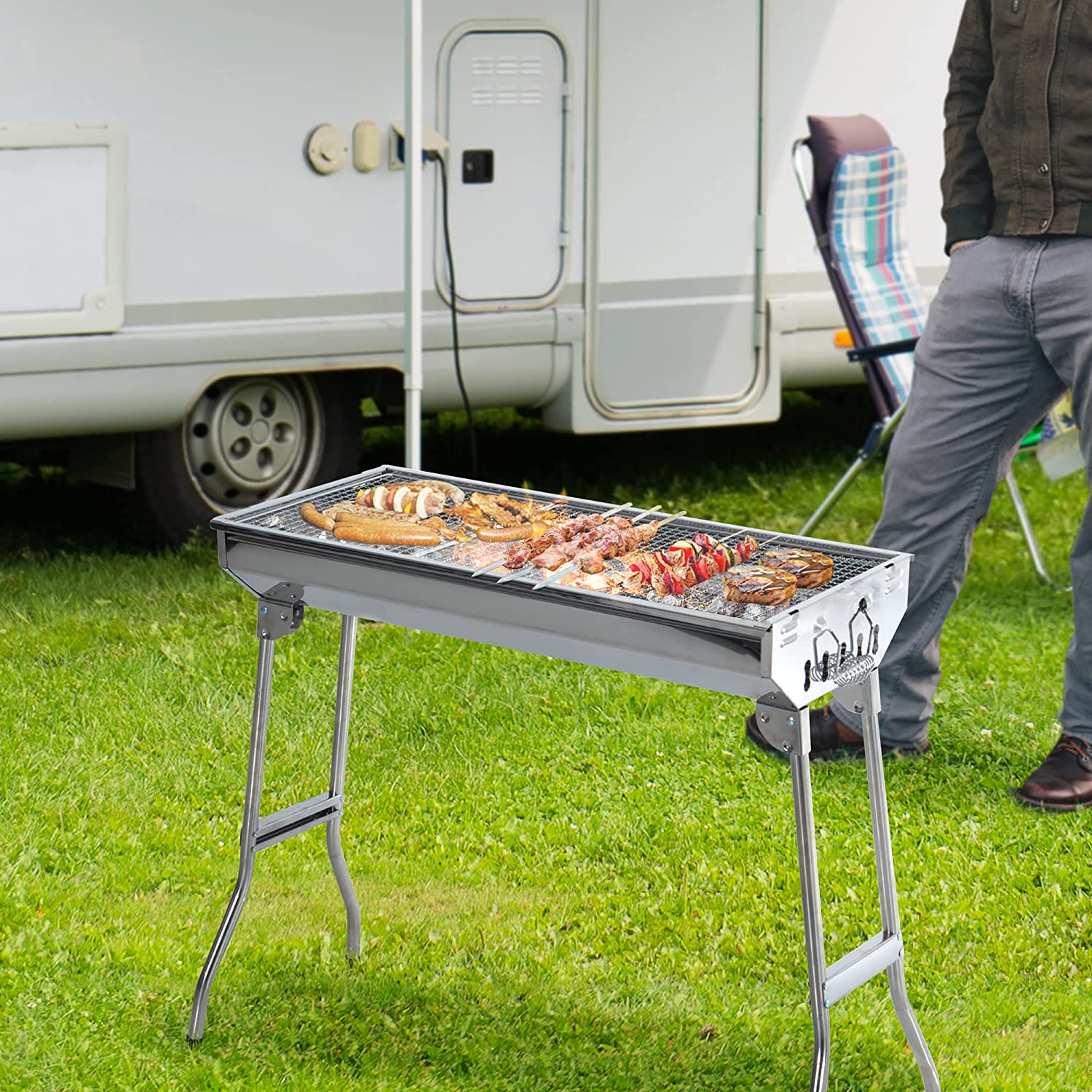 As the name shows, it's stainless steel, foldable charcoal grill. However, despite its shape being like a Yakitori grill when folded, it's not a Yakitori grill. 
Since Yakitori is a form of BBQ, this grill serves the purpose and even outperforms some of the best Yakitori grills in terms of ease of cleaning and use. It's small, portable, rectangular, and essentially a charcoal grill.
Design
It has large foldable legs to let you shift the grill to the table when the grilling is over. On either side, there are multiple air vents. However, they're not adjustable and always remain open. But you can come up with a solution of your own if you want to temporarily or permanently close them to limit or block airflow.
With the item dimensions of 28.5 x 13 x 28 inches (LxWxH) to make it portable.
Performance
This grill is especially suitable for indirect or 2-zone grilling. One small and another large mesh grill grates make the process even easier. Two charcoal grates of the same size sit just above the side air vents. 
The underneath area lets the air in, circulates, and rises above to increase the charcoal's burn rate. There's also a metal clip included for managing the charcoal while grilling. Hence, you can manage heat under your skewers.
Cleaning
The underside also serves as the ash collector. Just fold the legs and flip over or tilt the grill to the side to eliminate the accumulated ash after usage.
Our verdict on this grill.
The grill's legs do not stretch out sufficiently, because of which the grill seems like standing vertically. Likewise, the grill is top-heavy. Tipping forward or backward is possible when applied with enough force. So, don't let your kids or pets near it or use it under high wind situations because the grill can tilt easily. Or alternatively, fold the legs and place them on the tabletop or any other surface, just like a classic, Japanese-style Yakitori grill.
Another major complaint about this grill is bent or sunken wire mesh. These bends happen when you're using extremely hot coals, especially in large numbers.
Why have this grill?
Folding and portable
Made of stainless steel, aluminum, and other sturdy metals
Rectangular and suitable for indirect or 2-zone grilling
Mesh grill grates and charcoal grates
Air vents and ash collection system
What are the cons?
Clumsy legs
Air vents are not adjustable
Mesh charcoal rack sinks under hot coals
Best American Style Yakitori Grills – Smokeless Konro Grills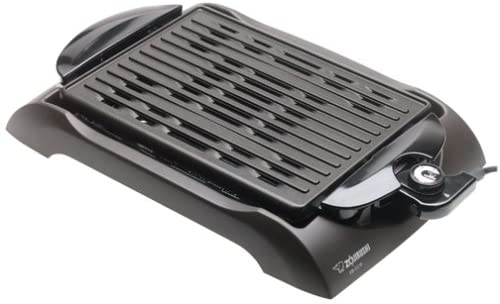 This indoor electric grill is perfect for cooking skewered meat, chicken, fish, and vegetables in Yakitori style. This tabletop grill differs from other electric grills because of the heating elements that are embedded in the cooking grate. So, it's primarily the design that attracts outdoor grilling enthusiasts to cook their favorite Yakitori indoors too. However, we've found that the grill is also matchless in build and performance to suit indoor Yakitori.
Design & Features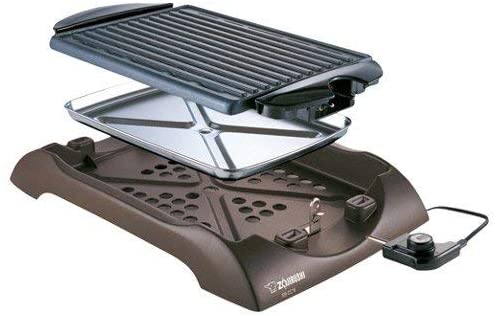 The Zojirushi Indoor Electric Grill is rectangular, tapers on the right and left sides, and comes in just 4 pieces. The pieces include a non-stick cooking grate, an integrated temperature controller plug, a metal drip pan that goes under the grate onto the base, and a plastic base unit.
It's important to mention that the cord attached to the temperature controller measures 62", which is longer than expected from an indoor electric grill and allows excellent freedom of use.
The embedded temperature controller also serves as a thermostat, kicking in when the temperature exceeds approximately 500 degrees F.
Another beautiful thing about this grill's titanium and ceramic-coated, non-stick cooking grate is another beautiful thing.
Performance
Generally, the grill takes less than 4 minutes to preheat. The grate surface reaches 400 degrees F in about 5 minutes. However, the built-in thermostat cuts the power off once the temperature exceeds about 500 degrees. 
That's a nice feature. This best Yakitori grill for indoors is made low and slow. So, you won't really need the high output. Grill over low to medium heat and get the most out of your skewered chicken meat for a long time.
The cooking grate leaves exquisite sear marks on your chicken pieces, fish, and even veggies, besides making them tender inside. 
Despite its high heat output, the tabletop, nearby surfaces, and even the grill's handles remain cool-to-touch.
Cleaning
The plastic base and metal drip pan are dishwasher safe. But don't put its cooking grates in the dishwasher as they contain heating elements inside. However, you can scrub the grill grate gently with soapy water, rinse it with clean water, and dry it up.
Our verdict on this grill.
When the charcoal grill is not safe indoors, this electric grill is an excellent choice for Yakitori and Korean BBQ. 
Why have this grill?
Titanium and ceramic plated non-stick cooking grate
High heat output
Modular, mesmerizing design
Metal drip pan
What are the cons?
The cooking grate isn't dishwasher safe.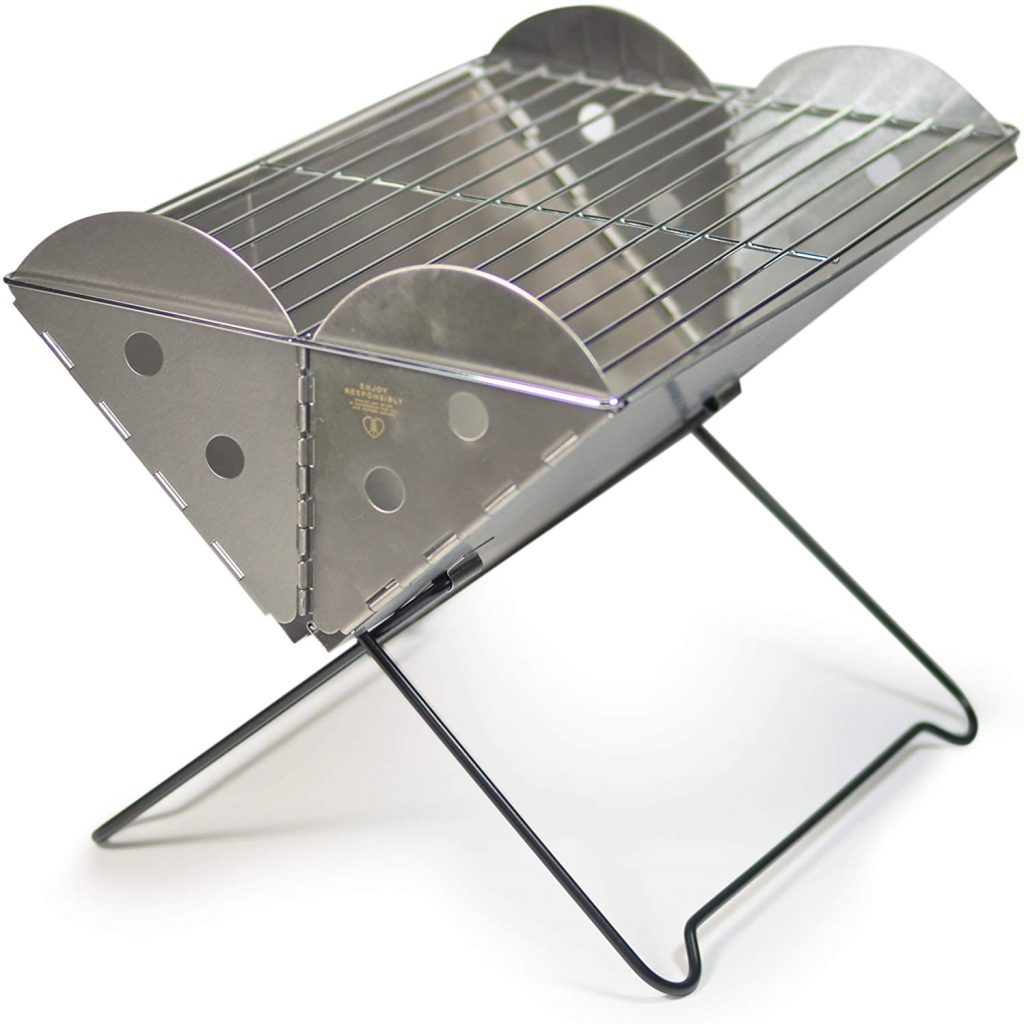 The UCO flatpack portable stainless steel grill can be used as a fire pit as well as a regular Yakitori charcoal grill. However, its size and dimensions render it excellent for Yakitori cooking while camping and traveling. 
Design 
It comes in regular (with 13 x 10-inch grilling area for up to 6 servings) and mini (with 9 x 6.75-inch grilling area for up to 3 servings) sizes. Its mini version weighs just 2 pounds kilograms, while the regular variant weighs 3.3 pounds. You also get a backpack/case/pouch.
The shape of this portable Yakitori grill is pretty unorthodox. It's rectangular from above but V-shaped towards the bottom. Sides are heart-shaped cutouts to serve as air vents to improve airflow and, in turn, heat circulation. The fire starts instantly, thanks to a nice airflow from underneath.
A grip is provided that runs along the entire circumference of the grill. The wires on the grill grate are placed lengthwise, unlike many other barbeque grills. This design has the advantage that the skewers can be placed easily on the grate and also that the sausages don't slip through.
Performance
The UCO flatpack grill shows significant heat output, but you don't need a high-performance charcoal grill for Yakitori. However, it can be challenging to manage the heat.
The manufacturers have not placed a crank to block or partially close the air vents. However, you can achieve some regulation by turning the grill into or out of the wind direction. Or, alternatively, you can use aluminum foil to block the holes on the sides.
In a nutshell, there's no question about the quality and longevity of the UCO flatpack grill.
Cleanup
It's a no-brainer to clean such a fantastic grill. You can use water, its stainless steel surface, and parts don't rust. It also doesn't take long to dry. Fold it back and transfer it to the pouch that comes with the grill.
Our verdict on this grill
The UCO flatpack grill is excellent for Yakitori. While its design partially matches a Yakitori charcoal grill, it serves the same purpose. However, we've found that this grill isn't for backpackers and cyclists. But those who travel by car may find it invaluable as their best Yakitori grill.
Why have this grill?
It's multifunctional to serve as a Yakitori grill and a fire pit.
Small, folding, and portable. Great for camping.
High-quality heavy gauge stainless steel construction
Includes a pouch for storage
What are the cons?
It doesn't have adjustable air vents.
It isn't for backpackers.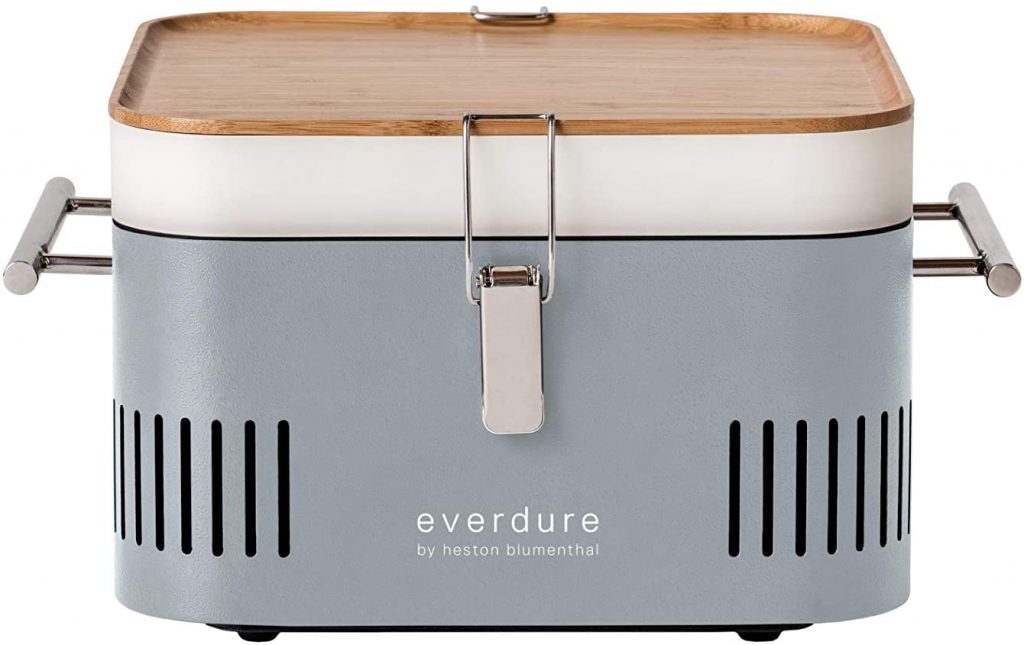 With dimensions of 13.67 x 16.73 x 9.05 inches (LxWxH), this portable grill looks like a cute, square-shaped, slightly rectangular box. Everdure is an Australian grill equipment brand that was founded in 1935that partners with many American and British to launch a multiple series of grills. 
Design and Features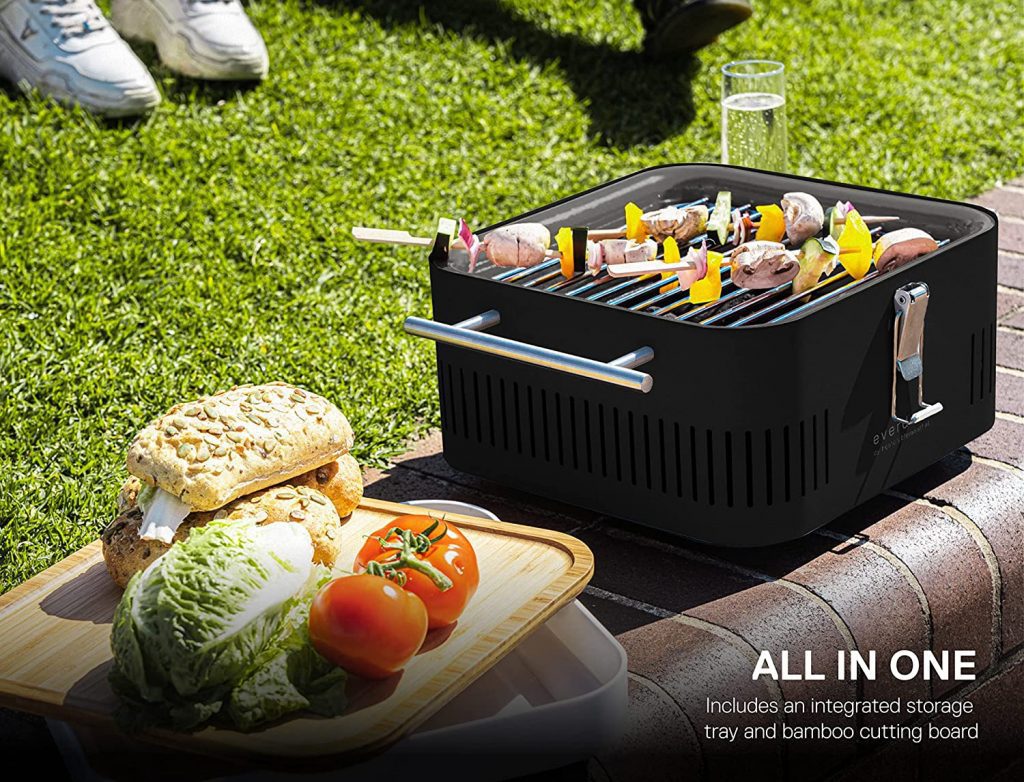 The Everdure Cube grill sports a bamboo food prep board, a food-grade storage tray, and a chrome-plated grill rack, all of which are held together by safety latches on either side. Inside the grill, there's a charcoal chamber and a charcoal grid. 
Towards the bottom, the mainframe hosts a series of longitudinal openings which serve as heat protection shields. You can use this grill anywhere, thanks to the heat protection shields. 
Besides heat shields, four rubber legs create enough space between the grill and wooden or metal surfaces to prevent overheating and encourage airflow. Likewise, the chrome handles on either side remain cool to touch and make this grill even more portable.
Cleanup
The presence of a removable charcoal tray makes the Everdure Cube grill easy to clean. After grilling, just lift the tray to dump the ashes in a trash bag.
Our final verdict for this grill
This portable, insulated charcoal grill is an excellent and durable alternative to Yakitori-style bbq. However, since the charcoal goes to a specific tray, the heat shields can't serve as air vents. It could have been better if the Everdure Cube had a perforated charcoal tray.
Why have this grill?
High build quality
Cute design
Heat protection shields
Easy to clean
What are the cons?
No air vents, only hot shields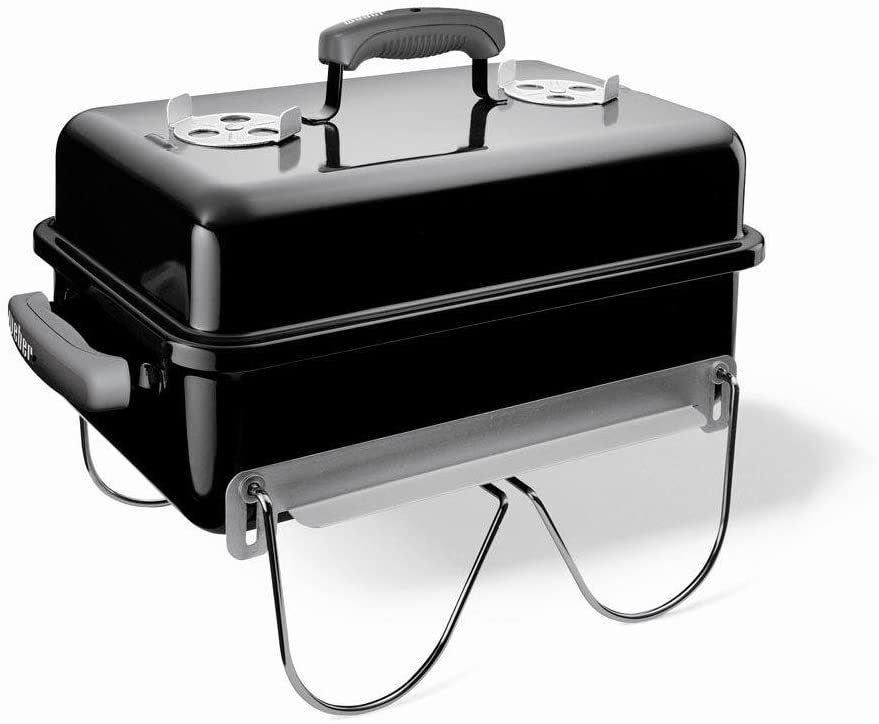 Portable grills are often delicate and flimsy; save the Weber Go-Anywhere Charcoal grill as a great Yakitori grill. It's meant to cook meat and vegetables for 2 or 3 people at a time. Since it's small and rectangular, it can also be used as a great Yakitori grill.
Design and Construction
The grill has a barbeque lid, firebox, cooking and charcoal grates, 2 legs, 2 lower vents covers, a base tray, and a handle. However, owing to a well-thought design, these components serve many purposes together.
For example, it has two vents with aluminum dampers on the lid. Not only do they give you more control over smoke and temperature, but you can also adjust them for 2-zone or indirect grilling. 
The cooking grate is lightweight but sturdy and made of plated steel. As for the charcoal grid, it's made of heavy gauge steel and adds a little heft to the grill. 
The mainframe has a built-in hook for the lid, so you can hang it off the side of the firebox and use it as a windbreak. You can fold the plated steel legs over the lid to lock the whole thing for easy transportation. 
The legs also hold the grill high enough off the tabletop or any surface to prevent damage. The Weber GA grill sports a lid handle and two nylon side handles for easy transportation.
Performance
The grill has excellent heat output out of the charcoal bed. The reason is it's close to base steel grates. These steel grates are also incredible for heat retention. Overall, the grill offers more heat. So, it's a sort of direct heat.
The lower side of the firebox has a series of vents running along both sides. A vent cover on each side allows you to open, partially close, or completely block the airflow to control heat circulation.
Maintenance and cleaning
The Weber Go-Anywhere charcoal grill is easy to use, clean, and maintain. A base plate sits below the charcoal grate to collect food drippings and ashes. The base plate is quite an essential feature for easy and rapid cleanup. 
As for the cooking grate, you can use a grill brush to scrape off any food debris. You can also use soapy water to wash the grate. The exterior can also be washed with soapy water and a brush or cloth. It's because the porcelain-coated lid and firebox make cleanup a breeze.
Our verdict on this grill
The Weber Go-Anywhere grill is perfectly suitable for Yakitori. Someone may object that it's not explicitly designed for Yakitori, but it's only partly true. Yakitori is a style of cooking skewered chicken pieces, vegetables, and many other foods. So, any grill that matches this cooking style can be used as a Yakitori grill.
Weber provides a whopping 10-year warranty on the firebox and lid, a 5-year warranty on the handles, and a 2-year warranty on everything else (dampers, grate, legs, etc.).
Why have this grill?
It's well-built, well-designed, sturdy, and durable.
Easy to use, clean, and maintain
Portable and multi-purpose grill
Has air vents and smoke vents with dampers
Porcelain-enameled exterior and interior
Includes a 10-year warranty on the main parts
What are the cons?
Although portable, it's fairly heavy.
How to choose the best Yakitori or Konro grill? Buyer's Guide.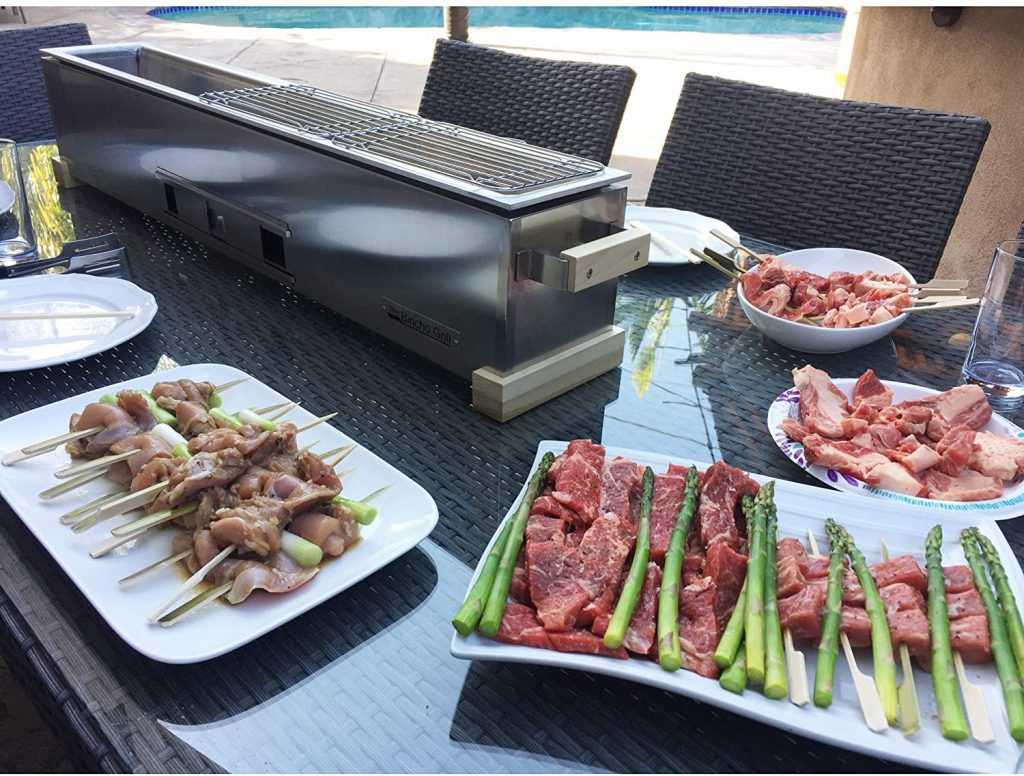 Choosing the best Yakitori grills can be a daunting task. You can come across several options, but making the right choice demands careful analysis of each grill for Yakitori. 
Here we've listed a few important considerations to consider before you buy a Yakitori grill.
Design, Cooking Surface, and Cooking Grates
Since Yakitori grills are designed for skewered meat, longways, Yakitori grills should be preferred over round or square BBQ grills.
The cooking surface of a Yakitori grill should match your needs. A good tabletop Yakitori grill should cook for 2-4 people.
The cooking grate is the next important thing to pay attention to when buying a Yakitori grill. Some Yakitori grills come with a wire mesh than a standard cooking grate. 
It's understandable because Yakitori grills are small and don't need heavier, somewhat bulkier cooking grates. And besides, in Yakitori, you use skewers, removing the need for a cooking grate altogether.
However, there's a trend nowadays to make Yakitori without skewers. If you do so, make sure that the mesh rack is sturdy enough to resist warping under high heat.
In the same way, chew over the build quality of the charcoal rack, if there's any.
Ease of Cleaning
It's equally important to consider the ease of cleaning when buying a Yakitori grill. Most Yakitori grills have an ash collection system cleans the grill by just flipping it over. Others may have intricate systems for cleaning. Check whether the grill is well-designed to facilitate cleaning or not.
Also, note that standard grill grates or wire mesh can't be put into the dishwasher and need to be cleaned with hands.
Temperature Control System
Yakitori is grilled best over low or medium-low heat, between 200 to 250º F. So, you don't need a grill with high heat output.
As for the air vents, they're meant to regulate airflow and heat circulation. Some Yakitori BBQ grills have air vents but no mechanism to partially or wholly block them to regulate the airflow. However, air vents are a very nice feature if you intend to do indirect or 2-zone grilling. 
These types of grills suck for Yakitori grilling. But you can use aluminum foil to block the vents for cooking low and slow. However, doing so isn't easy and proves quite problematic. For this reason, you should always look for a grill with adjustable air vents.
It's also important to note that the classic Yakitori grill comes without a grill lid, unlike other BBQ grills. But you won't mind picking a sturdier option, even if it includes a lid.
Weight and Portability
Yakitori/Konro tabletop grills are generally lightweight. However, you can decide upon the weight based on your needs, whether you want an indoor, outdoor, or compact grill.
While it's not essential, it's best if a Yakitori grill is folding or portable. If you want a portable grill, always pay attention to the grill's construction. For example, stainless steel grills with a solid build are great for camping or cooking outdoors.
Authentic Yakitori grills, such as Fire Sense, are ceramic or clay. Clay or ceramic grill can't stand a blow or freefall and break while porting. It's why we'll recommend you get traditional North American grills for Yakitori if you love camping frequently.
A portable grill should be essentially lightweight but not so much that it's prone to damage.
Safety
Given that most Yakitori grills are tabletop, there should be a reasonable distance between the bottom of the grill and the surface the grill sits on. So, check if the grill has a safety mechanism, such as heat protection shield. Also, weigh up whether the grill exterior is heat resistant.
The next important thing about safety is handles. The handles should be made of rubber, nylon, or some other heat-resistant material. Some Best Yakitori BBQ grills also have handles on the lid.
Some Yakitori grills include long metal clips to adjust the charcoal while grilling. It's an impressive feature that allows you to adjust the lump charcoal without putting on thick gloves and directly touching the hot charcoal.
Price
A high price isn't always a good indicator of quality. And besides, give some thought to your needs before buying a costly product. 
An expensive and feature-rich product may be suitable for someone but still not cater to your needs.
For this reason, put your requirements first, rule out the products you don't need, and then come up with your selection by narrowing down the options.
Warranty
A product's warranty point to a manufacturer's trustworthiness and confidence in their own product. The warranty period of a Yakitori is also important.
Some manufacturers come up with different warranty periods and policies on the various parts of their grills. So, first, check what the manufacturer's warranty covers. If they're providing a warranty for the main parts, such as cooking grates and the firebox, that's just fine.
Build Materials and Durability
While aesthetics are important, they're not everything. You should also consider the materials used, the thickness of parts, the texture, and the seamlessness of welds. 
If the grill is foldable, pay attention to its design and whether the folding mechanism is well-thought and can stand repeated use (or abuse).
Some folding Yakitori grills are thin, have flimsy legs, and fall over under a windstorm. Refrain and don't think twice about buying a Yakitori grill from cheap manufacturers.
The best Yakitori grills are available in the following materials:
Ceramic is the best material a Yakitori barbecue grill can be made of. It's a good heat-resistant heat conduit. The best Yakitori grills are available in the following materials: 
While a Japanese-style grill made of ceramic may be fragile, it doesn't rust and will last for years if used carefully. It also offers excellent heat retention properties. In addition, it won't tilt or bend under stress. However, they're prone to breakage.
Yakitori grills made of fired clay absorb and radiate heat well enough. Clay also offers a fair degree of heat resistance: they're safer to use. And besides, Yakitori grills made of clay and ceramic are free from harmful chemicals and give a more aesthetic look than their metallic counterparts.
Grills made of metal alloys and stainless steel are other options. They're also safe and durable, especially if they contain professional-grade stainless steel. Bing of metal, they're also easy to clean.
FAQs about Yakitori Grilling
What makes a Yakitori grill?
Material, design, and serving style make traditional Yakitori grills. The Yakitori grills are made of clay and have a ceramic interior to keep heat efficiently besides radiating it. This setting is particularly great for indirect cooking.
What distinguishes Yakitori grills from American-style and other types of charcoal grills is that they're extremely narrow and rectangular. 
Being rectangular, a Yakitori barbecue grill allows more people to stand beside, usually face to face, and eat Yakitori as it cooks. They're designed to be narrow to allow the ends of skewers to rest upon the grill's edges. However, they can also be compact.
As already mentioned, a Yakitori grill is long enough to allow for indirect or 2-zone grilling. Yakitori is best done when done low and slow, over low heat, at between 200° F to 300° F.
What are Yakitori grills called?
Literally, Yakitori means grilled chicken skewers. More specifically, "yaki" is a Japanese word for "grilled" and "tori" for "chicken." Thus,  Yakitori is a grilling style, while the grill used for Yakitori grilling is called Konro Grill. 
Yakitori, known as " takujō konro" at Japanese homes and Yakitori restaurants, is a form of barbeque and Japanese-style cooking where skewered pieces of meat are grilled over a small lump charcoal bed on a traditional grill known as Konro grills. Thus, by now, this article is serving you with the best Konro grill. 
Can I use Yakitori Grills Inside?
Yes, you can use a Yakitori grill indoors if the instructions from the manufacturer allow you. Yet, using an American Style charcoal grill inside the home isn't a good idea, for the smoke can be hazardous. In short, the charcoal grills serve to grill outdoors.
Which brand is best for a Yakitori grill?
If you're looking for the most robust charcoal grill that can burn white charcoal or binchotan charcoal for cooking Yakitori chicken, then it's Weber. Yet, if you want to put your hand on a traditional and original Yakitori grill, Firesense can also make an excellent choice.
Can you use a gas grill for Yakitori?
Yes, you can cook your Yakitori chicken combined with basic sweet soy sauce seasoning on a gas tabletop grill. Yet, you'll be missing the epic smokey flavor of charcoal in your BBQ that traditional Yakitori grilling offers.
What type of charcoal do Yakitori grills use?
Binchotan, or white charcoal, is the type of coal used in Yakitori. These coals are formed of hardwood, such as oak, and have a lengthy burn period (about 4-5 hours) and high heat level (up to 1600°F). 
Most of these coals are expensive, but they may be worthwhile because of their prolonged burn life. The lack of artificial additions in white coal, along with the extremely high heat, maintains the rich fluids, adds a lovely sear, and makes anything grilled on it wonderfully delicious.
Final Thoughts about Best Yakitori Grills
Traditional yakitori grills are essentially small, compact, rectangular, and portable. It's best if a Yakitori is tabletop but not essential. However, any best charcoal grill can carry out the Yakitori grilling because the Konro grills only add fun and adaptability to tabletop events out of their uniqueness.
As a result, you have the choice of choosing sturdier portable solutions.
BTW, which one did you choose? We'd love to hear about it and any other suggestions you might have in the comments area below!
universitygrill.net is a participant in the Amazon Associate program and will earn from qualifying purchases.