Do you want to know what are the best grill presses? The versatile uses of a grill press have certainly captivated you, and you're on a quest to learn more about them. 
I would love to give you the confidence that you're on the right track; you've landed at the right place as well. Here you'll find all the best grill presses, their selection guide: how to choose the best for you and how to use yours the right way.
What you've got to do is ONLY A TASK!
Yes, it's sparing only 15 minutes, put the distractions aside, and stick to the device's screen to read this article mindfully. With no delay, here we come…
Best Cast Iron Grill Presses with Complete Review
Here we begin our detailed review of the best grill presses.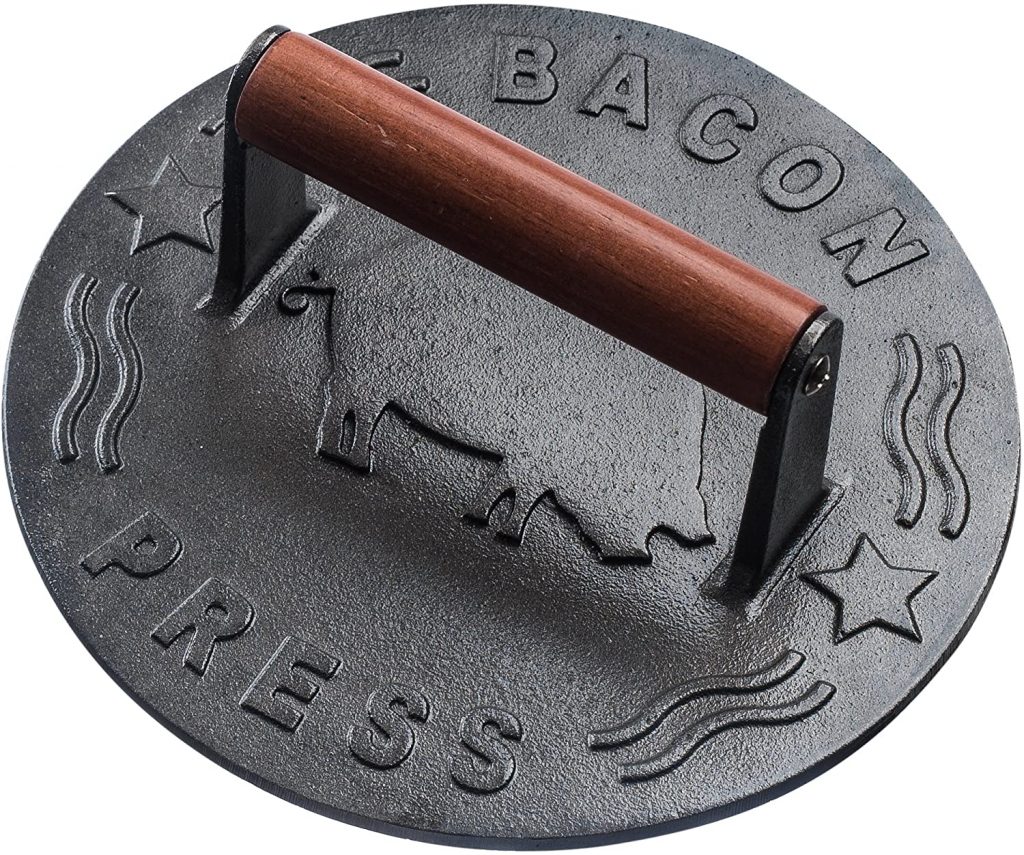 The first in our list of best grill presses is this cast iron bacon press from Bellemain Cast Iron grill press, which has been the most popular among thousands of users. It has a large surface of 8.75 inches to help you grill, press, and sear large patties and steaks. It's equally helpful in preventing the pork belly strips from curling. 
Since it's large, you can also use it to press small burgers simultaneously since it's large. It has a rigid and thick surface of cast iron which keeps heat well and melts the cheese in your burgers and sandwiches. In the same way, it helps the fat release faster to render juices and creamy flavor in your burgers and steaks. 
Just hold it on your steaks or burgers for some time; the mesmerizing grill marks will make you fall in love with this grill press soon.
Its ergonomic wooden handle is fully protected for your hands for the user interface. The handle's height is also good. So, you don't feel congested when using a dish towel to pick it.
It weighs 3 pounds. As we've mentioned in our buying guide section, approximately 3-pound weight is ideal for putting sufficient pressure on your hamburgers and steaks to imprint the beautiful searing marks or heat them faster.
It's cast iron, and it's heavier, right? Then what can be the challenge?
Yes, it can stick to your food if not seasoned properly. So, whenever you use it, season it. Similarly, maintenance demands effort. Don't forget to season it before storing it.
In a nutshell, it's' the best-cast iron grill press you can ever have, treat it like a baby: season it.
Pros
Typical cast iron grill press with grill lines 
The 3 inches height of the handle is excellent to prevent your hand from burning. 
It's heavy to press the food properly
It's sturdy.
Extra-large surface
3 years warranty
Cons
This Blackstone grill press of 10 x 4 x 10 inches is one of the best grill presses on our list. It's extremely heavy but can have nearly 4 sandwiches and 4 steaks under it. So, the weight distribution is ideal: 2.5 pounds.
I'll surely appreciate the shape of this grill press. It's square, so it also ensures that all items fit under it fairly. If you're using a big griddle or grilling surface, this grill press can be for you.
The below surface of this grill press is rigid, which is great to cast your desired searing marks on the steaks, burgers, and sandwiches. Since it keeps heat well because of its cast iron material, you get the beauty of searing marks and balance the fat flavor in your food. 
Heat it and press it over your ribeye steak or burger. The food will attain the brownish crispiness that you have been looking for. This durable cast iron press for grills has been built to last longer over decades. What it needs are timely cleaning and proper seasoning.
For the shortcomings, we couldn't find any. It's exceptional.
Pros
It is highly durable.
Its colossal size can help you press many foods simultaneously.
The grip handle is at good height and has rubber material for safe handling.
Cons
Not good for a single food item.
When it's about the best cast iron grill press in a rectangular shape, the 8.3 x 4.4 inches Victoria Cast Iron Press with 2.15 lbs weight is incredible. 
What does it mean? 
It has adequate weight and resultant pressure to perfectly press one or two steaks or hamburgers. 
The grill press features a cool-to-touch, pure wood handle. Hence, you're safe from the scorching surface of the press.
Did you notice the handles' attachment to the grill press? Yes, it's detachable; so the re-seasoning of this grill press is easier in the oven.
Many users have highly appreciated the care that the grill press from Victoria comes with. It's pre-seasoned with GMO-free flaxseed oil. 
So, when you get it, it has been well preserved. And you can have an idea what care will be needed from you as well.
One of the interesting features Victoria has emphasized is the rugged or granular textured surface, which saves the tools from sliding when it's over the greasy steak.
Does this texture affect the cleaning? Not at all; it's cake to clean.
But, don't forget that after cleaning, season it properly just like you do your cast iron pans and pots.
In short, lead by three generations, the Victoria Cast Iron has brought you a fantabulous grill press!
Pros
The pre-seasoning adds additional care to the product
The durable wooden handle is removable to help reasoning.
The textured surface is great to keep the grill press firm over the food.
It's highly durable.
Lifetime warranty
Cons
The handle sometimes rotates.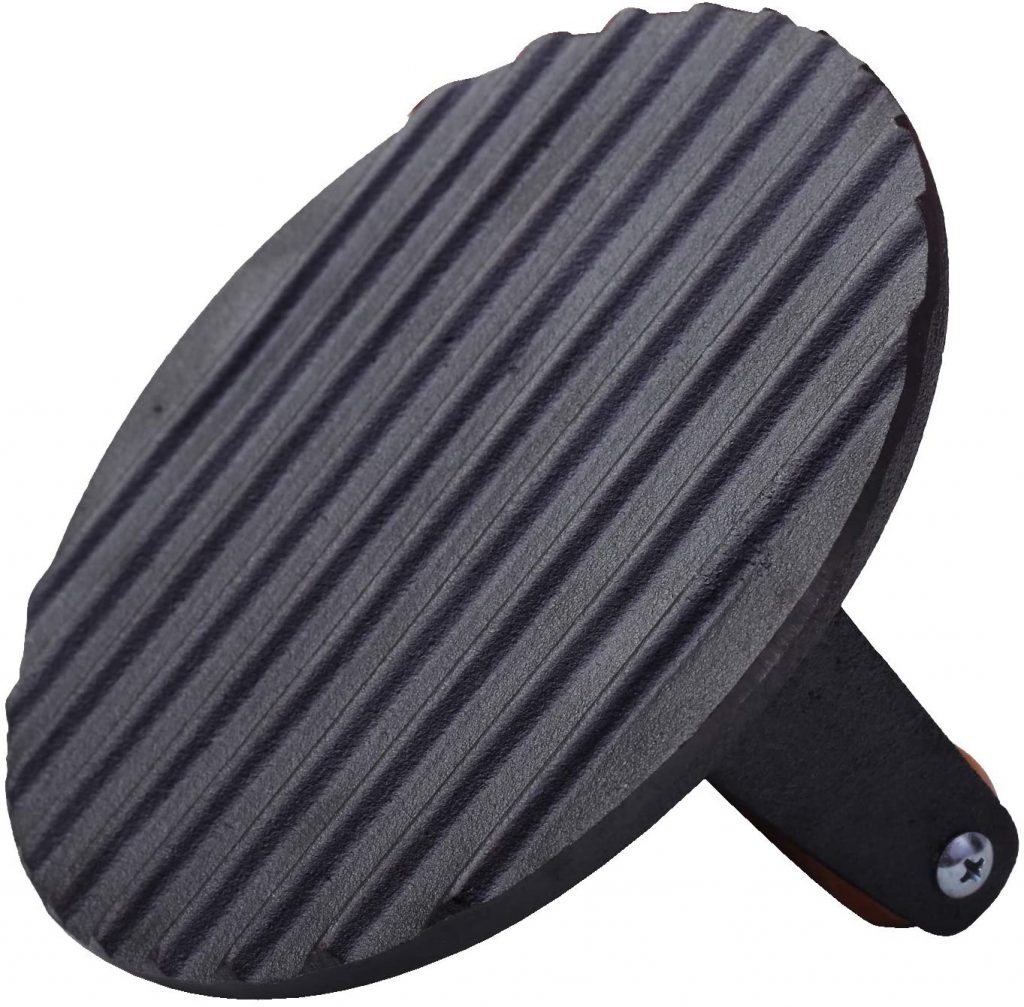 Would you love to have a heavy-duty cast iron grill press, particularly for the burgers? This professional-grade burger press by RADICALn must catch your attention. With remarkable grill grooves and 7 inches dimensions, it performs well to sear your burgers.
The grill press weight is 3.14 pounds to make it relatively heavier. For this reason, it works outstandingly to press the burgers, steaks, and smash the burgers.
By now, you have known that textured surfaces save the grill press from slipping when placed over the food. But, with this grill press, the sandy texture of cast iron and weight plays a role. It doesn't slip on your greasy patties.
The handle of this grill press is wooden. So, you don't need an oven glove to pick it.
However, remember, it's only the handle that saves your hand against heat, but the sides can! So, always use a glove or mini towel while using it.
The width and height of the handle are also ergonomic to let you pick it effortlessly.
In our next review, you'll know how troublesome it has been for the users to remove the handle of Lodge's cast iron grill press. It's relieving to know that the handle of this grill press is easy to remove. A simple screwdriver can do the job to let you clean and reason it in the oven.
Pros
The handle doesn't roll at all.
This durable grill press is thicker and heavier.
The handle provides ample space for your hand when operating it.
The wooden handle doesn't brittle
It comes with a 30 days return policy.
Cons
It's so good that you wish for a flat version.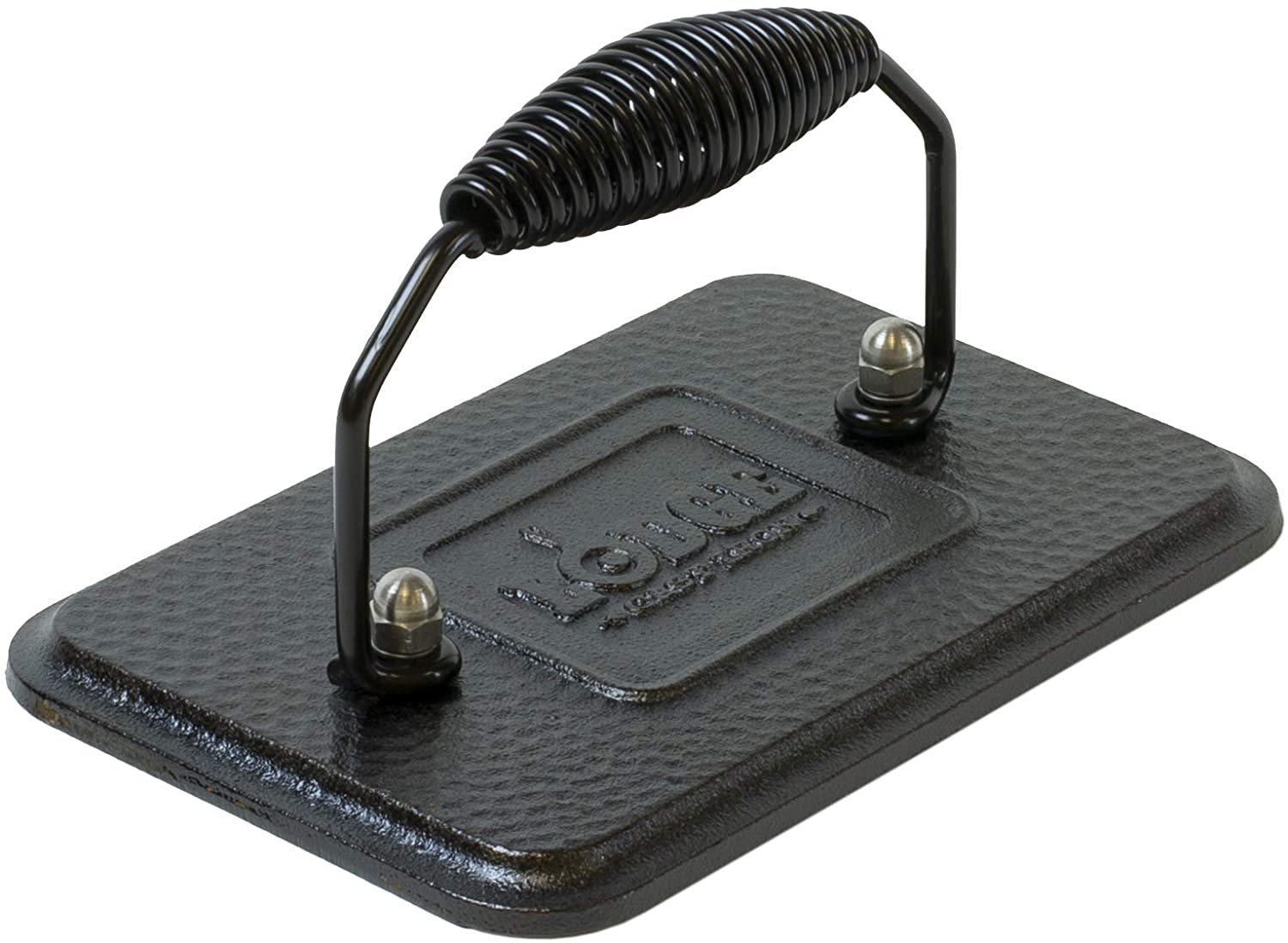 Among the heavy-duty pre-seasoned cast iron grill presses, Lodge's grill press is one of the best grill presses but with one major snag. Let see what that is in our detailed review.
This cast iron grill press features 6.75 Inch x 4.5 Inch dimensions with an anti-slip textured surface. Besides this, the item's weight is 2.88 pounds. Thus, the size and weight combine to offer the standard pressure for cooking your food evenly.
The Lodge pre-seasoned cast iron grill press comes in pre-seasoned, and you receive Lodge's signature blackest finish. It certainly brings peace of mind that you have a quality product in your hands.
The handle of this grill press is at a defined height. So, despite having a dish towel, your finger gets enough space: the design is ergonomic. 
Unlike many other grill presses, it has a spiral handle.
The underside of this grill press is flat. It's why you can better use it for pressing your food or smashing the burgers. 
This flat surface also makes it easy to clean. Yet, it doesn't mean that it's breezy to maintain. It requires appropriate seasoning.
Let's discuss the handle. Its spiral and the painted handle are durable, as is the bottom. But, this handle is a drawback of this grill press. 
It is not really cool as Blackstone's is: you need to handle it carefully. Moreover, the hand tightening screws often get loose. Yet, you can tighten them using pliers. Hope that will stay fixed!
Overall, it'll make you a good pick if you're not looking for a grooved bottom.
Pros
It has great pre seasoning.
The heavy duty cast iron grill press is durable.
The heat retention is incredible.
Cons
Coil handle feels odd to press down.
The manufacturer has called its handle "cool touch" but you have to use an oven mitt.
The handle can lose often.
Unscrewing the handle for washing is a challenging task.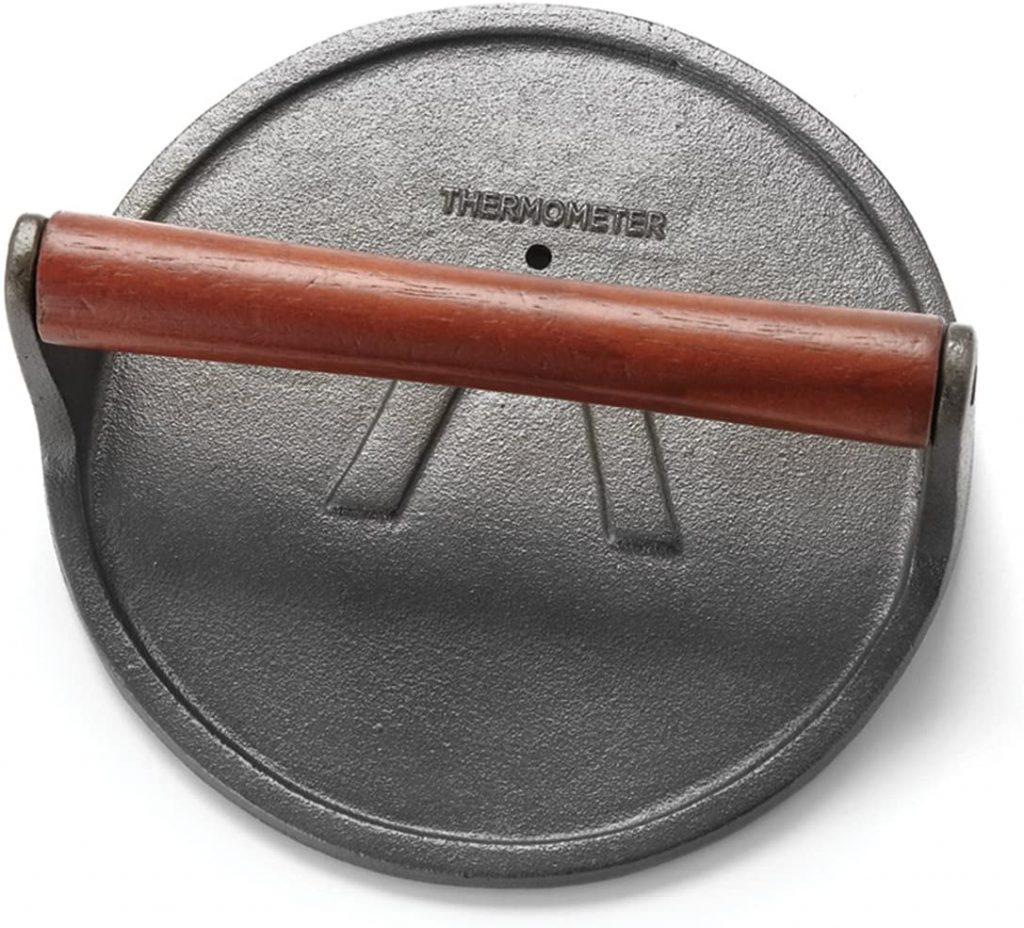 Would you like to have a large-sized round best bacon press that evenly sears the patties and meat? The grill press by Outset with 8 x 8 x 3.25 inches dimensions and 2.79-pound weight makes the best choice.
Its gigantic size is lucrative to help you press more burgers simultaneously. Likewise, you can also press more bacon strips under it.
The weight of the grill might seem heavier, yet it's pretty fair for the size. The grill press has grooves that are also deeper and help you sear the meat "like on the grill." These grooves are also great to prevent any drippings from spoiling the surface on which it rests after usage.
Then comes the handle, which is wood. This wooden handle has excellent resistance against heat. 
At the same time, the placement of the grill press handle is higher and wider to allow you to grab it safely with no fear of burning.
Beware, the handle isn't stationary, but it revolves, and any unthoughtful handling can cause a burn. In this way, the grill press is highly suitable for big hands.
The material of this unit is cast iron, which also demands proper cleaning and seasoning when you end up using it. 
On the downside, this grill press can disappoint you a little. 
How? It doesn't come pre-seasoned. So, it's pretty common to spot some rust on it. 
But, Don't worry, it doesn't mean the product has inferior quality material. It just needs some pre-seasoning.
Pros
The enormous size can fit a griddle pan better.
The grill press handle has been positioned well to aid careful handling.
It's equally suitable for searing, pressing the meat and smashing the burgers.
It does an incredible job as a panini sandwich press.
Cons
The handle screws can be loose.
The grill press isn't available on the flat option.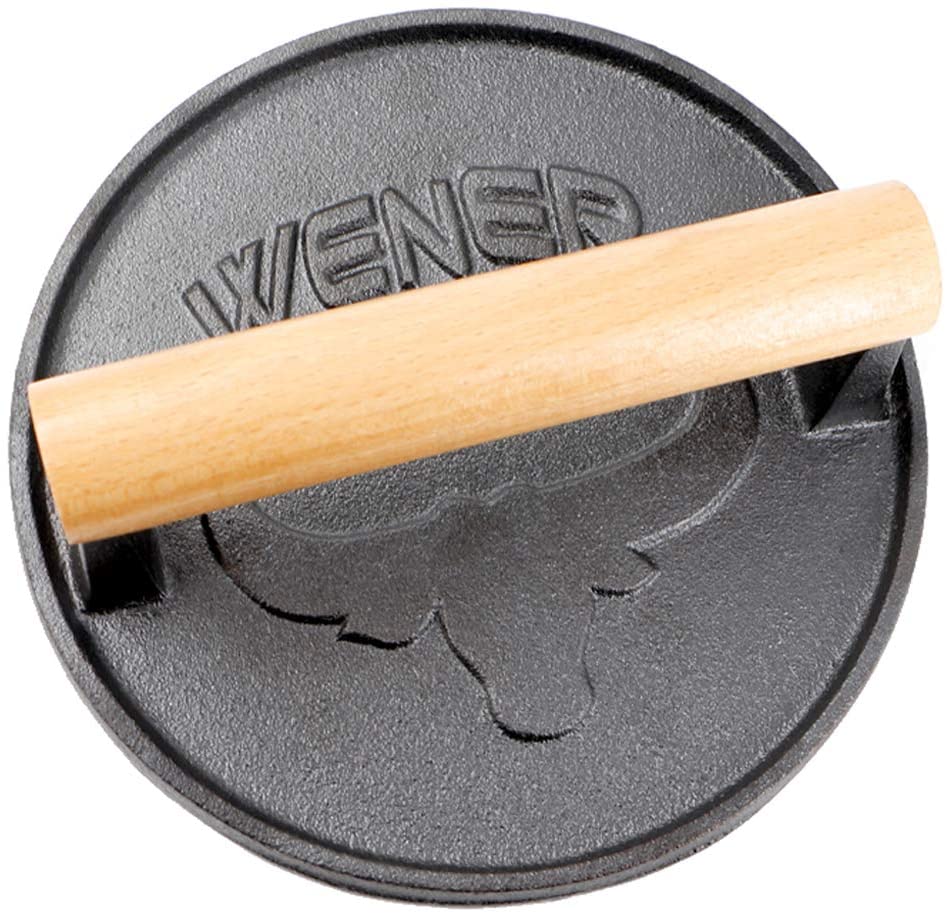 Do you need some best cat iron bacon presses with a handle that doesn't revolve? The bacon press by Wener can be ideal for you. 
This thing has thick metal with grooved grill marks under it. Therefore, you can hope that it'll keep the heat for a longer time to speed up the cooking process.
It's smaller, and the handle has been placed between the ridges: they don't start from the other side. The handle, thus, has limited space for handling. So, it can be best for the smaller hands.
The shape is also good to prevent it from rolling. However, it's a bit rough, and screws do not sit properly and leave some gap that calls for proper cleaning and care against rust.
The grill press weighs 2.33 pounds with 7.4 x 7.17 x 3.07 inches dimensions. Thus, it's relatively smaller but suitable for searing and pressing in a small cast iron grill pan.
It's appreciable that the manufacturers have paid attention to its safety. The grill press comes pre-seasoned, so you're not disappointed by any rust.
But, 
What makes the grip press most satisfying is the money-back guarantee and warranty. You can get it replaced or get a full refund, which is peace of mind.
Pros
It comes pre seasoned.
You get money back guarantee.
It's heavier and durable.
Cons
The handle can be a little rough, and the flat head screws don't sit completely.
How to Choose the Best Grill Press – Buyer's Guide
I can bet you can only know the actual worth of a grill press by handling it in reality: no spatula can replace it. But, should you pick a round grill press or rectangular press; one with a wooden handle, a metal spiral handle; a meat press made of cast iron or stainless steel? 
Yes, when you look for a grill press, several questions pop their heads into your mind. We've listed a few standards below to help you make the right selection. 
Shape & Design: Does it Matter?
For the design, the grill presses usually come in two shapes: rectangular and round. To be honest, the shape doesn't matter as long as you want to use them only to press any food like sandwich, steak, or burger. What matters is the dimensions of the grill press.
Usually, the grill presses can be as large as 10 x 4 x 10 inches like Blackstone and as small as 6.75 x 4.5 x 3.5 inches like Lodge's. If you're only enthusiastic about grilling small steaks and burgers in small cast iron griddles, the small grill presses or round or rectangular shape can be for you.
In contrast, if you have got large grilling surfaces like your best flat top grill, or your best Blackstone grill, then the large grill press can be for you.
In the same way, usually, grill presses feature the grill lines to help you get those searing marks on your food if used after heating.
Undoubtedly, you can press many food items under a grill press, but they have a major drawback. Guess what?
The large grill presses can have many items under them. Resultantly, the built steam can be more to cause runny liquid or fats when you use them on griddles. 
SO:
The round grill presses are good for burgers, steaks, especially when you don't cook in large quantities. The round grill presses are best for small pans or grilling surfaces.
The large grill presses of rectangular or square shape are best if you press steaks on the grill's surfaces or the large griddles. They're also for you if you have expertise in managing multiple food items for your family.
Ease of Clean and Maintenance
The grill presses are available in two materials, primarily cast iron and stainless steel. Some have flat surfaces, and others have grill lines. It affects the maintenance. 
The cast iron grill presses require cleaning and significant care as seasoning. They're challenging when you've to clean the grill lines — you can postpone it after cooking, for it can cause rust.
On the other hand, grill presses are easy to maintain, but you can't expect them to match the cast irons when it's about heat distribution. Yes, the cast iron grill presses should be your choice despite their need for maintenance for the reason they can be best to distribute heat enough to melt the cheese in the burgers as well. So, here, you need to assess how vigilant you can be to take care of your grill press.
Material: Stainless steel or Cast Iron?
Do you think the material is only about the sturdiness and ease of usage of your best grill press? 
NEVER!
It's about the taste as well. Stainless steel is a great option for the "shelf life." But, for the heat retention and ultimate cooking power, cast iron grill presses are unbeatable. 
Do you aim at searing the burgers, sandwiches, and steaks with the grill press? Pick a cast iron. However, needing a "weight" stainless steel will make a better choice. The stainless steel has nothing to do with searing. Therefore, it'll be easier to maintain, and it'll also serve various other purposes.
Weight: How Heavy a Grill Press Should be?
Next comes the weight of your grill press. It has a significant role in selecting your best cast iron grill press.
Grill presses can be of varying heaviness ranging from 2-7pounds. Some can also be a few ounces. But they might not be a good option. The weight of a grill press seems to depend on its size.
Yet, it can be heavier if you compare it with counterparts. Should you get a heavy grill press?
Only when you know that you'll be using it for a large steak or hamburger, not for veggies. Yet, when you love to grill fish, sandwiches, fish, or veggies, then a relatively lightweight grill press can be better.
Also, keep in mind that heavier grill presses can cause your food to lose moisture faster, though they ensure an excellent sear. 
As a rule of thumb, 1.5-2.5 pounds of pressure per steak or burger is fine from your grill press apart from its size. For instance, if you have a 10 inches grill press of 6 pounds, which can accommodate 2 burgers or steak underneath, that is fine. Likewise, a grill press of 6 inches that can press your single steak with its 2-3 pounds of weight is also excellent.
Handle: How high and of what Material?
The grill presses come with two types of handles: metal and wooden. In my opinion, it's not a big concern. Whatever the handle material of your grill press is, you must touch them using a dishtowel. 
BUT
The grill press with a wooden handle is better for an accidental touch, which can be common in haste. 
It's essential to see how your grill press's handle has been attached to the base. If it comes with an entire molded design, with no attachments. These handles get hot faster because they have no barrier to prevent them from heat conduction. 
Like the grill presses handle material and attachment type, its height also affects your experience.
If you've got big hands, the low handle can be problematic enough to ruin your entire user experience. And, of course, they'll get hot faster, as well. 
The handle of your grill press defines the ease of use more than anything else on your burger grill presser. Grill presses with a steel or cast-iron handle molded from the press' bottom surface are dangerous as they become too hot to hold.
Your grill press handle should rise at least 3 inches above the cooking surface. If they're low, they're quite difficult to grab. You cannot hold them, making it impossible to position your fingers properly and maneuver the burger. When used bare-handed, they can burn your fingers. Even if your fingers don't touch the surface, heat will reach your fingers.
It would help if you always looked for a grill press with a wooden handle with good height for the reasons mentioned.
Price
For the grill presses, the price can't be a primary factor to affect your decision. The reason is, the price difference isn't high. So, you can get the best no matter if it's a few $ higher.
Warranty
The warranty of any product determines your worth as a user in the eyes of manufacturers and how they'll treat you when a problem occurs. In my experience, it hasn't only been a product to claim its superiority over others, but the warranty that ensured your ultimate experience has been good. So, check the product's warranty before adding one to your cart.
FAQs
What is a grill press?
A grill press is a flat weight composed of cast iron or other heavy materials such as stainless steel or aluminum. Grill presses are often known as bacon presses or steak weights. 
It allows you to press the food against the griddle surface to get more heat, staying more even.
It also helps to sear the food surface and create an amazing crust.
When used after heating, it helps with the speedy cooking process by cooking the food's top surface simultaneously. Thus, it saves time.
Are grill presses worth it?
Grill presses are great value to help you cook faster, keep your food from curling, get more heat for your steaks, veggies, patties, and sandwiches. The grill presses are also excellent to help you release excessive moisture and fat from your food. 
How can I use a grill press?
A grill press is not a simple tool for pressing the meat only. It can serve you in many ways, like pressing steaks, searing them, flattening bacon strips from curling, and inviting crispiness on your patties. As soon as you learn how to use a grill press, it'll be your most favorite tool in the kitchen or camping sites.
Are cast iron grill presses dishwasher safe?
No, cast iron grill presses are not dishwasher safe. You can only wash them with lukewarm water followed by seasoning.
Final Thought: What's the Best Grill Press?
Your best grill press can be your favorite tool in the kitchen, which can aid you in various ways. But which can be best for you? 
You can choose any option among the best grill presses we've reviewed. According to us, the round grill press by Bellemain is for you if you have small hands. For masculine hands, the Radicaln's grill press can be ideal. 
Yet, when you want a gigantic size rectangular grill press, the Blackstone XL is, indeed, matchless. For an average-sized rectangular grill press, the one by Victoria outdoes here. 
Let us know which can be yours best by using the comment section.
universitygrill.net is a participant in the Amazon Associate program and will earn from qualifying purchases.