Are you searching for the best infrared grills that heat up easily, save you from flare-ups and minimize the cooking time of BBQ? You're at the right place; we know the importance of having an infrared grill in the backyard. Undoubtedly an Infrared grill is one of the essential pieces of grilling equipment when you want an even distribution of intense heat. 
But wait, do you know that there are hundreds of infrared grills you can find on the market? Finding the best one among those hundreds is the same as finding a needle in a haystack. But don't worry. We're here to help you out. 
In this article, you'll get the answers to all questions. Additionally, we'll guide you about what you should consider while buying infrared grills and recommend the best-infrared grills that will surely give you impressive results. 
Here we come!
Best Infrared Grill Reviews in Detail
Here we begin with the reviews of the best-infrared grills.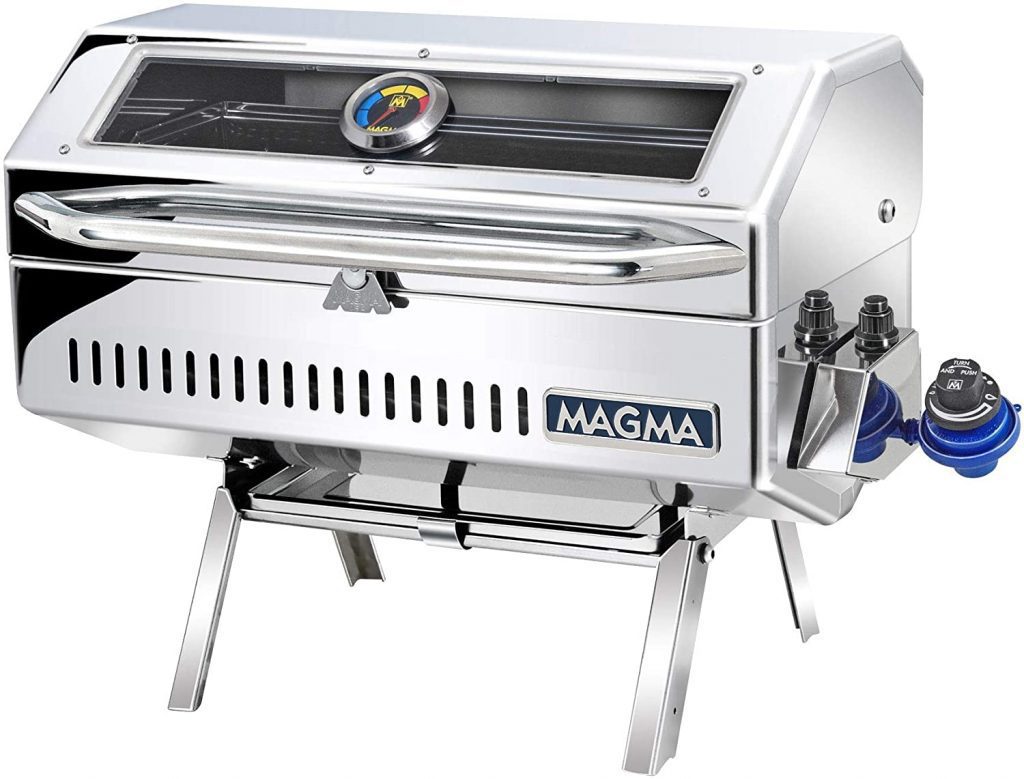 It sears, sears and sears. Yes, we're talking about Magma A10-918-2GS Newport 2, which can be a perfect addition to your grilling. It offers fantastic features and a perfectly crafted grill area that is ideal for grilling burgers, steak, chicken, etc., and will make your life easier. 
Quick Features
Impressive and Compact Design
Durable Material
Compact Grill
Anti Flare Infrared Technology 
Easy-to-Clean and Carry 
Additional Features 
Impressive and Compact Design 
An appealing design is one of the most sought-after things.
The good news is that the Magma A10-918-2GS Newport 2 has a beautiful grill design with its round edges, glass-like finish, and tempered glass window. 
Yes, a tempered glass window is the only feature that you find with this grill, not others. The idea is great to let you keep an eye on your food.
When the hood opens, it reveals an entire glassy universe of grilling. The inside features the primary grilling area of marine-grade stainless steel beside the grill rack to warm your grilled food.
You know what? The grill is safe to place on any surface. It's because of the foldable legs. Overall, the grill's design is pretty advanced and helpful.
Another thing we liked about Magma A10-918-2GS Newport 2 is its compact design. It's 22.5 x 11.63 x 11.63 inches with 19.94 pounds of weight only or, in simple words, 20 pounds. 
So, don't worry about space or portability; it's excellent for camping and tailgating. 
Performance 
A good design must combine with performance. The grill is terrific and gets hot in no time. And aided by infrared technology, it delivers even heat. Thus, you cook and grill your steaks, filets, and burgers amazingly. 
Furthermore, anti-flared technology gives the meal a smokey flavor, a hermetically sealed thermometer controls the grill's heat. Magma A10-918-2GS Newport 2 also features an electronic ignition system to start the grill quickly.
Durable Material 
Having a good quality product is truly a blessing. With Magma A10-918-2GS Newport 2, you don't have to worry about the quality. Because it's made with 18-9 mirror polished Stainless steel, don't worry; the grill's body will be tough and durable. 
Easy-to-Clean 
The grill is also easy-to-clean. The grease management system of the grill is excellent. The underneath pan catches are easy to clean, followed by a single wash.
Yet, the grill demands regular cleaning. In case of delayed cleaning, the grease build-up on the heating tray will cause slower heating in your grill. 
Our Final Verdict for this Grill
This grill is outstanding for a small get-together or if you have a small family. The main disadvantage is it only has a 162 Square Inches grill area, so it's not ideal for cooking for many people. Lastly, it also has a combustion system that will keep the grill lit in wavy winds on our boat or camping site.
Why love this grill?
The design looks appealing. 
Build quality is excellent.
 It's compact.
Supports LPG and CNG fuel systems 
The foldable legs help in portability.
What are the cons?
The primary cooking surface is small. 
The grill takes time to heat up. 
It's slightly overpriced.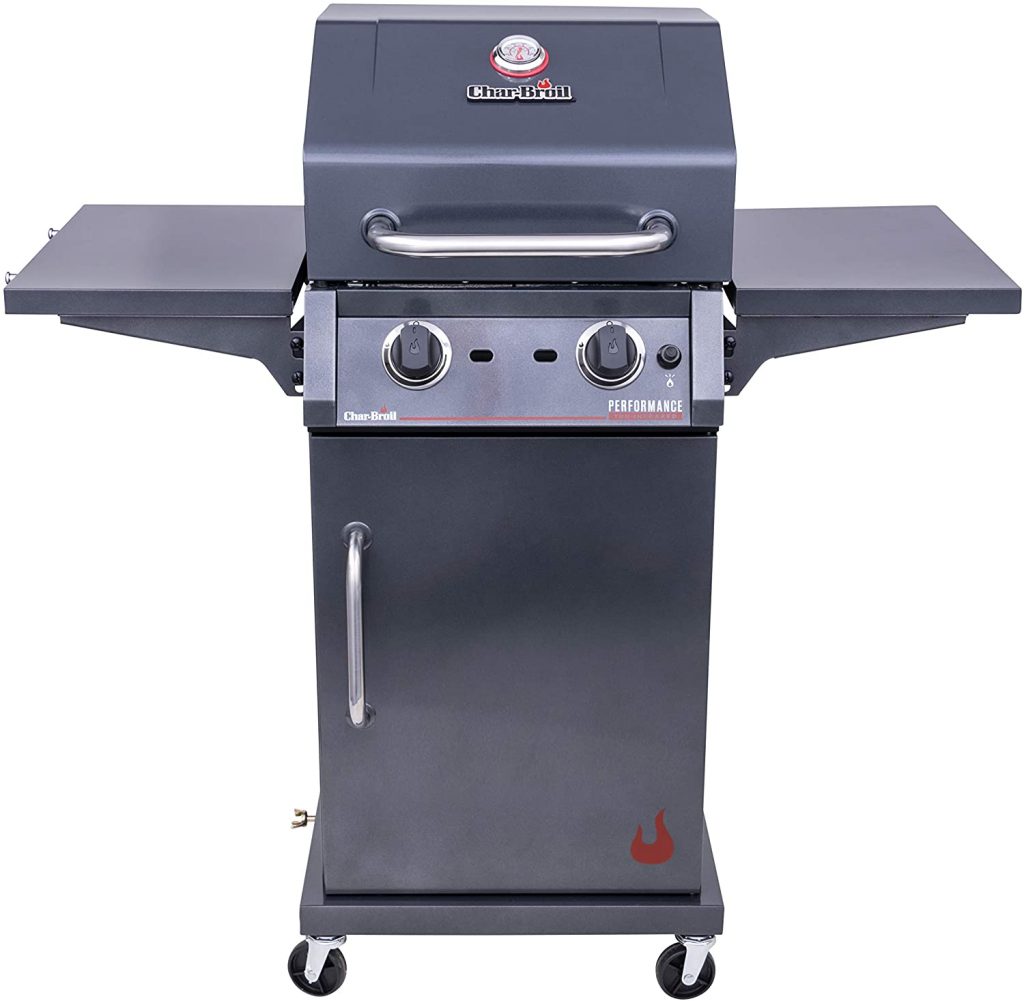 Another grill that we've liked and picked for you has been Char-Broil 463655621 Performance TRU-Infrared grill. Let's have a look at the features of Char-Broil 463655621. 
Quick Features
Appealing Design 
Spatial Cooking Surface
Excellent Performance Via TRU-Infrared Technology
The Durable Grill 
Appealing Design 
Char-Broil 463655621 Performance TRU-Infrared grill has an appealing and helpful design to ensure a positive experience. Unlike a traditional gas grill of small size, it has a large body of 44.5 x 22.4 x 45.3 inches. You can cook food and store a lot of things in it. 
This infrared grill is way too big, but it also offers a lot of storage to mount your propane cylinder and keep essential things. 
Later on, you can carry the Char-Broil 463655621 anywhere without any hassle with the help of wheels. For instance, you can keep all BBQ utensils, grilling tools, or anything in the built-in cabinet. We also appreciate that the grill hood has a handle with an extensive gap to remain cool to touch. 
Electronic ignition systems for a quick start are more notable features in the Char-Broil 463655621 Performance TRU-Infrared grill. Beneath sits the porcelain-coated grease tray is easy-to-clean as you can remove it for easy cleanup. 
Spacious Primary Cooking Area 
The Char-Broil 463655621 Performance TRU-Infrared grill has 310 square inches of space for cooking. In short, you can easily cook 16 burgers and also use a 95-square-inch warming rack for buns. Primary cooking surface area is a notable factor you should look at while purchasing a grill. 
Excellent Performance Via TRU-Infrared Technology 
How should an infrared grill perform? Of course, you love it for offering you a great deal of even heat.
Be happy, for the 463655621l grill by Char-Broil can meet your expectations by getting you 16,000 BTUs if you combine both burners. Besides this, the TRU-Infrared technology that spreads the heat evenly helps cook tasty and juicy meat evenly. 
How can we forget about searing? Yes, it sears your meat fantastically.
The Durable Grill
This propane/LPG-powered gas grill has stainless steel infrared burners for their excellent durability and anti-rust quality. Likewise, the grill grates are also long-lasting, being porcelain coated.
The grill's body is powder-coated. Yet, it's a durable grill. Furthermore, some parts, like the side shelves, are pretty thin.
Our Final Verdict for this Grill
To sum up, the Char-Broil Signature TRU Infrared grill is a once-dreamt-of-grill with a few downsides like thin material of side shelves and extra heat out of infrared technology. 
Why love this grill? 
It offers ample cooking area. 
You can keep essential things in the cabinet. 
It has TRU-Infrared technology that will make the meat tasty and juicy. 
Electric ignition system. 
What are the cons?
The size is not for small spaces. 
The ignition system might not serve you for a long time.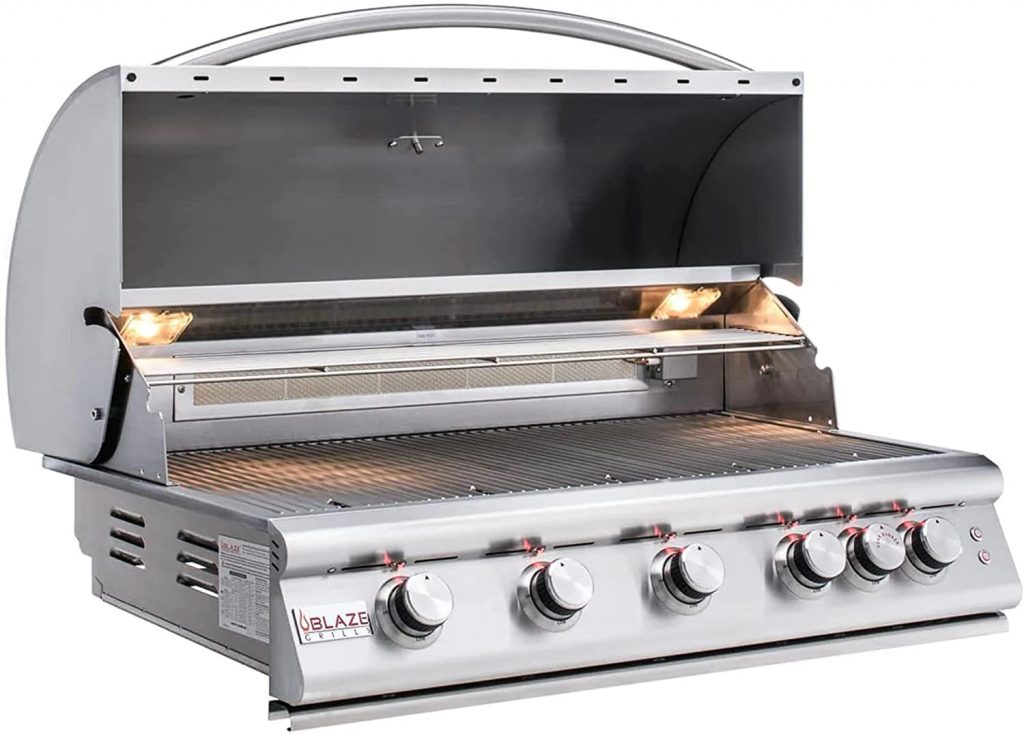 Blaze Premium is one of the best grills available in the market. From natural gas as a fuel to commercial quality stainless steel infrared burners, it comes with everything that makes this grill number one choice for many people.
Quick Features
Design and Style
Incredible Performance.
Space-saving structure
Durable and Most Reliable Grill
Design and Style
This best-infrared grill has the dimensions of 25.7 x 39.5 x 21.25 inches and weighs around 139 pounds. It has a commercial-style design and is big enough to entertain a large group of people at once. 
On the front panel, you get 5 separately controllable burners supported through a flame-thrower primary ignition system for an easy and fast start every time with just one push.
As you open the lid, you get ample cooking space and warming racks. The LTE knobs are excellent for letting you control your grill at night. Similarly, it has interior lights that help navigate the grilling surface at night.
We forgot to mention! What? 
The grill hand is ergonomic to keep the heat away when the grill is hot inside. So, you can tough it safely.
Incredible Cooking Performance
Why do you get a grill? To cook your food in an ideal manner that comes through maximum, controllable, and even heat output.
So, how about this grill by Blaze?
It'll amuse you!
The Blaze Premium grill has additional features to ensure happy cooking, including 14000 BTUs of power, flame stabilization grids, flash tube ignition, etc. It also features a full-width drip tray for quick, easy cleanup.
The flash tube ignition offers different ignition options for grilling. It comes with a heat zone separator to divide the cooking surface into separate temperature zones. 
Under the triangle stainless steel cooking grates, you get divided cooking zones: the infrared burner and other grilling burners are supported by flame tamers to ensure an even heat distribution. Resultantly, your food cooks evenly and deliciously.
The grill is incredible when it comes to heat retention. The reason is its double-lined lid that prevents heat loss besides keeping the lid from scorching hot.
With sizeable cooking space, this grill is perfect for cooking every kind of meat.
Durable and Most Reliable Grill
Blaze Premium LTE grill comes with 304 stainless steel components, which are highly durable and make this grill table long-lasting and reliable. It features 9 mm heavy stainless steel cooking rods that maximize the grill's durability.
One thing that people love about this grill is that it offers a lifetime warranty to its users. It means you can claim replacement of its main parts if you find any defect, including cooking grids, body, flame tamers, warming rack, etc.
Our Final Verdict for this Grill
The infrared grill by Blaze is one of the best-infrared grills that you can have in your outdoor kitchen. Many features of this grill are hard to find in any other rivals, like divided zones, LTE lights, lighted grates, etc.
Yet, you need to take a few points into account. Make sure you're getting it as a drop-in head, not to use on a cart. Otherwise, the rear openings will maintain airflow resulting in uneven heating zones and significantly affecting the overall grilling experience.
Why love this grill?
It's one of the most durable infrared grills.
Fantastic build quality out of 304 stainless steel
It offers a lifetime warranty.
Built-in lights and illuminated control knob to navigate the grilling surface at night
The grill is also available as a liquid propane gas grill.
What are the cons?
It's expensive.
If used with a grill and cart design, it can have low heat because of the large opening in the rear.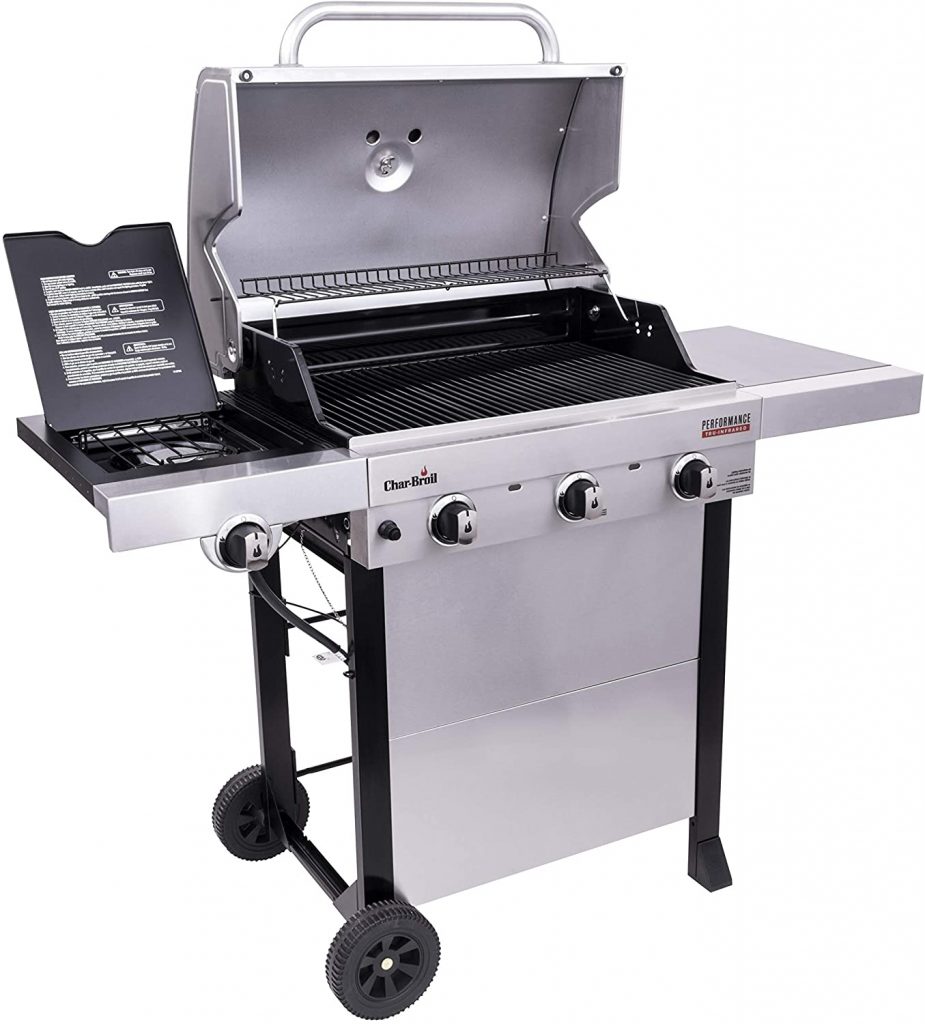 So here comes the last pick of our best-infrared grill list: Char-Broil 463370719 Performance TRU-Infrared 3-Burner Gas Grill. Is this the best-infrared grill from Char-Broil, perfect for a big family? Let's find out in our review.
Quick Features
Supportive Cart Style Design
Fast and Reliable Startup
Ample Cooking Space and Wonderful Grilling Performance 
Easy-to-Clean 
Supportive Cart Style Design
The first thing you'll like about this grill is its design, which looks sleek. It's made with stainless steel, including the burners. Therefore, rest assured you are spending your money on a durable product. 
This infrared propane gas grill has a mounted gauge, "Char Broil's special lid handle," side tables, and an extra burner. The cart style is exceedingly helpful in maintaining an aesthetical presentation of your grilling unit.
Ample cooking space and Wonderful Grilling Performance
A person with a big family or plans to throw a big party for his friends will face difficulty with a small grill. This issue has been solved with the Char-Broil 463370719 TRU-Infrared Gas Grill that comes with 450 sq inches of cooking space, meaning you can cook 24 hamburgers at a time. 
How hot can it get? Is it enough? If not, it can heat more up to 800 degrees and as low as 250 degrees Fahrenheit. 650 degrees is the quick heat outcome you can hope for with this grill.
You can prepare sauces or side dishes and meat by using side burners. In the last, the TRU-Infrared technology prevents flare-ups and enhances food taste. 
Additionally, it has a lid-mounted temperature gauge which you can use to monitor the temperature. 
Easy-to-clean 
In general, like other large machines, most infrared grills are difficult to clean. Yet, the good news for you is you'll not face it here. 
The grill has rust-resistant porcelain-coated grates, in other words, easy to clean. Other than being rust-resistant, these grill grates are durable and last long. Some users have found the cleaning reasonably challenging. Yet, you can stay relaxed if you carefully follow the manufacturer's instructions.
Fast and Reliable Startup
Grills can take much time to preheat, and it can be distressing. Yet, the Char-Broil 463370719 TRU-Infrared 3-Burner Gas Grill has proved quick to heat. 
It has an electronic ignition system that can start quickly with a push of a button on the front side of the grill. 
Our Final Verdict on this Grill
In a nutshell, we recommend this grill for more demanding cooking. However, you'll have to take care of a few things. 
First, they can be confusing to assemble. Second, the stainless steel grill isn't of premium quality stainless steel, being under budget. So, you can spot rust or corrosion after 4-6 years. Yet, it'll be the least justifiable because the best stainless steel grills are expensive. 
Why love this grill? 
 It's easy to start. 
Grill's cooking space and grilling performance are highly satisfactory.
The cleaning is easy peasy.
The grill is trustworthy to do its infrared job of searing.
It's a budget infrared grill.
What are the cons? 
The assembly of the grill can take time. 
The edges are sharp and can cause an injury. 
The thin material is prone to catching rust after a few years.
GASPRO Multitasking liquid propane gas grill is the perfect option for the slow-cooking barbecue to quick searing. This grill is a bit more expensive than others, but it offers excellent value for money and will be great for your backyard.
Users have liked many things about this grilling machine, from the features to its design. Let's see what those are in our detailed review.
Quick Features
Sleek and Compact design
Incredible Cooking Performance
Easy to use
Sleek and Compact Design
The GASPRO propane Infrared grill is an unconventional concept of grilling. It's made up of premium quality stainless steel. Thus, the structure of this grill is durable to make it rust-proof. 
This multi-tasking grill is that it's compactly designed. So, it does not require much space to get fitted in. 
Also, the machine is easy to carry and weighs only 34.8 pounds. Thanks to side handles, you can transport it anywhere easily.
The compact design does not compromise the grilling area. It's spacious but unluckily, the grill comes with only one grill rack.
Incredible Cooking Performance
The grilling unit comes with infrared technology to deliver restaurant-grade performance for smooth grilling. Additionally, the less air in convection keeps the food tender and moist as it involves less air convection. 
The grill allows you to put a grilling rack in 6 different positions according to your meal requirements. Besides, using this grill outdoors is safe as it's CSA-certified.
It has a convenient warming tray, which can be removed easily whenever needed. Besides, it has 3/8 inches male flare fitting in the regulator and valve, allowing you to connect to any female 3/8 inches flare hose.
The temperature range it offers is from 200 to 1500 degrees Fahrenheit, which is just a wow to let you cook whatever you want, including a big turkey for Thanksgiving, Tandoori Chicken, or delicate foods like veggies, sandwiches, shrimps, nachos, and eggs in this grill master. 
What else you'll need to cook your delicious recipe?
Easy to Use and Clean
This grill is pretty simple to install outdoors. The setup of this grill requires less involvement and time than other grills. The packaging of this grill comes with proper instructions for using it.
Our Final Verdict for this Grill
Also, this grill offers multiple connection options and different heat zones for veggies, fish, and meat, which is a fantastic feature.
Why love this grill?
Rust-proof and safe to use
Easy to carry and keep
Large grilling area
Clean-up is easy after usage
Customer service is beneficial.
What are the Cons?
It comes with one grill rack only.
The igniter is not up to the mark.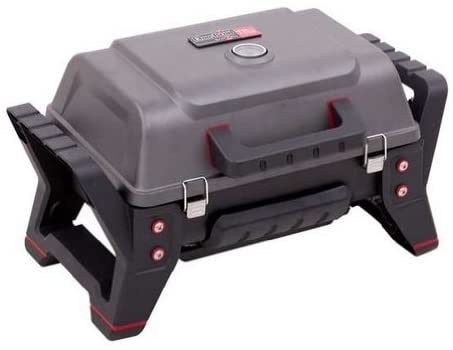 Undeniably the list of infrared grills we've shared above works terrific. They offer excellent features, but if you're looking for a grill that you can carry in your hand, then Char-Broil Tru-Infrared Grill2go is exactly what you want. 
Quick Features
Excellent Built Quality and Portable Design
Ease of Usage
WOW Performance
Excellent Built Quality and Portable Design
THE WORST SCENARIO IS canceling BBQ plans on trips just because you don't have a grilling machine can that be the worst scenario! Don't worry! 
Char-Broil Tru-Infrared Grill2go, with its 23.7 x 15 x 13.6 inches size and 20 lbs weight, can solve your problem. It's one of the best grills for camping and picnic purposes. 
The lightweight, portable grill has side handles for snap portability. In the same way, the integrated legs allow you to mount them on any prep table safely.
Char-Broil Tru-Infrared Grill2go has excellent built quality. It features a cast-aluminum firebox and lid with stainless steel latches. 
Other than that, the infrared grates of this Char-Broil Tru-Infrared Grill2go are also made with stainless steel. So you don't have to worry about the quality as the grill will not rust and will work perfectly fine for years. 
Ease of Usage and Cleaning
The gill must be easy to use, do you agree? While using the Char-Broil Tru-Infrared Grill2go grill, you don't have to be anxious at all. A single push will ignite the grill, and the thermostat controls the temperature.
After ending your grilling, the task of cleaning doesn't haunt you. For easy cleaning, the removable drip tray is of great help. 
But when you need to deep clean this grill, it's really painful to unclog the holes, especially when you skip this care after each grilling session.
Incredible Performance
The grill comes with a cooking space of 200 sq ft and allows you to cook eight burgers at a time through a TRU-infrared cooking system.
For grilling, you need flowing heat, right? 
This grill is for you because it has a fantastic heat output of 9,500 BTU main burner. You get approximately 400-450 degrees of heat at the lowest setting. 
What does it mean?
On an average or higher, you get a flood of heat that can burn the food. So, if you know how to control heat during grilling, you can have it.
Why love this grill? 
It's travel-friendly. 
The built-in quality is impressive. 
It's easy to Use. 
It's a budget option.
What are the cons?
You may face issues in controlling heat temperature. 
 It's only suitable for small gatherings or families.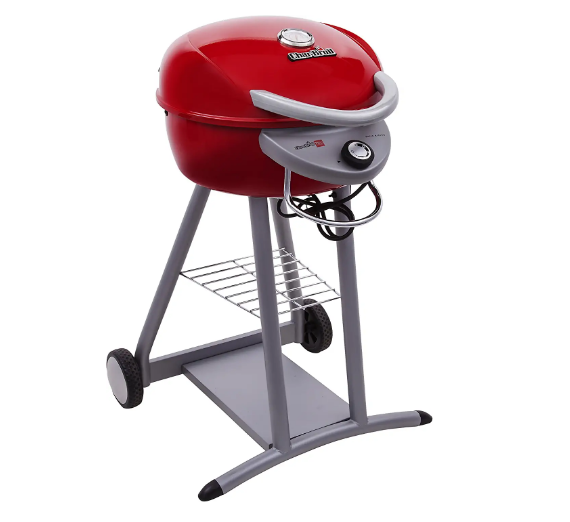 The TRU Infrared Patio Bistro by Char-Broil brand is different in terms of style from the grills we reviewed previously. It's stunning and compact. You can see the design, the color, and the finishing. Everything looks great! 
Quick Features
Appealing Design 
Good Cooking Performance
Cooking Space 
Appealing Design 
The design of the Char-Broil Infrared TRU Electric Grill is pretty modern, and it'll be a great addition to your home, RV, boat, apartment, and balcony.
This porcelain-coated grill comes in various colors to match your interiors. Ahh, the cherry red color has been our favorite! 
The two wheels are exceptional for the sake of portability. The typical CharBroil specialized handle on the lid is a great catch to protect your hands from the blast of heat that infrared grills come with. Similarly, the small rack under the grilling area has also aided the storage.
The most fantastic feature of the Char-Broil Infrared TRU Electric Grill is that it is compact. The size and body are medium (26 x 24.2 x 38.5 inches). Plus, it's an electric grill; you can carry it anywhere because only you need electricity. 
Good Cooking Performance
How about the cooking performance of the TRU Infrared Patio Bistro? As per your expectation from an electric grill, it's also fantabulous for cooking. The simple thermostat gives you complete control over the grill's temperature. 
The heat is enough to let you cook all your grilling specified recipes: burgers, steaks, and chicken breast. Yet, it'll not get hot more than 450 degrees. 
Other than that, there's also a temperature gauge available on the top of the grill. So be happy because you can check the temperature. 
Are you throwing a party for 10 – 12 people and planning to make burgers, chicken, and other things? It's an ideal grill for you. 
It features a 240-square-inch cooking space and 120 sq inches the pull-out rack. Both of these things are perfect for making 12 burgers simultaneously. 
Our Final Verdict for this Grill
This infrared grill is matchless for balcony, Appartement, and indoor grilling. Yet, it has a few shortcomings, like longer preheating time, low temperature compared with gas grills, more cleaning effort, and rigid assembly.
Why love this grill? 
The cooking space is suitable for small events. 
Grill's design is a win.
The grill can fit in small spaces.
It's durable and portable.
It has a warranty of 1-2 years on different parts.
What are the cons?
It takes time to heat up. 
You might face problems while assembling the grill. 
It's not easy to clean.
Charbroil customer support is not good at keeping promises.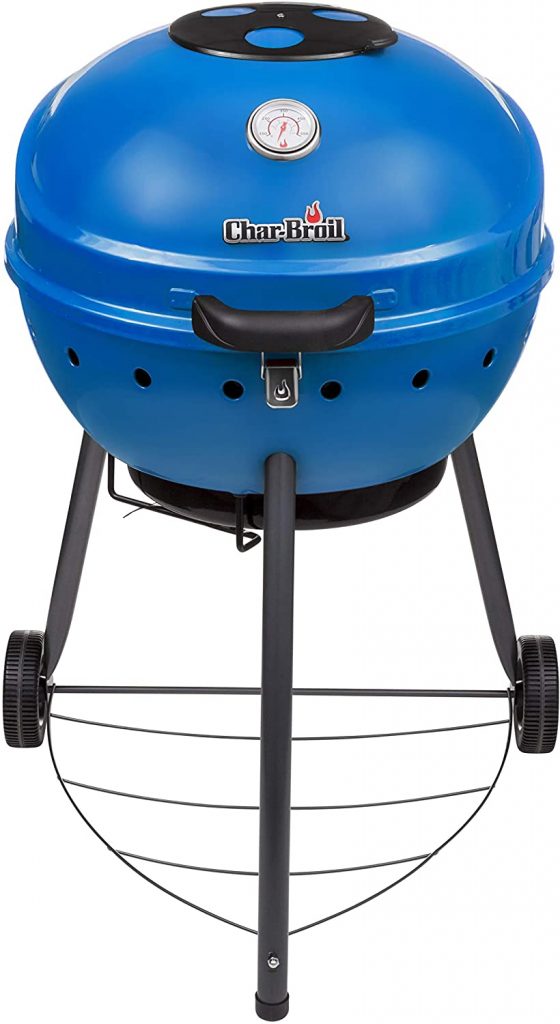 In this article, you have got almost every type of best infrared grills from built-in units to smokers. But did you miss the best-infrared charcoal grill? 
Quick Features
Tempting Design and Robust Construction
Ideal Cooking Performance
Ease of Cleaning and Usage
Tempting Design d Robust Construction
Char-Broil's best infrared charcoal grill has got you a simple but tempting design. You can see how this cute cooking unit looks in your backyard. Available in two colors, blue and black, this grill has been a top priority for many charcoal grill lovers.
It has a top lid with a built-in temperature gauge. The cool-touch handle is highly helpful in removing the lid. The lid of this grill sits behind the gill area nicely. It's because of its hinged design.
The portability has been supported by its two wheels. Thus, it's a compact grill, simply.
Ideal Cooking Performance
An infrared grill must save you fuel and thus money. And, for that purpose, this grill is reliable… 
You have to spend a generous amount to run a grill on charcoal. The good idea of an infrared grill for energy efficiency and cutting cost has been met well by this grill.
The infrared ceramic coated grates maintain an even heat distribution under its 360- square inches total grilling area.
Thus you can cook meals for your small family. Th what regulation is the utmost feature of this grill? And for that purpose, the 360 degrees holes ensure the airflow to keep your charcoals burning. You can also put a handful of the best wood pellets for smoking to add more smoke.
Ease of Cleaning and Usage
Undoubtedly the grill is easy to use. You make a bed of charcoal and ignite it. 
Here you go.
The same is with cleaning your grill. The ashpan has been designed thoughtfully. So you don't spot fallen ashes. 
The only problem is cleaning the ceramic cooking grates. You need to clean them with different methods. The method prescribed by the manufacturers isn't of help.
Our Final Thoughts on This Grill
YES, YES, in every way, this infrared charcoal grill meets all standards of an authentic infrared charcoal grill. Yet, you can have the only issue of ceramic coating chipping off after some time. So, take care of your cooking grates; it can be hard to get a replacement for them.
Why love this grill?
The compact and portable design
Energy-efficient cooking performance
Easy to clean and use.
It's a budget option, indeed.
What are some cons?
The ceramic coating can go away.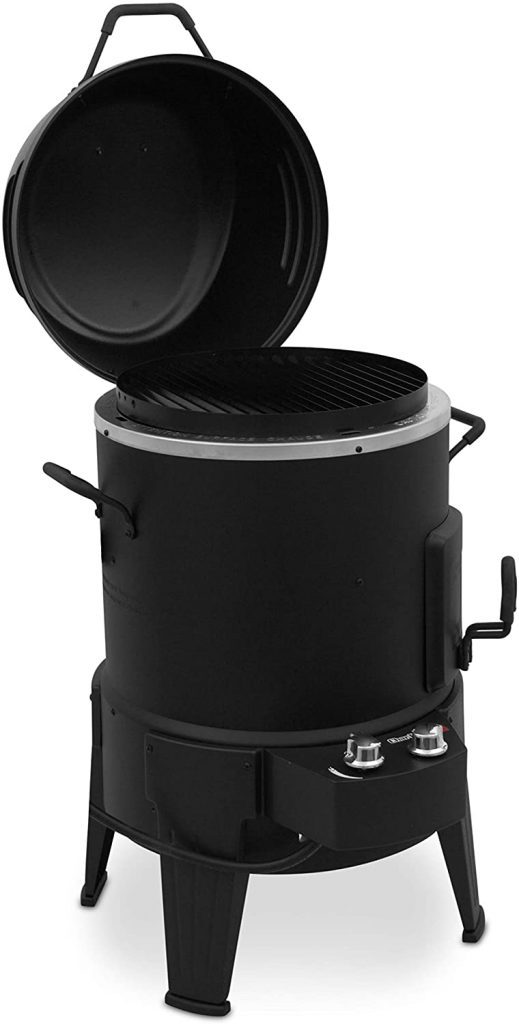 People sometimes prefer a smoker over a grill and sometimes grills over a smoker. If you're among those, heave a sigh of relief because Char-Broil's The Big Easy TRU Infrared Model 14101550 has solved your problem. 
Are you feeling curious? Let's know how the users have found it.
Quick Features
Sturdy Design with Max Versatility
TRU-Infrared Technology
Easy to Use 
TRU-Infrared Technology to Ensure a Positive Grilling Experience
Sturdy Design with Max Versatility
What attracts us most to this grill is the unique design, which is different from the grills we've shared above. It's small with 23 X 23.4X 36.2 inches dimensions. 
Does it mean it offers fewer features? No, it provides a lot of Versatility. With this grill, you'll get a 1200 sq ft smoker basket that is enough to cook a 21-pound turkey, a large cut of meat. 
TRU-Infrared Technology to Ensure a Positive Grilling Experience
Similar to the grills we've shared above, it also comes with TRU-Infrared technology. So, this grill provides even heat to help you cook tasty food besides saving fuel. 
Yet, on the downside, gaining a minimum temperature between under 300-325 Fahrenheit at the lowest setting is daydreaming. Thus, overall it's one of the best infrared grills you could ever have.
Easy-to-Use 
The quality of this grill plus smoker is excellent, and it's also easy to use. 
The happy experience begins with the easy assembly. Then, you just have to connect it with a liquid propane tank.
Later, by turning the knobs, it'll be ready to cook like a dragon. The cleaning process is also easy, thanks to the removable grease tray. 
Our Final Verdict on this Grill.
The Char Broil's infrared Big Easy is a must-have if you love smoking and grilling simultaneously. However, you have to compromise on the least control over the heat on the lowest setting, which is pretty expected from all infrared grills.
Why love this grill? 
 It's a combo of smoker and grill. 
 It's easy to use.
The grill offers versatility.
Perfect for travelling purposes.
What are the cons?
The cooking space is small. 
It might not be possible to attain the lowest temperature.
Charbroil's customer support isn't constructive.
Things to Consider While Buying Quality Infrared Grills 
Do you know countless customers worldwide feel they make a wrong decision after purchasing products? If you don't want to be one of them, read this buying guide until the end. 
Don't worry; we'll give you a brief info about the important points that will make your shopping experience easy-peasy. 
Size and Cooking Space of Infrared Grills 
Undoubtedly, the size of the infrared grill is one of the most important things, and you should think about it first because ending up with an oversized or smaller infrared grill can create many problems for you in the future. 
If you have a small space for an infrared grill, a portable one will be best for you. On the other hand, if you've enough space or like to entertain large gatherings, you certainly need a big infrared grill. 
So make sure to think about the space you have before getting any infrared grill. 
Choose the Right Type of Infrared Grill: Gas, Charcoal, or Electric 
After thinking about the infrared grill's home space and cooking space, the next thing you should consider is which type of infrared grill you need. 
Remember, there are three types of infrared grills: gas, charcoal, and electric. If you're worried about which one is best, then here's a brief overview of both infrared grill benefits. 
Electric-fired infrared grills are powered by electricity instead of gas. These grills are usually expensive, but you can see them indoors, for they don't run on gas or propane. Thus, they're relatively safe even though they produce less heat.
Gas grills come with a blast of heat; however, they're the best for outdoor usage. Likewise, they can be as costly as $2000 or more.
Charcoal infrared grills are the best option when you love grilling outside and also wish for infrared grilling combined with classic smokey flavor.
Think about the Ease of Use 
If there's one thing that can change the entire mind towards a product, it's the ease of use. It doesn't matter how good the product is. If you're facing problems while using or assembling, your picked product is of no use. 
So make sure you're picking an infrared grill that you can assemble easily and enjoy cooking without any hardship. One good news for you is that the infrared grills we've chosen for you are all easy to use and assemble. 
The Material and Durability Infrared Grill 
Let's come to another important point: the material and durability determine a quality infrared grill. After all, you would never want to purchase an infrared grill with the worst quality material because, indeed, it'll not work after some time. 
As there's a famous phrase: Buy cheap, buy often. 
That's why you should think about the build quality aside from features. If you have two options between a cheaper infrared grill and an expensive one with the same features but many differences in build quality, go with the expensive one. 
Warranty and Customer Service 
In the end, the last and most crucial thing you should consider is the warranty and customer service of the infrared grill company. Try your best to find a grill with a good warranty so you can seek help in case of any problem. 
FAQs about Best Infrared Grills
Are infrared grills better?
Infrared grills are better than gas, electric, or charcoal grills. But how? They have several benefits. Some of these are listed below.
First, they do better searing than any other grill. The reason is their higher temperatures.
Second, slow and low Barbecuing is also easier on infrared grills, for the infrared heat penetrates the food like convection ovens.
Third, there is no case of flare-ups with infrared grills that are common with other grills. Thus you enjoy safe grilling.
Fourth, you get no more cold zones when using an infrared grill.
Fifth, the heating takes less time with the infrared system, e.g., reducing the preheating time by 30 %.
Last, as the infrared grills don't catch drippings on the burners, they stay clean. Hence, the cleaning is easy.
Is an infrared burner worth it?
An infrared burner is the quickest way to get the brown sear marks on your steak by your grill's side. It can take more time to wait for your steak to grill on the grill. 
Or you'll need some best butane torch lighter for the purpose. Yet, when you have a side infrared burner, it offers more heat to sear your meat in no time. Thus, having a grill with an infrared red burner can save time and fuel.
Are infrared grills healthier?
Infrared grills are a new concept in the world of grilling. They appear complicated at first appearance, but their operation is straightforward. Instead of a burner or flame, an infrared plate is heated to high temperatures on the burners sitting under it. This plate then transmits the heat, allowing your food to cook on the grill grates. 
However, it's not the same infrared waves that come from the sun or some nuclear plant known to contain radioactive materials. As a result, using infrared grills is a no-brainer. We've devised a simple idea to increase the amount of heat produced while conserving energy and reducing heat loss; otherwise.
What is the best infrared built-in infrared gas grill?
The Blaze Premium is the best grill for outdoor kitchens. The grill is available in natural gas and propane options. So, you can pick the Blazes' infrared propane gas grill with similar satisfaction. Because of their lifetime warranty, they're completely reliable.
Can I Get a Blaze Infrared Gas grill with 4 burners?
Yes, you can have the Blazed 4 burner liquid propane infrared gas grill with equal satisfaction. 
Why are infrared grills so hot?
An infrared grill heats a metal, ceramic, or glass plate over the burner, creating infrared radiation rather than hot air. This plate warms up faster than air and reaches a significantly greater temperature.
Our Final Thoughts on Best Infrared Grill 
Ultimately, our only advice for you is to assess your infrared grilling needs instead of getting impressed by the aesthetics. From our collection of best-infrared grills, you can pick any that meets your need, for each of these is unique.
Which one is yours best?
You can share your thoughts with us by using the comment section. Relish safe and fast grilling!
universitygrill.net is a participant in the Amazon Associate program and will earn from qualifying purchases.