Do you want to add a BBQ treat to your outdoor kitchen? You must be confused between different options among the best built-in gas grills?
Don't worry, we've done all the homework for you. Today, we have come up with an impressive list of the best built-in gas grills that you can buy. 
We know that some of you will be hearing these brands for the first time. Showering you with several gas grills brands at once could be a little intimidating, and we understand it completely. 
For this purpose, we have added a buying guide that will educate you properly to make the right decision.  
Top Rated Built in Gas Grills – Complete Review
Here are some of the best built-in gas grills that you will find on the market: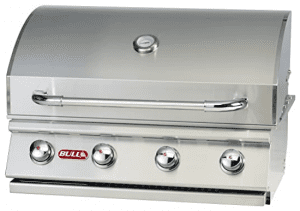 Did you know grill burners get damaged due to excessive heat exposure? Can you understand how it feels to face this terrible situation?
What if we tell you that you can save yourself from this misery next time? Bull's 26039 natural gas grill from Outlaw comes with porcelain-coated gas burners that last almost forever. It's certainly of the best built in natural gas grills. Let's know more about it.
Although the difference between Bull's Lonestar and Outlaw series is not much, this point was strong enough to add this model to our list. If you do not care about looks much, then the Bull 26039 natural gas grill is the ideal choice for you. 
Just like all other series offered by Bull, the Outlaw series is also certified by CSA. In addition, this particular model boasts 86% of 5-star reviews on Amazon, and this clearly depicts that it is a value to money product.
Finest grade stainless steel construction makes it ideal for placing it outdoors in harsh weather. Only a simple cover will be enough to keep it going for years. It's one of the best investments if an outdoor kitchen is an essential thing for you. 
You're mistaken if you think that this natural gas or propane-operated grill can't provide you with that smoky flavor. The smokebox that comes with this built-in gas grill is there for you to achieve excellence in BBQ. 
We often get late while preparing for a weekend. In the case of substandard grills, you've to give 15-20 minutes to the gas grill to reach an optimal temperature. Conversely, Bull 26039 takes only around 1-2 minutes to get 500+ degrees of temperature.
Furthermore, the temperature does not decrease immediately upon opening the lid.
Flare-ups are the worst enemy of our BBQ dreams. Bull, as a grill company, knows this and ensures that you get a flare-free cooking experience. Flare tamers of this built-in gas work so efficiently that you'll barely witness any flare-ups.
On top of that, Bull 26039 Natural Gas Outlaw Drop-In Grill Head offers 810 square inches of cooking space, and it is the same amount of cooking space you get in the Lonestar series model listed earlier. 
Are you fed up with eating food that gets cold while you prepare more? You can enjoy warm and fresh food every time with this built-in gas grill. The 210 square inches long warming rack keeps your food just the way you like it. 
Even heat distribution on the surface provides a fine dining experience to your guests. We often question our skills during outdoor cooking, but that is not always the case. Usually, the quality of the grill is responsible for that burnt food.
The presence of Piezo igniters ensures that the burners ignite every time you turn them on. Such seemingly little things take the overall experience to a whole new level. 
Why love this grill?
It has porcelain-coated burners.

It has an exclusive heat distribution system.

The grill has the best built due to stainless steel construction.

You get a lifetime warranty on the main burners. 
What are some cons?
The rotisserie kit is absent.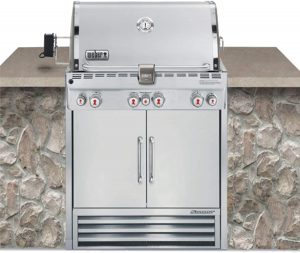 Would you like to buy a built-in gas grill loaded with immense practicality at a very affordable price? If yes, then we have done all the homework for you. Yes, you guessed it right, it's Weber's latest Summit S-460.
As the name clearly states, this model is part of Weber's top-of-the-line Summit series. We are starting our list with this built-in gas grill for a reason. This mid-size gas grill is loaded with all the frills that come in high-end models.
The design of this best built-in gas grill is a result of years of engineering. With this built-in grill, you won't need any special lighting. Although internal hood lights would be more appreciated, illuminated handle knobs also do the work. 
You should be ready to answer a lot of questions after buying this eye-catching grilling engine. The sleek and modern design of this Weber Summit S-460 will force your folks to ask all about this investment. 
If you don't like the looks of wheels, you can easily hide them with trim pieces and concealer strips. The best part is that you won't have to buy these as they come from the factory. All of these factors collectively make it a justified investment. 
It's a 304 stainless steel grill, yet they're vulnerable to rust if placed under the open sky because of the vents that come with all the BBQ gas grills. The rainwater is not forgiving enough to avoid using those vents to enter the grill when it rains.
In the case of Weber's Summit S-460 stainless steel grill, there are extra vents on the hood to keep excessive smoke out. Although the cooking area is water-resistant, unfortunately, things are the opposite in the cart area. 
With little extra care, you can keep mishaps away. To save your grill from rust, simply put a cover on it when it is resting. 
If you are questioning the durability of the Weber's Summit S-460 because of this, then hold your fire. The body of this built-in gas grill is made with stainless steel. The company understands that you are spending your hard-earned money, so it has made it last for generations.
This ultimate grilling machine comes with four main burners at 12,200 BTU each. A beautifully placed sear burner in the center offers 10,600 BTU at its best which is surprisingly good.
468 square inches of cooking space allows you to prepare meals for the whole family at once. A 112 square inches warming rack will keep food nice and warm if friends are invited to the cookout.
The best part is that you can remove this warming rack anytime if it is bothering you while cooking.
Another feature worth mentioning is that Weber Summit S-460 comes with an AC-powered 10,600 BTU infrared rotisserie.
With this high-end rotisserie, you can cook those juicy and tender roasts you have always craved for. All in all, by buying this built-in gas grill, you can satisfy all your grilling desires. 
Why love this grill?
AIt is a high-end model with extraordinary features. 

Its sturdy body is made with stainless steel. 

The presence of advanced technologies like equal heat distribution makes it exceptional.
What are some cons?
Rainwater can enter inside through the vents.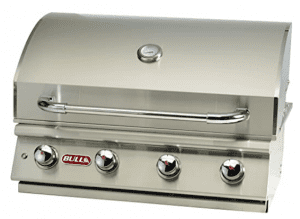 Are you looking for a compact gas grill that fits nicely on your customized island in your backyard? If that is what you are looking for, then look no further. Bull's 87048 Lonestar is a built-in gas grill that is made to provide an unparalleled grilling experience at an unbeatable price.
This model is made to fit in all kinds of islands, including whole wall brick islands to modern ones. The aesthetics of your backyard will undoubtedly be increased with the shining stainless steel body of this grill. The stainless steel body is for looks and ensures that the grill stands for years. 
Although the appliance gives a rough and tough feel at first glance, it is loaded with extraordinary features. Bull strives to provide the best value to its customers, and that's why their engineers keep coming with unbeatable frills. 
Now you might be wondering what magic this weird-sounding technology offers, right? Well, it allows you to fulfill one of your deepest desires.
What's that? The desire to utilize the whole surface of the grill at once. 
Yes, the time has finally come when you can grill all the steaks that evenly fit the cooking surface! This technology promises even heat distribution all over the cooking area. 
304 stainless steel has been used to build this timeless masterpiece to ensure maximum endurance and durability. Aluminum or stainless steel construction is considered as the synonym of durability.
This propane gas-operated built-in gas grill weighs only 125 pounds which makes it easy to install and use. Moreover, illuminated zinc handles make it ideal for night BBQ parties. 
Talking about the grill's performance, Bull's 87048 Lonestar offers 810 square inches of cooking space. Despite its compact size, this built-in gas grill provides a pretty decent cooking area. 
4 welded stainless steel bar burners offer 60,000 BTU of output in total. Although BTUs solely can't be regarded as the symbol of effectiveness, they are helpful for layered meat.
A 210 square inches long warming rack offers enough space to keep a big round of BBQ fresh. One thing to mention here is that the warming rack does not come with the package. You've to buy it separately.
This particular model operates on propane gas. If you like a grill that works on natural gas, it is also available at the same price. It makes the grill pretty handy and affordable in the long run.
Why love this grill?
It is made with 304 stainless steel.

The grill has good cooking space.

It has a durable welded stainless steel burner.

It's natural and propane; both options are available.
What are some cons?
You will have to buy a warming rack separately.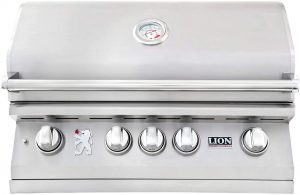 "Heavy, Sturdy and Hot" is what one of the happy customers of Lion Premium Grills have to say for this Lion Premium Grills 32″ propane gas grill. Undoubtedly this is one of the best-built gas grills available on the market.
Interior lights of this one of the best built-in gas grills are also adequate for calling your friends over a night BBQ party. Control knobs of these heavy-duty grills are illuminated, which also elevates the ambiance of the environment. 
830 square inches of grilling area is enough to prepare a whole platter at once. This built-in propane gas grill offers more grilling surfaces than most of the entities on the market.
It's worth mentioning that you have to remove grills while using the rear infrared burner. The reason is, the space is a little compromised when you use a rotisserie burner. 
The control panel of this heavy-duty built-in propane grilling machine is pretty simple to understand and use.
The control knobs are very durable and easily withstand all kinds of weather. If you want to get the most out of your gas grill, then do not ignore the importance of stable control knobs. 
Body built with commercial grade stainless steel making it sturdy enough to withstand the harness of any weather.
Not only the body but the stainless grills also add to the endurance of the gas grill. It won't be wrong to say that it has one of the best built-in grills. 
As the company's title says, Lion Premium ensures that every part of the grills is top-notch. Premium quality cooking grids offer a high heat retention rate, which results in highly tendered food.  
This Lion Premium propane gas grill has added credibility to the name Lion Premium Grills. The best part is that this grill comes with a lifetime warranty on cast burners, and hence it depicts that there are rare chances that you will ever repent on this investment.
When we checked the best built-in gas grills reviews on Amazon, we found that many people were more than satisfied. At every level, this built-in BBQ grill has met if not exceeded the expectations of its buyers. 
Even heat distribution isn't one of your concerns? Want a grill that boasts an exceptional BTU score? Sounds like your requirements?
If yes, then Lion Premium Grills 32″ propane gas grill is made for you if Along with this, it also comes with advanced features like a high-end best-built rotisserie kit.
The rotisserie kit is equally powerful, offering 15,000 BTU, the same as 4 main iron cast burners. An infrared rotisserie burner is ideal for roasting anything from chicken to turkey efficiently and precisely.
Why love this grill?
It's a product of renowned Lion Premium Grills.

It is a heavy-duty propane gas grill.

The grill will improve the aesthetics of your outdoor kitchen.

It offers plenty of grilling surfaces.

It also comes with a temperature gauge.
What are some cons?
The installation manual needs improvement which causes distressing assembly.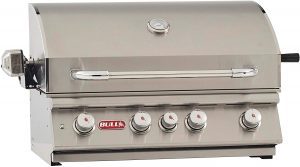 When it comes to finding the top names in the grilling industry, Bull products are always on the list. Whether you're familiar with the company's products or not, you won't be disappointed if you get Bull 47629 Angus.
Bull's best built-in grills are designed to promote an outdoor kitchen. Like other Bull products, Outlaw and Lone Star, Bull 47629 Angus also has 810 square inches of cooking space. 
But it's not the same product as you get infrared burners that are not present in Outlaw and Lone Star grills. Moreover, Bull 47629 Angus has a stainless-steel rotisserie burner.
In addition to the rotisserie, it comes with a built-in gas grill. With the regular 4 burners, you also get a rare infrared burner. It has an infrared burner, 4 four stainless steel burners and 75,000 BTUs of cooking power. 
Didn't get why it's one of the best built-in grills available at the moment? The reason is, if the grill's burners are cracked anyhow, you can get the new burners without any interrogation.
You'll just have to send the serial number, proof of purchase, and a picture, and the new burners will be sent to you in less than 10 days. The same rule applies to the lifetime warranty items of the grill.
The material used for making the backburner is 16 gauge 304-stainless steel. 
These cast stainless steel burners also offer a 20 years warranty, making the grill one of the best built-in gas grills available. 
The price you pay for this is fair enough to pay while looking for the best built-in grill. 
Apart from these features, a lifetime warranty is a quality that a customer can't ignore while purchasing. With Bull 47629 Angus, you get lifetime burners, grates, and a firebox. While in other Bull's grills, the working period for these is a maximum of 2-5 years.
To ensure your safety, the front and both sides of the grill remain cold while cooking, and it protects your hand from burning due to direct heat. With Bull 47629, you get 50% better heat distribution due to flame tamers. 
The science behind the technology of flame tamers is to generate even heat during cooking to cook the food without burning. Flame tamers make the grill's surface hot while maintaining a gradual temperature. However, you can adjust the heat if you want. 
You can easily install and connect the Bull 47629 Angus grill to the natural gas line. The drip tray is also a pretty helpful feature of this grill. On top of all, with all the significant aspects you get, you won't have to pay a higher price than the other grills. 
Why love this grill?
It heats up quickly, even up to 500 F in 5 minutes.

The lights serve as a convenient grill feature while cooking.

The customer service is highly responsive and cooperative.

Its grease pan is easy to remove and clean. 
What are some cons?
The chrome-plated handles and knobs can rust within 6 months as the entire unit isn't made of stainless steel.

It can't heat the meat evenly.
The person by the grill on the party night is the lone star of the show. 
Cooking is appealing at so many levels. Whether you want to impress someone or strike a business deal, invite them over and feed them deliciously cooked meat in the outdoor kitchen on your best built-in natural gas grill. There you go; they are all yours now. 
The Napoleon natural gas grill has two heads, and these two heads allow you to cook two different meals simultaneously. So if you like medium-rare cooked steak and your guest likes a well-done steak, you have the luxury to cook both at the same time and let them wonder. 
The Napoleon gas grill has the best stainless steel searing rods and cooking grids to produce eye-pleasing sear marks. It'll make your food look like it has freshly arrived from a steakhouse.  
Moreover, you get a removable warming tray. The heating tray keeps your food warm before it is served, and it gives a distinct smoky flavor to the food that is the hallmark of grill cooking.  
Napoleon, as the name suggests, is a game-changer among the best built-in gas grills. It has combined great looks with significant and efficient features that you'll rarely find in another natural gas grill. It is made of stainless steel that adds to the aesthetics and good looks. 
The stainless steel construction serves another vital function too. The six stainless steel burners allow for even heat distribution, so you have an evenly cooked meal. 
On top of all that, there is a rotisserie kit that comes with the whole thing. The 18 000 BTU Infrared rear burner and the Napoleon heavy-duty rotisserie kit help roast veggies and other side dishes.
Even a seasonal chef will tell you not to serve meat alone on the plate. With the rotisserie kit, you can roast vegetables as a side dish with the main meal. 
There are more ways to impress with the Napoleon gas grill than you can think of.  
The lightning on the control knobs is not only aesthetic but a safety feature. It turns red when the gas is provided, so you know which burner is on. The auto-ignition feature is not average (it lasts forever.) 
The most annoying thing about the Walmart-type grills is the small surface area. And, it becomes a challenge to cook the meal to cost you time.
Yet, the Napoleon BiPro natural gas grill has a comprehensive 825 square inches cooking area. Thus, you can serve an entire banquet in that area.  
Why love this grill?
The grill allows versatile cooking like roasting, BBQ, and steaks.

It features auto-ignition and safety lights. 

Two heads with separate burners allow for multiple meal-cooking simultaneously

825 square inches surface area to cater a party of more people 
What are some cons?
It's not convertible on propane.

It is a little heavy, so moving it around can be a slight challenge. 

Customer support is not up to the mark.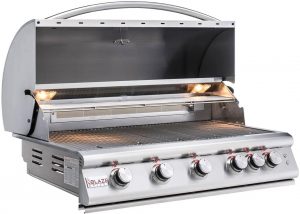 BBQ is synonymous with outdoors cooking. However, it becomes a challenge to choose between installing a grill outdoors that will eventually rust and bringing an extremely heavy natural gas grill outside every time you throw a party. 
The Blaze has come up with a very lightweight natural gas grill, and it's by far amongst the best built-in gas grill in the market at the moment. Grab one for yourself to become a macho and star of the parties you throw for friends and family. 
The burners have an auto-ignition system, and they never fail to ignite on a turn. They are high-quality and reliable.
The control knobs are straightforward to work with. They work on the push and turn principle, and you only need a slight push to activate the burners and the turn for the auto-ignition system.  
No outdoors cooking experience is complete without a touch of flair and pomp. Blaze Burner's natural gas grill's comprehensive design has incorporated that aspect as well.  
The control knobs illuminate and lighten up to give you the complete outdoor BBQ experience. It creates a mood for a party!
The interior lighting also helps you with recognizing the cooking surface at night outside. The interior lighting is not just for aesthetics but for safety too. 
The Blaze 40 Inch 5-Burner LTE Gas Grill with Rear Burner and Built-in Lighting System is your answer for a genuine BBQ experience and makes the dream of an outdoor kitchen a reality. 
The stainless steel construction gives a beautiful aura but also serves an important function. It ensures even heat distribution. So your food will cook uniformly and exactly how you want it. 
The grill's stainless steel triangular cooking rods are the best and most unique about the Blaze Burner's natural gas grill. It is a patented feature, and you will not find it on any other burner or brand. They give unique sear marks to the meat or steak that you cook. 
It makes sure that all the smoky flavor is entrenched deep down into the perfectly cooked meat.  The triangular rods are 9mm thick, thus leaving detailed sear marks to present a seasoned chef to your guests.
The 21×40 inches dimensions provide a large surface area for cooking. You get a compressive cooking area of 915 square inches. Moreover, there is an option of heat zone separators, which means you can cook multiple dishes simultaneously.
The flame stabilizers ensure that no flare-ups happen, so the food does not burn. Flare-ups kill the mood by burning some parts. 
The Blaze Burner's gas grill would have an infrared rear rotisserie burner if all that were not enough. Thus, you can roast some veggies that will go along very well with the meat. The rotisserie burner has a power of 10000 BTUs. 
Do not mistake the lightweight for being powerless. The Blaze Burner gas grill has 14000 BTUs of cooking power for each burner.
There are a total of five high-quality 304 stainless steel burners, giving you a thorough grilling and cooking experience. You get almost 700000 BTUs of cooking power over the total cooking area when you do the math. 
Why love this grill? 
It is lightweight.

It offers a large surface area.

The machine has searing rods. 

The grill has a removable warming tray 
What are some cons?
It needs a gas connection or supply.
How to Choose a Built-in Gas Grill – Buying Guide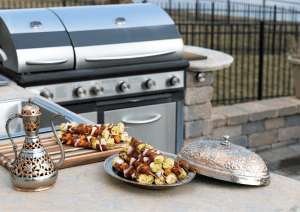 Here are some factors you shouldn't ignore before buying a gas grill:
The Grill's Design and Construction
As we are talking about the best built-in gas grills, you should pay a lot of attention to the body and design.
Some manufacturers offer commercial-grade stainless steel, and some don't even bother to provide decent-quality stainless steel. 
As the grill will be exposed to harsh weather after you are done with your outdoor cooking, it should be sturdy. The excellent quality stainless steel body is a must-have when it comes to built-in BBQ grills.  
Cooking Area and Cooking Performance
Don't fall for the looks of the product, especially in this case. The grill you'll buy is going to be the center of attraction for your weekend parties. So, it should have ample space to cater to the needs of your guests. 
It is advised that you should not compromise on the cooking or grilling for anything else. The 810 square inch cooking area is considered a suitable grilling area. Try not to go lower than this. 
BTU is the abbreviation of the British Thermal Unit. As you can guess, this is the unit to measure heat retention. Many enthusiasts believe that having even heat distribution is more important than high BTUs, but others think counters wisely. 
A Higher BTU count means that cooking grates and grills will get hot more quickly and remain hotter. Hence, your food will cook more quickly. 
On the other hand, even a heat distribution system has its own benefits. You can cook a whole round of hamburgers in one go. Generally, 60,000 BTUs are considered as an ideal total heat output for a gas grill.
Presence of Rotisserie Kit
Who doesn't love those juicy, tender whole roasted chickens? If you are also die-hard foody, then make sure that you buy a built-in gas grill with a rotisserie burner and motor. 
These amenities do not come with every built-in gas grill, so be careful while buying.
Technologies or Additional Features
Over time, the standards of people who love outdoor cooking are rising. Considering these demands, manufacturers have introduced some handy features. Some of these features can contribute to your experience significantly.
These technologies include flame tamers that save you from flare-ups. You must look for flame tamers if there are children in the house for additional safety.
FAQs
Here are some of the questions and their answers that commonly cross the minds of people buying a gas grill for the first time:
What is the best brand of built-in gas grills?
Well, It's a tricky question because every brand listed on this list is unique in its unique way. The best way to determine whether a brand is best or not is by checking the value they provide. For this, the best practice is to check the reviews and talk with your friends and family about them.
One can't deny the credibility and the efforts of the Weber brand. For over a century, it has been striving to bring innovation to this industry. With time they have introduced some handy features which ultimately became standards.
From high-quality cooking grates to top-notch infrared rotisserie back burner, everything comes standard in Weber's latest models. Simply make a list of your requirements, choose a model that suits and bless your outdoor cooking area with Weber's grill. Likewise, the grills by Bull are also fantastic.
Who makes the best built-in gas grills?
It is a pretty controversial question often asked by people who are just starting the hobby of outdoor cooking. To be honest, it won't be right to say that any particular manufacturer makes the best gas grills. There are so many brands that are doing great for their respective target audience.
Starting with Weber, it has successfully taken over the market of high-end luxury gas grills. It is best for those people who don't think before spending. Its fancy designs, solid stainless steel bodies, and a plethora of advanced options have won many hearts.
People who like to have a combination of affordability and luxury will state Bull as the best gas grill manufacturer. Bull is known for building solid stainless steel grills with immense cooking power.
Outdoor cooking is an adventurous hobby, and some people prioritize barebone experience over comfort.
If this sounds like you, then you must have a look at Lion Premium Grills. These grills come with basic frills like temperature gauges, smokeboxes, and classy yet straightforward control panels. 
What is the best built-in gas grill for you?
The number of options available today on the market can easily overwhelm any newcomer. If you also can't figure out the best built-in grill for you, read our buying guide. 
This buyer guide will help you determine the needs you are unaware of and help you make the right decision. There is no hard and fast rule to answer this question because your preferences may differ from others.
The best practice is to read the buying guide and judge different options based on your personalized criteria.
How long can a built-in gas grill last?
The lifespan of a built-in gas grill varies from 5-15 years. If you take good care of your grill, you can hope to see it lasting 15 or more years in your outdoor kitchen.
Should I buy an expensive, drop-in gas grill?
Your selection entirely depends on your budget. Yet, if you choose a sturdier grill, it'll last over a decade. For this purpose, the stainless steel grill is an excellent choice, which is no doubt expensive but worth buying.
Final Thoughts
Having an impeccable outdoor kitchen is a dream of those who love outdoor cooking. Gas grills are the most crucial element of any outdoor kitchen, and you can't afford to go wrong with them. 
With every passing day, new brands enter the market with new models. The latest features are introduced, some of them are pretty handy, and others are merely marketing tactics. 
This whole situation could be pretty intimidating for the people who don't know much about grilling. It's why we have come up with a list of the 7 best built-in gas grills.
In this list, you will also find a buying request that will help you choose the model that suits you the most.
We have added the best models from the most reputable brands in the industry in this thread. In the end, the decision should be solely based on your preferences.
universitygrill.net is a participant in the Amazon Associate program and will earn from qualifying purchases.