Are you looking for the best gas grills under $300? To help you save money and enjoy grilling over the years, we've come up with the best gas grills for under $300.
We've picked and reviewed all these grills keeping the real-time users' experience in view. Hence, choosing the right grill will be much easier for you now.
Let's get started with our 20 mins read that ensures you get the grill you'll love soon. Here we go.
Best Propane Grills Under $300 with Reviews
Here we come with our detailed review of all the best gas grills under $300.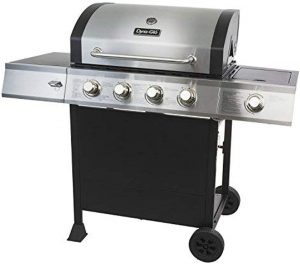 No, it's not a 4 burner; it's a 5 burner gas grill under $300. Look at the four primary burners and 1 side burner, which can be hard to find with a gas grill under 300 dollars. We're reviewing Dyna Glo's cheap 5-burner gas grill in our collection. 
The grill has won much attention from BBQ and Korean BBQ lovers with certain utilities. Let's see where it's outperforming and what it lacks.
With a front-protected open cart design, stainless steel burner, cast iron porcelain coward grates, and powder-coated cast iron body.
With its grill, your grill's heat is secured through the lid. We also liked the 2 cast wheels, which make this grill movable.
It allows you to grill your steaks and burger patties and cook your sauce on the side burner.
All the burners of this grill offer 12,000 BTUs, including the side burner. Hence, you don't feel your challenging recipes on the side burner.
The cooking space of this grill is 461 square inches which is definitely spatial for your large meals. 
How can we ignore the cleaning? It's breezy like any other expensive grill.
The grill is good for its design, side shelf, and open cart style. Yet, what it lacks is the overall construction. The grill's material is flimsy and can be less durable, ultimately. However, for the price of 300, this 5 burner gas grill should not be annoying.
In the same way, the assembly can take time, even the expert's help of an expert. Remember, once assembled, it'll perform very well. 
You don't get support from the electronic ignition system for the ignition. Instead, you have to light the burners manually through the knob. Likewise, for the side burner, you'll need a lighter.
Why love this grill?
Enough cooking space along with a side burner

Even heat distribution

Budget option
What are some cons?
It has thin material.

No electronic ignition

Tricky assembly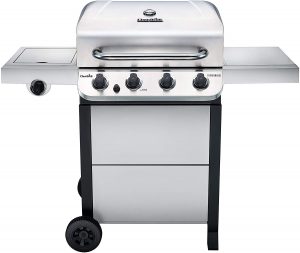 Do you need a 4-burner gas grill for your family? Here comes the gas grill by Char-Broil in our list for the best gas grills under $300. The gas grill with 3 mini burners and 1 side burner has earned excellent user satisfaction on amazon.
The gas grill by Char-Broil is available in various buying options that include additional accessories. The grill primarily uses liquid propane. Yet, it's convertible on natural gas through the $70 conversion kit.
To assemble the grill also requires not calling an engineer. Yet, it'll need effort.
How does the cooking go on the grill? To start, the grill is breezy because of the electric ignition system.
Then comes the heat: a total of 1000 BTUs on each burner. However, many users have complained about the flame unevenness at other burners. Mostly, the burners do not distribute evenly on many grills.
To add more heat, you can try turning off the extra burner. Heat, the heat shortfall complaint isn't valid.
We'll surely appreciate the design of this cheap gas grill — not a cheap design though flimsy. The grill has a porcelain-coated construction. Therefore, it is rust-resistant.
Many users love that the lid prevents a burn if touched accidentally because of added coating. The grill also has a side burner beside the main cooking rack. Likewise, you'll love the warming rack that helps you manage your grilling efficiently.
When you end up grilling, nothing haunts you more than cleanliness. Yet, this 4 gas grill from our best gas grills under $300 collection has the porcelain coated removable grate.
So, you can easily clean or look for soap dipping wash in case of stubborn gunk.
We really wanted to see the ignitor and a bit more sturdiness on the downside.
Why love this Grill?
It has excellent heat for your food.

It makes a practical choice under $300.

Assembly isn't complex.

The lid doesn't get too hot.

It is perfect as a patio grill.

It's easy to clean.
What are some cons?
It is a little flimsy.

The ignitor can turn problematic.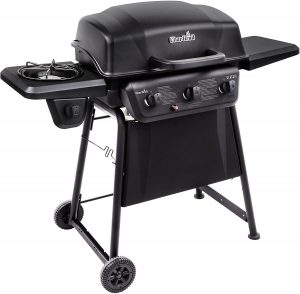 Do you want to choose a 3-burner gas grill remaining on budget? From our collection for the best gas grill under $300, we've got you this gas grill by Char-Broil.
Besides 10000 BTU primary burners, it has an 800 BTU side burner for veggie grilling. Some users have quoted the "unevenness" of the burners. But, as stated earlier in our guide section, most cheap gas grills always come with a learning curve about heat management.
For assembly, a user on Amazon needed "two hours and two beers." He said the assembly wasn't hard because all the grill parts came labeled. But it takes little time except for the gas kit installation; or life-saving extra matchstick chain.
Yes, the grill has one push auto-ignition system.
The gas grill is cast iron, and an additional porcelain coating is on the grill box. Thus, the grill is much safer if you accidentally touch it.
The overall buildability of the gas grill is excellent. But it doesn't mean the material is thick — it's a little fragile. Therefore, you'll need a gas grill cover to help it last longer.
The gas grill provides the side trays to manage your cooking without a cooking table — a big advantage.
The cleanliness of this grill is also airy. The porcelain-coated grate and drip box are relatively easy to clean using a wipe or soap.
To putty simply, it's' the best gas grill under$200 — saving you more than $100. So, if you compare it with a $600 grill, you can be unjust — don't mind our honesty. Hence, for $200, the grill is matchless for its primary purpose of heating.
Why love this Grill?
Cooking on the main burner is exceptional.

It makes an excellent choice for under $200.

Assembly is well explained though it takes time.

The lid doesn't get too hot.

It is an excellent grill for apartment patios.

It's effortless to clean.
What are some cons?
Its construction is made of thin material.

It has uneven heat on the side burners.

It lacks a temperature gauge.

No propane tank storage area underneath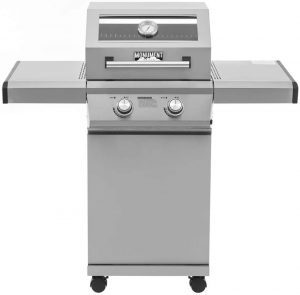 A 304 stainless steel burner grill under $300 can seem like a joke. Yet, it's true that you can have one. Look at this 2 burners sturdy grill by Monument with 430 stainless steel lids and powder-coated construction for the rest of the body. The grill can make a good choice with excellent construction, trustworthy design, and impressive performance.
With an enclosed cart design, foldable side shelves, and max mobility, the grill by Monument is rocking the floor. It begins with the grill's assembly, which can be a bad introduction to the grill as it can take much time — assembly instructions are bad. But don't mind it, please; the rest will be delightful.
Then comes the design of this grill, which is great for an under $300 gas grill. This grill's strong handle and led knobs are certainly the trusted winning features, especially when you cook steaks in the evening.
This propane-powered grilling unit has a spatial cooking area of 326 square inches to accommodate all small grilling needs. In comparison, the 147 square inches warming rack additionally takes care of your cooked items.
How about the actual performance of this grilling gear? The Monument's 2-burner gas grill has an even distribution of 20,000 BTUS via its 2 burners.
Yes, you got right, the heat is even because of the porcelain-coated cast iron grill grates. Furthermore, when it's about cleaning the grill, it's relatively easy because of the grease management system. Thus, your entire grilling session is a wow from beginning to end!
To start the grill is effortless. Just use the electronic ignition system. The grill will soon be hot enough to allow you to cook your favorite recipes. In a nutshell, this grill will be your beloved!
Why love this grill?
Excellent performance because of even heat.

Sturdy construction

Moveable

Easy to clean
What are some cons?
No significant drawback, except that assembly can take time.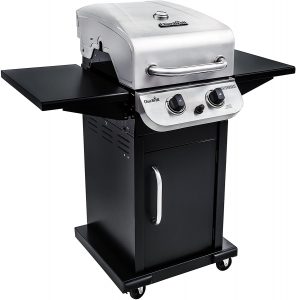 Have you read our review about the hottest hot Cuisinart gas grill? If you're not one to like that heat giant, then the 24,000 BTUs, 2 burner grill from Char-Broil can be your best tastemaker.
With a sleek and responsive design, side sleeves, stainless steel lid, and built-in temperature gauge, the durable product is indeed well claiming its authority among many best gas grills under $300.
The grill seems an enhancement in all the previous designs under this budget. You can see the underneath storage shelf as well.
The electric ignition is also worry-free. So, every day, you can start grilling without sweating a lot.
The porcelain-coated grill construction also comes with some well-thought plans. It's durable and not flimsy at all. To assemble, again, the grill is relatively more manageable than the previous models by Charbroil.
When it comes to cleaning, the gas grill by Char-Broil comes with much ease. The same is the case with this unit.
Unlike Cuisinart's grill, it has controlled heat. Yet, the grill is much deeper to save your heart.
As all the buying options for this grill fall under the budget of $300, you need not spend an extra amount to get a grill cover. But, within the package, you can get more value to help the gear last longer. Therefore, this grill also ranks higher than the patio or lawn grills.
Why love this grill?
Grill has the most captivating design.

The heat distribution is even and well-controlled.

The unit is highly durable.

You get the best value for a small family under $300.

The grill is easy to clean and maintain.

The storage cabinet is an advantage.
What are some cons?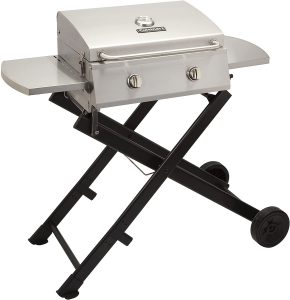 Do you need a gas grill under $300 for you two? Cuisinart is well known for its high-performing cooking gas grill. Therefore, we've got you this two-burner CGG-340 gas grill in our picks for the best gas grills under $300.
If you ask us for a grill for barbecuing, cooking, pizza making, and even coffee, this grill is for you.
With 20,000 BTUs, the stainless steel gas grill is available in varying options ranging from $111-267. This portability, in this version, has been added through this cast iron wheeled frame.
The construction of this side tables assisted compact gas grill is quite sturdy. In the same way, the assembly is effortless with this gas grill.
What's about the heat? The grill by Cuisinart has earned fame for even heat distribution among many best gas grills under $300. Yet, others have also condemned the too much heat — the lower limit is 350 degrees.
It's why, more than grilling; the grill lets you cook whatever you want or boil your water. To control the heat, you can cover some burner holes — learn to be an expert.
However, it can also be the faulty valve causing heat issues. Thanks to Cuisinart customer support, the problem is manageable.
In a nutshell, the cooking performance on the grill is more than enough. Therefore, you must consider an option on higher altitudes.
When it's about the gear's cleanliness, the job is challenging—first, the grease-collecting pan drips because of the smaller area inside. So, you'll need frequent drainage to avoid mess.
Second, the cleanliness requires care — stainless steel edges are sharp. Yet, you can put it in the dishwasher.
Why love this Grill?
The grill is more than a grilling unit because it is overly hot.

The grill is matchless for altitude.

This unit is very durable.

It is convertible on RV Propane if you follow Steve O here.

The grill is dishwasher-safe.
What are some cons?
It has a heat control issue.

Not safe for kids or pets to get around

It's a grease-splashing grill.

The grill has no built-in thermometer.
Have you ever dreamt of getting a gas grill with a griddle? It comes true now because our experts have reviewed this gas grill griddle.
When you're versatile with your cooking, the all-rounder grill by Cuisinart is your perfect partner. With the ceramic-coated griddle 22 inches round burners of 30,00 BTUs, what's on the planet that the grill can't do for you?
For the combo grill griddle, it's essential to deliver the max heat to help with various cooking recipes. Therefore, Cuisinart has specially designed this griddle with separately controllable 30,000 BTUs burners and uniform heat.
To assemble, again, the grill doesn't take much time. Similarly, the probability is also fully supported through the frame of a lockable wheel. Yet, it isn't for camping sites, but your patios or terrasse.
Users have highly liked the control panel of this grill, which proves it a quality product. Your goodness, this sturdy grill also has side tops to aid your cooking process.
Don't you think we have said much good about this grill? Then what's the shortcoming?
Please wish that your product doesn't come with a damaged control panel. Many users have been annoyed by the issue.
Cleanliness? It's not hard at all.
But how can you forget the excellent customer service and warranty on Cuisinart? You can replace the grill if some damage accompanies it when you unbox.
Moreover, if you don't cover your grill with a cover, soon you can spot rusty iron spots. So, be careful with the excellent grill.
Why love this grill?
Grill has a vintage-like design.

The heat distribution is smooth and sufficient even for higher altitudes.

This gas grill is pretty durable.

The grill lets you enjoy a variety of foods.

The portability is well supported.

It is worry-free to clean.
What are some cons?
It demands care against humidity because of rust-prone material.

It can come with a dented control panel.

No built-in temperature gauge.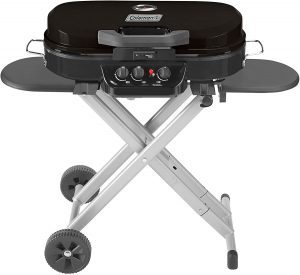 Have you got a fondness for grilling in your backyard or outdoors occasionally? Another great pick among our best gas grills under $300 can inspire you.
The gas grill will seem less problematic, especially when you have already been grilling in the past. We don't recommend it for those new to grilling.
It's the gas grill by Coleman. After getting a lot of appraisals from the users, the grill is ready to serve you with its portable design, three adjustable burners of 20,000 BTU's heat, and push-button start-up.
The assembly is only a minute job. However, the probability needs effort because of heaviness.
The grill is available in various options but is still under $300. It has a 3 years warranty — it makes the grill win hearts.
For grilling, the barbecuing gear does the job. But should you trust the design?
Let's talk about the design. Of course, it's good because of the porcelain-coated material and added cooktop at both sides. Besides this, the idea of aluminum legs adds more life and sturdiness to the grill.
The grill's cleanliness isn't a tiresome job. But beware of the water tray. You need further caution to place the grill on the highly smooth surface lest the shallow grill tray start dripping.
The lid lock can end soon. So, you'll need to look for some DIY solutions to close the gas grill. Similarly, the side tops can also be hanging.
In short, the grill is for grilling but no more added features like storage shelves or towel hangers.
Why love this Grill?
The grill delivers smooth heat to let you cook.

It's easy to carry or shift.

The grill doesn't rust quickly.
What are some cons?
The handle is not durable.

The water tray drips.

Are you looking for a portable gas grill under$300 for a small family? Then we've got you this portable gas grill by Weber among our selected best gas grills under $300.
With extended side tops, 8500 BTUs of heat, and an extensive cooking area, this fantastic, long-lasting grill is an incredible choice.
Keeping the user experience in view, we've got a lot to like about this portable gas grill. The grill is not easy to assemble, but it rocks, for it comes assembled. Get it, open it, connect it with propane, and start grilling. The ignition is also a clinch because of the auto ignitor.
The construction of this grill is pretty durable. The material is cast iron and aluminum material.
The further enhancement is also remarkable because of the glass-reinforced nylon frame. Of course, it adds life to the product, besides making it lightweight.
The grill by Weber also allows extended control over the heat. Therefore, you'll find it valuable to try many recipes for your collection.
If you're a camper, the grill is heaven. How? The grill doesn't get hot outside at the top or bottom. Hence, you can easily place it on the picnic table or near pets & kids.
The product has only one drawback. Guess what? It might not help you at a higher elevation. Yet, remember, the winds don't annoy it at all.
Some of the users have reported the breakage after use. But we don't think those would prevent you from getting this excellent grill. The reason is over 96% of buyers have been satisfied with their purchase.
Why love this Grill?
It is lightweight.

The grill doesn't get hot underneath.

It is well known for its sturdiness and heating.

The grill is one of the most lasting gas grills on Earth.
What are some cons?
It is not suitable for higher altitudes.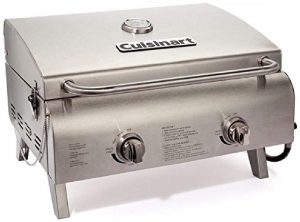 Portable propane grills often carry a stigma that they have fewer features, aren't durable, and soon end up landing in the dumpster. However, Cuisinart CGG-306 belongs to an entirely different class.
This grill is made of stainless steel and features solid construction. All welds and fasteners are up to the mark. It weighs only 22 pounds, making it easy to carry around. In addition, it has foldable legs and a lid that stays firmly in place.
While this grill is meant to be a tabletop grill, you can transform it into a conventional propane grill. It's compatible with Cuisinart's CFGS-150 stand to allow you to use it as a traditional grill.
There's a slide-out drip tray to collect any extra runoff, making it easy to clean.
Its two burners provide a total of 20,000 BTUs of heat, allowing you to cook almost anything you want. You can fire the burners using a twist-start ignition system. Its 42-inch hose will enable it to connect to a standard propane tank.
One of the unique features of this grill is a built-in temperature gauge on the lid. While traditional propane grills usually have a built-in thermometer, finding one in a portable propane grill is hard. So, it's something that bears mentioning.
Why love this grill?
Secure fit lid

A pullout grease tray

Compact, lightweight, and portable

Made of superior-grade stainless steel

Simple assembly
What are some cons?
No conversion kit available for natural gas

Shallow dome (of the lid)

The grate can sometimes get stuck.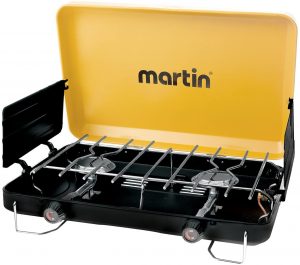 With its ultra-compact size and lightweight design, this grill is built to function in any situation. Packed with easy-to-use features and requiring little maintenance, it has the power to become a staple item for your travels.
Overall, this unit features a compact, portable design. It is also made of all steel to withstand some impact.
Its two burners can produce up to 20,000 BTUs of heat, allowing you to grill various foods. It also comes with a piezoelectric igniter, so there's no need for a butane torch to light your burners.
Another great feature of this grill is its advanced pressure control system that stabilizes the flame and allows you to adjust the amount of gas reaching the burners. This, in turn, enables you to exercise great control over your gas grill.
It also includes windscreen panels on its rear, right, and left. These built-in shields are especially helpful when the wind roars and allow you to enjoy a peaceful cooking experience. If you have a bigger pan to grill for a large gathering, you can just fold the panels outwards to place the pan.
Long story short, this grill is easy to move, maintain, clean, and operate.
What are the pros?
Portable, easy to clean, maintain, and operate.

Stainless steel build

Two burners that provide a total of 20,000 BTUs

Pressure control system

Wind Panels
What are some cons?
Paint can peel off, especially near areas close to the heat source.
How should you Choose the Best Gas Grills Under $300?
You never want to make a wrong decision while researching the best gas grills under $300. We understand well.
Therefore, to help you get a cheap gas grill, we've discussed some standards to check in the gas grill and ignore. The reason is, paying much attention to ignorable features can also result in a regretful selection.
The heat of a cooking or heating gear is defined in BTUs. Heating and burners should directly affect your purchase.
If you're living at a higher altitude, then get a gas grill with more BTUs or a design that keeps heat inside, like dome-shaped lids.
Incredible construction is always at the top when searching for the best gas grills under $300. But, the cheap gas grills do not always have sturdiness like those of $600-800 grills.
Still, don't get disappointed. In our guide, we have listed some highly durable gas grills.
Design enhances the ease of use and efficiency of your gas grill. For example, some best gas grills under $300 can have propane tank storage cabinets, side tables, or a kitchen towel hanger.
But should the design only impress you?
Never! Instead, first, analyze the two features mentioned above, then prioritize the design.
Ease of Usage and cleanliness
These two factors must affect your decision when reading our guide or the best gas grills under $300. The reason is that cheap and costly grills are sometimes hard to clean or use.
Some grills can be hazardous while cleaning or touching. The reason can be either sharp edges or non-coated stainless steel material. So, make sure you get such a grill being well aware.
Both electric and piezo systems provide ignition and protection against oxidation in gasoline grills. An electronic system using battery energy creates a spark. A piezo electromechanical ignition system uses a spring-driven system to generate a spark in friction. The sounds make a clear clicking sound. Usually, both systems have a few issues with the grille. Click here for more details.
Not all under $300 gas grills have a built-in temperature gauge. For instance, only one grill in our list has a temperature gauge. So, ignore it if you want to end with a special purchase.
The number of burners decides the area and heat needs. So, it's pretty apparent that you'll check for them while reading this article for the best gas grills under $300.
We hope this information will help you proceed with a clearer head and expectations.
All gas grills under $300 can cook your food, but their added capabilities make one stand out. Side shelves allow you to cut, marinate or season the meat. Optional grills can also be ordered with fold-down or removable side racks if there is no room for them.
Another nice extra feature to look for is an open shelf allowing you to enjoy delicious dishes freshly cooked from the grill. The warming system keeps food at the right temperature without being cold during cooking. 
A grill with a one-year warranty is decent, but if you can find products with a more extended warranty period, you might want to prioritize these models. Identify if your machine has a warranty if part or component breaks within specific dates.
The best gas grills under 300 dollars don't have to be deprived of cool features, but you can still get a grill with extra features such as a Warranty if parts break in just a couple of months. For example, the grill will have an arrest warrant.
Final Thoughts
It's not hard to get the best gas grills under $300. From our collection of the best gas grills under $300, you can pick any after evaluating your needs from the buying guide section. Thus, you'll be more satisfied with your dream gas grill.
Do your friends also need a cheap gas grill or some best gas grills under $300? You can share this guide with them as well.
What grill info do you need more? Let's know by commenting below.
universitygrill.net is a participant in the Amazon Associate program and will earn from qualifying purchases.