Do you need a meat slicer, and do you think you can better get a good quality meat slicer at Costco?
The good news is that you can because Costco sells meat slicers for home and small business use. Yet the options are pretty limited. These are only 2 meat slicers.
First is Waring 12 Commercial Food Slicer, and second is Weston Meat Slicer. The former is costly despite being sold at Costco–it's about $1000, and the latter is cheaper.
Yet, the price can't be a single factor to pick one.
Instead, you need a complete review and comparison between Weston Meat Slicer vs. Waring Commercial Food Slicer.
To help you make the right choice, we've solved the problem.
In this article, we'll compare both meat slicers available at Costco. So, let's read.
Waring Vs Weston Meat Slicer Costco: A Quick Comparison
| | | |
| --- | --- | --- |
| Features | Weston Meat Slicer | Waring Meat Slicer |
| Dimensions | 17″L x 10″W x 12″H | 26.6 x 23.1 x 22.2 inches |
| Type | Home-grade | Medium-duty |
| Best for | Home use and Small Retail Businesses | Restaurant Kitchens |
| Carriage Material | Metal | Cast aluminum |
| Base Material | Aluminum | Cast aluminum |
| Blade Material | Stainless Steel | Hard chrome blade |
| Blade type | Serrated—picture on Costco is misleading to feature a smooth blade | Serrated |
| Blade size | 8-5/8″ | 12″ |
| Safety Feature | Yes | Yes |
| Stable | Yes | Yes |
| Thickness Adjustment Levels | Slicing thickness from deli thin to more than .5 inches (1.3 cm) | Adjustable slice thickness 0–.59 in |
| Food Pusher | Yes | Yes |
| Motor Power | 200 watt belt driven | 1 hp belt driven induction motor |
| Operation Model | Manual | Manual |
| Blade sharpener included | Yes | Yes |
| Dishwasher safe | No | No |
| Easy to use | Yes | Yes |
| Easy to clean | Yes | Yes |
| Quiet | No | Yes |
| Weight | 12.46 pound | 45.5 pound |
| Warranty | 1 year | 1 year |
| Made in | China | Italy |
| Availability at Costco | Member-only item | Member-only item |
Best Meat Slicers at Costco Review: Waring Pro vs Weston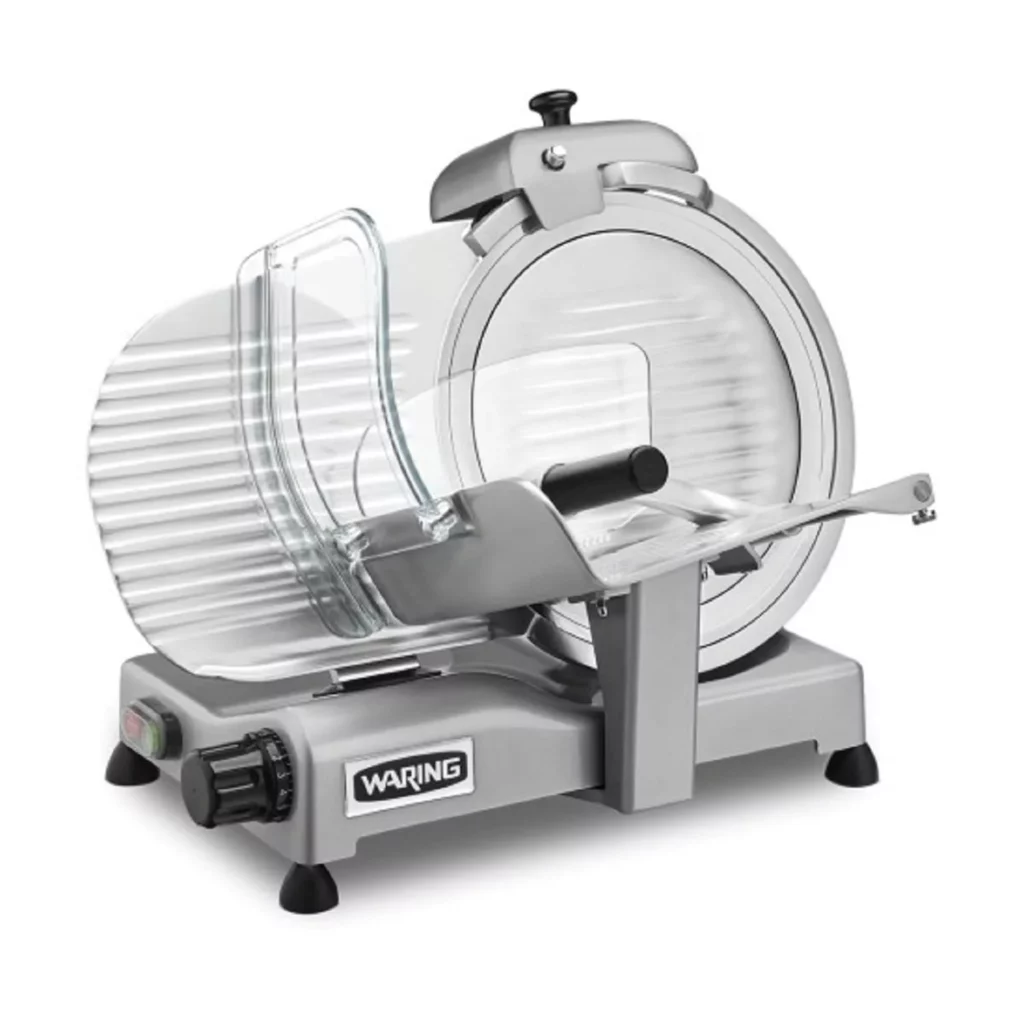 Made by pioneers of food service equipment "Waring," this Waring Commercial Food Slicer is an ideal enhancement to any professional kitchen or culinary enterprise. This robust and dependable slicer is engineered to manage moderate-to-medium food-slicing tasks easily.
From meats and cheeses to bread, Waring Commercial Food Slicer has got it covered.
A standout feature of this slicer is its powerful motor of 1 hp, which has been specifically built to manage medium workloads–it operates the blade via the belt. Therefore, this meat slicer is an ideal choice for bustling commercial kitchens where you keep slicing continuously.
We like the "precise thickness control feature" of Waring Pro Meat Slicer, which lets you pick the slice thickness of 0–.59 in. It's really precise to let you slice your food according to your preferred thickness.
The entire build of the Waring Pro is cast aluminum. It's why the machine can withstand a thorough cleaning after every use.
Waring Commercial Food Slicer also has a spacious, easy-to-clean food carriage that houses large portions of meat, cheese, and bread. To your goodness, this carriage slides pretty smoothly. Thus, you can slice the food without getting it stuck.
Crafted from high-grade, long-lasting hard chrome, these blades keep their sharpness. Besides this, you can also clean this blade without worrying about corrosion.
Safety features on this slicer are incredibly helpful. The slicer is equipped with a safety interlock that ensures the machine will not activate if the food carriage is not correctly secured. Additionally, a non-slip base is also present, providing stability during operation.
The only downside is that the Waring food slicer has been specifically designed as a versatile food slicer, not a meat slicer. So, if you need a dedicated meat slicer, please consider some other meat slicers.
Pros
Best all-rounder food slicer, especially great for cheese
Tempered, hard chrome blade maintains sharpness longer.
It works precisely, making thin slices.
Fully corrosion-resistant unit
4 feet long cord makes usage easy.
Easy to use
Easy to clean
It's stable.
Cons
Removing the hand guard before cleaning is challenging.
Not fully heavy duty
Not portable
Pricey
Final Verdict
Waring Pro Meat Slicer is an excellent quality meat slicer suitable for small businesses and big kitchens. It allows you to slice your food incredibly thin, almost like a strand of hair. The motor remains powerful with no slowdown, and the cuts are incredibly precise. It's also easy to clean, as with any slicer; cleaning it thoroughly after each use is important.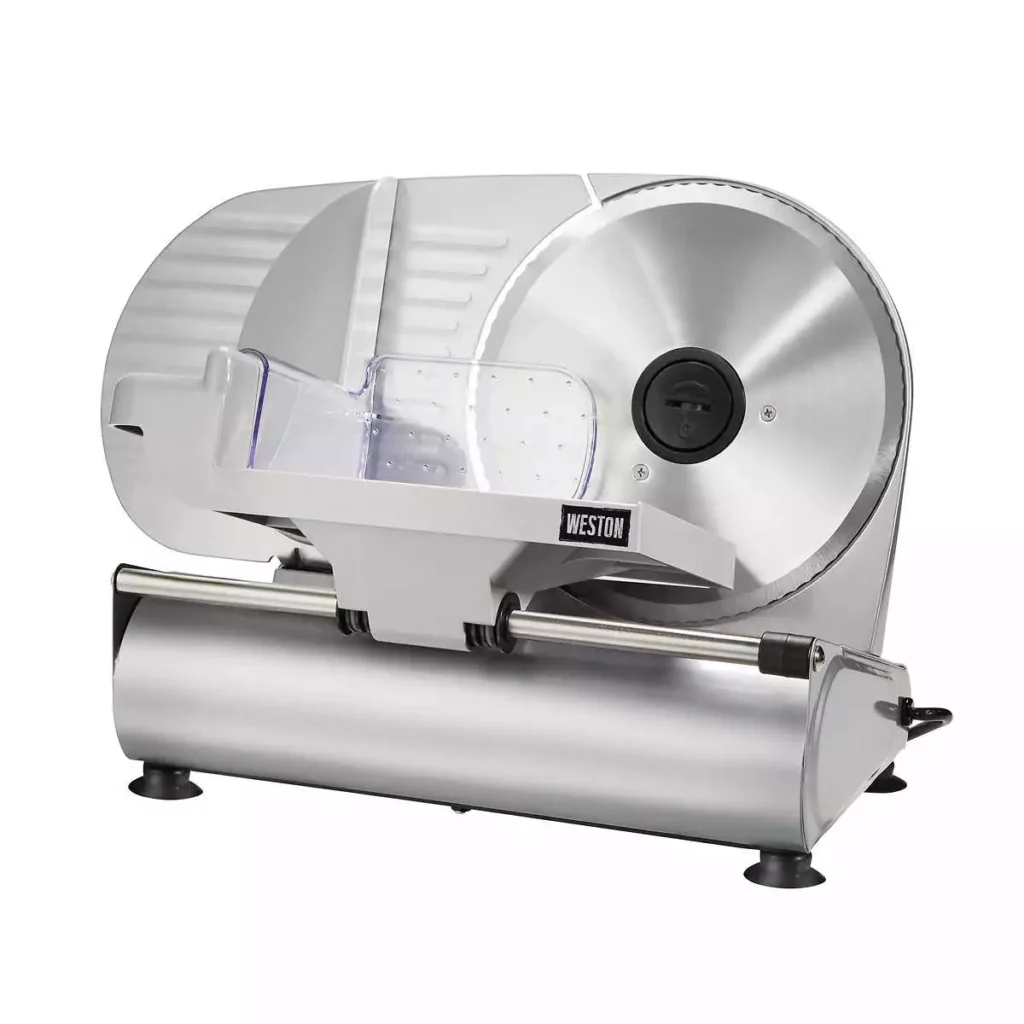 Let's begin with the built quality of Westone Meat Slicer. The entire body is made of aluminum, while the sturdy blades are of stainless steel. So, you can trust the machine to be a sturdy unit.
When it's about performance, the Weston Meat Slicer efficiently slices meat, cheese, bread, lettuce, and tomatoes into uniform, even pieces for sandwiches, deli trays, and charcuterie boards. It's also ideal for cutting fruits and slicing frozen meat into thick cuts and steaks.
The slicer's seamless-gliding carriage and sturdy stainless steel food tray make it easy to cut meats and other foods. Suction feet secure the stable base in position during the slicing process. However, this carriage is not angled properly. It's why when you slice meat, it turns into wedges. So, you have to flip it.
This meat slicer features a spacious food pusher that provides a better hold on food during slicing. The food pusher is also BPA-free.
And, when it comes to the performance, yes, the Weston meat slicer does its job.
Whether cutting thick steaks or wafer-thin deli slices, the adjustable thickness dial ensures even, consistent slices ranging from deli-thin to over 1/2″ thick (1.3 cm). Likewise, The 9″ serrated rotary blade is driven by a 200-watt belt-driven motor, guaranteeing quick, precise slicing of various foods. However, it's a bit of a slow meat slicer. Therefore, we don't recommend it for a busy kitchen.
The blade, food carriage, slide-rod extension, and food pusher can be easily detached for cleaning. The tilting feature simplifies blade removal, and the food pusher is safe for the top rack of the dishwasher. Yet, we'll advise you not to remove the blade because it's super sharp.
Pros
Powerful with stainless steel 9″ serrated rotary blade powered by a 200-watt belt-driven motor
Titled food carriage makes the slicing easy.
It works smoothly.
The food pusher is BPA-free.
The entire unit is corrosion-resistant.
Easy to use
Easy to clean
Fully stable machine
Cons
Low torque motor can't withstand heavy loads.
It doesn't cut the deli-thin.
The holder and inside gears are made of plastic.
Not portable
The sliding tray/carriage is not removable.
The Small pusher can put you at risk of cutting your hand if you're a novice to meat slicers.
It's not truly heavy-duty.
The blade is slow.
The cut angle is not sloped properly; resultantly, you have to flip the meat to avoid it converting into a wedge.
Final verdict
The meat slicer is a good choice if you're an expert at using meat slicers and very well aware of using them safely. Yet, we don't recommend this machine if you're a novice to using a meat slicer.
For safety reasons removing the blade is unsafe because it's sharp. Many users have complained about this issue. This meat slicer has been designed to be used without removing the blade. So, keeping the above-mentioned pros and cons in view, you can consider buying it.
OR
You can look for a better meat slicer with seamless performance. After all, the price is what you pay for…!
Buying Guide on How Should You Choose a Meat Slicer?
A meat slicer is a must-have unit if you're a food lover who spends a lot of time cooking, especially dealing with meats. Doesn't matter if you're a pro chef or just a home cook. Getting a top-notch meat slicer can level up your cooking game seriously.
But how can you choose the right meat slicer for you?
No worries. We're here to break down some important things you should consider when hunting for the perfect meat slicer.
Capacity and frequency of usage
Before buying a meat slicer, consider your needs. Are you using it at home or in a commercial kitchen?
The slicer's capacity, which is the amount of food it can handle in a certain time, depends on your specific needs, like
How much meat/food you'll be slicing?
How frequently and how long will you be using the slicer?
What types of meat cuts: tougher or easier you're looking to slice?
Keep your business requirements in view, such as peak hours, customer demand, and the variety of meats you'll be slicing.
Please remember that a meat slicer's capacities are measured in pounds or kilograms per hour. Therefore, it's advisable to assess your specific needs and consult the product specifications or recommendations provided by the manufacturer to select a meat slicer with a suitable capacity.
Blade Size and Material
The size and material of the blade are crucial factors to consider. Blades typically range from 8 to 14 inches in diameter. Smaller blades are suitable for slicing thinner cuts of meat, while larger blades are better for handling larger cuts. Additionally, stainless steel or hard chrome blades are preferred due to their durable sharpness, resistance to corrosion, and ease of cleaning.
Motor Power
The motor's power determines the slicer's efficiency and ability to handle different meats. For lighter use at home, a motor with 0.2 to 0.4 horsepower (HP) should suffice. However, for heavier use or commercial purposes, a motor with 0.5 HP or higher is recommended to ensure smooth operation and consistent slicing.
Adjustability and Thickness Control
An efficient meat slicer should offer adjustable thickness settings for various slicing needs. So, look for a slicer with an easily adjustable knob or lever that allows you to select the desired thickness. This feature is helpful if you plan to slice different meats or want to achieve different thicknesses for specific recipes.
Safety Features
Safety is paramount when working with sharp blades. So, ensure that the meat slicer you choose has essential safety features such as a blade guard, a safety lock, and non-slip feet.
A blade guard protects your hands from accidental contact with the blade, while a safety lock prevents unauthorized use. Besides this, non-slip feet keep the slicer stable during operation, reducing the risk of accidents.
Ease of Cleaning and Maintenance
Your meat slicer should be easy to clean and maintain to ensure its longevity and hygienic operation. It's why you should look for models with removable components that are dishwasher-safe or easy to clean by hand. In this regard, a meat slicer with minimal hard-to-reach areas and a smooth surface will save you time and effort for maintenance.
Budget and Brand Reputation
Set a budget for your meat slicer purchase, keeping in mind that higher-quality slicers usually come at a higher price. Research different brands and read customer reviews to gauge their reputation for reliability, durability, and customer support. Choosing a reputable brand known for manufacturing high-quality slicers will probably result in a better investment in the long run.
Selecting the right meat slicer requires careful consideration of your needs, budget, and desired features. By assessing factors such as purpose, blade size, motor power, adjustability, safety features, ease of cleaning, and brand reputation, you can make an informed decision that ensures a slicer that meets your requirements and enhances your meat preparation experience.
Our Final Verdict on Whether You Should Buy Meat Slicer at Costco?
Costco can be your go-to place for several reasons, among which 2 are the most lucrative:
Price: Costco is known for offering competitive prices, especially for its members. So if the price at Costco is better than what you've seen elsewhere, that could be a good reason to buy it there.
Costco's refund policy is a lifesaver. It gives you the confidence to invest in a machine, and if it doesn't meet your needs, you can return it under Costco's refund policy.
Yet, the hassle of returning the product can cause distress. Besides this, you must get a Costco membership to buy the meat slicers sold at Costco. You can get the membership if you love shopping at Costco often.
universitygrill.net is a participant in the Amazon Associate program and will earn from qualifying purchases.